You will need to process payroll checks manually if you're not paying your employees electronically. To start, you need check stock. Depending on where you purchase, you should expect to pay from around $30 to $150 for a ream of 500 checks and even more if you have them customized.
Where To Buy Payroll Checks
You can purchase payroll checks from your bank, but you'll probably overpay for fewer features than you'd receive if you paid less to alternate vendors. You can buy blank payroll check stock online, at a local office supply retailer, or from a supply membership store.
Business Payroll Check Costs & Features
| Payroll Check Features | | | | | |
| --- | --- | --- | --- | --- | --- |
| Cost for a ream of 500 checks | Starting at $45 | Around $29 | Starting at $135 | Starting at $150 | Starting at $60 |
| Specials | Free delivery | Free delivery for prime members | Available to members only | Upgraded features available | Comes with 100 free checks |
| Basic security features | ✔ | ✔ | ✔ | ✔ | ✔ |
| Compatible for laser and inkjet printers | ✔ | ✔ | ✔ | ✔ | ✔ |
| Includes check stub | ✔ | ✔ | ✔ | ✔ | ✔ |
| Custom designs | N/A | N/A | ✔ | ✔ | ✔ |
| High-security | N/A | N/A | N/A | ✔ | ✔ |
| Personalization | N/A | N/A | N/A | ✔ | ✔ |
| | N/A | N/A | N/A | N/A | ✔ |
When you buy payroll checks, you'll want to consider how you do payroll, whether you do it in-house without software or using a payroll service. You may need certain features, like a preprinted company name and custom logo, or your software could limit you to only using blank check stock. Consider security features, layout, and colors, and even options to add comments like, "Congratulations on your two-year employment anniversary!"
Many businesses find it easier to outsource payroll to a payroll software like Gusto. You can use any blank check stock, and Gusto will populate your company and bank information. And if you're concerned with saving time and staying compliant, Gusto also automatically files and pays payroll taxes. Try it free for 30 days.
Payroll Check Features To Consider
Before purchasing your payroll check stock, you should review the features it includes and compare them against your needs. If you want the cheapest check stock, you can forgo certain features like pretty colors, high security (basic will be enough), preprinted information, etc.
Preprinted or Blank
You can purchase blank payroll check paper stock or customize it with options like your business logo and branding. On blank check paper stock, you'll use your computer software or a template to print your company name and all information. Whereas on the custom payroll paper, you only need to print what's different for each check, such as the employee name, payment amount, and so on. Custom paper is more expensive though, so it's not the best option if you're trying to save money.
Pay Stubs
In most cases, you'll want payroll check paper that has a pay stub option included so that your employees' pay stubs show all sources of income and deductions for the pay period. An example is shown below. A pay stub is not required by the Fair Labor Standards Act (FLSA); federal labor law and requirements vary by state. Timekeeping software vendor Fingercheck has identified the states that require pay stubs be given to employees.
Security
To minimize the risk that your paychecks could be compromised, you may want to choose check stock that has security features like a watermark, a marbled background, or heat-sensitive fibers. The more expensive payroll check paper has one or more of these; some vendors like Amazon even provide paper stock that has a hologram.
Color
Typical colors for payroll check stock are pastels like soft green, pale blue, or yellow. However, if you want custom colors, you may need to order from a vendor like Print Globe, which offers over 20 colors. If you want a custom background or special fonts, consider ordering custom business payroll checks from a vendor like Deluxe that can add these details.
Memo or Comment Section
It's nice to have a space on the payroll check paper to include notes and comments. You could thank someone for their work, provide information about a bonus, or remind employees of an upcoming holiday. Some payroll software have this feature already built-in, and you can use it to handwrite notes of appreciation.
Signature
Your payroll check will need to be signed, either electronically, by hand, or by stamp. Some vendors like Deluxe allow you to add additional features to your check, like a second line for a signature, if that's what your business needs. You can use them with a dual-signature checking account as a control to help prevent fraud and mismanagement of business funds.
Compatibility
All check stock are not compatible with every software product. Those you purchase from online retailers and office supply stores are usually compatible with some popular payroll software, like Gusto, but you won't know for sure until you purchase and try it yourself. Purchasing directly from the payroll software provider, if they sell check stock, or buying a brand they recommend guarantees compatibility.
Layout
Payroll check paper stock provides several options for check placement. For instance, the check can be at the top, middle, or bottom of the paper, with the pay stub located above or below the payroll check itself. Often, this will be dictated by your payroll software or configurable within the print option. An example of a check on the bottom is shown below with sample information on year-to-date (YTD) deductions so you can see where specific information should go.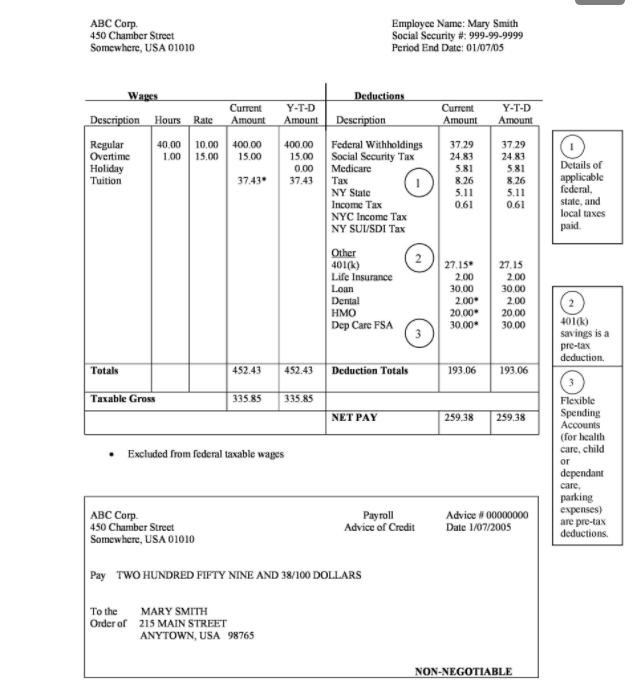 Perforation
Payroll check stock can come perforated so employees can easily tear off the check and keep the check stub. However, if you provide direct deposit and the only reason you use the check stock is to give or send the employees a record of their earnings, then no perforation is needed. In fact, plain white paper is fine for a pay stub. Consider adding "nonnegotiable" as a watermark to prevent confusion. Some payroll software is configured to do this for you, because pay slips can easily be mistaken for business payroll checks.
Self-Mailing
Some paper stock is scored or lined so that you can fold the payroll check in thirds and mail it. You can address the recipient on the back, either with your printer or by hand. When it's folded and stamped, the payroll check and pay stub are inside.
Additional Features
Some payroll software providers include complimentary features. Intuit QuickBooks gives 12 months of CheckFraud Protection for free with every check purchase.
With it, you receive the following:
Free replacement and expedited delivery of compromised checks
Suggestions for security precautions, beginning when you place your order through the printing process
Screening of orders for potential fraud and account protection
Background checks for check printing facility
Order shipment with custom-designed, nondescript, and tamper-evident packaging
Printing Payroll Checks & Pay Stubs
You can print your own business payroll checks with check paper stock that includes security features like heat-sensitive ink, chemically-sensitive paper, microprint, a watermark, or the word "void" that prints if someone tries to make a photocopy of the check. Some check vendors offer checks with a hologram as a security feature.
If your printer and software allow you to custom print your own documents, you may have the option to print direct deposit advices and pay stub-like documents that show how much you were paid and what deductions were withheld, using plain paper. However, due to the lack of security, such as a patterned background or watermarks, you aren't able to print valid payroll checks on plain white paper—specialized check stock is needed.
Hardware & Software Requirements for Business Payroll Checks
The type of payroll check paper stock you need will vary based on the software and printer (inkjet, laser, or dot matrix) you use. For example, Gusto lets you choose the layout of your checks and specifies the kind of paper you need to write and print checks. Check with your payroll software provider to ensure that the payroll checks you buy are compatible with your payroll hardware and software.
Hardware Requirements
You can use just about any printer to print payroll checks, but the quality may be different with each. The key is to use magnetic toner or ink when you print your payroll checks. If you opt to use regular ink, your bank's magnetic reader may not be able to process the checks, and you could be charged fees.
Software Requirements
Different payroll software have different requirements. Be mindful of that when selecting payroll check templates. Some will only print correctly if the check portion is on the bottom, and others require it to be on the top. If you use a standard online payroll software, like Gusto, you may have an easier time finding payroll check paper that's compatible, because manufacturers tend to consider that when designing.
A magnetic ink character recognition (MICR) printer is made specifically for printing high-security checks. It's a combination of software and hardware, and although convenient, it can generally cost more money than just using your standard printer and purchasing MICR ink or toner when you need it. Just remember to switch out your cartridge before and after you print your payroll checks.
If you only need to print a few checks at a time and would like to do it at no cost to you, check out our guide on how to print payroll checks for free.
Payroll Checks vs Personal Checks vs Business Checks
Payroll check paper stock includes room for the specific fields you need to record the payroll information you need to track such as pay periods, gross and net pay, deductions, and paid time off (PTO) balances. We'll compare using different types of checks for payroll.
Payroll vs Business vs Personal Checks Comparison Chart
| Features | Payroll Checks | Business Checks | Personal Checks |
| --- | --- | --- | --- |
| Customizable With Business Name | ✔ | ✔ | N/A |
| Able To Write Information Manually | Maybe | Maybe | ✔ |
| Can Print From Computer Software | ✔ | Maybe | N/A |
| Form-Fed Options Available | ✔ | ✔ | N/A |
| Print Layout on Top, Middle, or Bottom | ✔ | ✔ | N/A |
| Room for Employee Pay Stub Details | ✔ | Maybe | N/A |
Payroll Checks for Payroll
Payroll checks are designed specifically for paying employees. They have a check portion on the paper that includes the payee, net amount, date, and signature, much like a business check. But they contain additional features that neither a personal check nor a business check have, like room for hours, earnings, and deductions.
They come in many formats, e.g., with the check stub at the top, middle, or bottom of the paper. Payroll checks also come in a manual format where you can write the information, as well as printable formats used by most payroll software.
Business Payroll Checks
Business check stock is usually used to pay non-payroll business expenses. Similar to personal checks, business checks typically don't have the features of a payroll check such as extra space for adding additional employee information.
Personal Checks for Payroll
Personal checks are checks provided by your bank or a check vendor, and lack the space to record employee earnings, deductions, and net pay. In other words, they lack a pay stub.
Keep Payroll, Business & Personal Bank Accounts Separate
It's a good idea to establish a business payroll account that is separate from the business account used for business receipts (income) and expenses. Some small businesses opt to combine the two, which can be a huge help as your business grows. Commingling your business checking account with your payroll account could cause problems in case of a business or tax audit, not to mention making it difficult to keep track of your payroll costs.
While separating your payroll and regular business checking accounts is optional, you should always keep them separate from your personal bank account. If you're audited, it may be difficult to separate which payments were for business rather than personal use, and it could negatively impact your tax bill. So save yourself the trouble and at the very least, create one account for business and one for personal.
Tip: Remember, using paper checks is only one option you have to pay employees. Check out our guide on the different ways to pay employees to learn about your other options.
Payroll Check Examples
Here are a few examples to help you consider the kind of payroll check paper you might want to buy. These images are from vendor websites; each vendor is listed below the image. You'll notice that the kind of checks you order depend on the printer, your software, and whether or not you need an actual check or simply a pay slip, such as used when you use direct deposit (where the check information is voided).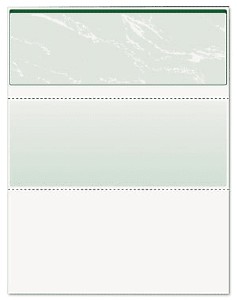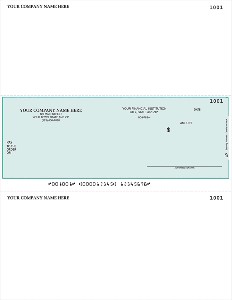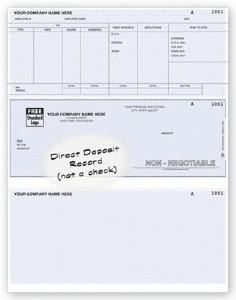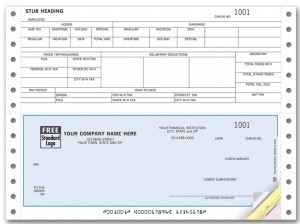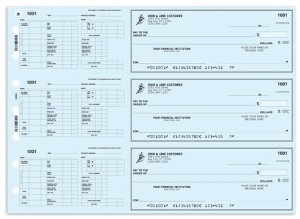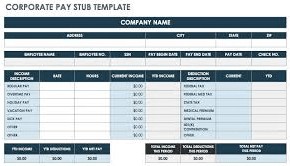 Creative Business Payroll Check Ideas
Remember, payroll checks don't have to be boring. If you really want some affordable ideas on how to spice yours up, check out a few we found below:
Frequently Asked Questions (FAQs) About Payroll Checks
Below are questions small business owners may have about payroll checks.
Can I use check stock with three checks per page to print my payroll checks?
Yes, you can, but you should make sure each check has a space on either side of it for you to print pay stub information, especially if you're in a state, like Arizona or Colorado, that legally requires it.
Will banks process payroll checks that aren't printed in magnetic ink?
Yes, banks will process checks not printed in magnetic ink, but their automatic magnetic check readers may not. This means they will have to manually process your checks. Some banks have policies in place that allow them to charge you if you issue checks that don't have, for example, your account, routing, and check numbers printed in magnetic ink.
Can I print my payroll checks with regular paper instead of check stock?
Legally, yes, you can. However, you place yourself at more risk for fraud, because regular paper doesn't contain the security features that payroll check stock has. Also, the checks may appear suspicious to a bank and could be rejected because of concerns that they're fake.
How can I personalize my check stock?
Personalizing your check stock means creating it specifically for your business. Some check providers, especially payroll software companies, will allow you to add your company details, name, address, and so on before printing. Most custom check printing companies will also allow you to print your logo on the payroll check.
What's a duplicate check?
A duplicate check is a copy of your regular check that's located behind it on a thin sheet of paper. These can be carbon or carbonless, depending on the provider, but both will copy all of the details you write on your original check onto the duplicate check below. Once you distribute the original check, you will always have a copy to reference.
Bottom Line
When purchasing payroll checks, you have to know what's required so that it matches your software and printer, as well as fits your employer brand. Decide if you want your check stock to reflect the essence of your company or if any check stock will do. The choices you make determine where you buy payroll checks and how much they will cost.
Better yet, work with a payroll company, like Gusto so you can process payroll online, calculate and file payroll taxes, and pay employees via direct deposit or printed paychecks. Sign up for a free quote.