4 Ways to Print Payroll Checks Online for Free
Finding ways to print payroll checks online for free is a good option if you have employees who prefer checks over direct deposits. All you need is a printer, check stock, and magnetic ink, and you can usually print within minutes. However, free services are generally limited—some only allow one check per day. In addition, they do not generally allow you to pay your employees in different ways, like via direct deposit or pay cards.
If you need payroll software that allows you to print more than a few paychecks per day, try Gusto. You can print an unlimited number of payroll checks whenever you need to at no extra cost, plus pay employees using direct deposit. The service also lets you put your payroll on autopilot and files your taxes so you avoid penalties and late fees. Sign up for a free 30-day trial today.
Option 1. Use Free Payroll Software
No-cost payroll software can be a great way to print payroll checks online for free. Here are two great options that you can use:
Payroll4Free
Payroll4Free is an online payroll software you can use at no cost if you're paying no more than 25 workers. It allows you to print checks and process payroll, which includes payroll tax calculations, several tax forms, vacation tracking, and more. You can also give employees the option of receiving their paycheck through direct deposit if you use your bank to set it up.
For printing checks online using Payroll4Free, follow these steps.
The first step is to visit the website and enter your business name and email address on the "Get Started Today" box located on the right side of the page. You'll receive an email that details the features included with the free service, available add-ons, and a link to verify your email address. If you click on the link, you'll be taken to Payroll4Free's sign-up page where you need to input your basic information like company address, contact details, and number of workers.
The system will send you another email with a link you can use to download the app. You'll need to respond to a couple of prompts, like giving your computer permission to run the program, so just follow the installation steps on the screen.
Once you log in to the app, you'll enter information to finish setting up your company, payroll, employees, taxes, and accounting. The system will need information like your bank's routing and account numbers, pay frequency (i.e., biweekly, weekly, etc.), and employee W-4 details. After entering all of the required information, you can submit and wait to be notified via email that your account setup is complete.
---
Once you receive the email verifying your account setup, you can process payroll. On the left-hand side of the screen, you'll click the "Payroll" menu option. It'll bring up a dashboard that shows processing, reports, and maintenance. Click to enter the PR Explorer process.
Before you can start printing payroll checks, you'll need to start a new batch and enter your employees' hours or salary. You'll also need to enter and verify the check date, payroll period, and payment types (checks and/or direct deposits). The system will automatically calculate deductions, employer taxes, wages, and salaries payable based on information entered during setup and the hours you submit.
Once all of your employees' information is entered, you can view your preposting reports before printing the paychecks. This will help ensure your checks are accurate, so you won't have to void in the system and reprint later.
Preposting reports contain all of the information about your current payroll. You'll see earnings, taxes, general ledger accounts, etc. The first official report that will show is the earnings report. After you review the earnings report, you will see a detailed tax report, summary tax report, journal entries, and check register. To toggle through these, click the left or right ticker (arrow) at the top, under your company name.
The check register is the last report you will see. There won't be a check number because you will not have printed the checks yet. As you move your mouse over the employees' records, you will see a blue bar. This means you can drill down. Hover your mouse over the check you'd like to preview and double-click.
To exit the drill-down, click on the white X in the upper right-hand corner. The system will take you back to the check register. Once you have reviewed and approved the applicable reports, click "Post" (with a green checkmark in front) on the upper right-hand side. The post function will update the payroll and send you to the check printing screen.
---
You will see a note at the top that reminds you to load payroll check stock into the printer. Once you've loaded the printer, verify that the printer listed is where your checks should be printed. If not, open the drop-down box and select the correct printer. Also, confirm that the checks listed below are the payments you're expecting.
---
When you're ready, click "Print All" on the right (third from the top). Your checks will print, and the system will ask you to confirm that the checks were printed correctly. There will be a prompt asking if you want to see the posting reports. Click "Yes," and you will see reports that look similar to the preposting reports but with check numbers. You can export the file as a pdf, CSV, or txt file. To exit, click the white X in the upper right-hand corner.
The system will take you to a list of posted batches. If your batch has a black font, it means checks were printed. If it's in red, you've updated but haven't physically printed the checks. If the batch is shaded in gray, there's a void check in the batch. To close out of the PR Explorer, click the "Close" button on the far right-hand side (last button in the list).
If you ever need to reprint checks, just click "Other Reports" under Reports to see a drop-down list. You will need to select "Payroll Check Register Report." Enter a time frame, i.e., 06/07/2021 to 06/21/2021, and then "Generate." The system will then show you a check register report (similar to the one that displays when you print an original batch).
Follow the same process as described above by hovering over the transaction you want to see, double-click, and the check will display. Since it's already been posted, you can select "Print," and the check will reprint.
---
eSmart Paycheck
eSmart Paycheck is an online payroll software that can handle very basic payroll needs like calculating payroll and taxes, printing tax forms, and printing paychecks. In addition to the free plan (which is free only for the first three months), it offers annual packages (yearly fees start at $75) that allow customizations and save payroll data.
Follow these simple steps to print checks online using eSmart Paycheck:
This step is actually optional. If you only have a single check you need to print in a pinch, you can go to the free paycheck calculator and put in the information. However, if you want to save paychecks, compute taxes, and manage payroll, then register first.
eSmart will mail you a verification code, and once you enter it, you can set up your company, payroll, employees, taxes, and accounting. The system will need information like your bank's routing and account numbers, and pay frequency (i.e., biweekly, weekly, etc.). You are also invited to add company-specific policies like vacation and sick pay.
You'll want to check the Earnings tab, where it lists the most common earning types, from commissions to overtime. You can make changes or add new types of earnings to be used in payroll calculations. You can do the same for deductions.
Adding employee information is optional in the registration process, but you will need it for running payroll. This is also true for adding paydays. After entering all of the required information, you can submit and wait to be notified via email that your account setup is complete.
---
When you are ready to run payroll, click on Create Payday in the top left-hand menu. Then you will then enter basic information, like paycheck date, check starting period, pay period, and pay cycle (monthly, weekly, etc.)
After that, you have two choices: You can create paychecks one at a time or you can run the Payday Wizard, which is the blue button at the bottom of the list of employees.
From Payday Wizard, you can click off employees you don't want to create a check for, add other payments like commissions or sick pay, and adjust hours if needed. Then you click calculate to see how much the checks will be and Create Paycheck to create the checks.
Before creating the checks, it will show you the details so that you can make any corrections as needed. After that, click on Submit Payday to get a summary report with wages and taxes. Click Save to save the payroll.
---
Once you save payday, you can either view the summary report or select Print All Paychecks. This will download the paychecks as a PDF. eSmart Paychecks prints on standard 3-part blank check stock. This stock is available commercially or from eSmart for a service fee.
---
Option 2. Use a Mobile App
If you don't have a computer or laptop, printing from a mobile app is a good option. For Android users who want to write and print checks at home, consider Check Writer. All you need is a US bank account, a phone, a printer, personal-sized blank check stock, and magnetic ink. After printing the check, you can sign it and give it to your employees to endorse and cash. You can also keep a digital copy on your smartphone or tablet.
One concern you might have is security since printing from the app requires entering your bank account numbers. The application states that your bank information will never be uploaded to the cloud or stored in a server or any other place.
Follow these simple steps to use to print a check from the Check Writer mobile app:
Search for and install the app. After you open the app, you'll be prompted to agree or disagree with the privacy policy and terms of use.
---
Fill the check out by entering your name and address at the top, the payee's name beside "Pay to the order of," and the amount in numeric form. Write out a memo and include your signature (which is just your name in print).
When you're ready to add your routing and account numbers at the bottom, click in the area they should be entered and a prompt to add a bank account will display. You'll see the image of a check at the top of the page with arrows showing you where to find your routing and bank account numbers on checks issued to you by your bank. Scroll down and enter the following:
Your full name
Address
Bank name
Routing number
Account number
Starting check number
After you enter all of the information, click "Save Bank Account." The app will display a message reminding you to verify that the data you entered is correct and it's not responsible for any errors. Click "OK," and you'll be sent back to the page displaying your check.
Now, you can add the bank account you just created in the system. Click in the bottom area where your routing and accounting number will show, and a prompt will display with the accounts you entered. Select the bank account from which you want to pay, and the routing account and check numbers will automatically populate on the check.
---
In the top right-hand corner, you'll see a series of white dots aligned vertically. Click on them, and a drop-down will appear. Select the last option, "Print or Save PDF." A box with information about print settings will appear. Be sure to read that, because you may need to change your check alignment, border, or size when you're finished reviewing the check preview.
---
Now, you're ready to select a printer. Select "All Printers" in the top left-hand corner (you'll see the alternative option to save as a PDF), and your device will begin searching for printers. You can add a wireless printer from your phone settings; the exact steps can vary depending on the type of phone you have.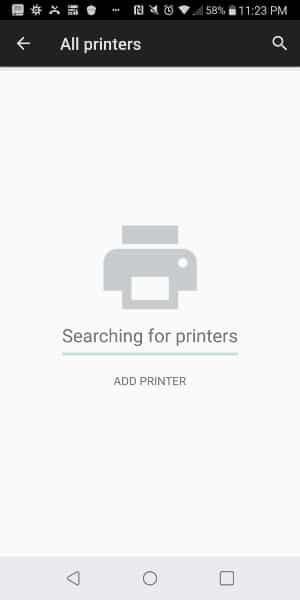 Be sure your printer and your phone are connected to the same Wi-Fi network. This will make it easy for your phone to find and connect to the printer. If you don't find the option to add a printer in your phone settings, check your manual or Google.
Add check stock to your printer. Check Writer 3.0 can only print using personal-sized check stock but plans to offer business-sized checks in the future. The app recommends you use Office Depot's personal check stock for printing.
Check Writer doesn't have specific printer settings to follow, but if you find that fields are overlapping on the check when you print, go to "Settings" -> "Customize checks." Then, try to decrease the font size or change its type. If you have alignment issues, go to "Settings" -> "Print Settings" and adjust until you find a fit.
If your printer doesn't support wireless printing, just save the check as a PDF file. Send it to yourself via an online email account, and print from a computer or laptop. Also note, if you'd prefer to print blank checks and hand-write them later, the app supports that. Follow all the steps above but leave the check information blank.
---
Option 3. Use Free Online Check Printing Services
A free online check printing service is useful if you need to print a small number of checks without having to download or install payroll software. Here are two different providers that you can utilize for free check printing:
Print Check Online
Print Check Online will allow you to create checks instantly for free with no download or installation. Limitations are that you're only allowed to print one check per day and have one payer profile, bank account, and mailing address on the account. However, you can increase the number of checks for printing and add more payer profiles, mailing addresses, and bank accounts by upgrading to its paid plans (monthly fees start at $35).
Follow these simple steps to use Print Check Online's free online check printing service:
First, you'll need to create an account. Click "Create Free Account" at the top middle of the page, following "Home." It will take you to a page that requires you to enter a login ID, password, and email address to finalize your account setup. Be mindful of the password rules when setting (no % or space). Once you're done, you should receive a confirmation email sent to the address you entered within 15 minutes. Follow the link in the email to verify your email address.
---
Once your email is verified successfully, you will have the option to sign in. Once you're signed in to your account, click "Check Printing" at the top of the page (after "Home"). Then, you'll see all of the information you need to enter:
Your name and physical address
Your bank name and address
Your mailing address
Check number, amount and date
Payee's name
Memo
Routing and account numbers
Layout order: Defaults to Check number -> Routing number -> Account Number (with a free account)
---
Print Check Online requires your resolution settings to be at 96 DPI. To change on Windows 10, you will need to close all the programs currently running on your computer. (If you're using a different operating system, like Mac, you should consult your manual or look up how to change DPI and page set up on Google.) Windows 10 users should do the following:
Right click the desktop -> Click on "Properties" -> Click on "Advanced" -> Change DPI setting by selecting "Normal size (96 DPI)"-> Click on "Apply" -> Click "OK"
Once your DPI is where it needs to be, adjust your page setup and do the following:
Click "File"-> Click "Page Setup" -> Change the page size to "Letter" -> Change all margins to 0 (they automatically set to the minimum inches)–>Change all headers and footers to "Empty" -> Click "OK"
Once your settings are updated, you can load the printer with check stock. Print Check Online recommends you use Versacheck Form 1000 Prestige Checks.
---
After you enter your check information, adjust the print settings, and load your check stock, you can opt to preview your check. Click "Preview Your Check," located at the bottom of the page, and you will see your check with a watermark indicating it's for preview only. When you're ready to print the check, select "Click to Print Your Check" at the bottom of the page, and the same check will populate without the watermark. Then, print to the printer you want to use.
---
CheckRobot
CheckRobot is another free check printing service that you can use from anywhere. All you need is blank check stock and a home printer. If your bank supports optical check scanning, which requires a special magnetic ink character recognition (MICR), print a sample check first and let your bank confirm they will not have problems recognizing it. Similar to Print Check Online, it has a free plan that lets you print up to three checks monthly, while its paid plan (costs $6.50 monthly) come with unlimited check printing.
Follow these simple steps to print payroll checks using CheckRobot:
The first step is to visit the website and enter your name and email address. You'll immediately be directed to CheckRobot's dashboard once you log in.
---
Click the "Add Bank Account" button in the upper left corner of the dashboard and provide your bank account details, including your bank's name, address, nickname, routing number, account number, and starting check number. Then, click the "Create a New Account" button at the bottom of the page.
---
After creating your bank account, you can proceed in adding your payee's name, address, and bank account, and click the "Create New Payee" button. After creating a new payee, you will be directed to another page that will allow you to create a check. You can also add another payee, delete, or add another bank using the buttons at the upper left of the page.
---
When you click the button to create a check, you will be directed once more to a page that will need the amount you will provide the payee. The date, check number, and memo (payee's account number) are automatically filled out but you can still edit the information. Once you click "Create a Check," you will then see a listing below the page of all the checks that you will issue. It also has a feature to convert it to PDF format or delete the check entry.
---
Be sure you have your magnetic ink cartridge or toner in the printer. After you load your check stock, click "Get PDF" to view the PDF with the check information. Double-check your entries, and then Save the PDF. Adjust your printer settings and print your personal check.
---
Option 4: Use a Free Trial With Online Payroll Provider
You can find plenty of payroll providers that will offer a limited free trial, so you can print payroll checks easily, but to continue doing so, you'll have to sign up and pay after your trial is over. Some will require you to enter payment information, such as a debit card, before activating your trial, but others will allow you to start using the system without it. Gusto is a great example of a payroll provider that offers a 30-day free trial for all new customers interested in its product.
Follow these simple steps to print checks online Gusto:
First, you'll enter information about yourself and your company—name, address, number of employees, etc. You'll set your password and declare whether or not you've run payroll in the current year. You'll also tell the system if you offer health benefits and how you heard about Gusto. Then, you'll create your account. Gusto will send you an email to confirm your email address. Once you click on the link, you can complete the setup and run your first payroll.
After you sign in, you will have to enter a bit of information to get started. Remember, with payroll software, you have to process payroll before printing checks. You'll enter information regarding the following:
Accounting software integrations
Company addresses
Employees
Federal tax information
State taxes
Bank account information
Pay schedule
Previous payrolls, if applicable
Unpaid tax liabilities
To pay your employees with payroll checks, you will need to specify this within the employee setup menu. Click on "People" on the left-hand side of the dashboard to enter information about each of your employees. This is where you will specify the preferred payment method is check.
---
Gusto has a time-tracking system that allows you to track and approve your employees' work hours. After you enter them into the system, they will receive their own login and can enter their hours each period. Pay for salaried employees will be consistent each month. Once you approve time for all employees, Gusto will calculate gross pay and deductions. You'll need to verify that everything looks correct before proceeding to print your payroll checks.
---
After running payroll, click "Print Checks" on the Write Checks screen. You'll need to choose your check type. You can print personalized checks on top paper or blank checks on bottom paper. Gusto recommends specific personalized check stock and blank check stock to ensure compatibility with the system.
If you choose the personalized top check option, you will need to select "Layout t10196," and when you're choosing the check style, toggle the tab from "by Software" to "by Layout."
If you have blank check stock and need Gusto to populate your company and bank information, choose the blank bottom check option.
---
Be sure you have your magnetic ink cartridge or toner in the printer. After you load your check stock, click "Prepare Checks" to view the PDF with the check information and earnings statement. Save the PDF if you're using the "Blank with Check on Bottom" option, because check numbers will change if you have to regenerate the batch at a later time for reprinting. To avoid printing issues, deselect the option for Fit to Page or Scale to Page.
Then, all you have to do is print, sign, and deliver the checks to your employees. Pay stubs are included, so you don't have to manually prepare.
---
Other Considerations When Printing Payroll Checks for Free
As we've covered, to print payroll checks online free you can try a check printing website or payroll software depending on whether you also need help processing payroll. If you choose payroll software, your check printing process will be longer because you must run payroll first.
To learn more about what it takes to do payroll from start to finish, check out our guides on how to do payroll and the various methods of paying workers. Generally, it's best to have multiple ways to pay your employees to help limit the number of checks you need to print. However, when you are preparing to print payroll checks, you must keep the following in mind:
You can use any printer to print as long as you also use magnetic ink or toner. If you don't, your bank can opt not to process the payroll checks or charge you an additional fee. The bank's check readers are designed to detect checks printed in magnetic ink. If you print in regular ink, it may not recognize your routing and account numbers, which means the bank teller will have to manually process.
Your printer settings will need to be checked per the application's instructions to ensure your check information is aligned properly when printed. Some software services will allow you to perform a test print before printing the actual check. If that option is available, we recommend it.
You'll also need payroll check stock to print your checks. If the service you use recommends a particular check stock, it's a good idea to use it so you don't have compatibility issues. Services that aren't payroll-specific, like check printing mobile apps, will print checks as personal checks. This means the check stock you use must be personal check stock, which doesn't have a paycheck stub listing earnings, deductions, and taxes. Depending on your state's pay stub regulations, you may need to provide this information to employees.
Don't know what to look for when buying check stocks? Read our ultimate guide to payroll checks as it contains tips on where to buy check supplies and the features to consider.
Once you understand what you'll need, you can use free online check printing solutions or a payroll software like Gusto to prepare paychecks. You can also download our free pay stub template that complies with state-by-state laws.
Bottom Line
Printing checks online for free is convenient but limited. Most services allow you to print a certain number of checks daily or free for a limited period. Some allow you to print free indefinitely but for a limited number of employees. And if you're not using payroll software, you'll have to create your own pay stub.
Gusto will save you time by automatically calculating all periodic and year-to-date totals for earnings, deductions, and net pay, so you don't have to. It provides a pay stub for each employee, and you can reprint your checks and pay stubs at any time. Sign up for a free trial today.