There is an extensive range of free QuickBooks training online and paid resources that can teach you everything you need to know about QuickBooks in spite of budget, time, and expertise constraints. In this guide, we'll cover a range of online and in-person training resources. When you're ready to purchase, click here to receive up to 50% off QuickBooks Online.
This post is sponsored by QuickBooks.
QuickBooks Training – Summary of Options
Here's a summary table of the recommended provider for each training forum and the cost, if any.
For sole proprietors that have relatively minimal accounting needs, learning to use QuickBooks yourself can be a big money saver. But for businesses with employees and more complicated accounting needs, it will probably make more sense to hire somebody to manage your books for you.
If you go with a virtual bookkeeping service like SmartBooks, you can get professional help without an over-the-top price tag.  They will set up QuickBooks for you and keep your books in order. Basic plans start at $250/month and your dedicated account manager will send invoices, make sure your bills get paid, create cash flow reports, and run payroll. Get your first consultation free.
Fit Small Business QuickBooks Free Video Tutorials & Step by Step Instructions
Cost: Free
Our very own QuickBooks tutorials for small business owners will help you set up QuickBooks Online and take advantage of more advanced functions. To access all the lessons, click here. The lessons break down into bite size tutorials, making them a great way to learn QuickBooks and become an expert.
Visual learners can watch the videos, while those who want a more detailed approach can read the step by step instructions. Complete all the lessons at once, or come back to them on an as-needed basis – the tutorials offers you options and flexibility.
Here's some of our most popular tutorials:
In these tutorials and the accompanying videos, our resident CPA and QuickBooks expert Crystalynn Shelton will demystify QuickBooks and give you all the information you need to know to use QuickBooks Online to your business' advantage.
QuickBooks Video Tutorials & Guides
Cost: Free
Recommended Provider: QuickBooks
Before spending hours trawling through search engine results, it's important to remember that the solution to your QuickBooks question could already be at your fingertips. The software has a powerful built-in learning center that is accessible under the help menu. Just click on Help and select Videos: Explore the power of QuickBooks as indicated below: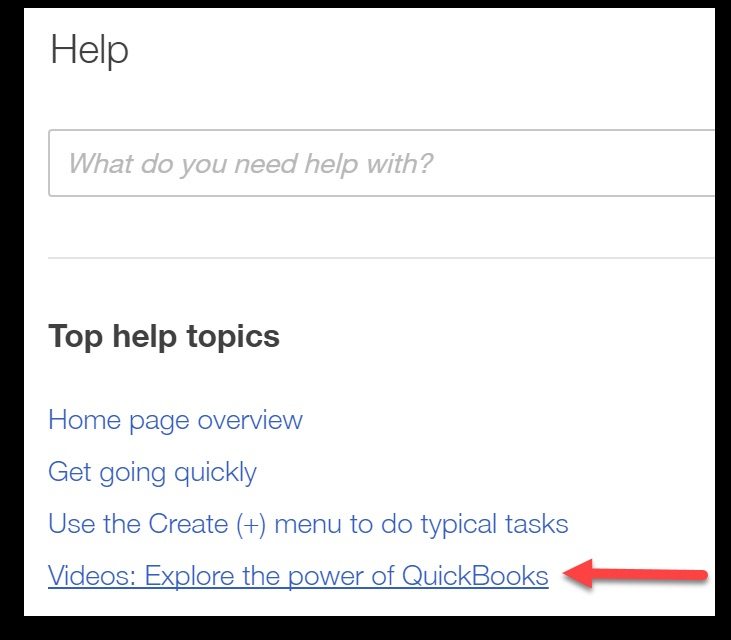 Video tutorials can be a great way to refresh or expand your QuickBooks knowledge, and learn how to use specific QuickBooks functions. You can replay such video tutorials as many times as you like, and access them instantly whenever you need to learn a new function.
The QuickBooks library is organized into the following 7 topics; within each topic includes bite sized videos as short as 2 minutes long.
QuickBooks Basics
Money Out
Online Banking
Payroll
Adding your Information to QuickBooks
Money In
Switching to QuickBooks Online
QuickBooks User Forums and Support Pages
Cost: Free
Recommended Provider: Intuit
Sometimes the best people to answer your QuickBooks questions are other users who operate the program day-in, day-out in the real world.
Intuit's official community forum is an excellent starting point. The Intuit community forum presents a searchable database of almost half a million answered questions. Questions often attract multiple answers that are user-rated for effectiveness.
If you're seeking to learn how to use a specialized or advanced function like how to track payments for a business loan or you have a specific troubleshooting question, then QuickBooks community forums and support pages may be your best destination.
Chances are that someone has already solved your problem, and a quick search through the forum threads will often reveal your answer. Alternatively, if your question is unique in the QuickBooks universe, posting it in a community forum will likely attract an expert solution.
QuickBooks Books and User Manuals
Cost: $18-$20
Recommended Provider: Amazon
To be completely honest, we typically do not recommend books when it comes to QuickBooks Online. This is primarily due to the fact that they become outdated very quickly because QuickBooks Online is generally updated every 6 weeks on average.
However, if you do prefer books, here are a couple that I found on Amazon that you may find helpful:
It's available on Amazon for $20 (free shipping for prime customers). While it's only received 8 reviews, it is the one of just a handful of guides available for QuickBooks Online that received a good review. The rating was 4 out of 5 stars and the customers who purchased this book have said "It is a must read for any level", "It is a good introductions to QuickBooks Online" and "It is an excellent reference guide."
I'm a big fan of the dummies series. I own several of these books and I have never been disappointed. QuickBooks Online for Dummies is also available on Amazon for $18. The beauty of the Dummies series is that they do a terrific job of breaking everything down into bite-sized chunks so that anyone can understand and grasp the concepts that are being taught.
Self-Paced CDs & DVDs
Cost: $450
Recommended Provider: QuickBooks Training
If you're more of an audio or visual learner, or just want something more interactive than a book, self-paced CD and DVD training might be a better option for you.
QuickBooks Training offers QuickBooks DVD training guides by mail order that offer the opportunity for self-paced learning and serve as a thorough QuickBooks reference guide that you can refer back to without the need for an internet connection.
QuickBooks Training has trained more than 1 million people on QuickBooks, and they are endorsed by Intuit. They can be trusted to deliver a polished training course that has been thoroughly tested in real world application. Below are the some of the topics covered in their Level 1 Mastering QuickBooks course:
How to set up a company file
How to manage sales and income
How to manage expenses
Inventory management
Accounting Basics
It's important to remember, however, that not all QuickBooks DVD and CD trainers are created equal. Avoid those that do not provide you with printed or downloadable course guide. You will need to refer to the guide when you get ready to use QuickBooks on your own.
Live Online QuickBooks Classes And Webinars
Cost: $490
Recommended Provider: Webucator
Live online classes essentially take the classroom concept and transfers it to the virtual world where interactive video webinars connect you with an instructor in real time.
This is a convenient way to access expert QuickBooks training online by simply logging onto a scheduled course from your own computer and downloading supplementary course materials.
The quality of live online classes and webinars can vary widely. Look for instructor-led webinars where you can view the instructor's computer screen in real time and are afforded the option of asking questions – either via a text chat function or a connected microphone. If you want to be able to track which courses your students have completed, consider using a learning management system.
Webucator has provided QuickBooks training to more than 70 per cent of the Fortune 100 companies and is a Microsoft Certified Partner for Learning Solutions. The company offers instructor-led live online QuickBooks training for $490 for 2 days of training. In this course, you will learn the following:
How to create invoices and credit memos
Inventory management
Track job costs
Generate financial reports
QuickBooks Classroom Training
Cost: $550 for a basic course
Recommended Provider: QuickBooks Training
Several training companies offer face-to-face QuickBooks training in a classroom setting in locations around the US. The benefits here are personal access to an experienced instructor who can guide you through any sticking points, the provision of additional course material and learning manuals you can take back to your office, and an opportunity to network with other QuickBooks users in your local area.
Courses range from beginner to advanced level, but a good place to begin is with a standard two-day workshop that will give you strong foundational knowledge. In general, this two-day course will cover the following:
How to Manage Sales and Income
How to Manage Expenses
Tips & Tricks
QuickBooks Training offers an Intuit-endorsed QuickBooks training program. Their extensive Mastering QuickBooks two-day classroom course is taught in locations across the US. You'll pay $550 for 14 hours of training.
If you're looking for training in the southern California area, you can catch Crystalynn from Fit Small Business live in the classroom at UCLA Extension where she has taught QuickBooks for the last 8 years. This course is offered in a live classroom or you can take it online. Click here for a full description of the course and to sign up.
One-On-One QuickBooks Training
Cost: $100/hour & up
Recommended Provider: Intuit
Many private QuickBooks trainers service areas around the US, and there's a good chance a friendly local trainer operates in a market near you. Fees for one-on-one private training differ widely between markets, but expect to pay around $100 per hour. This may seem pretty steep, but you'll likely save significant time with a focused one-on-one approach.
Most private trainers will visit your home or office for one-on-one training sessions that can be customized around your specific business needs.
Training sessions can be booked into gaps in your busy schedule without the need for you to block out whole days to attend classes, and you won't waste time learning practices that are irrelevant to your particular business processes.
Ensure that you engage a certified QuickBooks ProAdvisor (like myself). Intuit maintains a network of 100,000 expert ProAdvisors in a searchable online database. Check out How to Find a QuickBooks ProAdvisor where you can learn what to look for when hiring a QuickBooks Pro and where to find one near you.
Bottom Line: QuickBooks Training Options
Depending on your preferred learning style and your budget, you have a number of options to choose from when it comes to becoming more proficient in QuickBooks.
For many small business owners, having enough time to get things done is one of the biggest struggles. That's why it could make more sense for you to have a virtual bookkeeping service like SmartBooks run and manage QuickBooks for you. They can send your invoices, manage bill payments, run payroll, and more. Start out with a free consultation.