Best QuickBooks Training Courses
QuickBooks accounting software is used by small business owners, managers, and bookkeepers who provide accounting services to small business clients. We chose it as the best small business accounting software due to its extensive features and ease of use. With all the features, the learning curve is high for new users. Whether you opt for QuickBooks certification, instructor-led classes, or self-paced training, some studying can help you learn how to use the program to harness its power. Depending on your budget, you can access classes or tutorials at no charge or opt for a fee-based training course.
QuickBooks Training: Best Overall QuickBooks Training Courses

QuickBooks Training offers online and self-paced courses for both the Online and Desktop versions. With on-demand training, users can start and stop the course as their schedule allows. You can watch the video tutorials as often as you like, and live classes are also available.
PROS

CONS

A wide range of courses available for all skill levels and industries, from accountants and contractors to nonprofits and enterprise businesses
Price per course is higher than most other QuickBooks training options.
Cost-effective course bundles are available for both QuickBooks Online and QuickBooks Desktop
Only the most current version of QuickBooks is taught with no option to work with previous versions.
QuickBooks Training offers a money-back guarantee: if you attend class, and it doesn't meet your expectations, you can request a refund
Training programs are self-paced, allowing you to learn when it's convenient
Pricing and Plans
QuickBooks Training offers both live classes and self-paced training. A variety of courses for both QuickBooks Online and QuickBooks Desktop are available for independent study. The following is a breakdown of the cost of each.
| | Live Classes | Self-paced Training |
| --- | --- | --- |
| Cost | $679.95 | Starting at $579.95 |
| Length of Course | 2 days | 2 days (on your own time) |
| Also Includes | Study guide, practice test, free exam voucher (includes one retake), and access to instructor for Q&A | Reference manual, free updates for life, and 24/7 access to course videos |
If you plan on enrolling in several courses, QuickBooks Training offers a VIP membership, which allows access to every course offered―including all updates―live weekly webinars, and live Q&A sessions every weekday with an instructor. For a limited time, the VIP membership is available for $679.95, which is a 30% savings off the regular price.
With QuickBooks Certification, students can validate their QuickBooks knowledge by becoming an Intuit QuickBooks Certified User. This test is offered at universities and technical schools and, while it costs $156 to take the test, it is free with enrollment. QuickBooks certification can be obtained with either live classes or self-paced training.
Instructor Expertise
In 1998 Intuit officially partnered with Real World Training as its QuickBooks Training partner. Real World Training is a separate company from Intuit and has been its only official training partner for more than 20 years. Its eight instructors not only train QuickBooks users but also provide QuickBooks training to the people who work at Intuit.
A few of the Real World Training instructors have been working in the software field themselves, either instructing or bookkeeping, for more than 15 years. The others have three to five years of experience. They are all certified under the Certified User program, and many are former teachers.
Method of Delivery
QuickBooks Training offers both live classes and self-paced training. You can schedule the dates that work best based on your availability for in-person training, which is two days long. The self-paced training courses can be completed at your leisure. With both methods of study, you will be granted access to video lectures and workbooks that are designed to enhance your learning. With QuickBooks live classes, you are encouraged to bring all of your questions to class. If your question isn't covered, the instructor will stay after class to help you one-on-one.
Courses Available
Live classes: Intended to help you become a QuickBooks Certified User, live classes provide all of the information needed to become certified, plus a free voucher for the exam. Courses cover the foundations of QuickBooks, everyday transactions, special transactions, automating tasks, customizing QuickBooks to your needs, and how to set up and pay employees.
Self-paced training: Offering classes for both QuickBooks Online and QuickBooks Desktop users, courses include mastering QuickBooks Pro/Premier, mastering QuickBooks Payroll, and mastering accounting basics for QuickBooks Desktop. There are also courses available for accountants, contractors, nonprofits, and enterprise businesses.
Our Expert Opinion
Because of the wide range of courses offered and the option of live or self-paced, we selected QuickBooks Training as the best overall training for QuickBooks Online and QuickBooks Desktop programs.
Fit Small Business: Best Free QuickBooks Training Courses

Fit Small Business offers lessons for beginners as well as supplemental training for those who want to boost their existing knowledge of QuickBooks. The 46 tutorials range in length from 2 minutes to 15 minutes.
Visit Fit Small Business Tutorials
PROS

CONS

You can watch the tutorials on your own time, and focus on the topics that interest you.
No one-on-one training offered
Tutorials are free
Access to Q&A is limited to user forums
Pricing and Plans
These QuickBooks training courses are all offered free of charge.
Instructor Expertise
The Fit Small Business QuickBooks tutorials are updated and maintained by Tim Yoder. Yoder is a Certified QuickBooks Time (formerly TSheets) Pro, QuickBooks Pro Advisor for both the Online and Desktop versions, and a certified public accountant (CPA) with more than 25 years of experience.
Method of Delivery
Each QuickBooks Online tutorial provides an in-depth lesson complete with instructions, examples, and video demonstration. The comments section for each Fit Small Business tutorial is also a helpful resource where students can post their questions and get answers from the moderator on a regular basis.
Courses Available
The QuickBooks tutorials cover the following topics:
Setting up QuickBooks
Managing sales and income
Managing bills and expenses
Managing banking transactions
Managing business credit card transactions
Managing credit card sales
Setting up and managing payroll
Reporting in QuickBooks Online
Our Expert Opinion
Fit Small Business offers an in-depth view of what QuickBooks has to offer. By breaking down longer lessons into bite-sized tutorials, students can digest them better, with each one containing a video demonstration of the concepts.
QuickBooks Support: Best QuickBooks Training Course for Learning Specific Tasks

QuickBooks Support offers help articles, community discussions with other QuickBooks users, video tutorials, and more. Live QuickBooks webinars are offered on a regular basis at no charge. However, there is no actual live support available, which can make it challenging to find an answer to a specific question.
PROS

CONS

All information is available at no cost
No live support offered
Best for learning specific QuickBooks tasks
Since some articles are authored by QuickBooks users as opposed to certified QuickBooks experts, there is no guarantee that this information is completely accurate.
Video tutorials always include the most recent features in the software since Intuit updates them regularly
QuickBooks certification courses are not available
Pricing and Plans
There is no charge to access these webinars, video tutorials, and articles.
Author Expertise
QuickBooks Support offers articles that are authored by both QuickBooks employees and users. Its video tutorials and webinars are created by QuickBooks staff.
Method of Delivery
Information is available via video tutorials and webinars as well as articles that can be accessed online.
Courses Available
QuickBooks Support offers free webinars, step-by-step video tutorials, and over 660,000 articles on a variety of topics, from account management and banking to reporting and taxes. The articles are created by both QuickBooks experts and fellow QuickBooks users. The QuickBooks Resource Center also offers articles to help you start, grow, and manage your business.
Our Expert Opinion
If you have a specific question about how to perform a QuickBooks task, QuickBooks Support is a free, comprehensive option. The information can be accessed with video tutorials, free webinars, and specific articles that address QuickBooks tasks.
Advanced Webinars by Hector Garcia, CPA: Best Live QuickBooks Webinars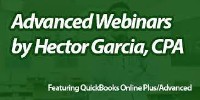 Hector Garcia, a CPA and Advanced Certified QuickBooks Pro Advisor, has created a series of webinars that aim to introduce the software and encourage users to feel comfortable with using it. He has produced hundreds of videos on topics related to both QuickBooks Desktop and QuickBooks Online. With more than 133,000 subscribers, his YouTube videos will help you to troubleshoot common QuickBooks issues and are offered free of charge.
Currently, he has a paid course available through Advanced Webinars, which is intended for contractors and project-based businesses. He has also recorded a course for manufacturers and wholesalers and accountants supporting multiple industries.
Visit Advanced Webinars by Hector Garcia, CPA
PROS

CONS

Both QuickBooks Online and Desktop courses are available
Paid courses are not ideal for those looking for a basic overview of QuickBooks
Each industry-specific course delves into each topic with a lot of detail
Access to some courses are only available for a limited time
Pricing and Plans
Course pricing varies, which is summarized below:
QuickBooks Online for Contractors and Project-based Businesses: The cost is $500 per year to access the six episodes.
QuickBooks Desktop for Manufacturers and Wholesalers: The cost is $500 for access to the eight recordings.
QuickBooks Online for Accountants Supporting Multiple Industries: These 14 recordings can be viewed by becoming a member of his premium membership, which is $200 for the remainder of 2021.
Instructor Expertise
Hector Garcia is the principal accountant at Quick Bookkeeping & Accounting LLC, an accounting firm based in Miami. He specializes in QuickBooks consulting and provides traditional accounting services such as bookkeeping, payroll processing, tax return preparation, and general business advisory.
Method of Delivery
The instruction is delivered in a series of videos that range in length from 1 to 2 hours. The topics are very specialized, focusing on specific industries.
Courses Available
There is one live series that is currently available, which is called QuickBooks Online for Contractors and Project-Based Businesses. This course will include six 100-minute episodes that will be completed by the end of August 2021. He also offers access to a prerecorded course, QuickBooks Desktop for Manufacturers and Wholesalers, which will be available through the end of 2021. For accountants supporting multiple industries, he has provided a series of courses that delve more into each industry, such as real estate and legal professionals.
Our Expert Opinion
If you're looking for live QuickBooks webinars, we suggest checking out Hector Garcia's Advanced Webinars. Although the topics are limited and industry-specific, the courses themselves are very thorough and presented in an easily understandable manner.
Certstaffix Training: Best QuickBooks Training Courses for On-site Group Training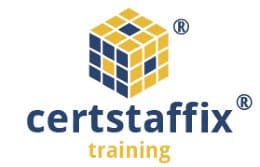 Certstaffix Training was founded in 2008 to develop an information technology (IT) training company that would make instructor-led computer classes more accessible to all areas of the United States and Canada. Certstaffix offers training for several versions of QuickBooks, and all classes are delivered by one of its expert trainers. Certstaffix also offers QuickBooks Certified User Desktop training classes.
PROS

CONS

Each QuickBooks course offered provides the training needed to understand and use the program.
Mac versions of QuickBooks are not supported.
With on-site training, the course is scheduled based on dates that you provide and completed in a convenient session of your choosing.
Course options are limited depending on the method of delivery
Software for class is provided in an online lab environment
Pricing and Plans
Public classes are offered both online and in-person at one of the many computer labs around the country. On-site training at your office or group live online classes are also available. For those who prefer to learn at their own pace, Certstaffix also offers an E-Learning Bundle, which includes two courses: Mastering QuickBooks Online and Master QuickBooks Desktop Basics.
| | Public Classes | On-site Training | Self-paced e-Learning Classes |
| --- | --- | --- | --- |
| Cost | Starting at $435 per course | Quote upon request | $250 for two courses |
| Length of Course | 1 to 5 days | Customizable based on your needs | 7 hours, 15 minutes of course time |
| Also Includes | Access to the practice lab environment for 180 days after most classes | Course manual with practice files | 6-month subscription length |
Instructor Expertise
Certstaffix instructors are professional trainers with an average of more than five years of delivering classes to business professionals.
Method of Delivery
Certstaffix Training public classes are instructor-led live online training that you attend either from your home or work location or at one of the computer labs. The instructors teach from a remote location while being able to interact with you like you're in a traditional classroom.
The online QuickBooks Pro courses are presented as a seminar, and they are task-based, focusing on real-world scenarios and challenges that students face in their day-to-day environments. For group training, an expert instructor will either come to your office or deliver a private live online class to your students. Instructors can view student progress and take control of their PC to provide direct assistance. Students can watch the presentation and also voice questions directly to the instructor, and participate in class discussions.
The QuickBooks E-Learning Bundle allows you to learn at your own pace, with lectures that utilize video and recorded screenshots.
Courses Available
Currently, the instructor-led courses available are:
QuickBooks Online Edition: Basic
QuickBooks Desktop Edition: Basic
QuickBooks Desktop Edition: Advanced
The E-Learning bundle includes Mastering QuickBooks Online and Mastering QuickBooks Desktop Basics. With group training, courses can be customized fully to your training needs.
Our Expert Opinion
From hands-on, instructor-led live online QuickBooks training for individual employees to private online or on-site group training, Certstaffix will work with you to determine the best solution for your learning needs. The primary goal of Certstaffix is to provide classes from live instructors whose approach to learning includes a balance of lecture and hands-on exercises.
College of Southern Idaho: Best Instructor-led QuickBooks Training Courses for College Classes

At the College of Southern Idaho, students can participate in instructor-led or self-paced courses that offer a variety of topics related to QuickBooks. As part of the CSI Workforce Development and Training Program, the College of Southern Idaho provides training and apprenticeship opportunities for individuals to master a new expertise and opportunities for companies to utilize local training for their employees.
Visit College of Southern Idaho
PROS

CONS

College of Southern Idaho
Instructor moderation and group discussions are only available with instructor-led courses
Prices are relatively affordable as compared to other QuickBooks training courses
There aren't any QuickBooks Desktop courses available for versions newer than 2019
Pricing and Plans
Depending on the course, prices range from $105 to $199.
Instructor Expertise
The instructor-led courses are taught by Scott Paxton, a CPA who holds master's degrees in business administration and accounting. Besides his accounting experience, he also worked as a manager in the banking industry and a college business instructor. He has spent much of his career helping small business owners implement and troubleshoot QuickBooks successfully.
Method of Delivery
Students have the option of self-paced or instructor-led courses. Instructor-led courses are designed for structured group learning and feature an instructor-moderated discussion board so that you can interact with your instructor. Self-paced tutorial courses are designed for completely independent learning, without instructor moderation or group discussion.
The length of each course is 24 to 48 hours, and they are entirely online. All courses feature instructional text and a final exam. Many courses also include supplemental learning material, such as assignments, quizzes, audio, video, infographics, and hands-on labs.
Instructor-led courses operate on a rolling monthly basis, with four available start dates. After enrolling, you will receive new lessons on a set schedule during a six-week period. Two lessons are released each week, and the final exam is released consecutively with the 12th lesson. You then have two weeks to complete the exam.
Self-paced tutorial courses are open enrollment, allowing you to enroll and start a course at your convenience. After enrolling, you will receive all lessons immediately and will be granted three months of access to complete the course content.
Courses Available
College of Southern Idaho offers more than 30 QuickBooks courses, which include the following:
Introduction to QuickBooks Online
Introduction to QuickBooks (2013 to 2019)
Intermediate QuickBooks Online
QuickBooks Online Series
QuickBooks for Contractors (2013 to 2015)
Performing Payroll in QuickBooks 2015
Although the College of Southern Idaho doesn't offer training for QuickBooks after the 2019 version, it anticipates adding courses in the future. While there have been a few features added since 2019, learning the 2019 edition will easily translate to success in more recent editions.
Our Expert Opinion
For those looking for structured courses tailored to a specific version of QuickBooks, CSI's Workforce Development and Training Program is a great option for affordable instructor-led college classes.
How We Evaluated QuickBooks Training Courses
We evaluated these training courses based on many factors, including cost, accessibility, course curriculum, and access to instructors:
Price: While some courses are available at no cost, others run upward of $600.
Available training methods: Many of these training courses are offered as self-paced training or live, instructor-led courses. We also evaluated the companies that offer in-person training.
Types of courses offered: Whether it's a topic-specific video tutorial or a course dedicated to a specific version of QuickBooks Desktop or QuickBooks Online, these companies offer a variety of courses for novices to accountants and advanced users.
Course instructors: Whether the courses are taught by certified QuickBooks ProAdvisors or CPAs, it is important to know the level of expertise that is provided.
Additional support available: Examples of additional support include reference manuals, study guides, access to course videos, and access to the instructor for questions.
Bottom Line
QuickBooks training courses come in various forms, including on-demand videos, online instructor-led or self-paced lessons, live virtual and in-person classrooms, and video tutorials. Most classes cover QuickBooks basics and are generally taught by certified QuickBooks ProAdvisors and/or CPAs who provide bookkeeping services to small business clients. QuickBooks classes are ideal for small business owners, bookkeepers, and anyone who is seeking to become a Certified QuickBooks User. Classes may also include structured lessons, access to an instructor, practice exercises or exams, a quiz or final exam, and a certificate of completion. Get started today with our Free QuickBooks Online Tutorials.