Top 20 Real Estate Farming Postcard Examples & Templates
Consistency is key when using real estate farming postcards for lead generation and brand awareness in a specific location to ensure your services stay top of mind. Besides displaying your brand and contact information prominently, your farming postcards should also include audience-engaging content like market data and statistics, holiday greetings, helpful buyer and seller tips, and more. For ideas, check out these 20 creative real estate farming postcard examples and templates and learn how to use them to generate and nurture client leads and referrals.
VistaPrint is an ideal option for farming postcards for realtors. There are hundreds of premade templates with many different real estate postcard ideas, the platform and design editor are very easy to use, and it has logo and design services if you get stuck. Plus, VistaPrint offers a wide variety of direct mail marketing collateral, from real estate farming postcards and business cards to brochures and branded realtor pop-by gifts.
Here are the top 20 real estate farming postcard examples with solid ideas for lead generation and marketing:
1. Introduce Yourself With Real Estate Farming Postcards
Source: Etsy
Size: 4 x 6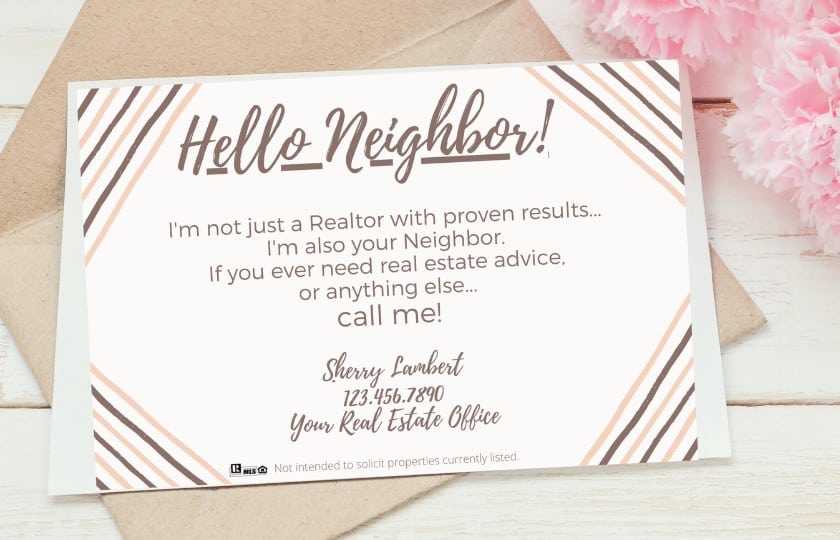 If you live in your farm area, introducing yourself as a neighbor can naturally encourage people to reach out for advice. It indicates that you have intimate knowledge of the local market, can be available to clients at the drop of a hat since you are nearby, and that you have a vested interest in creating a positive environment in the area as the current homeowners are.
If you don't live in the area you intend to farm, you can still introduce yourself as a neighbor if you socialize nearby or enjoy activities within a specific neighborhood as a means to connect with the area. Regardless, this is an example of how to use a simple postcard template to introduce yourself as a local real estate expert.
2. Provide Free Knowledge
Source: Big Block Realty
Size: 6 x 9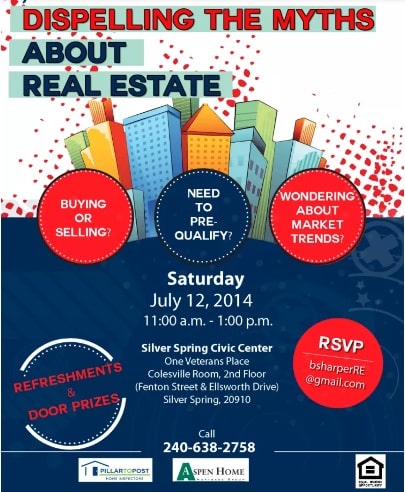 This real estate postcard idea is ideal for inviting homeowners on the fence about selling or buying to an event where they can find out if the time is right and how the process works. It touches on questions that often concern homebuyers, like getting prequalified, as well as how current market trends may affect buying or selling transactions. It's co-sponsored by a realtor and mortgage lender for extended reach and lead sharing.
In addition, the headline implies that there are myths in the real estate world to pique further interest in attending. Providing knowledge without asking for a commitment or anything else in return is beneficial to those looking into buying or selling a home, and often sets you up for lead conversion in the future. Also, having refreshments and door prizes always encourages RSVPs and attendance.
3. Provide an Opportunity
Source: Pinterest
Size: 4 x 6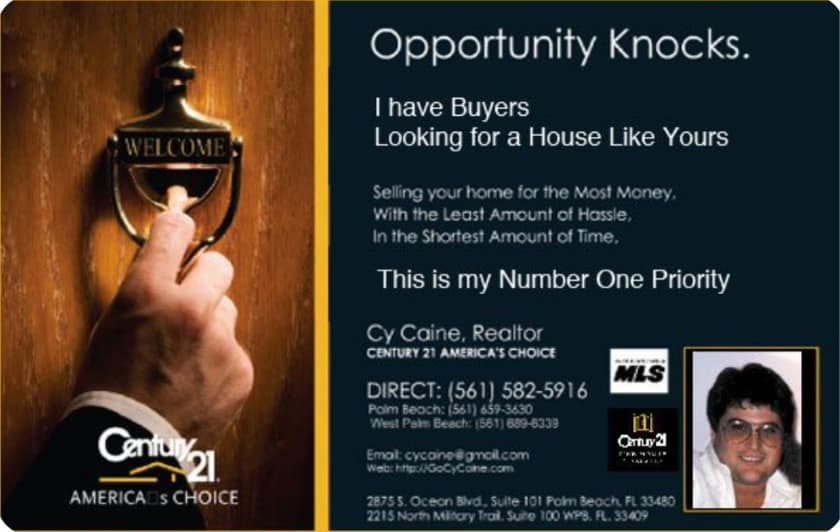 The phrase "opportunity knocks" implies urgency, encouraging potential sellers to reach out to you for details, such as what type of offer your buyer is prepared to make. It indicates that you have buyers ready to complete a swift, stress-free transaction with sellers for the highest value.
This is one of the best realtor farming postcard examples for showcasing the promise you offer for sales listings. It's easy for sellers to reach out with comprehensive contact information and a headshot that puts a name to the face for future clients. This is a great way to farm to get more real estate listings among homesellers and effectively shows your value as a real estate professional.
4. Free Home Valuation Farming Postcards for Realtors
Source: Real Estate Marketing Magazine
Size: 4.25 x 6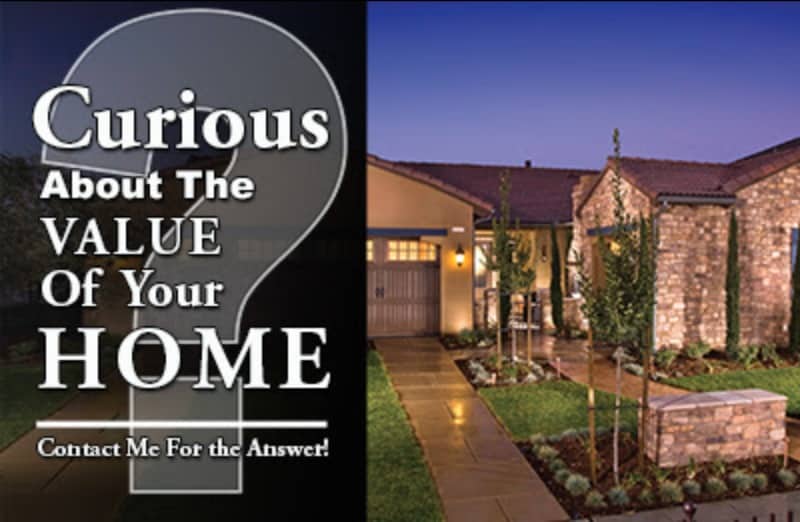 Another way to farm for sales listings in your real estate niche location is to send postcards offering a free home valuation to homeowners who are or may be interested in selling. This type of real estate farming postcard provides a direct call to action to catch the eye of homebuyers and sellers. Even if a homeowner is not looking to sell at the moment, they may be interested in continuing the conversation after seeing a valuation.
If not, you are still building brand awareness, perceived expertise, and establishing the basis to work together at some point in the future. This postcard also may be appealing to sellers who aren't technologically savvy or don't know other ways to estimate their own home valuation online. Giving a free incentive with no obligation in return is an excellent way to generate leads and become a successful realtor.
5. Market Updates Postcard
Source: PostcardMania
Size: 4.25 x 5.6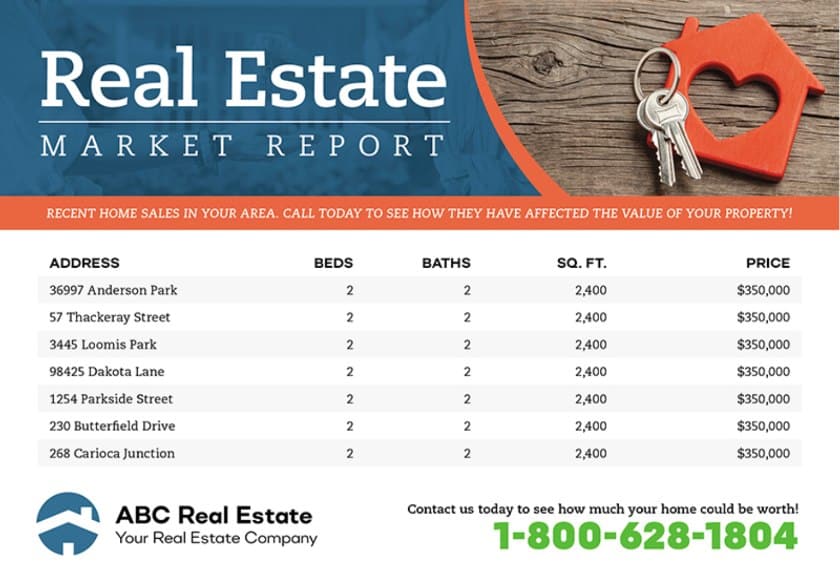 Most homeowners are curious about how their homes compare to their neighbors' homes and properties in surrounding areas. By sending a postcard to your farm area with current market statistics, you increase your opportunity of connecting with prospective clients. Moreover, it shows you have a deep interest in and understanding of nearby homes and the overall local market.
The example above also shows how you can focus on niche audience segments within your farm area by including specifics such as the number of bedrooms and baths, square footage, and price. These factors may cause a recipient to self-identify as a new lead by contacting you or to disregard the information if it doesn't meet their search criteria. You can change many different types of data specifications to fit the area you are farming.
Gaining prospects through direct mail and online advertising is a proven way to expand your real estate lead generation efforts. In fact, this PostcardMania postcard garnered amazing results, generating 219 potential buyer leads from 6,000 postcards sent (a 3.65% return, far higher than the 1% to 2% often expected from direct mail). Not only can PostcardMania assist with designing your postcard, but they can also track results and create ads on Google and Facebook that match the look of your postcard design.
6. Reduce Fees or Provide a Discount
Source: PostcardMania
Size: 4.25 x 5.6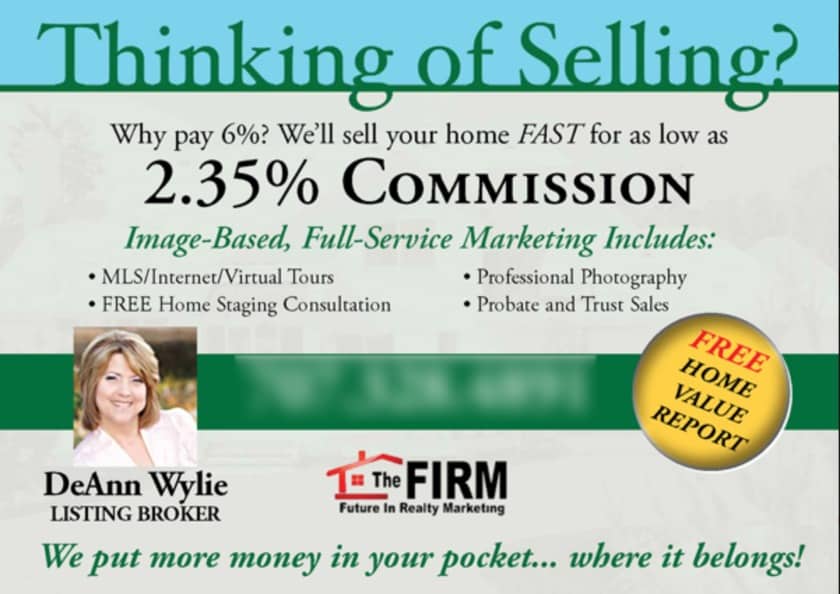 This postcard communicates several potential competitive advantages. First, the seller usually pays the broker fee, so requiring a lower commission can help you get more sales listings. It lets buyers know that the sales price is not inflated to compensate for a higher commission.
This postcard also mentions the valuable marketing services that come when sellers choose you instead of other realtors and speaks to your specialties (probate and trust sales). Any of these factors could entice leads to reach out to you to learn more.
7. Grab Attention With an Infographic
Source: Big Block Realty
Size: 5.5 x 8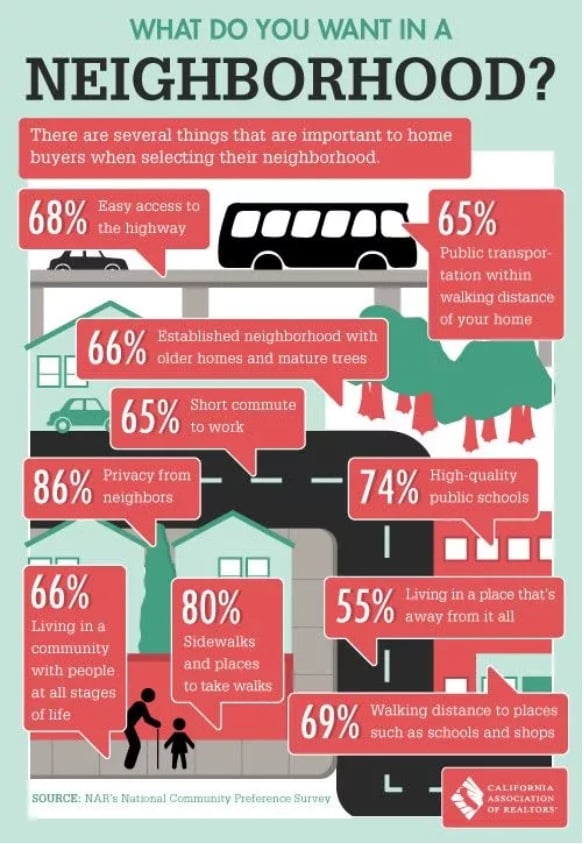 The eye-catching graphics and interesting statistics in this infographic-style postcard get the attention of recipients. There is no specific call to action, but it directly addresses questions buyers think about when purchasing and implies that you have a good understanding of what buyers want most. Likewise, for homeowners who live in neighborhoods that tick a lot of these boxes, it can be a catalyst to reach out to you when it's time to sell.
8. Provoke Curiosity
Source: Lighter Side of Real Estate
Size: 4 x 6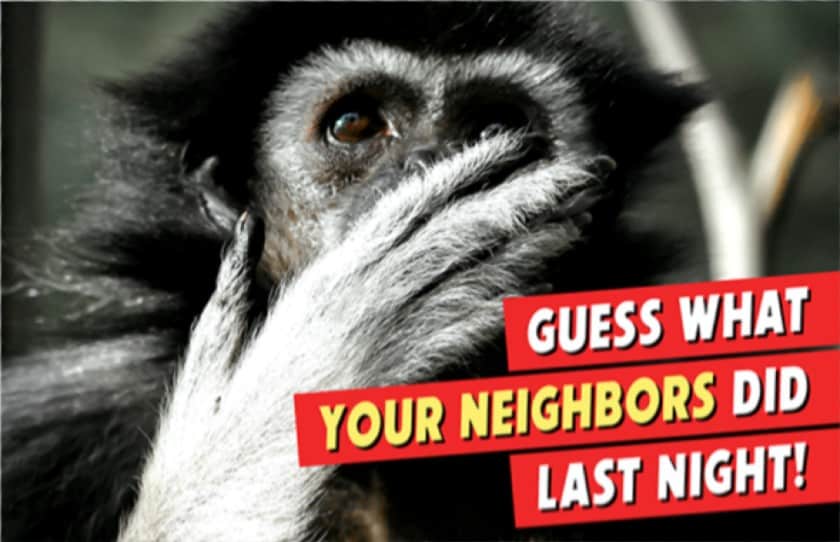 In addition to the traditional real estate marketing text and imagery showcasing a listing or touting market statistics, fun and clever real estate postcard ideas can also help you grow your business. This real estate farming postcard example creates a sense of curiosity and showcases your personality as an agent. The front will provoke curiosity and you can add content on the back with your contact information, interesting statistics, and a quick response (QR) code that takes recipients right to your website.
This could also double as a farming postcard for renters who share a wall with their neighbors and unintentionally know what their neighbors did last night. Use the other side of the postcard to focus a message toward your intended audience and include your contact information.
9. Tug at Heartstrings
Source: Postal Realtor
Size: 4 x 6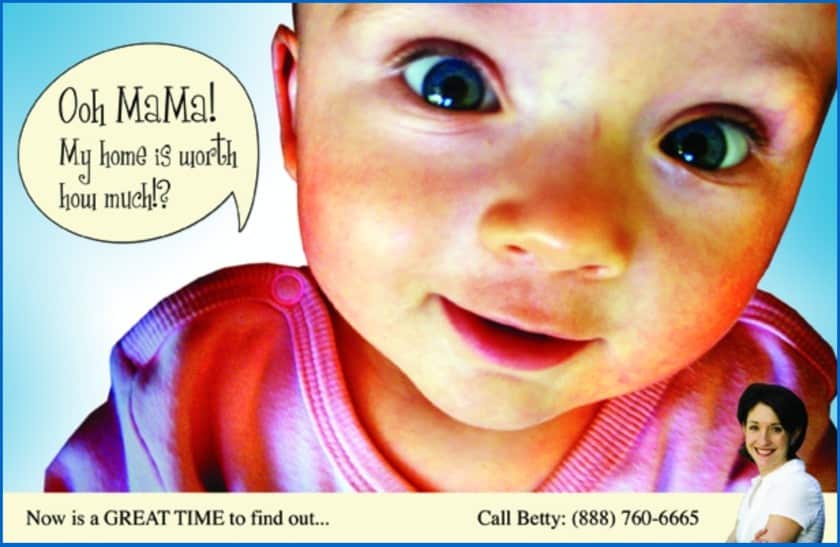 Family-oriented neighborhoods may find postcards with children impactful as it connects to their everyday lives. While this does include an inference to families, it ultimately targets homesellers who are looking for a home valuation using an amusing image.
The realtor's phone contact information is displayed noticeably on the front of the postcard for easy reach out. However, you could also include a link to a real estate landing page where recipients can submit a webform to get a free home valuation, your mobile number for a text, or your email address.
10. Be Clever
Source: Your Real Estate Genius
Size: 4.25 x 5.6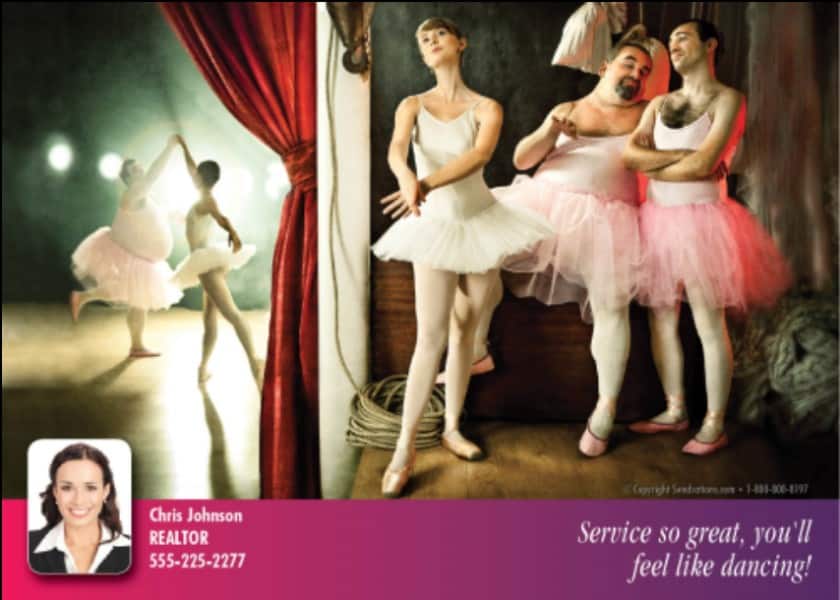 This is another example of fun and clever farming postcards for realtors that reflect your personality as a real estate agent. It's attention-getting and the humor of the image makes it memorable for prospective clients, but it also conveys the idea of top-notch service as your value proposition.
11. Use Reviews to Highlight Your Services
Source: Help-U-Sell
Size: 4.25 x 5.6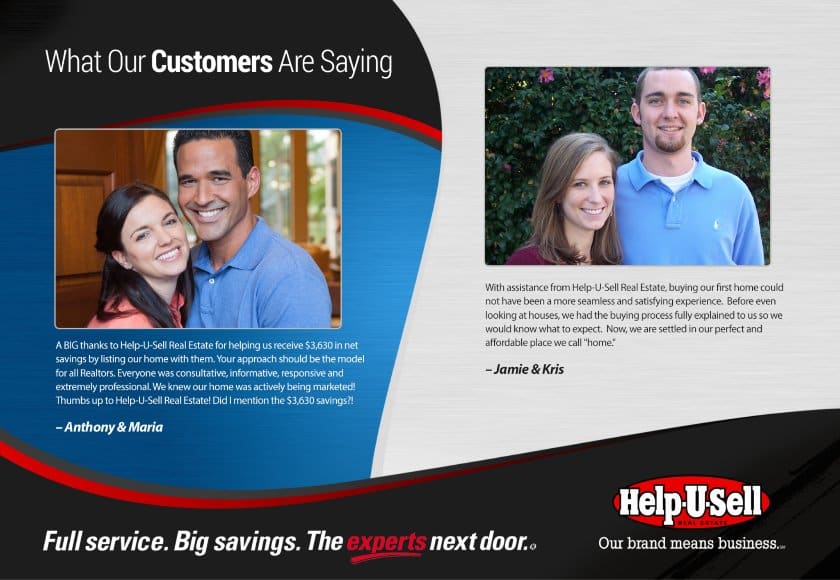 Positive reviews from former clients are some of your most powerful assets to get clients in real estate. This type of postcard engenders trust among sellers who are looking to go through a stressful process in the easiest way possible. They can also be effective when marketing to expired listings or for sale by owner (FSBO) leads whose owners may have been jaded or feel reluctant to work with an agent.
Testimonials play an important role in who an individual decides to work with, especially when it comes to high-ticket purchases like a home or property. Real estate is one of the largest financial transactions a person will ever make and they want to work with someone they trust.
12. Make Your Real Estate Farming Postcards Worth Keeping
Source: Direct Color
Size: 4.25 x 5.6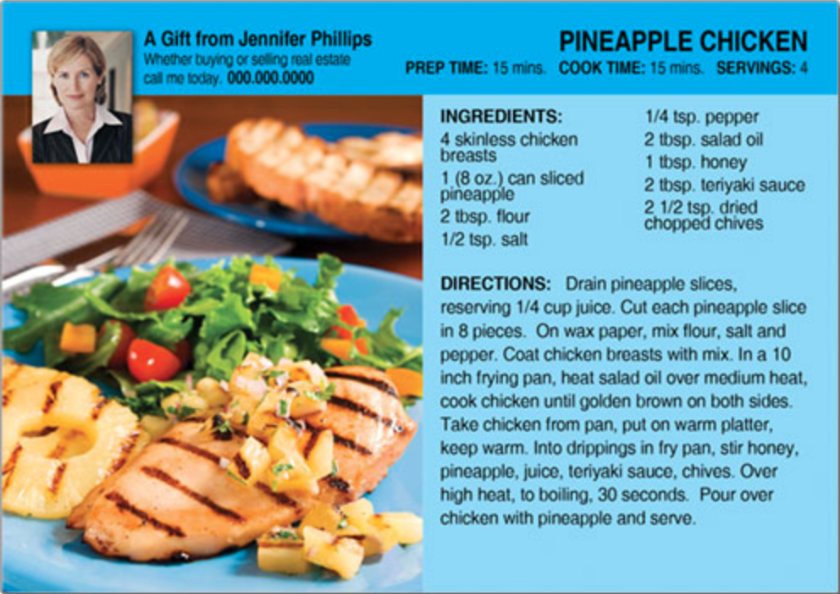 Unfortunately, direct mail ads often go directly into the recycle bin or trash. However, if you provide information worth keeping, potential clients will have a reason to keep it, and potentially even display it on their fridge for future reference. This realtor farming postcard includes a simple recipe as a gift from the agent. While not a direct marketing message, it is an effective way to stay top of mind with prospective leads or touch base with former clients.
13. Send Holiday Greetings
Source: M. R. Danielson Advertising
Size: 4 x 6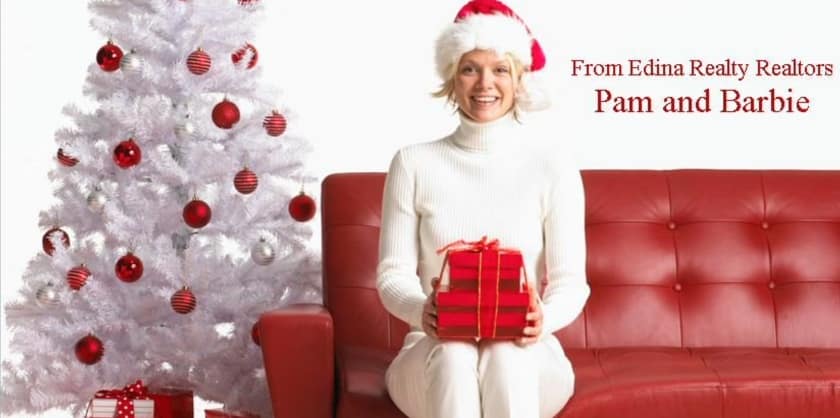 Holidays are a great excuse to send real estate farming postcards to stay top of mind, build brand awareness, and take a more personable approach to your marketing. Holidays also provide an additional topic for conversation, and postcards like these offer a useful way to farm for new clients, ask for referrals, and touch base with former clients.
You can automate your holiday outreach with the help of a lead generation marketing platform like Market Leader. It helps you engage with your contacts by assigning each one to a specific marketing campaign. From there, Market Leader can automate the printing and mailing of your postcard campaigns, including for annual recurring holidays, saving you a lot of manual effort. Read our expert Market Leader review to learn more.
14. Draw Attention With Animals
Source: Direct Color
Size: 4 x 6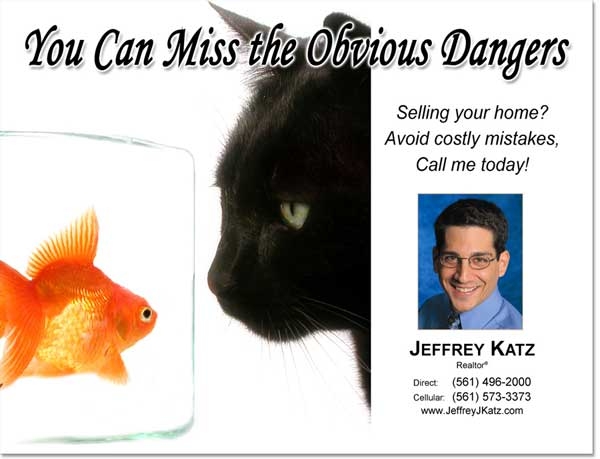 Clients with an affinity for animals will enjoy postcards showcasing pets, especially combined with a humorous tagline like the above. Plus, while this farming postcard does appeal to current or aspiring pet owners, it also brings up an important message about the hazards a homeowner might not be aware of. This is a valid way to find expired listings or market to for sale by owner (FSBO) listings, first-time sellers, and homesellers in general.
15. Create Urgency With Real Estate Farming Postcards
Source: ReaMark
Size: 6 x 9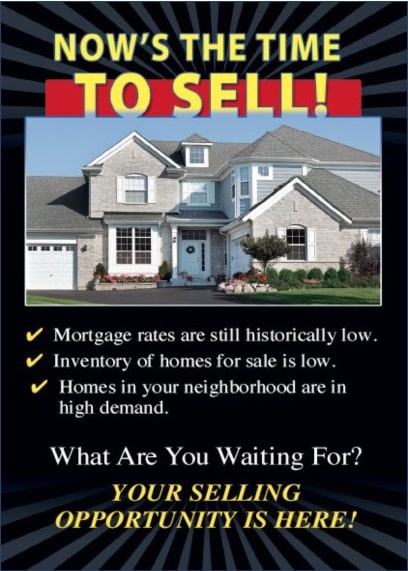 Sellers may act quickly when they see a postcard with this type of information and call to action. The postcard sends a fear of missing out (FOMO) type of message to "act before it's too late." This emotional selling tactic can inspire prospective leads to reach out to gain knowledge right away. In addition, the design of the postcard adds a sense of motion and urgency with vivid colors that stand out against the black background.
16. Farming Postcards for Realtors That Showcase Your Portfolio
Source: Communication Squared
Size: 6 x 11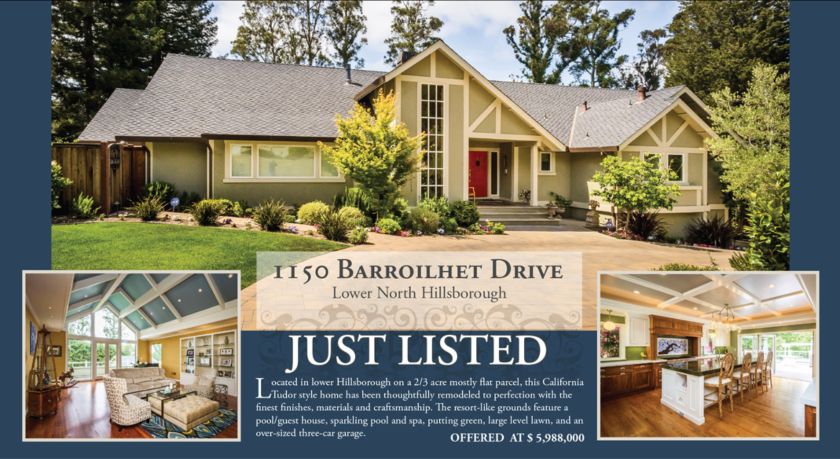 Just listed or just sold postcards can also be an effective part of your farming postcard strategy. Showcasing your portfolio gives both prospective buyers and sellers an idea of the type of properties you most often represent. These postcards also represent the type of marketing you provide to potential seller listings in terms of quality, branding, content, and photography.
17. Gain Their Trust
Source: ReaMark
Size: 4.25 x 5.6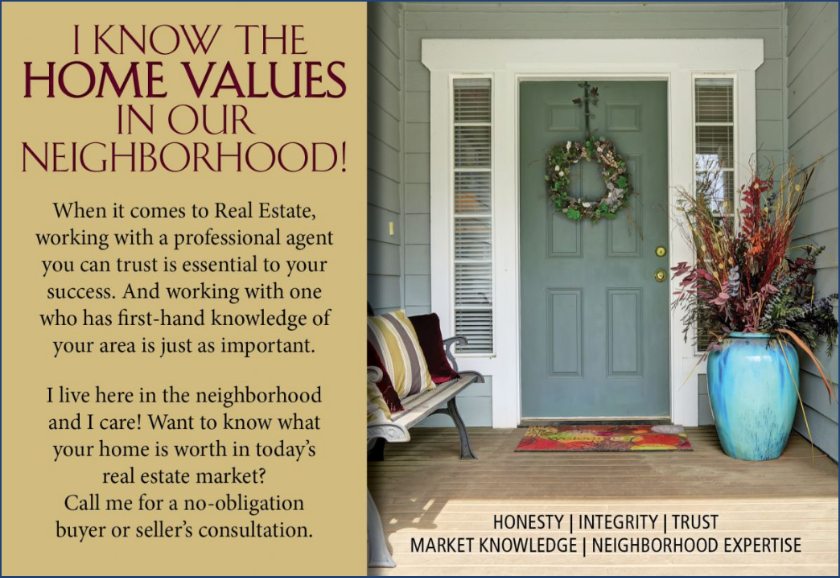 This postcard template encourages buyers and sellers to reach out by speaking to your professional expertise and values. It's perfect when the agent lives in the same neighborhood as the farm area, understands that it is important to love where you live, and knows that homesellers need a trustworthy real estate agent.
The postcard also offers free consultations for buyers and sellers, which is a valuable incentive. While the image in this postcard is secondary to the text, you should consider the colors you use in your marketing collateral, as they can evoke feelings or emotions. For example, shades of blue are often used in branding to represent trust and evoke calming feelings, reinforcing the message of the postcard (trust, expertise, and so on).
Real estate agents who are not super-savvy with these nuances should consider utilizing the services of branding professionals like the freelancers from Fiverr. With Fiverr, you can choose a branding or graphic design freelancer who meets your needs and budget to design postcards, flyers, business cards, logos, and more. Use their professional expertise to enhance your real estate business' brand and marketing materials.
18. Use Farming Postcards to Generate Referral Leads
Source: Long Hill Homes
Size: 4.25 x 5.6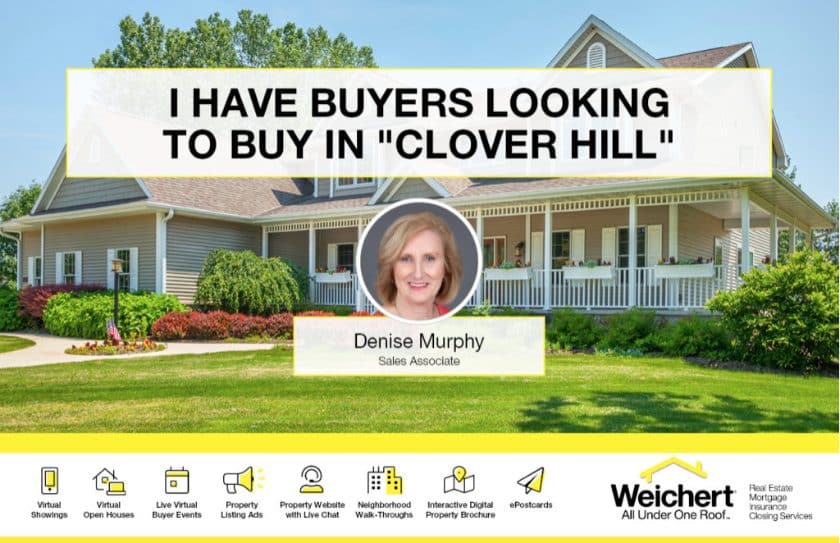 Directly asking for a lead in a specific neighborhood is a great way to get referrals. Plus, referred leads are 30% more likely to convert, offer a higher lifetime value, and are themselves more likely to refer additional new leads to you.
This postcard example showcases your real estate marketing capabilities and expertise through icons at the bottom of the postcard. This can generate seller leads who may want the services listed on the card as well as those interested in selling quickly. You could add to this postcard by offering an incentive for individuals who send a referral to you.
19. Use Humor to Break the Ice
Source: Direct Color
Size: 4 x 6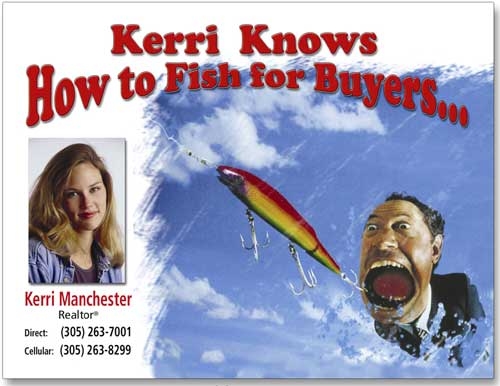 Humor grabs attention and creates engagement, and when you get someone to laugh it increases the likelihood that they will think positively about your business. This postcard lets seller clients know that finding buyers is easy when you work with an agent who knows how. Your contact information is displayed right on the front of the card so potential clients know exactly how to reach you.
20. Offer Monetary Rebates
Source: My RE Postcards
Size: 4.25 x 5.6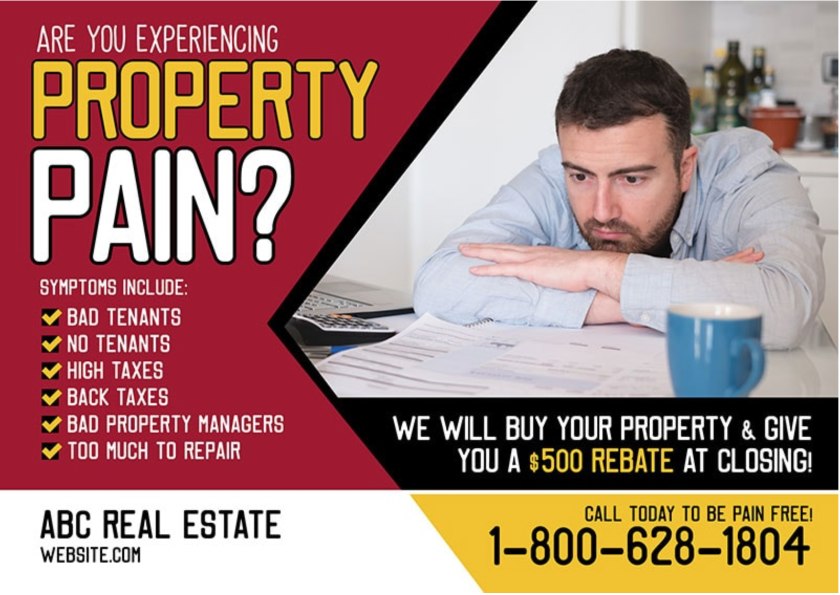 Similar to reducing your commission, offering a rebate can be a competitive advantage as well as an incentive. This postcard is for agents, brokerages, or investors farming for clients selling multi-family buildings. It refers to common issues that arise for multi-family property owners, which expresses empathy, and offers a sizable rebate that encourages prospective owners to reach out. By promising to alleviate their pain points and offering a rebate, you increase the chances of prospective clients reaching out to you.
5 Ready-to-Use Real Estate Farming Postcard Templates
Using premade templates is an easy way to create the best farming postcards for realtors and send them to prospective leads, and can often be done in just a matter of minutes. These real estate farming postcard templates allow you to plug in your contact information, logos, images, and messaging in the provided sections. Even if you are not very design-savvy, you'll have a beautifully constructed postcard.
While you can print them yourself, you can save time by using providers like ProspectsPLUS! for help with designing and sending your postcards. ProspectsPLUS! makes farming easy for agents with their geographic, demographic, lifestyle, and interest-based mailing lists. Customize your postcards and lists through their website to send your postcards to a target niche audience.
1. Farming Postcard Template Highlighting Your Reviews
Source: Wise Pelican
Size: 6 x 9
Cost: 75 cents
Editing tools: Adobe InDesign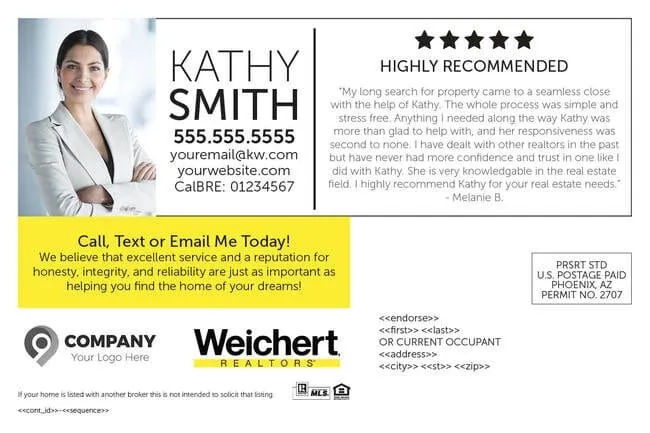 This is a customizable real estate postcard template from Wise Pelican, a direct mail marketing company that helps agents generate inbound leads through farming postcards. The usage of 5 stars and bright colors draws attention to the information listed in that section. It highlights a positive customer review and the bright yellow call-to-action box draws the eye, encouraging the recipient to contact the agent through call, text, or email.
The Wise Pelican pricing structure is simple―you pay just 75 cents a postcard (including postage) with no minimum order. To get started, create a free account (no credit card required) in order to preview all of the available direct mail templates for realtors and the available options for each. A list builder will target your intended audience while the mail tracking will help agents optimize their campaign.
2. Free Home Appraisals Template
Source: Etsy
Size: 4 x 6
Cost: $5.99
Editing tools: Canva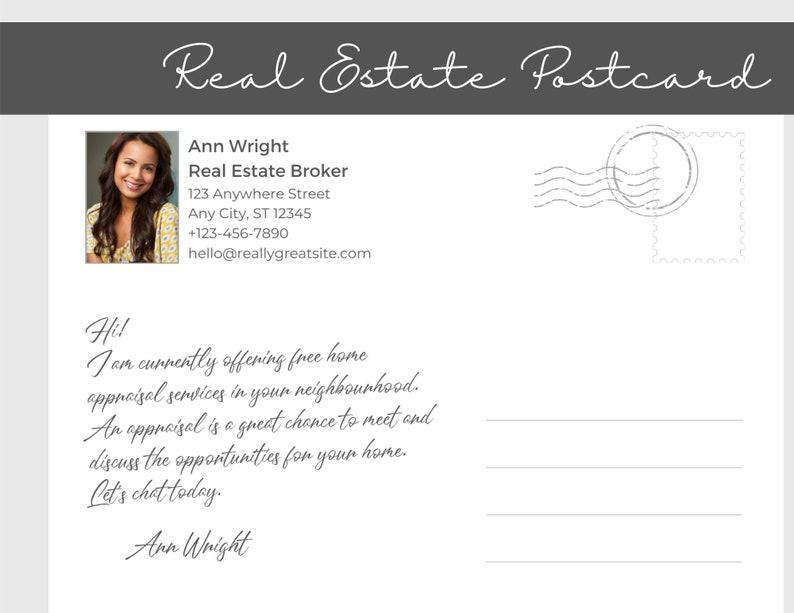 This farming postcard template is available for purchase on Etsy and can be downloaded and edited directly on Canva. It's perfect for offering a free home appraisal and alludes to a potential future opportunity for the homeowner. The font feels personal and handwritten, and along with the use of an appealing realtor headshot, can create an instant connection with the recipient.
Canva is an easy-to-use online graphic design platform with thousands of templates and stock images available to help realtors create direct mailers quickly. It's best for agents who have limited access to outside design services but have an idea of what they want to create. Canva can also assist if you want help creating imagery for your social media, website, email marketing, and more.
3. Area Knowledge Template
Source: Realty Studio Design
Size: 4 X 6
Cost: $109 for 100 pieces
Editing tools: Realty Studio Design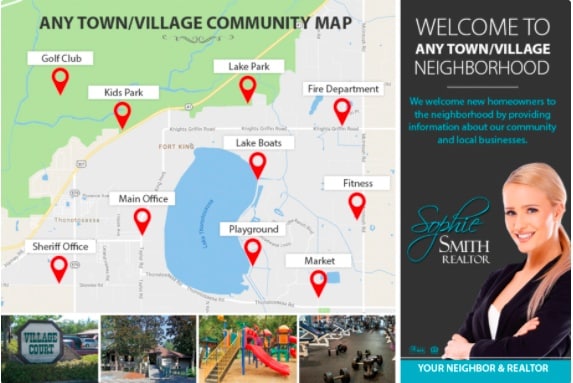 This 4×6 real estate postcard template is fully customizable through Realty Studio Design. It's geared to showcase the proximity of neighborhood amenities within your farm area. The small thumbnail photos also show a visual preview of the neighborhood. The welcome language used above the agent headshot highlights the agent's expertise in the area, making it a great choice when you live or work in your farm area.
With Realty Studio Design, you can use your own images for real estate farming postcards or modify one of their templates. The printing turnaround is up to four days with an available Every Door Direct Mail (EDDM) add-on, and they can even handle sending postcards to your farm area if you don't have a mailing list.
4. Neighborhood Expert Template
Source: Flipsnack
Size: 1123 x 793px
Cost: Free, $14 per month, $35 per month, $79 per month subscription
Editing tools: Flipbooks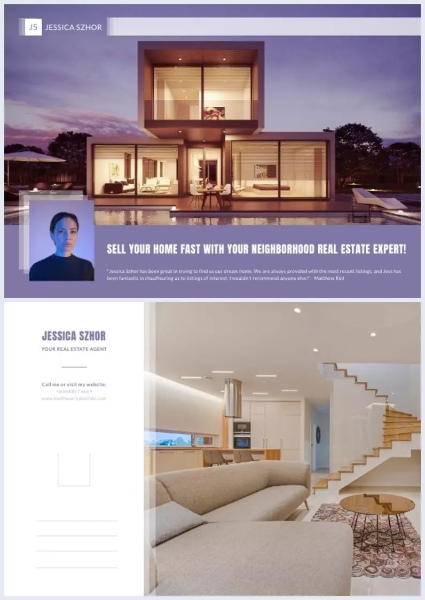 Flipsnack requires a monthly subscription to access their templates, but the elevated template designs stand out compared to other designs. The minimal design and warm colors of this postcard reflect the type of luxe property being showcased.
The headshot displays the agent's professionalism and personality, and the added customer review reflects the exceptional service the agent has provided to past clients. A logo in the upper right hand of the postcard helps with branding and future mailer familiarity. Ample space on the template allows agents to add content to describe their listing information.
5. Home Valuation Template
Source: PostcardMania
Size: 4.25 x 6
Cost: 13 cents per piece
Editing tools: PostcardMania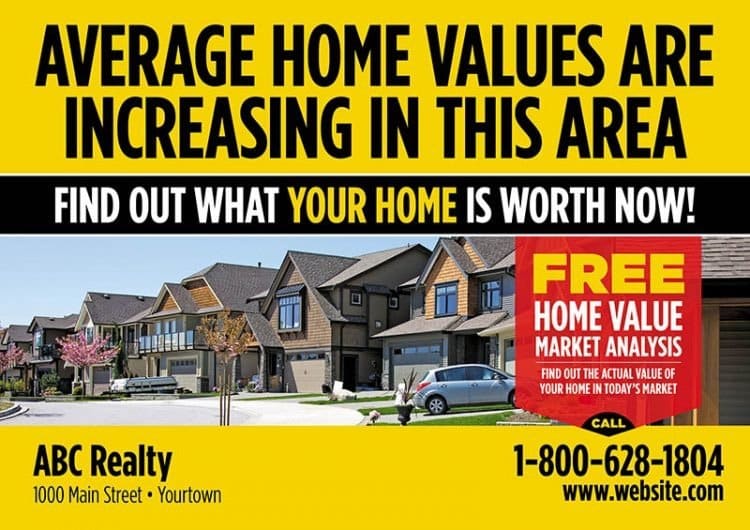 Farm for buyers and sellers leads with a brightly colored postcard from PostcardMania that stands out. Offering a free home valuation helps drive prospective leads inquiries and the call to action in the red area points directly to a phone number and website where leads can get information about your services.
Learn More About Real Estate Marketing & Lead Generation
Now that you are inspired, you're ready to begin real estate farming postcard campaigns in your farm area and with your niche audiences. Here are some additional articles to help you with real estate marketing and lead generation to boost your clientele and build your brand.
Before sending your postcards, decide how to choose the real estate farm area best suited for your business and goals.
Farming postcards are an effective way to prospect, but there are additional strategies you can employ. Check out these 18 real estate prospecting tips for lead generation.
Identify the vendor that best suits your needs for sending farming postcards from among the best real estate direct mail services.
Enhance your direct mail strategy with these nine real estate farming ideas for growing authority.
Bottom Line
To be effective, farming postcards need to be sent consistently in order to grow recognition and your reputation in your farm area. Send a variety of postcards that showcase your experience, knowledge, and personality, and provide various calls to action. This demonstrates your expertise and commitment, which is instrumental to increasing business with prospective leads within an area.