A time card calculator can be a useful tool for the following:
Recording the number of hours employees or contractors work.
Deducting time for which employees are not due compensation, like lunch breaks.
Calculating the amount of overtime pay due to employees.
After using a time card calculator to record and total the hours worked by an employee, it's a good idea to have the employee confirm that the hours were correct. Often times, employers will have employees sign a timesheet with this information.
Why use a paper timesheet or spreadsheet when there are free easier options? Use a free digital time tracking software like Homebase to automatically manage time cards and timesheets. Click here to sign up for free.
A time card calculator should not be used for the following:
Calculating the amount of unemployment insurance owed by the employer.
Calculating FICA taxes (social security and medicare).
Calculating employee income tax withholdings.
When calculating payroll, we highly recommend using payroll software to calculate FICA taxes and income tax withholdings. Our top choice is Gusto which seamlessly integrates with Homebase as well as several other time tracking software options. Sign up for a free trial.
We highly recommend using payroll software to calculate FICA taxes and income tax withholdings. Our top choice is Gusto which offers a free 1 month trial.
We have looked at a number of online and spreadsheet based time card calculators, and believe the one's offered by the Vertex42 are the best.
They offer time card calculators that are excel and Google Sheets based.
Vertex42 Excel Time Card Calculator
Vertex42 Google Sheets Time Card Calculator
Here is a screenshot from the Google Sheets calculator. Below are notes on how to best use the calculator, as well as an information on federal and state overtime laws.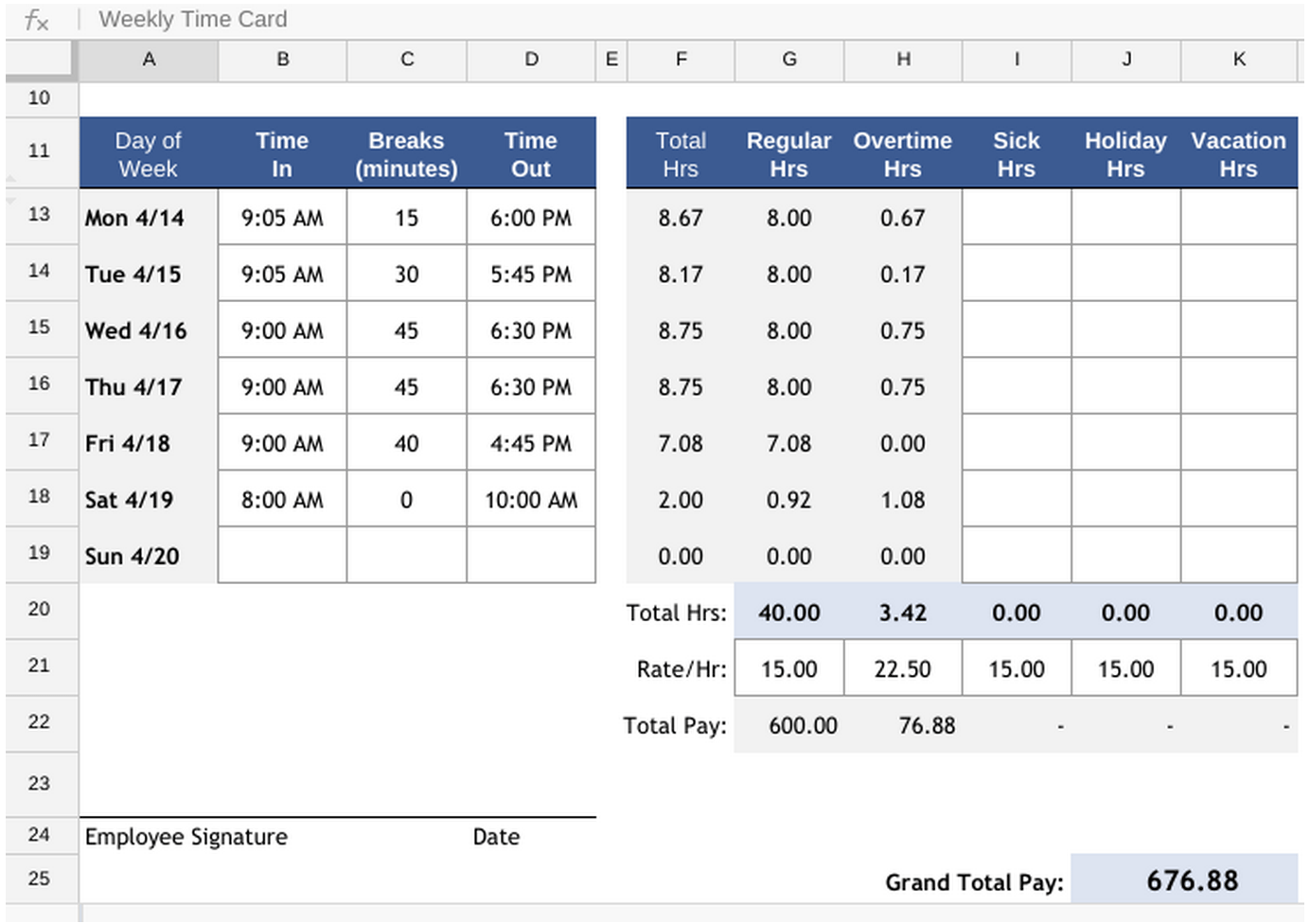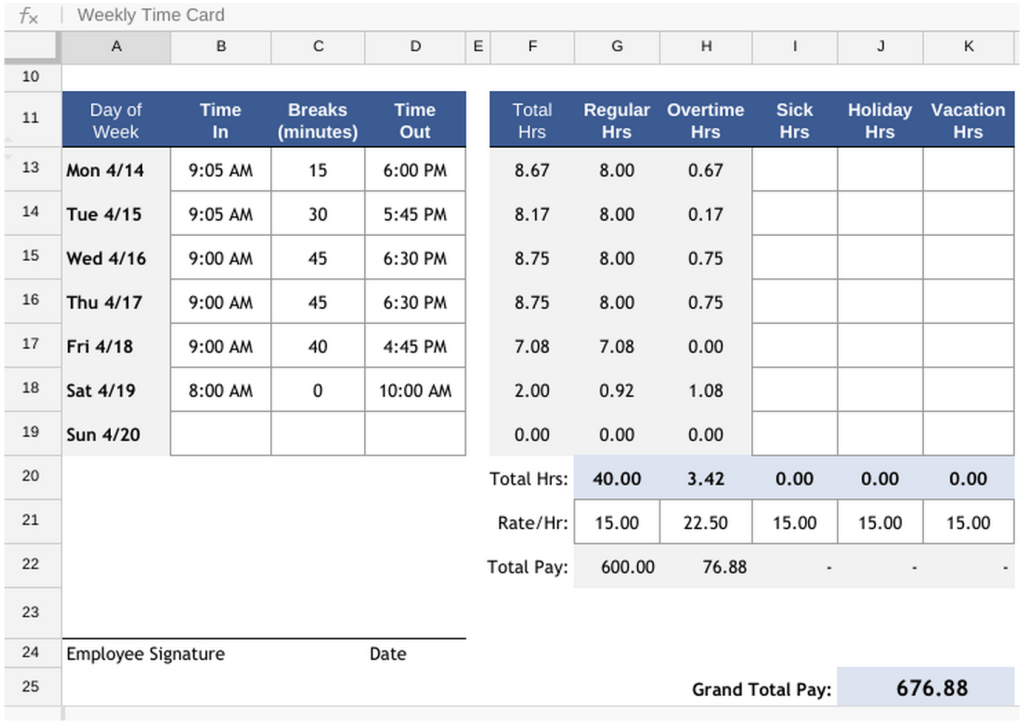 How to change the start date?
Look for "Week Starting" date, which appears near the top center of the spreadsheet above the tables. When clicked on a calendar will appear, which allows you to change the start date. That date will be the first one to appear on the table below. If you select a Wednesday, the table below will start with the Wednesday and then include the following six days.
Break Time – Break time is considered unpaid and reduces the amount of time worked. In other words, if you provide a paid lunch for employee break, do not include in the break time.
Sick, Vacation, and Holiday Hours – All of these are considered to be paid when inputting them into the the time card calculator.  If they are unpaid, then you can change the Rate/Hr for those columns to zero (0).  The hours entered in the Sick, Holiday, and Vacation columns do not affect the Total/Regular/Overtime calculations.
Federal And State Overtime Laws
In general, the federal government requires that hourly workers receive overtime when a worker that is paid by the hour works more that 40 hours in a 7 day period. For hours worked in excess of 40, the compensation is 1.5 times the employee's hourly rate. For example, an employee that has an hourly wage of $12.00 and works 55 hours during a week, would earn (40 x $12) + (15 x $18) =  $750 on a pre-tax basis based on federal laws.
The first two tabs on the bottom of the Vertex Time Card Calculator use the federal laws to calculate overtime gross pay.
State Laws Can Require Additional Overtime Pay In Excess Of Federal Requirements
California stands out in this respect. It's the most populous state and has the most generous rules on overtime pay. Employees that work more than 8 hours on a particular day are required to be paid 1.5 times their normal rate from hour 9 -12, and 2.0 times their normal rate after 12 hours. Additionally, California has laws regarding the number of days an employee works in row. On the seventh consecutive day of work, employees are entitled to overtime pay regardless of how many hours they worked during the week.
For state laws on overtime pay, please refer to this informational sheet  prepared by the Society for Human Resource management.
The third and fourth tabs  on the bottom of the Vertex Time Card Calculator use California state laws to calculate overtime gross pay.
When You Might Want a A Time Clock Instead of Time Card Calculator
If you have a large number of employees, have issues with lateness or people leaving early, or have employees that work variable hours, using a time card calculator or time sheet to record hours might be not be the right solution. Instead, using an online time clock might be better solution to help you do payroll. With a time clock, employees can clock in and out from a specific computer or even their cell phone. Learn more about time clock software here.