Employee time clocks help track when employees are working or on break. Time card machines are fine for one location. Otherwise, newer cloud-based employee time clock systems provide more flexibility for just a few dollars a month per employee. We considered both types of employee time clocks for ease of use and time-saving compliance features.
10 Best Employee Time Clocks
| Time Clock | Best For |
| --- | --- |
| | (Best Overall) Brick-and-mortar businesses that want a free digital time clock |
| | Manufacturing or warehouses needing a wall-mounted biometric time clock with fingerprint security |
| | Businesses like home healthcare with complex 24/7 scheduling needs |
| | Companies with multiple departments that want a wall-mounted time card machine |
| | Restaurants and retail operations wanting POS system integration with their time clock |
| | Startups (under 25 employees) that want the lowest-cost, wall-mounted time clock |
| | Consulting or tax firms that track worker's billable hours against projects and tasks |
| | Very small businesses (5 or fewer employees) that want free time clock software |
| | Businesses managing remote employees or workers outside the U.S. |
| | High-tech employers that want an app to help eliminate time theft |
How We Evaluated Employee Time Clocks
We evaluated two different types of employee time clocks: wall-mounted electronic time card machines and newer digital time clocks that allow staff to clock in through a website or app. We prioritized time clocks that are relatively low cost, top-rated by users, and easy to set up and use.
We included time clocks and time card machines with the following features:
Pricing: Affordable for small businesses—a one-time charge or ongoing monthly fee.
Ease of use: Easy to set up and use; intuitive for employees.
Cloud-based: Accessible from website or app for administrators and remote users.
Summary functions: Able to calculate total hours, gross pay, and leave balances.
Breaks: Lets employees clock in and out of shifts, breaks, and lunch (including both paid and unpaid breaks), as well as set up standard break times (e.g., 15 or 30 minutes).
Punch rounding: Rounds up or down (example: five hours and 57 minutes rounds up to six hours).
Flexible pay periods: Tracks time daily, weekly, bi-weekly, and other payroll cycles.
Overtime calculation: Includes state rules for compliant overtime calculations.
Security features: Ensures the right person is clocking in or out (using a PIN, radio frequency identification (RFID) badge, photo, or fingerprint).
Administrative functions: View and add employees, modify rules, and run reports.
Data integrations: Connects time card data into other systems like payroll or point-of-sale (POS).
Reports: Offers reports on absences, time scheduled versus time worked, and more.
Some of the time clocks we evaluated automatically push data to your payroll system, apply shift differentials, and track leave balances. Web-based time clocks typically offer more advanced features, such as allowing workers to allocate time to a specific job or project, mobile apps for employees, geolocation, job costing, and customizable reports.
Overall, we recommend Homebase as the best time clock for its flexibility and low cost. It's free for one location with unlimited employees when using an internet-connected or mobile device for employees to sign in for their shift. It's also free to use if all employees use the mobile app. Best of all, Homebase offers native integration with popular small business payroll software, like Gusto.
Homebase: Best Overall Time Clock for Small Businesses


Homebase provides the best overall time clock software in spite of being free. Its electronic time clock works on any kiosk, tablet, or smartphone used at one location. It provides top-notch timekeeping (and employee scheduling), but adds so much more. It's best for any business that has one physical location, like a restaurant or retail store.
Homebase Pricing
Homebase is free for employee time clock and scheduling tools if your business has one physical location, such as your business office or retail store. If you have more than one location, it's priced starting at $19.95 per location, per month for unlimited employees. If you wish to add global positioning system (GPS) tracking to prevent employees from clocking in before they arrive at the job site, you can choose a paid plan costing between $19.95 and $49.95 per location, per month.
Here are the pricing options for Homebase and what they include:
Homebase Pricing Chart
Basic

Essentials

Plus

Price per location

Free

$19.95/month*

$49.95/month

Timesheets, Timeclock, Scheduling, Team Communication, Reports & Mobile App

✔

✔

✔

Other Features

SMS notification
Mobile GPS time clock

Time-off accruals
Multiple role & wage types
Time sheet approvals
Manager-level permissions
Early clock-in prevention
Multilocation support
Homebase Features
The free time clock provided by Homebase is so feature-rich, there's no need for most small businesses to upgrade to a paid plan. It includes a time clock, employee scheduling, and tools to let your team members know about changes affecting their shift. You can even allow workers to shift swap.
Time Reporting
There are two ways to use the free time clock from Homebase. One option is to set up a tablet, laptop, or computer kiosk for employees to clock in and out at the worksite. The second way is to have all employees download and use the free mobile time clock app from their smartphone; then, they can clock in and out using their cell phones.
Payroll Integration
What we like about Homebase is that it has free payroll integration with the payroll software we find best for small business, Gusto. That means you can push your electronic time card data into your payroll software with one click. That's a huge time saver and reduces data entry errors.
Mobile App
Managers and administrators can use the free mobile app to schedule employees, approve time, and send text messages to staff. Employees can use it to clock in and out, request time off, manage their leave balances, and even shift swap (if you allow that).
Customer Support
Homebase Essentials and Plus plans offer email and phone support as well as live online chat. That support is available 24/7—perfect for those in the hospitality and service industries who often work evenings and weekends. If you contact Homebase via email, you'll receive a response within 24 hours.
What Homebase Is Missing
There's not much missing from Homebase. Your managers may need a bit of training and non-digital personnel may find that using an app to clock in and out takes some getting used to. Some report that the iPhone app is a bit glitchy but the web app works great.
What Users Think About Homebase
On third-party review sites, Homebase receives solid ratings. Managers like the flexibility of being able to view manager notes and adjust time card entries from their smartphone. Employees like being able to access and request schedule changes. Some don't appreciate that while in-app messaging is free, it costs to send text messages.

We recommend the Timelogix TL200 Fingerprint (biometric) time clock as the best employee time clock for small businesses that prefer a wall-mounted time card machine in lieu of a software app. It has all the time clock features a typical small business owner needs. Timelogix provides flexible clock-in and clock-out options, is affordable, does not charge extra for ongoing tech support, and is compatible with both Windows and iOS systems.
Timelogix TL200 Pricing
Timelogix charges $299 for the time clock hardware. This covers a biometric fingerprint time clock, time and attendance software for up to 25 employees, and ongoing tech support.
There are a few additional charges, however:
RFID proximity badges: $2 per badge
Proximity key fob: $3 per fob
System use fee: $149 per year (after the first year)
If you want to upgrade, Timelogix will import your company and employee information over to its Easy Clocking system, which is basically the same time clock with added modules for things like tracking accruals and managing paid time off (PTO). For Easy Clocking, the base system starts at $1.25 per employee, per month and then adds 25 cents monthly per worker for each additional software module.
Timelogix TL200 Features
The Timelogix TL200 is Timelogix's best time clock for small business owners. However, the Icon TotalPass, which we'll also look at, is not far behind. First, the TL200 is one of the most affordable biometric (fingerprint recognition) time clocks on the market—with built-in Wi-Fi and a real-time feed. In other words, whenever an employee clocks in or out, it automatically updates wirelessly in Timelogix's cloud-based software.
In addition to the standard time clock features, Timelogix TL200 also includes:
Scheduling: Gives you the ability to create different shifts.
Job costing: Monitors jobs and project labor costs by using job codes.
Online time sheets: Lets your employees allocate time spent by job code.
Time Reporting
All three physical time clocks support employees clocking in and out using a PIN code or compatible RFID badge. The Timelogix TL200 is the only time clock we reviewed that supports fingerprint scanning as well. That's the most effective clock-in and clock-out method for preventing employees from buddy punching.
Payroll Integration
All three wall-mounted time clocks covered in our best-of list integrate with the big names in the payroll industry: QuickBooks, ADP, and Paychex. Timelogix also integrates with Sage, Heartland, Wells Fargo, PayChoice, and several others.
Mobile App
Timelogix has a mobile app that includes a geolocation feature. That lets employees clock in and out from the job site, so you always know where they are.
Reports
Timelogix TL200 has a solid reporting system with over 30 report options, with sorting by employee or department. If you want to get accrual tracking to manage paid time off or more advanced features, just upgrade to the Easy Clocking system.
Customer Support
When it comes to customer support, Timelogix is the clear winner among the wall-mounted time card machines we reviewed. It offers multiple support channels, providing both phone and live chat on Monday to Friday from 9 a.m. to 6 p.m. Eastern Time. In fact, tech support is included with the first year of service—whereas both Icon and Compumatic charge extra for ongoing support and maintenance.
What Timelogix TL200 Is Missing
Each year following the first 12 months, you'll have to pay $149 per year, similar to what Icon and Compumatic charge for their annual add-on service packages. However, with Timelogix, you must pay that fee to keep using the software; with the other two (Icon and Compumatic), it's optional. Timelogix also lacks tools to track employee PTO unless you upgrade.
What Users Think About Timelogix TL200
As a company, Timelogix receives great reviews. You'll also find positive feedback on third-party review sites like eBay and Amazon, where Timelogix time clocks are sold. We don't currently have our own review of Timelogix.
When I Work: Best App for Complex Scheduling


When I Work now offers a time clock feature for free, for up to 75 users, forever. It's comparable to Homebase with a few limitations, such as the scheduling features in the free version won't let you schedule more than one week in advance. Nonetheless, When I Work is great for companies with complex scheduling and time-tracking needs in industries like healthcare or in businesses like construction, where employees work offsite.
When I Work Pricing
When I Work pricing starts free for up to 75 employees. Once you pass the employee count of 75, its pricing is very reasonable. It costs between $1.50 and $2.25 per employee, per month based on whether you need customization or not. It also offers an Enterprise package for larger firms that feature single sign-on and API access.
When I Work Features
When I Work provides a time clock app with reports to let you track tardiness as well as security to eliminate buddy punching. In addition, it manages your employee attendance and provides accurate files you can share with your payroll software. And, like Homebase, the scheduling features are a huge value-add over traditional time card machines.
Time Reporting
Like Homebase, employees can clock in and out on their phones or you can set up a tablet, laptop, or PC as a fixed terminal at your work location. You'll not only see when employees clock in and out but where they did so. That helps ensure they're on the job site, not at the coffee shop, when they punch in.
Payroll Integration
When I Work integrates with most of the leading cloud-based payroll providers, including Gusto. That saves you time from re-inputting your hours-worked data manually into your payroll software.
Mobile App
The mobile app lets employees clock in and out. When I Work can even remind your employees to clock out if they forget. Managers and administrators can use the app to approve time, prepare files to upload to payroll, and check in to see if employees clocked in or out as scheduled.
Customer Support
When I Work offers support seven days a week via online chat or email. They're available 7 a.m. to 7 p.m. Central Time weekdays, with weekend support from 9 a.m. to 6:30 p.m. However, that may not be ideal for restaurants and bars, where employees work nights.
What When I Work Is Missing
When I Work lacks phone support and its support hours aren't 24/7, like Homebase. In addition, if you need to schedule and track field workers against customer appointment schedules, it doesn't have that option. Further, the reporting tools are fairly basic.
What Users Think About When I Work
We found that When I Work's top-notch ratings on third-party software review sites are partially due to users liking the interface and self-service options for employees. The reviews are on par with Homebase, although some would like more role-based permissions.
Icon TotalPass P400: Best for Multiple Department Time-tracking

Icon TotalPass P400 is best for businesses with up to 50 employees or with many departments because the base price includes support for up to 50 people. That's twice as many employees as the other physical time clocks provide at their base price. It also supports up to 32 departments—far more than most small businesses need. If you plan to segment your operation into many departments, it's a solid option.
Icon TotalPass P400 Pricing
The Icon TotalPass P400 costs $299 to $399 depending on where you buy it. This typically includes the time clock, 15-foot USB and Ethernet cables, 10 to 25 RFID badges, 30 days of technical support to help you set up, and a one-year manufacturer warranty.
Additional costs may include:
Technical support: $149 per year (beyond the initial 30-day period)
Insurance plan: $190 per year
Upgrade to 100 employees: $125 extra
Extra RFID badges: $25 for a 10-pack and $55 for a 25-pack—extra badges can also be found on sites like Amazon
Icon TotalPass P400 Features
Icon's TotalPass P400 has many of the same standard features as the Timelogix TL200 and Compumatic's XLS 21. The main feature it offers as standard—that the others do not—is the ability to handle up to 50 employees without any upcharges. The other two time card machines only support up to 25 employees before you have to upgrade.
The other main advantage the Icon TotalPass has over Compumatic is that you can provide as many administrators as you want with access your back-end system (the same is true of Timelogix). This is not the case with Compumatic, which charges an additional fee for each user license.
Time Reporting
The Icon TotalPass P400 allows your employees to sign in with a four-digit code or use an RFID badge that the time clock will recognize when they're in close proximity to the time card machine. Additionally, you can also access the time clock software via web browser as you can with Timelogix.
Payroll Integration
Icon integrates with the big payroll providers, specifically QuickBooks and ADP. It also exports data via CSV, which most accounting and payroll software can import.
Mobile App
There's no mobile app, but there is a web-based interface that you can access remotely as an administrator. GPS verification using a smartphone or tablet makes it easy to track remote and mobile employees. However, employees can't clock in and out from a website or smartphone like they can with Homebase or When I Work.
Customer Support
Phone support is offered Monday to Friday from 5 a.m. to 5 p.m. Pacific Time. Icon also has an online ticket-based support system. You'll receive your first 30 days' help for free, but then it's an additional $149 per year for ongoing support.
What Icon TotalPass P400 Is Missing
The main downside to Icon's system is that its reporting is pretty basic, with only four standard reports available. It's also not the most intuitive system to set up, and there is no biometric fingerprint option like there is with Timelogix. Plus, you only get 30 days of support for free.
What Users Think About Icon TotalPass P400
Icon Time offers several time clock options that earn reviews in the 4 to 5 out of 5-star range on third-party websites. The company itself garners similar ratings. We don't yet have a review of the company Icon Time or its products, but it's on our radar.
Deputy: Best for Restaurants & Retail With POS Integration

Deputy is best for hospitality businesses that use a point-of-sale system (POS), as employees don't need to close the POS system in order to clock in and out (e.g., for breaks). It also provides features to support up to nine different languages—because often retail and food service workers hail from multiple backgrounds. For example, your Asian fusion restaurant can provide workers with an employee time clock tool in Mandarin.
Deputy Pricing
Deputy provides multiple pricing plans that start at $2.50 per employee, per month for time and attendance. It includes employee scheduling, meal and rest planning, POS integrations, leave management, and a news feed. Monthly plans let you cancel anytime. However, if you choose an annual plan, you'll get an 11% discount.
Deputy Features
The timekeeping features with Deputy include letting you plan your employees' meal and rest breaks in advance so that you can ensure labor law compliance. It also tracks your PTO and employee leave balances. Further, employees can track their time against tasks and you can use the software to communicate with them; that's similar to Homebase.
Time Reporting
Deputy provides electronic sign-in and electronic time sheets. You'll receive additional reporting tools if you upgrade to the Premium plan, which includes scheduling and timekeeping.
Payroll Integration
Deputy provides payroll integration to Gusto, Xero, and ADP, to name a few. It also offers POS integration to Square and Lightspeed. And using Zapier, you can integrate to most any third-party software you're using.
Mobile App
Deputy provides a mobile app that's downloadable from the App Store or Google Play. This makes it easy for you to communicate with your staff as well as allow them to clock in via cell phone.
Customer Support
Deputy gives you unlimited 24/7 customer support. Unlike a physical time clock that you buy and mount on the wall, you don't have to pay for an additional support or service plan; it's included.
What Deputy Is Missing
The time and attendance software includes a time clock app but doesn't include advanced features like reporting. You have to upgrade to get those additional features (for $1 per employee, per month extra). And, if you want custom roles permissions or a custom organizational structure, you'll need to contact its sales team about an enterprise plan.
What Users Think About Deputy
Users consistently give Deputy with 5 star reviews (5 out of 5-star) on third-party review sites. What users like is how much time it saves them and the fact that no employee training is needed—it's that easy to use.
The Compumatic XLS 21 is best for those needing a time clock with all the basic functions at a low price. It costs $50 to $100 less than Icon and Timelogix and contains the same key features. In fact, the Compumatic XLS 21 offers the most features in its base price.
Compumatic XLS 21 Pricing
Compumatic XLS 21 costs about $240. This includes a PIN or RFID badge time clock, Compumatic software for your computer, and support for up to 25 employees, typically. Also included are 25 RFID proximity badges (Icon only provides 10).
The downside is that Compumatic has other upcharges:
Additional employees: $50 per year for 25 or $150 per year for 100.
Professional software version: $99 per year (if you want features like shift management, rounding rules, and overtime overrides).
Technical support: $150 per year (after the first 90 days).
Additional user licenses: $150 per year for each additional administrator.
Nonetheless, for base pricing, the Compumatic XLS 21 is the most affordable, physical wall-mounted virtual time clock of those we reviewed. It's perfect for a small startup that doesn't want to pay a monthly fee and needs to track who is on-site throughout the day.
Compumatic XLS 21 Features
Compumatic XLS 21 does have several handy features. For one, it can accommodate unlimited departments compared to Icon's 32. That's handy for businesses that have lots of segmentation. Also, your purchase comes with 90 days of free software support; that's 60 days more than Icon Time offers. Finally, it has a good reporting system that's similar to Timelogix's.
Time Reporting
Similar to Icon, Compumatic offers RFID badges. Users can also clock in and out with a PIN code.
Payroll Integration
The Compumatic XLS 21 integrates with payroll service providers like QuickBooks, ADP, and Paychex, as well as Millennium Payroll. That prevents you from having to manually re-key your time cards.
Mobile App
There is no mobile app that supports this time clock. The Compumatic XLS 21 is a wall-mounted time clock managed with its desktop software, Computime 101.
Customer Support
Compumatic is based out of a single retail location in North Bellmore, New York. You can call during store hours for help, which are Monday to Friday from 9 a.m. to 6 p.m. Eastern Time. They also have a 24/7 answering service that can assist with basic issues after hours.
What Compumatic XLS 21 Is Missing
Compumatic is not as easy to program as the other two physical time clocks, Timelogix and Icon. In addition, there's no mobile app and no after-hours support. Further, your costs can add up quickly if you want ongoing support, upgraded software, or multiple licenses (to set it up on more than one computer).
What Users Think About Compumatic XLS 21
Depending on which review sites you look at, Compumatic is rated between 4 and 5 stars. That's pretty good for a time clock this affordable. Some users report it's a bit more complicated to set up than other systems. We don't yet have our own review of this particular time clock.
Tick: Best for Firms Tracking Billable Hours Against Projects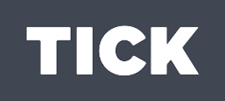 Tick is best for companies that do project-based work, such as law firms, agencies, and freelancers with multiple clients. Workers can clock in and out of projects and tasks related to those projects. Time can be tracked as billable or not billable, depending on the work that was done. Before users are able to use the time clock, however, the projects must be set up.
Tick Pricing
Tick's pricing isn't based on the number of workers you have but on the number of projects that users are logging their time against. Prices range from one project for free to unlimited projects for $149 per month. If you have recurring projects, such as an attorney who tracks clients on retainer by month, you'll need to sign up for the 30-project package at $49 per month.
Tick Pricing Options for Small Business
| | 1 Project | 10 Projects | 30 Projects |
| --- | --- | --- | --- |
| Price per Employee | Free | $19/month | $49/month |
| Projects | 1 | 10 | 30 |
| People | Unlimited | Unlimited | Unlimited |
| Basecamp Integration | ✔ | ✔ | ✔ |
| Recurring Projects | | | ✔ |
Tick Features
Like a physical time clock, Tick allows users to clock in and out. Its web pages are secure (SSL), and you can have an unlimited number of clients and employees. If you upgrade to the unlimited plan, you can set up an unlimited number of projects as well.
In addition, Tick provides full reporting and has cool features, such as a desktop timer to keep track of how long an employee has been working on a particular project. It also has a budget feature that lets you know if an employee is spending more time than budgeted on a particular task.
Time Reporting
Tick is a time clock of an entirely different sort. Not only can users clock in and out, but they can assign their time to different tasks. For example, employees at a law firm may assign their time to different clients or those at a marketing agency to different projects.
This would be great for businesses as diverse as a financial planner who wants to bill hours to a client or a manufacturing site that wants to have workers clock in and out based on the product line they're working on. Of course, any business that has only one type of work or project, such as a restaurant operation, could also use it.
Payroll Integration
Tick offers over 750 integrations with third-party applications, including QuickBooks payroll and FreshBooks. It's likely going to integrate with your payroll software as well as project management software and Chrome extensions.
Mobile App
Tick offers a mobile app for iOS and Android. Workers can even use an app on their Apple Watch to see how much time they have left available on a project.
Customer Support
Tick boasts that they provide rock-star support. That means you send them an email, and they'll get back to you within just a few hours. They don't offer phone or live chat support.
What Tick Is Missing
Various users complained that you have to close out the timers each day or the time will move to the next day, causing a bit of a mess. Also, there's no easy way to copy data from past projects into future ones without upgrading.
What Users Think About Tick
Our research shows that Tick user reviews are 4 to 5 out of 5 stars on third-party review sites. Users love the intuitive app and how easy it is to track their time. Some don't like having to enter time in decimal units but otherwise, there's little negative feedback.
Toggl: Best Employee Time Clock for Five or Fewer Employees

Toggl is best for really small businesses because it's free to use with five or fewer employees. Similar to Tick, it lets you track time by activity and assign it to different projects. Toggl should work for all your business needs if you're a small employer and plan to stay that way. For example, Toggl would be an ideal fit for an accounting firm with a few full-time and part-time staff members.
Toggl Pricing
Like Tick, Toggl's basic plan is free for up to five employees. It also offers a free trial on all other plans so you can try them before you commit. Prices range from $10 to $20 per month and up per user. Toggl offers discounts of 10% or more if you purchase an annual plan. Compared to Tick, Toggl can begin to get expensive if you want to add features like reminders via its Enterprise plan or upgrade after you grow past six or more employees.
Toggl Pricing Packages
| | Starter | Premium | Enterprise |
| --- | --- | --- | --- |
| Price per Employee | $10/month | $20/month | Custom pricing |
| Time Tracking | ✔ | ✔ | ✔ |
| Reporting | ✔ | ✔ | Advanced |
| Team Time Management | ✔ | ✔ | ✔ |
| Special Features | None | 1 | Unlimited |
| Real-time View of Projects & Profitability | | ✔ | ✔ |
| Business Intelligence | | | ✔ |
| Time Sheet Audits | | | ✔ |
| Reminders | | ✔ | ✔ |
Toggl Features
Even using the free plan, employees can clock in from anywhere with a single click. If you choose to upgrade, you'll gain access to business decision-making tools like time sheet audits and advanced reporting such as profitability reports, but basic hacks like reminders aren't included in the free Starter version, as they are with Tick.
Time Reporting
Rather than punch in like a traditional time card machine, your workers start and stop a timer on their computer or mobile device when they begin and end an activity. Toggl then tracks those hours on a virtual time card.
Payroll Integration
Toggl interfaces with FreshBooks and QuickBooks for accounting, along with over 100 other business tools. And, you can download time card data into a CSV file in order to upload it to your payroll provider.
Mobile App
Toggl has a mobile app that you can sync with over 100 web tools and browser extensions. For example, you can start your timer from Google Chrome or link it to projects using tools like Basecamp or Asana.
Reports
With Toggl, you'll also get visual reports that let you see who's working on what. Plus, you'll have access to budgeting tools, similar to Tick.
Customer Support
The Toggl customer support page has the best self-help options of all the time clocks we reviewed. We didn't find many negative reviews on customer support, but one customer did complain about not receiving the help they needed to work around glitches in the app. If you need assistance, you can ask a question or help yourself with illustrated, step-by-step instructions for nearly everything you can think of to do with the software.
Emplotime: Best for Businesses With International Staff

Although Emplotime customers are primarily in North America, it's based out of Israel and can be used in 26 countries worldwide. Since it's a virtual time clock, it adjusts to the time zone of your workers—whether they're in multiple U.S. time zones or overseas. So if you have employees who work outside the U.S., it may be the best time clock system to use.
Emplotime Pricing
Emplotime has the lowest per-employee cost of all the cloud-based options we reviewed. It's about $1 per employee, per month. Its different plans are based on company size; for example, if you have 20 employees, it costs $25 per month. If you have $100 employees, it's $100 per month. In addition, you don't need a contract. You just pay monthly.
Emplotime Features
Emplotime has all of the time clock features a small business would need. The way it works is that you start with a basic setup and then activate any features you want to use. That way, if you don't want to use a certain feature, e.g., PTO tracking, it doesn't clutter up your interface.
Time Reporting
Employees can clock in on a PC with the software installed. However, if you take the time to set it up for them in advance, they can clock in and out on their own mobile device.
Payroll Integration
Emplotime doesn't have any standard interfaces to payroll systems. Nonetheless, you can export your data to a CSV file and modify it as needed. Most payroll software accepts CSV-formatted time card data via upload.
Mobile App
Emplotime doesn't have a mobile app, but it can be used on mobile web browsers to clock in and out. However, you have to authorize the time clock to be used on each device, tablet, computer, or smartphone in advance.
Reports
Emplotime provides five standard reports that you can customize by adding fields. Reports can be downloaded to Microsoft Word or PDF format as well.
Customer Support
Customer support is included when you subscribe to Emplotime. It's available 24/7 via email, and they try to respond in less than an hour. In addition, they're dedicated to adding new features that their users request.
What Emplotime Is Missing
Emplotime doesn't have biometric access. It uses a PIN to prevent unauthorized users from clocking in or out. It also doesn't track time against projects, as Tick and Toggl do. And not having a direct payroll or accounting interface means you'll have a few more steps to perform each pay period to move the data from Emplotime to your other systems.
What Users Think About Emplotime
We found that Emplotime earns top-notch reviews on third-party review sites from business customers who find it easy to administer and use. If you've used this software, leave us a comment below with your feedback.
Tanda: Best Time Clock App for Businesses Trying to Stop Time Theft

Tanda's employee time clock system is best for preventing employees from stealing time because it takes a picture when an employee clocks in. In addition to timekeeping tools and a mobile app, it gives you, the administrator, the ability to see at a glance where all your employees are. It also has scheduling features that it refers to as a "roster."
Tanda Pricing
Tanda's pricing is straightforward at $4 per employee, per month if you pay annually or $5 per employee, per month if you pay monthly. So if you have ten employees, your cost will be $50 per month. Although it's not free like Homebase and When I Work, you get a wide range of features for that price. Even though Tanda is four times the cost of Emplotime, it may be your best option if your timekeeping goal is to eliminate time theft. The photo clock-in feature might pay for itself.
Tanda Features
With Tanda, you get more than timekeeping. You can print and email schedules, allow time swapping, and approve overtime. In fact, employees can request time off directly from the time clock. It integrates with payroll and lets you export data with one click.
Tanda is not project-focused like Tick and Toggl; it has features more in line with a traditional employee time card machine. However, Tanda adds nice features into its software at the base price, such as leave accruals and onboarding. Most of the other time clock systems we reviewed either don't have those options or charge extra for them.
Time Reporting
Employees clock in with a PIN code. However, you can set it up to take a photo instantaneously to ensure one employee isn't clocking in or out for another. This can be very helpful in a fast-paced, shift-based environment like a restaurant.
Payroll Integration
Tanda exports time sheets to many standard payroll systems, such as QuickBooks payroll, Xero, and ADP, to name a few. It provides a one-click data transfer with a two-way interface. Best of all, it integrates with international payroll software too.
Mobile App
Tanda has a mobile app that employees can use to clock in and out from their smartphone using a PIN passcode to verify their identity. That prevents your workers from queuing up at the time clock during shift changes.
Customer Support
Tanda provides phone, email, online chat, and web-based customer support. It has an office in the U.S., but its support team is based in Brisbane, Australia. When you use the text chat in the U.S, you'll likely receive a response that says "Tanda typically replies in a few hours."
What Tanda Is Missing
There's really nothing missing from Tanda as far as employee time clock functionality goes. However, being in a completely different time zone from most U.S. businesses, you might miss having customer support during your local work hours.
What Users Think About Tanda
We included Tanda in our time clock lineup due to their solid online reviews. Users like the interface, the support they get, and the low price. However, even though we have a Tanda review on our website, few have chimed in to let us know how it works for their small business.
Alternatives to Employee Time Clocks
If you're looking for more than time card machines and virtual time clocks, consider:
| Alternatives to Employee Time Clock Solutions | Best For |
| --- | --- |
| | Businesses that build shift-based schedules to track time against |
| | Firms that prefer only cloud-based time tracking software |
| | Service businesses like barbers that need to schedule client appointments |
| | Retailers that want POS software (some track time worked) |
| | Businesses that do their own payroll; many offer timekeeping options |
| | Businesses wanting to outsource timekeeping and payroll to a co-employer |
Bottom Line
Any of the options we reviewed would work well for a small business. If your workers are in multiple locations, and you want to avoid the expense of a time card machine in each location, consider one of the cloud-based time clock tools like Homebase or When I Work. But, if it's a wall-mounted clock you want, consider Timelogix TL200, as you'll get a great Wi-Fi biometric time clock, free and helpful ongoing support, and solid back-end tools that are easy to navigate and use.
We recommend Homebase as the best virtual time clock if you have one physical location because it's free for an unlimited number of employees. You also get robust scheduling options and employee messaging for free. The best part is that it has built-in integration with many common small business payroll providers.