When you're a freelancer, tracking how you spend your work hours doesn't just help you to bill clients accurately. The best time tracking software for freelancers also lets you visualize time spent so you can make better bids—or see if you're spending too much effort on unimportant tasks. Most are reasonably priced or free.
Top 7 Time Tracking Software for Freelancers
| Time Tracking Software | Best For |
| --- | --- |
| Timecamp | (Best Overall) Individuals needing time tracking software to help with collecting money for time-worked |
| Everhour | Project-based or hourly freelancers who want to track productivity |
| Hubstaff | Mobile freelancers who do freelance work outside of the office |
| | Freelancers who need strong expense and billing tools |
| | IT freelancers or self-employed workers with multiple daily projects to track and keep separate |
| | Self-employed workers, like writers, who want simple time management tools and a Pomodoro clock |
| | Freelancers who prefer to pay a one-time fee rather than a monthly subscription |
How We Evaluated the Best Time Trackers for Freelancers
At the least, software that helps with time tracking for freelancers should let you start and stop timers and assign a task or project to a group of time. Better ones include invoicing, reports, and integrations. The best will do it all while still keeping a reasonable price.
There are a lot of useful, inexpensive time tracking software on the market. To find the best ones for freelancers, we looked at the following criteria:
Price: We looked at free options as well as inexpensive paid ones.
Ease of use: The best time trackers make it easy to start and stop timers and may detect idle time.
Time tracking tools: Time trackers should let you determine time increments and set tasks. Some create schedules or let you forecast projects.
Accounting tools: The best time trackers provide accounting tools for billing clients and integrate with more powerful accounting programs, and project management tools.
Mobile & browser apps: We looked for trackers that have browser apps for online work and mobile apps for when you're on the go.
Reports: We looked for the ability to create reports you can send to your clients.
Other features: We looked for standout features that make the time tracker best for specific needs.
All of these time trackers do great work, but we found TimeCamp to be the best. It has the most complete set of features at a fantastic price. With TimeCamp, you can accomplish all of the accounting, billing, and project management tasks you need without additional programs, saving you time and expense.
TimeCamp: Best Overall Time Tracker For Freelancers

With great reviews and excellent features for tracking time and analyzing productivity, TimeCamp ranks as our top choice for time tracking software. It not only assigns time to tasks, but detects idle time, creates invoices, and lets clients pay you through PayPal. It's a great choice for freelancers for 2020.
TimeCamp Pricing
TimeCamp's plans run from free to $7.50 per user per month when paid annually. There's also an Enterprise plan with additional features and custom pricing. Nonprofits can ask for a 50% discount. TimeCamp offers a 30-day free trial of any plan.
TimeCamp Annual Pricing Tiers
| Features | Solo | Basic | Pro |
| --- | --- | --- | --- |
| Pricing | Free | $5.25 per user/month | $7.50 per user/month |
| Time tracking | ✔ | ✔ | ✔ |
| Assigning time to projects/tasks | ✔ | ✔ | ✔ |
| Productivity reports | ✔ | ✔ | ✔ |
| Integrations | N/A | ✔ | ✔ |
| Billable time | N/A | ✔ | ✔ |
| Invoicing | N/A | N/A | ✔ |
TimeCamp Features
TimeCamp makes it easy to track time, assign it to projects or tasks, and send invoices. It also detects idle time and has other productivity analytics.
Standout Feature: PayPal Integration
While most time tracking software lets you create invoices, TimeCamp takes it a step further by integrating with your PayPal account. This makes it even easier for your clients to pay you.
Time Tracking & Appointment Schedule Tracking
TimeCamp says its users gain an average of 30 minutes productive time a day. You can set up projects and tasks for assigning time. You can also start using automatic time tracking with a calendar integration to ensure you remember billable hours. Like Everhour (which we will discuss later), it has some limited project management capabilities.
TimeCamp's time tracking includes tools to help analyze how you spend time and thus improve your productivity. Used faithfully, it can give you a complete view of your workday, including time spent on documents, websites, and specific applications. It has budgeting reports to compare your estimated vs actual time. It can analyze the time spent vs your goals set and help you stay in a time or expense budget (where you have billable hours). This can help both with staying within a client's budget and making more educated bids in the future.
Mobile & Browser Apps
TimeCamp has apps for both iPhone and Android so you can track your time even when away from the desk. It seems to work better on Android than iOS, according to users. There's also a Chrome extension so you can track time from any website, a nice feature when doing research or using cloud-based software.
Client Reports & Billing
If you need to invoice and bill clients, you'll appreciate TimeCamp's invoicing features. It allows you to track hours by client and jobs. It can handle both fixed-price and billable hours. You can create professional-looking invoices and set tax and VAT rates.
Integrations
This time-tracking software integrates with 36 other applications as well as with Zapier for connecting to other programs. You'll find a variety of helpful apps to extend the functionality of TimeCamp, from project management to communication.
Project management: Asana, Basecamp, Monday.com, Todoist
Documents: Dropbox, Evernote
Accounting: QuickBooks, Xero
Customer relationship management (CRM) & support: Salesforce, Zendesk
Communication: Slack
What TimeCamp is Missing
TimeCamp's project management functions are limited to setting tasks and people so you can track time. If you need more complex functions, you'll have to integrate with other software.
What Users Think About TimeCamp
Users reviewing on our site give TimeCamp 4.5 out of 5 stars. The detailed time tracking reports were a hit. One user on a third-party review site called it "super-duper easy to use." A few users said the desktop widget lacked the functionality they needed and that it was not as user-friendly as the website version.
Everhour: Best Time Tracker for Tracking Productivity
If you are looking for a one-stop software for managing your freelance project, look into Everhour. It contains not only time recording and invoicing tools, but also offers basic project management and budgeting features. Reasonably priced (you can't get better than free), it deserves consideration.
Everhour Pricing
Everhour's pricing is tough to beat for individuals. The fully-featured software is free if you don't need integrations. The paid plans are $8 for individuals and $7 per user per month for teams, with a minimum of $35 per month. The two-week free trial includes integration capability.
Everhour Annual Pricing Tiers
| Features | Free | Solo | Team |
| --- | --- | --- | --- |
| Pricing | Free | $8 per month | $7 per user/month (Minimum $35/month) |
| Maximum Users | 5 | 1 | Unlimited |
| Track time, Set Estimates, See Timeline | ✔ | ✔ | ✔ |
| Invoices and Billing | ✔ | ✔ | ✔ |
| Reporting | ✔ | ✔ | ✔ |
| Basic Project Management | ✔ | ✔ | ✔ |
| Integrations | N/A | ✔ | ✔ |
Everhour Features
Freelancers may find Everhour's toolbox sufficient for most of their administrative needs. It includes time-tracking, scheduling, reporting, billing, and even simple project management. Not enough? The paid plans let you integrate with other software.
Standout Feature: Project Management
If you've not decided on project management software, look at Everhour first. In addition to time tracking, it has a simple task-list project management function. You can create tasks, set budgets and tag tasks for search or report creation. There are also Kanban board views and automatic budget alerts. However, you cannot add documents or comment on tasks.
Time Tracking & Appointment Scheduling
Like most time trackers, you can start and stop time with a simple click or log time manually after the fact. You can assign time to tasks, but if you forget, you can move a chunk of time to the correct task. Need to budget time? Set estimates. You can set schedules, and if you work with others, include their schedules so you can spot task dependencies or know someone's availability.
Mobile & Browser Apps
Everhour's apps and extensions are primarily to integrate time into other software such as Asana or Trello. The mobile app for iOS has 2.5 stars. There's no Android app, but you can access Everhour via browser. Chrome has an Everhour extension as well.
Client Reports & Billing
Everhour lets you create and track multiple invoices. It not only records hours and tasks but also additional expenses such as travel or supplies. Thus, you can present a complete bill with no surprises. Everhour automates invoices by tracking the data you select, so you don't forget to add anything.
Integrations
Everhour integrates with the most popular project management software like Jira, Asana, Insightly, and others. It can also integrate with accounting software like FreshBooks.
What Everhour is Missing
While Everhour's invoicing is thorough, this software does not provide a way to collect payments. You will need a separate program, or you can integrate with billing software like Xero which has payment collection options.
What Users Think About Everhour
Our business user reviewers give Everhour 4.8 out of 5 stars. In addition to price and ease of use, users praised the integration function. Negative comments concerned drill-down capability—either there were too many options for sorting data, which confused new users, or there were not enough ways to adding times (such as to subtasks), which troubled power users. Everhour stands out on some third-party review sites because its staff responds to each review.
Hubstaff: Best Time Tracker for Mobile Freelancers

Hubstaff's feature set suits teams more than individual freelancers, but it offers a lot for freelancers as well. The free plan is basic, but if you or your teammates work on the road, the geofencing will come in handy. Its paid plans are competitively priced.
Hubstaff Pricing
Hubstaff has plans that range from free to $10 per user per month. There's an Enterprise program at $20 a month, but is suited for companies rather than freelancers. You can get a free trial or a demo, and Hubstaff offers a 60-day money-back guarantee.
Hubstaff Annual Pricing Tiers
| Features | Free | Basic | Premium |
| --- | --- | --- | --- |
| Pricing | Free | $7 per user/month | $10 per user/month |
| Time Tracking | ✔ | ✔ | ✔ |
| Activity Levels | ✔ | ✔ | ✔ |
| Limited Payments | ✔ | ✔ | ✔ |
| Integration | N/A | 1 | Unlimited |
| Mobile GPS Tracking | N/A | N/A | ✔ |
| Invoices | N/A | N/A | ✔ |
| Budgets | N/A | N/A | ✔ |
Hubstaff Features
With all the standard time-tracking features (project and task assignment, invoicing and budgets), Hubstaff can handle your time-tracking needs. The Geofencing makes it a great choice for people whose work takes them on the road.
Standout Feature: Geofencing
Hubstaff is not the only time tracker software to offer GPS tracking, but its geofencing tools deserve a callout. You can set work locations and define areas. Then, set the app to either start tracking automatically or send you a reminder to start your timer. This is great for when your work takes you outside the office, whether to consult with a client or to complete a project. It can also help you see commuting trends.
Time Tracking & Appointment Scheduling Tracking
Time can be assigned to projects or tasks and you can set budgets, all of which are typical of time tracking software. It offers a well-appointed dashboard where you can quickly see time by client or project, or in the case of teams, by employee. One nice budgeting feature is that it uses color to warn you if you need to devote more time to a project in order to meet goals.
If the company you are contracting with uses Hubstaff, you can integrate with its account so it can get real-time data on your work.
Mobile & Browser Apps
You can log time in the web app or with the Google Chrome extension. There are also apps for your desktop or mobile device. The geofencing tool, of course, requires the mobile app, and it also allows you to simply start and stop your timer and assign time to a project. In addition, you can access your online dashboard, view work logs, and connect with your integrations if you have any. It runs in the background so that it does not interfere with other work you may need to do on your mobile device.
Client Reports & Billing
If you are a freelancer whose client also uses Hubstaff, ask if they are using the payroll feature. This lets them create time cards and streamline payment processing and could save you the trouble of creating invoices. However, Hubstaff generates accurate and professional invoices. It allows you to record payments so you can keep a full record of income received and expected.
Integrations
Hubstaff integrates with 33 third-party programs. These include:
Project Management: Basecamp, TeamworkPM, Asana, Jira, GitHub, Jira, Mavenlink, Zoho Projects
Customer Support/CRM: Salesforce, Freshdesk, Zendesk
Accounting, Payroll, and Payments: FreshBooks, QuickBooks, PayPal, Gusto
What Hubstaff is Missing
While Hubstaff lets you record payments, it does not have payment processing. Also, if you want the best features, including invoicing and geofencing, you will need the Premium plan.
What Users Think About Hubstaff
Hubstaff earned 4.2 out of 5 stars from our user reviewers and 4.6 out of 5 stars from reviewers on third-party review sites. Users give the mobile app 4.2 out of 5 stars. The most common complaints for mobile and desktop concerned glitches that resulted in inaccurate time reporting. (for example, idle time being recorded while reading a webpage or document online.) Overall, users praised the ease of use, the ability to see idle time vs active time, and the feature that allows you to monitor other workers.
Harvest: Best Time Tracker for Billing Clients

Harvest does more than help you track time. It offers excellent tools for tracking expenses and billing clients as well. The free plan only allows you to track two projects at a time, but the paid plan is $12 per user per month—competitive, considering all its features.
Harvest Pricing
Harvest offers two plans—free and $12 per person per month. Both plans include all the features. The free plan, however, is only good for one person and two projects at a time. The paid plan is comparable to other time trackers with similar features. There's a 30-day free trial that includes all tools.
Harvest Features
Harvest's functions are the same regardless of whether you have a free or paid plan. They help you maximize your revenue by boosting productivity within the time you spend working. You're able to track exactly which tasks cost you the most time and how much money they bring in, so you know if it's worth it. You also get unlimited invoicing and estimates in addition to project budget alerts.
Standout Feature: Billing Reminders
Unfortunately, you can't bill your clients for the time you spend reminding them to pay their bills, but Harvest can do it for you. It can send out automatic reminders to your clients. Plus it allows for Stripe and PayPal to make paying online easy.
Time Tracking & Appointment Scheduling Tracking
You can track time as you work or add it manually. With Harvest's integration function, you can easily track time from within just about any application. Assign time to projects, clients, or tasks, and add notes on exactly what you worked on. While Harvest does not have a native scheduling function, it does integrate with Outlook and Google Calendar so you can pull events from them into your time sheet. It also integrates with its sister app, Harvest Forecast, to schedule time for yourself or your team.
Mobile & Browser Apps
The mobile app works on both Android and iPhone and has additional features that set it apart from other time tracking applications. Most notable is the receipt log function. You can take a photo of a receipt and save it to the project or use it to track mileage. This makes it easy for submitting expenses.
Client Reports & Billing
In addition to the expense tracking features on Harvest's mobile app, it can monitor expenses by project so you know how much to bill a client. You can create professional-looking invoices, send them through Harvest, and track them. As mentioned above, you can set reminders for missed payments and integrate with Stripe and PayPal.
Harvest reports offer graphical representations of data so you can visualize time and expenses on a project's progress. With filters, you can drill down into the details of hours, budgets, billing, and more. If that's not enough, export your data as CSV or Excel.
Integrations
With more than 100 integrations, Harvest can work with just about any software you need. You can integrate a variety of apps, including those for accounting, communication, and analytics.
Project management: Asana, Trello, Basecamp, Monday
Communication: Slack, Pastel, Lucid Meetings
Accounting: QuickBooks, PayPal, Xero
Customer Support/Issue tracking: Zendesk, Jira, DoneDone
Documents: G Suite, Proposify, Bidsketch
Analytics: Projectt, EazyBI, Grow
What Harvest is Missing
Harvest does not have geofencing or automatic time capture, nor does it let you set billing for overtime. Nonetheless, it is one of the most complete time tracking software we reviewed. Its real limitation on the free plan for individuals is the number of projects allowed.
What Users Think About Harvest
Harvest is a popular program among our user reviewers, who rate it at 4.7 out of 5 stars. It's one of the few time trackers for which people specifically note its accuracy. The ability to send as well as create invoices rated a callout as well. One complaint worth noting is that you must assign a time to a project, or it will not record. Sometimes trackers will let you track time for incidentals like lunch.
Clockify: Best Time Tracker for Juggling Multiple Clients

Clockify is easy to use and integrates well with other programs. Its Plus plan is inexpensive and has tools for tracking time and projects as well as creating reports. It also offers useful extras to make sure you assign times to the right project, a great feature if you are spreading time across multiple clients.
Clockify Pricing
Like most of the time tracker software on our list, Clockify has a free version with time tracking, projects, reports, and apps. For additional features, you pay $9.99 or $29.99 a month. It has a seven-day free trial. Its enterprise program is suited for businesses rather than freelancers.
Clockify Annual Pricing Tiers
| Features | Free | Plus | Premium |
| --- | --- | --- | --- |
| Pricing | Free | $9.99 per month | $29.99 per month |
| Projects & tasks | ✔ | ✔ | ✔ |
| Reports | ✔ | ✔ | ✔ |
| Apps & integrations | ✔ | ✔ | ✔ |
| Time rounding & auditing | N/A | ✔ | ✔ |
| Targets & reminders | N/A | ✔ | ✔ |
| Alerts | N/A | N/A | ✔ |
| Project templates | N/A | N/A | ✔ |
Clockify Features
Clockify offers tools for tracking or manually recording time, generating reports, and tracking progress. However, it does not provide invoicing or billing.
Standout Feature: Required Fields
If you are one to forget to make a note, or you are working with others and need to make sure you track their time properly, too, Clockify has two features to help. With required fields, Clockify will not save a time entry until the data fields you choose as mandatory are filled in. Time audit lets you seek out entries that are not assigned to tasks or have a suspiciously long recorded time (such as if you forgot to turn off the timer.) These tools help you create accurate reports.
Time Tracking & Appointment Scheduling Tracking
You can start and stop trackers and assign the time to specific projects or tasks. There's also the option to manually enter or edit time as needed and to mark time as billable. It will convert the times into an editable time sheet based on projects. The Premium and Enterprise plans offer templates for projects as well. Like several of the time tracking software on our list, Clockify allows you to round time up or down according to your preference.
Mobile & Browser Apps
Clockify's mobile apps are highly rated but basic. They primarily let you log hours manually or start timers to track time. For more functions, you need to access the web version. Clockify has Chrome and Firefox apps that let you start timers from within programs or websites.
Client Reports & Billing
Clockify's dashboard gives you a real-time look at where you are spending your time and where you stand on projects. If you have team members, you can see their activities, too. You can create reports by time, activity, or user. There are filters to drill down on the data. You can share the reports with clients via link (which can serve as an invoice) or download them as PDF, CSV, or Excel to work the data further.
Integrations
Like most time tracking software, Clockify has easy integrations to the most popular project management software such as Trello, Asana, Monday.com, Todoist, and Basecamp. For people in the IT field, the integrations with programs like Github, Pivotal Tracker, and Zendesk make it especially useful. If you are in Sales, you'll appreciate the Salesforce and Capsule CRM integrations.
What Clockify is Missing
Clockify does not include billing or invoicing functions, nor does it have a scheduling feature. In addition, it does not integrate with accounting software natively, although you can set up an integration via Zapier. Therefore, this is not the best timer tracker to choose if you need detailed invoices.
What Users Think About Clockify
Our user reviews give Clockify 4.8 out of 5 stars, a rating closely matched on other review sites. Users said the interface is straightforward and simple to use, which means it gets used. Some said the desktop app was not as user-friendly as the webpage, so they defaulted to that. The mobile app also got dinged for being too limited in functions.
Toggl: Best Time Tracker For Time Management Tools

Not everyone needs a bunch of invoicing, billing, or project management tools. If you are looking for a time tracker that concentrates on time management, then consider Toggl. You'll find strong time tracking features that are easy to use and reasonably priced in addition to time management tools, like a Pomodoro clock. It has some billing and project management functions and integrates with over 100 programs.
Toggl Pricing
Toggl has a free plan, and the paid plans offer 30 days free. The paid plans are $9 and $18 per user per month when paid annually. Contact Sales for pricing on the custom plan, although its features are more for power users and businesses.
Toggl Annual Pricing Tiers
| Features | Free | Starter | Premium | Enterprise |
| --- | --- | --- | --- | --- |
| Pricing | Free | $9 per user/month | $18 per user/month | Custom |
| Time tracking, w/idle detection | ✔ | ✔ | ✔ | ✔ |
| Integrations | ✔ | ✔ | ✔ | ✔ |
| Reporting | N/A | ✔ | ✔ | ✔ |
| Billable rates | N/A | N/A | ✔ | ✔ |
| Projects & Tasks | N/A | N/A | ✔ | ✔ |
| Time audits | N/A | N/A | N/A | ✔ |
| Email reminders | N/A | N/A | N/A | ✔ |
Toggl Features
Toggl's time tracking features are complete. The app detects when you forget to turn off the "stop tracking" feature and reminds you to manually allocate the time later. If you work at a desk, the Pomodoro timer is a handy feature to ensure you work in realistic increments (to prevent burnout) with reasonable breaks in between.
Standout Feature: Pomodoro Timer
If your work is mostly at the desk, then the Pomodoro timer is a great feature to have. You can set it to watch your time at the desk and send you a notice when it's time to take a break. This is great for setting up writing sprints or just making sure you take a few minutes every hour to stretch.
Time Tracking & Appointment Scheduling Tracking
Every plan offers the full time tracking features of Toggl. You can start a timer, input time manually, or set up an autotracker that automatically assigns times based on the application you're using or by keywords. You can tag time, use keyboard shortcuts, set time formats and more. It also offers idle detection and an offline mode.
The project management features include time estimates, tasks, colors, and alerts. It also provides templates for repeat project types. For scheduling, you'll need to integrate into a calendar program such as Google Calendar or iCal.
Mobile & Browser Apps
Toggl has a Chrome extension and mobile apps like most of the time tracking software on our list. In addition to the usual time tracking functions, the mobile apps integrate with the calendar view, show reports on time spent, and send notifications. The mobile apps have good reviews.
Client Reports & Billing
While Toggl does not offer invoice or billing capabilities, it does have some nice reports. You can create summary, weekly, and other reports. Filter data to get what you need or export your data to Excel or as CSV for more detailed manipulation or to create an invoice. The dashboard lets you see projects and times, with a bar to show progress.
Integrations
Toggl offers over a hundred integrations with popular third-party software, but it can vary according to plan. For example, free plans will integrate with some project management and accounting tools like Asana, Basecamp, and FreshBooks. The paid plans will feed into an iCal calendar.
What Toggl is Missing
Toggl does not have automatic time capture or GPS tracking, like a few of the time trackers on our list. While it can store billable rates, it does not provide invoicing or payment processing for billing clients.
What Users Think About Toggl
Toggl, while simpler than many time tracking software we considered, nonetheless has high reviews. Our user reviewers gave it 4.7 out of 5 stars, while other sites rate it at 4.6. While some users asked for additional features, most were simply pleased with how easy and accurate it was. The mobile app has 4.1 out of 5 stars.
OfficeTime: Best Time Tracker Without a Monthly Cost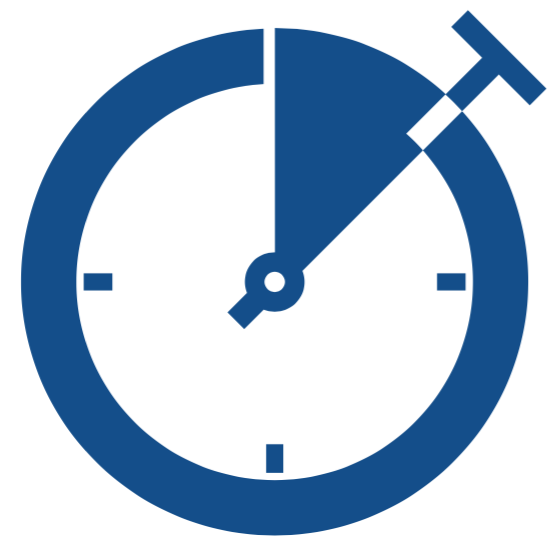 If you'd rather make a single purchase of a feature-rich time tracking software instead of paying a monthly subscription, OfficeTime may be the answer. It has strong tools for time tracking and invoicing, integrates with iCal, and has an iOS app that is also suited for Apple watches—all for a one-time price of $47.
OfficeTime Pricing
OfficeTime is a one-time purchase of $47. It offers a 120-day money-back guarantee and free upgrades, so the one purchase could last a lifetime. However, you need one copy per person. The software comes with a 21-day free trial and a 120-day money-back guarantee.
OfficeTime Features
OfficeTime is a stand-alone software. It has the most useful tools for time tracking and reporting but is sparse on integrations. You can categorize your time and see how much it's worth. In addition, it supports numerous clocks in various currencies, so even if you're outside of the US, you can still use it.
Standout Feature: Reminders
OfficeTime has a free-form text reminding tool. You can set a time, write in your reminder, and OfficeTime will post a popup. This unique and handy tool can help you with remembering appointments or tasks like follow-up calls or checking data.
Time Tracking & Appointment Scheduling Tracking
Designed for freelancers and small teams, OfficeTime allows you to track multiple projects and categories. If you have different hourly rates for different clients, you can set those too. If you switch tasks, you can do so without leaving whatever program you're in, so you can keep your momentum. Because it's a desktop app, it works offline and tracks time in the background. If you've been away from or inactive on your computer, it will send you an alert to see if you need to reassign time.
Mobile & Browser Apps
You won't be able to use this software on an Android device, nor does it have a Chrome extension. However, it does have an iOS app with a rating of 3.8 out of 5 stars from users. The paid version syncs with the desktop version. Plus, it works on the Apple Watch.
Client Reports & Billing
OfficeTime offers instant reports on how you spent your time by whatever date range you need. You can view time spent across projects or by individual project. You can also categorize time, such as by research, production, consulting, or the like. The billable hours are fed into the summary, and you can edit. You can download reports as CSV.
There are invoicing templates to make it easy to bill your clients. Invoice on one project or many, with the appropriate breakdowns, with a click of a button.
Integrations
As a stand-alone program, OfficeTime does not offer integrations with third-party software. The only exception is iCal. If you need integrations, look at some of the other software on our list, such as Toggl or TimeCamp.
What OfficeTime is Missing
OfficeTime does not have an Android app. It does not integrate with accounting software nor can it process billings or payments. It also does not work online, so there are no browser extensions.
What Users Think About OfficeTime
As of November 2019, we have one user review of OfficeTime on our site, but it enthusiastically praises the program for its ease of use and client filtering. Reviews on other sites also rate OfficeTime highly. They said syncing between iPhone and desktop was easy and helpful in tracking away-from-desk work. Some mentioned there is a learning curve, while others found it intuitive.
Alternatives to the Best Time Tracker Software
| Topic | Best For |
| --- | --- |
| | Freelancers wanting a physical gimmick for time-tracking (8-sided cube you flip to change tasks) |
| | Free time tracker that detects idleness and stops itself |
| | Freelancers who want to create schedules with a Kanban-board style system |
| | Freelancers needing a completely free time tracking and invoice system |
Bottom Line
Whichever time tracking software you purchase depends on your needs. Some simply track and record time; others offer expense recording and billing. Nearly all will handle teams and integrate with other programs, especially project management and calendar tools. Before choosing, think about what you need and whether you are willing to pay extra for it.
For most freelancers needing time tracking tools for work projects, we found TimeCamp to be the best. It offers time tracking, reporting, and invoicing, and it integrates with dozens of programs that are popular with freelancers. The pricing is great, too—free to $7.50 per month. Sign up for a free trial of TimeCamp today.