Toptal is a premier freelancer marketplace, particularly recognized for its financial experts, technical developers, and project or product managers. It pre-screens freelancers to ensure that they have the skills needed to take on projects successfully. A standout advantage of using Toptal is the opportunity to assess each freelancer during a 14-day trial period before making a long-term commitment to collaboration.
In our evaluation of the best freelance websites for small business, Toptal earned 3.51 out of 5. It scored low for pricing because it doesn't post information about it on its website. However, it earned a perfect popularity score and boasted the highest user reviews among the platforms on our list. It is unique in its rigorous process of selecting freelancers, thus, we deemed it best for businesses looking for pre-screened freelancers that can help them with their projects.

Pros
Highly vetted freelancers
English speaking freelancers from all over the world
Offers customization and matches candidates to each project's requirements
Money-back guarantee if you can't hire a freelancer
Can hire both remote and on-site workers
Cons
Paid option is more expensive than similar platforms
Limited number of freelancers in the creative industry such as photography, writing, or music
Non-transparent pricing
Not recommendable for quick and inexpensive work
What We Recommend Toptal For
Toptal is a freelance hiring website that specializes in connecting businesses with top talent in a variety of fields, including software development and design, finance, product management, and project management. Businesses don't have to screen applicants because Toptal takes care of that to ensure that businesses only hire top talent.
We believe Toptal is best for:
Employers looking for top-tier freelance talent: Toptal stands out as the ultimate choice when you're seeking the highest caliber of freelance professionals. Its rigorous vetting process ensures that you work with the best talent in the industry, delivering top-quality results for your projects.
Businesses looking for technology and finance skill sets: It is the go-to platform for businesses looking to tap into a diverse range of skills most notably in software development, finance, and product management. Whether you need financial experts to manage your finances, technical developers to build your technology solutions, or project or product managers to oversee your projects, Toptal has a rich talent pool that covers all these areas and more.
Risk-free freelancer selection: The platform offers a unique advantage by providing a 14-day trial period. This feature allows you to thoroughly evaluate and assess a freelancer's capabilities and compatibility with your project needs. If you are not satisfied with the freelancer's work, you can cancel the project at any time without being charged.
When Toptal Would Not Be a Good Fit
Toptal is a freelance hiring website that specializes in connecting businesses with top talent. However, it is not for everyone. We've deemed Toptal not fit for:
Businesses offering a short-term gig: Toptal is a good platform for freelancers who are looking for long-term projects. If you are looking for a short-term gig, I recommend looking on a different platform, like Fiverr. Learn about its features and offers in our in-depth Fiverr review.
Those who plan to integrate other HR software: Because Toptal doesn't offer integrations with any other system, it's best to move along and find other options. Upwork is a great alternative, as it allows users to connect it to other HR tools. You can check our Upwork review to determine if it's right for you.
Toptal Deciding Factors
Best for

Hiring pre-vetted freelancers

Pricing

Not posted on website; Reviews say Toptal bills clients for the hours charged by the freelancer plus a service fee (a percentage of the total)

Free trial period

14 days for every new freelancer you hire

Features

Rigorous screening process

Proven skilled professionals

AI-matching

Ease of Use

Toptal is relatively easy to use for employers looking for a freelancer to work with.
Project management is also simple with Toptal as it has built-in project management, time tracking, and payment tools.

Customer Support

Contact Toptal via their contact form.
How Toptal Compares With Alternatives
Best for

Posting Fees

Transaction Fees

Our Review

Hiring highly vetted freelance professionals

$500 refundable deposit

A percentage of the freelancer's hourly fees*

Getting top-rated freelancers

$0

5%

Finding freelancers to do small jobs

$0 per job above $50;

Additional $2 per job $50 and under

5.5%

Finding freelancers for free

$0

$0
Toptal does not publish its pricing information publicly, so it is difficult to say exactly how much it costs to hire a freelancer. However, based on information from public sources and reviews from clients, it is estimated that freelancers typically charge between $80 and $150 per hour.
It does not have any paid plans or pricing options for clients. Instead, clients are billed for the hours that their freelancers work. It also charges a service fee on all invoices. It's not clear what percentage of the freelancer's hourly rate it charges, but it's expected to vary depending on the freelancer's industry and expertise, between 20% and 50%.
The platform does offer a two-week trial period for all new clients. During the trial period, you can work with a freelancer on a project without any risk. If you are not satisfied with the freelancer's work, you can cancel the project at any time without being charged. Toptal also requires a $500 refundable deposit, which will be credited once you hire your first freelancer or refunded if you cancel the project.
If you are considering hiring a Toptal freelancer, it is important to factor in the cost of the freelancer's time and the service fee. However, it is also important to keep in mind that these freelancers are highly skilled and experienced, and they can save you time and money in the long run.
Toptal only scored 3.5 out of 5 for this criterion because it lacks of the ability to feature your job listing, a feature many other platforms provides. In other words, you don't have the option to sponsor the job listing to make it stand out. And while it has a mobile app, it can only be used by freelancers and not employers. Toptal's features include:
Toptal employs a comprehensive evaluation process that assesses language proficiency, personality traits, technical expertise, problem-solving abilities, work experience, and creativity. Candidates are subsequently assigned real-world test projects spanning one to three weeks to validate their practical skills. This rigorous selection process culminates in only the top 3% of applicants being accepted into Toptal's freelance talent pool.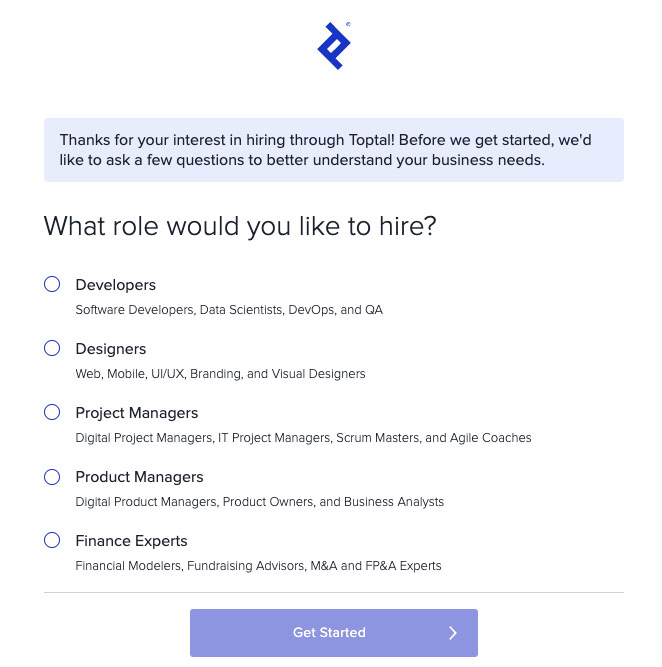 ---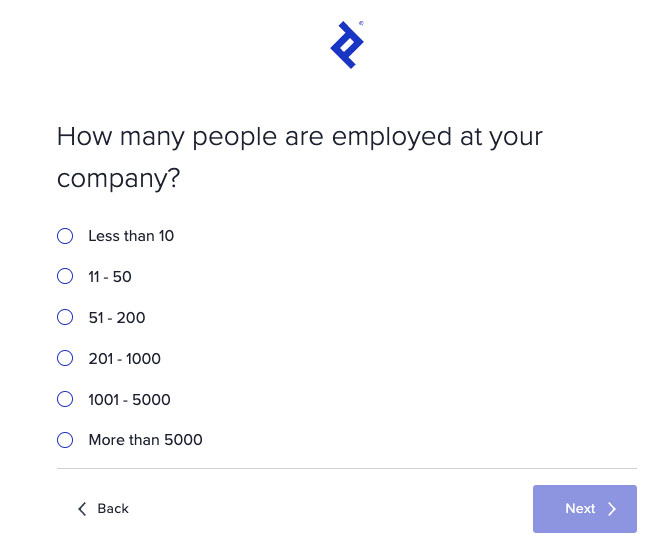 ---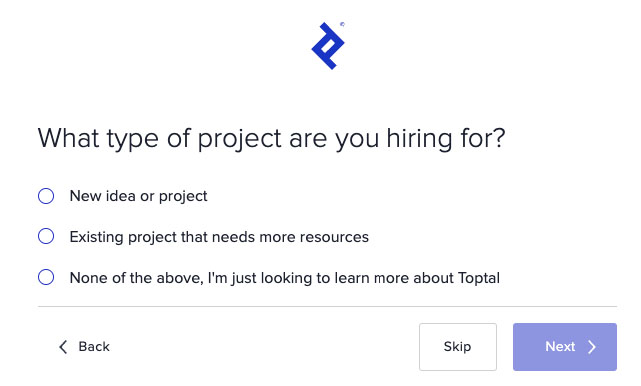 ---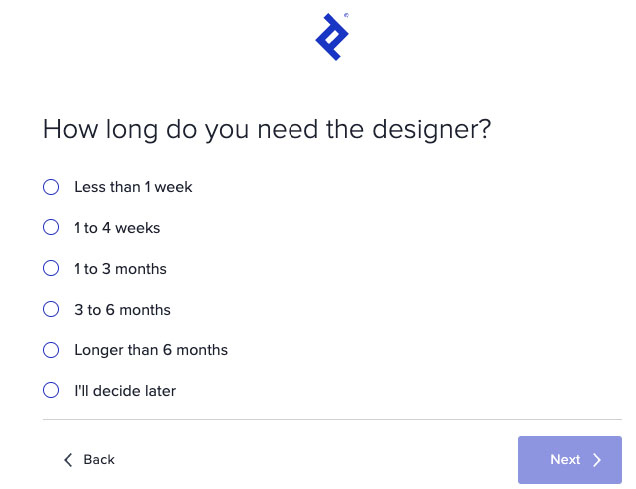 ---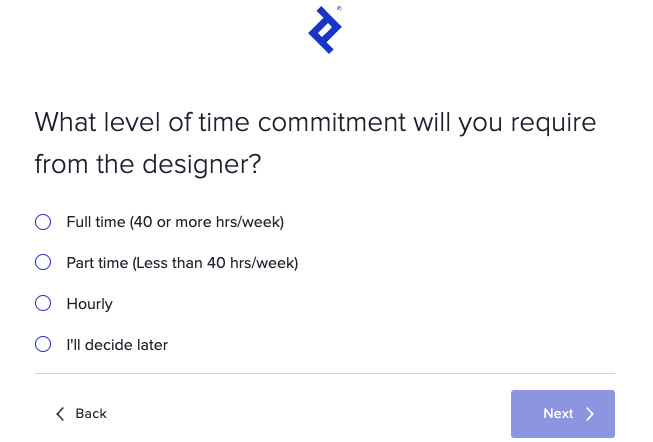 ---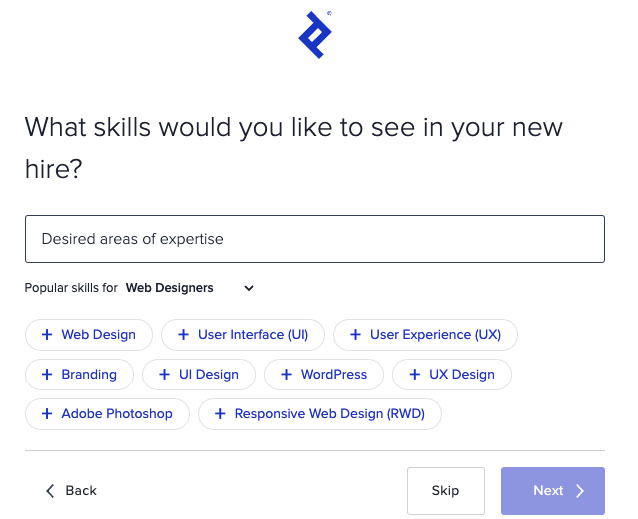 ---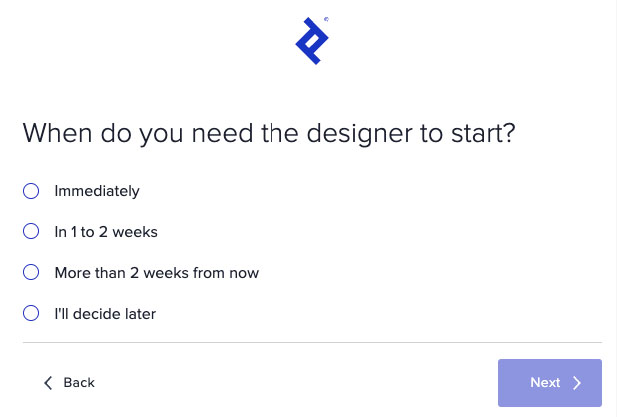 ---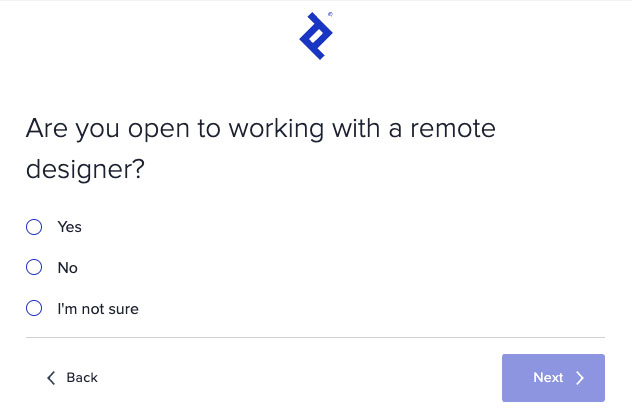 ---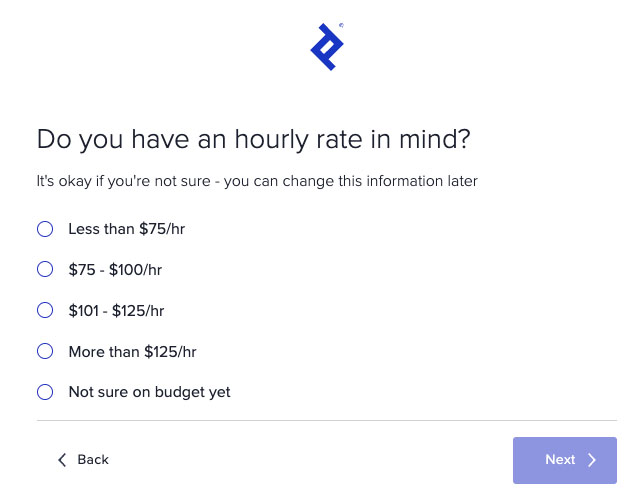 ---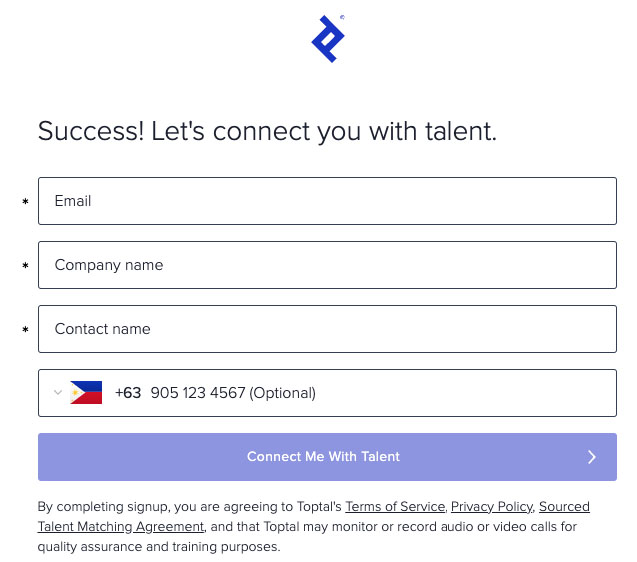 ---
---
In contrast to other platforms we've reviewed that typically initiate the hiring process through project postings or manual talent searches, Toptal streamlines your experience. You kickstart your journey by completing a comprehensive questionnaire detailing your company's requirements and your freelancer's expected skills. Toptal subsequently takes charge of talent scouting for you. Following this, you'll enroll and engage in a conversation with a talent scout to identify the ideal match for your needs. Typically, you can expect to have a suitable match within just 24 hours.
---
Toptal boasts a roster of skilled freelancers spanning more than 100 countries, granting you the flexibility to locate talent precisely where you require it or tap into remote expertise. Notably, all freelancers undergo rigorous assessments, including personal interviews, to ensure their fluency in English.
---
Beyond providing access to both local and remote talent, freelancers are frequently open to relocating for the contract's duration. Toptal proudly claims that they can arrange for a freelancer to join your office team in under a week.
---
For this criterion, Toptal got 3.88 out of 5. It does not provide a dedicated account manager but makes sure that you don't waste resources when unexpected issues arise with freelancers. It works by requiring an initial deposit that goes into your first payment and is refundable if you're unhappy with the results.
Users Like

Users Don't Like

Provides enough time to find the perfect person for the job
Occasional issues with the interface
Excellent customer support
More expensive hourly rates compared to similar websites
Truly competent freelancers
Excellent matching process
In our evaluation, the provider got a perfect score when it came to popularity. Most of the Toptal reviews were about its exceptional speed, user-friendly interface, and the high caliber of its freelancers. The most common complaint centered around the platform's premium pricing, acknowledged as a potential drawback by some users.
At the time of publication, Toptal earned the following scores on popular user review sites:
What prevented Toptal from getting a perfect score for this criterion is its inability to create custom reports. However, it does allow employers to track the progress of their projects, measure the performance of their freelancers, and identify areas for improvement.
Toptal is generally easy to use. After signing up, you can immediately start looking for freelancers. However, there's no live phone support should you have any immediate concerns. I also can't see any video tutorials on how to use their platform. More importantly, Toptal does not have integration options with other applicant tracking systems or HR software.
How We Evaluated Toptal
In evaluating freelance websites, we looked for those that let you find and hire vetted freelancers and provide a means to ensure you're not wasting your money such as an escrow account and a dispute resolution process. We avoided platforms that tend to attract scammers and focused on those with a strong reputation for solid talent.
For our full evaluation criteria, click through the tabs below:
15% of Overall Score
We looked for the best combination of fee transparency, low transaction rates (or those rates taken by the freelancer), and inexpensive talent-sourcing services.
25% of Overall Score
The best sites provide document sharing, communication, and project tracking tools to keep you and your gig worker in sync. We also evaluated each platform based on its mobile app capabilities.
25% of Overall Score
We ensured the sites we chose have a way for you to protect your investment, such as an escrow payment system based on deliverables. Additionally, all of these sites provide a means to address disputes, such as a project not being completed to specifications or deliverables not being provided.
10% of Overall Score
We evaluated each freelance website based on user feedback (rankings of 4+ and 500+ reviews) and customer service quality trends.
10% of Overall Score
Reporting scores were determined by the capacity and quality of basic reporting and analytics and whether reports were customizable.
15% of Overall Score
We selected top-rated sites that make it easy to set up an account, find a freelance worker, and process payments online. This score evaluated the implementation of the software and if live phone customer support is available.
*Percentages of overall score
Bottom Line
Toptal is a global freelance marketplace that connects employers with freelance professionals specializing in software development, design, finance, and project management. The platform maintains stringent admission criteria, admitting only a select 3% of freelancer applicants annually thus it's best for finding reliable and experienced freelancers. However, if you're already using other HR software and plan to integrate it with a freelance hiring platform, Toptal is not an option.