Payroll services help businesses pay employees correctly, manage tax withholdings, and ensure deductions are taken for benefits, retirement savings, and garnishments. We looked at the most popular full-service payroll providers, online full service payroll software, and professional employer organizations (PEOs) that provided payment choices, reporting, and other services small businesses need to manage their payroll.
Best Payroll Services Summary Table
| | Best For | Cost for 10 Employees with Bi-Weekly Pay |
| --- | --- | --- |
| Intuit Full Service Payroll | Those already using or familiar with QuickBooks as it allows seamless integration | About $155/year per employee |
| Gusto Core Online Payroll Software | Businesses that want HR, onboarding, and benefits options included in the base price | About $120/year per employee |
| ADP Run Complete Payroll and HR | Those experienced with ADP or who want to upgrade from a lower tier ADP package | About $310/year per employee |
| Paycor Perform Online Payroll Software | Businesses that want a low-cost starter option that can scale with additional HR services as their business grows | About $60/year per employee |
| Justworks PEO | Those who want a low cost PEO that keeps them compliant for HR, benefits, and payroll | About $600/year per employee |
| Trinet PEO | Those who prefer an established PEO with full employee benefits, HR consulting, and self-service options | About $1,700/year per employee |
Click here to learn more about how we evaluated the best payroll services.
Which Payroll Provider is Best for You?

We recommend Intuit Full Service Payroll as the best payroll service for small businesses because it integrates seamlessly with QuickBooks accounting software for those businesses already familiar with QuickBooks. However, you don't need to have QuickBooks in order to use the Intuit Full Service Payroll product. If you already have QuickBooks, you might want to upgrade to the QuickBooks Full Service Payroll product instead.
Intuit Full Service Payroll Pricing
Intuit Payroll has several pricing tiers with non-discounted prices that range from $30 a month for Basic up to $109 a month for Full Service, with $2 per employee per month added on. It's the lowest cost full-service online payroll solution that we reviewed, especially when you consider their discounts. In fact, it's rare they don't have discounts. We compared the Full Service payroll solution for ten employees below to Basic, Enhanced and Full Service Payroll with QuickBooks so that you could see how the various options price out.
Note that the first three options shown in the table below don't require you to use QuickBooks. The last option includes QuickBooks in the price — so if you go that route, you're getting two online software packages for the price of only $119 per month, plus $2/month per employee.
| | Basic | Enhanced | Full Service | Full Service Payroll with QuickBooks* |
| --- | --- | --- | --- | --- |
| Price | $30/month + $2/month per employee | $45/month + $2/month per employee | $109/month + $2/month per employee | $119/month + $2/month per employee |
| Run Payroll, Calculate Checks, & Process Payments | ✔ | ✔ | ✔ | ✔ |
| Calculate & File Year-End Forms | | ✔ | ✔ | ✔ |
| Prepare Business Payroll Taxes | | | ✔ | ✔ |
| File & Send W-2s | | | ✔ | ✔ |
| Assist with Your Payroll Setup | | | ✔ | ✔ |
| Provide No-Penalty Guarantee | | | ✔ | ✔ |
| Worker's Compensation | Costs Extra | Costs Extra | Costs Extra | Costs Extra |
| Time Tracking | $3 | $3 | $3 | $3 |
| Labor Law Posters | Costs Extra | Costs Extra | Costs Extra | Costs Extra |
*This option includes both Full Service Payroll and QuickBooks online accounting software combined into a bundle, and may be the best-priced option for those already using or wanting to use QuickBooks.
Additional features like pay-as-you-go workers' compensation can be added for the cost of the insurance premiums plus a $5 per month processing fee. Time tracking costs $3 per person per month. And features such as automatic delivery of labor law posters also cost extra — the poster subscription cost is based on what states you are in and how many locations you have with onsite employees.
Intuit QuickBooks often offers price promotions with deep discounts, especially if you purchase payroll and online accounting services at the same time. For more information, read our Intuit Payroll Pricing Guide.
Intuit Full Service Payroll Features
What's great about Intuit Full Service Payroll — all your year-end tax documents are included. They set up payroll, run payroll, and file your payroll taxes for you. One thing you may have noticed about Intuit Payroll's lower pricing tiers is that you would have to do your own payroll taxes and there are adds-on for basic features like corrections to W-2s.
Therefore, Full Service is the better option, because in addition to all the basic payroll features, including direct deposit and great customer support, you also get:
Personal assistance setting up your payroll so it's done correctly
Free year-end tax forms
A guarantee that you won't get stuck paying tax penalties
Pay-as-you-go workers' compensation insurance with automatic premium payments
Automatic labor law posters sent to you with updates when changes are made
For more information on the different packages available, read our guide comparing Intuit's Basic, Enhanced, and Full Service Payroll.
Customer Support
Intuit's customer support is US-based, and when you purchase Intuit's Full Service Payroll, it's included at no extra charge. They're available by phone and email Monday through Friday 9am to 9pm EST and 9am to 6pm EST on Saturday. There's also a payroll support center that provides helpful online tutorials and user guides.
Downsides of Intuit Full Service Payroll
When you buy full service payroll from Intuit, you're getting the premiere version. Even so, there are upcharges if you want the time tracking add-on, or pay-as-you-go worker's compensation insurance. In addition, there's no self-service functionality like a mobile application that allows employees to manage their own data.
In addition, while Intuit can manage your benefits and 401k deductions and payments, they're not a health insurance broker. You'd have to manage the data enrollment and deductions manually. They also don't offer online onboarding or HR service capabilities other than payroll.
Try Intuit Payroll Plus with Enhanced Payroll

We recommend Gusto Core payroll even though it's software, not a service. It's low cost and so robust we included it. And Gusto offers benefits at a great price. It's best for anyone who wants a one-size-fits-all payroll option, where nearly everything a small business needs is included — from electronic new hire documents, to health insurance to employee self service.
Gusto Core Online Payroll Software Pricing
Gusto's pricing is very straightforward. It's $39 per month, plus $6 per month per employee. So for ten employees, it would cost $1,188 per year for all the payroll features requested. That's under $120 per employee per year, and no upcharges mean you can plan and stick to your payroll budget.
| | Core | Complete | Concierge |
| --- | --- | --- | --- |
| Price | $39/month plus $6/month per employee | $39/month plus $12/month per employee | $149/month plus $12/month per employee |
| Full Service Payroll, Including Year-End Taxes | ✔ | ✔ | ✔ |
| Employee Self-Service | ✔ | ✔ | ✔ |
| Health Benefits Administration | ✔ | ✔ | ✔ |
| Employee Offers & Onboarding | | ✔ | ✔ |
| Paid Time Off Requests & Tracking | | ✔ | ✔ |
| Employee Directory & Surveys | | | ✔ |
| Workers Compensation | ✔ | ✔ | ✔ |
| HR Support | Expert | Expert | Dedicated |
For additional information on package options check out our Gusto Pricing Guide.
Gusto Core Online Payroll Software Features
In addition to all the payroll features listed above, Gusto Core has HR and benefits options that make it feel like a full-service payroll company. For example, when someone is hired, you input their basic information and Gusto does the rest. The new hire receives a welcome email with links to payroll docs like W-4 and I-9 for e-signing.
Here's what else you get with the low-cost Gusto Core product:
Quick payroll runs (under ten minutes) or payroll can be set up to run automatically
Employee self service so employees can update their own data online
Benefits offerings for health insurance, at group rates most employees can afford
Retirement savings offerings managed online, like a 401k
Pay as you go workers' compensation program
Customer Support
Gusto offers customer support by phone and email, but since they're located on the west coast of the US, their hours are 8am to 5pm PST. You'll receive HR support with the Core package, but if you want a dedicated support team, you have to upgrade to the Concierge service.
Downsides of Gusto Online Payroll Software
There's not much missing from Gusto, except that it isn't currently able to offer group health benefits in all 50 states. At last count, they offered benefits in 19 states and they continue to add more. Gusto also doesn't offer a PEO option like ADP and it doesn't have features like an applicant tracking system, so if you want those at some point, you may outgrow Gusto.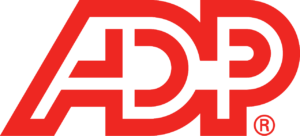 We recommend ADP as best for those already familiar with its interface and/or want to upgrade from a lower tier ADP payroll service. ADP caters to different sized business — from 1 to 49 employees, 50 to 1000, and up. In addition, they offer multiple service options and price points. We compared their Complete Payroll + HR Service as it has best feature set matching our requirements.
ADP Run Complete Payroll + HR Payroll Service Pricing
There are two pricing tiers for the Complete Payroll and HR package — $107.05 per payroll process and $126.35 per process, respectively. The only difference between the two prices are the number of job postings per month on ZipRecruiter (one posting versus two) and the number of background checks you get (five versus 25).
| | ADP Run (1/5) | ADP Run (2/25) | ADP Total Source |
| --- | --- | --- | --- |
| Price | About $560/year per employee | About $660/year per employee | From $1,200 - $2,200/year per employee |
| Run Payroll, Calculate Checks, & Process Payments | ✔ | ✔ | ✔ |
| Calculate & File Year-End Forms, including W-2s & 1099s | ✔ | ✔ | ✔ |
| Prepare Business Payroll Taxes | ✔ | ✔ | ✔ |
| File & Send W-2s | ✔ | ✔ | ✔ |
| Worker's Compensation | Costs extra | Costs extra | Included |
| Zip Recruiter Job Posting | 1 | 2 | Included |
| Background Checks | 5 | 25 | Unlimited |
| HR Onboarding | ✔ | ✔ | ✔ |
| HR Consulting | ✔ | ✔ | Dedicated team |
*Your actual price is based on your business' credit rating, risk profile and health benefits history. Even at the lowest price for ten employees, the PEO option would cost $12,000 a year, which is more than Justworks. But it could cost as much as $22,000 which is even higher than Trinet.
Check our our other Fit Small Business articles about ADP packages and pricing:
ADP Run Complete Payroll + HR Payroll Features
The Complete Payroll + HR is ADP's top tier payroll service for small businesses with 1 to 49 employees. It includes all of the payroll features expected, like payroll delivery, as well as tax filing, year-end forms, poster compliance, and basic HR onboarding. This makes it more inclusive than Quickbooks Intuit, where you have to pay extra for things like posters. You get:
Flexibility to run payroll from your computer, a mobile app, or a phone call
Employee access to basic information like paystubs
General ledger interface
New hire reporting
Check signing and stuffing and/or direct deposit or a paycard
Federal compliance resources and a 'tip of the week'
Employee Handbook Wizard
A ZipRecruiter account for job posting
Background checks
The ADP Run Complete Payroll + HR package also provides HR consulting services with HR certified representatives, so you can call and ask basic HR, benefits and payroll questions.
Customer Support
ADP doesn't have the best customer support reputation, but they are available 24/7. However, be aware that they send their overflow support calls to India. In addition, if an employee loses their password, ADP will refer them to you, the employer. They will not assist your employees with basic issues like password resets.
Downsides of ADP Run Complete Payroll + HR Payroll
The biggest thing missing from ADP is a per employee pricing plan. ADP charges flat rates dictated by payroll processes, so small companies that run weekly payroll will pay more for ADP than payroll services like Gusto that base their pricing on the number of employees.
If you're in a state that allows payroll to be run monthly, that may be affordable; but if you pay your employees weekly, your price will nearly quadruple with ADP as compared to other services we reviewed. You'll also pay extra for each payroll process such as a missed check, retro pay, or a bonus payroll run. That adds up.
Try ADP Enhanced Payroll Service

We recommend Paycor Perform as best for businesses planning on adding HR tools and modules as the business grows. The starting price and services are great, but they're not just for small businesses. Paycor can scale up to support a company of 10,000 employees or more, so you can start small and not have to switch payroll services as you grow larger.
Unlike Gusto, that doesn't have applicant tracking systems or online performance reviews a company will need as it grows, Paycor has it all. They're set up like an affordable full-scale HRMS or HRIS system — much like PeopleSoft or SAP, albeit at a much lower price tag.
Paycor Perform Online Payroll Software Pricing
Paycor's pricing is straightforward, like Gusto, but costs even less if you have ten or fewer employees. It's only $49 per month. Adding employees costs only $3 per employee per pay period, similar to Gusto which charges an additional $6 per employee per month. If you run every bi-monthly payroll, Paycor's per employee price is basically the same as Gusto.
Therefore, if you're looking for a payroll software program that costs little to start with, and can grow with your business to an employee base of hundreds or thousands, it's worth giving Paycor a try.
Paycor Perform Online Payroll Software Features
One of the primary benefits of Paycor as a payroll service provider is that their software has widgets, so you can customize it to your needs and turn features on as you need them. That prevents your interface from being cluttered with payroll, benefits, or HR tools you're not ready to use. In addition to the standard payroll features, Paycor also offers:
Easy-to-use modules that function together seamlessly
Employee self service
Electronic document storage
Customization based on your business industry
Visually stimulating online reports and graphics
Ability to add human capital management tools like applicant tracking, learning management and workforce insights
For additional information read our review guide on Paycor Pricing and Alternatives.
Customer Support
Paycor receives excellent feedback on their customer support. They can be reached by phone or online. They also provide an HR Center of Excellence with resources on topics like recruiting, labor costs and employee experience. They're open 8am to 5pm EST, Monday through Friday only.
Downsides of Paycor Perform Online Payroll Software
Paycor doesn't yet have a mobile app. In addition they don't provide dedicated account reps, so you will likely get someone new each time you call. If you have questions on the weekend, you may be out of luck.
Best Payroll Service for Small Businesses that Want Full HR Support: Justworks PEO


We recommend Justworks as a PEO best for small businesses that want to offer employee benefits and services that match their larger competitors — everything from new hire onboarding to benefits offerings. We provide a complete review of what a Professional Employer Organization (PEO) is, and Justworks offers the best value among the PEOs we've compared.
Since a PEO is a co-employer, it's different than a payroll service or a payroll software. The employees actually work for you and for the PEO. For example, you manage their schedules, their work instructions and interact with them like any other employee. However, they're employed by the PEO, getting their paychecks, tax documents, and benefits from the PEO. You simply pay a per-employee fee for their services.
The benefits of a PEO, like Justworks is they leverage their buying power when it comes to benefits — for example, a health insurance plan, workers compensation or a 401k savings plan. Justworks is able to pool employees into a larger buying group, and get group rates that a small business would be unlikely to obtain on their own.
Justworks PEO Pricing
Justworks pricing ranges from $49 without benefits to $69 per employee per month with benefits for 10 employees. Therefore, justworks is at the lower-cost end of PEOs with rates that are well below Trinet ($149 per month per employee) or ADP ($220 per month per employee and up). In addition, the per-employee rate drops as you scale up and add more staff.
But even at $69 per employee, you get full service payroll, with HR and benefits; Justworks is going to cost you thousands of dollars less than other PEO competitors. Check out our Justworks Pricing Guide for more information.
Justworks PEO Features
Justworks is easy to use for both you and your employees. It provides all the standard payroll features, but also includes:
Employee self-service
Time tracking
Compliance management
Big company benefits
Insurance options at group rates
HR consulting
Customer Support
Justworks offers support via phone or live online chat Monday to Friday from 8am to 8pm EST. In addition, Justwork's Help Center provides solid information in an easy-to-digest format on topics for employers and employees alike, such as benefits, payroll, and taxes.
Downsides of Justworks PEO
Justworks doesn't yet have an applicant tracking function, and it's geared for companies up to 99 employees, so if you're close to that 100-employee mark and plan on growing then Justworks might not be the best choice. You may want to choose a PEO option like Trinet, or a software service option like Paycor instead.
Most Established Full-Featured Payroll Service for Small Businesses: TriNet PEO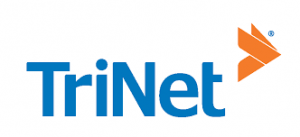 We recommend TriNet as best for companies that want hands-off payroll services, and also want to offer employees an excellent onboarding experience, group rates on benefits, and self service all in one place. TriNet is the PEO that we use at Fit Small Business because of the features, like their insurance buying power that provides great rates to our staff.
Like Gusto, Justworks and ADP, Trinet is able to leverage hundreds of thousands of employees across multiple companies to negotiate better insurance plan rates. Trinet offers a good range of plans in all US states, even providing medical, dental and vision insurance in small communities. One of the main benefits of TriNet, and why Fit Small Business uses it, is because they offer big-name health insurance plans to our remote team members nationwide.
TriNet PEO Pricing
TriNet's pricing varies based on location and size. A New York-based rate might range from $125 to $155 per employee per month. Based on our comparison company of ten employees, TriNet's prices ended up being $16,800 a year — more than double that of Justworks, which would come to under $6,000 per year for the same 10 employees.
Here are sample New York rates based on size:
$155/month per employee for 5-9 employees
$140/month per employee for 10-19 employees
$135/month per employee for 20-29 employees
$125/month per employee for 30-49 employees
As TriNet's pricing varies based on location and number of employees, you'll want to contact them for a customized quote. You can find more information on TriNet Pricing and Service Reviews.
TriNet PEO Features
In addition to all the standard features you'd expect of a payroll service, TriNet offers a wide variety of PEO employer extras. Most notable is the all-in-one easy-to-navigate user interface for both employer and employees. Employees, for instance, can manage everything from downloading year-end W-2s, to looking up information about their benefits programs and providers themselves.
In addition to the basic HR, benefits administration, payroll and tax features one would expect with a full-service PEO, TriNet offers:
Business practice liability insurance
COBRA processing for termed employees
Unemployment insurance
Time off tracking
Expense reimbursement
Mobile application
Even though Gusto, ADP and Justworks will be COBRA compliant if you have over 20 employees, Trinet has this service included in the base price. TriNet has been in business for 25 years and has over 14,000 business clients. They've got decades of experience in HR, benefits, payroll, and related functions such a risk management.
Customer Service
TriNet provides customer service via phone and email. They also offer online case management that allows you to open a ticket on their website if you have a concern. They even have a separate email for employee questions. Their hours are Monday to Friday, 4:30am to 9pm PST.
Downsides of Trinet PEO
TriNet's support hours are limited to weekdays. That may be a problem for small businesses like retail and food service that operate on weekends. In addition, they're more than double the cost of Justworks.
How We Evaluated Payroll Services
We evaluated three kinds of outsourced payroll services — full-service payroll providers, online full-service payroll software, and professional employer organizations (PEOs). Here's how they differ in terms of who does what between you, the business owner, and the payroll vendor:
| | Employer Manages | Payroll Service Manages |
| --- | --- | --- |
| Full Service Payroll | Hiring, time keeping, time data entry, employee questions, terminations | Payroll, taxes, deposits, benefits, streamlined workers comp, new hire paperwork |
| Online Payroll Software | Hiring, new hire paperwork timekeeping, payroll data entry, payroll runs, and corrections | Software, taxes, and deposits and some offer HR consulting and add on services |
| Professional Employer Organization (PEO) | Hiring, terminations, and day-to-day work | Everything else HR, benefits, and payroll related |
We chose the best payroll services in each of those three categories based on the following full service features that a small business would need:
Easy to sign up and use with low-to-no set up fees
Affordable for small businesses with 25 or fewer employees
Able to import hours from a timekeeping system (or has one built in)
Available payment options, such as direct deposit and paycards in addition to checks
Processing of all federal, state, and local payroll taxes and year-end tax reports
Ability to set up payroll so it runs automatically
Provides workers compensation insurance
Labor law posters available
Integrates with accounting and other HR/payroll related software programs
Great customer support
Ability to add on ACA-compliant benefits, like health insurance
Ability to add retirement savings, like a 401k
Ability to add on HR consulting services
Able to scale as the business grows with upgrades or additional HR modules
If you don't need all these features in your payroll service, consider these free and low-cost payroll software options instead.
The Bottom Line
When it comes to the best payroll service for your business, you have multiple options. Making the right decision for your business depends on your immediate needs, and your plans for growth. You could choose a full service payroll service that takes care of most of the process for you like Intuit or ADP, you could invest a little more of your own time and use payroll software like Gusto or Paycor, or you could partner with a PEO like Justworks or TriNet and let them manage all your back office payroll, benefits, and HR.
For additional resources to help you make the best choice for your business, we have payroll product reviews, a guide on how to do payroll, as well as payroll articles comparing many of these providers side by side.