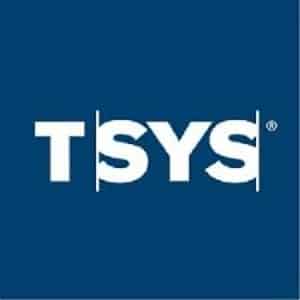 TSYS is a merchant services provider offering an integrated payments platform, mobile point of sale (mPOS), virtual terminal, and ACH payment processing. It also provides fraud detection and compliance, reporting and analytics, and omnichannel tools. TSYS is one of the largest direct processors in the market that can support medium to large businesses but is best for enterprise-level companies.
When to Use TSYS
As robust as its features are, TSYS is not a solution we typically recommend for small businesses that need a merchant account. It comes with a tiered pricing model, long-term contracts with automatic renewal, and hefty termination fees not suitable for small merchants, startups, and businesses with low-volume transactions.
Large businesses with a high transaction volume may find a direct merchant account with TSYS a good option. However, small businesses would be better served with one of our recommended merchant service providers.
It's also important to note that TSYS merged with Global Payments in late 2019, after which, going to tsysmerchantsolutions.com will redirect you to Heartland Payment Systems, another payment processor acquired by Global Payments. While Heartland Payment Systems is geared toward small businesses, it's still plagued with long-term contracts, early termination fees, and opaque pricing models. Therefore, we do not currently recommend either solution.
When to Use an Alternative
TSYS Overview
PROS

CONS

Well-established brand
Long term contract (36 months)
Wide range of features
Expensive early termination fees
Seamless mPOS integrations
Limited chargeback protection
TSYS Pricing
Like other large merchant service providers, TSYS does not disclose any particular pricing information. However, it offers a tiered pricing structure with rates depending on your business model, financials, and transaction type. In general, we don't recommend tiered pricing models for small businesses because the fees can be hard to predict and budget for.
A quick search on its website shows that TSYS charges an early termination fee of up to $500 (contract is 36 months), an annual PCI compliance fee of $99.50, and chargeback fees ranging from $25 to $150.
CardPaymentOptions.com reports the following TSYS pricing information:
Swiped transactions: 2.5% + 20 cents
Keyed-in transactions: 3.5% + 20 cents
Virtual terminal fee:1%–4.99%
TSYS Hardware Costs
While no specific hardware pricing is available, TSYS offers both purchase and leasing options for POS equipment and payment terminals. A copy of one of its merchant account application forms shows a 24- to 48-month lock-in period for the lease of POS equipment and peripherals, while the lease of terminals and PIN pads include a 36-month lock-in period.
TSYS Alternatives and Fees Comparison
| | Stax by Fattmerchant | Stripe | Helcim |
| --- | --- | --- | --- |
| Best for | Small businesses with invoicing and recurring billing | Online startups and B2B companies | Brick-and-mortar retailers |
| Monthly fee | $99–$199 | $0 | $0 |
| Card present | Interchange plus 8 cents | 2.7% + 5 cents | Starts at Interchange plus 0.3% + 8 cents |
| Card not present | Interchange plus 15 cents | 2.9% + 30 cents | Starts at Interchange plus 0.5% + 25 cents |
| Contract length | Month-to-month | Pay-as-you-go | Pay-as-you-go |
| | | | |
Looking for a simple merchant services solution? Square Payments comes built-in with Square's all-in-one POS, retail POS, restaurant POS, and appointment solution. You can start accepting payments as soon as you create a free account.
TSYS Features
Signing up a direct merchant account with TSYS means you eliminate the intermediary in your card processing service. TSYS offers multi-channel bill payment features that allow its users to process a wide range of payment methods. It gives you access to a merchant portal for access to paperless account statements and premium services.
Card payment processing: Process all major bank brands, network, and private-label cards for credit, debit, prepaid and retail transactions. Accept EMV chip and debit and credit card payments with a tap, dip, or swipe.
Mobile payments: TSYS offers a mobile payment app "Mobile Payments Acceptance" that works both on iOS and Android devices and comes with a free magstripe reader. It processes payments using a secure payment gateway and allows you to view transaction history and customer records from your mobile device.
Payment gateway: TSYS provides you with an internet merchant account and virtual terminal to process card-not-present transactions securely and in real time from any computer with an internet connection.
ACH and e-check payments: Accept ACH payments directly from your customers' bank accounts and e-check payments for online transactions.
Recurring billing: This feature allows you to automate invoicing and create custom payment forms that customers can use in their preferred mode of payment.
Risk and compliance management: TSYS offers data security (format-preserving encryption and triple data encryption standards), tokenization, fraud prevention, and merchant tax reporting.
Payment card industry point-to-point encryption (PCI P2PE): This ensures that all sensitive data is protected and that payment security is enhanced. Only P2PE devices are certified by the PCI security standards council.
TSYS Ease of Use
Mobile payment app: Includes a dashboard and detailed reporting. The app is free and download is easy. You can use it immediately even without the magstripe card reader using manual entry.
Dynamic currency conversion: You receive payment in your local currency while you enable your international customers to pay in theirs. This supports both Visa and Mastercard transactions.
Limited chargeback protection: TSYS chargeback protection is limited. It reimburses you for any incurred chargeback fees of up to $25 and only for up to two occurrences.
Access to merchant portal: TSYS provides access to a merchant portal for its users, which contains information regarding the status of the processor's services and communications, and access to the Premium Services.
TSYS Customer Support
The search bar on TSYS' website is the closest it has to a help center. A help support function is available within the merchant portal and on the mobile app. For direct merchant accounts, phone support is also available 24/7. However, it's important to note there are a number of complaints about TSYS' poor customer service.
What Users Think of TSYS
Online reviews for TSYS are generally favorable. Most users agree that TSYS has done a decent job in developing tools for almost all kinds of payment processing situations. Smooth integration with card associations is also a big plus.
There are but a handful of negative reviews for TSYS, but you'll notice that almost all reviewers are from medium to large enterprise businesses with multiple locations. A couple of negative feedback on third-party websites refer to expensive fees. Meanwhile, its mobile app earned 3 out of 5 stars from 73 Google Play reviewers and 2.2 out of 5 stars from five Apple Store users.
| Users Like | Users Don't Like |
| --- | --- |
| Seamless card processing | Expensive fees |
| Wide variety of payment processing options | Requires a learning curve |
| Handy card management tools | Glitchy mobile payment app |
Bottom Line
While it offers direct merchant solutions, TSYS' major activity is to supply backend credit card processors for non-acquiring banks (TSYS Acquiring Solutions). Businesses may deal directly with TSYS for their credit card processing needs, but pricing will still depend on the rates and fees set by its partners. We recommend small business owners that require direct processing to look into alternatives that offer better value, pricing transparency, and more flexible or no contracts.
Businesses that really want to have TSYS' payment solution should consider an ISO or reseller that may be able to negotiate for better rates on its behalf. For enterprise-level companies with high-volume transactions and large credit card portfolios, TSYS is worth checking out.