TSYS Merchant Solutions Review & Better Alternatives
This article is part of a larger series on Payments.
TSYS has historically been a merchant services provider, offering a wide range of card issuing solutions such as merchant accounts application, payments authorization, and fraud monitoring, to enterprise-level businesses and independent sales organizations (ISOs) or resellers.
With its merger with Global Payments, TSYS now also seamlessly offers additional features such as payment gateway and merchant plug-in tools, merchant portal platforms, and chargeback management in a single platform. Smaller businesses, for which we don't recommend TSYS, will need to sign up with resellers like PaySimple, Revel Systems, and Lightspeed to access TSYS merchant services solutions.
TSYS Merchant

What We Like
Well-established direct processor
Wide range of features for issuers and acquirers
Integrates with almost any payment processor
What's Missing
Products are focused on issuing and acquiring financial organizations
Requires signup to TSYS POS system solution to set up a direct merchant account
Terms and fees not ideal for small businesses and startups
Expensive early termination and account closure fees
Deciding Factors
Merchant services offered: Card issuing and merchant acquiring services
End-user transaction rates: Custom/depends on reseller
Payment gateway: $5/month + 5 cents per transaction
Application and setup: $195
Monthly statement fee: $9.50
Monthly minimum: $25
Per-batch fee: 25 cents
PCI annual compliance fee: $99.50
Chargeback fee: $25
ACH return fee: $35
ACH Proof of authorization request fee: $10
ACH refund fee: $25
Transaction limit fee: $25
Contract length: 3 years with 1 year auto renewal
Early termination fee: $300–$500
Account closure fee: $250–$500
Why We Don't Recommend TSYS for Small Businesses
As robust as its features are, TSYS's solutions are more suited for card issuing and merchant acquiring institutions and resellers, particularly for midsize to large financial institutions. It comes with a tiered pricing model, long-term contracts with automatic renewal, and hefty termination fees not suitable for small merchants, startups, and businesses with low-volume transactions.
Businesses intent on having a direct merchant account with TSYS will have to sign up for its point-of-sale (POS) brands—Vital POS or RiO Restaurant. But because transaction fees are not advertised, and with TSYS's reputation for long-term contracts and expensive early termination fees, we can only recommend larger, enterprise-level businesses consider TSYS. Smaller businesses would be better served with one of our recommended merchant service providers, which includes Square, our top choice.
When to Use an Alternative
TSYS Alternatives & Fees Comparison
| | | | |
| --- | --- | --- | --- |
| | | | |
| Best for | High-volume sales ($20,000+ monthly) | Businesses processing $10,000+ monthly | Brick-and-mortar retailers and small businesses, especially those with low sales |
| Monthly fee | $99–$199 | $79–$199 | $0 |
| Card present | Interchange + 8 cents | Interchange + 8 cents | 2.6% + 10 cents |
| Card not present | Interchange + 15 cents | Interchange + 15 cents | 3.5% + 15 cents |
| Ecommerce transaction fee | Interchange + 15 cents | Interchange + 15 cents | 2.9% + 30 cents |
| | | | |
Looking for a simple merchant services solution? Square Payments comes with Square's all-in-one POS, retail POS, restaurant POS, and appointment POS system. Signing up is free, and you can start accepting payments in minutes.
Since Our Last Update:
We mentioned in our last update that TSYS merged with Global Payments in late 2019, and since then, it has transformed its services into a one-stop-shop for card issuers and merchant acquirers. TSYS now heavily promotes its single platform PRIMESM for accessing these services. In that same year, it also announced the launch of its proprietary POS systems for merchants looking to have a direct merchant account with TSYS.
We take a closer look at TSYS's advertised monthly and incidental fees, which small businesses may come across when signing up with popular point-of-sale systems and online payment platforms that offer its services.
TSYS Pricing
TSYS's pricing is designed for large financial institutions and resellers, which means its plans and transaction rates are customized and entirely different from what end-users or merchants would be charged when processing payments. Enterprise-level businesses may still be able to sign up directly with TSYS but will likely be quoted tier-based pricing. Transaction fees for its POS systems are also custom-quoted.
However, some monthly and incidental fees do get passed down to merchants. A quick browse of TSYS's merchant application form gave us the following:
Payment gateway fee: $5/month + 5 cents per transaction
Application and setup fee: $195
Chargeback/retrieval fee: $25
Refund processing fee: $25
Transaction limit fee: $25
ACH fees:

ACH return fee: $35
ACH proof of authorization request fee: $10/request
ACH refund fee: $25

Miscellaneous fees:

Monthly statement fee: $9.50
Monthly minimum: $25
Per batch fee: 25 cents
Annual PCI compliance fee: $99.50

Early termination fee:

Within the first year of contract term: $500
Within the second year of contract term: $375
Within the third year of contract term: $300

Account closure fee

Less than 12 months remaining of the contract term: $250
More than 12 months remaining of the contract term: $500
TSYS Hardware
Hardware is usually offered by resellers that provide front-end payment processing to merchants with their own series of card readers such as Clover, which offers POS proprietary hardware, and Payline Data. However, a closer look at the TSYS merchant application form shows that it also supplies partner card terminals, and has its own POS hardware brand, Vital and RiO Restaurant.

---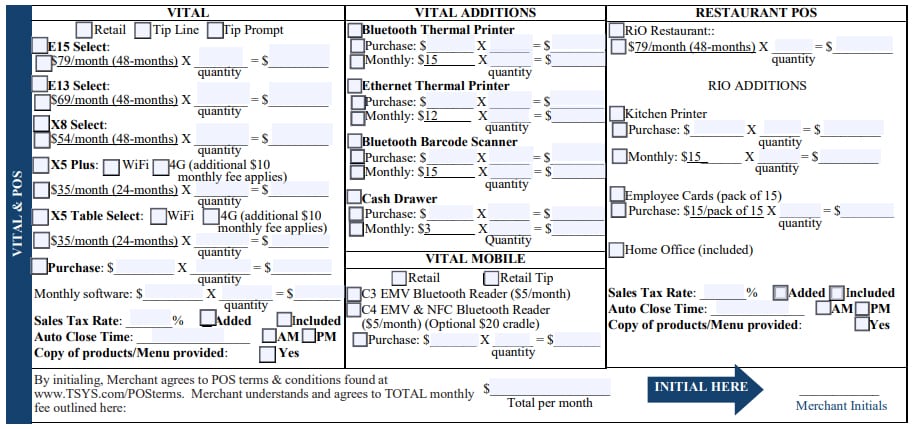 ---
TSYS POS hardware cost ranges from $35–$79 with add-ons that include mobile card readers for $5/month and peripherals that cost between $3–$15. Option for outright purchase is available, while installments will tie you into a long-term contract that lasts from two to four years and imposes separate early termination fees.
TSYS Features
Setup & Application
Businesses that want a merchant account with TSYS will have to either sign up with an ISO/reseller or sign up for its POS solution. This means that the application and setup process will vary depending on your choice. However, in both cases, the application process may take anywhere between a couple of days to a week. You'll be asked to provide the following information:
Business type and category
Business name and address
Business website and other proof of operation
Beneficial owners and authorized signatories
Contact information for owners and signatories
Personal information of applicant
Business bank information
Contract & Terms of Service
TSYS provides a list of its merchant application and terms and conditions on its website; however, these are for ISOs/payment processors, that in turn, retail TSYS services to businesses with a different set of contract and terms of service. So, from a merchant end-user standpoint, you will only have to focus on the terms set by your payment processor. Before obtaining a TSYS merchant account by signing up for a POS system, there are a couple of things you should do:
Make sure you do not sign up for a tiered-pricing payment plan
Avoid leasing equipment, as this will lock you into a long-term contract (possibly up to four years)
Clarify early termination fees, both for payment processing and hardware (they may have separate terms)
Ask to specify incidental and miscellaneous fees—the provider may impose hidden/additional fees for PCI compliance, high chargeback, returns, and authorization or retrieval request
These recommendations are based on the conditions set for TSYS resellers which may be passed down to end-users.
Card Payment Processing
Process all major bank brands, networks, and private-label cards for credit, debit, prepaid, and retail transactions. Accept EMV chip and debit and credit card payments with a tap, dip, or swipe. What's important to note is that, as a direct processor, accepting payments with TSYS is more secure and depositing your funds to your account is faster compared to alternatives.
Payment Gateway
TSYS provides its own gateway platform, TransIT WebPASS, and a virtual terminal to process card-not-present transactions securely and in real time from any computer with an internet connection. It also offers an online payment system infrastructure that's easy to integrate with third-party payment gateway providers.
ACH & E-check Payments
TSYS provides clearing and settlement services for all ACH and e-check payments. It also offers a highly secure solution for moving funds from the payment processor to your bank. If you run a business that requires a recurring billing feature, TSYS supports invoice automation and custom payment form creations where your customers can settle using any preferred mode of payment.
Risk & Compliance Management
TSYS offers data security (format-preserving encryption and triple data encryption standards), tokenization, fraud prevention, and merchant tax reporting. It also provides point-to-point encryption (PCI P2PE) that ensures that all sensitive data is protected and payment security is enhanced. Only P2PE devices are certified by the PCI security standards council.
TSYS Ease of Use
Direct Processor
Those who sign up with a TSYS payment processor/reseller get to experience its seamless payment processing service. As a direct processor, it eliminates the intermediary in your card processing service. TSYS offers multichannel bill payment features that allow its users to process a wide range of payment methods. It gives you access to a merchant portal for access to paperless account statements and premium services.
Dynamic Currency Conversion
You receive payment in your local currency while you enable your international customers to pay in theirs. This supports both Visa and Mastercard transactions.
Access to Merchant Portal
TSYS provides access to a merchant portal for its users, which contains information regarding the status of the processor's services and communications, and access to the Premium Services.
Customer Support
The search bar on TSYS's website is the closest it has to a help center. A help support function is available within the merchant portal and on the mobile app. For direct merchant accounts, phone support is also available 24/7. However, it's important to note there are a number of complaints about TSYS's poor customer service.
What Users Think of TSYS
Back when it still offered payment processing directly to small merchants, online TSYS reviews were generally favorable. Most users agree that it has done a decent job in developing tools for almost all kinds of payment processing situations. Smooth integration with card associations is also a big plus.
You'll notice that almost all of the negative TSYS reviews come from medium to large businesses with multiple locations, most citing expensive fees. While it no longer directly works with end-users, the feedback we have gathered below seems to be as expected based on TSYS's pricing and features they currently offer.
| Users Like | Users Don't Like |
| --- | --- |
| Seamless card processing | Expensive fees |
| Wide variety of payment processing options | Requires a learning curve |
| Handy card management tools | Long-term contracts |
Bottom Line
While it offers direct merchant solutions through its POS brand, TSYS's major activity is to supply card issuing and merchant acquiring solutions. Businesses may deal directly with TSYS for their credit card processing needs, but pricing will still depend on the rates and fees set by its partners. We recommend that small business owners who require direct processing look into alternatives that offer better value, pricing transparency, and more flexible or no contracts.
Businesses that do not want a POS system but really want to have TSYS's payment solution should consider an ISO or reseller that may be able to negotiate for better rates.