Companies and agencies use TV advertising, seen on network and cable television stations, to promote a service or product. TV advertisements are generally 10 to 60 seconds long and broadcast in between regular programming on a local, regional, or national scale.
The upfront cost of TV advertising is higher than digital advertising and other forms of offline advertising. However, according to Nielsen, TV advertising boasts the highest return on advertising spend. Therefore, it's still an enticing option for small business owners.
In this article, we'll tell you everything you need to know if you're considering running TV ads. Not every aspect of TV advertising needs to cost you a fortune–that's where Fiverr comes in. Need help writing or editing your commercial? What about voice actors? The freelancers on Fiverr are ready to help you create the perfect commercial for your business, starting as low as $5. Click here to check it out.
Cost of TV Advertising
For local television stations, advertisers can expect to pay anywhere from $200 to $1500 for a 30-second commercial. A 30-second spot broadcast nationally averaged around $123,000 as of 2016. The highest cost placements for Super Bowl Ads can go for upwards of $4 million.
Television advertising is priced on a Cost per Thousand (CPM) basis, which is the cost for your ad to be seen by 1,000 people. The CPM varies widely depending on a few different factors, a primary one being the city where you want your commercial to run.
To get ballpark costs for airing a 60 second TV commercial in different markets, we can look at estimates from the experts at Casual Precision, a media agency that specializes in offline advertising (TV and radio).
×
Free Guide: TV-Advertising Costs You Need To Know
Our guide covers cost per market, audience desirability, and other factors affecting TV Ad cost.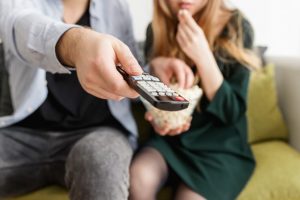 ×
Free Guide: TV-Advertising Costs You Need To Know
Our guide covers cost per market, audience desirability, and other factors affecting TV Ad cost.
Television Advertising Cost Estimates by Market
| City | CPM (Adults 25-54) |
| --- | --- |
| Los Angeles | $34.75 |
| New York City | $27.16 |
| Cleveland | $21.11 |
| Detroit | $18.36 |
| Kansas City | $14.36 |
Based on the estimates above, if you want to show your commercial in Los Angeles, and your local station tells you that 500,000 people will see your ad, then you can calculate a fair price by multiplying the CPM by the number of viewers (in thousands). In this example, the price for a 60 second ad in LA would be approximately 500 x $34.75 = $17,375.
Audience Desirability & Other Factors Affecting TV Ad Cost
The CPM depends on how desirable the audience is for potential advertisers. This will be defined by your target audience or customer base. For example, a TV show with a primarily female audience will be more desirable for a company that sells products that are purchased primarily by women.
Define your core customers to determine the customer segment you'd like to target and to estimate your cost:
Demographic of viewers – Advertisers want to target people that spend money, so the most popular demographic is adults ages 25-54.
Gender – Similar to demographics, gender plays an important role in defining audience desirability and some shows lean heavily towards one in terms of viewership.
Network/TV show – TV networks that air popular shows will be able to charge more for their advertising spots. For example, you can expect to pay a relatively high CPM to air your commercial during The Big Bang Theory or The Walking Dead.
Broadcast vs. cable – Broadcast refers to the local affiliate of stations such as ABC, NBC or CBS. Cable refers to the stations that you have to pay extra for such as MTV, VH1, TLC. The CPM to advertise on a local broadcast station is typically less than cable, since cable attracts a more targeted and wealthier demographic.
Live viewership – Advertisers are willing to pay more for programming that's watched live since more and more people are recording shows and fast forwarding through commercials. This is a big reason why ads during important football games are so expensive.
Time of day – Prime time ad spots are in the evening when the most popular shows are airing and more people are watching TV.
Geographical location – More advertisers want to air their commercials in big cities, which is why the cost to advertise in NYC is so much more than the cost in a small town.
Time of year – The fourth quarter of the year has highest competition because businesses want to get their commercials in before the holidays.
National or local events – If there's a highly contested political race coming up, candidates will be willing to pay a higher than usual price. Other events, such as anticipated sporting events (e.g. Olympics, Super Bowl), can also drive up costs.
The other factor is the supply of ad spots. In a half hour show, there are typically four commercial breaks, each lasting about 2 minutes, for a total of sixteen 30 second commercials. This means that the amount of advertising inventory that a TV station can sell is limited.
In the beginning of the year, the account executives selling advertising spots are more willing to negotiate price, as fewer businesses are looking to advertise during this time, and there are more ad spots. This is because many businesses are recovering from the big spending around the holidays.
How to Calculate Your Own TV Advertising Costs
Get the answers to these two questions to estimate your TV advertising costs:
How many people locally watch the show that you want your advertisements to appear on? The station should be able to provide you with data from Nielsen. Get a list of the TV stations serving your market.
What is the average CPM (cost for the TV ad to be seen 1,000 times) for that type of television program? For example, the average cost for a spot during the late night news is $18.19 per CPM. The daytime news is much cheaper at $11.15 per CPM. The station probably won't give you the CPM outright, but you can calculate it by dividing the cost for one ad spot by the viewership (which they will give you the numbers for).
Example: Let's assume that you want to buy 10 spots over a month on an 8:00 AM news show on your local CBS affiliate. The show is watched by 20,000 people on average. You could calculate a fair price with the following formula.
Ballpark fair price for TV advertising = (number of spots) x (number of viewers in thousands) x (average CPM for the TV program)
In this example, 10 x 20 x $11.15 = $2,230
When determining whether you can afford TV advertising, keep in mind that you will have to advertise multiple times in order to have a successful advertising campaign. So if you can only afford one ad spot, don't bother. Getting any new customers after they have only seen your ad once is extremely unlikely, and therefore you would just be throwing money away.
Television vs. Newspaper vs. Radio vs. Online Advertising Cost
According to the Small Business Administration, one 30-second television commercial during prime time viewing (8 p.m. to 11 p.m.) can cost 10 to 30 times more than one radio spot during drive time (which is considered prime listening time) or a full page ad in the newspaper. The cost to start advertising your small business online is even less expensive, since you can set your budget as low as $1/day on Facebook and Google.
That's why we suggest advertising first on the radio, in your local newspaper, or on a web platform such as Google or Facebook. Since these mediums are less expensive than TV advertising, you can test which message works best for your business with these ads.
Here's a comparison of advertising cost on different channels:
| Advertising Channel | Average Cost |
| --- | --- |
| Local TV | $200 to $1500 per 30 second ad |
| Local Radio | $500 to $8,000 per week |
| Regional Newspaper Ads | $693 to $40,855 for ¼ page ad |
| Google Ads | $1 to $2 per click |
| Facebook Ads | $0.31 to $0.61 per click |
Note that the cost to advertise on TV, radio, and newspapers will vary depending on the popularity and reach of the channel you use. For example, advertising in a national newspaper will be much costlier than advertising in a local gazette or neighborhood paper. Oftentimes, the local, less expensive options work best for small local businesses, so try to test those channels first to see how effective your message is and take what you learn to create your television ad campaign.
TV Advertising on a Budget
As mentioned, the benefits of TV advertising come with a high price tag. However, a novice advertiser or small business can offset some of the cost of TV advertising by applying these strategies:
Seasonality or timing – You can pick your advertising slot based on the season or quarter. Rates usually start increasing in fall to coincide with the premiere of new shows, so it's best to air your TV campaign in Q1 or Q2 if budget is a main factor. TV companies may sometimes offer a lower price during these periods to fill timeslots so be aware of those.
Fire Sales – Although rare, fire sales allow you to purchase advertising packages in advance for a cheaper price. These packages often include spots that may otherwise be too expensive for small businesses.
Remnant Advertising – This is a slot that networks have been unable to fill and are usually heavily discounted. These opportunities are time sensitive, so you will need to be proactive and have a budget ready.
Auctions – Here, the ad space goes to the highest bidder. You won't be able to control the time slots and you will need to pay upfront.
Packages and Media Mixes – A package where you buy several weeks' worth of advertising space will help stations fill their slots, and they may be willing to give you discounts if you sign up for one. Similarly, you may be able to negotiate a media mix where TV stations promote your company on other channels like their website for free.
Pros & Cons of TV Advertising
Pros of TV Advertising
The reason television advertising is so costly is because there are many benefits, including:
Television is the most effective advertising medium – According to a study by MarketShare, advertising on TV yields the highest return on advertising spend.
Pairing sight and sound – TV combines the power of radio and newspaper by being able to promote your product or service both with sight and sound. This is a big advantage if you have a visually appealing product that you think will sell best by people seeing it.
Viewers are (relatively) attentive – People watching TV usually have their main focus on the screen. Although some leave the room or change the channel during a commercial, it's been found that this is a relatively small percentage of people watching. (Nielsen)
TV ads reach a large audience: Advertisers want to have commercials on TV because of the large amount of people that will see the ad. Nielsen estimates that 118.4 million or 96% of homes in the U.S. will have at least one TV set in 2017.
Cons of TV Advertising
There are also a few disadvantages, including:
Hard to make changes – Since it is costly and time consuming to produce a TV commercial, it is unlikely you will want to produce a new commercial when there is a special event or promotion going on. This differs from print ads, where you can quickly make changes to the copy and switch out your ads.
Hard to target – You can target broadly by airing products for stay at home moms during day time soaps, or to sports fans watching ESPN. However, you can't get as specific as you can online (e.g. women aged 18-25 living in Los Angeles). View our guide to advertising on Google to learn more about online targeting options.
People can fast forward through your commercial – These days, many people have the ability to record and fast forward through their programs. That means that a percentage of TV viewers are blowing right past your ad.
Cost – The cost of both advertising spots and producing the commercial is one of the biggest disadvantages for small business owners. Although you can potentially get the cost back plus profit, this is risky and not guaranteed for all advertisers.
TV Advertising: Where, When, & How Often
The logistics of your TV advertising campaign will largely depend on your goals. Are your trying to promote a new service for your locale or are you looking for new customers in a neighboring city? Does your ad target a specific holiday, or are you willing to advertise over a longer period of time? Clearly defined goals will help you figure out where, when, and how often you should run your ads.
Determine the Station Based on your Target Audience
In order to determine which station you should advertise on, you will need to know your target audience. This includes the age, gender, and geography of your potential customers. You can then ask your local television provider which station/time can best target that demographic. They should have demographic information on the audience for different TV shows.
Another option is to survey your customers and ask them what shows and networks they typically watch. If an overwhelming amount have similar viewing preferences, then you will know where to run your commercials.
Here is the average age of viewers for some of the most popular networks:
| TV Station | Average Age |
| --- | --- |
| CBS | 60.7 |
| NBC | 58.8 |
| ABC | 58.6 |
| Fox | 37 |
| Fox News Channel | 65+ |
| Univision | 40.9 |
| ESPN | 43 |
| The CW | 50.9 |
| USA Network | 51.6 |
| TBS | 45 |
| Telemundo | 44.4 |
| Discovery Channel | 49 |
| History Channel | 58.4 |
| CNN | 60.5 |
| AMC | 53 |
Sources: Multichannel.com, Statista.com
You can see from this chart that the television demographic is skewing towards the 50-and-over age range. If you business leans toward the younger demographic, traditional TV ads may not be the best option for you. Up to 70% of adults age 15 to 34 use on-demand video services like Netflix and Amazon video according to Business Insider. Some on-demand services, such as HBO Go, stream ads. Others, like Netflix, do not (at least, not yet).
Broadcast vs. Cable TV Advertising
When deciding where to run your TV advertisements, you will need to decide whether you want to run on broadcast or cable. Broadcast refers to TV stations that traditionally were aired over public airwaves, and includes local affiliates such as WABC (New York's ABC affiliate). Cable includes the stations that viewers have to pay extra for such as MTV and USA.
These terms are a little antiquated, since if you have cable TV, you are able to watch the traditional broadcast channels such as CBS, ABC, and NBC. However, the distinction between the two is important when it comes to advertising on TV.
This is because you will be able to reach a different audience with broadcast versus cable. The reason for this is:
Not everyone has cable – Therefore your ad will show to a wider audience if you choose to go with broadcast.
Cable shows tend to be more niche – TV shows that air on cable can attract a very specific audience, while shows on broadcast TV usually have a mass appeal (think of the target audience of the History Channel vs. ABC). Therefore, if only a specific group of people will be interested in your product or service, you will probably want to go with a cable show. Conversely, if your business targets a wide audience, broadcast is your best bet.
When You Should Advertise
As we discussed in the cost section, some advertising spot times are going to be more expensive to advertise during than others. Therefore, you may be tempted to advertise during the day or late at night in order to save money. However, keep in mind that if you choose to advertise late at night and your target audience does not typically watch television during that time, you are actually spending more to reach someone that will be interested in your product or service. That being said, if you choose a station that is generally reflective of your target demographic, it may be in your best interest to save money by buying wider rotations (ex: anytime between 5-10pm).
Another thing to consider is if you want your commercial to air during a specific show. You will pay a premium to secure inventory on a program basis, so this option is best if you have a very specific audience. For example, if you own a fishing supply store, you may want to advertise during Deadliest Catch (a show about fishermen) on the Discovery channel. In this case, the extra cost is worth it because you know that a big percentage of the people watching will be interested in your fishing gear if they're watching a show about fishermen.
Number of Times You Should Run Your Ad
You will want to run your ad multiple times in order for your message to make an impression.
Here are a few tips:
You want to first focus on one specific time.
During that time, you want to advertise 3-4 times.
One way of making your TV ad dollars go farther is to use a mix of 15 second commercials and 30 second commercials.
You want the viewers of a show to think you're a major advertiser and remember your ads. By delivering two ads in 30 minutes or 3 during the course of an hour, you dramatically increase the chance of viewer noticing your ad.
Let's say you only have enough money to buy 5 spots per month. In this case you would want to concentrate those ads over the course of 3 days. By concentrating the ads over a shorter period of time, you will increase their impact. If the advertising works, you can expand your TV advertising out into another week of the month. When you have the whole month saturated, you can jump into advertising in another program on the same station.
Types of Television Ads
The frequency of your ads and when you air them will also depend on what type of ad you select. There are a few different ways to advertise your business on TV:
The traditional 15, 30, or 60-second ad
This is what typically comes to mind when you are thinking of TV commercials. These play in clusters during the commercial break within a show. The pros of this type of commercial is that you can create an interesting ad that features your product in a creative way. The con is that it is surrounded by other ads, so people may leave the room or fast forward through it.
The 10-second promotional advertising spot
This views exactly like a traditional commercial (full moving video and audio) but is positioned as part of the TV show's production and within program time. I spoke with John Harper from Bruce Media Corporation who says these spots are less expensive than a traditional 30 second commercial plus could be more effective since they run on their own, not surrounded by other ads. View an example here. The downside is that these ads only air during syndicated programming.
Performance-based media placement
With this ad, you only have to pay when someone takes an action after seeing your commercial. Harper from Bruce Media Corporation advises advertisers seeking lead generation that drive either calls or online form fills to look into this option.
Here is an example TV spot for a residential solar installation offer which was placed on a performance basis:
Participating stations, satellite carriers, and broadcast networks were paid $25 for each call they generated from the TV spots placed on their specific outlet. This is a good option since it is low risk (only paying if the ad works), however you will need to see if your local station offers this type of ad.
Product placement advertising
This is when a business pays to have their product featured in a television program. There are a few different options for product placements within programs, but an inexpensive one that could work for your budget is placement in a game show like the Price is Right. The good news is that people won't be fast forwarding through your product placement, since it is during the TV program. The downside is that you lose one of the major benefits of TV commercials, which is pairing a visual with a description of your product.
Here's an example of product placement on TV:
The type of ad that you should use for your small business depends on availability and cost. Work with your local station or media agency to decide which option will get your message across most effectively. Keep in mind that only the first ad type on this list will play during prime time shows. The rest of the ads are usually played during syndicated shows or on stations during the day.
How to Create a TV Ad
There are three options when it comes to creating your commercial:
Do it yourself – We don't recommend this option unless you have experience producing commercials. If you want to go to the DIY route, you will need to purchase or rent professional audio and video equipment, hire a production staff, and hire actors.
Work with your local broadcast or cable company – This is a good option for small business owners, since your local station should have a production team on staff to help you with your commercial. They will sometimes work the cost to produce the commercial into the cost of your ad spots, especially if you are planning to spend money over a long period of time.
Work with a media agency – If you choose to use an agency to help you with the media buy, you can also use them to help produce your commercial. Ask for samples that they have done before, so you know what quality you can expect.
No matter which option you choose, your commercial should have the following elements:
Tell them who you are – The name of your business should be very clear
Give them an offer or reason to visit your business (i.e. we have the best Cannoli's in all of (insert your city here), or let them know of a big sale that you're having).
Let them know how to find information about your business (Give them your website address, or better yet, leave up your website address throughout the entire commercial.)
If your business is about getting foot traffic, tell them where you're located (which is not the same as telling them your address–say by the mall or around the corner from which landmark)
You might be wondering why you should feature your website, and not your phone number or your address, during the commercial. Thirty seconds is a really short time, 10 seconds is even shorter. The more time you spend on presenting this type of information, the less time you will have to promote your company. Also, many people have trouble remembering numbers presented to them quickly. A web address can be easier to remember, and by going to your website, they can get your phone number and address. If you don't have a website for your business, read our article How To Build a Website in 4 Steps.
A concern for many small business owners is how to create a commercial that looks professional while still keeping the cost low. There are a couple different elements that go into the cost of a commercial:
Talent – If you want to hire multiple professional actors, expect to pay a pretty penny. Instead, consider using yourself or your employees in your commercial. This will give your commercial a more personal feel. If you feel uncomfortable on screen, consider hiring an amateur actor on Fiverr.
Production – A commercial with a lot of special effects and high quality video will probably be out of your price range. Instead, try a simple shot with a single digital camera. Keep it clean and get straight to the point. You only have 30 seconds (or less), so make them count.
The important thing to remember is that your commercial does not have to be fancy in order to have an impact. It does need to get the message out about your business and the products or services you offer. Below is a clever 30 second commercial from a local car dealership. The commercial features the owners of the business, and they incorporate the well known MacGyver reference (a popular TV show that ran during the 1980s and 1990s) to get their point across that they can pre-approve your credit for a car.
How Long Your Ad Should Be
In TV advertising, you can go with 60, 30, and 15 second ad spots. Typically, a 60 second ad will cost twice as much as a 30 second ad, and 15 second ads cost 65% less than a 30 second ad. In order to make your budget go further, we suggest doing a mix of 30 and 15 second commercials. The 30 second commercial will be long enough to get across the message of your business, while the 15 second ad will serve as a reminder of your company.
How to Buy Television Ads Spots
There are two main options when it comes to purchasing TV ads:
Purchase directly from your local broadcast station or local cable provider
Use an advertising agency to purchase spots on your behalf
You can find your local TV stations here and find which cable providers serve your area here.
As a reminder, local broadcast affiliates are stations like WNBC (the New York City NBC affiliate), and local cable providers are companies like Time Warner or Comcast in NYC.
The major differences in how media is sold between local broadcast and local cable are:
Broadcast television is sold by DMA (designated market area) while cable can be purchased by zone (cluster of towns). Therefore, with cable you can more specifically target your geographical area.
Cable stations generally focus on selling "rotator" spots in which you don't know exactly when your commercial will air. For example, a prime time spot may air anytime between 5-10 PM. Broadcast tends to focus on selling commercials on specific shows at specific times.
Deciding which option to choose for your business depends on your specific advertising goals. If you have a small budget and are looking to promote to a specific location, we suggest going with cable advertising. Although fewer people will see your ad, the ones that do will be in the same geographical location (zone) as your business. You will also be paying less for the ad spot, so you will have more money to advertise multiple times.
Once you've decided on where you want to advertise, you can contact your local TV station or local cable provider directly. They will assign you an account executive that will help you through the process of the media buy.
Consider Using an Advertising Agency
If you do not want to contact your local TV station or cable provider directly, you can choose to work through a third party advertising agency. Unlike your local tv station or cable provider, an experienced agency will work with you in every aspect of your ad from conceptualization and production to strategy and buying media . If you're interested in this option, look into a few different agencies that have expertise either with local businesses or with your type of industry. While speaking with them, you will be able to feel out if the agency is a good fit for your business.
A perk is that an agency should have a good relationship with the TV advertising providers, since they work with them so often. Therefore, they should be able to get you a better deal on your media buy. As far as cost goes,John Harper from Bruce Media said, "Traditionally, we will negotiate the best deal for our clients and then get paid a commission by the media vendor (TV stations and networks for example) for bringing them the business. We can also work on a retainer basis wherein a client would pay us a flat fee for coordinating their media buys."
How to Measure Success
Once your television advertising campaign has been launched, it's time to measure if it was a success. If you skip this step, then you won't know if the money spent was worth it. Next time you want to boost your business, you won't know if you should advertise on TV or try something else.
There are a few ways you can measure results:
Send people to a vanity URL
If you choose to have your website appear during your commercial, create a unique URL so that you will know if people visited your website after seeing your commercial. Learn how to set this up here. You can purchase a vanity URL at GoDaddy.
Use a call tracking number
While we recommend that advertisers emphasize their website over their phone number, phone number may be more appropriate for certain types of businesses. You may have noticed that most numbers in TV ads are 800 numbers. That's because companies can create 800 numbers that are unique to a certain advertisement (and different from the number on their website or in phone directories). Learn how to set up a call tracking number with this how to guide.
Ask new customers how they heard about you
This is a common tactic with certain businesses, and I'm sure you have answered this question when going to a dentist, doctor, etc. for the first time. You can also do this through an online survey included in a sales email or through automated prompts for first time callers. By pinpointing where new business comes from, you'll have a better idea of what marketing efforts are working the best.
Measure sales during period of campaign
Are sales going up around the time that your television ads are airing? If so, you can probably contribute that to your TV ad campaign. However, if you are trying other new forms of advertising at the same time, then you won't know which marketing effort caused the increase in sales. Similarly, if it is the holiday time or another seasonal period during which a sales increase can be expected, you won't know if you can attribute the spike to your TV advertising.
You should use a combination of the above tactics to capture the greatest amount of information about how your TV ad campaign performed.
Bottom Line on TV Advertising
TV advertising has been around for decades and is a good way to spread awareness and drive sales for your business. By choosing a time of day and station that has a similar target audience as your small business, you can effectively advertise to consumers who will likely be interested in your products or services.
However, if you are looking to target a niche group or a younger audience, consider advertising through different a medium. You can view our guides below to get started.