Getting a commercial on TV is an effective way to get brand recognition and generate sales, especially for local businesses looking to reach location and demographic-based audiences. Even more so now, as you can target your audience with ads on local channels or through a wide range of interest-based streaming networks. Keep reading to learn how to make a TV commercial, plus tips on how to get a commercial on TV to promote your business.
1. Determine Your Production Method
The first step in how to get a commercial on TV is choosing a production method. There are three main ways to produce commercials: create it yourself, work with a local broadcast or cable company, or hire a media agency. Each choice offers a different production process and fits different budgets.
Consider the costs and advantages of each before choosing the one that best suits your needs and budget:
Do it yourself: If you want to go the DIY route, you will need to purchase or rent professional audio and video equipment, hire a production staff, and hire actors or animators. If you have experience, you could use this option to save money. However, we don't recommend this unless you have production experience. Still, DIY TV productions are usually the cheapest option and can cost as little as $1,000.
Work with your local broadcast or cable company: This is ideal for small business owners since local stations already have a production team on staff to help you with your commercial. Plus, they will sometimes work the production cost into the broadcasting costs. Prices can vary greatly depending on factors like network, region, audience size, etc., but you can expect to pay anywhere from $2,000 to $20,000.
Work with a media agency: Agencies are media experts, so you can count on them to know how to make a commercial for a small business. They can also help with buying TV advertising. Ask for samples of ads they have created before to know what quality you can expect and determine pricing. However, expect these to be the most expensive option, usually costing between $10,000 and $50,000, and even more.
In most cases, it's best to hire an advertising agency. This ensures your ad is designed strategically and produced professionally to get the most out of your advertising spend. Still, it's good to understand how to advertise on TV, so we recommend you continue reading the following steps even if you choose to hire a media agency to help you launch a national campaign.
2. Brainstorm Your Ad Concept
Next, you need to develop your ad creative, which is another way of saying your TV ad's concept and story. This is essentially the planning stage of your production, where you'll fully flesh out your ad's creative concept, message, and story. When planning, consider your target audience, brand persona, key messaging or call to action, and how best to combine these elements in an audiovisual medium.
This stage is also where you'll start planning the budget for your television advertising campaign based on what you need to execute your concept. During this process, also confirm if television advertising is the best medium for your business, marketing objective, and audience—keeping in mind TV advertising is costly and is meant for broad audiences, not targeted ones.
Here are some questions to keep in mind when conceptualizing your commercial.
What are you ultimately looking to achieve with this TV advertisement?
Who is your target audience, and are they watching television?
What's your overall marketing message?
Can your marketing message be conveyed with an audiovisual story?
Can your message be told in under 60 or even as little as 30 or 15 seconds?
Is your story interesting to others?
Will your TV commercial help you achieve your small business marketing goals?
One of the perks of hiring an ad agency is that they will handle the ad creative for you. In this process, you will likely meet with the agency to describe your business, what it offers, and what you want to accomplish with TV advertising. Then, the agency will conceptualize and present different ad ideas to choose from.
For more ideas and inspiration for your own ad creative, check out our list of the best TV commercials.
3. Choose Where to Air Your Commercial
Next, consider which networks and TV shows are the best to run ads on to reach your target audience. For example, the audience watching a shopping network at midday on a Tuesday will be different from those watching ESPN or the History Channel.
Do research on each network's audience demographics and whether or not they match your ideal customer persona. This includes details like age range, geography, profession, education, interests, behaviors, and more.
You must also consider the time slot you want your commercial to air. Prices for time slots vary, and those aired during primetime—the hours when viewers peak—are generally much more expensive.
There are three options available for airing your TV commercial, with their own benefits:
Use broadcast channels for wide reach: Because everyone has access to broadcast (as there is no paywall), your ads will show to a wider audience. Conversely, this makes it harder to target your advertising toward niche audiences, but if your goal is general brand awareness across general audiences, this is a good fit.
Reach interest-based audiences with cable channels: TV shows that air on cable can attract a specific audience. For example, there is a big difference between the interests of audiences who watch sports channels vs those watching Hallmark, HGTV, or MTV. Some cable networks also allow you to target audiences by region.
Streaming services have precise user data: Advertising on streaming services is one of the newest options available, and ads are regularly shown on streaming platforms like Paramount+, Discovery+, and Peacock. For other streaming channels, it's currently still in an experimental phase, with services like Netflix, HBO Max, and Disney+ recently testing ways to display ads. All of these platforms can offer advertisers more precise user data concerning viewing habits, interests, and more.
Determine which is best for your business and advertising goal by looking at your target audience's demographics and analyzing the medium that fits best. For example, to advertise something for general audiences, like a grocery store chain, broadcast networks could be best. On the other hand, promoting the opening of a new artisan cafe would be better with ads shown on a cable network's food channel—especially if local targeting is an option.
4. Produce Your TV Commercial's Content
The next step in how to get a commercial on TV is to produce your advertisement. To do so, you need a fully formed concept, storyboard, and main message geared to captivate and connect with your target audience. You could tell your story in a million different ways, so take time to develop ideas that will catch and hold your audience's attention and resonate with them.
Story and storyboard: Your commercial is ultimately a story, so determine your overarching story, its premise, and what type of emotions or actions you want it to incite from its audience. It also helps to organize your story into a storyboard, a document with shot-by-shot sketches of your entire video, to better guide your filming process.
Script: A television ad is produced much like a movie or television show in that it involves writing a script. You need to have a script produced and perfected before production that sends a message and connects with your target audience. Be sure to include essential information like business contact information and a call to action or special offer.
Shot list: In addition to writing your script, you will also create a shot list, which is a document that divides your script into separate shots. It also lists details like the camera angle, characters included in the shot, the shot location, the equipment needed, and more. This will also help with the editing process later on.
Talent: TV advertisements require talent, whether actors, professional animators, or voice-over artists. This is another example of why hiring an ad agency is the best bet for most, as the agency will handle the sourcing and hiring talent for you.
Production team: Behind the best TV ads are great production teams. This includes teams with skills and experience in shooting, recording, and editing videos.
Production equipment: You'll also need quality production equipment to record a professional video commercial fit for broadcast standards. At the very least, this includes a video camera, microphones, lighting, and editing software. Other helpful equipment includes tripods, various camera lenses, and a clapboard.
Set: Your set will depend on the kind of commercial you're filming. If your story is set outdoors, scout a location with good lighting and minimal sound distractions, and get a shooting permit if required. For indoor locations, you can also shoot inside a studio, which are usually available for rent by the hour or day.
To create your ad's content, determine your production process (whether you're producing it yourself, working with a local broadcast or cable company, or with a media agency). Then, gather your production resources and talent, film your video and record your sound, then edit everything together using editing software.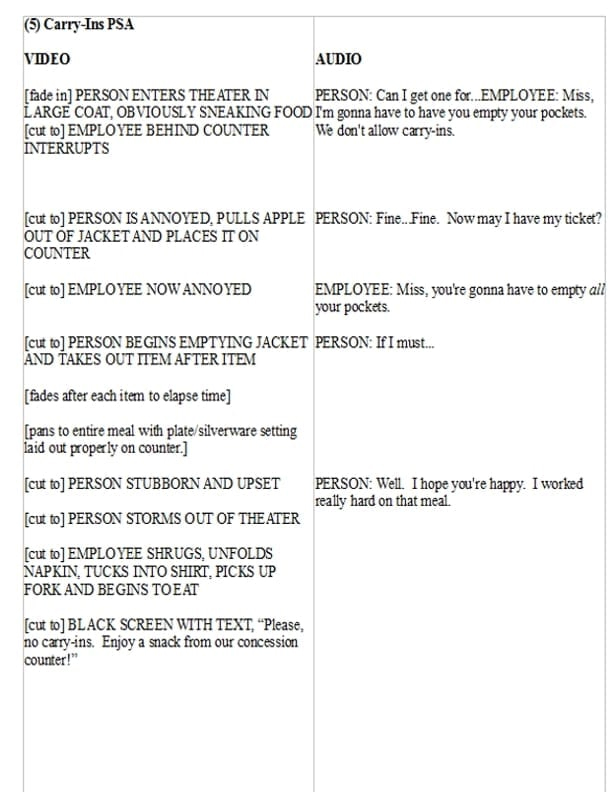 ---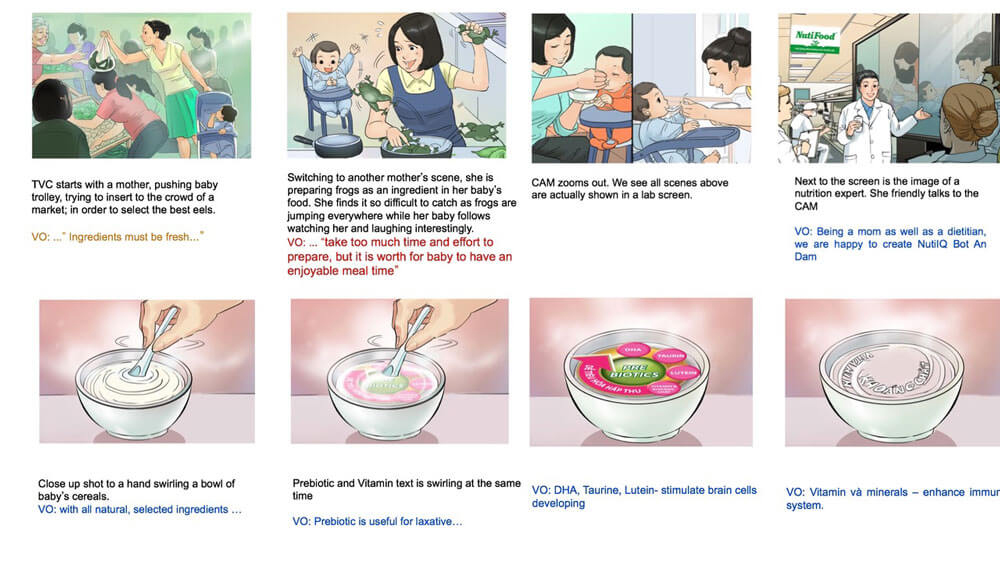 ---
---
Pro tip: Planning on producing a TV ad while on a budget? Find production professionals by visiting Fiverr to find affordable services for everything from scriptwriting to video editing starting as low as $5.
5. Buy Television Ad Spots
An essential step of how to get a commercial on TV is buying an ad spot. There are two main options when it comes to purchasing TV ads.
One is to buy them directly from your local broadcast station or cable provider. If you're working with an ad agency, the agency will often be able to negotiate and buy ad spots on your behalf. Consider both options before making a purchase, and see what type of cost savings you could get by purchasing various bundles or through agency-negotiated discounts.
Buy Ad Spots From a Local Provider
When buying TV commercial slots through local providers, you'll usually be assigned a dedicated account executive to help you through the media buying process. There are two major differences in how media is sold between local broadcast and local cable:
Sales by location: Broadcast television is sold by designated market area (DMA), while cable can be purchased by zone (cluster of towns). DMAs are much larger than zones, so cable allows you to target a smaller geographic area. Find out how to get a commercial on local TV in the top 100 TV markets.
Sales by ad air time: Cable stations generally focus on selling "rotator" spots, where you don't know precisely when your commercial will air. For example, a prime-time spot may air anytime between 8 p.m. and 11 p.m. Broadcast tends to focus on selling commercials that appear during specific shows at specific times. Get a list of cable providers that serve your area.
Deciding which to choose depends on your advertising goals. If you have a small budget and want to reach general audiences in a particular area, go with broadcast ads. Although it offers a far less targeted audience, those who see your ad will be in the same geographical location (zone) as your business. Also, since it costs less, you can also run your ad multiple times.
Just as production methods determine the cost of producing TV ads, the cost to actually get a commercial on TV depends on a number of factors. Find out more about TV advertising costs and all the factors that go into it.
Purchasing Ad Spots Through an Agency
One benefit of working with an advertising agency is gaining access to their existing network of TV contacts, which usually gets you better deals for advertising on local TV. Additionally, ad agencies can often negotiate the best deals for their clients, and get paid by the media vendor (TV stations and networks, for example).
Pro tip: You can save a lot by using fire sales. Although rare, fire sales allow you to purchase ad packages well ahead of the ad's air time for a low price. If you can't find any fire sales, you can always try negotiating for a lower price or buying time slots ahead of time.
Who Television Advertising Is Right For
As well-established as television advertising is, TV ads aren't the best fit for every business or marketing goal. TV commercials are costly, complex, and labor-intensive and don't offer instantly measurable results, especially when compared to digital marketing strategies. For this reason, TV commercials are dominated by nationwide businesses like insurance companies or travel providers.
But let's take a look at who TV ads are best for. Here are the common threads of what makes a business a good candidate for TV ads:
National company or brand
Wide demographic
Established brands wanting to stay top of mind
Products or services with high customer lifetime value
Simple marketing message
Those looking to become a household name
To reinforce a strong brand personality
While TV advertising works great to reinforce brand presence for well-established, large businesses, it won't be as beneficial to smaller companies. For example, a local dental office would likely find Google local service ads a more efficient use of ad spend. Likewise, a local dog groomer would get a better return from social media advertising targeted toward their demographic than running a TV ad on a network like DogTV.
Best TV Advertising Alternatives
If you find that TV ads aren't the best fit for your business or marketing objective, are simply too costly, or don't reach your target audience, other options are available. If you are just starting a business, consider first trying out alternatives such as radio, newspaper, pay-per-click (PPC) search ads, or social media advertising.
Television Advertising Alternatives Costs
| Alternative | Best For |
| --- | --- |
| Local TV | $15 to $25 per 1,000 viewers |
| | $10 to $750 per 60-second spot |
| | $12 per inch |
| | $2.69 per click |
| | $1.86 per click |
Sources: DX Media Direct, Skyworks Marketing
A Statista study found that the average cost to get a TV commercial in front of national audiences is $104,700—often much higher than radio spots or newspaper ads. In contrast, the cost to advertise a small business online is far less expensive since you can set your budget as low as $1 per day on Facebook and Google.
For more affordable ways to promote your business, read our article showcasing more than 20 local advertising ideas that are both small business and budget-friendly.
Frequently Asked Questions (FAQs)
How do you know if a TV advertisement is effective?
You can measure the effectiveness of your TV ad by tracking engagement. Some examples include the number of times the unique URL, phone number, or discount code you created for the ad is used. It could also be through inviting customers to mention the ad when visiting your business, asking customers how they found you at the point of sale, when ordering, or during your online checkout process.
How much does TV advertising cost?
The cost of TV advertising comprises two main components: ad production and distribution. Producing an ad can be anywhere from a couple of thousand dollars to over $50,000. The average cost is around $105,000 to get a commercial on TV, but it varies widely depending on factors like time slot, TV network, and TV show. Learn more about TV advertising costs.
What are the advantages of TV advertising?
TV ads reach a vast audience in a short period compared to mediums like newspapers and radio—as well as digital alternatives like paid social. It also makes it easier to appeal to the viewers' senses via visual and audio elements to make your ad more memorable and persuasive. Compared to other mediums, audiences for TV ads are also more captivated and engaged, and studies show consumers regard television ads as more trustworthy.
Bottom Line
TV advertising involves running a 15- to 60-second branded video that airs during scheduled breaks in programming. It often showcases products and services and tells viewers how to learn more or take advantage of an offer. To create a TV ad, businesses must determine the ad type and placement that align with their audiences, message, branding, and budget. Then, they create ads, buy ad spots, and monitor performance.
Now that you know how to get a commercial on TV, get started by brainstorming an idea and message that best resonates with your target audience. Then bring your vision to life by working with affordable production professionals on Fiverr. You can hire professionals for anything from scriptwriting and voice acting to video filming and editing at a low cost.