ZipRecruiter and Indeed are two recruiting and job search sites that help connect employers with talent. Both platforms are well-reviewed, user-friendly, and reach a large number of professionals. ZipRecruiter lets you post jobs free for a limited time, while Indeed has a completely free plan. We compared the platforms to help you choose the best option.
When to Use ZipRecruiter
ZipRecruiter gives you a fixed number of reusable job slots and posts your jobs to 100+ other job sites. Unlike Indeed, ZipRecruiter does not offer a free plan. Instead, employers and recruiters must sign up for a monthly plan. For these reasons, it's a better option for companies that have a more robust budget and need to hire quickly. If you hire regularly, it might also be a better option.
When to Use Indeed
Because of the platform's free job posting option, Indeed is the best option for startups or companies with a small recruiting budget. Indeed is also a good choice if you need to post a large volume of jobs without committing to a monthly plan.
If you need help learning how to advertise your open position, check out our guide on how to post a job ad.
How We Evaluated ZipRecruiter vs Indeed
We evaluated ZipRecruiter and Indeed based on these factors:
Price: We compared pricing structures to determine the best option based on a company's needs.
Ease of use: Regardless of whether you're an employer or job seeker, it's important to use a job posting platform that's user friendly with an intuitive interface.
Job posting: We compared each platform's job posting tools and capabilities as well as the reach of each site.
Job seekers: In addition to evaluating each company from the perspective of recruiters, we considered the tools that would attract more job seekers.
User reviews: We evaluated customer reviews to find the best option for recruiters and job seekers alike.
ZipRecruiter vs Indeed at a Glance
Features

Cost

Pay per post; starts at $249.00 per month for one reusable slot

Pay per click; set your own daily pay per click budget

Phone support

✔

N/A

Online support

✔

✔

Resume database

✔

✔

Free trial

✔
credit card required






✔
no credit card required






Free plan

N/A

✔

Activity dashboard

✔

N/A

Budget control and accounting management

N/A

✔

Social advertising

✔

N/A

Social recruiting

N/A

✔

Customizable branding

✔

N/A

Communication management

✔

✔
ZipRecruiter vs Indeed: Which Is Better for Employers?
Both ZipRecruiter and Indeed are excellent recruitment software options for employers and recruiters. However, the best option depends on your company's budget and the number of jobs you need to post each month. As the more expensive option, ZipRecruiter is best for medium to large companies that can make the most of the pricier monthly fees and custom options.
Indeed, on the other hand, has a completely free option that allows employers to post as many jobs as necessary. It's also the cheaper option for employers and recruiters who want to take advantage of sponsored posts—especially for companies with a smaller budget that still need to post a large volume of jobs.
ZipRecruiter vs Indeed: Which Is Better for Job Seekers?
Indeed is the best option for job seekers because of the huge volume of jobs posted on the site—from both employers and various job boards across the internet. Not only is the platform free for job seekers, they can create a profile, upload a resume, and set up job alerts so they don't miss jobs in their industry.
ZipRecruiter Pricing
Unlike Indeed, ZipRecruiter does not offer a free plan for employers. What's more, ZipRecruiter does not publish pricing for its recruiting tools. However, third-party websites report that prices start at $249 per month for one reusable job post under the Standard plan. ZipRecruiter costs reportedly go up to $1,569 per month for 50 reusable slots.
ZipRecruiter Features
| Features | Standard | Premium | Enterprise |
| --- | --- | --- | --- |
| Distribution to 100+ job site | ✔ | ✔ | ✔ |
| Premium placement in job alert emails | N/A | ✔ | ✔ |
| Access to database of 25+ million resumes | N/A | ✔ | ✔ |
| AI to help employers reach candidates | N/A | N/A | ✔ |
| Job ads that reach 30 million candidates per month | N/A | N/A | ✔ |
| Dedicated specialists to manage spend using real-time data | N/A | N/A | ✔ |
| Applicant Tracking System integration | N/A | N/A | ✔ |
Job Description Templates
ZipRecruiter provides users with more than 500 customizable templates to make it easier to create job postings. Templates are available for a variety of industries and roles, so employers are more likely to find content that works for them.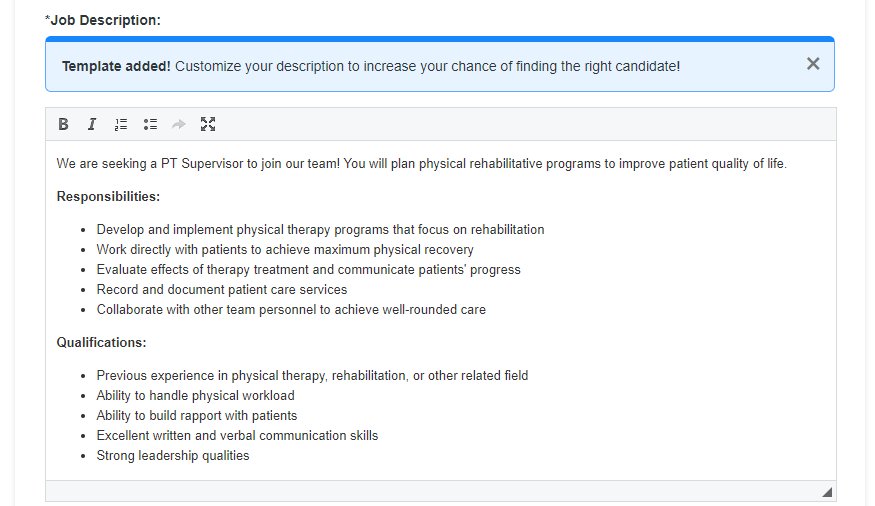 Candidate Matching
Once a job is posted and distributed via ZipRecruiter, the platform scans thousands of resumes to find candidates who match the desired qualifications. ZipRecruiter then asks candidates to apply with a pre-written message. Not only are you more likely to fill the role quickly, ZipRecruiter's candidate matching tools make it easier to find high quality professionals.
Customizable Screening Questions
Screening questions make it easier to find candidates who are both qualified and in line with your company's culture. To add screening questions, select a job, input your custom questions, and indicate whether you have any "Deal-Breaker Questions" that should automatically weed out applicants. If you don't know where to start, you can also browse common screening questions for inspiration.
Applicant Tracking System
ZipRecruiter integrates with applicant tracking systems (ATS) so you can post jobs from your ATS to the ZipRecruiter marketplace. These integrations also enable users to make the most of their applications and increase interest. ATS integrations include—but are not limited to—Greenhouse, Pereless Systems, and HireVue.
Indeed Pricing
Employers can post jobs in Indeed's general search results for free. The free option lets posters accept mobile applications and manage candidates using their Indeed account. These posts are not sponsored, meaning they will fall in search results as they become less relevant.
Indeed's paid options are structured on a pay-per-click basis. Employers and recruiters can set a budget as low as $5 per day, making Indeed a flexible and affordable option. Sponsored postings can be viewed by job seekers on desktop, mobile, and in Job Alerts, and you only pay when a candidate clicks on your listing. Plus, employers who use sponsored posts get access to Instant Match, which lets them view qualified candidates first.
Employers can also create a hiring campaign with a custom budget.
Indeed Features
Company Page
Business owners can use Indeed to create a free company page with information about your company, photos and videos, and basic performance metrics. A premium company page is also available and provides employers and job seekers branding tools and advanced analytics like engagement metrics, competitor comparison, and follower metrics.
Indeed also lets job seekers read company reviews that include salaries and benefits, worker happiness scores, and interview insights. This resource can provide extensive details about a company's corporate culture and is a helpful tool when deciding whether to interview or take a job with a company.
Sponsored Job Posts
Sponsored job posts enable employers to increase the visibility of their job postings by appearing at the top of search results. This is in contrast to unpromoted posts that fall to the bottom of search results as they get older and less relevant. Indeed also distributes sponsored jobs to partner job boards as well as business information sites, blogs and search engines, publishers, and career expert sites.
Instant Match
Indeed's Instant Match feature lets employers and recruiters immediately view the most qualified candidates for their job postings. After posting a sponsored job, users receive a list of candidates whose Indeed resumes match the desired hiring qualifications. You can then contact your favorite candidates directly—without waiting for them to apply. Indeed continues to provide qualified candidates until you fill the role.
Candidate Management
The employer dashboard lets recruiters manage applicant resumes, job listings, candidate communication, and recruitment results. In addition to managing active postings, users can view paused and closed jobs. And, if your company has several hiring professionals, they can also add feedback to candidate profiles. Finally, the robust and user-friendly dashboard makes it easy to evaluate candidates and generate performance reports to analyze individual job posts.
ZipRecruiter vs Indeed: Ease of Use
Both job seekers and employees report that ZipRecruiter is easy to use and makes the job posting and application process more efficient. User reviews also reveal that Indeed's features are user-friendly and the interface is easy to navigate.
ZipRecruiter vs Indeed: Customer Service
Both ZipRecruiter and Indeed offer online support options. More specifically, ZipRecruiter users can contact customer service via live chat; Indeed has a help center that lets users request support via online submission form.
In contrast, only ZipRecruiter offers a phone support option. Although it does not report its customer support hours, users report that ZipRecruiter customer support is responsive and helpful.
Indeed vs ZipRecruiter: User Reviews
ZipRecruiter boasts predominantly positive reviews, with users focusing on ease of use for both job seekers and employers. Employers and recruiters find that ZipRecruiter makes it easy to fill multiple positions—quickly—and that the platform is well worth the investment. Likewise, job seekers report that the platform is intuitive and generally effective but some find that they receive notifications for irrelevant jobs.
Indeed also has positive reviews—though slightly fewer than ZipRecruiter. Reviews reveal that the platform helped them post and fill positions quickly and effectively. Job seekers also use the site to find and apply for jobs, but some report that the user interface is too basic.
Bottom Line
ZipRecruiter and Indeed both offer robust tools for both recruiters and job seekers. Before you choose, consider your budget and the number of postings you need each month. For companies with a larger budget, ZipRecruiter's advanced tools may be worth the extra cost. Alternatively, companies with a smaller budget may be better served by Indeed's pricing structure.