Leading voice-over internet-protocol (VoIP) systems include functionality beyond making and receiving calls. Automated attendants and video chat are just the start. There are also modules designed to streamline call management workflows, enhance collaboration, or improve the overall customer experience. This gives VoIP phone systems a major advantage over traditional landline systems.
The VoIP features that benefit businesses the most are:
1. Automated Attendant
An automated attendant is a top feature of the best business phone systems because it can eliminate the need for a live receptionist. This feature answers all of your incoming calls and sends them to their desired extension using call routing rules.
The most basic auto-attendants offer simple features like prerecorded messages and a small selection of hold music options. These are useful for solo workers and freelancers who are looking for some help when it comes to handling call traffic.
However, many premium VoIP vendors also offer multilevel auto-attendants with features like customizable greetings or the ability to route to multiple numbers. This is ideal for more established teams with high call volumes. For more information on this feature, check out our guide to the best auto-attendant phone systems on the market today.
2. Call Forwarding
Call forwarding is a popular business telephony feature that makes sure your customer's calls never go unanswered. When the feature is activated, inbound calls can be automatically redirected to another extension or phone number. It is a great option for business owners who want calls to minimize lost sales leads by redirecting calls to a mobile number when no one answers a desk phone.
However, call forwarding does not ensure that a lead will never go to voicemail. This is why some businesses choose to use an answering service in addition to enabling this feature. You can learn more about this option by checking out our guide to the best answering services.
3. Call Hold & Transfer
Call hold and transfer are a core functionality found in most business telephony systems. In basic terms, it works by letting you place a caller on hold and sending them to another extension or phone number. Most services on the market offer this feature in some shape or form. To decide on which service is best for you, take a look at our guide to the best call management systems.
4. Call Recording
Call recording is a VoIP module that allows workers to record calls for training and reference purposes. Depending on the service, calls can either be recorded company-wide or on an individual, on-demand basis. Some solutions even offer cloud storage space so that you don't have to use up valuable space on your own network. Call record is especially helpful in customer service or sales environments where it can be useful to save important conversations. However, the feature works even better when your system also offers HD voice calling.
5. Caller ID
Caller ID provides important information on callers before anyone on your team picks up the phone. Common information includes the user's name and phone number. It can also include the city and state that the person is calling from. This is useful for blocking anonymous or unknown calls. Additionally, outbound caller ID allows extension users to select which ID to use when placing a call. This is ideal for anyone using their personal device for work.
6. Call Screening
Call screening puts workers in control of which calls to take. In basic terms, Caller ID provides information on who's calling so that the user can take the call, decline, or send it to voicemail. It can also ask incoming callers to identify themselves and relay that information. Call screening is great for busy staff who can only afford to take the most worthwhile incoming calls at any given time.
7. Call Flip
Call flip is a feature in which users can transfer calls from one device to another with the press of a button without disconnecting the line or relying on call parking. This feature comes in handy if you use a mobile device and the battery is about to die, so you can switch to a desk phone or desktop. This feature is particularly helpful for workers on the go who want to stay professional with clients.
8. Voicemail
Basic voicemail features allow callers to leave messages for workers when they become available. However, advanced voicemail modules include custom greetings and automated transcription features that turn those messages into text. Voicemail is available on every VoIP service, but to know which ones are best, check out our article on the best professional voicemail greeting providers.
9. Business Tool Integration
Leading VoIP features include the ability to connect data with outside business tools such as support ticket systems, chat, and email, which keeps conversation records centralized and teams connected with one another. This is especially helpful if teams are working remotely.
Advanced options also offer tools for sales teams such as the ability to connect caller information to customer relationship management (CRM) software. This allows agents to review recent interactions using built-in call tracking without needing an external call log.
VoIP phones can also be integrated with powerful automatic or predictive dialing systems, which can take the manual work out of dialing new numbers. Check out our guide on the best auto-dialers to learn which providers offer the best value for small businesses.
10. Conference Bridge
Conference bridge is a common VoIP feature that allows users to hold audio meetings with dozens, sometimes hundreds, of participants through computers, smartphones, or any internet-connected device with a microphone. Conference bridge is fantastic for remote teams, as it lets them work collaboratively even when they are physically apart.
However, while many VoIP providers offer some form of conferencing as a standard feature, some place a limit on the number of participants. In addition, some services only offer a single bridge number, which can result in embarrassing scheduling mishaps. Therefore, if conference calling is an important feature for you, check out our guide on the best conference call services.
11. Video Conferencing
Video chat is a useful business phone feature that lets multiple people join in virtual meetings where they can both hear and see each other. On top of that, most solutions allow for screen sharing, which is useful for sharing important documents and other information to team members. Many remote teams use video conferencing to stay in touch every single day. To learn more about how video conferencing can help your business, check out our article on the best video conferencing services.
However, if you want to hold video conferences over your VoIP system, it's worth noting that you will need a fast, stable internet connection in order to accommodate all of that data. Whether you are looking to change services or you're in the market for a new system entirely, we recommend trying out our free VoIP speed test tool. You can also check out our in-depth VoIP speed test article for more details.
12. SMS Text Messaging
Short message service (SMS) features allow you to send and receive text messages on your business phone. Having this additional channel is helpful, as many of today's customers prefer to communicate over text because it is quick and discrete. It is also useful for any business that wants to set up text marketing campaigns.
13. Hot Desking
Hot desk is a popular telephony module in which users log into a shared desk phone to access personalized profiles and configurations. It's a useful way to let employees access their own voicemail and other features from any office phone, and it saves you the cost of having to invest in individual hardware. It is also good for environments where individual staff have low personal call volumes.
How to Choose & Set Up VoIP Features
The best combination of VoIP features for your business depends largely on the needs of your employees and customers. Freelancers, consultants, and solopreneurs may prioritize conferencing tools over call forwarding and transfer features. Conversely, larger companies and call centers may find value in call recording and business tool integration features.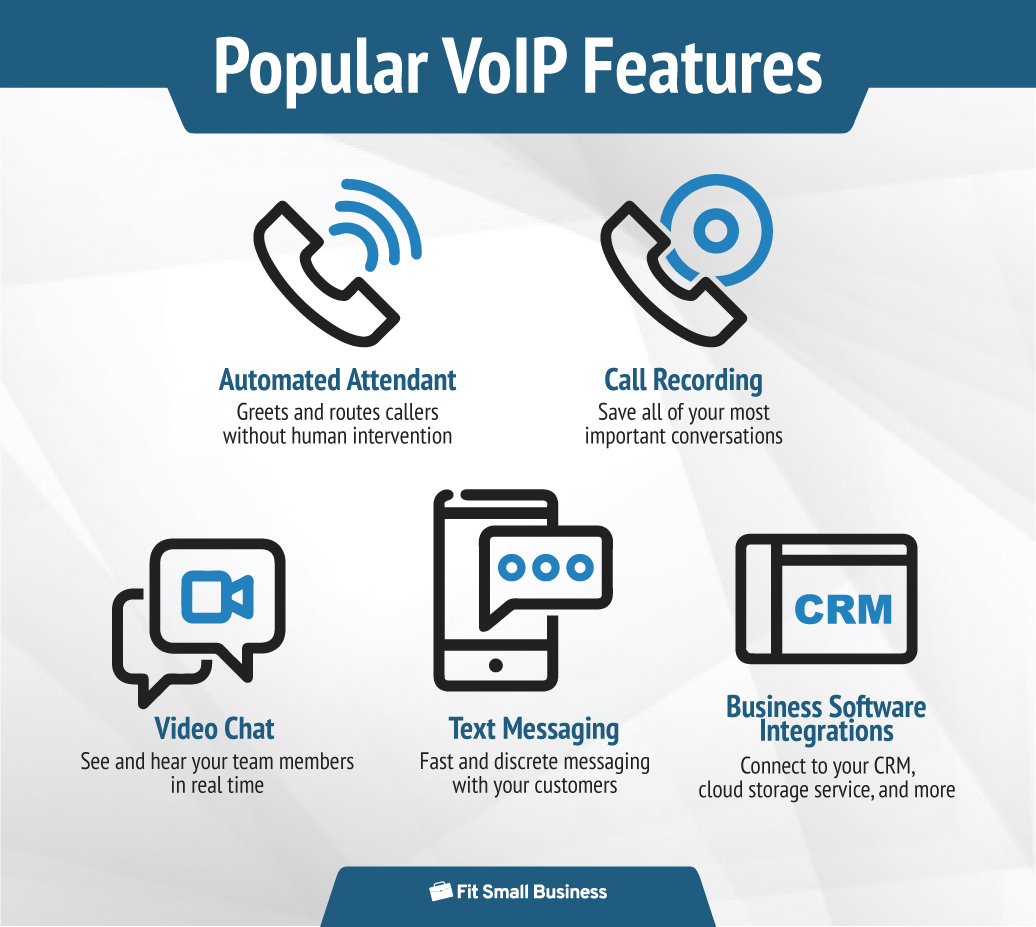 Once you have selected the features that make the most sense for you, setup is relatively simple. In most cases, features can be enabled using a browser-based console. However, if you would like some additional assistance, we have developed a free e-book you can download to help walk you through the process.
VoIP Business Phone System Providers
There is no shortage of VoIP service vendors on the market today. Popular vendors include RingCentral and Nextiva, which provide comprehensive solutions that incorporate video conferencing, and file sharing into their offerings. Cheaper virtual alternatives like Grasshopper and Google Voice also fit a niche in no-frills, affordable systems.

Answer a few questions about your business and we'll give you personalized product match
Bottom Line
VoIP business systems offer a lot of value to companies via their internet-based features. Whether it's call hold or transfer tools, or more advanced tech like video calls and hot-desking, VoIP phone features are becoming essential business communication tools. That, plus the cost savings over landline systems, make them an attractive option to businesses large and small.