Top 20 VoIP Phone Features Your Small Business Needs
This article is part of a larger series on VoIP.
Voice-over-internet-protocol (VoIP)-enabled phone systems have functionalities that go beyond making and receiving calls. For instance, they can offer automated attendants, which are voice menu systems that eliminate the need for a live operator—reducing costs and improving callers' overall experience. Other essential VoIP phone features offered by the leading providers include things like call forwarding, call screening, and virtual phone numbers.
In this article, we'll cover some of the best VoIP phone features and providers in greater detail to help explain how your business can benefit from this technology.
1. Automated Attendant
An automated attendant is a voice menu system that transfers callers to the appropriate extension without the need for a live receptionist. This VoIP phone feature uses a series of voice prompts to help callers navigate the call flow more efficiently. An example of an auto-attendant is when you call a company and you are directed to press a specific number to reach a department. This functionality is ideal for businesses handling high volumes of inbound calls.
Nextiva tops our list of the best auto-attendant systems, offering a multilevel auto-attendant and free professional greeting recordings. Its auto-attendant profile enables you to modify the location, caller ID, business hours, and extension.
Check out our Nextiva review to learn more about its VoIP offerings.
2. Call Screening
Call screening is the process of identifying the characteristics of an incoming call before deciding what type of action to take. It uses caller IDs to evaluate which calls to accept, decline, forward to voicemail, or transfer to another person. Call screening is a good way to optimize time by prioritizing important calls and blocking unwanted callers.
Google Voice has a call screen feature that allows you to know who is calling and the caller's purpose. It uses Google Assistant to provide a transcript of the call request in real time. It offers users the ability to ask for more information, tell the caller that they aren't available, or send the call to voicemail.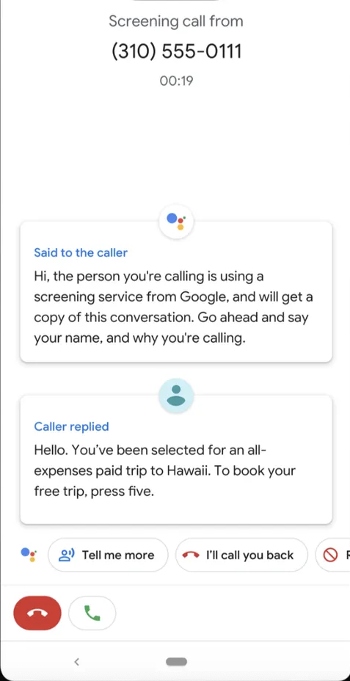 Check out our Google Voice review to learn more about its comprehensive call functionalities.
3. Call Recording
Call recording is the process of capturing audio or phone conversations for training and documentation purposes. This feature allows you to quickly capture, play back, and archive audio files to gain valuable insights into every customer interaction. Once activated, all incoming and outgoing calls are securely converted into audio files. Depending on your service provider, calls are either recorded in the cloud or on-premises through the use of a phone system software.
To ensure the best sound quality possible for your recordings, read our guide on what is HD voice calling to learn more about this feature.
4. Caller ID
Caller ID is a voice-over-internet-protocol (VoIP) feature that displays caller information on the recipient's phone screen before the call is answered. Standard information includes the caller's name, phone number, and even the location the person is calling from. Knowing who is calling you ahead of time will help you plan the most appropriate action before speaking to the caller. It is also useful for blocking spam or anonymous calls.
5. Do Not Disturb (DND)
Do Not Disturb prevents incoming calls from ringing within a predefined time and date. When activated, all incoming calls will proceed to voicemail without letting your phone ring. If your provider offers voicemail greetings for unanswered calls, the DND feature will play the busy greeting.
6. Virtual Phone Numbers
Virtual phone numbers are working telephone numbers that aren't tied to a device or physical location. They vary from local, toll-free, vanity, and international phone numbers. A virtual phone number allows businesses to use the same number across multiple devices and unify a distributed workforce under a single phone number.
eVoice ranks as one of our best virtual phone number providers because it offers all the standard options for virtual numbers, such as local, toll-free, vanity numbers, as well as numbers in international territories. While international numbers cost extra, this feature gives businesses the ability to send calls in foreign markets.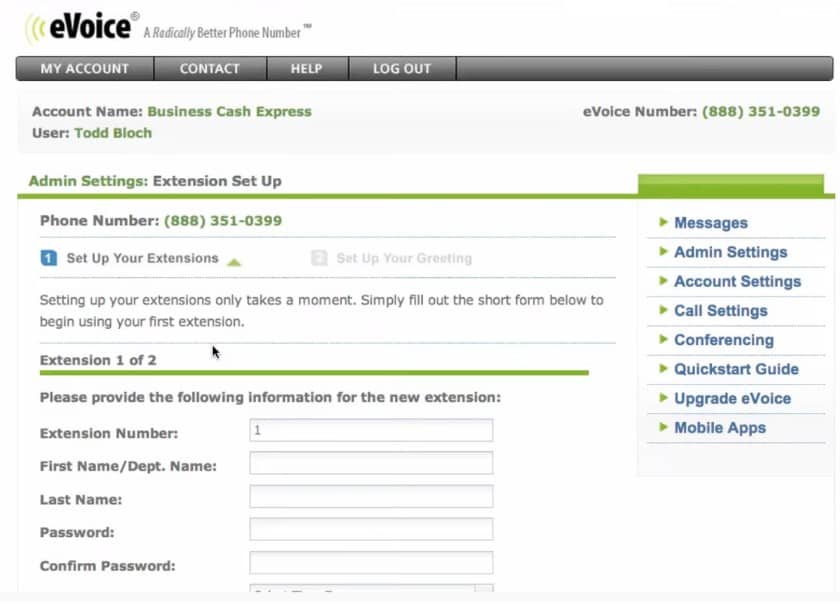 7. Music on Hold
Music on hold is a type of music played to a caller while waiting for an agent to answer their call. Your on-hold music varies from background music, promotional messages, answers to frequently asked questions (FAQ), or product announcements. Using the appropriate hold music enhances your corporate image and leaves a good impression on your customers.
8. Text Messaging
Text messaging is a phone system feature that allows you to send and receive text messages on your business phone. It is a major form of communication method that enables businesses to contact their clients, strengthen brand recognition, and maximize revenues. Instead of calling, this provides customers an option to connect to your business by communicating over text. It is also useful for distributing marketing campaign messages.
Twilio is one of our best text messaging services that offers a custom text messaging solution. It offers programmable messaging and conversation APIs, allowing you to include text capabilities in any program.
9. Voicemail
Voicemail enables callers to leave messages for your business when no one is available to take the call. Advanced voicemail features come with custom greetings and automated transcription that convert audio messages into text. Voicemail makes customers feel that your business is always reachable and ready to take in their requests promptly.
Dialpad is a cloud-based platform that offers a visual voicemail feature for users who don't have time to check in on every call. The visual voicemail transcribes voicemail messages, enabling users to read messages from their voicemail inbox.
Check out our Dialpad review to know if this provider is the right fit for your business.
10. Online Fax
VoIP with fax capability offers faxing functionalities without the need to invest in a physical fax machine. With VoIP, users have the ability to send and receive faxes through their email address or a VoIP-enabled fax machine.
RingCentral is one of our best business phone systems that comes with its own online faxing functionality. It provides users with their own fax number, allowing them to send and receive faxes over the internet. To learn how it works, check out our guide on how to use VoIP fax with RingCentral.
While you're at it, read our RingCentral review to explore its comprehensive VoIP features.
11. Third-party Software Integrations
Most VoIP service providers come with a host of business tools that enhance the feature set of their platform. For example, customer relationship management (CRM) integrations, such as Salesforce and Zendesk, allow you to access customer contact information and dial straight from the phone system dashboard. By offering these types of integrations, businesses experience a more centralized customer operation.
12. Call Forwarding
Call forwarding ensures customer calls will never go unanswered. When enabled, incoming calls are automatically redirected to an alternate number or any internet-ready device. Users also have the option to divert calls to voicemail. In some cases, call forwarding is usually a result of unanswered or busy lines. This VoIP phone system feature offers agents the flexibility to redirect calls to another device and address customer queries wherever they are.
13. Mobile App
VoIP mobile phone apps are critical for businesses with a distributed workforce. By installing a VoIP app, it's easy for employees to communicate with their teams wherever they are and access various business phone features on the go. When choosing a VoIP app for your business, make sure it comes with all the basic VoIP functionalities similar to its desktop version.
Vonage Business Communications is one of our best VoIP apps for iPhone users. The mobile app is fully compatible with Siri, allowing you to use the digital assistant to manage calls. Additionally, the mobile app remains integrated with the full business phone system, so it's easy to call and text even when you're not in the office.
For more information, check out our Vonage Business Communications review to find out if this provider addresses your small business needs.
14. Video Conferencing
Video conferencing is a type of online communication session where two or more participants engage in a real-time audio-visual call. Remote teams who can't meet face-to-face frequently use this feature to facilitate constant dialogue and team collaboration all in real time. Key features include screen sharing, meeting recording, and file transfer. Video conferencing is extremely useful in product demos, live presentations, webinars, and online interviews.
GoTo Connect is a VoIP business phone system that supports video conferencing. It allows users to host video meetings with up to 250 participants and a 40-minute unlimited meeting duration. It also comes with team collaboration tools, such as drawing tools, screen sharing, and keyboard and mouse controls.
However, it's important to note that your internet connection plays a significant role in the quality of your conference calls. We recommend reading our VoIP speed test article to measure your network capability and determine if you have the best internet speed for VoIP.
Visit our GoTo Connect review to learn more about its feature sets.
15. Call Transfer
Call transfer is a method of transferring an incoming caller to another agent after speaking to the caller. This happens when the attending agent realizes another agent is more qualified to handle the query better. This feature helps customers reach the most appropriate agent without going back to the main menu.
Call transfer occurs in two ways: cold transfer and warm transfer. Cold transfer happens when an agent directly transfers the call to another agent without speaking to the agent first. Meanwhile, a warm transfer occurs when the agent puts the caller on hold to brief another agent about the issue. After giving the agent enough context, the agent transfers the call to them.
16. Call Analytics
Call analytics refers to collecting, analyzing, and storing real-time data from phone calls, enabling businesses to understand the customer experience and evaluate team performance. Typically, call analytics data produces valuable insights, which are taken from key performance indicators (KPI) such as caller ID information, hold time duration, and relevant keywords.
Ooma is one of the best small business VoIP services that offers call analytics functionality. It allows users to visualize calling metrics for their accounts, including call volume trends, call distribution, time period, and call metrics by hour of the day.
Learn more about what Ooma has to offer by checking out our Ooma review.
17. Call Queuing
Call queuing is the process of automatically lining up incoming calls in a call queue when all operators are busy attending to other calls. The caller has to wait to speak to the next available agent who is able to handle their concern while they wait in a queue. When a business handles a high volume of calls, call queuing will organize calls to reduce wait time and the number of abandoned calls.
18. Hotdesking
Hotdesking allows employees to log in to any device while still having access to their profile, contacts, voicemail, and other business phone features of their own extension. This makes it possible for teams to share the same phone device with the ability to use their own extension number. This feature is ideal for businesses that lack additional office space or those that have field agents.
19. Call Monitoring
Call monitoring is the ability to listen to a call between an agent and a caller. This method allows managers to make informed decisions based on quality assurance, agent efficiency, and sales strategies. Monitoring also enables management to listen in or provide assistance on phone interactions to ensure agents are following the best practices in responding to customer queries.
8×8 is a unified communications platform that offers a call monitoring feature. Its call monitoring capabilities include the whisper feature, which allows managers to speak to the employee without letting the caller know.
Check out our 8×8 review to learn more about its advanced call management tools.
20. Call Parking
Call parking is the method of putting an active call on hold in the cloud until someone in the team is ready to take the call from a different phone. It is like moving a call in a waiting room, where anyone who has access to the parked call has the ability to pick it up. This feature is typically used in companies with shared calling responsibilities or those managing a large customer service operation.
Bottom Line
VoIP phone system features consist of a wide range of technologies that enable businesses to stay connected and streamline customer interactions. They are powerful business tools when it comes to offering cost-efficiency, enhanced workflow, and greater flexibility in managing calls and team collaboration. Whether it's an auto-attendant, call analytics, or video conferencing, these VoIP phone features empower your teams to work productively from anywhere.