Email signatures rarely get the respect they deserve. For many of us, it's an afterthought. However, your email signature is a powerful marketing tool that can reveal more about your brand and products or services. You can use it to ask for referrals, advertise an upcoming event, or even showcase testimonials. Your email signature is more than just a name and job title!
Are you receiving several emails a day that you need to follow up with? Stay on top of your business relationships by using a CRM like Insightly, which is completely free. Click here to check it out.
Below, we're sharing actual email signature examples from small business professionals across the globe, along with our favorite takeaway tips. You'll definitely find inspiration in the following creative email signatures. A big thank you to everyone who shared their email signatures with us!
Ready for 25 Real Business Email Signatures?
Takeaway: Link to the product you'd like to sell.


Previously, it included my name, email address and phone no. However, that did not generate any calls or emails. I read an article or book chapter about how your email signature should work for you. When we finally created a tagline for the business, I later added it to my email signature. After my book was published, I added a link to the Amazon page to my signature. (And yes. People have told me they clicked on the email link and purchased the book!) I have not yet directly associated Facebook signups and Twitter followers with my email signature. However, I know that consistent branding and messaging across platforms, including social media, is important and that my email signature supports this.
---
Takeaway: Vary your font size and color to create visual interest.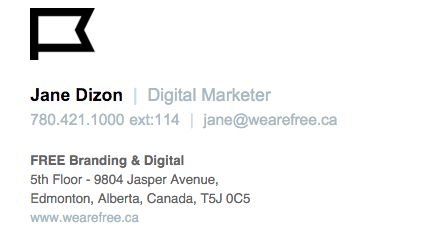 Before, our company signature was just name, position, company name, and url. Since rebranding, we saw this as an opportunity to gain exposure (for free!). We've included contact details to establish call-to-actions as well. It's simple yet professional.
---
Takeaway: Share who you are.
I have struggled with mental health challenges for my entire life. I've been featured on ABC News, CBS News, and have given a TEDx talk on mental health.
I decided to embed my TEDx talk and a quote from a client into my email signature to encourage referrals from people I correspond with regularly. It's work!
---
Takeaway: Keep it clean and sophisticated.
Shannon K. Steffen, Founder & CMO, Daymark Digital

If you're in business, then you have to have a great email signature. The problem is that too many professionals either have too little or too much information in the signature, which can lead to lack of interest or too many points of contact.
An email signature is part of your marketing funnel and a successful signature takes into account the technology of the recipient, critical information, and conversion strategies.
Having been in the technology field for over 20 years, I've seen too many mistakes with signatures.
1) The inclusion of super-sized images. A majority of people are reading your email on their mobile devices. Oversized images contort the email display and make it almost impossible to read the text of the email without having to zoom-in.
2) Too much information. Your most important information should be included and never include contact information that you don't like. For example, too many people hate phone calls and still put their phone number in the signature.
3) Forgetting about the person behind the business. People don't want a billboard at the bottom of your email, they want to know more about you. Give them something to remember like a professional quote or even a heads up on an award you won.
To increase my business, I recently added my personal brand website address to my signature – as well as my business website. By doing so, people have an opportunity to get to know me. I've also removed all my social media links because my websites have all those links already. All potential clients have to do is follow either link to get the information they need to further our relationship online.
---
Takeaway: Add a pop of color.
Claire Coder, Founder and CEO, Aunt Flow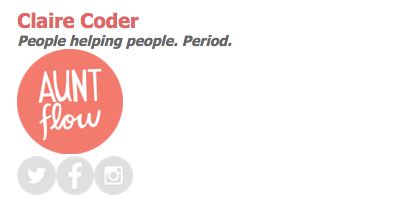 Previously, I kept it simple black and white. I then thought, Why? I want to stick in someone's mind, and what better than a sprinkle of color and a dot of change.
---
Takeaway: Include an interesting job title that makes your email recipient double take.
Lex Barber, Marketing Khaleesi, Liftshare

I don't have a particularly unusual e-mail signature, but wanted to write as mine gains a lot of comments regardless – because of my job title! It's a great ice-breaker, and I receive at least one response e-mail a day referring to it. I'm yet to have a negative comment 🙂 I work for a start-up and my Manager when I joined was keen for me to pick me own job title (within reason of course). This one has definitely been a success!
---
Takeaway: Use an eye-pleasing color palette.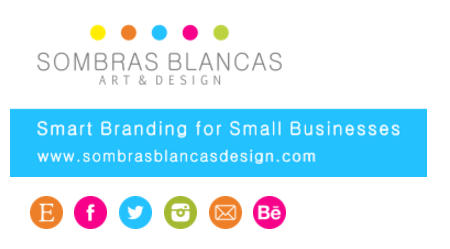 Being a graphic designer myself I think it is very important for me to have a great signature as part of my brand. My previous one was a bit more crowded with a lot of text that wasn't really adding any interest. I think a good idea to include all the necessary info without saturating that small space is by using icons like the ones you can see on my current design. It helps focusing the attention on my logo and tagline but the other links are still present.
---
Takeaway: Use simple but bold graphics to draw attention.

See for yourself.
---
Takeaway: Include a sign up to your email newsletter.

What I changed from the last signature were the following: 1) Added my free reports and sign up; 2) removed Skype info. 3) Added time zone.  With this new signature, I'm able to have anyone I email download my valuable reports – plus sign up for my weekly newsletters.
---
Takeaway: Add a tag line to your email signature.
K.B. Lee, Founder & CEO, Ever Bamboo

For my current email signature, I added a tag line of one of our products "Stinky Shoes? Ever Bamboo!" and 3 more lines at the bottom for Snapchat, newsletter signup and Medium"
The tag line is interesting which adds more personality.
Snapchat is getting more popular especially for the younger generation.
EB Newsletter is our tool for ongoing engagement via email.
Medium is my entrepreneurial blog. For those who want to follow my personal entrepreneurial journey, they could follow there.
---
Takeaway: Add social proof (testimonials) to your email signature.

I LOVE using my email signature to promote whatever I have going on at the time.  It's so easy, and so powerful, but easily overlooked as we deal with other things.
I always like to use social proof in the signature as well, demonstrating how delighted others have been with my services.
---
Takeaway: Use red text to make your message stand out.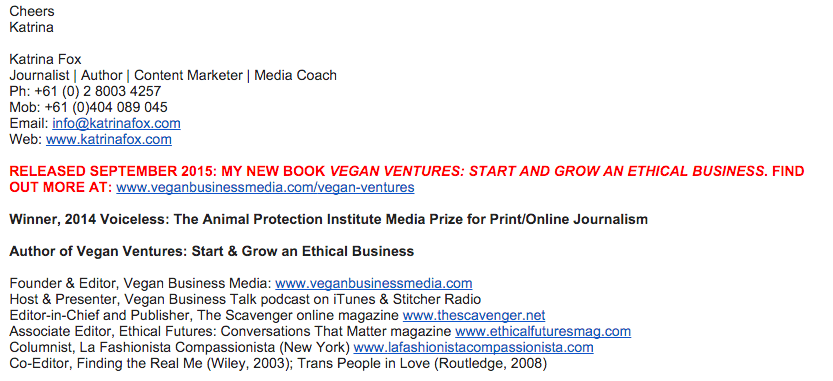 I added in red and bold details of my book after it was published, including a link. I also included the blog I edit and recently the new podcast I started, as well as column in a New York digital ethical fashion magazine and a line about an award I won. I did all this to make clear my focus and speciality in vegan business, as well as to add authority and credibility to my profile. I also added in social media icons at the bottom which are hotlinked, so people can look me up on different platforms and follow or connect with me.
---
Takeaway: Go bold or go home.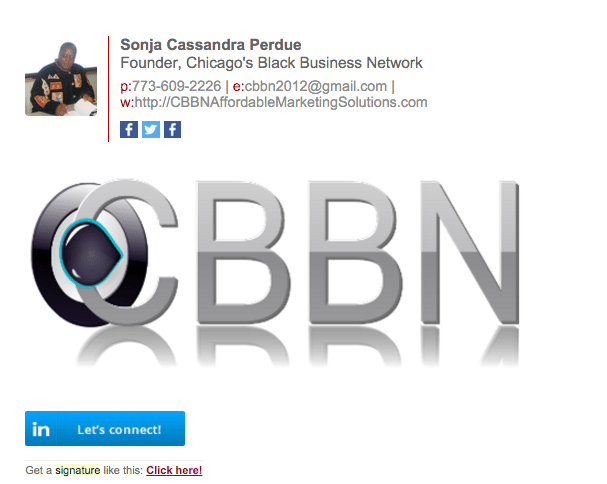 Well, believe it or not, I just changed it today because it was linked to another page that was expressing my business in the way that I wanted.  Truth?  It was truly tacky and I knew I could do better.
---
Takeaway: Share all the places you can be found online.

I changed it as I started targeting my business. I went from being an actress with a one-woman show to a survivor with a dynamic mental health and sexual assault prevention program for colleges. I wanted the signature to reflect that.
---
Takeaway: Don't be shy– Ask for referrals.

Last quarter I added the statement at the bottom saying, "Your Referrals are Greatly Appreciated!!!"  It works..  I've already received several referrals from existing customers that have turned into new business.
---
Takeaway: Model your email signature after a business card.
Kent Santin, Co-Founder, Kent & Bond

I think the signature I use is very clean and concise. As a relatively new company, it gives my emails instant/additional credibility as the recipient sees a nice clean polished brand at the bottom of each email. In addition, it has all my necessary contact information and my companies' social media profiles.
---
Takeaway: Ask people to share your content.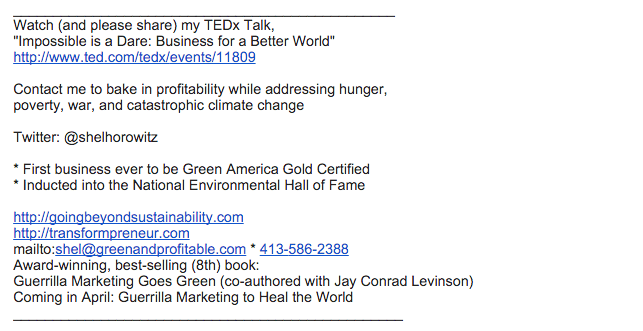 I use several different sigs depending on who I'm talking to (something I started around 1995). the one below is the default. I like this one because it includes my TED talk, my environmental honors, three of my websites, and a quick statement of what I can offer to consulting clients. Normally, when writing to journalists, I use one that includes some of the places that have covered me, my Wikipedia page, and some talking points. Once my newest book, Guerrilla Marketing to Heal the World, is out, I'll update this sig.
The previous version (not too much different) is enclosed as a screen shot. The biggest difference is that I shifted the mix of URLs to include my brand new site, Transformpeneur–about how business can profit by changing the world.
---
Takeaway: Show yourself.
Jennifer Buchholz, Chief Transformation Officer, Transform via Travel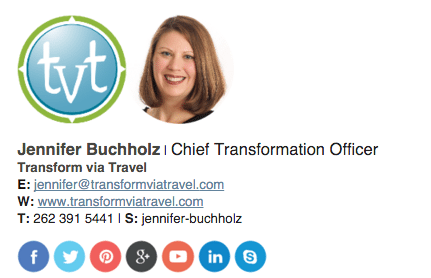 I saw a gig on www.fiverr.com from https://www.fiverr.com/nikolakei
It looked great and was truly just $5 (whereas others advertised $5 and really charged $40).
I changed to make my sig look more professional, incorporate my brand and include all my social media links.
I shared this with many of the women in my network and they got similar work done.
---
Takeaway: Use your brand colors for a sense of cohesion.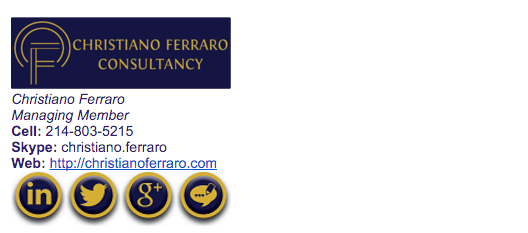 I changed all my social icons at the bottom from my last signature. The intent in the change was to make sure I communicated a synergistic brand my associating the same color combinations to my name as my logo.
Navy blue – business psychology associates this color with trust, loyalty and integrity.
Gold – business psychology associates this color with value, quality and wisdom.
The values remain synonymous to my offering as a management consultant. Communicating them subtly yet visually reinforces that message.
---
Takeaway: Include a special award or honor.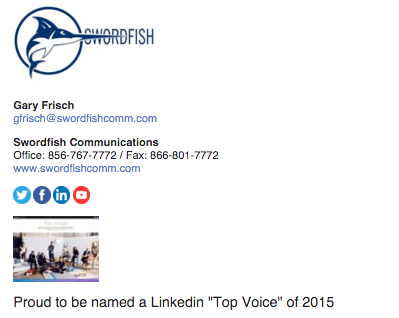 I recently created a GREAT e-mail signature, and now do them for others as well.  My signature has always included my PR agency's logo and my tagline ("We give your business the edge.")  But awhile back I added four social media icon-links, and a logo for a new service I began offering in 2014.
In December, I was named one of Linkedin's Top Voices of 2015, so I went back and I updated my signature with an image of the Top Voices homepage and link to the list, and the phrase "Proud to be named a Linkedin Top Voice of 2015," replacing my tag line. I was quite proud of this honor (there were just 90 of us from the entire LI community), and I think it speaks to my ability to write compelling though-leadership content for my clients.
I fully believe that your signature box is a great piece of real estate to market your business, and once created, you don't have to give it any thought because your key marketing message(s) will attach automatically to every e-mail you send.  Anyone who isn't fully exploiting this space has rocks in their head.
---
Takeaway: Add an easily digestible blurb about your company to your signature.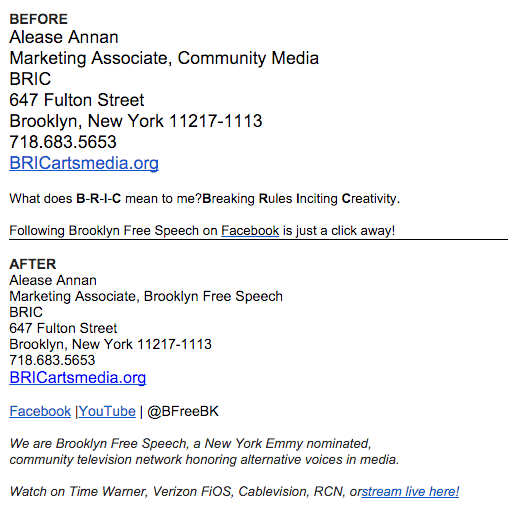 My current email signature is below. I changed my last email signature for a few reasons. I wanted to make it clearer to folks that we were a television station so I figured a short explainer would help. We changed our Facebook URL and wanted to ensure that people would be able to find us on social media. We were recently nominated for four New York Emmys and wanted to ensure that everyone I emailed, knew about it.
---
Takeaway: Add a link to your schedule.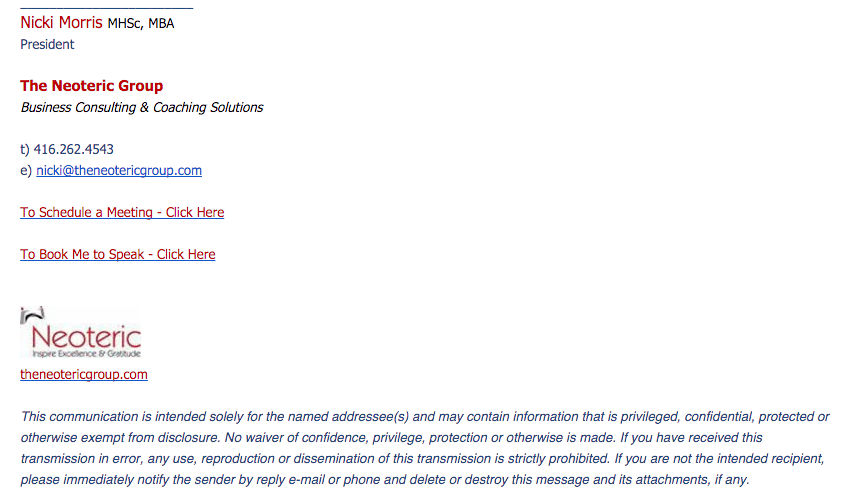 I love my email signature.  I recently updated it to include my logo and also a link to my calendar scheduling application so my clients and prospects can access my calendar and schedule time to meet with me.
---
Takeaway: Consider removing your phone number and routing inquiries to your email.
I've changed it from a previous version—it used to have my cell number but as an editor I was getting overwhelmed with query calls, so now I just use the linked company name, address and logo, and people can reach me via email.
---
Takeaway: Keep your contact details on one line for a clean look.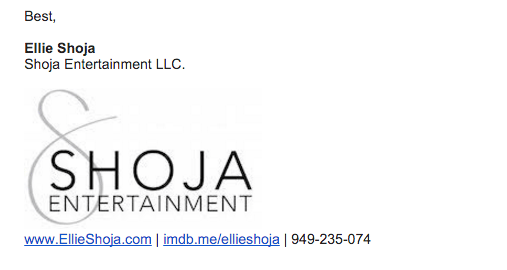 What I like about my signature is its simplicity and professional feel. In my last signature update, I moved my links to one line, and separated them with vertical lines. This small change gives the signature a clean and crisp look, and allows my logo to shine.
---
Over To You
What's in your signature? Do you use images, color, interesting fonts, etc. to grab attention? Let us know in the comments below!
Don't forget to check out Insightly, a free CRM software, to cultivate your business relationships. Click here to learn more.