14 Effective Marketing Materials for Small Businesses (Print & Digital)
Digital marketing materials like your website, email newsletters, and social media profiles are important, but print marketing materials still have a role in brand building. Traditional tools like business cards, flyers, postcards, and catalogs are all still highly effective marketing collateral. This is why it is best to use a combination of both print and digital marketing materials when building your brand presence to ensure your business remains top of mind with prospects.
The 14 marketing or promotional materials you can use to build the most effective in-person or online brand presence include:
1. A Business Website
Best for: Every small business wanting to build a hub for its promotional tactics
When you build a small business website to represent your brand online, you have a valuable marketing asset that works to promote your small business 24/7/365. As such, you can make it the hub for all of your advertising and marketing campaigns. For example, including quick response (QR codes) on your business card or a postcard mailer can bring the recipient directly to a specific landing page, online store, or your appointment booking software.
Your website should look professional, be easy to navigate, and be optimized for search engines. The best website builders for small businesses, like Squarespace and Wix, make it easy for you to build a site quickly that looks professional, have the features and tools you need to customize your site, and have search engine optimization (SEO) tools to ensure your site can be found online.
If you lack the time or expertise to build your own site, there are other options. You can hire an affordable web designer on Fiverr for around $100 to $300 or outsource to a digital marketing agency like Hibu. Learn more about the pros and cons of building your own site or outsourcing the work in our write-up of the costs to build a small business website.
2. A Google Business Profile
Best for: Increasing your website's online search rankings and boosting your site's search engine optimization (SEO)
Creating and managing a Google Business Profile is a must for every small business, and is critically important for businesses that rely on local foot traffic. For one thing, it provides more ways for customers to discover your business online. Google Business Profiles are often displayed alongside organic search results, and it's the means by which local businesses can get into Google Map listings.
It's also a contributing ranking factor to help your website rank higher in Google search, especially as you are able to get positive reviews on your profile. Additionally, you can add photos, videos, and information to your profile to make it more search- and user-friendly. Best of all, creating and maintaining your listing is totally free.
Online directory listings in Google, Bing, and other directories can benefit your website's SEO significantly. Learn which are the best business directories to list in online to help your site move up in rankings.
3. Email Newsletters
Best for: Increasing sales, building customer loyalty, and nurturing prospects over time
Year in and year out, email marketing provides some of the best returns on marketing investments. The Litmus 2021 State of Email report revealed that email marketing is the most effective marketing tactic overall, with 79% of marketers listing it in their top three most important tools. The top types of emails used include newsletters, welcome emails, product-focused sales or promotions, and events, in that order.
In terms of effective marketing materials, email newsletters provide both short- and long-term benefits. For example, you can send email blasts to let your audience know of a special offer or time-limited sale, but you can also use them to keep your brand top of mind and build relationships with prospects long term.
One of the leading small business email marketing software providers, Mailchimp, offers a free plan you can use until your list hits 2,000 contacts. The platform is very easy to use, you'll have premade templates and layouts to work with, and even on the free plan you'll have features to help you get the most out of your campaigns, such as analytics and advice on best practices.
4. Social Profiles
Best for: Increasing brand awareness, online engagement, driving website traffic, and access to paid social
Most business owners realize that being present and active on social media is a must, whether it's on Facebook, Twitter, or Instagram. But many don't fully understand how to use social media marketing as a potent tool for growing a business. For example, Google recommends that your website have links to your social profiles, and the additional traffic you can generate from social media can also positively affect your rankings in online search.
With social media profiles, your business can communicate its brand identity to a broader audience. Social profiles also provide another avenue for promoting your products and services. Plus, you'll need social business pages to access paid social advertising platforms, which can be very effective tools for driving website traffic, brand awareness, and sales.
5. Business Cards
Best for: Staying top of mind following in-person sales calls and networking engagements
Business cards are a printed, visual representation of your brand. While small, they can help to promote your business, provide contact information for future engagement, and make a good impression on potential clients in a big way. Distribute them at networking events, meetings, and other business-related functions, include them in direct mailers, and have a plan for follow-up.
You can create stylish business card designs online on platforms like VistaCreate, which you can use for free or at a low cost for full graphic and template access. Your cards should include your company name, logo, contact information, website URL, and your title, role, or department. When your design is ready, head over to budget-friendly VistaPrint to have them printed, or another provider on our list of the best places to print business cards.
Examples of Business Cards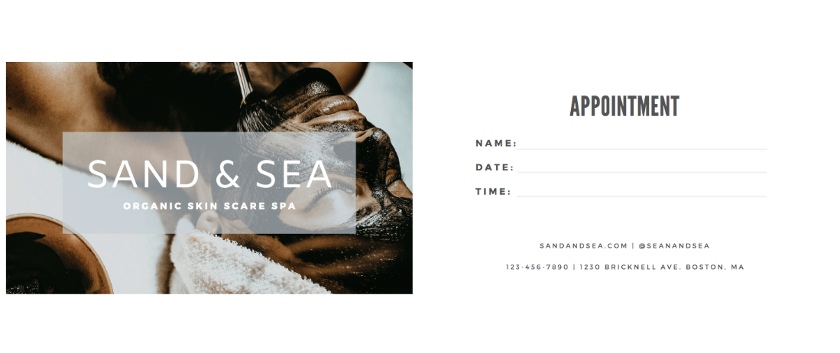 ---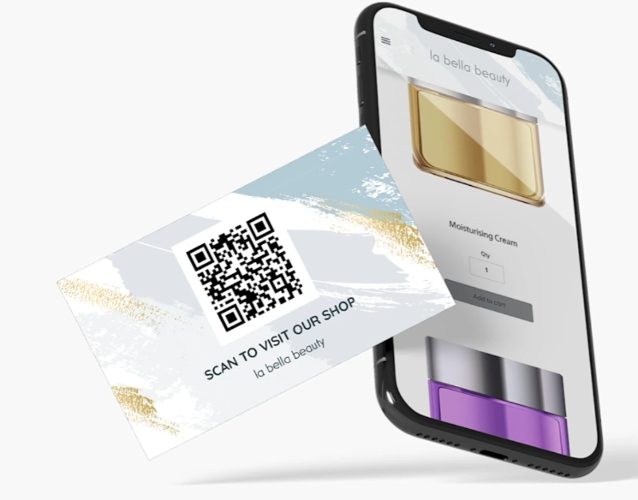 ---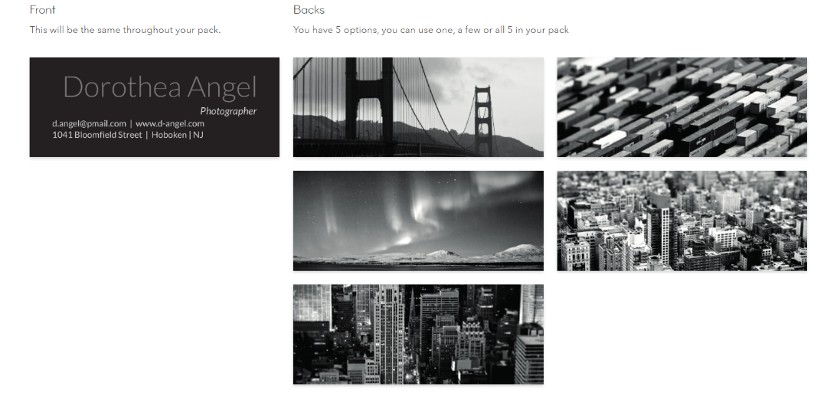 ---
6. Postcards
Best for: Reaching new customers through traditional direct mail to generate brand awareness and sales
Postcards allow you to easily share a marketing message because they can be read at a glance. Businesses can use postcards in countless ways, from promoting sales and special offers to reaching out to lapsed customers or introducing a new business, product, or service. For example, postcards are among the most commonly used real estate marketing materials agents rely on to showcase their services or bring attention to a listing or open house.
Direct mail postcard campaigns are generally affordable, and can be targeted based on specific demographics or sent broadly within a county, city, or ZIP code. Check out our collection of the best business postcards for more inspiration, then get your design set up and printed by VistaPrint or another of the best direct mail services.
Examples of Direct Mail Postcards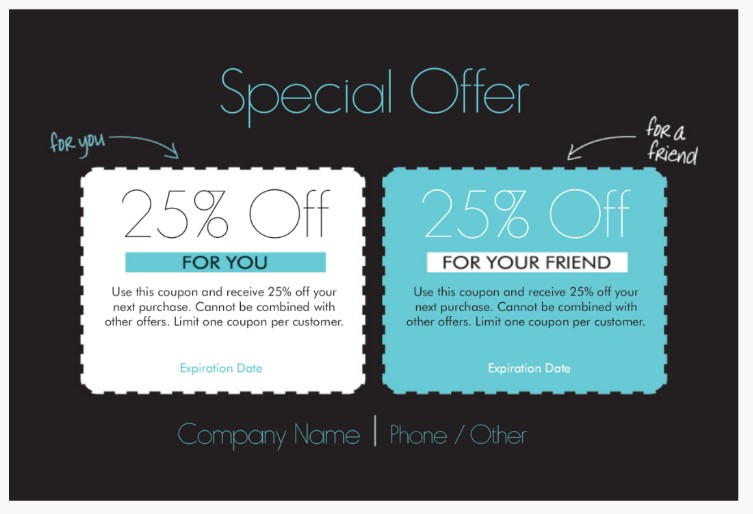 ---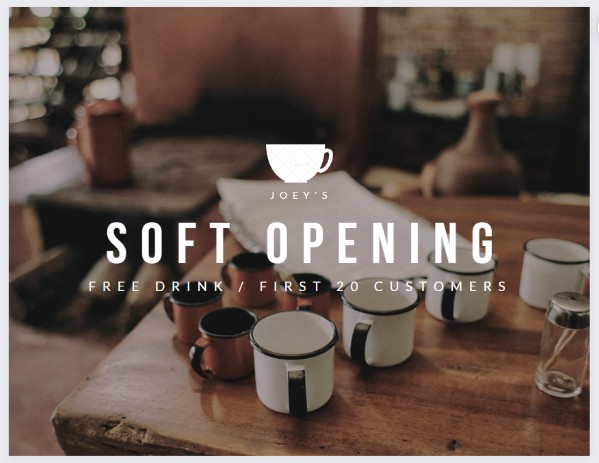 ---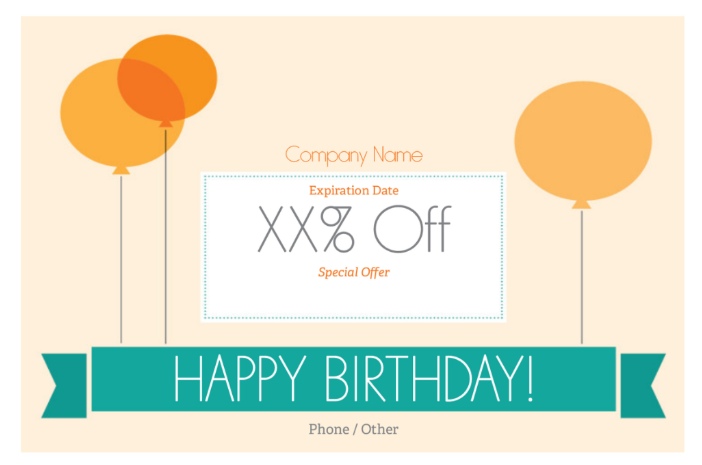 ---
7. Flyers
Best for: Increasing brand awareness, providing product and service education, and generating sales
Flyers can be a good way for businesses to promote upcoming events and timely news. It's one of the most versatile marketing materials in that there is ample space to provide information (unlike business cards and small postcards), and they are frequently used for both direct-to-consumer and business-to-business (B2B) purposes.
Flyers are frequently used to showcase individual products, services, or events, such as classes or open houses. Restaurants often use flyers as menus, especially in the pandemic era where disposable menus can be preferable to re-usable menus that must be disinfected after each use.
Flyers are also used to feature bundled offers that are available to customers, such as a manufacturer's introductory bundle of retail products for a salon. Realtors commonly use flyers to showcase properties that are for sale.
When deciding whether flyers are right for your business, consider how you will distribute them. For example, will the flyer be handed out on the streets, posted on public bulletin boards, or left at checkout for recent customers? For more ideas, check out these 20 business flyer templates you can use to showcase your next event or promote your services.
Examples of Flyers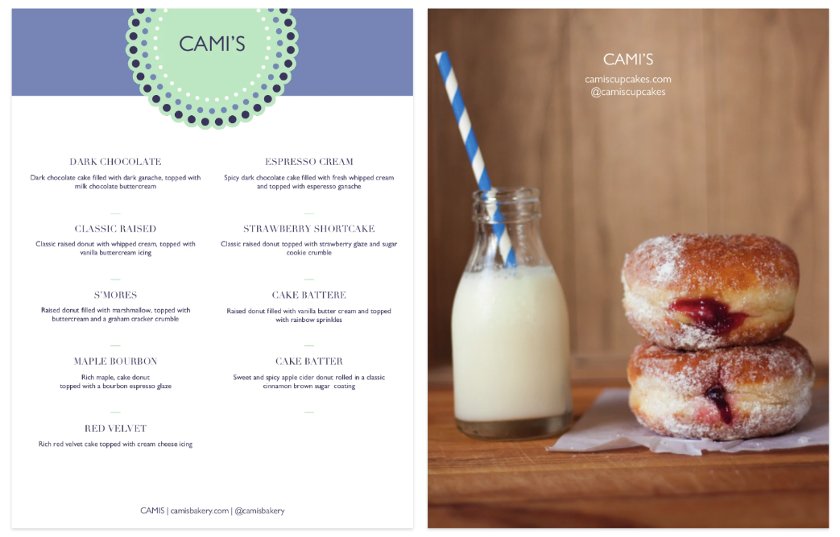 ---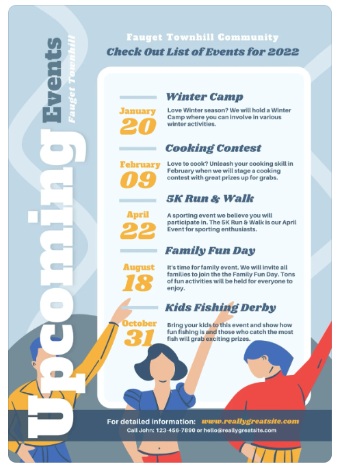 ---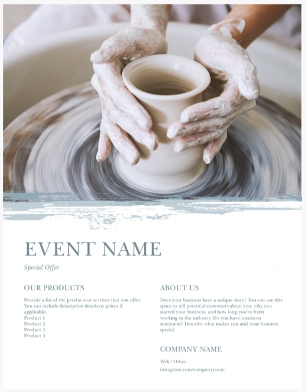 ---
8. Brochures to Present Your Brand or Menu
Best for: Showcasing a brand or menu in greater detail long after the initial sales call or initial visit
Brochures are also among the most versatile marketing materials for providing information about your business in general or to showcase product or service menus. They can be sent via direct mail, displayed inside your business, distributed at the point of sale, handed out at networking events or trade shows, placed in display signage, and more. Check out these brochure examples for inspiration.
Plus, they're effective marketing materials for a number of different types of businesses. For example, businesses wanting to attract tourists or travelers will leave them at local hotels or tourism centers. Salons and spas often use them to showcase their service menus, while caterers might create brochures to promote various catering options or packages. Find out how to create a brochure and get more great business brochure design ideas.
Examples of Business Marketing Brochures

---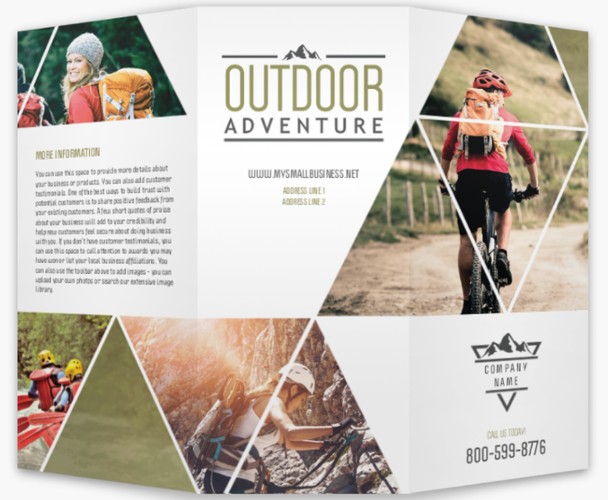 ---

---
9. Door Hangers
Best for: Local businesses looking to increase brand awareness and drive sales
Door hangers are geotargeting marketing tools designed to be left on a doorknob. They are effective marketing materials for local businesses offering residential services, such as landscaping, dog walking, pet-sitting, home delivery services, and so on. For example, a lawn care company may leave door hangers at homes that evidently need their lawn mowed, or painting business that see a house is in need of a fresh coat of paint.
Door hangers can be used broadly, distributed to every one within an area, or specifically based on an observed need (e.g., lawn care or house painting). With VistaPrint, you can choose from various sizes, shapes, and designs, all of which can be customized with your photos, logo, and text and then printed for as little as $64 for 100.
Examples of Door Hangers for Local Marketing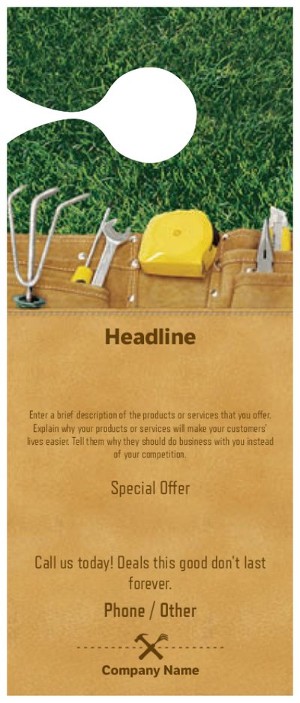 ---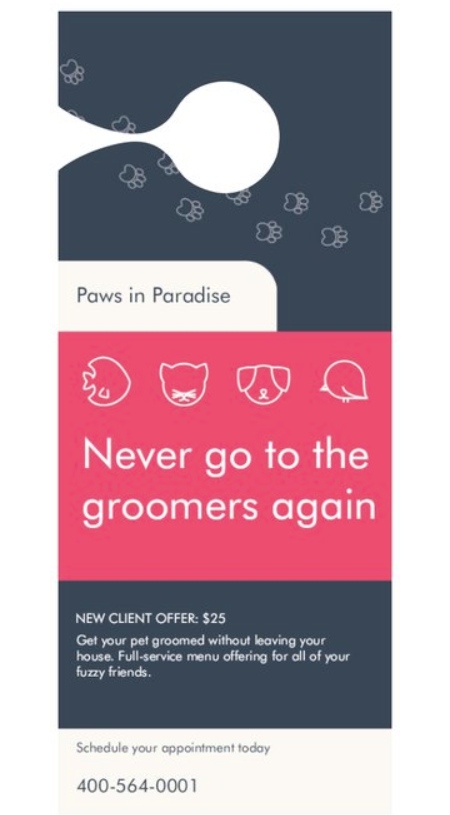 ---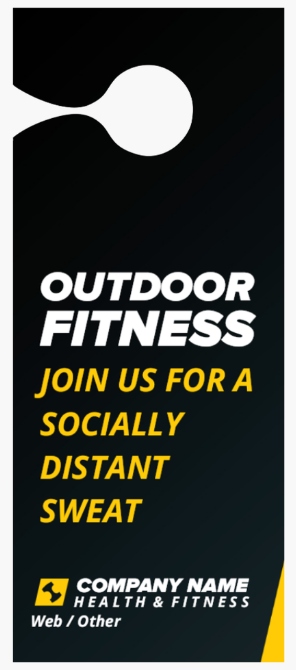 ---
10. Booklets & Catalogs
Best for: Showcasing a library of products or an extended overview of a brand or its services
Booklets are powerful marketing collateral for expensive products or services, multiproduct catalogs, brand magazines, and extensive offerings, such as educational programs. They're more expensive than some other types of print collateral, so they are best for goods or services that involve a high amount of consideration from consumers. Compare the cost of printing brochures and booklets in our list of the best direct mail services.
Unlike some of the other printed collateral listed above, booklets cover a wide range of usage (e.g., presentations, catalogs, magazines, corporate brochures, and so on). For this reason, there simply aren't as many premade templates to work with on sites like Canva and VistaPrint as for other types of marketing collateral.
However, there are hundreds of templates for booklets available on Envato Elements, as well as images, fonts, and other elements you may need to customize your booklet. With a month-to-month $16.50 subscription, you get unlimited downloads of anything on the platform, making it a great resource for creating any kind of print or digital marketing materials you need.
Examples of Booklets & Catalogs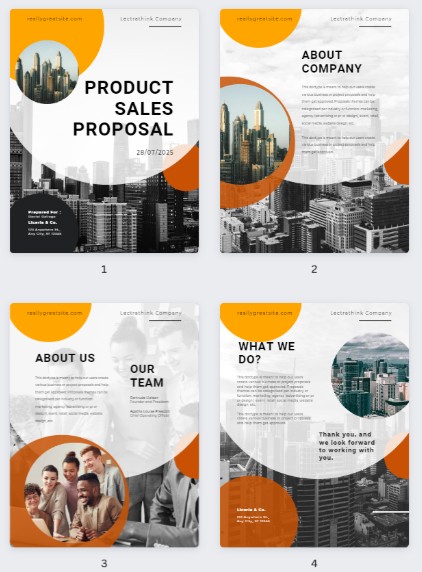 ---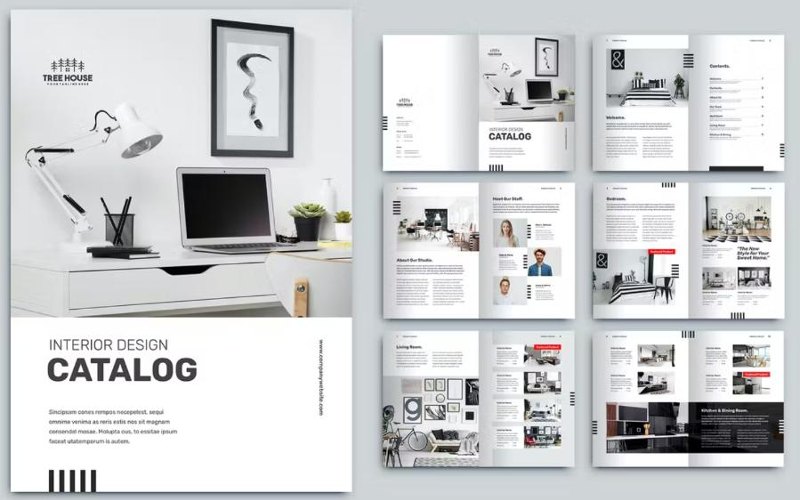 ---
11. Presentation Folders
Best for: Storing and consolidating other marketing collateral for your client's easy reference
Presentation folders give businesses a nice way to professionally present information and documents. In addition, because they are card stock, they help to protect other marketing collateral so it holds up over time. Folders make your brand look more credible to external and internal stakeholders. For example, while you can use presentation folders for client presentations and proposals, they can also be used to house new hire welcome materials.
Cohesive branding across all of your marketing collateral is important for building a strong brand presence. Sites like VistaPrint have templates with the same design elements for different types of materials (business cards, brochures, and presentation folders), which makes it easy to keep your branding cohesive.
Alternatively, you can get a completely custom, cohesive suite of marketing collateral by hiring a freelance designer at Fiverr to create multiple templates for your business to use. Similarly, you can get multiple branding kit proposals by running a contest on 99designs to find the exact graphic designer you want to work with.
Examples of Presentation Folders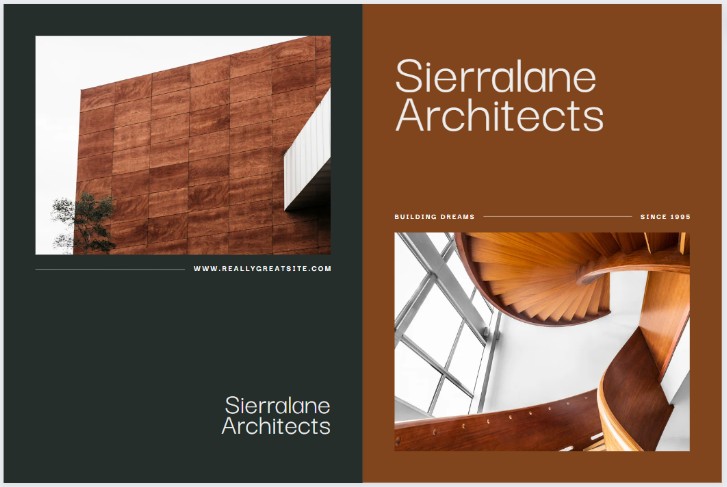 ---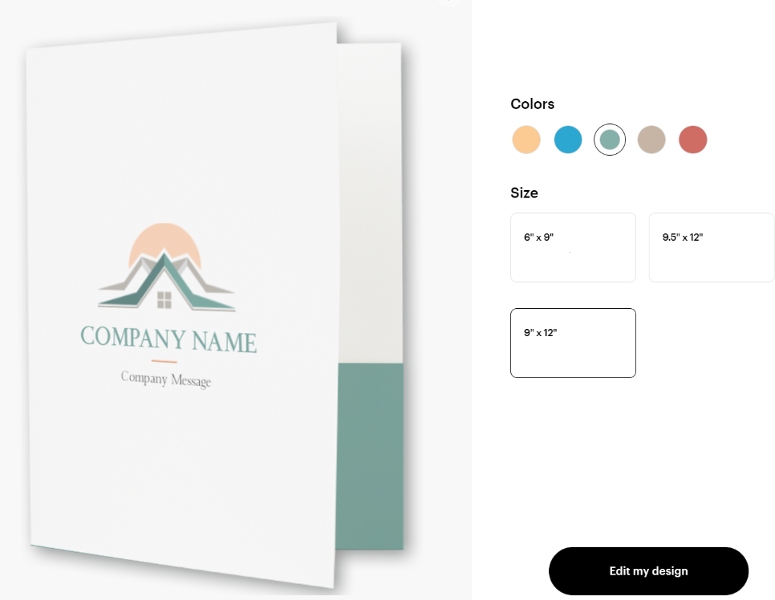 ---
12. Banners & Signage to Draw Attention
Best for: Drawing attention to a storefront, which builds brand awareness, sales, and referrals
Business banners and signs are effective at putting the spotlight on something particular, such as upcoming event, the daily specials, or a new product or sale item. Banners and business signs can be used in a number of ways, from promoting a new service to existing customers using a banner in your store or attracting new ones with public signage.
You'll find a great selection of indoor and outdoor printed sign products at VistaPrint. However, unlike most of the other marketing collateral covered here, when it comes to signage, you have both print and digital options with signs. For example, Raydiant is a great place to start if you want to explore using digital signs in your business or as part of your window displays.
Examples of Banners & Signage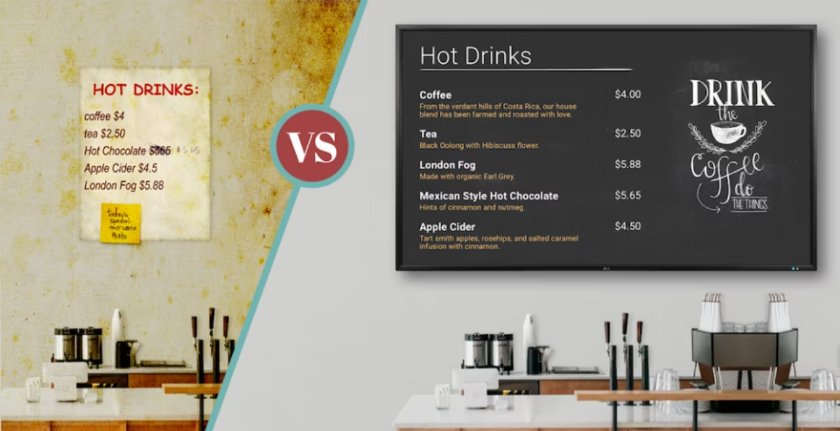 ---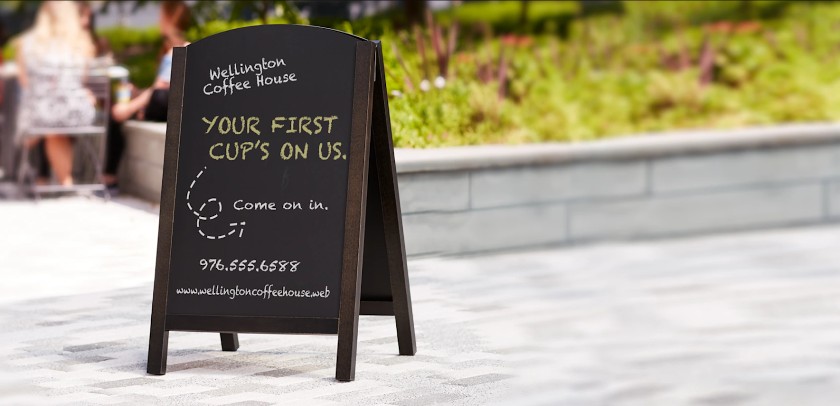 ---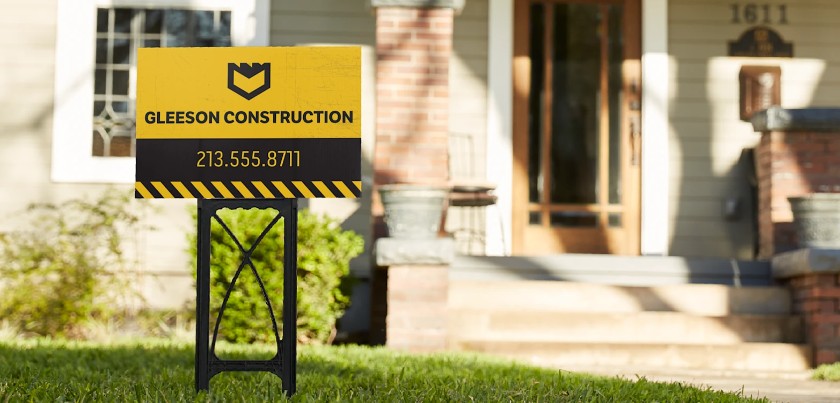 ---
13. Stickers
Best for: A variety of purposes, such as branding, marketing, advertising, and promotions
Stickers are among the most affordable and versatile marketing tools for small businesses, but one that's often overlooked. They can be used in a variety of ways, from promotional items that are distributed to customers for free to easily customizable packaging.
Stickers can be placed just about anywhere. Put them on products, in store windows, or anywhere people will see them. AnyPromo and VistaPrint are the best places to buy custom stickers to set your packaging and products apart, especially if you want to start with lower quantities.
Examples of Stickers Used as Marketing Materials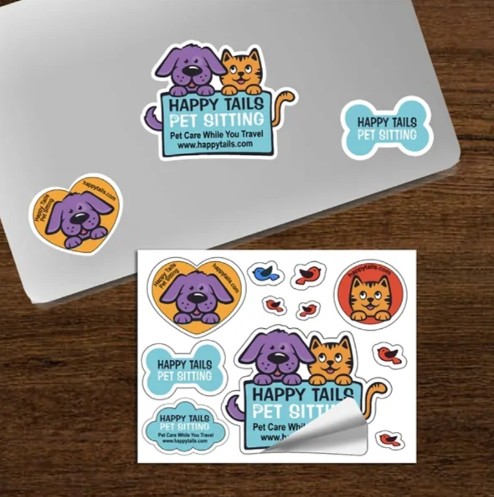 ---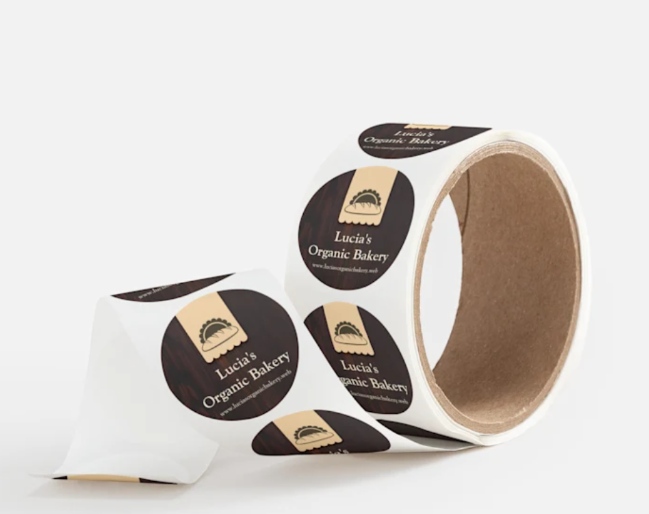 ---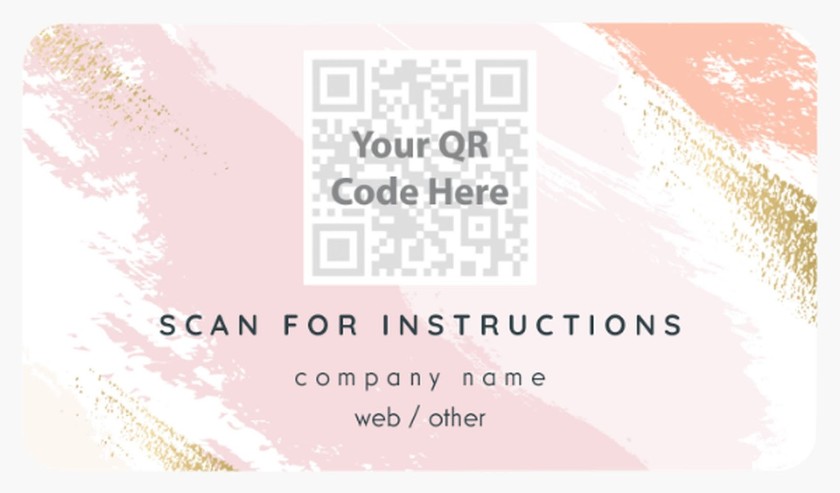 ---
14. Branded Apparel
Best for: Increasing brand awareness and word of mouth marketing
Branded apparel is a great marketing tool that can be used in various ways. It's perfect for employee clothing and is often distributed to celebrate business milestones, holiday gifts, company events, or for general brand awareness. Branded apparel can also make a great thank-you gift for loyal customers or your vendors and suppliers, and when they wear it out in public, they are effectively endorsing your brand, creating word-of-mouth marketing.
AnyPromo is a great place to design and print a wide variety of branded apparel. In addition, there are many other products you can add your logo to, such as bags, pens, and other products you may want for everyday operations as well as special occasions. VistaPrint also has a wide range of promo items you can add your branding to.
Examples of Branded Apparel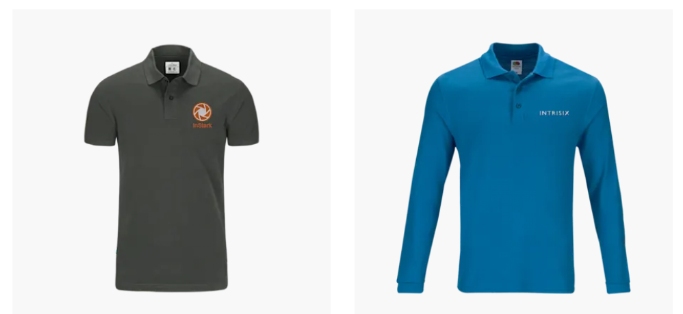 ---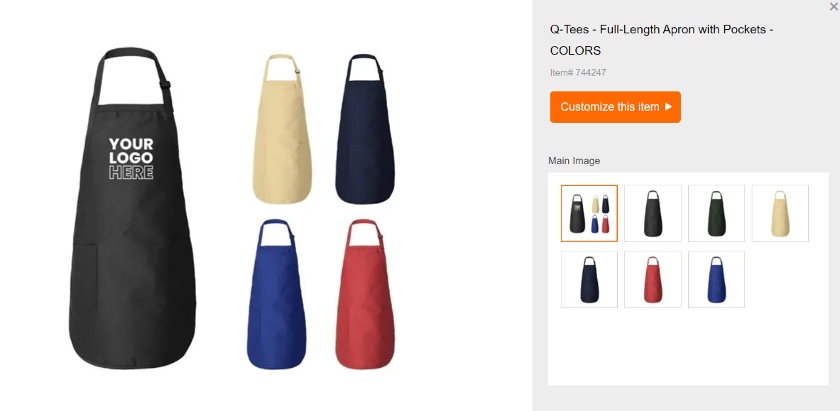 ---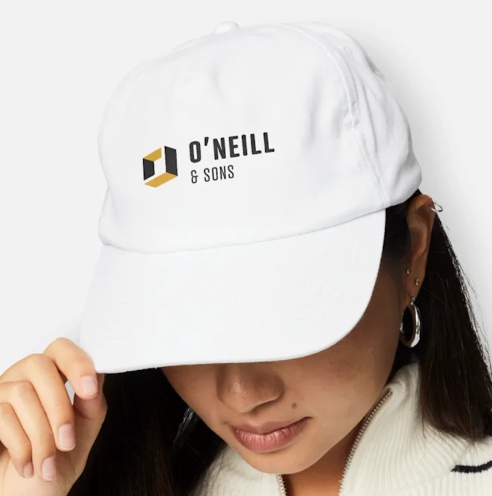 ---
How to Create Effective Marketing Materials on a Budget
Creating effective marketing materials doesn't have to be expensive. There are many ways to make high-quality marketing materials affordably, even on a small budget. Here are some ways to kick-start the design of your brand's marketing collateral:
Best Places to Design Digital Marketing Collateral
Digital marketing materials are an essential part of any small business marketing strategy. Fortunately, many great resources are available to help you create effective marketing materials for use online.
Best Places to Design Print Marketing Collateral
Create brochures, flyers, postcards, and other traditional marketing materials using these tools and providers through their customizable templates ready for printing. You can also hire a freelance graphic designer to do the work and have a true-to-brand design.
Frequently Asked Questions (FAQs)
How do you develop marketing materials?
If you have some design know-how and software, you can develop your own marketing materials. However, this might not be optimal for your small business as it's easy to end up with a hodge-podge of materials. Whether you design your own marketing collateral or work with a professional, start by developing a brand kit or brand identity brief so that each new marketing piece produced is cohesive with your overall brand and goals.
What marketing materials are essential for small businesses?
Marketing materials are any tools you use to reach your target audience and promote your business. The marketing collateral most commonly used by small businesses include a website, email marketing, social media, a Google Business Profile, and a range of print marketing materials such as business cards, brochures, direct mail postcards, and branded apparel or promotional items.
How can I promote my small business?
Marketing materials alone won't work to promote your business. For example, after you build your website, you'll need to employ website marketing strategies to attract site visitors and produce conversions. To promote your small business effectively, first make a small business website that is optimized for online search. Then use your site as the hub for promotional tactics like email marketing, advertising on Google, and social media marketing campaigns.
Bottom Line
Effective marketing materials include those that work to help you meet your marketing and sales objectives. They come in many forms, from business cards and flyers to stickers and apparel, and digital collateral like a website, Google Business Profile, and social media marketing. Each offers unique opportunities to connect with customers, build relationships, and provide a significant return on investment.
Don't waste your time and budget, and don't risk your reputation on low-quality DIY marketing collateral designs. Instead, find an expert graphic designer on Fiverr to create stunning visuals that present your business in the best possible light for as little as $5.
You Might Also Like…