How to Make a Professional Email Signature in 3 Steps (+ Examples)
Personalizing your email signature is an easy and effective way to promote your business and boost brand credibility. Creating a professional email signature is simple by following three basic steps: find an email signature generator, input your info, then add your new email signature to your business email platform. Keep reading for step-by-step instructions, examples, and best practices.
Build your brand with Gmail business email. Easily create email signatures and personalize your emails with a business plan from Google Workspace.
1. Find an Email Signature Generator
You can create a professional email signature manually, but it's much easier with automated email signature generators. They simplify the process using templates that include your photo or business logo, social links, and extras like a call-to-action (CTA) button, QR code, trackable link, a link to your appointment booking app, or a link to a sales landing page.
To find the best one to use, read our guide covering eight different free and paid email signature generators you can choose from. The list includes affordable options and 100% free signature generator tools.
We decided to use WiseStamp for this article as it's one of the most popular options available. It allows you to create an email signature with multiple design layouts in an easy-to-use platform for free. Navigate to WiseStamp.com (or your preferred signature generator) to start the process of creating a new signature for business email.
2. Input Your Info & Choose an Email Signature Template
From the signature generator, input the information you want to include in your business email signature. There are fields for information like first and last name, job title, company name, website, and contact information such as email address and phone number. Many email signature templates also include custom fields for things like banner images, social media links, videos, or CTA (e.g., book an appointment or download an e-book).
What to Include in Your Professional Email Signature
Creating a professional email signature starts with deciding what to include. Consider how you can turn your signature into a marketing tool for your business—go beyond your name and basic contact info by incorporating your branding and add a call to action as well as links to your website and social media.
Here are the most common elements included in professional email signatures:
First and last name
Job title or department
Company name
Telephone number (often both office and mobile)
Email address
Company website URL
Business logo or profile picture
Call to action
Social media links
Banner ad or offer
After inputting all the information you want to include in your signature, click the "OK, I'm done" button in the bottom right-hand corner to add social links (optional). WiseStamp then takes the information you entered and populates various free templates so you can choose the style and design layout you prefer.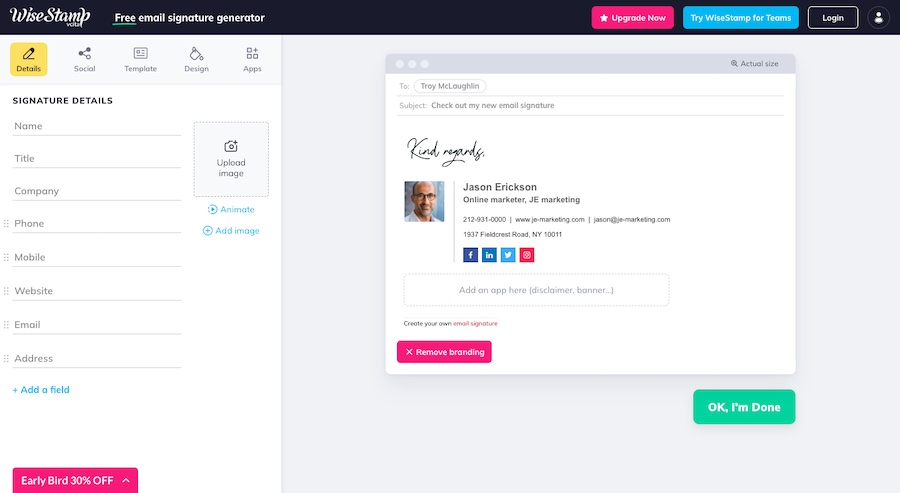 ---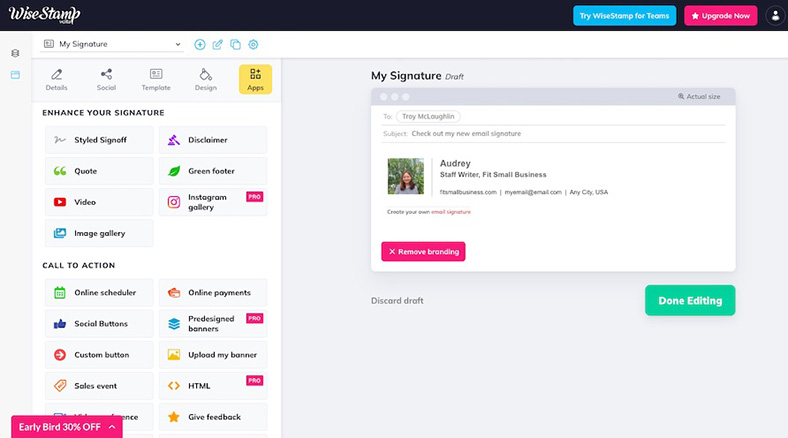 ---
With some email signature generators, you'll choose a template before adding your information. With WiseStamp, you'll input your details first, then browse through the available templates and select the one that best suits your business and brand. Next, personalize your design by customizing colors to match your logo or website color scheme, changing font and font size, and choosing an image shape (e.g., round or square).
When including links in your signature, make them trackable to get insights, like who clicked your links and when. Plus, you can identify metrics like pages viewed, time on page, and so on. To do this, use a free custom link tracker like Bit.ly or Attach.
3. Connect (or Add) Your New Signature to Your Email
Once you have created your signature, click the "OK, I'm done" button to begin the signature connection process. First, you will be asked which email provider you're using. Select the provider you're using and click "Continue."
At this point, you'll be prompted to create a WiseStamp account. Then, you will be asked to grant WiseStamp access to your chosen email account, which will then automatically add your new signature to your email. Click refresh when done.
Next, navigate to your business email app (e.g., Gmail, Outlook, Apple Mail, and so on) and confirm that your new signature is connected successfully by composing a new email. There, you should see your new signature within the email dialog box.
Get more information on adding a WiseStamp signature:
If you didn't use WiseStamp, the process for adding your email signature to your email app could entail simply copying and pasting it directly into your app's email signature settings. Learn more about how to add a custom signature to Outlook or Gmail in our article explaining how to create a custom email address.
If you need to change or delete your WiseStamp signature, go to WiseStamp and log in to your account. From there, you can easily edit your signature by clicking the drop-down icon in the upper right-hand corner to expand options. Then select "Signature Settings" under settings. To edit your signature, click the pencil icon, and to delete your signature, select "None" from the signature drop-down menu.
WiseStamp is just one of many email tools that can take your business email to new levels. Check out the best email tools for everything from managing emails, building contact lists, and generating leads to closing more sales.
7 Examples of Effective Professional Email Signatures
There are many different ways a professional email signature can serve your audience and help grow your small business. It provides relevant information about your business and brand and engages email recipients—but knowing what will make your signature effective isn't always clear-cut. An excellent way to get design ideas is to look at various email signature examples and why they work.
Here are seven examples of professional email signatures and what makes them effective:
1. Get Attention With a Banner Ad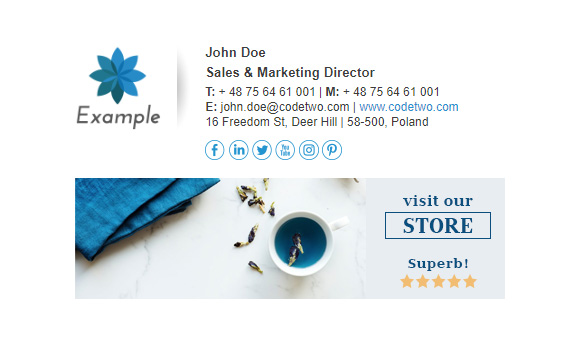 ---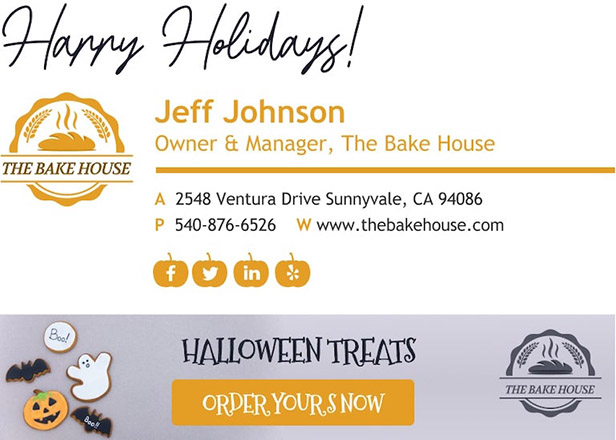 ---
Your email signature contains quality real estate that can be leveraged with call-to-action banner ads, similar to what you might include in a web banner ad. The examples above use the horizontal space below their signatures to add clickable banner ads leading recipients to online stores and landing pages.
For best results when using banner ads, include a short and catchy CTA and a clickable button or hyperlinked text. These ads help build awareness, entice engagement, and potentially increase sales and conversions.
2. Reinforce Your Brand With Social Proof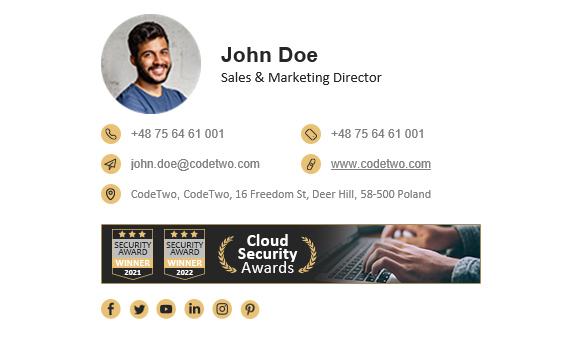 ---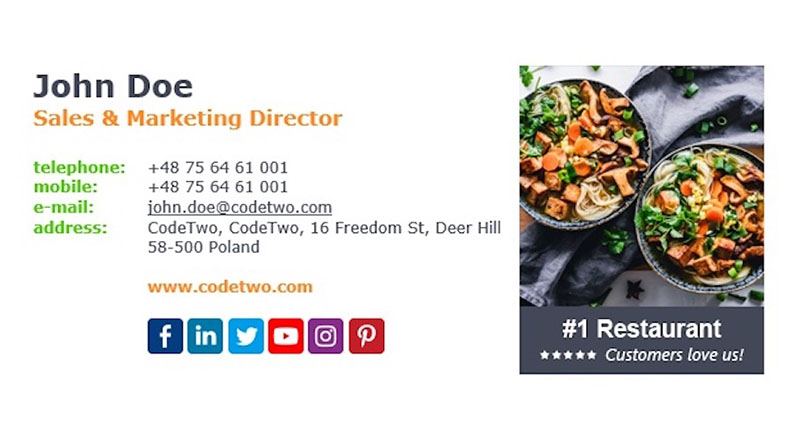 ---
Another way to use a banner within a professional email signature is to include accolades or reviews that provide social proof for your business. Sharing the notable awards, certifications, or memberships your business has received, or a graphic with your company's 5-star ratings, can establish credibility, build trust, and support your marketing claims.
3. Use Your Photo When You're the Face of the Business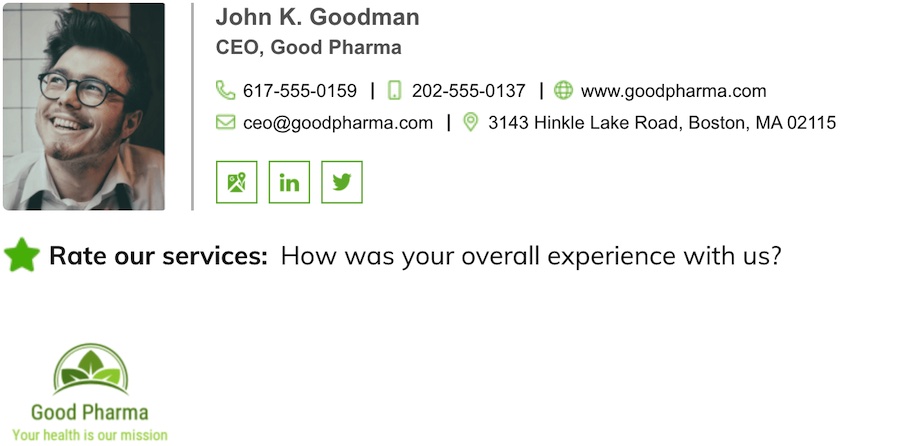 ---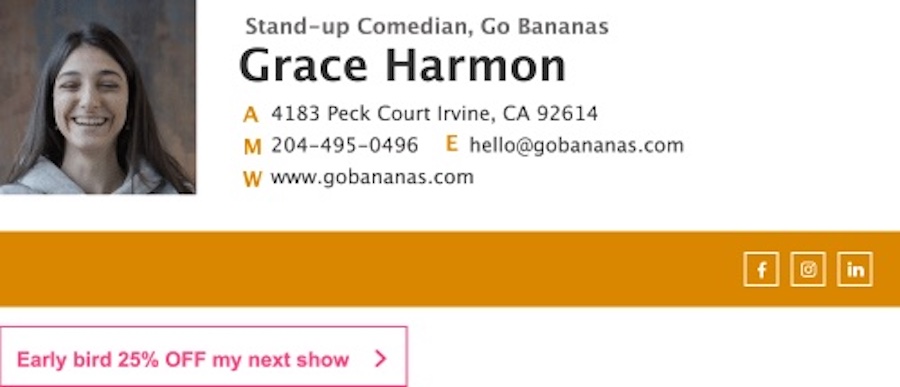 ---
Before adding your photo to your email signature, consider whether you are the face of your business—such as a real estate agent, consultant, coach, lawyer, physician, performer, or author. If not, your business logo may be the better choice.
Using your headshot in sales follow-up emails or for cold call messages can also be effective. It gives the email recipient a person to connect with, not just a brand, and can pave the way for future conversations for lead nurturing and sales.
4. Lead With Your Logo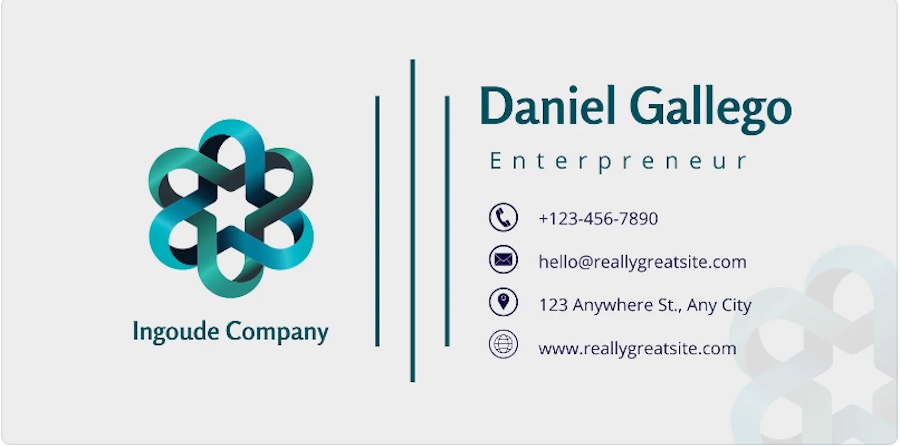 ---

---
In industries where brand promotion is vital, put your business logo at the forefront of your email signature. Logo-centric signatures also work best for larger organizations or growing startups aiming for brand recognition, such as in the examples above. With logo-centric signatures, place your logo on the left or right side of your design, and keep the rest of your details simple.
5. Use Color to Create an Eye-catching Signature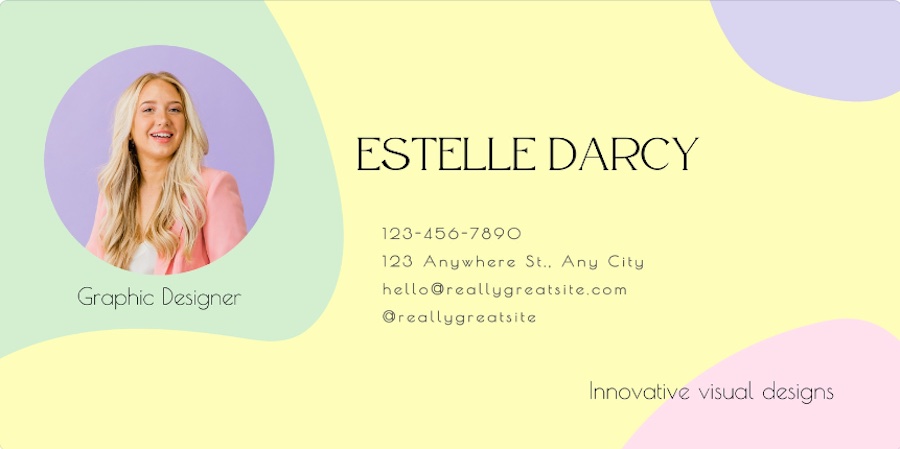 ---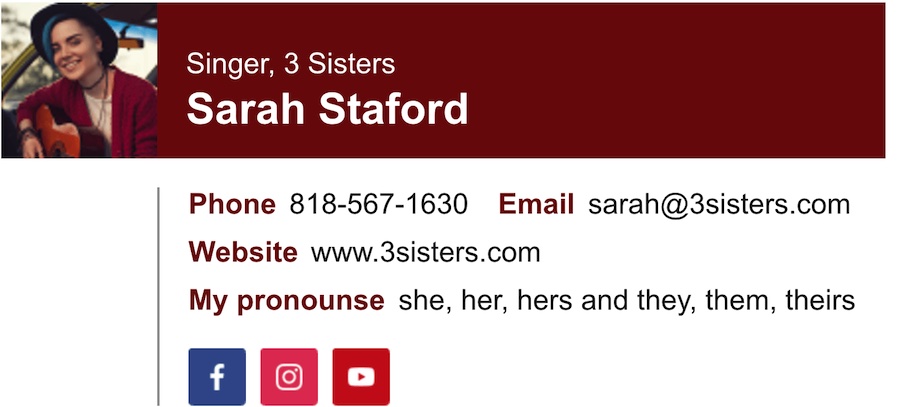 ---
Most emails are made up of white canvas with black text. Break up the monotony by using color to create an eye-catching signature. You can go with a full-color background, or use color to highlight certain details and elements. For more inspiration on using color for an eye-catching email signature, check out great color combinations in our article on website color palettes.
6. Include Links to Specific Web Pages

---

---
While including your website's address as part of your contact details is standard, you can go even further and add links to specific web pages you're looking to promote. For example, real estate agents might want to link to active listings or a home tour video. Alternatively, a salon owner or sales agent might link to their appointment booking app, whereas a restaurant owner might link back to their menu.
7. Maintain Your Brand's Color Scheme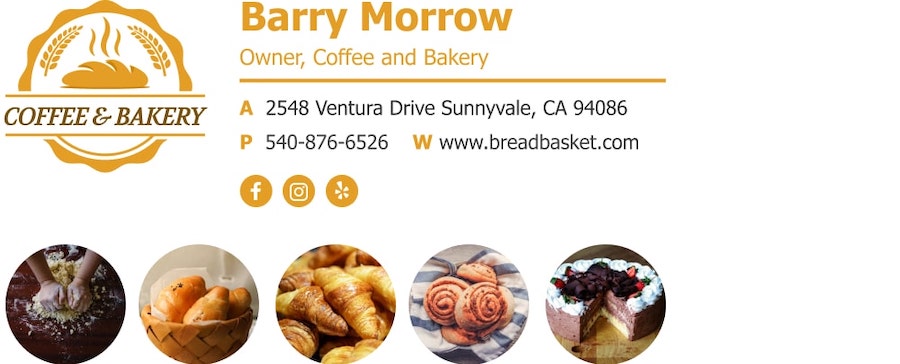 ---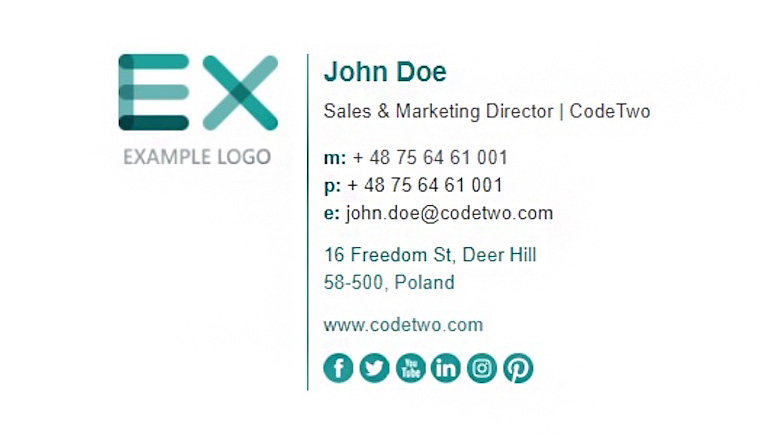 ---
Your email signature is an opportunity to lean into your brand, as branding statistics show brand consistency can increase revenue by 20%. Something as simple as matching your email signature's colors with those of your brand helps you maintain your brand consistency, in turn building your professionalism and boosting your credibility and brand awareness.
If you are still unsure of what to include in your signature, check out our list with dozens of the best email signature examples and ideas.
Business Email Signature Dos & Don'ts
Email is one of the most used and trusted methods of business communication. Your email signature is a great way to leave your recipients with a glowing impression and cultivate relationships. Especially for small business owners, using a professional signature in emails can promote your brand, boost your credibility, and generate interest and engagement.
Keep reading for some dos and don'ts for building your business email signature:
Do Incorporate Your branding Into Your Signature
Good email signatures are more than just sign-offs—they can also be effective tools for promoting your brand. When making a custom signature for business email, make sure your overall design aligns with your branding. Do this by using the same design elements, such as colors, fonts, and others you use in your branding. It doesn't just help promote your brand, but it also builds your credibility.
Do Include a Headshot or Logo
Visual elements are a must for all types of small business marketing materials, including email signatures. An easy way to instantly make your signature more visually engaging is by including a professional headshot in your design. A high-quality photo can make you seem more trustworthy and personable, which helps you build relationships. If you don't have a headshot or aren't comfortable using one, use your business logo instead.
Do Include a Call to Action
Business emails are much more than just written correspondence. For example, you can use email as a jumping-off point to accomplish other business objectives, such as visiting a website, scheduling an appointment, or making a sale. This is possible by including a CTA in your email signature.
Email signature CTAs usually appear as clickable buttons or links below all your relevant information, and most signature generators offer a variety that you can choose from. However, be sure to only include one or two CTAs—any more, and your signature will appear too crowded.
Do Make Your Signature Mobile-friendly
Mobile communication is steadily on the rise, with the majority of emails now being read on mobile. Before finalizing your email signature design, ensure that it's also organized and functional on mobile devices. Some issues to watch out for include your images' size and quality, font availability, design layout, and text wrapping.
Don't Crowd Your Signature With Unnecessary Information
When it comes to professional signatures for email, simplicity is key. An overcrowded email signature can confuse your recipients and make your brand seem unprofessional. Stick to just the most essential information about yourself and your business that you want to communicate, such as your name, website or social media page, contact number, and one or two CTAs.
Don't Include Too Many Design Elements
Similar to crowding your signature with unnecessary information, incorporating too many design elements can also make your signature look overwhelming, confusing, and unprofessional. Keep your layout clean, simple, and straightforward, and highlight the most important details. Use the same color palette that you use in your branding and stick to one or two font styles.
Frequently Asked Questions (FAQs)
What is a good professional email signature?
A good professional email signature ensures consistent branding, makes it easy to contact you, and includes a clear and effective call to action. It should include your name, company name, and job title, a link to your website or landing page, your email address, the best phone number (and potentially even the best times) to reach you, and an engaging call to action.
What are the best email signature generators?
There are several quality email signature generators available, but HubSpot tops our list of the best, followed by the graphic design platform Canva. Other good alternatives are DesignHill and WiseStamp, or for large teams, Signature.email. Read up on the best email signature generator's features, tools, and pricing—many even offer free plans you can use to find the best one for your business.
How do I create a custom signature in my email app?
The process for creating a custom signature varies by email app, but most offer the option in Settings. Your email app may even have a tool for creating email signatures and assigning them for use (e.g., setting up different signatures for new emails, for replies, and so on). Here are links to instructions for creating signatures in Gmail, Microsoft Outlook, and Apple Mail.
Bottom Line
A great email signature holds the power to serve as a marketing tool for your business. By incorporating extras such as your photo or logo, social links, an embedded video, trackable links, or a call to action, a well-designed signature can build brand awareness and work as a sales tool to convert leads and drive conversions. Creating a professional email signature is easy and free, so there's no excuse not to have one.