Ending your emails with a custom signature is an easy and effective strategy to increase brand credibility and conversions. Learning how to create a professional email signature is simple—start by finding an email signature generator (or template). Then, input your information and add your new email signature to your business email apps. Keep reading to find out what to include and see all the ways you can use professional email signatures to grow your brand.
1. Find an Email Signature Generator
You can lay out a professional email signature manually using tools like Google Docs or Microsoft Word, but it's much easier with automated email signature generators. They have premade templates with spots for your business logo, headshot, social links, and extras like a call-to-action (CTA) button, QR code, trackable link, a link to your appointment booking app, or a link to a sales landing page.
We decided to use WiseStamp for this article as it's one of the most popular options available. It allows you to create an email signature with multiple design layouts in an easy-to-use platform for free. Visit WiseStamp.com (or your preferred signature generator) to start the process of creating a new signature for business email.
Here are a few of the top email signature generators we recommend, depending on what you value most. For a more comprehensive guide, we also discuss a dozen different free and paid email signature generators you can choose from.
| | | |
| --- | --- | --- |
| Best for highly customizable premium email signatures | Best free tool for signatures with no third-party branding | Best image-based email signature maker |
| Cost: Free plan or $5.80 monthly | Cost: Free | Cost: Free plan or $12.99 monthly |
| | | |
2. Decide What to Include in Your Professional Email Signature
Creating a professional email signature starts with deciding what to include. Consider how you can turn your signature into a marketing tool for your business—go beyond your name and basic contact info by incorporating your branding and add a call to action as well as links to your website and social media.
Here are the most common elements included in professional email signatures:
First and last name
Job title or department
Company name
Telephone number (often both office and mobile)
Email address
Company website URL
Business logo
Headshot
Call to action
Social media links
Link to the appointment booking page
Banner ad or offer linked to a landing page
Obviously, including every possible element isn't always possible (or advisable). So, decide what to include in your signature based on your business goals and the primary goal of your email campaign. For example, if you want the recipient to book an appointment, include a link to your online booking app in your email signature.
Still not sure what to include in your signature? Check out our list with dozens of the best email signature examples and ideas.
3. Input Your Info & Choose a Template Design
With an email signature generator, you simply have to fill in the necessary fields, such as name, business name, and contact information. There are instances where more information can be added, such as promoting your social links or adding a headshot. Move forward by choosing the design template that suits your business the most.
After inputting all the information you want to include in your signature, click the "OK, I'm Done" button in the bottom right-hand corner to add social links (optional). If you're using WiseStamp, it will take the information you entered and populate various free templates. From here, you simply choose the style and design layout you prefer.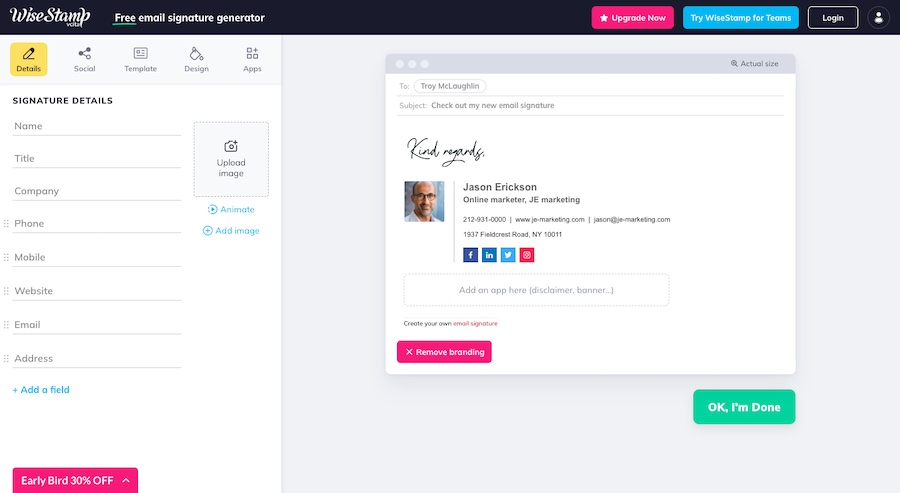 ---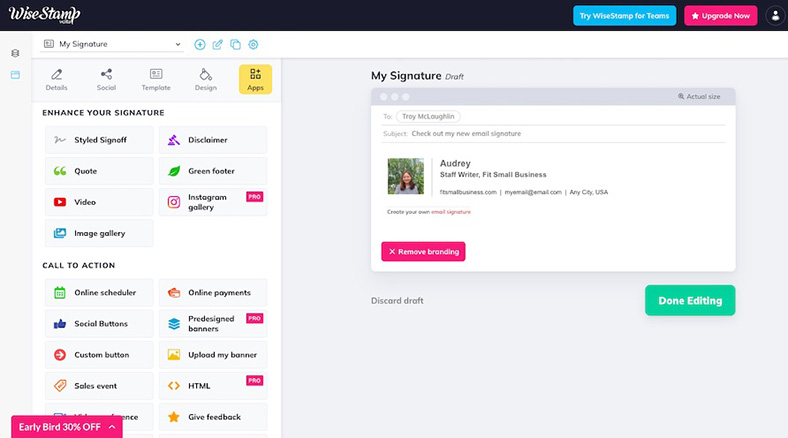 ---
With other email signature generators, you'll choose a template before adding your information. With WiseStamp, you'll input your details first, then browse through the available templates and select the one that best suits your business and brand. Next, personalize your design by customizing colors to match your logo and branding, changing font and font size, and choosing an image shape (e.g., round or square).
When including links in your signature, make them trackable to get insights, like who clicked your links and when. Plus, you can identify metrics like pages viewed, time on page, and so on. To do this, use a free custom link tracker like Bit.ly or Attach.
4. Connect (or Add) Your New Signature to Your Email App
Once you have created your signature, click the "OK, I'm Done" button to begin the signature connection process. First, you will be asked which email provider you're using. Select the provider you're using and click "Continue."
At this point, you'll be prompted to create a WiseStamp account. Then, you will be asked to grant WiseStamp access to your chosen email account, which will then automatically add your new signature to your email. Click refresh when done.
Next, navigate to your favorite business email app (e.g., Gmail, Outlook, Apple Mail, and so on) and confirm that your new signature is connected successfully by composing a new email. There, you should see your new signature within the email dialog box. Get more information on adding a WiseStamp signature:
If you didn't use WiseStamp, the process for adding your email signature to your email app could entail simply copying and pasting it directly into your app's email signature settings. Learn more about how to add a custom signature to Outlook or Gmail in our article explaining how to create a custom email address.
If you need to change or delete your WiseStamp signature, go to WiseStamp and log in to your account. From there, you can easily edit your signature by clicking the drop-down icon in the upper right-hand corner to expand options. Then select "Signature Settings" under settings. To edit your signature, click the pencil icon, and to delete your signature, select "None" from the signature drop-down menu.
WiseStamp is just one of many email tools that can take your business email to new levels. Check out the best business email management software for organizing your inbox, building contact lists, streamlining workflows, generating leads, and closing more sales.
Business Email Signature Do's & Don'ts
Learning how to make a professional email signature is a great way to leave your recipients with a glowing impression and cultivate relationships. Especially for small business owners, using professional email signatures can promote your brand, boost its credibility, and generate interest and engagement. But there are some best practices you should follow.
Here are the top do's and don'ts for how to make a good email signature:
| Email Signature Do's | Email Signature Don'ts |
| --- | --- |
| Align with your brand: Use the same design elements, colors, fonts, and image types you use in your other marketing materials. | Overcrowd your email signature: Only include the necessary information and, at most, two CTAs. |
| Include visual elements: Use a headshot, logo, or other elements to make your signature more visually engaging. | Use complex designs: Too many design elements can look unprofessional and overwhelming. Simplicity is key. |
| Make it mobile-friendly: Test your signature by checking the image, font, and layout on mobile. | Include outdated information: Always remember to proofread your email signature and ensure that only relevant info is included. |
| Include a clear call to action: Make the next step you want the recipient to take easy with a clear call to action, such as visiting your website or scheduling a call. | Use emojis or irrelevant GIFs. Avoid flash animations, emojis, or GIFs since they may come off as unprofessional. |
9 Ways to Use Professional Email Signatures
Traditionally, the main objective of an email signature is to provide the email recipient with the sender's information. However, email signatures have transformed to aid in branding, marketing, and sales efforts. In fact, the number one goal of email signatures among business email users is for branding and increasing awareness.
With that in mind, here are several different ways you can use professional email signatures to benefit and grow your business:
Increasing brand awareness with a business logo
Establishing personal credibility and connection with a professional headshot
Driving web traffic with a link to your website
Building engagement with cold sales emails with a personalized touch
Driving traffic to landing pages with a link or QR code
Increasing sign-ups to an event with a sign-up button
Encouraging appointments with an online scheduling button
Supporting a limited-time or new customer offer with a banner ad
Generating social followers and engagement with social media links
There are countless ways to design a professional email signature based on your business goals. Check out our list of business email examples to get more inspiration.
Your email signature is an opportunity to lean into your brand, as branding statistics show brand consistency can increase revenue by 20%. Something as simple as matching your email signature's colors with those of your brand helps you maintain your brand consistency, thereby building your professionalism and boosting your credibility and brand awareness.
Frequently Asked Questions (FAQs)
A good professional email signature ensures consistent branding, makes it easy to contact you, and incorporates a clear and effective call to action. It should include your name, company name, and job title, a link to your website or landing page, your email address, the best phone number (and potentially even the best times) to reach you, and an engaging call to action.
---
There are several quality email signature generators available to help create a professional email signature, but HubSpot tops our list of the best, followed by the graphic design platform Canva. Other good alternatives are DesignHill and WiseStamp, or for large teams, Signature.email.
---
The process for creating a custom signature varies by email app, but most offer the option in Settings. Your email app may even have a tool for creating email signatures and assigning them for use (e.g., setting up different signatures for new emails, for replies, and so on).
---
Bottom Line
A great business email signature holds the power to serve as a marketing tool for your business. By incorporating extras such as your photo or logo, social links, an embedded video, trackable links, or a call to action, a well-designed signature can build brand awareness and work as a sales tool to convert leads and drive conversions. Creating a professional email signature is easy and free, so there's no excuse not to have one.