4-4-5 Calendar: Free 2021–2023 Download (+ How to Use & Pros and Cons)
The 4-4-5 calendar is a special retail calendar that divides the year into four quarters of 13 weeks (two four-week months followed by one five-week month) for the sake of consistency and comparison. By making accurate comparisons of your sales figures and other data across years, you can use 4-4-5 calendars to better understand your performance and set goals.
Download our free 2021–2023 4-4-5 calendar:
How to Use a 4-4-5 Retail Calendar
A 4-4-5 calendar lets you compare sales numbers across years, whether on a large scale (monthly or annual data) or a more granular basis (day by day). The format ensures the same number of weekend days in each month every year, each period begins on a Sunday and ends on a Saturday, and retailers can compare the same day of the week across years, i.e., Mondays to Mondays and Saturdays to Saturdays.
The 4-4-5 calendar begins in February so the major end-of-the-year holidays and holiday returns will be in the same fiscal year. It also aligns better with seasonal fashion cycles (i.e., February is the start of spring fashion and the start of the calendar, and January is the end of winter fashion and the end of the calendar).
The best way to understand how to use the 4-4-5 calendar is with an example. Let's take a look at the month of April.
2021
2022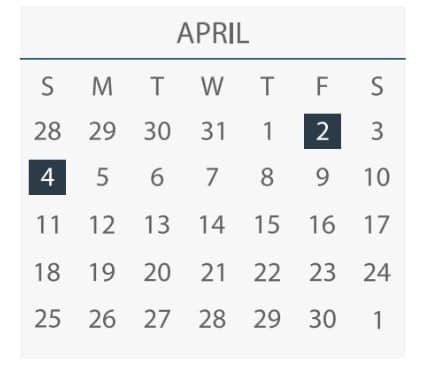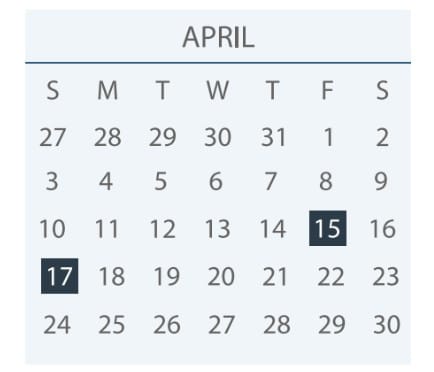 As you can see, the first day shown for the month of April 2021 is Sunday, March 28. The next year, however, the first day of that period is Sunday, March 27. That means you would compare your sales figures or other data from Sunday, March 28, 2021, to that of Sunday, March 27, 2022.
For example, let's say your sales for Sunday, March 28, 2021, were $2,000. When setting your sales goal for Sunday, March 27, 2022, you might set a goal of 10% higher—or $2,200.
Setting incrementally higher daily sales goals based on your 4-4-5 calendar history is a great way to keep your business on an upward trajectory and track that progress on a day-to-day level.
As you continue through the month, you can use the sales figures from the previous 4-4-5 calendar year to set daily sales goals, compare traffic, or make other comparisons to keep your business on track. And, because all months across 4-4-5 calendar years follow the same pattern and have the same number of days, you can also make accurate monthly comparisons.
Going back to the example above, in 2021, there are holidays in the first and second week of the month. In 2022, however, these holidays are in the third and fourth weeks. While the 4-4-5 calendar can ensure that the same holidays are in the same months across years, they won't always fall in the same weeks.
There is no formal accounting procedure to accommodate these inconsistencies, so the best approach is to take your day-by-day sales figures with a grain of salt and look at monthly comparisons for the most accurate picture of your performance.
The 4-4-5 calendar is broken down into four quarters of equal length. This gives you the opportunity to do quarterly comparisons across years and within the same calendar year.
This is important because it can be difficult to compare months in retail calendars, as they are often different lengths. With the quarter system, you have equally divided parts of the year that you can compare with one another without discrepancies. The quarterly view also gives a longer-term look at your performance, allowing you to see patterns over time and draw inferences based on a larger data set.
The 4-4-5 calendar creates an annual schedule with only 364 days. To make up for this lost day, every five to seven years, there is a 53-week 4-4-5 retail calendar.
---
Pros & Cons of 4-4-5 Retail Calendars
While 4-4-5 calendars are great tools for retailers and have a lot of great perks, they do come with a few drawbacks. Take a look at the table below.
PROS

CONS

Ensures fair comparison of sales figures between years
Different month lengths make comparing month-over-month data difficult
Ensures equal number of weekend days in compared year-over-year periods
Some periods will see two sets of "monthly" payments (e.g., rent, utilities, and payroll)
Allows you to set reasonable goals based on previous years
Period budget fluctuations due to variable lengths
Helps keep staff motivated with reasonable goals
53-week year every five to seven years gives one year an extra week of revenue
4-4-5 Retail Calendar Frequently Asked Questions (FAQs)
Click through the questions below to get answers to some of the most frequently asked questions surrounding 4-4-5 calendars.
4-4-5 calendars are most commonly used among retailers and their adjacent industries, such as manufacturing and logistics. This is because the 4-4-5 retail calendar takes away variables that are important to retailers, like holidays and days of the week, that come with measuring year-over-year performance with the typical Gregorian calendar.
---
A retail calendar is a way of arranging the year so retailers can accurately compare sales between years.
---
In general, there are two major kinds of retail calendars. There is the 4-4-5 calendar, which we looked at in this article, and then there is the 4-5-4 calendar. The idea behind the latter is that you divide the year into months of 4 weeks-5 weeks-4 weeks.
The benefits of using a 4-5-4 calendar are similar to those of a 4-4-5 calendar—it allows you to make accurate comparisons between years.
Another type of calendar that retailers will often use in tandem with their 4-4-5 or 4-5-4 calendar is a marketing calendar. Retailers use this to map out their entire year of marketing initiatives to ensure that they complete everything they need to when they need to for every event or holiday.
---
Every five to seven years, there is a 53-week 4-4-5 year. This is because the 52-week calendar only actually has 364 days. To make up for this lost day, an extra week has to be added to the calendar every so often.
To accommodate this inconsistency, retailers should treat this 53rd week as an independent entity that does not reflect upon coming years.
---
Bottom Line
4-4-5 retail calendars are a great tool for keeping your business on track and understanding your performance year over year. With the guide above, you have all the tools you need to start utilizing a 4-4-5 calendar and monitoring your business's success.
You May Also Like…