4-5-4 Retail Calendar: Free 2021–2023 Download, How to Use & Pros and Cons
The 4-5-4 calendar is a type of special calendar used by the retail industry, with the fiscal year beginning in February, that allows you to accurately compare sales figures between years. It divides the year into months of 4 weeks-5 weeks-4 weeks, with each beginning on a Sunday and ending on a Saturday. This ensures equal numbers of holidays and weekends between compared months and lets you compare the same days of the week across years, i.e., compare Mondays to Mondays.
Use our free 2021–2022 and 2022–2023 4-5-4 calendars to compare year-over-year sales:
Sales release (denoted with blue shaded boxes in the calendar above): Traditionally released on the first Thursday of every month, but sometimes more frequently, sales releases are official reports issued by the Census Bureau that measure the change in the total value of retail sales at the retail level, the foremost indicator of consumer spending.
How to Use a 4-5-4 Retail Calendar
The best way to explain how to use a 4-5-4 retail calendar is with an example. So, let's take a look at February 2022 on your calendar.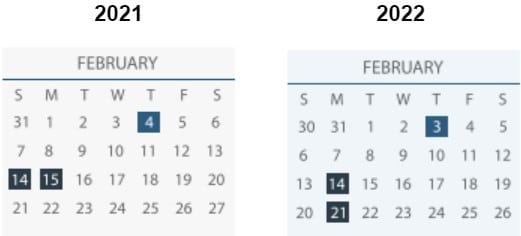 As you can see, the first day of the February 2021 calendar is Jan. 31 and the first day of the February 2022 calendar is Jan. 30. That means that you will compare your sales Jan. 30, 2022, to those Jan. 31, 2021. Both of these days were Sundays in their respective years, so the comparison should be apt.
You can also see in this example that in 2021, the third week had two holidays (Valentine's Day and Presidents' Day), whereas in the 2022 calendar those holidays occur on separate weeks.
When you compare week to week data for the third week of February, you will likely have higher sales numbers in 2021 than 2022.
However, because 4-5-4 calendars ensure that the same holidays are in the same months between years, your sales numbers will even out before the end of the month. This means that the best way to measure your success with a 4-5-4 calendar is in month increments, as only at the end of the month will your holidays even out between years.
As you go through each day of 2022 and set sales goals, you will refer back to the 2021 4-5-4 calendar to see what days you should be comparing to from the previous year. The idea here is that the previous year's sales are a good benchmark for your performance the following year and offer a good point of comparison. However, most businesses strive to grow year over year, so you should strive to not just meet last year's sales number but surpass it.
For example, in my store, we took the sales figures from the year before and increased them by 10% to set our current-year sales goals. So, if my store made $1,000 Jan. 31, 2021, our sales goal would be $1,100 for Jan. 30, 2022.
Setting incrementally higher daily sales goals based on your 4-5-4 calendar history is a great way to keep your business on an upward trajectory and track that progress on a granular level.
Pros & Cons of 4-5-4 Retail Calendars
The 4-5-4 calendar has a lot to offer retailers, but there are a few drawbacks, as well. At the end of the day, however, the pros that come with using a retail calendar outweigh the cons. Being able to keep your business on track with apt comparisons of your sales data is pivotal for keeping your business on an upward trajectory.
PROS

CONS

Ensure fair comparison of sales figures between years
Different month lengths makes comparing month-over-month data inaccurate
Keep staff motivated by setting reasonable goals that still indicate growth
Some months will see two sets of "monthly" payments (e.g., rent, utilities, and payroll)
Keep your business on track with measured, day-by-day incremental increases
Monthly budget fluctuations due to variable lengths
Provide a strong understanding of the performance and expectations you should have
53-week year every five to seven years gives one year an extra week of revenue
Same holidays in each month between years
4-5-4 Retail Calendar FAQs
Expand the questions below to get answers to some of your most pressing questions.
The 4-5-4 calendar is a type of retail calendar, or annual calendar, that accurately compares sales figures between years, whereas a standard calendar divides months into 28–31-day periods as opposed to the 4-5-4 week format. This means that months are more variable across years in terms of what days of the week they include, making year-over-year sales comparisons more difficult.
---
In general, there are two major kinds of retail calendars. There is the 4-5-4 calendar, which we looked at in this article, and the 4-4-5 calendar. The idea behind the latter is that you divide the year into four 13-week quarters, broken down into 4 weeks-4 weeks-5 weeks (91 days total).
The benefits of using a 4-4-5 calendar are similar to those of a 4-5-4 calendar—it allows you to make accurate comparisons between years. The major difference is that the 4-4-5 calendar lets you compare quarterly performance within the year.
---
Most commonly, 4-5-4 calendars are used among retailers of all types, but especially in the fashion industry. You will also find some manufacturers use the 4-5-4 calendar, although that is not as commonplace.
---
Dividing the calendar into the 4-5-4 format leaves you with 364 days each fiscal year. This means that every six to seven years, there is a week added to the calendar to make up for the lost days. This 53-week year has occurred in FY12 and FY17 and will occur again in FY23.
---
The 4-5-4 calendar starts in February for two major reasons:
It allows the major end-of-the-year holidays and holiday returns to stay in the same fiscal year. It also lets retailers start their new fiscal years fresh, with no lingering holiday items to attend to.
It makes the 4-5-4 calendar align better with seasonal fashion cycles (i.e., February is the start of spring fashion and the start of the calendar, and January is the end of winter fashion and the end of the calendar).
---
Bottom Line
A 4-5-4 retail calendar makes it easier to compare sales year-over-year, plan, and set reasonable goals. It aligns holidays and ensures the same number of non-weekdays in comparable months. Our free 2021–2023 4-5-4 retail calendar download can help you get your business on the right track.
You May Also Like…