18 Retail Marketing Strategy Ideas to Drive Sales in 2023
A retail marketing strategy is an actionable plan to develop and promote products, attract and keep customers, and drive sales. Marketing for retailers is essential whether you're seasoned or just starting out, and it can happen both online and offline. It's important to develop solid retail marketing strategies to introduce people to your products—and keep them interested.
Explore our recommended retail marketing ideas for implementing an effective strategy for your business.
1. Understand the Four Ps of Marketing
The four "Ps" of retail marketing serve as pillars for your strategy. It's helpful to first get a baseline understanding of these principles so you can build an effective plan for your business. The four Ps are:
Product: It's first important to have a product that people are going to want. You can manufacture a product from scratch, enhance an existing product, or simply tap into the potential of an existing product—no improvements or changes necessary. It's important to conduct market research to ensure there's demand for your product idea.
Price: Your pricing strategy is an imperative component of marketing. You need to price products high enough to generate a profit but also low enough to remain competitive and affordable to your target customer.
Place: Place refers to where your product is sold and where shoppers can experience and receive it. In a physical retail business, this also touches on the location of your store—bearing in mind factors like foot traffic, parking, visibility, etc. Retailers can also sell products via digital channels and offer fulfillment in-store or via shipping.
Promotion: Promotion is where you get into marketing and advertising your offering. This involves communicating the product, price, and place—what you're selling and why it's valuable, how much it costs to acquire, and where people can explore and make their purchase.
2. Develop Curb Appeal
Curb appeal is about the look and feel of your store from the street, including parking and landscaping.
First impressions last, and this holds for your retail store. For potential customers and passersby, your storefront is their first impression of your business. Your store's curb appeal must get them into the store so you can have a better chance of getting a sale.
Some ways you can develop curb appeal are:
Install Storefront Signage
Your signage communicates not only your business name but also your message to shoppers so they connect with your brand and want to enter your store. A long-standing study has validated this—60% of businesses increased sales by an average of 10% by updating their signage.
Making your store's exterior more attractive with storefront signage can make the difference between pedestrians and paying customers.
Install a storefront sign with your name that cars and pedestrians across the street can easily read.
Add smaller signage by your front door and windows for people walking by who may be too close to see your more prominent overhead sign.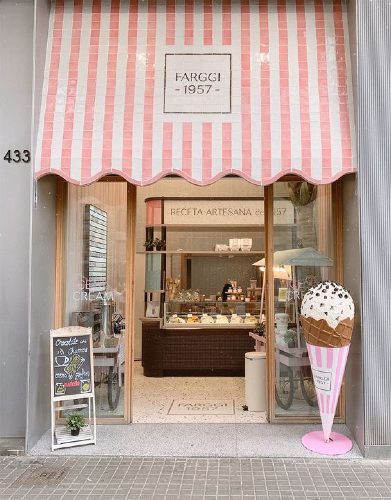 Design Enticing Window Displays
Window displays are one of the most critical parts of an effective retail strategy. Like signs, they can cause a passerby to turn and enter your shop when they ordinarily would have walked past without a second thought.
When creating a window display, choose a theme that resonates with buyers, such as a holiday or seasonal theme.
Choose complementary colors and arrange your display with various heights and depths to make it visually attractive.
Window displays not only bring customers in but also display and promote new products, strengthen your brand image, and distinguish your store from the competition.
Make Use of Your Curbside & Outdoor Lighting
Outdoor lighting should be part of your retail business marketing strategy. A well-lit entry and sidewalk is essential for customer safety. Lighted signage also helps customers notice or find your store at night.
Don't forget about your curbside. With 50% of consumers using curbside pickup and delivery when shopping, why not set up curbside extras to lure them in further to your store? For example, set up a board outside your store with some eye-catching art or witty phrase.
3. Effectively Use Retail Space
You don't need to invest a ton of money or undergo a complete store overhaul to ensure you're effectively using your space. It's a matter of planning and adjusting your store layout, and then strategizing your point-of-sale (POS) display.
Use our free step-by-step guide to planning a store layout to make the most out of your space.
Organize Your Displays
When organizing your retail displays and visual merchandising strategy, follow these general guidelines:
Showcase new and seasonal products at the entrance: Entice customers with seasonal or holiday displays and trending products; keeping the front of your store fresh also gives regular shoppers something new to browse.
Place traffic-driving products toward the back: Place your bestselling items or sales racks at the back of the store so customers need to walk past and see all of your other merchandise.
Highlight impulse buys at checkout: Stock small, low-cost items like candy, toys, makeup, or electronic accessories by the checkout counter so customers pick them up while waiting to check out.
Cross-merchandise: Use visual merchandising to cross-promote other products. Put items that are commonly purchased together in a similar location or a shared display.
In retail merchandising, it's important to ensure your displays stay tidy and relevant—change them often. Products should always be organized for customers, and new displays keep them coming back to see what's new.
Monetize Your Checkout
Your checkout area is where your POS is located and where customers complete a purchase. Monetize this area by doing the following:
Display smaller, relatively less expensive products customers might have forgotten they needed or items that will entice shoppers to pick up while waiting in line. For example, grocery stores usually have candy bars, mints, gum, magazines, and batteries lining their checkout counters. Apparel stores may have items like wallets, hair accessories, or jewelry.
Utilize point-of-purchase (POP) sales. Test different products at the counter until you see what works, then design a more elegant display that matches the rest of your store.
Create a Comfortable Environment
Customers who spend more time in a store spend more money. Encourage shoppers to relax and take their time by creating a comfortable retail environment.
If you sell apparel, create accessible and well-lit fitting rooms and comfortable seats for friends and family to wait.
Feature sample stations to encourage customers to test products, similar to how Costco or Lush does theirs.
Play thoughtfully chosen music.
Make sure your store is well-lit.
Ensure accessibility. Create wide aisles and a section at the checkout counter no higher than 36 inches off the ground so a person in a wheelchair can access it.
Offer a place to relax. Seating areas placed near fitting rooms are especially helpful.
4. Sell Custom Products
Whether you're manufacturing a patented invention or creating a simple private label line, having products shoppers can't find anywhere else is advantageous. This exclusivity boosts brand loyalty and sales.
Sell Private or White Label Products
Selling private label products is easier than developing a custom product while offering many of the same benefits. Private label products are manufactured by a supplier but sold under your brand name. These kinds of products are especially popular for skincare, beauty, food and grocery, kitchen, decor, accessories, tools, and electronic products.
Create Brand Equity Through Private Label Brands
When people use products with your brand name or product line name on them, it reminds them of your store every time they use it. These reminders build trust, encouraging customers to buy more quality products with your name on it.
Plus, retailers can typically make more money from private label products, as they're usually inexpensive to manufacture. Still, you can mark them up to a much higher price since shoppers won't be able to find that item anywhere else.
5. Create a Profitable & Competitive Pricing Strategy
How you price a product is another important consideration for your retail strategy. If your prices are too high, you could deter customers and lose sales. On the other hand, if prices are too low, you might make a lot of sales, but won't have any profit margin.
Many retailers and ecommerce sellers use keystone pricing to price their products. Keystone pricing is a standard 100% markup, or double the wholesale cost. Selling a product for double the amount you paid is considered standard retail practice. But it's not always the best approach.
Consider Your Market Position
There are situations where you'll want to deviate from keystone pricing. For example, if a product is selling exceptionally well, you might be able to increase the price. If you have a lot of private label or custom products, you may also be able to charge higher prices for those. However, if competitors or online businesses sell similar products at lower prices, you may need to consider lowering your prices to stay competitive.
Conduct a competitor analysis to see how others price their products. If you find out all the other stores around you are offering the same products for the same price, you might look to create something unique—free alterations, no-questions-asked returns, or complimentary gift wrapping, for instance—and then charge more.
Get feedback from your customers. Talking to your customers also gives you valuable qualitative insights into how to structure your pricing.
Use Promotional Pricing
Many businesses use promotional or sale prices to drive traffic and sales. Discount prices can leave small businesses with small profit margins but can effectively attract customers or clear out merchandise. Seasonal sales and coupons are popular promotional pricing strategies for retailers.
6. Build Your Online Presence
An online presence provides more opportunities for sales, especially for shoppers who don't live near your store or can't make it in during store hours. Engaging with customers online also helps keep your business at the front of their minds so they think of you when they're ready to make a purchase.
Use Social Media
There are many social platforms retailers should consider:
Use these social media channels to refine your messaging, test your pricing, and promote your best products. Analyze your social ad results to see which messaging and pricing combinations produce the best results.
Create Digital Sales Channels
As studies show retailers lose almost 30% in sales if they don't sell on multiple sales channels, and approximately 80% of the population shop online in the US, an omnichannel approach to selling has never been more important. Starting an ecommerce store is crucial.
7. Invest in Local SEO
Search engine optimization (SEO) isn't just for online retailers—physical retailers can and should optimize for search too.
Prioritize local SEO—you don't have to target the general keywords thousands of other businesses are targeting. Instead, go for relevant keywords the audience in your area would search for. For example, create landing pages with your website homepage that target individual locations in your city or town.
Optimize for 'Near Me' Searches
If people are searching for something near them, there's a pretty strong signal of intent to buy.
Get started by creating or updating your company's Google Business profile. Include your business name, address, opening and closing hours, contact information, photos, and a description that includes keywords. Consider incorporating local citations as additional cues to Google.
Keep your details consistent across your website and all third-party platforms. To make your listing more relevant, encourage customers who visit your store to leave reviews on your business profile. There are also local SEO tools that can automatically optimize for you and offer recommendations on improving your rankings.
8. Run Digital Ads
Digital advertising is a great way to put your store in front of new, targeted audiences. You can put ads on Google and other search platforms, social media sites, and all kinds of websites and apps, depending on the advertiser network.
Geo-Target Your Ads
Unlike general ads, geo-targeted ads, or location-based ads, target only people in a specific geographical area—preferably those who live in the same town or city as your physical store.
Considering businesses are expected to spend more than $32 billion on location-targeted ads by the end of 2023 in the US alone, it goes without saying that this ecommerce marketing strategy works.
To get started with geo-targeted ads, you'll need to create a business account with a platform from which you plan to run the ads—Google Ads, Facebook Business Manager, etc.
Once your account is set up, you can create ads to show to people within a set radius around your store. For instance, you can show ads to people within 10, 5, or 2 miles of your store. The bid amount changes depending on the radius you set. This is a perfect tactic to promote click-and-collect services or online ordering for restaurants.
Run Ads During Significant Local Events
Another way to increase foot traffic to your retail store is by running targeted ads during a large or significant local event.
For example, if you run a music store and notice a famous artist or band performing in a nearby location, you can quickly run ads to target the audience attending the concert.
This strategy works particularly well if you're located close to an airport, stadium, university, or some other area where a specific demographic may gather. Retailers can also run these location-based ads during holidays.
Remarket Your Products
Remarketing is a tactic where you remind people who have already interacted with your brand to some extent. Remarketing ad strategies typically involve targeting users who have visited your website or engaged with you on social media but haven't actually made a purchase.
You could also remarket to people who have made a purchase. Maybe they haven't bought anything in over a year, or maybe you have a complementary product related to their recent purchase.
9. Launch a Customer Loyalty Program
A customer loyalty program incentivizes repeat purchases and informs businesses about the most/least frequent and biggest/lowest spenders.
What's more, with a customer loyalty program, you can create shopper profiles to serve as the basis for product marketing and personalization. Associates can make tailored recommendations based on these profiles, and you can automate marketing campaigns and product recommendations based on their behavior.
Introduce Referral Campaigns
You can also incorporate referral rewards into your loyalty program to encourage word-of-mouth marketing—fueling both customer retention and acquisition simultaneously.
Referrals are particularly effective because many shoppers trust the opinions of their friends and family more than the marketing messages from brands themselves. In fact, Nielsen found that 88% of shoppers trust recommendations from people they know more than any other source.
10. Send Regular Email Campaigns
One of the most direct ways of staying connected is through email marketing. You can collect customer contact information at the point of transaction using a modern POS system and keep up with them post-sale.
Don't be shy when sending emails to your customers. Your loyal and top-spending customers likely want to hear from you more often. Of customers surveyed, around 70% prefer brands to contact them via email.
11. Implement a Retail Mobile Strategy
Along with emails, collect your customers' phone numbers so you can send them marketing text messages. Use mobile marketing to send notifications or promote time-sensitive offers to your customers.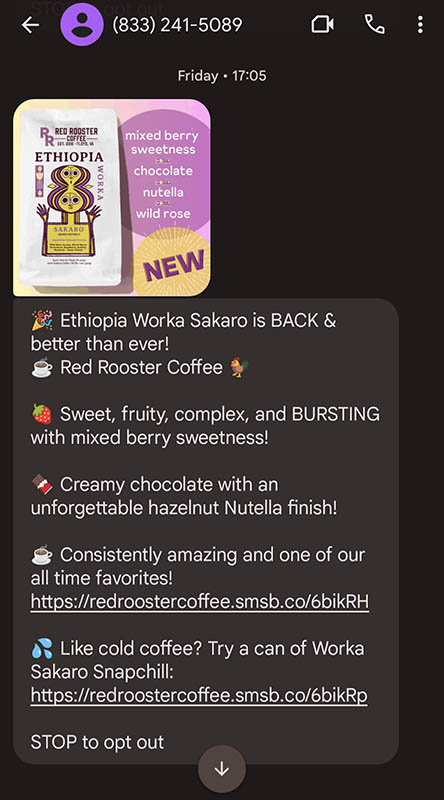 Location-based messages can also remind shoppers to purchase in-store, provide additional product information, and promote exclusive in-store promotions.
12. Regularly Conduct Surveys
Customer surveys are an important part of your retail strategy because customers can provide unfiltered feedback on ways you can improve. Customer satisfaction surveys can be simple, with one or two questions and an open-ended space to leave longer comments.
Some retailers also use customer surveys to measure interest in new product lines, events, or additional shopping hours. Using customer feedback takes some guesswork out of trying to improve your business, making customers feel their opinion is valued.
13. Plan Regular Events
Retail events are effective because they give your customers an excuse to shop, while also making them feel appreciated with some extra like a goody bag, early access to new products, or a special discount. Events drive traffic to your store and provide a reason to send out lots of marketing and promotional material.
Download our free 2023 retail marketing calendar, which includes all the major holidays for 2023 and seasonal markers, below:
Annual retail events, such as back to school and the holidays, are prime selling times. Take advantage of the influx of shoppers by employing these marketing strategies for retail stores:
14. Expand Through Partnerships
Local businesses thrive when they work together. When developing your retail marketing strategy, consider neighboring businesses and how you could work together. Partnerships can increase retail sales and promote your business to a new, trusting audience.
There are a few ways to team up and collaborate:
Store Partnerships
In Stratford, Connecticut, the founder of Mellow Monkey Decor brought together other local businesses to form the Stratford Lower Loop, a marketing tool that creates a destination out of the local shops in the area.
Community Involvement
Get involved with your local Chamber of Commerce and other town organizations to learn about vendor and sales opportunities at community events. Being present in your community—outside your store—will organically spread awareness about your business and boost name recognition.
Retailers can also use local businesses to build out additional sales channels. Work with other businesses in the community so you can sell your products in their stores when they host events.
Product Wholesaling
If you create custom or private label products, consider selling those products wholesale to other local businesses. This is particularly effective if you're in a tourist destination or college town and your products reflect your area.
For example, The Two Oh Three is a Connecticut lifestyle brand that sells apparel and accessories with various local logos. It sells at its own retail shop, and it also sells its products to other local boutiques to resell.
15. Turn Your Associates Into Marketers
Associates can and should double as marketers and brand ambassadors for your retail business. They interact with your customers the most. With the right sales staff, you can create an unforgettable and personal customer experience—and drive more sales.
Use Associates as the Face of Your Business
Humanize your business by showcasing your employees. If you have a brick-and-mortar store, your regular shoppers already know your store associates and will appreciate seeing a familiar face online and in marketing materials. If you have an online store, create an "About Us" page introducing your staff and put some faces behind your brand name. Or you can feature them in social media posts like Somatic Massage Therapy & Spa does:
Offer the Right Training
Hiring great associates isn't always easy. Training your team and supporting hard and soft skill development is important. Make sure everyone knows about your latest promos and store updates so they can share them with your customers.
Outdoor retailer REI is an excellent example of a business with associates who proactively contribute to the retail marketing strategy. REI hires associates who share a lot of characteristics with its target customers. Plus, they're knowledgeable about the products and activities for which REI products are used. They have smart product recommendations and can promote items from their own experiences.
Arm Staff With the Right Tools
Equip your staff with the appropriate business tools, like a mobile POS, to help them feel more confident and drive sales instead of simply answering questions and maintaining the space. This way, they can walk around the sales floor and meet customers where they are. When customers have questions, they can look up the answers on the spot.
16. Start Video Marketing
Video is a highly effective format for marketing, and it has an important place in retail. According to one survey, an astounding 92% of marketers said they can report a positive return on investment (ROI) on video content, up from 87% in 2022.
You can use video in your digital marketing in particular. For example:
Create and publish product videos on product pages, your website's homepage, social media channels, and digital in-store displays.
Start a YouTube channel where you post product demos, tours of your store, testimonial videos, and tutorials on how to make the most of your items.
Get started with livestream shopping. You can team up with an influencer or product expert to answer any questions and promote your products in real time.
17. Tap Into Influencer Marketing
Influencer marketing is another tactic that can bring big results. Because consumers trust messages from other people more than messages from brands, influencers are a great way to tap into that.
When it comes to your retail marketing strategy, prioritize influencers who connect with your target market. You might team up with a local blogger or TikToker to promote your store location and products.
You don't need to work with the biggest and most popular influencer with millions of followers. In fact, micro-influencers—figures with just a few thousand or even fewer followers—can also make an impact. Typically, their audiences are more engaged and loyal, especially as influencer marketing has become so saturated.
18. Evaluate & Assess Your Retail Marketing Strategy
Your retail marketing strategy is never complete—you need tracking to know if it's working. Retail data analysis can help you unearth trends before your competitors do, allowing you to be an early adopter. Retail calendars, such as the 4-5-4 and 4-5-5, can also be helpful tools to monitor sales figures.
With retail data analysis, you can accurately measure, track, and interpret sales, employee, and customer data to better understand your business and continue to hone your retail marketing strategy.
Retail Marketing Strategy FAQs
Product
Price
Place
Promotion
---
An example of a retail market strategy is when a retailer sells both online and in-store. They may take an omnichannel approach with consistent messaging and unique fulfillment options like click and collect.
---
Bottom Line
Developing a retail marketing strategy requires thinking about what kind of products you'll sell, where you'll sell them, and how you'll keep customers engaged post-sale. It's holistic and encompasses everything from your store's appearance to product selection and pricing. Remember: there's no one-size-fits-all strategy, and your particular retail marketing strategy will evolve as your business grows.