Analog telephone adapters (ATAs) or voice-over-internet-protocol (VoIP) phone adapters convert analog signals from conventional hardware into data packets for internet calling and faxing. The best ATAs fit your budget and provide the number and type of ports you need, such as foreign exchange subscriber (FXS) ports that connect to analog devices and foreign exchange office (FXO) ports that connect to a landline. They also offer integrated routers and failover solutions for protecting against power or server outages.
If you're considering switching to a VoIP phone system but are not ready to give up your current home or office telephone, here are the best analog telephone adapters to choose from:
Analog Telephone Adapters

Starting Price

ATA Highlights

Number of Supported Direct-connected Devices

FSB Rating

$229

Security alerts
8 foreign exchange subscriber (FXS) ports
Hunt groups

8

4.38 out of 5

$65

Built-in router
Foreign exchange office (FXO) and FXS port
Server and landline failover

2

4.26 out of 5

$78

Native Google Voice support
USB port
Integrated router

2

4.05 out of 5 

$99.99

Includes unlimited calling
Universal serial bus (USB) port
Connects to Internet of Things (IoT) devices

1 wired

4 cordless phones

3.74 out of 5

$46.99

Integrated router
Server failover
2 FXS ports

2

3.66 out of 5 
Yeastar TA800: Best Overall Analog Telephone Adapter for Small Businesses
What We Like
Supports 8 analog devices
Security warnings by text or a phone call
Provides call logs and hunt groups
What's Missing
Can't connect to a landline
No USB port
Lacks an integrated router
Yeastar TA800 Pricing: $229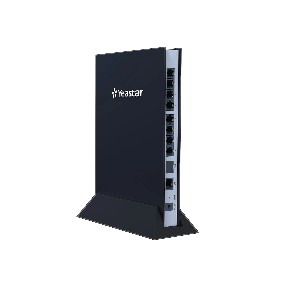 Yeastar TA800 earns the highest ratings among VoIP phone adapters because it has a built-in firewall and supports many protocols and voice codecs. The eight FXS ports let you connect eight devices, such as point-of-sale (POS), fax equipment, and desk phones. The higher device capacity makes it an excellent solution for connecting legacy telephones to your cloud-hosted public branch exchange (PBX) system.
Yeastar offers the same model with 16, 32, or 64 ports. Other ATAs on our list only have two or four ports. If your office is larger with many devices, Yeastar models or VoIP gateways are your best options.
However, without a USB port or built-in router, you'll need to connect to your internet via an Ethernet cable to the adapter. Also, the Yeastar TA800 doesn't have an FXO port, so you can't connect to the public switched telephone network (PSTN). Check out the Grandstream HT813 for two ports, including an FXO for landlines.
Yeastar TA800 Features
Security settings: Yeastar TA800 will alert you via text or a phone call if your device or the web interface (used for logins) is under attack. An internet protocol (IP)-based attack on your phone results in the ATA blocking the IP address, whereas more than five consecutive failed logins will lock the account for 10 minutes. Both security breaches result in an alert.
Call logs: Review call logs and listen to or download recordings using the Yeastar TA800. It retains information about call types, call duration, and call status. You can filter reports by various call details or communication groups, such as inbound, outbound, or internal.
Hunt groups: You can add a hunt group and choose which FXS ports to ring when a call comes in. Yeastar offers three options: simultaneous (ring all FXS ports at once), round-robin (rings lines in a preset order until everyone has a turn answering), and linear hunting to always deliver calls in a specific order.
Grandstream HT813: Best ATA for VoIP & Landline Connections
What We Like
Supports VoIP and landline services
Has a built-in network address translation (NAT) router
Uses the Advanced Encryption Standard (AES)
What's Missing
Doesn't come with VoIP service
Only connects 1 analog device
Lacks a USB port
Grandstream HT813 Pricing: $65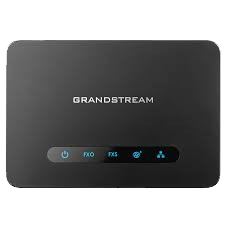 Unlike other VoIP adapters, the Grandstream HT813 has an FXO port, which lets you answer calls from your plain old telephone service (POTS). Alternatively, you can set up a backup landline. The Grandstream HT813 will automatically switch to your failover line during a power or internet outage, allowing internet-connected devices to use your PSTN.
The Grandstream HT813 is an excellent choice for connecting one analog device and up to two SIP sessions. If you don't need an FXO port, consider the less expensive Grandstream HT812, as it has two FXS ports, or go for the eight-device capable Yeastar TA800. Likewise, the Grandstream HT813 doesn't come with VoIP service. In this case, check out Ooma Telo, as internet-based calling comes free with the device.
Grandstream HT813 Features
Lifeline support: During a power outage, the Grandstream HT813 hard relays the FXS port to the FXO, making it ideal for companies needing to keep their POS system connected or to be able to answer VoIP calls even if the internet goes down.
Advanced configuration options: The Grandstream HT813 offers many custom settings, allowing you to decide how and when to download firmware updates, add a failover SIP server, or enable and disable various features.
Security: Although the Grandstream HT813 lacks the automatic attack reporting feature like the Yeastar TA800, it provides encryption support via a transport layer security (TLS) and secure real-time transport protocol (SRTP).
OBi202: Best VoIP Phone Adapter for Google Voice Users
What We Like
Dual FXS ports
Supports up to 4 SIP services
Native support for Google Voice
What's Missing
No FXO ports for landlines
Can't add new Google accounts after December 18, 2023
Fewer security features than competitor devices
OBi202 Pricing: $78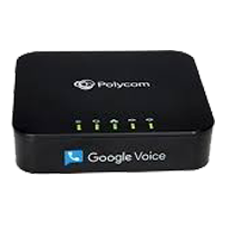 The dual FXS OBi202 works with up to four small business VoIP services or profiles, making it an excellent option for people who need to accept calls from multiple SIP accounts. It's also the only ATA on our list with a USB, except for the Ooma Telo, which only works with Ooma VoIP services. The USB port is helpful if you want to add a Wi-Fi dongle for wireless internet.
However, the OBi202 model is being phased out, meaning that after December 18, 2023, you won't be able to add a new Google Voice account to your phone and will need to configure your phone manually instead of through the OBiTalk web portal.
OBi202 Features
Native Google Voice integration: The OBi202 has been a favorite device for Google Voice users since its debut, as most ATAs don't support Google Voice. As long as you forward your Google Voice number before December 18, 2023, it should work fine. But the ObiHai manufacturer, purchased by Poly in 2018, hasn't announced a replacement device with Google Voice compatibility.
Ethernet router: The one-port Ethernet router has a firewall and built-in quality of service (QoS) settings, which can prioritize voice conversations on your network. Alternatively, you can use the USB port to connect wirelessly using the OBiWiFi wireless adapter.
Multiple SIP services: Like other VoIP adapters, the OBi202 supports multiple SIP services. But it's unique because even if the devices connected to the ATA use different providers, users can dial each other by using the pound (#) key to call another phone port.
Ooma Telo: Best ATA for Home Office Users Who Need a VoIP Service
What We Like
Includes free internet-based, nationwide calling
USB port supports Wi-Fi and Bluetooth accessories
Works with up to 4 digital enhanced cordless telecommunications (DECT) handsets
What's Missing
Doesn't work with other VoIP services
No built-in failover landline option
Ooma Telo Pricing: $99.99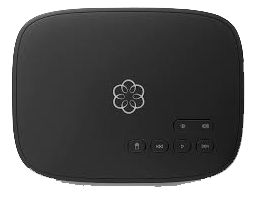 The Ooma Telo is an excellent choice for home office users wanting to use analog cordless and standard telephones to make free VoIP calls. Unlike other analog telephone adapters, the Ooma Telo includes phone service, enabling you to make unlimited calls within the U.S. and only pay for taxes and telecommunications fees.
It also has a built-in speaker, which is unique to Ooma. You can use the speaker to listen to voicemails or have callers announce their names before you answer.
Along with home service, the Ooma Telo also connects business phones. And Ooma also offers wireless ATAs. You can purchase paid business plans, starting at $19.95 per user, per month. Learn more in our Ooma review.
Like the OBi202, you can forward Google Voice calls to your Ooma account, but this requires a dedicated line and a paid plan. But the Ooma Telo doesn't work if you have third-party VoIP services, such as RingCentral or Nextiva. In this case, consider the Grandstream HT812.
Ooma Telo Features
Multidevice use: Although Ooma Telo only has one FXS port for analog devices, you can connect up to 4,000 IoT sensors and four digital enhanced cordless technology (DECT) phones. It also works with smart home devices like Nest and Amazon Alexa.
Quality of service (QoS): Ooma uses less bandwidth than other VoIP systems, thanks to an advanced voice compression algorithm. It prioritizes voice packets so that you get excellent call quality, even if you're uploading a video while on a call.
Paid VoIP plans: Ooma offers paid plans for home and business calling. Subscriptions start at $9.99 per month and include do not disturb (DND), voicemail-to-text, and custom call blocking. Business versions have a virtual receptionist and overhead paging.
Grandstream HT812: Budget-friendly ATA Supporting 2 Devices
What We Like
Offers a SIP failover option
Built-in router
Supports fax-to-email
What's Missing
Doesn't connect to a landline
No USB port
Doesn't include VoIP service
Grandstream HT812 Pricing: $46.99
With a starting price of $46.99, the Grandstream HT812 is cheaper than all ATAs we reviewed. This budget-friendly model supports two VoIP profiles and has an integrated NAT router. The two FXS ports connect up to two analog devices, including desk phones and fax machines.
Like the Grandstream HT813, the HT812 uses AES and provides a unique security certificate for each adapter. It also has a SIP failover system, so if you use two VoIP services and one goes down, it'll route calls to the port with working service. However, it doesn't have an FXO port for connecting a landline or including VoIP services. Check out the HT813 model for landline support or the Ooma Telo for an adapter with free internet calling.
Grandstream HT812 Features
Fax: Like other VoIP telephone adapters, the Grandstream HT812 has a T.38 port for faxing. It also includes a fax-to-email feature to view incoming faxes as portable document formats (PDFs).
Telephony: The Grandstream HT812 supports many VoIP features, including three-way calling, blind or attended call transfers, and DND. However, it lacks the hunt group feature found on the Yeastar TA800.
Server failover: Although you can't route calls to a backup landline, you can set it up to automatically switch to a secondary server. This works well if one VoIP service experiences downtime because you won't miss a call or have to reconfigure your call forwarding rules.
How We Evaluated the Best Analog Telephone Adapter
VoIP adapters can connect one or two analog devices in a home office or eight or more in a small office. The prices and features differ among ATA hardware. We explored pricing, features, and user reviews to rate analog adapters and determined the best use cases.
Learn how we evaluated the best analog telephone adapter by clicking on the tabs below:
20% of Overall Score
Our comparison looked at the cost of ATA devices from the manufacturer and third-party sellers. We also gave a higher score to hardware that included VoIP services.
30% of Overall Score
We assessed each analog telephone adapter based on the types of supported VoIP calling features and the number of supported protocols. Our guide also considered security options and the availability of echo cancellation.
20% of Overall Score
We examined ATAs to determine which offered multiple VoIP service support and e-fax capabilities. Our comparison also verified the number of ports and gave devices with a router a higher score.
30% of Overall Score
We rated hardware based on the overall features and value for the money. In addition, we examined the ease of use for the device and web portal while looking at the popularity and usage rates.
*Percentages of overall score
Bottom Line
If you already have office phones and want to switch to a cloud-based business phone system, analog telephone adapters let your traditional devices make and receive calls over the internet. Some VoIP adapters also support analog fax machines, POS systems, and cordless phones.
The Yeastar TA800 earned 4.38 out of 5, making it the best ATA for small businesses. You can use up to eight devices with the Yeastar TA800 and receive alerts if hackers try attacking the physical hardware or web portal. Yeastar has an online portal to configure your equipment and set up your VoIP system like other VoIP adapters.