An analog telephone adapter (ATA), also called a voice-over-internet-protocol (VoIP) phone adapter, turns your standard home or desk phone into a VoIP phone. Some ATAs only support a couple of devices, whereas others let you connect up to eight or more. Additionally, some ATAs have a built-in router, advanced security, and echo cancellation. Therefore, it's important to pick the option that best fits your requirements.
According to our research, the following analog telephone adapters work well for small businesses:
Poly OBi202: Best Overall Analog Telephone Adapter
Poly OBi202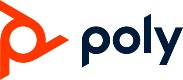 Overall Score:
4.69

OUT OF

5
i
Our score is based on a weighted evaluation of dozens of similar products and services conducted by our experts.
What We Like
Has a built-in router
Native support for Google Voice
Supports tons of VoIP features
What's Missing
Must buy VoIP services separately
Need to verify it works with your VoIP provider before buying it
Poly OBi202 Pricing
Starts at $79.99; price varies depending on the retailer
The Poly OBi202 is an analog telephone adapter offering two FXS ports and a built-in router with integrated Quality of Service (QoS) to improve router performance. It provides T.38 fax support, meaning users can place a phone call while sending or receiving a fax.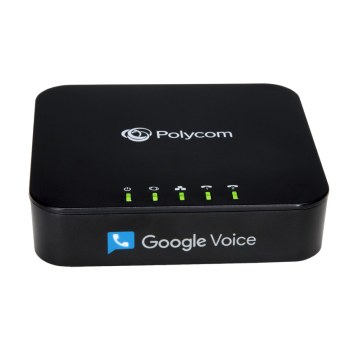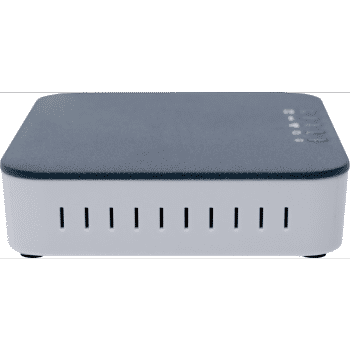 The OBi202 has multiple protocols and may be used with up to four VoIP services simultaneously. This is great for people who want to use their home or office phone to handle calls through several VoIP numbers, like Google Voice and Anveo services. But it lacks the high security of other ATAs, such as the Grandstream HT812 and HT813 models.
Poly OBi202 Features
OBiTALK portal: Once you connect your ATA to your phone and internet, you can configure everything, including setting it up to work with your VoIP system, through the OBiTALK portal. It has a straightforward web interface, allowing users to access device settings from anywhere.
Google Voice integration: With native Google Voice integration, users can check their voicemail and make or receive calls using their analog phone.
USB port: The ATA is equipped with a USB port so that you can plug in a flash drive, external hard drive, or accessories. For instance, the OBiWiFi adapter gives your device wireless capabilities and allows devices, such as cellphones, to connect wirelessly.
Grandstream HT812: Best Budget-friendly ATA With Advanced Security Features
Grandstream HT812

Overall Score:
4.56

OUT OF

5
i
Our score is based on a weighted evaluation of dozens of similar products and services conducted by our experts.
What We Like
Integrated network address translation (NAT) router
Supports two VoIP profiles
Security for accounts and call data
Grandstream HT812 Pricing
Starts at $40.22; price varies depending on the retailer
The Grandstream HT812 is an analog telephone adapter with an integrated network address translation (NAT) gigabit router, offering speeds up to 100 Mbps. The NAT router helps improve security by reducing the number of internet protocols used by companies. The Grandstream HT812 provides additional security measures, including advanced encryption standard (AES) via a unique security certificate, transport layer security (TLS), and secure real-time transport protocol (SRTP).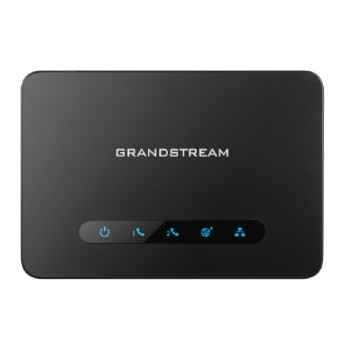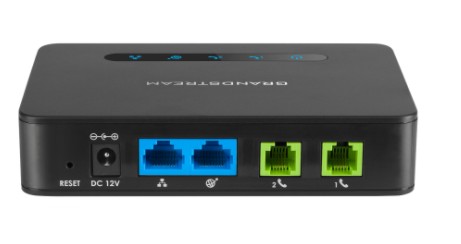 It supports two session internet protocol (SIP) profiles via two FXS ports, allowing people to use two phones at once or fax while using the phone. While the Grandstream HT812 is an excellent ATA, it doesn't include VoIP service. For all-in-one plans, consider Ooma Telo.
Grandstream HT812 Features
Calling features: Each port supports calling features, such as three-way conferencing, caller ID, call waiting, do not disturb, forward, hold, and flash, blind, or attended transfer.
Simple installation: The HT812 is easy to set up, thanks to the color-coded ports and web browser installation dashboard.
Voice quality: The Grandstream HT812 uses a wide-band high-definition (HD) codec that uses a wider band and captures a better range of frequencies than standard VoIP systems.
Grandstream HT813: Best ATA for Backup Landlines
GrandStream HT813

Overall Score:
4.23

OUT OF

5
i
Our score is based on a weighted evaluation of dozens of similar products and services conducted by our experts.
What We Like
Use with up to two session initiation protocol (SIP) profiles
Ability to switch to a landline without unplugging devices
Strong security
What's Missing
No USB slot
More expensive than other Grandstream models
Grandstream HT813 Pricing
Starts at $65; price varies depending on the retailer
The Grandstream HT813 is similar to the HT812 model, offering the same excellent calling features, a built-in router, and high-security levels. While both have two ports, the HT813 has one FXS port and one FXO port. For companies with a landline backup, if the internet service disconnects or power fails, the HT813 switches automatically to your standard phone line.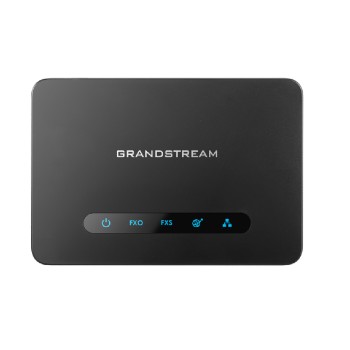 Like other standalone analog telephone adapters, you'll need to configure your router to your VoIP service specifications. For plug-and-play devices, try a service like Ooma Telo, where devices are preconfigured to work once you plug in your phone.
Grandstream HT813 Features
Backup features: The Grandstream HT813 provides lifeline support by hard relaying the FXS port to the FXO port during a power outage. Plus, it offers a failover SIP server that automatically transfers to a secondary server if the first one loses a connection.
Voice codecs: Grandstream models support several voice codecs, including G.711 with Annex I (PLC) and Annex II (VAD/CNG), G.722, G.723.1, G.729A/B, G.726, and iLBC, OPUS. It also offers dynamic jitter buffer and advanced line echo cancellation.
SIP profiles: Unlike an ATA such as Ooma, Grandstream supports two SIP profiles, meaning you can set up two different user accounts and settings.
Yeastar TA800: Best for Multiextension Support
Yeastar TA800

Overall Score:
3.68

OUT OF

5
i
Our score is based on a weighted evaluation of dozens of similar products and services conducted by our experts.
What We Like
Intuitive web-based setup
Supports up to eight devices
Works with fax machines
What's Missing
No USB slot
More expensive than other options
Must supply your own VoIP services
Yeastar TA800 Pricing
Starts at $189.99; price varies depending on the retailer
The Yeastar TA800 supports up to eight conventional phones or fax devices, making it a great solution for companies switching to a VoIP small business phone system. Instead of buying IP-enabled desk phones or individual analog telephone adapters, business owners can use the YST-TA800 to take advantage of a cloud-based public branch exchange (PBX) service.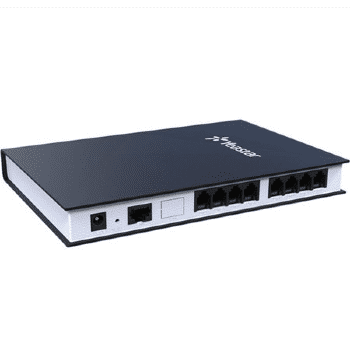 However, for companies looking for a built-in router, the Poly OBi202 may be a better fit as it comes with four ports and a router.
Yeastar TA800 Features
Voice quality: Yeastar supports several codecs and voice capabilities, including echo cancellation and dynamic jitter buffer.
VoIP calling features: Similar to other analog telephone adapters, Yeastar TA800 users can use its standard phone for three-way conferencing, blind and attended transfer, call waiting, speed dial, hunting groups, and call forwarding.
Cyberattack detection: Yeastar is unique in that it offers a firewall and will alert users by phone or email if an IP address attacks the system.
Honorable Mention: Ooma Telo
Ooma Telo

What We Like
Excellent call quality
Unlimited calling to numbers in the United States, Canada, Mexico, and Puerto Rico
Has a speaker to hear voicemails
What's Missing
Not all fax machines work with Ooma Telo
Advanced features require a Premier or business account
Only one port
Ooma Telo Pricing
Optional Premier plan:
$9.99 per month for a second phone number, smart home integrations, voicemail-to-email, and expanded call blocking
While Ooma didn't score as well using our evaluation criteria, it's a service/device that's beneficial for several company types. It also has a very inexpensive pricing structure that's useful for businesses that need a simple solution for adapting their telephones to VoIP.
Ooma Telo is an analog telephone adapter that works with your existing wired or wireless telephone. Unlike other devices, Ooma Telo comes with a free VoIP service. Once you hook up your ATA, you can make and receive phone calls for only the cost of taxes and standard telecommunications fees. It's also unique because the VoIP phone adapter has a speaker, allowing users to listen to voicemail on the device.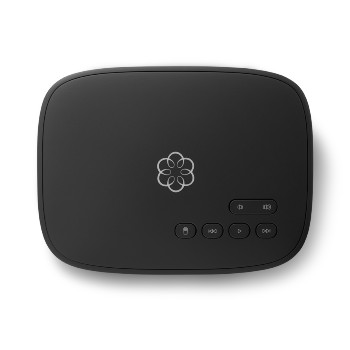 Home office users can port their current phone number or pick a new one. Plus, Ooma's systems use advanced voice compression—you can speak to a client while uploading large files or videos without noticing a drop in call quality. However, Ooma Telo only has one port, so you'll need to buy extra devices to connect several phones and upgrade to the Premier plan if you want a second line.
Ooma Telo Features
Free calling services: Ooma Telo users get three-way conferencing, voicemail, call screening features, and caller ID. It's free to call anywhere in the U.S., Puerto Rico, Mexico, and Canada, and you can buy international calling plans, as well.
Security: Ooma relies on the same encryption technology used by governments, including SRTP encryption for voice data security, and signaling traffic is encrypted and goes through a virtual private network (VPN) tunnel.
Voice quality: Ooma employs HD voice technology, prioritizes voice packets so call quality doesn't decrease and uses adaptive redundancy to detect and replace packet loss before you notice a problem.
How We Evaluated the Best Analog Telephone Adapters
ATAs work by translating analog signals into digital data. This allows users to switch from a public switched telephone network (PTSN), known as a plain old telephone service (POTS), to cloud-based VoIP services without buying new telephones or fax machines. Although VoIP phone adapters use similar technologies, differences exist which can make it harder to select the best for your business based on price alone.
A small business wanting to plug in a single analog phone and fax machine only needs an adapter with one or two foreign exchange subscriber (FXS) ports. In contrast, people moving all office phones over to a VoIP system may want an ATA with many ports. Plus, if you keep a backup landline, you'll want an analog phone adapter with a foreign exchange office (FXO) port. But, most importantly, your adapter should be compatible with your current VoIP provider or come with VoIP services.
Poly OBi202 earns the top spot in our review. It comes with a built-in router and supports up to four VoIP services, including native integration with Google Voice. In addition, it provides a USB port and works with fax machines.
Learn how we evaluated the best analog telephone adapters by clicking on the tabs below:
25% of Overall Score
We examined the cost of each analog telephone adapter and looked for options giving discounts when purchasing more than one at a time.
25% of Overall Score
We reviewed devices to make sure they support calling features on analog phones and those provided by VoIP services, multiple protocol support, echo cancellation, and security.
25% of Overall Score
We looked at features for small businesses, such as advanced digital signal processes and T.38 fax support.
25% of Overall Score
We determined our expert score by assessing ease of use, popularity among consumers and business users, standout features, and overall value for the money.
*Percentages of overall score
Bottom Line
While most VoIP plans work on cell phones and softphones, some business owners may want to use desktop or cordless phones. An ATA solves this problem, connecting your standard telephone to your cloud-based VoIP service.
Some ATAs include a preconfigured device and unlimited calling, so users can start making VoIP calls in less than 15 minutes. In contrast, standalone devices must be configured manually according to your VoIP provider's specifications. Learn how to set up an on-premise VoIP service using our guide.