5 Best Answering Services for Small Businesses in 2022
This article is part of a larger series on VoIP.
Answering services provide live receptionists who answer calls during business hours, after hours, or at high volume times when your team needs help handling overflow. The best options are affordable and fit seamlessly into your workflow, with live receptionists who transfer calls, take messages, and record contact information, all while giving your callers a positive experience. Based on our research, here are the five best answering services for small businesses.
After evaluating several options, we narrowed our list of the best answering services for small businesses to include:
Answering Services

Starting Price

Key Features

Free Trial

Our Rating

$219 per month

Grasshopper integrations
Live receptionists
Ruby app

N/A

4.40 out of 5

$43 per month

Custom scripts
Online portal
Warm transfers for call routing

7 days

4.39 out of 5

$69 per month

Call analytics
Mobile lead capture
Dedicated account manager

7 days

4.36 out of 5

$99 per month

Included virtual assistant with Premium
VoIP phone features
Unlimited e-faxing

N/A

4.23 out of 5

$299 per month

Multiple integrations
e-fax built into app
Free call recording

14 days

4.06 out of 5
Which answering service is right for you?
Answer a few questions about your business, and we'll give you a personalized product match.
Ruby: Best Overall Answering Service for Small Businesses
What We Like
Discounted rates for Grasshopper phone system users
7 on-hold music options
Doesn't charge a setup fee and answering calls after hours doesn't cost extra
What's Missing
More expensive subscriptions and per-minute fees than other options
Bilingual agents only available during business hours Monday-Friday
Not as many integrations as Abby Connect
Ruby Pricing
Call Ruby 50: $219 per month for 50 receptionist minutes
Call Ruby 100: $349 per month for 100 receptionist minutes
Call Ruby 200: $629 per month for 200 receptionist minutes
Call Ruby 350: $1,049 per month for 350 receptionist minutes
Call Ruby 500: $1,499 per month for 500 receptionist minutes
Money-back guarantee: 21 days
Ruby, also known as Ruby Receptionists, is a well-known business answering service offering a full-featured mobile app with usage alerts and voicemail transcriptions. It earns the highest score in part because after-hours services don't cost extra, it provides custom script support, it has special capabilities like HIPAA-compliant options, and the auto-attendant comes with both call whisper and barge features to ensure high-quality caller experiences.
Ruby also offers Ruby Chat services and the ability to bundle chat and Call Ruby plans to save money. However, you'll pay extra if you want outbound calling services or need bilingual agents outside of standard business hours. In this case, consider an answering service like VoiceNation or Map Communications. Both cost less than Ruby, are available 24/7, and employ bilingual receptionists.
Ruby Features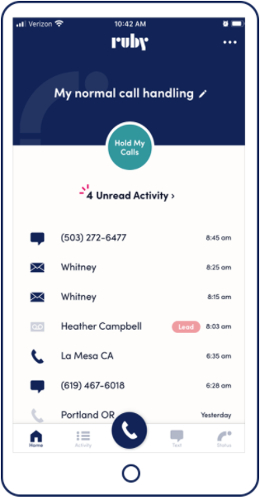 Grasshopper integrations: If you use one of the best business phone systems, such as Grasshopper, you can save up to 35% when adding Ruby services. For example, Grasshopper users pay $299 (or $195 for a limited time) for 100 minutes (Ruby Call 100) versus $349 for standalone users.
Ruby app: Use Ruby's iOS or Android mobile app to make calls and send and receive text messages. Your business phone number shows on your customer's caller ID. From the app, you can manage usage, view reports, and update call handling instructions.
Live receptionists: U.S.-based agents can either be native English or native Spanish speakers, depending on your needs. They receive high ratings for professionalism on calls, and straightforward call transferring options hide the fact that the representatives aren't located in your office.
Map Communications: Lowest Priced On-demand Answering Services
What We Like
Services available 24/7/365 with no price difference for after-hours service
Map Communications works with you to devise a custom script for greetings
U.S.-based bilingual teams in several locations across the country
What's Missing
Doesn't offer a mobile app like other phone answering services
Service setup may take up to 24 hours, whereas VoiceNation provides instant activation
Can't upload custom hold music
Map Communications Pricing
Standard: $43 per month for on-demand use billed at a cost of $1.27 per minute (no included minutes)
Business: $164 per month for 125 included receptionist minutes plus $1.20 per extra minute
Executive: $274 per month for 225 receptionist minutes plus $1.18 per additional minute
Free trial: 7 days, no credit card required
Map Communications is the only virtual receptionist provider on our list with an on-demand, per-minute plan. With the Standard plan, you only pay for the minutes you use (in addition to a low monthly subscription fee). Receptionist services are available 24/7/365 and there's no difference in cost after hours.
Map Communications bills in 30-second increments like Ruby, but offers the lowest subscription fees. For example, its Business plan costs $169 and includes 125 minutes, while the Call Ruby 100 plan only includes 100 minutes at a cost of $349 per month. Coming in at just $43 per month plus on-demand minutes used, its standard plan makes it an affordable answering service for small businesses and even solopreneurs.
Unlike Ruby, which charges for the time a caller spends on hold, Map Communications claims they "never put your callers on hold." However, Map Communications charges $15 extra for up to six holidays a year, whereas VoiceNation doesn't.
Map Communications Features
Online portal: Although Map Communications doesn't have a mobile app, the website's interface is optimized for desktop and mobile use. The customer service dashboard tracks usage, client correspondence, and account management features.
Custom scripting: Create your own scripts or get help from the Map Communications team. They review industry standards and use advanced software and technical capabilities to improve your scripts.
Warm transfers: Along with custom call routing features, you can opt for warm transfers. The agent will announce the call and provide customer details before adding the caller to the line.
VoiceNation: Best Answering Service for Instant Activation
What We Like
Provides 24/7/365 answering services with no extra fees for holidays or after-hours calls
Doesn't charge an activation fee like Davinci
Virtual receptionists are based in the U.S. and you can ask for bilingual agents at no extra charge
What's Missing
Charges 10 cents per minute when placing outbound calls through the mobile app
Doesn't optimize scripts like Map Communications does
Some reviewers express concerns about the quality of agents answering the phone
VoiceNation Pricing
Basic: $69 per month for 25 receptionist minutes
Business: $99 per month for 50 receptionist minutes
Pro: $249 per month for 150 receptionist minutes
Executive: $449 per month for 300 receptionist minutes
Enterprise: $799 per month for 600 minutes
Free trial: 7 days, includes 30 minutes
VoiceNation is one of the best small business answering services and has more than 20 years in the industry. While other solutions take 24 hours or longer to activate, VoiceNation can start taking your calls as soon as you sign up. All plans include a dedicated account manager, message delivery by voicemail, email, or short message service (SMS) text, and custom call scripting.
VoiceNation also offers lower prices than Abby Connect or Ruby and claims to provide more analytics than other providers, which can be very helpful for forecasting and performance management. Lastly, while VoiceNation doesn't offer professional script writing, you can use the script wizard to customize your greetings yourself.
VoiceNation Features
Reports and analytics: Check out call volume, caller location and activity, and call duration with online reports. Use analytics features to visualize where calls come from or who your top 25 callers are. Plus, get insights into your abandoned call rate and average response time.
Mobile lead capture: Use your cell phone and the VoiceNation mobile app to highlight important leads. From there, prioritize callbacks for your team so they always know who to contact first. Save even more time by adding an auto-dialer app to your sales tool kit.
Call types: Like other answering services, VoiceNation can process orders, set appointments, qualify leads, screen calls, and answer frequently asked questions (FAQs). The system also works well for companies needing emergency dispatch services.
Davinci: Best Answering Service for Virtual Assistant Services
What We Like
Premium users can access help with administrative tasks not usually provided with an answering service
Davinci is the only provider that bills per second instead of rounding up to 6 or 30 seconds
Ability to host an audio conference with up to 99 attendees
Auto-attendant system routes callers when not using live answering
What's Missing
$95 one-time setup fee and doesn't offer a free trial
Doesn't answer calls 24/7 like Ruby and Map Communications
Activation can take up to two business days
Davinci Pricing
Business 50: $99 per month for 50 live answer minutes and $1.25 per additional minute
Business 100: $239 per month for 100 live answer minutes and $1.25 per overage minute
Premium 50: $249 per month for 50 live answer minutes and $1.75 per extra minute, plus $50 per hour for admin tasks
Premium 100: $319 per month for 100 live answer minutes and $1.75 per additional minute, plus $50 per hour for admin tasks
Setup fee: $95
Davinci offers two package types, Business and Premium, so you only pay for the features your business needs. With Business plans, you get all of the basics you expect from a professional answering service, like call answering and routing and voicemails transcribed and sent to email and text. However, you can also hold conference calls with up to 99 participants, which is a unique feature.
With Premium plans, your receptionist becomes a virtual assistant who can also perform administrative tasks such as scheduling deliveries, planning travel, setting appointments, managing calendars, returning calls, and even processing orders. Davinci charges $50 per hour and bills in per-minute increments for admin work.
In addition, Premium plan subscribers can use bilingual teams to make outbound calls, and the Premium 100 plan costs less than the Call Ruby 100 plan. Unfortunately, Davinci only answers calls on Monday through Friday from 8 a.m. to 8 p.m. Eastern. If you need a 24-hour solution that includes weekends and holidays, consider Ruby or VoiceNation.
Activation also takes longer with Davinci. For instant access to virtual answering services, try VoiceNation, which provides the quickest new account turnaround time and doesn't charge extra for after hours or holidays.
Davinci Features
Virtual assistant: Need a little extra administrative help from time to time? With a Premium package, you can ask Davinci to schedule flights or perform data entry tasks, though it will be billed as an extra cost at $50 per hour, in one-minute increments.
Audio conferencing: Davinci is also a teleconferencing solution with some voice-over-internet-protocol (VoIP) phone features, so you can invite up to 99 callers to join you in an audio conference. You'll find this feature in your online portal.
Virtual fax: All Davinci subscriptions come with unlimited faxing, and you can send faxes right from your mobile app. Davinci is also the only provider on our list offering two local or toll-free numbers with every plan, so you can dedicate a number for faxes if you want.
Abby Connect: Best Answering Service With Dedicated Teams
What We Like
Dedicated team and success manager for your account
Custom-built integrations and connects to Zapier
Activate call recording by contacting Abby Connect
Provides a warm transfer for calls similar to Map Communications
What's Missing
Additional charge for 24/7 services
Costs more than Map Communications, Davinci, or VoiceNation
No advanced VoIP features like call barge and whisper found with Ruby
Abby Connect Pricing
Plan 1: $299 per month for 100 minutes and $2.99 per additional minute
Plan 2: $549 per month for 200 minutes and $2.75 per additional minute
Plan 3: $1,199 per month for 500 minutes and $2.40 per additional minute
Free trial: 14 days
Abby Connect is among the best answering services for small businesses because it's the only solution with a dedicated team. Each group includes five to seven receptionists, and you may have two teams for expanded hours and three for 24/7 answering services. This allows for more consistent experiences for your customers and callers with receptionists who are more knowledgeable about your business.
Unlike Map Communications, Abby Connect lets you upload custom tunes for customers on hold. It also offers the longest free trial, giving you 14 days to interact with your dedicated team, and all of their features are included with every plan. Plus, you'll not only have a dedicated team, but a dedicated success manager to help you get the most from the service.
Still, Abby Connect isn't the lowest-priced solution, especially if you need 24-hour answering services. Although Map Communications lacks a mobile app and doesn't provide dedicated teams, it's more than $100 less per month and more than $1 less per minute than Abby Connect.
Abby Connect Features
AbbyGo app: Like Davinci, you can send faxes from the Abby Connect mobile app (called AbbyGo) and make outgoing calls for no additional charge. AbbyGo also lets you update your call availability and handling instructions and view usage data.
Free call recordings: Abby Connect is the only answering service on our list promoting its new call recording features. You can record only incoming calls or contact Abby Connect to activate the double-sided recording option.
Integrations: Abby Connect has integrations with HubSpot, Clio, Clio Grow for law firms, and Lawmatics. You can also use the Zapier tool to connect more than 3,000 platforms. Likewise, if your customer relationship management (CRM) system supports web forms, Abby Connect agents can also update client data.
How We Evaluated the Best Answering Services for Small Businesses
Although all of the best small business answering services provide live receptionists, each differs in price, hours, features, and customization. We narrowed our selection by considering the costs and benefits of each provider. Then we rated each business answering service based on pricing, general and advanced features, and our expert score, which includes popularity, customer reviews, and our own experience with the products.
Ruby (aka Ruby Receptionists) gets the top score based on our criteria and so earns the top spot on our list. It provides bilingual receptionist options and services are available 24/7/365. It has a full-featured call handling and management system, and expanded capabilities include Health Insurance Portability and Accountability Act (HIPAA) compliant services, lead capture forms for your website, and appointment scheduling.
Ruby answers calls in the U.S., Canada, and U.S. Caribbean, and calls can be seamlessly routed based on the type of caller or time frame. Call Ruby plans can even be bundled with Ruby Chat plans for a cost savings. The site boasts a 94% customer satisfaction rate, and monthly plans include a 21-day money-back guarantee, so there's no risk for you to see whether Ruby is a good fit for your needs.
Learn more about how we evaluated the best answering services for small businesses by clicking on the tabs below:
10% of Overall Score
We compared general subscription prices of answering services, including the availability of volume discounts or cheaper annual pricing. We also gave points to answering services offering a free trial.
35% of Overall Score
To make our list, all virtual answering services have to provide live receptionists. We also looked for systems with voice-over-internet-protocol (VoIP) features, such as call queuing, hold music, and an automated attendant. Custom script support and company-provided scripts earned additional points.
30% of Overall Score
We assessed provider offerings, such as bilingual live receptionists and a dedicated live staff. In addition, we considered business virtual receptionist services that also offer outbound calling and call overflow solutions. We also checked for advanced system capabilities like call barge and whisper to ensure and improve the quality of caller experiences.
25% of Overall Score
We calculated our expert score by identifying standout features that deliver the best value for the money. We also checked out the popularity of various answering services and how easy it was to incorporate them into existing call flows.
*Percentages of overall score
Bottom Line
Virtual answering services help small businesses handle expansion, peak call seasons, and after-hours calls with ease. Solutions vary from basic to advanced, and there are subscriptions suitable for most budgets. In addition, many companies provide a free trial so that you can take it for a test run.
Based on our ratings, Ruby is the best answering service for a small business. The well-trained live agents answer calls 24/7/365, the system offers advanced call handling and management features, and you can view usage data and update your schedule right from your cell phone. Plus you can sign up without risk, thanks to Ruby's 21-day money-back guarantee.