7 Best Free Business Phone Number Apps in 2023
This article is part of a larger series on VoIP.
Free business phone number apps make communications easy as they provide a professional number separate from a personal one—streamlining calls and texts. However, they differ in the types of numbers offered, the number of extensions, call and text management features, and call charges. We evaluated dozens of providers to arrive at the seven top options for small businesses.
Based on our research, these are the best options, ideal to use for different business needs and situations:
Best Free Business Phone Number Apps at a Glance
Free Business Phone Number Apps

Monthly Subscription Requirement

Types of Free Business Phone Numbers Available

Key Call Management Features

FSB Rating

None.

Sign in with a Google account and choose among the available local numbers provided on the Google Voice page.

Spam call blocker
Voicemail greeting
Call forwarding

4.69 out of 5

Yes.

The Dollar Unlimited Phone Number plan costs $1 monthly, offering a free phone number.

Call forwarding
Call hunting
Call return
Call waiting ID with name
Caller ID blocking
IVR
Spam call filter

4.25 out of 5

Yes.

Choose among its paid plans and get 1 free phone number. The Basic plan's monthly pricing is $14.99 per user.

Call routing
Menus
Dial-by-name directory
Call queues

3.78 out of 5

Yes.

Choose among its paid plans and get 1 free phone number. The Standard plan's monthly pricing is $9.99.

Custom caller ID
Custom voicemail
Voicemail transcription

3.71 out of 5

Yes.

Choose among its paid plans and get the SIM card with the free phone number. The Customize plan's monthly pricing is $2.99.

3.67 out of 5

Yes.

Choose among its paid plans and get 1 free phone number. The Starter plan's monthly pricing is $35 per user.

Local
Toll-free
International

Ring groups
Call recording

3.66 out of 5

Yes.

Choose among its paid plans and get 1 or more free phone numbers, depending on the plan. The Starter plan's monthly pricing is $29.

Call forwarding
Simultaneous call handling
Custom greetings

3.65 out of 5
Google Voice: Best Overall Free Business Phone Number App
What We Like
Quick and easy setup of phone number
Intuitive interface
Seamless integration with Google Calendar and Meet
What's Missing
Toll-free and vanity numbers are not supported
Limited call management features
Global coverage is limited to 14 countries only
Google Voice Monthly Pricing
Personal use: Free phone number for making calls, sending texts, and receiving voicemails
Starter: $10 per user for up to 10 users, calls to the US, Canada, and most European countries, voicemail transcription, and Google Calendar and Meet integrations
Standard: $20 per user for an unlimited number of users, unlimited domestic locations, multi-level auto attendant, ring groups, and eDiscovery for records.
Premier: $30 per user for an unlimited number of users, unlimited international locations, advanced reporting, and automatic ad-hoc user call recording
Google Voice tops the list of free business phone number apps because it's the only one that provides a phone number without a monthly subscription. All you need is a Google account to get started. Through your laptop browser or mobile, streamline business communications with the phone system's features, including sending and receiving unlimited texts, making calls, and saving voicemails.
When you call someone from the platform, the Google Voice number will appear on the recipient's caller ID, keeping your personal phone number private. During the call, you have the option to mute your audio, put the call on hold, and access the dial pad to key in numbers following a customer inquiry. Learn more about this platform's free business phone service in our comprehensive Google Voice review.
Unfortunately, Google Voice doesn't have toll-free and vanity phone numbers in their free and paid plans. Consider Phone.com if you need these types of services. The provider lets businesses choose among different phone numbers in their subscription plans.
Google Voice Features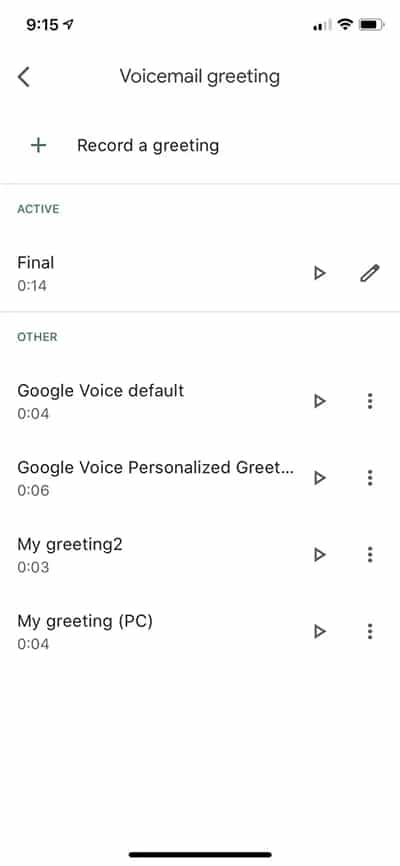 Voicemail greeting recording: Chrome and Firefox allow you to record a three-minute-long greeting. On Safari, recordings are only a minute long. Find the voicemail greeting recording function in the Settings under the Active greeting section.
Spam filter and number blocker: Worry no more about messages and calls from telemarketers, as Google Voice automatically places these in your spam folder using a global database. Manually block a number by selecting the number in question from your call log and choosing the Block Number option in the three-dot settings.
Call forwarding: Link a phone number to your Google Voice account to avoid missing calls. This feature is especially useful when you're traveling to a place that doesn't have a good internet connection.
Callcentric: Best for Teams That Require Customizable VoIP Services
What We Like
Bring your own device (BYOD) option
Flexible plans
Wide range of call management features
What's Missing
Configuration may be confusing to some users
Outdated mobile app
Lacks flat-rate annual plans
Callcentric Pricing*
Inbound calls:
Dollar Unlimited: $1 a month for unlimited call minutes within select regions in the United States
Pay-per-minute: $1.95 a month within the U.S. and Canada (with an additional 1.5 cents per minute for incoming calls)
Toll-free: $3.95 a month for unlimited call minutes within the U.S. and Canada (with a setup fee of $3.95)
Office Unlimited: $8.95 a month for unlimited call minutes within the U.S. and Canada (with a setup fee of $8.95)
Service Provider Unlimited: $19.95 a month for unlimited call minutes within the U.S. and Canada (with a setup fee of $19.95)
International Unlimited: Rates vary by country
Outbound calls:
IP Freedom: Free for unlimited in-network calling to Callcentric customers and other VoIP networks
Pay Per Call: Rates depend on the location called
North America Basic*: $1.95 a month for 120 minutes to the U.S., Canada, and Puerto Rico
North America 500*: $6.95 a month for 500 minutes to the U.S., Canada, and Puerto Rico
North America 1000*: $12.95 a month for 1000 minutes to the U.S., Canada, and Puerto Rico
North America 2500*: $29.95 a month for 2,500 minutes to the U.S., Canada, and Puerto Rico
*Service comes with a setup fee of $1.50
Callcentric used to offer free business phone numbers. Now, they charge for the service, but at an affordable cost. To get a business phone number, you must subscribe to the Dollar Unlimited plan, which costs $1 a month. The package features unlimited incoming call minutes within select U.S. states.
This provider allows businesses to be flexible in terms of customizing VoIP services. It features independent packages for inbound and outbound calls, ideal for teams with fluctuating call volumes. These solutions are available on a flat-rate unlimited and pay-per-use basis, offering greater control over costs.
On top of the cheap business phone number and communication services, Callcentric accommodates a variety of user agents, including 3CX, Acrobits, Asterisk, and Cisco Systems, making it easy to integrate existing business processes. Aside from the configurable services, Callcentric offers a range of VoIP features: call forwarding, call hunting, call waiting, and custom caller ID.
While some businesses would appreciate the highly customizable services Callcentric provides, others find it challenging and sometimes confusing. If you don't want to worry about device configurations, choose Google Voice, which takes only a few minutes to set up.
Callcentric Features
Bring your own device (BYOD): There's no need to replace your existing devices when using Callcentric's services. Any device that supports Session Initiation Protocol (SIP) is compatible with the provider.
Conference room: Host a virtual meeting with a single click. There's no limit to the number of participants in the conference, so you can freely meet a large team for town halls and learning sessions.
Caller ID blocking: This feature hides the caller ID on outbound calls. If you only want to block the ID on a specific call, that's also possible by adding *67 before the number you're calling.
Phone.com: Best for Businesses Requiring Advanced Call Management Features
What We Like
Offers a variety of phone numbers for paid plans: local, toll-free, international, and vanity
Volume discounts available for additional phone numbers
Browser-based video conferencing services
What's Missing
No inbound toll-free minutes available on the plans
Custom phone numbers carry a one-time fee on top of the monthly fee on the subscription plan
Fewer integrations compared to other providers like CallHippo
Phone.com Monthly Pricing*
Basic: $14.99 per user for 1 free phone number, 500 pooled minutes, 1,000 pooled text segments, video conferencing of up to 10 participants, and 50 standard voice features
Plus: $19.99 per user for unlimited minutes, conversational text messaging, video conferencing of up to 25 participants, and Internet Protocol (IP) desk phone compatibility
Pro: $29.99 per user for call recording, call analytics, customer relationship management (CRM) integration, video conferencing of up to 100 participants, and voicemail transcription
*Save 20% with annual billing
Phone.com is the best phone number app for businesses that want more call management features in their phone system. The provider features a host of voice-over-internet-protocol (VoIP) capabilities, including call handling rules, call screening, call waiting, call transfer, click-to-call, hold music, automated attendant, and audio conferencing. To access these capabilities and get a business phone number free, subscribe to the provider's Basic plan.
One more advantage of using Phone.com is the pooled minutes available for each user in the Basic account. The starter plan carries 500 pooled minutes. If you have three basic users, you will share 1,500 minutes for inbound and outbound calls. Our comprehensive Phone.com review will help you learn more about its features and perks.
While Phone.com offers plenty of call management features, its plans don't provide inbound toll-free minutes. If you want customers to reach you quickly, choose Callcentric instead, which offers a flexible package for inbound toll-free minutes. You only have to pay $3.95 monthly for unlimited call minutes within the U.S. and Canada.
Phone.com Features
Call handling: Route incoming calls more efficiently. Call handling options include setting up an auto-attendant, using the dial-by-name directory, forwarding, and scheduled routing.
Click-to-call: Embed a code on your website that facilitates voice communication between you and the customer. When users click a button, Phone.com will call the number the customer provided.
Audio conferencing: Host up to 300 participants in a conference call. The virtual meeting is secure, using password protection and a dedicated number.
Sideline: Best for Businesses That Use Text Messaging for Marketing Initiatives
What We Like
Auto-reply option
Affordable starter plan
Shared inbox feature
What's Missing
Limited call management features
Lacks annual plans
Names of callers are not shown sometimes, according to some users
Sideline Monthly Pricing
Standard: $9.99 for 1 free phone number, unlimited calls and texts, auto-reply, separate voicemail, and web texting
Pro: $14.99 for text marketing tools, text reminders, templates, and advanced number ID
Given its advanced text messaging features, Sideline is the ideal option when you're managing SMS campaigns. It has an auto-reply feature, which sends a text to a recipient if you don't answer. Although automated, this gives customers the peace of mind that you've received their message.
Sideline also features branded messages, in which you can add an image or logo to your texts. Aside from brand assets, the MMS messaging capability supports visual updates of invoices and projects. Our in-depth Sideline review details other text messaging features the provider offers.
While it offers advanced text messaging features, Sideline has limited call management capabilities. Callcentric is the better option if you're looking for a VoIP feature-rich platform.
Sideline Features
Group messaging: Include several contacts, colleagues, or clients in one conversation. This helps in resolving issues quickly or fast-tracking the progress of a project.
Team number: Have one number on multiple devices so your team members have visibility in communication lines. The inbound calls and texts will ring everyone in the group at the same time.
Custom signature: Professionalize your messages with a signature that appears under the main SMS and MMS content. This feature helps in establishing brand identity and recall better.
FreedomPop: Best for On-the-go Teams
What We Like
Operates on a reliable network AT&T
Option to keep existing phone number
App download is not needed to use the service
What's Missing
Limited perks for the freemium plan, namely 10 minutes of voice calls and 10 texts
Low data cap
Data speed varies depending on the location
FreedomPop Pricing
Freemium: $10 for the SIM kit that comes with a free phone number, unlimited Wi-Fi calling, ten (10) cellular voice minutes and text messages, unlimited iMessages, and Rich Communication Services (RCS) texts
Customize: Starts at $2.99 a month for 250 call minutes and unlimited text messages, and 1GB of high-speed data
Unlimited: $42.99 a month for unlimited call minutes, text messages, and high-speed data
If you're constantly traveling for work, your team might benefit from FreedomPop, a platform that offers not only a free business phone number but also free cellular services. Its Freemium plan, which includes a SIM card, carries unlimited texting over Wi-Fi, 10 free text messages and 10 free call minutes delivered via cellular data networks, and 25MB of high-speed data.
To get a business number free, you must buy the SIM kit that costs $10. The nano-sized SIM card, which fits most devices, is available for sale on the provider's website and leading retail stores like Target and Walmart.
The drawback in choosing a cellular service provider like FreedomPop is that the perks are limited to Wi-Fi calling and messaging. If your business requires a platform with more call management capabilities and without a cost, Google Voice is the better option.
FreedomPop Features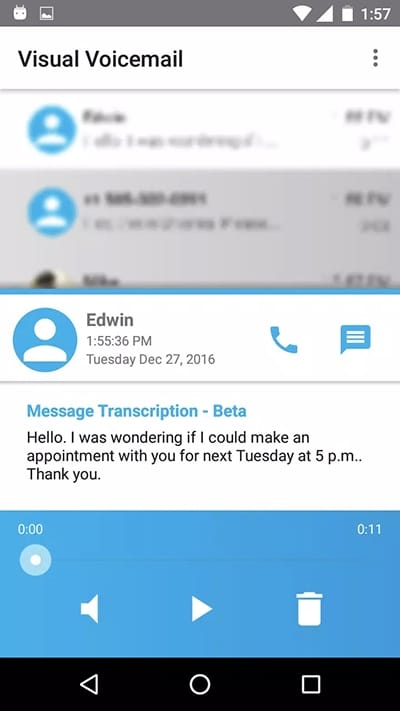 Wi-Fi calling: Make and receive calls wherever you are using the Wi-Fi network. To enable this feature, go to your phone's Cellular or Mobile settings and switch Wi-Fi calling on.
Native cellular voice and text: You don't need to download the FreedomPop app to use its voice, text, and data services. It's a no-frills solution ideal for less techy entrepreneurs and professionals.
Voicemail transcription: Be more efficient in taking note of details in voicemail messages by reading the transcribed version.
CallHippo: Best for Businesses With Low Call Volumes
What We Like
Up to 100 third-party integrations
Click-to-call and IVR features are available on the Basic plan
Simple, intuitive dashboard that is easy to use
What's Missing
Call history available only for six months on the Starter plan
Free call recording locked in high-tier plans
Voicemail transcription available as an add-on
CallHippo Monthly Pricing*
Basic: Free for one standard number (toll-free not included), unlimited number of users, click-to-dial, voicemail, call forwarding, and SMS and text messages
Starter: $35 per user for unlimited calling within the U.S. and Canada, user working hours, business hours, and ring groups
Professional: $45 per user for free call recording, intelligent reports, call tagging, and voicemail-to-email notifications
Ultimate: $55 per user for call blocking, call cascading, custom greetings and professionally recorded greetings, and advanced integrations
*Save three months' cost with annual billing
CallHippo is the best phone number app option for businesses that accommodate low call volumes since the provider only has basic call management capabilities. The features are not too overwhelming, making it ideal for small teams or those using a VoIP system for the first time.
The provider's starter plan includes interactive voice response (IVR), ring groups, click-to-call, and voicemail, allowing up to 10 users. Another advantage of using CallHippo for your small team is its integrations. The tool seamlessly integrates with customer management tools like HubSpot, Salesforce, Zoho, Microsoft Dynamics, and Typeform. Read our CallHippo review to see how it would accommodate your business needs.
Unfortunately, some essential call features offered in other providers' basic plans are available in CallHippo's high-tier plans or as add-ons, namely voicemail transcription and call recording. If these capabilities are essential to your business, choose Google Voice instead.
CallHippo Features
IVR: Help customers get to the most qualified representatives who will address their concerns. A well-designed IVR system helps increase first contact resolution, which improves customer experience.
Power dialer: Don't waste your time on manual dialing. With this feature, CallHippo automatically dials phone numbers from an uploaded contacts list for campaigns.
Global connect: Determine the exact time zone and validity of phone numbers of contacts from different countries. With Global Connect, you're able to pick the right time when calling customers.
Grasshopper: Best for Securing Vanity Numbers
What We Like
All phone system features are available across all plans
Simple, easy-to-understand interface
Unlimited extensions option
What's Missing
Lacks advanced call management features other VoIP providers have
No integrations with CRM tools
Lacks call recording option
Grasshopper Monthly Pricing*
All phone system features are available across all plans
Simple, easy-to-understand interface
Unlimited extensions option
Solo: $29 for one phone number and three extensions, call forwarding, virtual fax, call transfers, and custom greetings
Partner: $49 for three phone numbers and six extensions
Small business: $89 for five phone numbers and unlimited extensions
*Save over 10% with annual billing
Grasshopper is the ideal option for a phone number app when your business is looking for vanity numbers. It is one of our top picks for business phone systems, offering custom toll-free numbers for any account. Getting one is easy, as you simply have to search in their number lookup tool. With a memorable number, you increase brand awareness and recall.
Part of Grasshopper's vanity number services is the option to port existing numbers at no cost. When you sign up, Grasshopper will give you a transfer form. Once the transfer is complete, you're free to use your custom number on the platform. Learn more about this provider by checking out our guide on using the Grasshopper phone system and our in-depth Grasshopper review.
Before adopting Grasshopper in your business, take note that it lacks advanced call management features other VoIP providers offer. Phone.com is the best free business phone number app if you want a more robust feature set. Learn more by checking out our article about other excellent Grasshopper alternatives.
Grasshopper Features
Instant response: Grasshopper sends an automated response when you miss a call from a customer. The customer has the option to respond with call-back details.
Virtual fax: Have faxes delivered to your email inbox as PDF attachments. With this feature, it's easy to share files with colleagues online.
Incoming call control: Screen calls and block unknown numbers. Create custom schedules that align with your business hours to manage incoming calls better.
How We Evaluated the Best Free Business Phone Number App
Many VoIP and cellular service providers offer free business phone numbers that help small businesses maintain a professional image. To determine the best among excellent phone number app options in the market, we looked at these criteria points shown in the tabs below:
30% of Overall Score
We awarded more points to providers that offer a truly free business phone number, in which a monthly subscription fee isn't required. For those with monthly fees, we considered how affordable the costs are.
25% of Overall Score
We assessed the types of phone numbers providers offered and whether they have local and toll-free numbers. We also considered call and text capabilities, giving more points to those with unlimited calling and SMS, MMS, and RCS (Rich Communication Services).
20% of Overall Score
We evaluated if the providers have international phone numbers and international calling capabilities. We also looked at advanced phone system features, namely business hour management and vacation settings.
25% of Overall Score
We considered the ease of use of business phone number apps and their popularity among users as we looked at third-party reviews. We also noted standout features and the value for money each provider offers.
*Percentages of overall score
Bottom Line
Out of the free business phone number apps we evaluated, Google Voice emerged as the best for its truly free service, requiring no monthly subscription fees. It's easy to set up and use because the platform is simple and intuitive. It has general and advanced features, including local phone numbers and unlimited calling capabilities. Use Google Voice to get your free business phone number today.