8 Best Free Business Phone Number Apps of 2023
This article is part of a larger series on VoIP.
Free business phone number apps allow companies like yours to make communications more streamlined and professional. With one, you can create a dedicated business number while still being able to answer customer queries on your personal device. The number offerings, call management features, extensions, and call charges differ from provider to provider.
We looked at dozens of free business phone number providers and arrived at the top eight for small businesses:
Best Free Business Phone Number Apps at a Glance
Free Business Phone Number Apps

Starting Monthly Price

Types of Business Phone Numbers

FSB Rating

$14.99 per user

Local
Toll-free
International
Vanity

4.11 out of 5

$1

Local
Toll-free
International
Vanity

4.10 out of 5

Free; paid plans start at $10 per user

3.92 out of 5

$10 per user

Local
Toll-free
International
Vanity

3.70 out of 5

$19.99 per user

Local
Toll-free
International
Vanity

3.68 out of 5

$31 (fixed rate)

3.59 out of 5

$9.99 per user

3.54 out of 5

$23

3.50 out of 5
Phone.com: Best Overall Free Business Phone Number App

What We Like
Offers a variety of phone numbers for paid plans: local, toll-free, international, and vanity
Volume discounts available for additional phone numbers
Browser-based video conferencing services
Where It Falls Behind
No inbound toll-free minutes available on the plans
Custom phone numbers carry a one-time fee on top of the monthly fee on the subscription plan
Fewer integrations compared to other providers like CallHippo
Phone.com Monthly Pricing*
Basic: $14.99 per user for 1 free phone number, 500 pooled minutes, 1,000 pooled text segments, video conferencing of up to 10 participants, and 50 standard voice features
Plus: $21.99 per user for unlimited minutes, conversational text messaging, video conferencing of up to 25 participants, and Internet Protocol (IP) desk phone compatibility
Pro: $31.99 per user for call recording, call analytics, customer relationship management (CRM) integration, video conferencing of up to 100 participants, and voicemail transcription
*Save an additional 15% with annual billing.
With its attention to providing users with every type of virtual or direct inward dialing (DID) number, Phone.com comes out as our overall best. Customers don't only have local, toll-free, and vanity numbers, but those looking to do overseas business can also get international numbers. This means that any given business can cater to just about any kind of customer with relative ease.
Phone.com is the best phone number app for businesses that want more call management features in their phone system. The provider features a host of voice-over-internet-protocol (VoIP) capabilities, including call handling rules, call screening, call waiting, call transfer, click-to-call, hold music, automated attendant, and audio conferencing. To access these capabilities and get a business phone number free, subscribe to the provider's Basic plan.
Another advantage of using Phone.com is the pooled minutes available for each user in the Basic account. The starter plan carries 500 pooled minutes. If you have three basic users, you will share 1,500 minutes for inbound and outbound calls. Our comprehensive Phone.com review will help you learn more about features and perks.
While Phone.com offers numerous call management features, its plans don't provide inbound toll-free minutes. If you want customers to reach you quickly, choose a provider like Callcentric instead, which offers a flexible package for inbound toll-free minutes. You only have to pay $3.95 monthly for unlimited call minutes within the U.S. and Canada.
Phone.com Features
Call handling: Route incoming calls more efficiently. Call handling options include setting up an auto-attendant, using the dial-by-name directory, forwarding, and scheduled routing.
Click-to-call: Embed a code on your website that facilitates voice communication between you and the customer. When users click a button, Phone.com will call the number the customer provided.
Audio conferencing: Host up to 300 participants in a conference call. The virtual meeting is secure, using password protection and a dedicated number.
Callcentric: Best for Customizable Call Services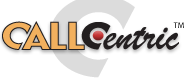 What We Like
Bring your own device (BYOD) option
Flexible plans
Wide range of call management features
Where It Falls Behind
Configuration may be confusing to some users
Outdated mobile app
Lacks flat-rate annual plans
Callcentric Pricing
Inbound calls:
Dollar Unlimited: $1 a month for unlimited call minutes within select regions in the United States (U.S.)
Pay-per-minute: $1.95 a month within the U.S. and Canada (with an additional 1.5 cents per minute for incoming calls)
Toll-free: $3.95 a month for unlimited call minutes within the U.S. and Canada (with a setup fee of $3.95)
Office Unlimited: $8.95 a month for unlimited call minutes within the U.S. and Canada (with a setup fee of $8.95)
Service Provider Unlimited: $19.95 a month for unlimited call minutes within the U.S. and Canada (with a setup fee of $19.95)
International Unlimited: Rates vary by country
Outbound calls:
IP Freedom: Free for unlimited in-network calling to Callcentric customers and other VoIP networks
Pay Per Call: Rates depend on the location called
North America Basic: $1.95 a month for 120 minutes to the U.S., Canada, and Puerto Rico
North America 500: $6.95 a month for 500 minutes to the U.S., Canada, and Puerto Rico
North America 1000: $12.95 a month for 1,000 minutes to the U.S., Canada, and Puerto Rico
North America 2500: $29.95 a month for 2,500 minutes to the U.S., Canada, and Puerto Rico
Callcentric stands out for its very useful Dollar Unlimited plan, which can benefit businesses calling specific areas of the country. As the name indicates, the Dollar Unlimited plan costs $1 a month and includes unlimited incoming call minutes within select U.S. states. Callcentric also provides a free business phone number with this plan, and the pricing is very reasonable for small businesses looking to cut costs.
Like Phone.com, Callcentric provides users with all four types of business numbers, which is amazing for smaller businesses. Additionally, this provider allows businesses to be flexible in terms of customizing their VoIP service. Callcentric features independent packages for inbound and outbound calls, ideal for teams with fluctuating call volumes. These solutions are available on a flat-rate unlimited and pay-per-use basis, offering greater control over costs.
While some businesses would appreciate the highly customizable services Callcentric provides, others find it challenging and sometimes confusing. If you don't want to worry about device configurations, choose Google Voice, which takes only a few minutes to set up. Additionally, the Callcentric app is somewhat bare-bones; if you're looking for a strong app experience on both Android and iOS, consider Grasshopper.
Callcentric Features
Bring your own device (BYOD): There's no need to replace your existing devices when using Callcentric's services. Any device that supports Session Initiation Protocol (SIP) is compatible with the provider.
Conference room: Host a virtual meeting with a single click. There's no limit to the number of participants in the conference, so you can freely meet a large team for town halls and learning sessions.
Caller ID blocking: This feature hides the caller ID on outbound calls. If you only want to block the ID on a specific call, that's also possible by adding *67 before the number you're calling.
Google Voice: Best for Straightforward Pricing

What We Like
Quick and easy phone number setup
Intuitive interface
Seamless integration with Google Calendar and Meet
Where It Falls Behind
Toll-free and vanity numbers are not supported
Limited call management features
Global coverage is limited to 14 countries only
Google Voice Monthly Pricing
Personal use: Free phone number for business calls, sending texts, and receiving voicemails
Starter: $10 per user for up to 10 users, calls to the U.S., Canada, and most European countries, voicemail transcription, and Google Calendar and Meet integrations
Standard: $20 per user for an unlimited number of users, unlimited domestic locations, multi-level auto-attendant, ring groups, and eDiscovery for records.
Premier: $30 per user for an unlimited number of users, unlimited international locations, advanced reporting, and automatic ad-hoc user call recording
One of the key selling points of Google Voice for small businesses and solopreneurs is its entirely free starting plan. With just a Google account, you can immediately make calls using Google Voice. This includes a phone number without a monthly subscription, making it one of the few providers out there to do so. This provider allows your business to streamline business communications with the phone system's features, including sending and receiving unlimited texts, making calls, and saving voicemails.
Google Voice is available using a laptop or desktop, a dedicated browser, or a mobile phone. When you call someone from the platform, the Google Voice number will appear on the recipient's caller ID, keeping your personal phone number private. During the call, you can mute your audio, put the call on hold, and access the dial pad to key in numbers following a customer inquiry. Learn more about this platform's free business phone service in our comprehensive Google Voice review.
Despite these strengths, it's important to understand that Google Voice doesn't deliver toll-free, vanity, or international numbers. This can easily be a deal-breaker for small businesses looking to appear more national, as these businesses will be stuck with numbers from their own nearby areas. If this is something you need, consider Phone.com. The provider lets businesses choose from all types of phone numbers in their subscription plans.
Google Voice Features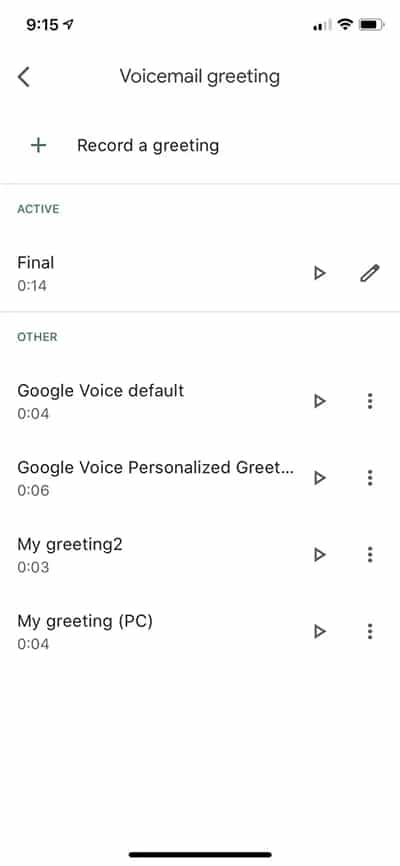 Voicemail greeting recording: Chrome and Firefox allow recording a three-minute-long greeting. On Safari, recordings are only a minute long. Find the voicemail greeting recording function in the Settings under the Active greeting section.
Spam filter and number blocker: Worry no more about messages and calls from telemarketers, as Google Voice automatically places these in your spam folder using a global database. Manually block a number by selecting the number in question from your call log and choosing the Block Number option in the three-dot settings.
Call forwarding: Link a phone number to your Google Voice account to avoid missing calls. This feature is especially useful when you're traveling to a place that doesn't have a good internet connection.
eVoice: Best for Auto-attendants

What We Like
All VoIP tools in all subscription plans
Generous calling minute allowance
Longer free trial duration compared to other providers
Where It Falls Behind
Outdated platform design
Text messaging sometimes lags
Doesn't have instant messaging like other phone system providers
eVoice Monthly Pricing*
Elite 10 Monthly: $10 per user for 10 users, 30,000 minutes, 30 toll-free or local numbers, unlimited extensions, and inbound faxing
Elite 6 Monthly: $13 per user for six users and 18 toll-free or local numbers
Elite 11 Monthly: $13.50 per user for 11 users and 33 toll-free or local numbers
Elite Monthly: $14 per user for one user and three toll-free or local numbers
Free trial: 30 days
*Save up to $297 and get two months free by paying annually.
Auto-attendants are call management solutions that automatically route calls to specific departments based on your customers' keypad presses. These solutions aren't always available in starting tiers of VoIP providers, which is why eVoice including this at its cheapest plan is so advantageous for small businesses. In addition to this, eVoice is very inexpensive; the base plan starts at $10 per user and drops to $8.33 with annual billing.
As we covered in our eVoice vs Grasshopper piece, eVoice runs the full gamut of virtual numbers. With your subscription, you get local, vanity, international, and toll-free numbers. This is useful for businesses with local needs but plan to expand into the global market. While international and vanity numbers are considered premium features, it's still nice that they are available to subscribers. For this reason, it earned a slot as one of the best virtual phone number providers. Take a look at our eVoice breakdown for more in-depth information.
For its user experience, eVoice has a somewhat outdated interface that still packs in a good amount of call features. Still, if you want a higher easy-to-use degree of functionality, we recommend Grasshopper as its user experience is very intuitive and modern across both desktop and mobile applications.
eVoice Features
Call screening: The phone system prompts callers to state their names before connecting them to an agent. A customer service representative decides whether to accept, decline, or send the caller to voicemail upon hearing who's on the other end of the line. This feature helps you filter through calls and attend to only the most important ones.
Click-to-call: Add a click-to-call widget to your website to make contacting your business easier. The button lets the web visitor enter their phone number and request a callback. This request is then sent to the support team, which will contact the potential customer.
Message center: See all your texts, voicemails, and faxes in one place. The message center features a message preview panel and a search bar, which allow users to quickly read and refer to specific messages.
CallHippo: Best for Low Call Volumes

What We Like
Up to 100 third-party integrations
Click-to-call and IVR features are available on the basic plan
Simple, intuitive dashboard that is easy to use
Where It Falls Behind
Call history available only for 6 months on the Starter plan
Free call recording locked in high-tier plans
Voicemail transcription available as an add-on
CallHippo Monthly Pricing
Starter: $19.99 per user for unlimited calling within the U.S. and Canada, user working hours, business hours, and ring groups
Professional: $30.99 per user for free call recording, intelligent reports, call tagging, and voicemail-to-email notifications
Ultimate: $42.99 per user for call blocking, call cascading, custom greetings and professionally recorded greetings, and advanced integrations
When it comes to complex call features, CallHippo is as straightforward as it gets. This makes it one of the best for lower call volumes because it really only has relatively basic call management capabilities. In the short term, this makes it a good solution for a business or nonprofit organization with short spurts of calls or that might only contact customers on an occasional basis. This also makes for a good option for a solopreneur choosing their first VoIP system.
This isn't to say that CallHippo is without useful features. It's one of the few providers on the market that includes an interactive voice response (IVR) system at its base-level plan. In fact, the Starter plan also includes ring groups, voicemail, and even click-to-call for up to 10 users. It also has powerful integrations with customer management tools like HubSpot, Salesforce, Zoho, Microsoft Dynamics, and Typeform.
Unfortunately, some essential call features offered in other providers' basic plans are only available in CallHippo's high-tier plans or as add-ons, namely voicemail transcription and call recording. If these capabilities are essential to your business, choose Google Voice instead.
Want to learn more about CallHippo's features? Check out our dedicated, in-depth review to see how it would accommodate your business needs.
CallHippo Features
IVR: Help customers get to the most qualified representatives who will address their concerns. A well-designed IVR system helps increase first contact resolution, which improves customer experience.
Power dialer: Don't waste your time on manual dialing. With this feature, CallHippo automatically dials phone numbers from an uploaded contacts list for campaigns.
Global connect: Determine the exact time zone and validity of phone numbers of contacts from different countries. With Global Connect, you can pick the right time when calling customers.
Grasshopper: Best for Free Vanity Numbers

What We Like
All phone system features are available across all plans
Simple, easy-to-understand interface
Unlimited extensions option
Where It Falls Behind
Lacks advanced call management features other VoIP providers have
No integrations with CRM tools
Lacks call recording option
Grasshopper Monthly Pricing*
Solo: $31 for one phone number and three extensions, call forwarding, virtual fax, call transfers, and custom greetings
Partner: $51 for three phone numbers and six extensions
Small Business: $89 for five phone numbers and unlimited extensions
*Save over 10% with annual billing.
Grasshopper serves as a strong solution for businesses that simply want a full-featured phone system without many non-phone communications features, like video conferencing. It is an ideal option for a free phone number app when your business is looking for vanity numbers. It's fairly easy to get a number through Grasshopper featuring memorable alphanumeric combinations—a good example is 1-800-FLOWERS.
As one of our top picks for business phone systems, Grasshopper offers one of these custom, toll-free numbers for any account. Getting one is easy, as you simply have to search in their number lookup tool. With a memorable number, you increase brand awareness and recall.
Grasshopper also makes it easy to port existing numbers. It doesn't charge for this service, and when you sign up, the platform provides you with a number transfer form to keep the number from your old carrier. Once the transfer is complete, you're free to use your custom number on the platform. Know more about this provider by checking out our guide on using the Grasshopper phone system and our in-depth Grasshopper review.
Still, call management features are somewhat lacking with Grasshopper. Other providers, like Phone.com, have more robust call management feature sets. Learn more by checking out our article about other excellent Grasshopper alternatives.
Grasshopper Features
Instant response: Grasshopper sends an automated response when you miss a call from a customer. The customer has the option to respond with call-back details.
Virtual fax: Have faxes delivered to your email inbox as PDF attachments. With this feature, it's easy to share files with colleagues online.
Incoming call control: Screen calls and block unknown numbers. Create custom schedules that align with your business hours to manage incoming calls better.
Sideline: Best for SMS Marketing Campaigns

What We Like
Auto-reply option
Affordable starter plan
Shared inbox feature
Where It Falls Behind
Limited call management features
Lacks annual plans
Names of callers are not shown sometimes, according to some users
Sideline Monthly Pricing
Standard: $9.99 per user for one free phone number, unlimited calls and texts, auto-reply, separate voicemail, and web texting
Pro: $14.99 per user for text marketing tools, text reminders, templates, and advanced number ID
Given its advanced text messaging features, Sideline is the ideal option for managing SMS campaigns. It has an auto-reply feature that sends a text to a recipient if you don't answer. Although automated, this gives customers the peace of mind that you've received their message.
Sideline also features branded messages, allowing you to add an image or logo to your texts. Aside from brand assets, the MMS messaging capability supports visual updates of invoices and projects. Our in-depth Sideline review details other text messaging features the provider offers.
While it offers advanced text messaging features, similar to Grasshopper, Sideline has limited call management capabilities. Callcentric is the better option if you're looking for a VoIP feature-rich platform.
Sideline Features
Group messaging: Include several contacts, colleagues, or clients in one conversation. This helps in resolving issues quickly or fast-tracking the progress of a project.
Team number: Have one number on multiple devices so your team members have visibility in communication lines. The inbound calls and texts will ring everyone in the group at the same time.
Custom signature: Professionalize your messages with a signature that appears under the main SMS and MMS content. This feature helps in establishing brand identity and recall better.
800.com: Best for Toll-free Number Selection

What We Like
All VoIP tools are included in every plan
Massive selection of toll-free numbers
Unlimited calling minutes included
Where It Falls Behind
There's no support for high call volume companies
No unified communications features
No HIPAA (Health Insurance Portability and Accountability Act of 1996) compliance features
800.com Monthly Pricing*
Personal: $23 for 1,000 call minutes and one toll-free number
Unlimited: $59 for unlimited call minutes and one toll-free number
Pro: $149 for unlimited seats, 5,000 call minutes, and five toll-free numbers
*Save 15% with annual payment.
As the name indicates, 800.com is best used for businesses looking for toll-free business numbers. The available numbers with so-called 800 prefixes include numbers with 800, 888, 877, 866, 855, 844, and 833. This is a free business phone number app that delivers both toll-free and vanity numbers. The large list of available toll-free prefixes also makes it one of the best providers for 800 number availability.
Subscribers are also able to track calls, forward calls, view call analytics, and send short message service (SMS) messages. 800.com also grants access to application programming interfaces (APIs) for SMS, webhooks, and provisioning. This provides the ability to connect the service to external applications if you have a capable IT infrastructure. We have more about 800.com's capabilities in our dedicated 800.com review.
The provider doesn't allow for the creation of bulk text messaging campaigns or bulk call-in lines, so this isn't the best option for providers with an expected high volume of calls. For a higher degree of high-volume call features, consider Grasshopper. There's also no support for the Health Insurance Portability and Accountability Act of 1996 (HIPAA) with 800.com. For this, CallHippo is a better option.
800.com Features
Weighted routing: This provides the ability to distribute incoming calls as you see fit. For example, you can equally distribute them or prioritize certain agents or teams.
Call analytics: Call analytics help teams analyze incoming calls to the dedicated 800 numbers. These stats help businesses improve their customer strategy and customer service. Deep-dive analytics will categorize the calls by the calendar date, time of call, geographic location, and call duration.
Whisper greeting: 800.com allows users to add a specific whisper message to tracking numbers. This helps agents identify the source of the call so they can prepare before engaging with the caller.
How We Evaluated the Best Free Business Phone Number App
Many VoIP and cellular service providers offer free business phone numbers that help small businesses maintain a professional image. To determine the best among excellent phone number app options in the market, we looked at these criteria points shown in the tabs below:
30% of Overall Score
We awarded more points to providers that offer a truly free business phone number, in which a monthly subscription fee isn't required. For those with monthly fees, we considered how affordable the costs are.
15% of Overall Score
We assessed the types of phone numbers providers offered and whether they have local and toll-free numbers. We also considered call and text capabilities, giving more points to those with unlimited calling and SMS, MMS, and RCS.
15% of Overall Score
We evaluated if the providers have international phone numbers and international calling capabilities. We also looked at advanced phone system features, namely business hour management and vacation settings.
10% of Overall Score
User experience is integral to any software as a service (SaaS) solution. We took a look at each provider and determined how easy it was for non-technical users to navigate through their interfaces.
10% of Overall Score
Does the free business phone number application offer phone support? What about those who prefer to communicate via email? Some also prefer to use web-based chat to speak with support. When we evaluated customer support, we looked at the available channels and the hours each provider offered in order to determine which were the best.
20% of Overall Score
We considered the ease of use of business phone number apps and their popularity among users as we looked at third-party reviews. We also noted standout features and the value for money each provider offers.
*Percentages of overall score
Frequently Asked Questions (FAQs)
First, you'll have to identify a business phone number provider. Most VoIP services provide some form of business phone number, but some may charge for additional ones.
---
This depends on the type of business. For example, for those building credibility in specific areas, a local phone number might be best. For those wanting to appear to be more national, toll-free phone numbers for business are a great option.
Companies looking to be more memorable with an alphanumeric number that uses memorable words or phrases will find a vanity number more useful. Finally, when reaching out to new international territories, an international number can help a business build a foreign customer base.
---
Google Voice is the easiest way to get a business phone number because it only requires a Google account. This phone number will be local to your jurisdiction, and 800, international, and vanity numbers are unavailable.
---
Bottom Line
Having a free business phone number helps you quickly and easily separate your work life from your private one. These numbers also help you reach your intended audience with a number type that best fits their needs.
Out of the providers we reviewed, Phone.com emerged as the clear winner thanks to its number availability, advanced calling features, and a Basic plan that's very solopreneur-friendly. Check out Phone.com today to get the ball rolling on your new free business phone number.