Abby Connect Review: Is It Right for Your Business?
This article is part of a larger series on VoIP.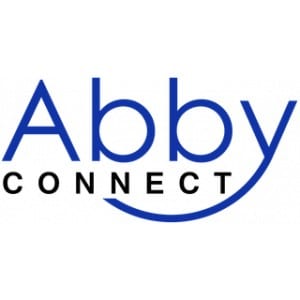 Abby Connect Overview
PROS

CONS

14-day free trial
Requires contact with an account manager before activating call recording
Dedicated team and success manager for your account
Additional fees for 24/7 service
99.99% uptime service level agreement (SLA)
Mobile app is limited to SMS capabilities
Integration with HubSpot and Zapier
Standard subscription services are unavailable during U.S. holidays
Health Insurance Portability and Accountability Act (HIPAA)-compliant answering service
What We Recommend Abby Connect For
Abby Connect offers virtual receptionist and live chat services—a great fit for startups and small businesses needing assistance in reinforcing stronger customer relationships. It also features scheduling assistance for organizations that want to streamline the appointment process. Plus, its Zapier integration offers a great advantage for salespeople who want to integrate their web applications.
When to Use Abby Connect
Companies that need a dedicated team for answering calls: Abby Connect is one of our best answering services—offering a dedicated team of live receptionists to answer your calls. Subscribing to any of its plans includes five to seven receptionists who are trained to sound like an in-house member of your company. This ensures that your customers are getting all the information they need.
Businesses needing both live receptionist and live chat options: Abby Connect includes bundled plans for those needing a live chat option in addition to their receptionist plan. Users are only billed for engaged chats and calls, and each bundled plan comes at a reduced cost.
Teams wanting to connect their live receptionist service to a customer relationship management (CRM) system: Abby Connect is integrated with Zapier, allowing you to connect its live receptionist service to CRMs, such as HubSpot, Clio, and Salesforce. With this, it's easier to manage leads and submit your contacts and chat logs into your existing CRM system.
Businesses that cater to English and Spanish-speaking customers: Abby Connect's receptionists are fluent in English and Spanish. Bilingual receptionists help make callers feel more understood in their preferred language, enhancing the overall customer experience.
When Abby Connect Might Not Be a Good Fit
Solopreneurs or small businesses looking for a budget-friendly per-minute plan: When compared to its closest competitors, Abby Connect's monthly live receptionist plans are more expensive, starting at $299, paid monthly. If you're looking for a more affordable solution, check out MAP Communications. Priced at just $43 per month and $1.27 per additional minute, this provider is a great fit for budget-conscious business owners.
Businesses that want to take calls even during holidays for no extra fee: Abby Connect's standard subscription services are unavailable during certain U.S. holidays, such as Christmas, Thanksgiving Day, and New Year. If you need a backup phone line during holidays, consider VoiceNation. Its services are available 24/7 and won't charge extra for round-the-clock, year-round call answering.
Abby Connect Pricing
Abby Connect has separate pricing packages for its receptionist services and live chat—starting at $129, paid monthly. Bundled plans are available for a discounted rate if you want to combine live chat with your receptionist package. A 14-day free trial is included in all plans.
The live receptionist plan has three tiers: 100 minutes, 200 minutes, and 500 minutes. The cost per additional minute will depend on the type of plan you're subscribed to. Abby Connect doesn't offer annual plans, so all plans are paid monthly. It uses call blocking and doesn't engage with spam, so users will only be billed for engaged calls.
| Abby Connect Plans | 100 Receptionist Minutes | 200 Receptionist Minutes | 500 Receptionist Minutes |
| --- | --- | --- | --- |
| Best For | Solopreneurs or small teams with low call volume | Small businesses with medium call volume | Small to mid-size businesses with high call volume |
| Monthly Pricing | $299 | $549 | $1,199 |
| Cost per Additional Minute | $2.99 | $2.75 | $2.40 |
| Number of Users | Unlimited | Unlimited | Unlimited |
| Dedicated Receptionist Team | ✓ | ✓ | ✓ |
| Custom Answering Hours | ✓ | ✓ | ✓ |
There are three tiers for live chat support: 10 engaged chats, 30 engaged chats, and 50 engaged chats. Abby Connect uses visitor blocking so you will only be billed for every engaged chat.
| Abby Connect Plans | 10 Engaged Chats | 30 Engaged Chats | 50 Engaged Chats |
| --- | --- | --- | --- |
| Best For | Solopreneurs or small teams receiving less than 10 chats per month | Small businesses receiving less than 30 chats per month | Small to mid-size businesses with an average of 50 chats month |
| Monthly Pricing | $129 | $299 | $469 |
| Cost per Additional Chat | $12.90 | $9.96 | $9.38 |
| Dedicated Success Manager | ✓ | ✓ | ✓ |
| Automated Greetings | ✓ | ✓ | ✓ |
Abby Connect Features
Abby Connect provides virtual receptionist and live chat services for every type of business.
Aside from professionally handling calls and messages, it aims to help businesses increase revenue, satisfaction, and retention. Abby Connect trains their receptionists on how to build trust, create personal connections, and deliver a memorable experience to callers.
General Features
Abby Connect's answering services provide well-trained live receptionists for handling incoming calls and messages. All plans come with extra features, bilingual receptionists, and a mobile app. Its account portal is accessible from any computer or mobile device, which offers details from your account such as contacts, call logs, message logs, call recordings, and invoices.
Here are the features available under the live receptionist package:
Custom answering hours
Voicemail solutions
Call announcement and transfer
Appointment scheduling
Custom transfer tunes
Call blocking
Dedicated success manager
Call and text from app
---
Dedicated Receptionist Team
Abby Connect offers a group of dedicated live receptionists to answer your calls. A team includes five to seven receptionists, and the number of teams you will have will depend on how long you need them to be available. For example, two teams are assigned for extended business hours, while three teams will be provided if you want your receptionists to operate 24/7.
Every live receptionist is trained to handle the unique needs of your customers and your business. Many of them are fully bilingual in English and Spanish and are able to communicate in either language.
---
Live Chat
Aside from virtual receptionists, Abby Connect offers live chat services by assigning live humans to answer your website chat. This creates more opportunities to impress website visitors instead of relying on chatbots with canned responses. For every engaged chat, Abby Connect will label it as either "lead," "actionable support," or "non-actionable support" so you understand the nature of every chat.
Here are the features offered by Abby Connect live chat services:
Chat-to-call
Automated greetings
Prechat form
Post-chat survey
Scheduling assistance
Email transcripts
SMS integration
Multiple language support
Abby Connect will provide the code and instructions to add live chat to your website. You may also request for a specialist to do it for you. Through interface customization, your brand color will be added to your website, which helps grab visitors' attention.
---
Mobile App
AbbyGO is Abby Connect's mobile app that allows you to manage business calls, view logs and call information, and update your receptionist team on the go. See the messages from your receptionists and respond to those messages using your business number.
Here are other things you can do with the AbbyGO app:
Make calls from your business phone number
Send and receive text messages
Set call availability
Update call status
Check minute usage
Update payment method
Only one user is able to send text messages from the business number through the mobile app. If you want to allow multiple users to text using your account, contact the account manager.
---
Abby Connect Alternatives
Abby Connect offers robust features on top of its live receptionist services. However, there are potential drawbacks, such as additional fees for 24/7 services, inability to operate during holidays, and limited mobile app functionality. If you're not sure if Abby Connect is the right fit for your business needs, below are some of the best Abby Connect alternatives to consider:
| | | |
| --- | --- | --- |
| Best for: Companies wanting a live receptionist service with robust call routing capabilities | Best for: Teams needing instant activation from a live answering service | Best for: Budget-conscious businesses that need custom scripting and free CRM integrations |
| Monthly starting price: $219; $3.98 per additional minute | Monthly starting price: $59; $2.09 per additional minute | Monthly starting price: $50; $1.15 per additional minute |
| | | |
Abby Connect Reviews: What Users Think
We looked at recent Abby Connect reviews online and found the majority of its users are satisfied with their customer service and call handling skills. They also like the sense of professionalism and empathy they demonstrate when handling tricky customer situations.
Many users appreciated the time and effort they put into learning their client's business and knowing the answers to some of their customers' basic questions.
As of this writing, Abby Connect has earned the following scores from the most popular review sites:
On the other hand, users who left negative reviews said that they were expecting more from its mobile app. They had issues when it came to receiving real-time notifications. Another user also commented that there should be quantitative metrics to measure their call performance.
Bottom Line
Abby Connect offers a premium solution for businesses wanting professional and reliable live receptionists for phone calls and live chat. Subscribing to any of the plans allows access to robust features, such as a dedicated receptionist team, appointment scheduling, and a mobile app. Sign up for a 14-day trial to see if it fits your business needs.