Ruby Receptionist Review: Is It Right for Your Business?
This article is part of a larger series on VoIP.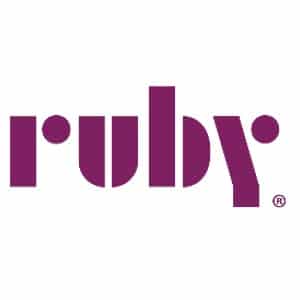 Ruby Receptionist Overview
PROS

CONS

Has integrations with phone systems like Nextiva and Grasshopper
No free trial
No setup fee and no additional charge for after-hours service
Bilingual service and outbound call assists are only available during business hours
Health Insurance Portability and Accountability Act (HIPAA)-compliant receptionist service
Monthly plans and additional charges cost higher than competitors, such as VoiceNation and MAP Communications
What We Recommend Ruby Receptionist For
Ruby Receptionist caters to a wide range of industries, including healthcare, legal, and financial services. It is a great fit for small businesses looking for a seamless extension of their customer service team to answer phone calls and website chats. Its expanded capabilities, like the automated lead capture tool, support digital marketers wanting to improve their website marketing strategy.
When to Use Ruby Receptionist
When Ruby Receptionist Might Not Be a Good Fit
Startups or small businesses looking for a low-cost receptionist and live chat plan: Compared to the least popular providers, Ruby Receptionist has relatively expensive receptionist plans, starting at $219 per month. If you're looking for a cheaper alternative, check out MAP Communications. Paid plans start at $43 per month, with minutes consumed billed at $1.27 per minute. Discover more of its services in our MAP Communications review.
Businesses wanting to integrate their virtual receptionist to a customer relationship management (CRM) platform: Ruby Receptionist's integrations are limited to Grasshopper, Nextiva, Clio, MyCase, and Rocket Matter. Users wanting to connect their live receptionist service to a customer relationship management (CRM) platform are better off with Abby Connect. It integrates with Zapier—working seamlessly with popular CRMs such as HubSpot and Salesforce. Check out our Abby Connect review to explore its features.
Small businesses needing a live answering service for order processing: While Ruby Receptionist has scheduling capabilities, it won't be helpful enough for ecommerce businesses needing extra help processing orders. If this is what you need, consider VoiceNation, which offers live operators trained to process new orders via phone calls just like your in-house staff would. Find out more about its features in our VoiceNation review.
Ruby Receptionist Pricing
Ruby Receptionist's monthly pricing is based on its two services: virtual receptionist (starts at $219) and live chat (starts at $129). Users who want to combine these services get a 20% discount on the bundled plan. While there's no free trial, users may avail of the 21-day money-back guarantee.
The main difference between the receptionist plans is the number of receptionist minutes, but all of them share the same set of features, such as live transferring, voicemail transcription, and usage alerts. Contact its sales team for the cost per additional minute for every plan. There is no annual prepayment, so all plans must be paid monthly.
| Ruby Receptionist Plans | Call Ruby 50 | Call Ruby 100 | Call Ruby 200 | Call Ruby 500 |
| --- | --- | --- | --- | --- |
| Best For | Solopreneurs or startups with low call volume | Small businesses with medium call volume | Small to mid-size companies receiving regular inquiries | Enterprises with a high call volume |
| Monthly Pricing | $219 | $349 | $629 | $1,499 |
| Number of Receptionist Minutes | Up to 50 minutes | Up to 100 minutes | Up to 200 minutes | Up to 500 minutes |
| Custom After-hours Call Routing Options | ✓ | ✓ | ✓ | ✓ |
| Automated Lead Capture Tool | ✓ | ✓ | ✓ | ✓ |
Ruby Chat Plans
Ruby's chat plans has three tiers. Like the receptionist plans, each tier differs in the number of engaged chats and only allows monthly payments. All plans include website lead capture, a custom chat box, and chat transcripts.
Chat Ruby 10: $129 monthly
Chat Ruby 30: $299 monthly
Chat Ruby 50: $469 monthly
Ruby Receptionist Features
Ruby Receptionist is a human-powered answering service provider with virtual receptionist and live chat solutions. All its agents undergo training in conflict resolution, active listening, and empathetic service. Ruby assigns a team to your account to gather and organize customer details based on your guidelines and have it delivered to you after the chat or call ends.
General Features
Ruby provides a team of U.S.-based receptionists and chat specialists to deliver personalized experiences for your customers through phone calls or website chats. All service plans include 24/7 coverage, a mobile app, and HIPAA-compliant security.
Here are the features offered by the virtual receptionist service:
Custom voicemail
Flexible call forwarding
Number porting and hosting
Personalized greetings
Seven hold music options
Custom after-hours call routing options
Live transferring
Virtual Receptionists
Ruby offers live answering services provided by U.S.-based agents who are rigorously trained to support real, human conversations instead of relying on scripts. They work the same way as in-house receptionists do, such as answering and transferring calls, scheduling appointments, and collecting caller information. To minimize communication barriers, bilingual receptionists fluent in both English and Spanish are available to assist a wider range of customers.
Ruby's receptionists support a wide range of industries, including home services, healthcare, law, financial services, and even small businesses. Aside from its 24/7 live answering service, Ruby also offers on-demand access to its receptionists whenever you need them, such as after-hours, during meetings, or on holidays.
---
Managed Live Chat
Ruby's live chat solution is staffed by professional chat specialists who are highly trained to provide customer support and drive more leads from your website. Aside from responding to customers' messages, they also help initiate sales conversations and capture customer information.
With its chat transcript feature, every conversation is captured in its entirety, giving you full context on your customers' needs and marketing performance. You'll receive real-time notifications via text, phone, or email for updates. Ruby also offers comprehensive reporting tools to help you analyze the impact of adding live chat to your website.
---
Ruby Mobile App
Stay connected to your callers anywhere you are with the Ruby mobile app. Get access to messages sent from receptionists, call records, and voicemails from clients. If you're busy, the status feature lets you quickly update call handling instructions to change how your receptionists will handle calls.
Here are other things you can do with the Ruby mobile app:
Request assistance to make outbound calls
Stay updated on most recent calls, texts, and chats
View all the information Ruby collected
Archive messages or flag for follow-up
Save and import business contacts
With the Ruby app, you get to pick your own business number as your caller ID to keep your personal number private when you make or return calls. Using your Ruby-hosted number, you can send and receive text messages directly in the Ruby app.
---
Automated Lead Capture
Aside from its live chat services, Ruby helps you further convert website visitors into customers with its automated lead capture tool. It creates a conversational flow that collects lead information, including their name, contact number, and type of inquiry. All the details will be sent to your email address for follow-up purposes.
The lead capture tool is completely customizable to match your business' goals and branding. It lets you pick the color and placement on your website and add a call to action to directly impact conversion rates. Once the visitor reaches the end of the flow, the branching feature lets you add a question asking if they need assistance.
---
Appointment Scheduling
Ruby offers scheduling capabilities on its live receptionist services to schedule appointments and meetings on your behalf. It uses a scheduling software called Calendly and works with your preferred calendaring system to avoid double bookings.
With Ruby scheduling, it's easy to book appointments during an ongoing call or offer to schedule appointments when no one is available. Plus, you have the ability to collect the caller's information and create calendar links for employees, teams, specific call types, and various meeting lengths. Ruby will review your business calendar to ensure it aligns with its guidelines.
---
Ruby Receptionist Alternatives
Ruby Receptionist provides reliable live answering services for businesses wanting to improve their professional image and customer service. However, its monthly plans are more expensive than the least popular providers like VoiceNation. Additionally, it is missing certain features, such as call recording, 24/7 bilingual receptionists, and pricing information about per-minute charges. Below are some of the best Ruby Receptionist alternatives to consider.
| | | |
| --- | --- | --- |
| Best for: Companies needing a dedicated group of receptionists to handle calls | Best for: Small businesses wanting to take calls on holidays without extra fees | Best for: Businesses looking for a live receptionist service for answering emails, tickets, and text messages |
| Monthly starting price: $299; $2.99 per additional minute | Monthly starting price: $59; $2.09 per additional minute | Monthly starting price: $50; $1.15 per additional minute |
| or | | |
Ruby Receptionist Reviews: What Users Think
Most of the Ruby Receptionist reviews we found online came from small business owners and those working in the legal and medical field. For the most part, users who left positive reviews said that Ruby's receptionists are very professional and friendly in handling frontline phone calls.
A few users specifically like the callout request feature, which allows them to place requests for making outgoing calls to potential clients.
Plenty of factors contribute to the negative reviews received by Ruby Receptionist. These include the glitches on its mobile app, lack of 24/7 coverage for bilingual receptionists, and an additional charge from receptionist minutes for hang-ups. Some users also point out that Ruby doesn't schedule a time for customers requesting a callback. For its pricing, users commented that services get very expensive because of the constant price increases.
Bottom Line
Ruby Receptionist offers a feature-rich virtual receptionist and live chat solution for small businesses wanting to create an enhanced customer experience. Along with its highly trained receptionists and chat specialists, Ruby leverages a suite of tools to provide personalized interactions with clients. Sign up on Ruby's website or contact its sales team to get started.