VoiceNation Review: Is It Right for Your Business?
This article is part of a larger series on VoIP.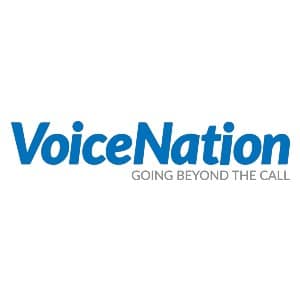 VoiceNation Overview
PROS

CONS

Health Insurance Portability and Accountability Act of 1996 (HIPAA) compliance
Dedicated account managers only available for Enterprise plan
24/7/365 live answering with no holiday or after-hours fee
Lacks month-to-month billing option for live chat
7-day free trial
Additional charges for calls made through the mobile application
Unlimited long-distance calling
Instant activation
What We Recommend VoiceNation For
VoiceNation offers live answering and chat services—ideal for small businesses wanting to offer uninterrupted service communications and delivery. Its answering services feature 24/7 operations, bilingual operators, custom call scripting, and message transcripts sent via email.
When to Use VoiceNation
Businesses in industries that operate 24/7: VoiceNation's live operators answer business calls and chats around the clock. For companies with international clients or engaged in emergency services, this on-call solution ensures customers receive prompt assistance regardless of whether it's after-hours, a holiday, or a different time zone.
Companies and healthcare institutions that handle sensitive personal information and require HIPAA compliance: VoiceNation is a phone answering service with HIPAA compliance adhering to best practices, including informed consent, data encryption, and physical data protection. Receptionists are trained in secure medical call answering, and it maintains a dedicated compliance team. This is one of the reasons VoiceNation is on our list of best answering services for small businesses.
Teams with minimal tech know-how wanting immediate phone number setup: VoiceNation's instant activation suits companies needing quick live answering solutions but lacking in-house expertise. It enables you to activate live answering services within seconds after online registration. Receive a unique local or toll-free phone number where VoiceNation's live operators will answer your calls instantly. Messages will be emailed to you and accessible through the online dashboard.
When VoiceNation Might Not Be a Good Fit
Businesses with a limited budget looking for time-based billing: VoiceNation's basic plan starts at $59 monthly for 20 minutes without contracts and setup fees, but does not offer pay-as-you-go plans. Choose MAP Communications for on-demand billing that begins at $43 per month and $1.27 per additional minute. Read this MAP Communications review to learn more about its features and pricing.
Businesses needing a dedicated account manager for immediate concerns: VoiceNation offers dedicated account managers, but only for Enterprise plan clients. For high call volume companies that need dedicated points of contact, all of Abby Connect's live chat plans include an assigned success manager who oversees your account. See our Abby Connect review, which details its key features and pricing.
Solopreneurs and small teams wanting unlimited international calling: VoiceNation is a live call answering solution offering 24/7 services, but does not offer unlimited long-distance calling. Davinci Virtual is a virtual office and live receptionist provider that offers international phone and fax numbers for $49.95 per month. Learn more by reading this Davinci Virtual review.
VoiceNation Pricing
VoiceNation offers five plans that start at $59 per month for 20 minutes. Its highest-tiered plan starts at $889 monthly for 600 minutes and comes with a dedicated account manager. Subscription to VoiceNation does not have setup fees or admin charges. However, for live chat services, users start with a three-month minimum contract, and after the contract, VoiceNation requires one month's notice for service cancellation.
| VoiceNation Plans | Basic | Business | Pro | Executive | Enterprise |
| --- | --- | --- | --- | --- | --- |
| Monthly Pricing | $59 | $115 | $279 | $499 | $889 |
| Free Minutes | 20 | 50 | 150 | 300 | 600 |
| Dedicated Account Manager | ✕ | ✕ | ✕ | ✕ | ✓ |
For all prospective clients, VoiceNation offers a seven-day free trial or 30 minutes, whichever is achieved first. Each trial comes with 24/7 live answering, no contract obligation, instant activation, and basic message taking. Messages are pushed to you in real time through email or text and may be seen through the account dashboard accessible via browser or app.
There is an additional per-minute fee on top of the monthly charges, with rates varying per plan. Monthly usage is updated through the mobile app or online dashboard. VoiceNation's custom call answering pricing solutions are available for those who need more than 600 minutes per month. Contact its sales team to for more information.
VoiceNation Features
VoiceNation is a call answering and live receptionist service with call forwarding and live chat support. Its features provide small businesses with a platform to address client needs while providing instant and responsive customer service. The platform is accessible through computer and mobile devices through the browser and the VoiceNation application.
General Features
VoiceNation offers virtual telephone answering and messaging services for companies handling a high volume of calls. Its bilingual receptionists are online 24 hours a day, including weekends and holidays, to answer calls, and take and pass messages. It offers 24/7 live answering, custom scripting, instant activation, and unlimited users under its most basic plan.
Here are the features included under all of VoiceNation's plans:
Online dashboard
Message delivery by voicemail
Mobile app download
Bilingual operators
No setup fee and no hidden fees
Custom call scripting
Manage on-call schedules
Simple ordering process
Detailed reports
Free call patching
Message delivery by email and SMS
Local or toll-free calling
Personalized Online Dashboard
With VoiceNation's online dashboard, businesses customize and edit their scripts at any time. The real-time portal also shows call volume, location, type, and the length of most phone calls. The dashboard helps organize your back-end by allowing you to add or remove employees, manage on-call schedules, and update company information. Access the dashboard through the app and make calls using your VoiceNation number.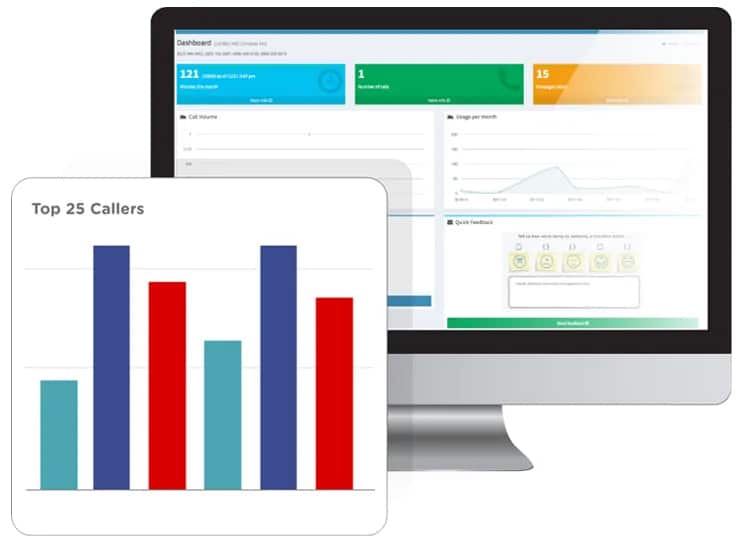 ---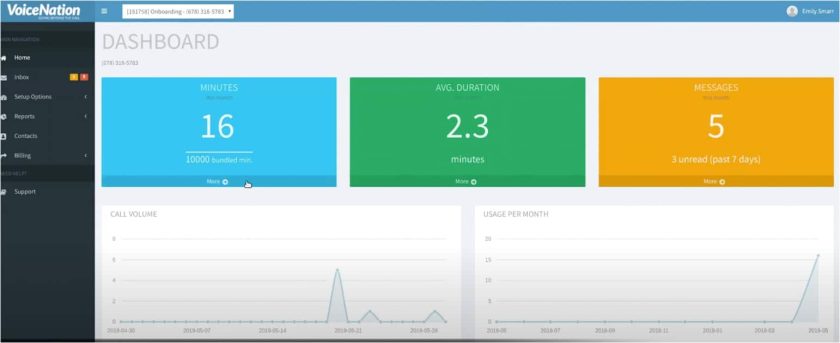 ---
---
Bilingual Virtual Receptionists
VoiceNation's receptionists speak English and Spanish. This feature enhances your relationship with Spanish-speaking customers by minimizing communication barriers, increasing customer satisfaction, and building customer loyalty. Similar to live call answering, receive your messages immediately via SMS (short messaging system), use a local or toll-free number, and personalize your on-call schedules.
---
Business Call Forwarding
As part of live answering services, VoiceNation forwards all or some of your calls based on your preference. Live call receptionists receive the call and patch the caller through to you, according to your settings. All calls forwarded and patched are included in VoiceNation's packages at no additional cost.
---
Virtual Private Branch Exchange (PBX)
VoiceNation integrates with Ninja Number, a business phone number provider, enabling solopreneurs and small teams to take their business calls through their mobile phone. The service includes multiple extensions, call forwarding, customized greetings, and voicemails for your virtual PBX system, which starts at $9.95 per month.
---
Live Chat Support Services
In addition to call answering solutions, VoiceNation offers live chat support that contributes to increased inquiry resolution for better sales conversions. The live chat portal allows businesses to customize their chat protocols, including when and which chats VoiceNation agents will respond to. It shares transcripts and chat logs via email and are made available through the chat portal.
---
VoiceNation Alternatives
VoiceNation provides several interactive tools to engage your customers in a timely and personalized manner. However, if you are looking for other features for your business needs, such as unlimited international calling, no contract chat services, or extensive integrations, here are the best VoiceNation alternatives to consider:
Best for:

Teams that want to integrate existing answering services with

phone systems

like Nextiva

Best for: Businesses needing unlimited international calling

Best for: Small teams wanting dedicated account managers on lower-tier plans and no contract setup

Starting price: Receptionist plans start at $365 per month for 100 minutes

Starting price: Web chat services begin at $79 and call forwarding and unlimited long distance start at $59 per month

Starting price: Receptionist plans begin at $299 and live chat plans start at $129 monthly

or

or
To maximize internet telephony and its range of providers, learn more about voice-over-internet-protocol (VoIP) services and check out our recommendations for the best small business VoIP services.
VoiceNation Reviews: What Users Think
VoiceNation customers reported that a 24/7 personal answering service is invaluable as it gives clients the support they need round the clock. They also like that the activation and programming for scripting and call forwarding are quick to set up and intuitive. Customers have remarked that receptionists are pleasant when transferring calls.
At the time of publication, VoiceNation has earned the following scores on popular user review sites:
According to VoiceNation reviews, internal technical and customer support is responsive and helps customers with system adjustments and dashboard settings. Call quality is reportedly loud and clear with minimal static. However, there are reports from users that there is occasionally misspelled information or incorrectly recorded details on messages.
Bottom Line
VoiceNation is a platform for live call and chat answering, virtual receptionist, and voicemail. It's an excellent option for small businesses looking for communications support with real-time monitoring. It includes key features, such as 24/7/365 service operations, bilingual agents, and call forwarding, that ensure immediate resolution of your client's concerns. Sign up for VoiceNation's free trial and learn more about the different service offerings.