Call center environments move quickly, making an autodialer an integral part of the workday. Used by organizations with a heavy call volume, there are many different autodialer apps to choose from. An automatic dialer, or autodialer, makes telephone calls in bulk using dialing software, making it easier on agents and more or less eliminating the risk of costly misdialing. We looked at five of the most popular autodialer apps to determine our pick for the winner.

Autodialer Apps

Best For

(Best Overall) Business wanting an affordable, user-friendly autodialer app

Teams that want to start with a free plan and scale their plan upward over time

Organizations looking to increase agent efficiency through a great

set of features

Businesses that need lead nurturing software along with an autodialer

Real estate professionals looking for advanced add-ons for their business
When Should You Use an Autodialer App?
An autodialer uses software like the ones above to make outbound calls to reach as many telephone numbers as possible. This does not only mean telemarketing, however; there are plenty of other reasons why companies might use an autodialing software. These include:
Changes in appointments: Perhaps something has come up and you need to cancel your appointments for the remainder of the day. You can place a mass call informing clients about this rather than calling each one individually.
Educational announcements: Schools and other educational establishments can use autodialing apps to inform parents about important upcoming dates, announcements, and any attendance issues.
Emergencies: If there is a major storm warning, a missing child nearby, or another kind of emergency call that needs to reach your customers, autodialers can spread the message quickly.
Autodialing, when used with a reliable business phone system, cuts down on time spent looking up numbers, dialing them, and the chance of dialing a wrong number. Placing outbound calls in bulk lets recipients who want to ask questions or get more information press their desired extension to reach the correct department, automatically routing them to the next available agent.
How We Evaluated Autodialer Apps
The best autodialing software needs to be highly user-friendly, making the process easy for agents from beginning to end. It should allow you to easily access call lists, making them simple to edit and create. The best software also has an artificial intelligence (AI) system that tracks busy and dropped calls, as well as calls that were connected or sent to voicemail. The end goal is for autodialer apps to make large call lists quick and easy for agents, streamlining the call process and helping to get the job done efficiently.
Our criteria for autodialer apps included:
Price
User friendliness
Analytics
Predictive dialing
Business and customer relationship management (CRM) integrations
Stock features
Add-on features
We have chosen MySalesDialerPro as our pick for the best overall autodialing software. Not only does it include a wealth of features, but MySalesDialerPro is ideal for professionals in many different industries and can help you to increase efficiency during your workday.
MySalesDialerPro: Best Overall Autodialer App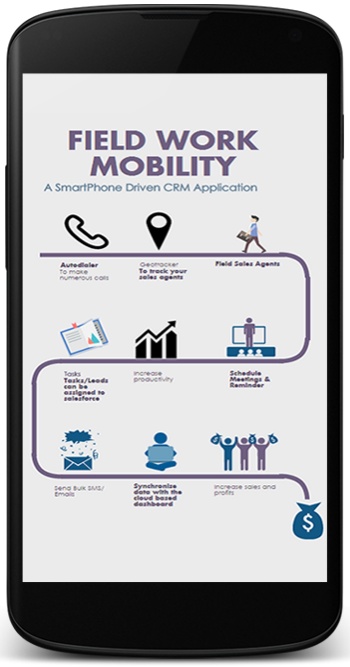 What it is: MySalesDialerPro is an app made for the iPhone and other iDevices, but can be easily accessed via the web portal.
Why it is great for businesses: Businesses wanting the convenience of an autodialer app with CRM integrations, multiple sign-in options, and a great price will find MySalesDialerPro the best option on this list. Offering users a well-rounded set of stock features, two different service tiers, and a well-designed user interface (UI), MySalesDialerPro wins our pick for the best overall autodialer app.

| MySalesDialerPro Strengths | MySalesDialerPro Weaknesses |
| --- | --- |
| Mobile and web apps: Access MySalesDialerPro through your iDevice or through your favorite web browser | No backups on phone: If you reset or buy a new phone, your MySalesDialerPro information is also lost |
| Affordable: With each plan priced no higher than $10, MySalesDialerPro is one of the most affordable options on our list | Laggy web portal: Peak hours can cause the web portal to bottleneck significantly |
| Salesforce integration: Download Salesforce through the app exchange to seamlessly integrate the two services | Unintuitive user interface (UI): MySalesDialerPro's user interface is a bit clunky compared to competing systems |
MySalesDialerPro Pricing
MySalesDialer (Base Package): $5.99 per user, per month
MySalesDialerPro: $9.99 per user, per month
MySalesDialerPro Features
Perfect for various industries: Telemarketing is only one niche that is a great environment for MySalesDialerPro. Many professional industries are MySalesDialerPro's target audience, including pharmaceuticals, real estate, and insurance.
CRM on the go: Your mobile device is the only piece of equipment to start using the incredible CRM features offered by MySalesDialerPro. These include integrations with apps like Salesforce; a place to import or edit your contact lists; a checklist of personal tasks; and templates for SMS messages or emails.
Analytics: Dashboards showing productivity graphs and charts can help managers assign teams to specific tasks or projects, allowing for the most efficient use of agents with different specialties.
Calley: Best Autodialer App With a Free Plan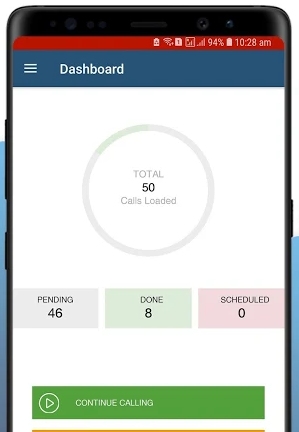 What it is: A mobile autodialer app that is compatible on both Android and iDevices.
Why it is great for businesses: Calley gives you fantastic call center features that can be accessed directly from your smartphone. It is direct and to the point, offering users a no-frills autodialer app needing no equipment but their personal device.

| Calley Strengths | Calley Weaknesses |
| --- | --- |
| Calling lists: Create and upload your custom call lists and call them automatically | Limited free features: The Personal package only consists of a handful of the features offered by paid plans |
| Analytics: Monitor and track patterns looking at call history and advanced reporting | Outdated user interface (UI): Customers report that the UI looks dated and needs to be redesigned with modern eyes |
| Call pausing: This feature lets you pause the software at any time while it is in the middle of dialing a list | Spotty call recording: Some online reviews report that audio quality of recordings can be inconsistent |
Calley Pricing
Personal: $0
Pro: $20 monthly
Teams: $40 monthly
Calley Features
Scalable: With three plans to choose from, you can start with Calley's free plan and upgrade later if you wish to. There is a Calley plan available no matter what phase of growth your business is in.
Unlimited calls: With the two paid service tiers, you are granted unlimited calls per day, as well as unlimited calling lists. This allows you to make up to 2,000 calls per list, maximizing efficiency during the day.
Call recording: Paid plans let you record your calls, letting you refer back to them later to learn more about agent and customer behavior.
CallOnTheGo: Best Autodialer App for Increased Agent Efficiency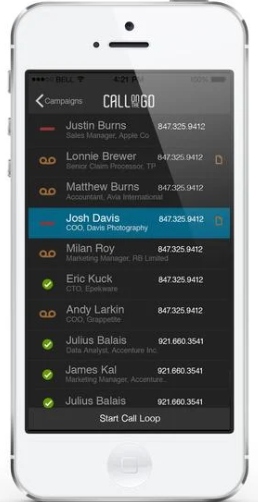 What it is: CallOnTheGo is an autodialing app, made for iPhone and Android smartphones specifically.
Why it is great for businesses: Among many of the best features of CallOnTheGo is its predictive calling. This allows agents to spend more time making calls and communicating with customers instead of logging details like missed calls and busy signals.

| CallOnTheGo Strengths | CallOnTheGo Weaknesses |
| --- | --- |
| No delay: Automatically connect with users instead of forcing them to say "hello" multiple times | Difficult website: It's hard to navigate CallOnTheGo's website because it is not laid out very well and looks sloppy in some places |
| Open API: Create, download, and share apps with other CallOnTheGo users with the open API feature | Expensive: At a whopping $97 per month, CallOnTheGo is no small commitment |
| Custom reporting: Custom data regarding your contact lists help you learn more about calls made | Mixed reviews: While some users love CallOnTheGo, others dislike it just as much; reviews are very much a mixed bag |
CallOnTheGo Pricing
Monthly Plan: $815
Annual Plan: $97
CallOnTheGo Features
Predictive dialing: An automated system within the predictive dialer software can detect when calls go to voicemail, are denied, hung up on, busy, and so on. Predictive dialing cuts down on repetitive tasks for agents by automatically logging that information in the cloud.
Mobile app: Your personal smartphone is the only tool you need to start using CallOnTheGo. The mobile app is clear and easy to use, making it user-friendly for tech skill levels of every kind.
Price: Although $97 per month is a lot of money, if your business is in a comfortable place financially, then it's all relative. For companies that can afford to splurge on CallOnTheGo's service, it is a valuable tool for mass phone calls.
SwiftCall: Best Autodialer App for Lead Nurturing
What it is: SwiftCall is an autodialing app built for iPhones and iDevices.
Why it is great for businesses: If your goal is to turn your cold calls into hot leads, then SwiftCall might be the best option for you. A customer-driven focus full of dashboards and analytics helps to keep you on top of all leads: cold, warm, or hot.

| SwiftCall Strengths | SwiftCall Weaknesses |
| --- | --- |
| Make and keep goals: Use the dashboard to help you see your personal stats and how close you are to improving them | No web app: Since SwiftCall is an iDevice-friendly software, there is no web or desktop app available at this time |
| Call lists: Create and customize caller lists to help you stay on top of leads, but also to help you achieve your goals | CSV upload: Spreadsheets and CSV files cannot be uploaded to lists via a PC, making the smaller screen more finicky |
| Motivational: Clients enjoy seeing their progress and how many goals they've achieved per week, quarter, and so on | No Android support: Android devices are not supported at this time |
SwiftCall Pricing
With SwiftCall, you pay only one flat fee of $29.99 through the Apple App Store. There are no hidden fees or monthly charges—just a one-time payment.
SwiftCall Features
Advanced dashboards: Your mobile app is a wealth of information that can help you manage contacts. It lists everything from a contact's company to the date you last called them, plus you can make custom notes regarding the last conversation you had.
Collaboration: Create and import lead lists to share with your colleagues, or use the dashboard features to collect data and measure team performance.
Customer-focused: Above all, SwiftCall wants to create business leads out of cold calls. Built-in tools such as call schedules, follow-up emails, and call notes turn good customer experiences into great ones.
Mojo on the Go!: Best Autodialer App for Real Estate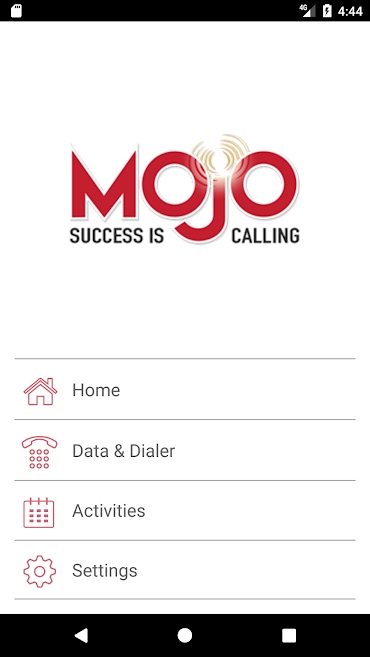 What it is: Mojo on the Go! is an autodialer app with a target audience of real estate professionals.
Why it is great for businesses: Although anybody in a call center environment can use Mojo, there are add-ons that you can buy that are specifically for real estate professionals. It offers special pricing for single-person operations versus teams.

| Mojo on the Go! Strengths | Mojo on the Go! Weaknesses |
| --- | --- |
| Resources: Mojo's support portal includes how-to videos, a knowledge base, and quick tips to help you learn the software | No texting capability: The company defends this decision by saying it's illegal for businesses to text clients without double opt-in permission |
| Call volume: Depending on which package you choose, you can make between 85 and 300 calls per hour | Crashes: While users like that Mojo on the Go! can make bulk calls, there are also complaints of crashing software |
| Customizable: Pick one or all of the five additional real estate tools offered to customize your plan | Expensive: Ranging in price from $99 to $139 per license, Mojo is one of the most expensive apps on this list |
Mojo on the Go! Pricing
Single users:
Single Line Dialer: $99 per license
Triple Line Dialer: $149 per license
Team licenses:
Lead Manager: $10 per user
Single Line Dialer License: $89 per license
Triple Line Dialer License: $139 per license
Optional add-ons for real estate agents:
Neighborhood Search: $40 per month
For Rent by Owner: $25 per month
Expired Data: $50 per month
FSBO (For Sale by Owner): $25 per month
Skip Tracer: $40 per month
Mojo on the Go! Features
First Hello technology: Unlike other autodialer apps, Mojo on the Go! engages users from the moment they pick up. This means that there's no pause or delay between the first "hello" and the agent's interaction.
Analytics: Mojo's Prospecting Dashboard is an intuitive tool for managers. It allows you to monitor and track prospective goals for specific agents or teams, showing data like call history, appointments set, dialing times, and contacts added.
Ideal for the real estate market: 95% of Mojo on the Go's customer base is made up of real estate professionals, and you can see by the optional monthly add-ons that they take their customer base seriously. Choose from five different add-ons or use them all to keep your real estate sales booming.
Autodialer App Alternatives: Desktop-based Software
What it is: A desktop-based alternative is autodialing software that you install directly onto your computer rather than rely on cloud-based software.
Why it is great for businesses: If you are hesitant to rely solely on cloud-based software to make so many calls per day, then desktop software might be better for you. Reliability and functionality are only two benefits from using in-house desktop software, plus you are given many more options and features than with entirely cloud-based apps.

| Desktop-based Alternatives Strengths | Desktop-based Alternatives Weaknesses |
| --- | --- |
| More features: Predictive dialing, advanced analytics, and more customer relationship management (CRM) options are only a few features you might see with a desktop-based alternative | Difficulty ranges: Not all software is easy to install, learn, and manage; be prepared for the possibility of a long onboarding and training process |
| Marketing tools: Some desktop applications include marketing tools like email campaigning and interactive text messaging | Customer service: Understand which companies have the best reputation for great support in case of a technical issues |
| Integrations: Desktop apps tend to offer a greater variety of integrations, such as Zapier, HubSpot, and Salesforce | No companion app: Most desktop-based software do not offer a mobile app, since they are not mobile-based software |
Desktop-based Alternatives Pricing
The pricing for desktop-based apps varies depending on the company you choose. Here are three of our favorites and their pricing tiers:
ChaseData
Small Business: $89 per user, per month
Professional: $139 per user, per month
Enterprise: $169 per user, per month
PhoneBurner
Unlimited Dialing: $149 per user, per month; $126 per user, per month on an annual basis
Voicent
Yearly: $19 per user, per month on an annual basis
Monthly: $29 per user, per month
Bottom Line
Regardless of the kind of business you run, an autodialer can be a fantastic addition to your business phone solution. Beyond making cold calls for business, it's an intuitive way to quickly spread important information and to make announcements to those on your calling lists.
We have chosen MySalesDialerPro as our pick for the best autodialer app. Its wealth of features and affordability give MySalesDialerPro an edge over competitors. Plus, MySalesDialerPro provides service to many different kinds of industries and can help your company grow over time. Visit MySalesDialerPro to learn how to get started today.