How to Generate Leads in 6 Steps (+ Free Template)
Much of the lead generation process involves trial, error, and testing to see what works. That's why following a particular process is crucial—it ensures you cover all your bases and measure the effectiveness of your activities. In this article, we discuss the steps to generate sales leads for your business—from determining your target audience and strategy to initiating your call-to-action (CTA) activities and constantly assessing your strategies.
Free Lead Generation Template
As you generate leads, use our free template to identify your organization's lead generation activities. This template will help determine the target audience who may be interested in your products and services and create a custom lead generation strategy.
Below are six essentials steps to generate sales leads for your business:
1. Determine Your Target Audience
The first step for generating leads is knowing what an excellent lead looks like, as this dictates the channels and the specific tactics you use. One way to determine your target audience is by creating a customer persona. Personas represent your ideal buyers based on their demographics, interests, behaviors, roles, and job responsibilities.
Did you know? 91% of businesses consider lead generation as their most important goal, and 40% of marketers consider generating more leads as their top priority in the next 12 months. (Sources: Ruler Analytics, HubSpot)
As personas are developed, you can determine the channels, messaging, and calls to action to use to attract each type of ideal customer. For information and a free customer persona template, check out our guide on how to create a customer persona.
Thank you for downloading!
💡 Quick Tip:
Customer relationship systems like Zoho CRM allow you to store customer persona information and use tagging features to add traits to each prospect–making it easier to segment your customers into personas.
Visit Zoho CRM
2. Decide Whether to Use an Inbound or Outbound Strategy—or Both
Once you know the "who," establish whether you want to do an inbound strategy, outbound strategy, or a hybrid of both. You can also narrow down the specific tactics you wish to use, and it's important to note that different personas may require different tactics.
For instance, if one of your target audiences is younger and another is much older, you may need to use different tactics for each. Social media campaigns may appeal to the younger demographic while calling, emailing, or traditional advertising to reach the older audiences.
Did you know? Inbound lead generation involves having potential customers come to you through tactics like content marketing, website form submissions, traditional advertising, and social media campaigns. Meanwhile, outbound lead generation involves actively finding and engaging potential customers through tactics like cold calls, email introductions, and networking events.
---
Did you know? 42% of businesses consider email as one of their most essential lead generation channels, while 84% use forms submissions to generate new leads. (Sources: StrategicABM, Ruler Analytics)
Your team's skill sets, experience, and resources also play a part in how you plan to generate leads. For example, you can assign sales team members to a specific lead generation activity based on their past experience—making it faster and more efficient to generate leads. It would make sense to assign an agent with previous cold calling experience to cover the same kind of activity as they are already familiar with the ins and outs of reaching out to completely new leads.
The chart below indicates required attributes when using different tactics for business-to -consumer (B2C) or business-to-business (B2B) lead generation activities:
| Tactic | Budget Requirements | Primary Skills/Resources Required | Good for B2C? | Good for B2B? |
| --- | --- | --- | --- | --- |
| Referrals | Little to no cost | Robust network and sales skills | ✓ | ✓ |
| Content Marketing | Can be expensive, especially if outsourced | Creative, copywriting, SEO, graphic and web design, and other digital marketing skills | ✓ | ✓ |
| Traditional Advertising | Relatively expensive | Creative and copywriting skills | ✓ | ✓ |
| Paid Search Advertising | Can be expensive, especially if outsourced | Search engine marketing (SEM) and copywriting skills | ✓ | ✓ |
| Website Form Submissions | Little to no cost | Digital marketing and design skills | ✓ | ✓ |
| Social Media Campaigns | Can be expensive, especially if outsourced | Creativity, copywriting, graphic design, digital marketing, and social media management skills | Depends on channel | Depends on channel |
| Educational Seminars | Little to no cost if virtual but can be expensive in-person | Public speaking, professional knowledge, and some sales skills | ✓ | ✓ |
| Purchasing Leads Online | Moderately expensive | No specific skills required | ✓ | ✓ |
| Cold Calling | Little to no cost | Professional sales skills | N/A | ✓ |
| Email Introductions | Little to no cost | Creativity and sales skills | ✓ | ✓ |
| Networking Events | Can be expensive depending on event | Robust sales skills | ✓ | ✓ |
| Trade Shows | Relatively expensive | Sales skills and excellent marketing materials | ✓ | ✓ |
Pro tip: Utilizing these different tactics and channels will help you acquire leads. However, remember that quality leads are always better than a long list of names that might not convert to customers. Read our guide on the BANT sales method to qualify your incoming leads.
3. Execute Your Tactic
Executing the tactic with solid messaging and communication is just as important as choosing the right one—whether it is offline or online lead generation. Based on the target audience, each tactic will determine what the message is, how it's sent, and where. For example, when cold calling, the message is an introductory elevator pitch, using some type of cold calling script over the phone.
For content marketing, the message is the topic or main point within the content delivered, which a lead can consume by visiting your website or social media channel. Trade shows involve using branded items, posters, and signs to deliver your message. Educational seminars or webinars require a choice of location (online or offline), development of audience-valued content, and a call to action that ties back to your business' unique value proposition or offerings.
One last thing to consider for the execution stage is whether or not you want to do it in-house or use a contractor. For example, cold calling and introduction emails can be conducted on behalf of your business by a lead generation company.
Similarly, creating content or ads, designing pages on your website, and managing social media can also be contracted out to marketing agencies or freelancers. While it may be more expensive, the return on investment (ROI) of outsourcing tactics to experts may be well worth the cost.
Pro tip: If you don't have in-house resources to create content and design ads, you can outsource freelancers from platforms like Upwork and Fiverr. These platforms have a large pool of talent that can provide you with professional-looking output. You can also check out our guide on the best websites to hire freelancers for more options.
4. Initiate a Call to Action
No matter what tactics are used or whether tactic execution is done in-house or outsourced to another firm, it needs to be followed by a call to action (CTA). An effective CTA gets the prospect to show they are interested and become a qualified lead. Below are some examples of initiating a call to action based on the tactic employed:
Tactic

Call to Action

Content Marketing

After a video, article, or podcast, let the audience know they can learn more by calling a certain number, emailing your business, or submitting a website form.

Traditional Advertising

In the advertisement, specify the number they can call, website URL to visit and fill out a form, or email address they can use to contact your business.

Paid Search Advertising

Use buttons that signal the next step to the audience. It could say "shop now," "click here to learn more," or "sign up for an appointment."

Social Media Campaigns

Use buttons that signal the next step to the audience. It could say "follow us on @accountname" or "check out our website to learn more."

Cold Calling

During the call, initiate the next step by setting up

product demos

, sales presentations, or getting their email address to send more information about your product or service.

Email Introductions

State in the email that they can check out your website, call you, or respond to the

introduction email

to learn more or move to the next step. You can also use various methods to

check if the email addresses

of your leads are correct for more efficient outreach.
5. Measure Effectiveness
As you execute tactics and initiate calls to action, measure the effectiveness of your strategies based on how many people respond to the call to action. There are many ways to measure effectiveness for all types of channels.
Below are some metrics to consider:
Sales qualifying lead (SQL) rate: For direct sales activities like cold calling or emailing, this is the percentage of leads interested in learning more in a presentation, demo, or receiving pricing information.
Actionable lead rate: If you purchase leads, this number is the percentage of contacts in which the contact information is accurate.
Cost per engagement: If you are running an ad or social media campaign, this is the total amount of money spent divided by the total number of people who interacted with your campaign. Interaction could include responding to the call to action or clicking on the ad.
Cost per lead: This is the total amount spent for a lead tactic or specific campaign divided by the total number of leads generated.
Total return on investment (ROI): This is the percentage of revenue generated from a lead tactic or specific campaign divided by the cost of deploying it.
Lead-to-sales ratio (closing rate): The percentage of deals closed based on the total number of leads generated. This is an important metric because it tells you how many leads you need to generate to close a particular amount of deals. For example, if your closing rate is 5% and you want to close 40 deals, you need to generate 800 leads.
6. Constantly Review Your Strategy & Adjust As Needed
There's no sense in measuring the effectiveness of your efforts if you don't plan on doing anything with those numbers. Finding the best tactics for your business involves trial and error, and metrics show you what's working and what isn't. Knowing this, you can adjust your strategies and tactics accordingly.
The numbers might show that an overall tactic isn't working or that a tactic is working better with one customer persona over another. For instance, let's say you are doing a cold calling campaign and running an online ad with video content targeting business owners as well as information technology (IT) directors. During each of those campaigns, your sales qualifying lead rates are as follows:
Cold calling business owners is 3%
Cold calling IT directors is 10%
Video content for business owners audience is 7%
Video content for IT directors is 2%
This tells you cold calling is more effective when targeting IT directors while video content is better for business owners. That said, you should adjust your strategy and get more contact lists for IT directors to cold call while adjusting your online ad campaigns to target more business owners.
Pro tip: Interested in learning more about cold calling? Check out our article on cold calling statistics for some interesting data.
Tools for Lead Generation
Generating leads is far easier when you have the right tools at your disposal to organize information, streamline processes, automate tasks, and facilitate strategy execution. Below are some tools you can consider:
Consider these popular small business lead generation service providers: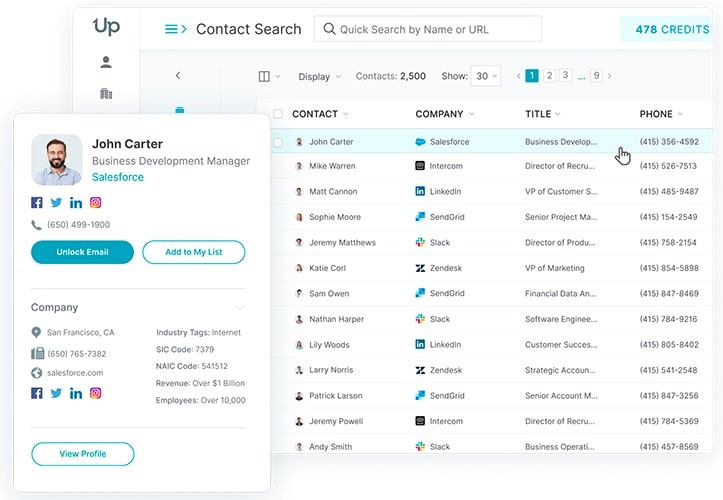 ---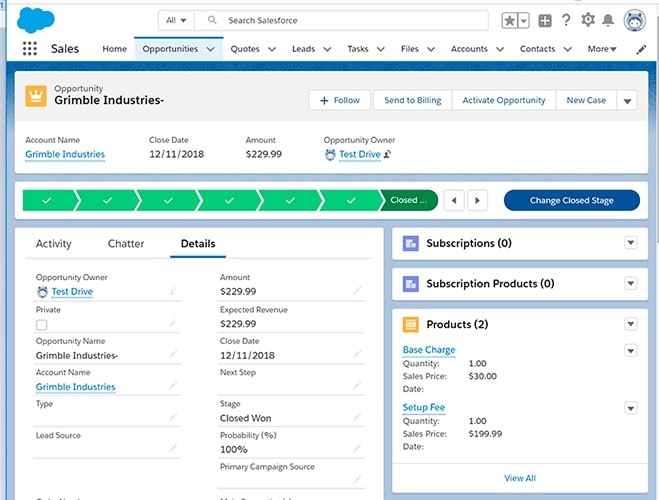 ---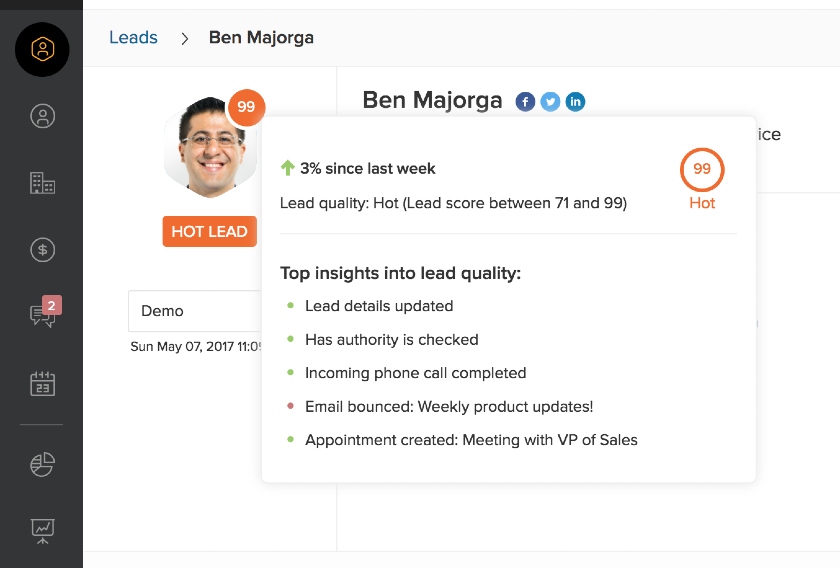 ---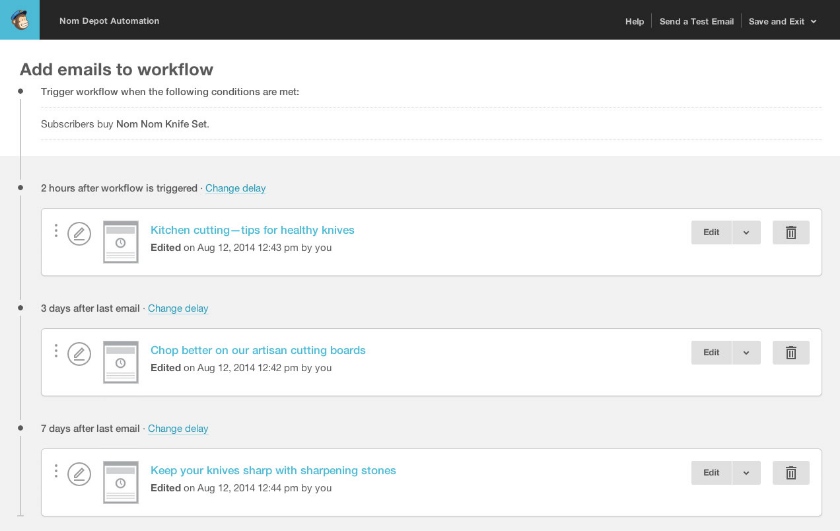 ---
Benefits of Lead Generation
Sales management professionals know lead generation is an integral part of every business strategy. While organic customer retention is essential, generating leads to continuously expand your customer base is equally important. Below are some benefits of actively implementing ongoing lead generation tactics:
Expand Your Customer Reach
A lead generation campaign's main purpose is to help you continuously reach more potential customers. For your business to grow, you need to use various channels, as well as constantly and proactively reach out to new leads who could convert to paying customers.
Increase Sales
More leads means more chances of making sales or closing deals—directly impacting your profits. While you need to make an investment in your lead generation activities, getting new quality customers can ultimately help you get your return on investment (ROI).
Improve the Overall Quality of Your Leads
Having more available leads means there's a better chance to acquire and retain high quality ones than repeatedly targeting your existing pool of customers. Every time you acquire a new pool of leads, ensure that you do lead qualification so you can spot leads who are most likely to spend and build more revenue.
Bottom Line
The lead generation process can seem overwhelming due to the various tactics and channels you can utilize. However, it is important to follow a set structure so you can monitor all your lead generation activities and track their corresponding results. This allows you to constantly re-evaluate your strategies and improve them to get the best results.