Since our last update:
The way businesses operate has changed so much in 2020, so we updated this article to emphasize contactless payments, integrated online ordering, and online store features.
A point-of-sale (POS) system is a hardware and software bundle that serves as the nerve center of brick and mortar businesses by centralizing payment processing, automating stock tracking and sales reports, and streamlining customer relationship management. Some POS software is available for free, while other systems cost up to $200 per month for one station.
The 10 best POS systems for 2020 are:
If you're not sure which POS system is best for your needs, take this three-question quiz:
Answer a few questions about your business and we'll give you personalized product match
How We Evaluated POS Systems for Small Business
I've spent two years researching and reviewing dozens of point-of-sale systems at Fit Small Business and talking to small business owners about their experience using different POS products. This guide combines my experience using each product, interacting with the company's customer service and support teams, feedback from business owners, and leverages a comprehensive database where we track the price of each system (monthly fees, startup costs, payment processing fees, etc.) along with the features they offer and overall value they provide.
We chose systems that are easy to use, have generally positive POS user reviews, and are accessible to small businesses.
Square: Best Overall POS System for Small Businesses

Square POS is the best POS system for small businesses because it is free and is incredibly user-friendly. Square's free POS software supports mobile and brick-and-mortar stores and includes a free online store. Built-in payment processing makes it easy to get up and running quickly, and Square's many optional add-on features mean the system can grow with your business.
| Square POS Strengths | Square POS Weaknesses |
| --- | --- |
| Free POS, best value for small businesses | Limited inventory control |
| Easy to use, fast set-up | Not suitable for high-risk businesses |
| Can grow with your business | Limited phone support |
Square POS Pricing
Point-of-sale app: Free—no startup or monthly fees.
Processing fee (magstripe, chip, contactless): 2.6% + 10 cents per transaction.
Terminal costs: The app downloads onto any iOS or Android smartphone or tablet for free. Optional Square Terminal and Registers are available for $299 – $799.
Card reader pricing: Square POS comes with a free magstripe card reader. However, we recommend purchasing the $49 chip and contactless card reader for secure payments.
Add-ons: Businesses can add restaurant or retail tools, email marketing, loyalty program, payroll, and team management for additional fees.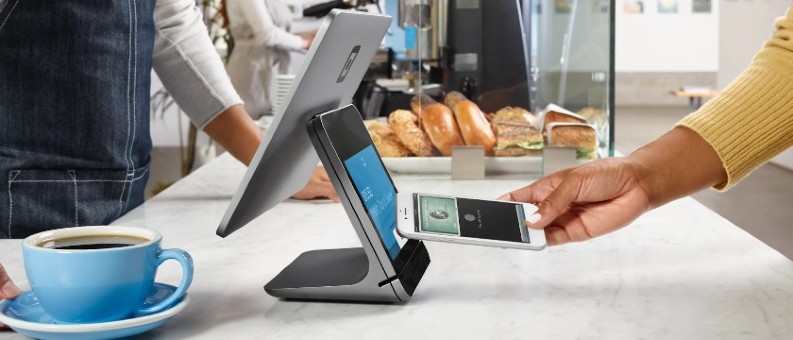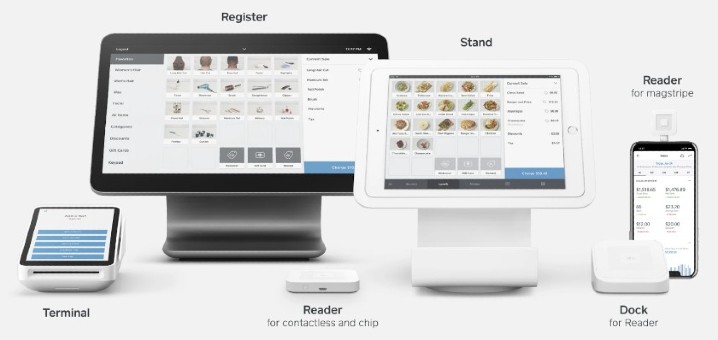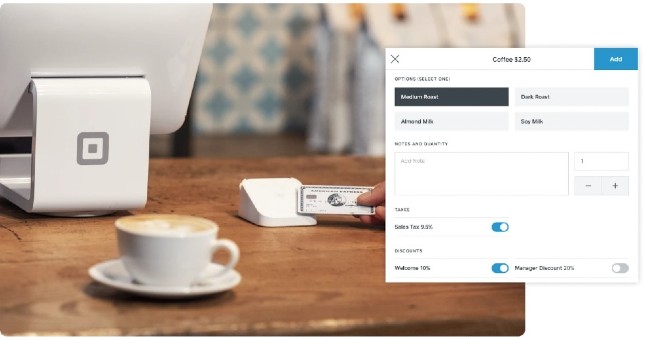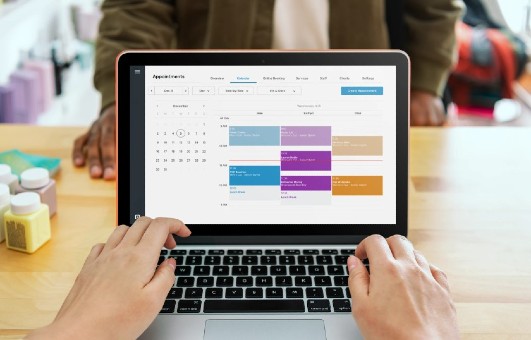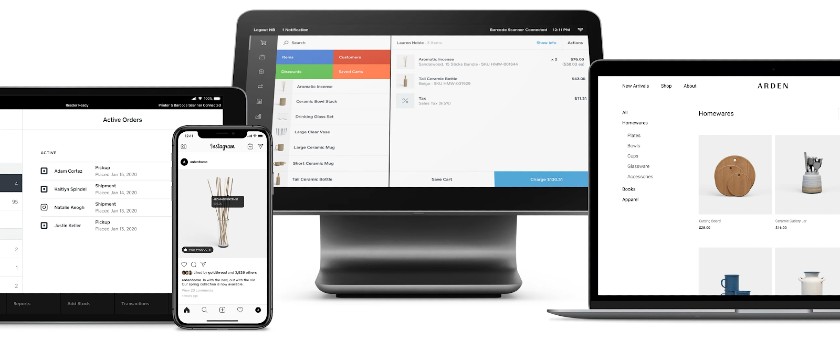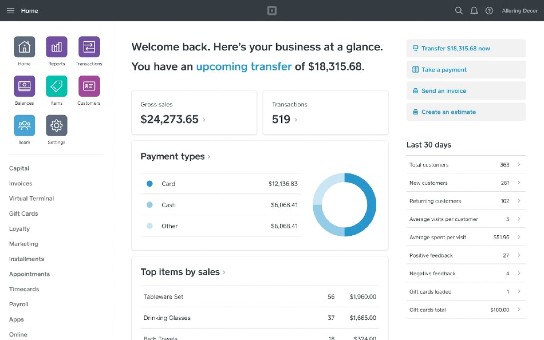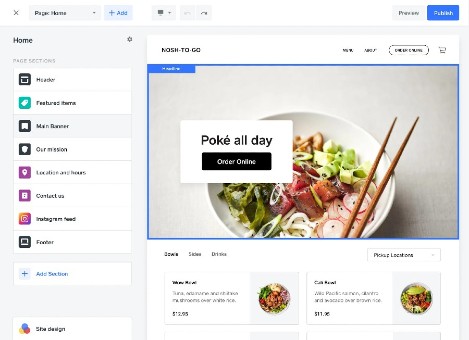 Square POS Free Features
POS: Cloud-based POS that runs on smartphones, tablets, Square Terminal, or Square Register. Dedicated solutions for appointment-based businesses, retailers, and restaurants in addition to Square's standard POS.
Appointments: Manage multiple appointment calendars, set up online appointment booking, allow customers to book and manage appointments with an online portal, automatically confirm appointments with SMS and email reminders, and require credit cards upon booking for no-show and cancellation fees.
Retail: Square for Retail is a bar code based interface with omnichannel sale tools and inventory management features like bar code creation, vendor management, purchase orders, and more.
Restaurants: Square for Restaurants is a POS with integrated online ordering, an order management system, kitchen display system, conversational ordering, table and seat management, firing and coursing options, menu reporting, and more.
Square Dashboard: Process transactions, track product sales, view reports, manage teams, taxes, payroll, and more in one centralized cloud-based dashboard.
Built-in payment processing: Accept credit and debit card payments with next-day deposits.
Customer relationship management: Create customer profiles, collect and respond to customer feedback. Square Marketing Assistant can identify marketing campaign opportunities, suggest email campaigns based on your customer list and activities, analyze performance, and identify best practices.
Online store: Build a free website and online store to sell products online for pickup, shipping, or delivery. Create simple online ordering pages or add shoppable posts to your existing website or social media accounts.
To learn more about why Square offers the best POS software and hardware solutions for small businesses, read our full Square POS Review. If you're ready to sign up for a free Square account, visit Square to get started.
Lightspeed Retail: Best POS System for Inventory Management

Lightspeed Retail is the best retail POS system for businesses with large or complex inventories, including specialty shops needing to manage custom orders. The software lets retailers create product bundles, categorize with multiple variants, and manage purchase orders with a built-in catalog. Lightspeed also offers one of the most sophisticated analytics platforms for small businesses.
| Lightspeed Retail Strengths | Lightspeed Retail Weaknesses |
| --- | --- |
| Detailed inventory and analytics tools | Expensive for small businesses |
| Robust ecommerce platform | User interface hard to navigate |
| 24/7 support and onboarding | |
Lightspeed Retail Pricing
Monthly software fees: $69 – $229
Additional registers: $29 per month
Card-present payment processing: 2.6% + 10 cents per transaction
Hardware: Receipt printers, cash drawers, Bluetooth scanners, and iPad stands available
Setup fees: N/A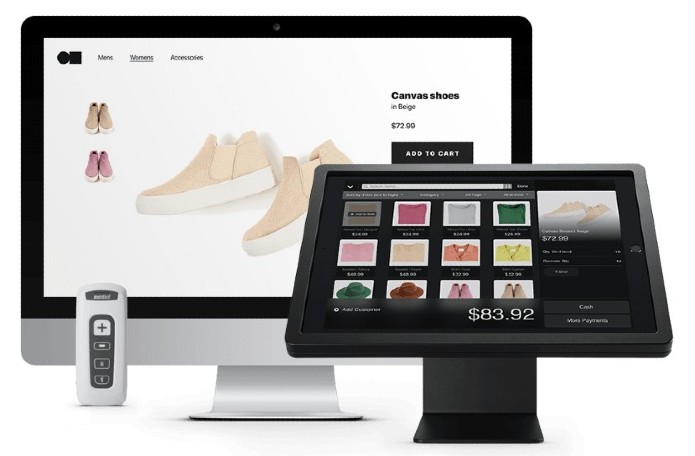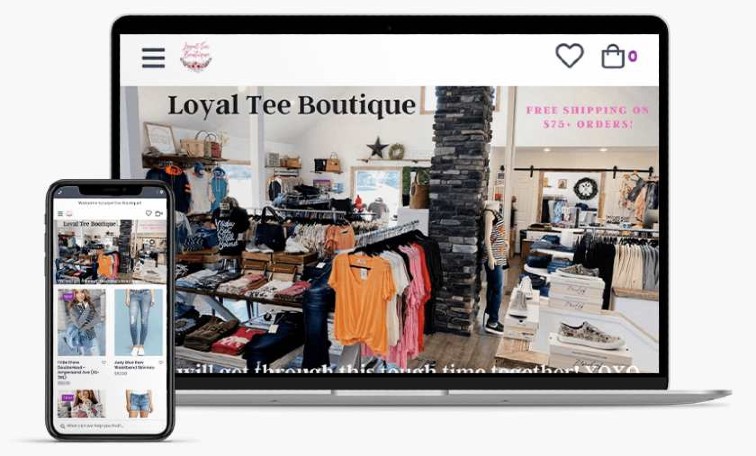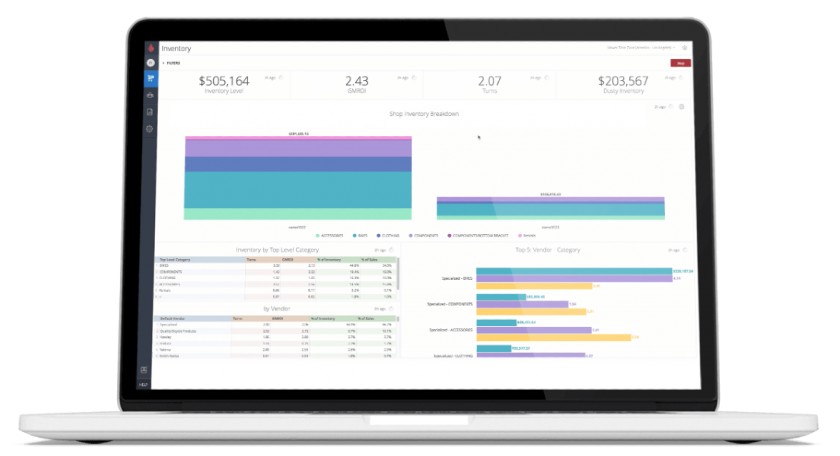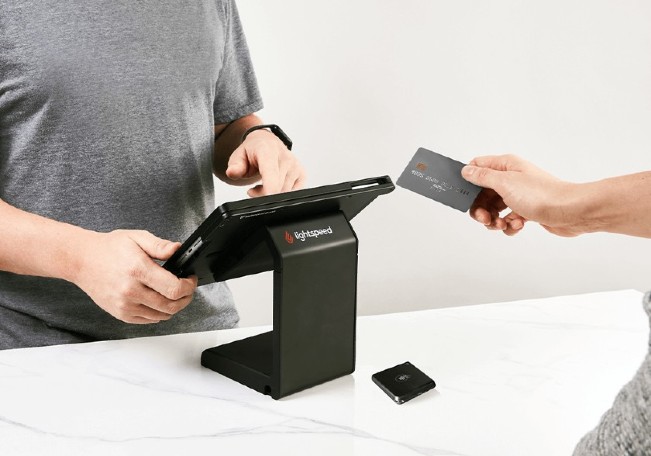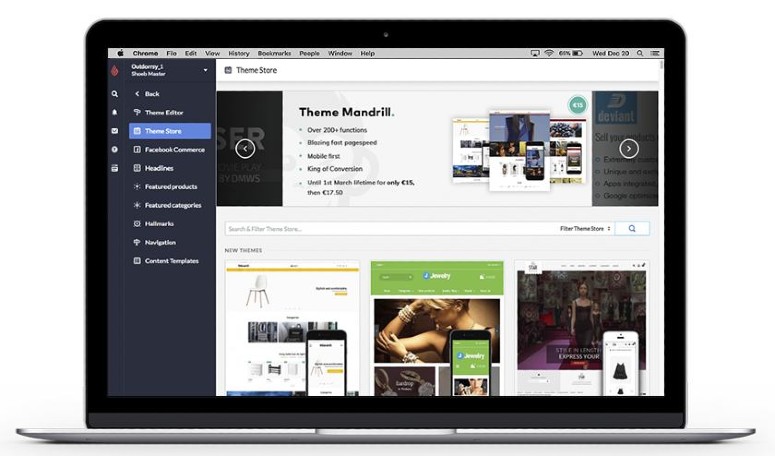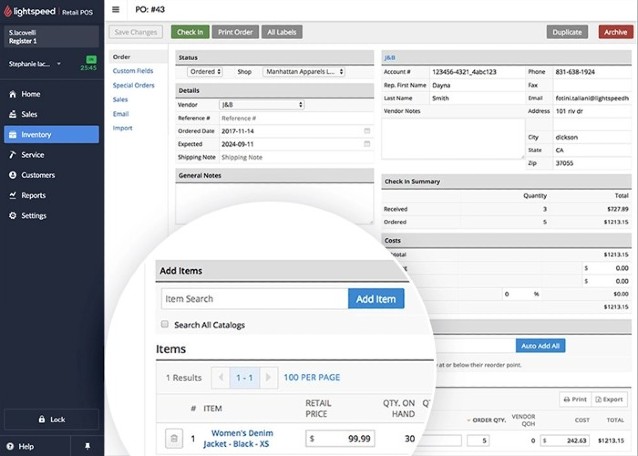 In the News: Lightspeed Supplier Network
On January 12, 2021, Lightspeed launched a supplier network that allows retailers greater efficiency and visibility into their supply chains. With the network, retailers can discover products, submit purchase orders, and track shipments from within Lightspeed POS.
Lightspeed Retail Features
POS: Flexible cloud-based system that runs on iPads or desktops.
Inventory management: Bulk upload up to 10,000 SKUs at once, manage variants, create bundles, track unit costs, layaways, and special orders. Streamline purchase orders with built-in product catalog and low-stock alerts.
Reporting and analytics: Lightspeed offers the most powerful analytics platform available at a small-business friendly price. Includes over 40 built-in reports, allows retailers to build custom reports, view data in visual forms like graphs and charts, and includes tips on how to interpret the data.
Marketing: Lightspeed has a built-in loyalty program. Create a tiered rewards system for both in-store and online purchases, send one-time deals for birthdays or to VIP customers, and design emails with templates or a drag-and-drop builder.
Ecommerce: Lightspeed Ecommerce syncs with POS data, offers over 50 professional themes, includes full shipping and order management tools, marketing, CRM, and SEO features.
To learn more about Lightspeed's advanced retail inventory and analytics tools, read our full Lightspeed Retail review. If you're ready to get started, visit Lightspeed for a free 14-day trial.
Toast: Best POS System for Restaurants

Toast is a restaurant POS software specifically designed for the foodservice industry. It combines front-of-house features like table mapping, menu management, and real-time feedback collection with back-of-house features like kitchen displays and ingredient-level inventory tracking. Toast also offers online ordering and delivery features, along with payroll tools and a wide array of industry-specific hardware, making it the best POS system for bars and restaurants.
| Toast POS Strengths | Toast POS Weaknesses |
| --- | --- |
| Easy to use, all-in-one system | Expensive - mandatory installation fees, costly add-ons |
| Customizable for different types of restaurants | Android only - not compatible with Apple iOS |
| 24/7 support | No free trial |
Toast POS Pricing
Point-of-sale app: $69 – $189+ per month per terminal
Installation: Starts at $499 (mandatory)
Toast POS Payments (fixed flat fees): Not disclosed
Toast Hardware: Standard terminals with flip screens, customer-facing displays, tableside/mobile ordering, kitchen display screens, and self-order kiosks available for quoted fees. Hardware kits start at $799.
Add-ons: Mobile ordering and payment for contactless in-person dining, payroll, team management, online ordering, marketing, gift cards, and loyalty programs available for additional monthly fees.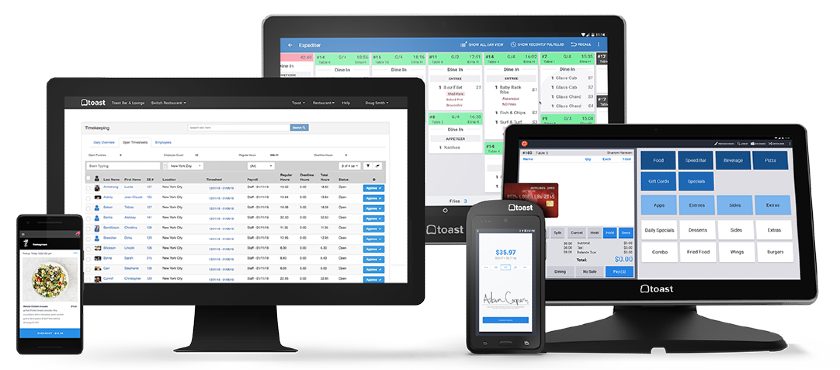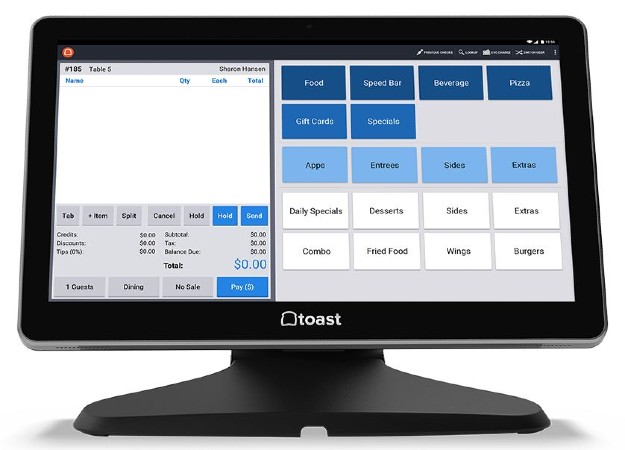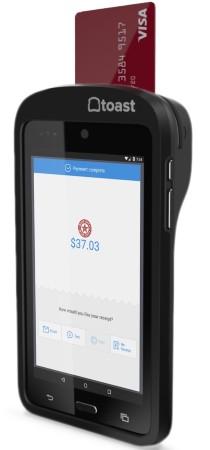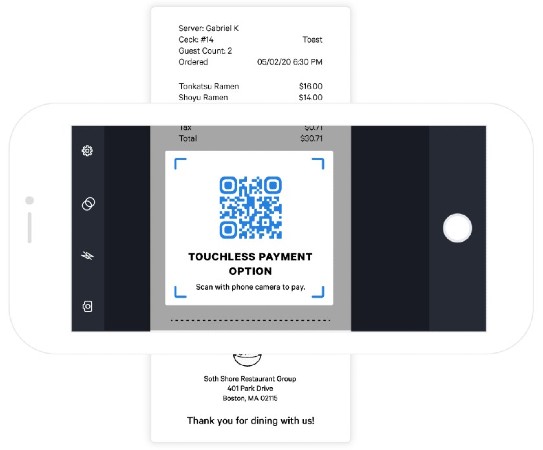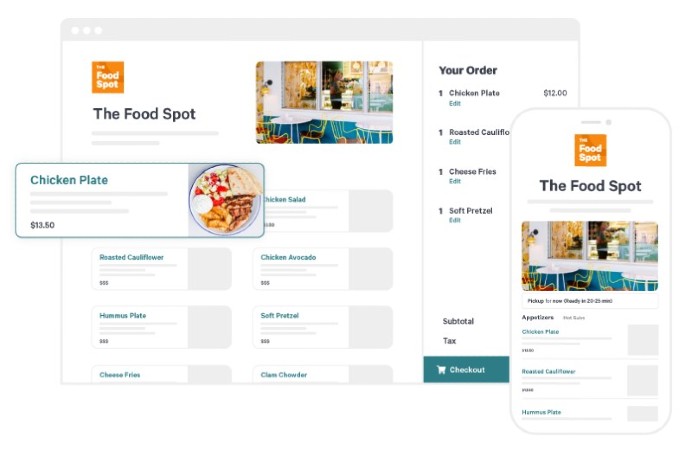 Toast POS Features
POS: User-friendly Android-based cloud POS with touch-screen navigation
Front-of-house features: Table mapping and management, real-time customer feedback collection, tickets automatically sent to kitchen display, order notifications.
Reporting and back-office: Detailed menu management with ingredient-level tracking, recipe costing, waste and COGS reports, payroll administration, sales and performance data, all with real-time data.
Online ordering and delivery: Integrated online ordering (no third-party commissions) with customizable mobile-responsive site, real-time ingredient and menu updates, and configurable hours and delivery settings.
To learn more about why Toast is the best overall POS system for restaurant and foodservice businesses, read our full Toast POS Review. If you're ready to get started, visit Toast for a demo and personalized quote.
Shopify: Best POS for Retailers Wanting to Sell Online

Shopify is an ecommerce platform that comes with a free POS software for selling products at events or on-the-go, plus features to sell on social media and third-party marketplaces. For brick and mortar retailers, Shopify has a POS Pro plan with omnichannel selling tools, sophisticated inventory management, and more detailed analytics. With all Shopify plans, sales, inventory, and customer data are stored in one place, making Shopify the best POS for multichannel sellers.
| Shopify POS Strengths | Shopify POS Weaknesses |
| --- | --- |
| Good value for small businesses | Glitchy offline mode |
| Omnichannel sales tools | Free POS app has limited features |
| Easy to use, intuitive interface | Advanced plans are pricey |
Shopify POS Pricing
Monthly ecommerce software fees: $9 – $299
Monthly POS software fees: $0 for basic POS app, $89 for Shopify POS Pro
In-person processing fees: 2.4% – 2.7% with built-in Shopify Payments
Tap and chip card reader: $49
Additional hardware: POS app can be downloaded on iPad, iPhone, and Android devices; iPad stands and card reader docks available through Shopify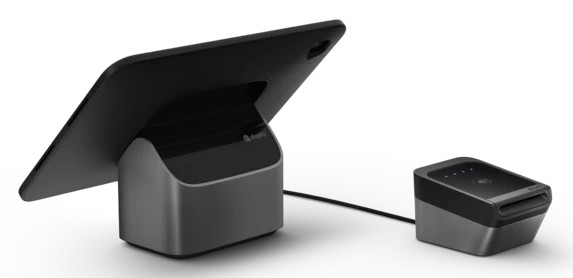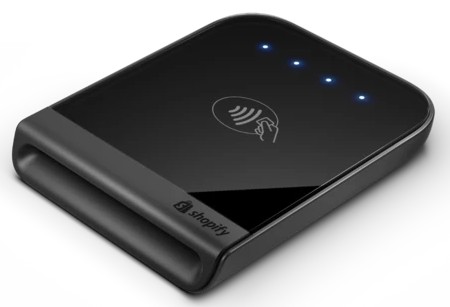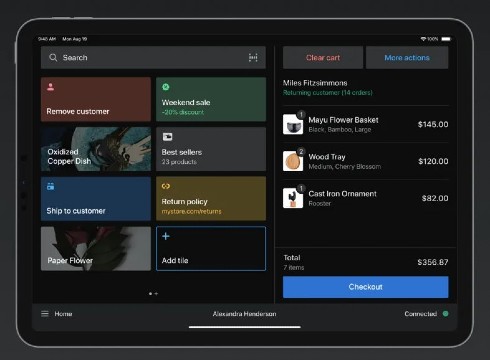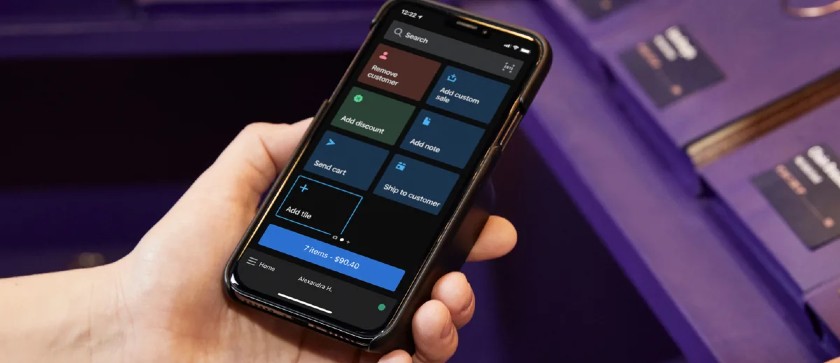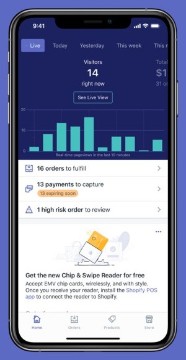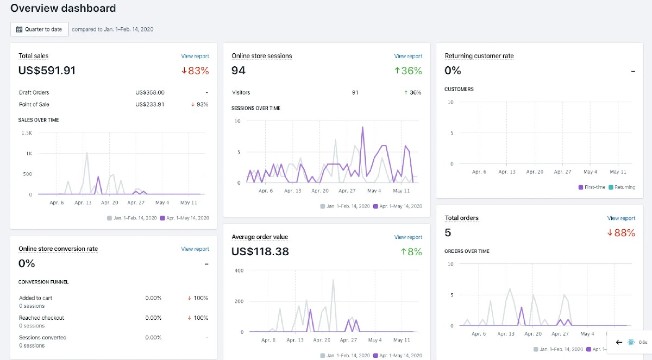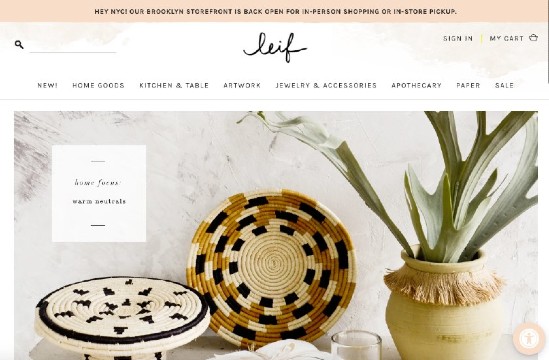 Shopify POS Features
Omnichannel selling: Offer frictionless shopping experiences with buy online, pick up or return in-store; buy in-store, ship to the customer; and browse in-store, buy online with email carts and QR product codes.
Products: Add unlimited products, categories, and collections including multiple variants.
Inventory management: POS Pro includes Stocky, a smart inventory app for performing inventory counts, receiving products with a bar code scanner, generating low-stock alerts and detailed inventory reports, demand forecasting, performing inventory analysis, and viewing sale item suggestions.
Customer management: All Shopify plans include tools to generate customer profiles with contact information and shopping habits, add customer tags (such as VIP designations), track special requests, generate targeted promotions, create marketing content, and optimize social media campaigns.
Online sales: Shopify is the leading small business ecommerce platform, but it also offers features to sell on social media, third-party marketplaces, and add "Buy" buttons to blogs.
If you're ready to get started, visit Shopify for a free 14-day trial.
ShopKeep by Lightspeed: Best POS for Boutique & Specialty Stores

ShopKeep by Lightspeed POS is a cloud-based iPad system designed for small specialty shops and boutiques. It has a user-friendly dashboard with built-in payment processing and marketing tools to help businesses manage online directory listings. It also offers a detailed, yet user-friendly Back Office reporting app.
| ShopKeep by Lightspeed Strengths | ShopKeep by Lightspeed Weaknesses |
| --- | --- |
| User-friendly interface | Limited customization options |
| 24/7 support | Reports of software glitches |
| Robust back-office apps | No free trial |
ShopKeep by Lightspeed Pricing
Monthly software fees: $49 – $179 with annual billing, $69 – $199 with monthly billing.
Payment processing: Flat-rate fees through ShopKeep by Lightspeed Payments, or choose your own processor. ShopKeep by Lightspeed payments are 2.5% + 10 cents for in-person sales and 3.5% for online and invoice payments. ShopKeep by Lightspeed Payments include next-day funding.
Hardware: Retail, restaurant, and quick-service hardware bundles available. ShopKeep by Lightspeed is also compatible with Clover POS hardware. A selection of Ethernet, Bluetooth, and iPad-connected card readers are available for contactless payments.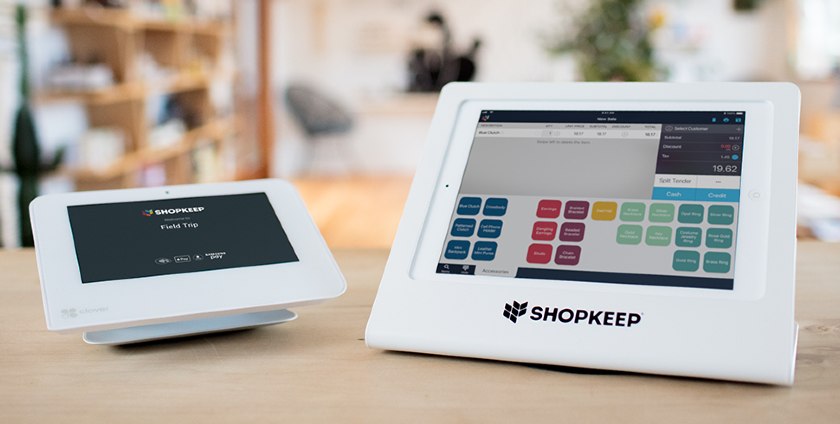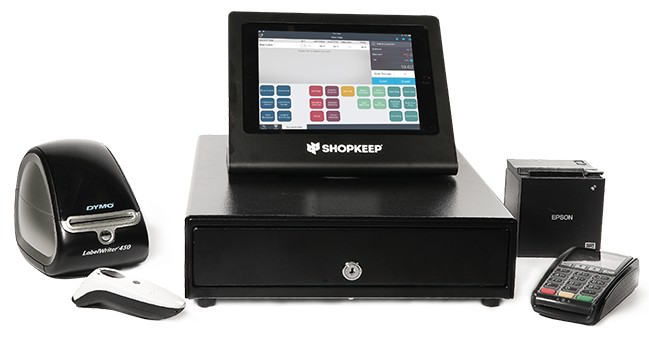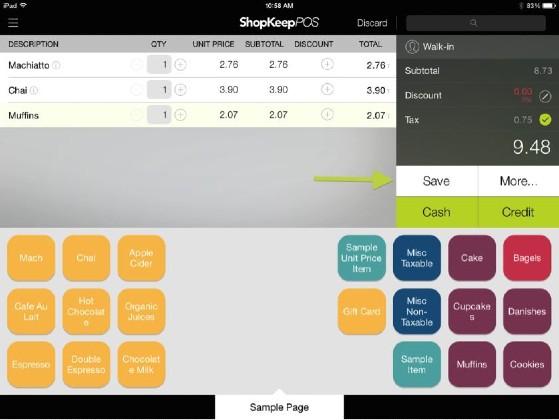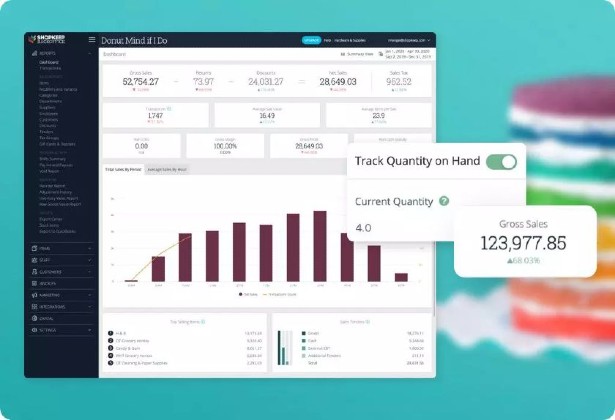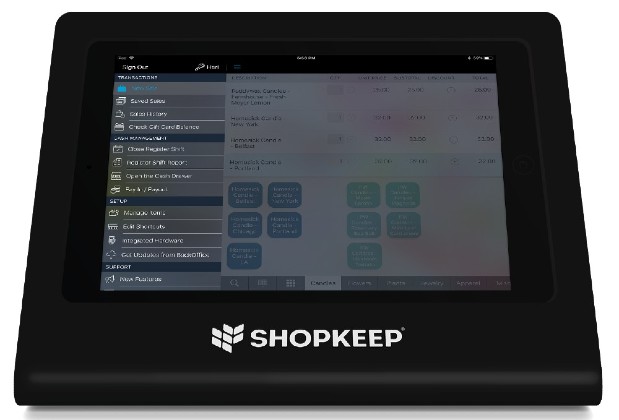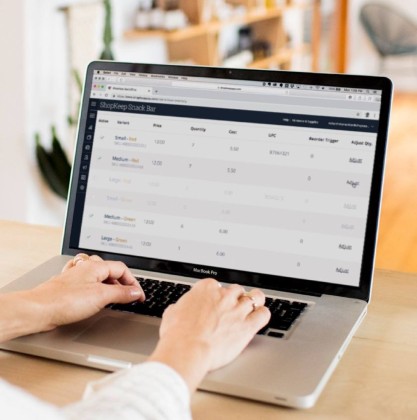 ShopKeep by Lightspeed Features
POS: User-friendly cloud-based iPad POS requiring minimal setup or configuration. ShopKeep by Lightspeed has POS products for retailers, restaurants, bars, and quick-service businesses.
Back office: Raw good and variant-level inventory management, bar code printing and management, low-stock alerts, bulk product upload, analytics dashboard with built-in report templates.
Pocket app: Mobile app for viewing real-time reporting data on-the-go.
Ecommerce and online sales features: Build a business website or online store that's automatically integrated with the rest of ShopKeep by Lightspeed POS. ShopKeep by Lightspeed offers a selection of templates with no coding required. Offers ecommerce orders, curbside pickup, and local delivery, plus sell on Instagram, Facebook, Amazon, Facebook Messenger, and embed an online store widget into any existing website.
Marketing tools: Features include creating email lists and campaigns, built-in gift cards, and customer loyalty programs. Some plans include ShopKeep by Lightspeed Spotlight, which helps businesses manage online listings for sites like Facebook and Yelp. If you sell online, optimize your site for SEO and run Google shopping ads.
If you're ready to get started, visit ShopKeep by Lightspeed for a custom quote.
Vend: Best POS With Built-In Loyalty Program

Vend is an iPad and web-based POS designed strictly for brick and mortar retailers. It is one of the few POS systems that come with built-in loyalty programs, store credit, layaway tools, offline processing, and easy product catalog management. Vend integrates with many different payment processors so businesses can shop around for the lowest rates, and offer multiple payment options like PayPal.
| Vend Strengths | Vend Weaknesses |
| --- | --- |
| Flexible checkout features - built-in loyalty, store credit, layaway | Weak ecommerce integration |
| User-friendly system; runs on all operating systems | Basic reporting tools |
| 24/7 phone support | Lack of integrated email marketing |
Vend POS Pricing:
Monthly software fees: $99 ($20,000 turnover limit) or $129 (unlimited turnover)*
Additional registers: $49 per month each*
Payment processing: Varies; Vend integrates with more than eight different processors
Hardware: Operates on Mac, PC, and iPad. Use your own hardware or purchase through Vend.
Setup and installation fees: Quote-based
*Based on annual billing. Month-to-month rates higher.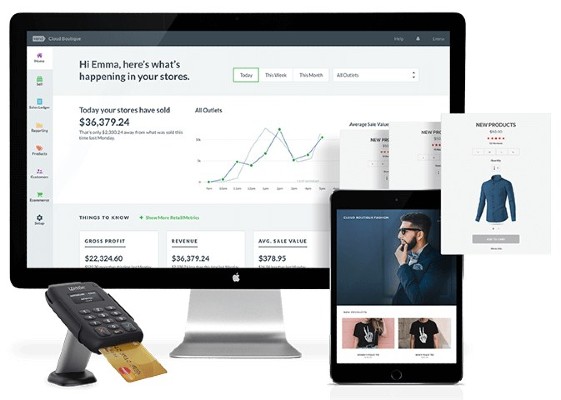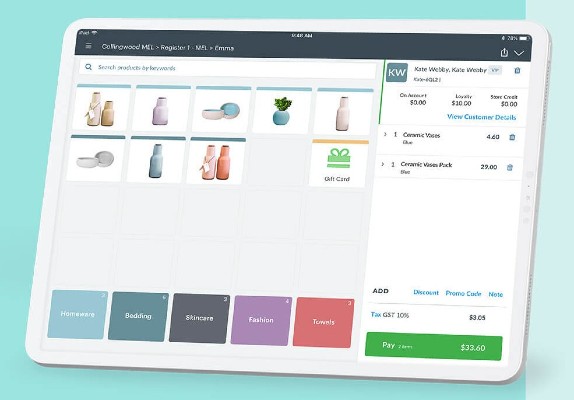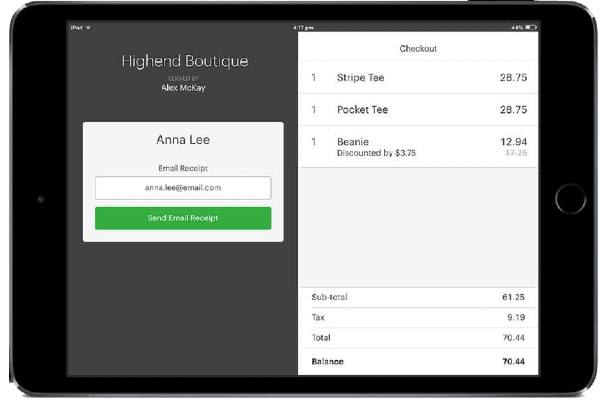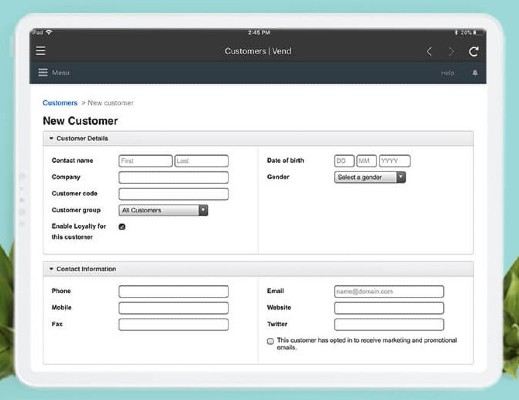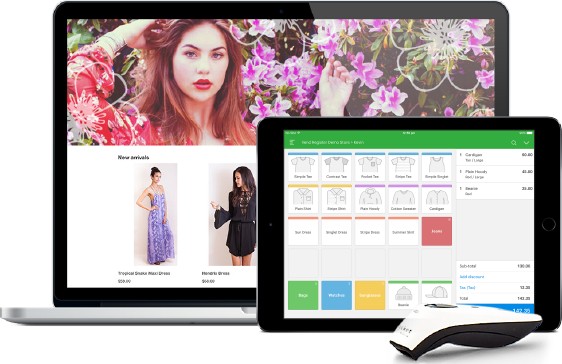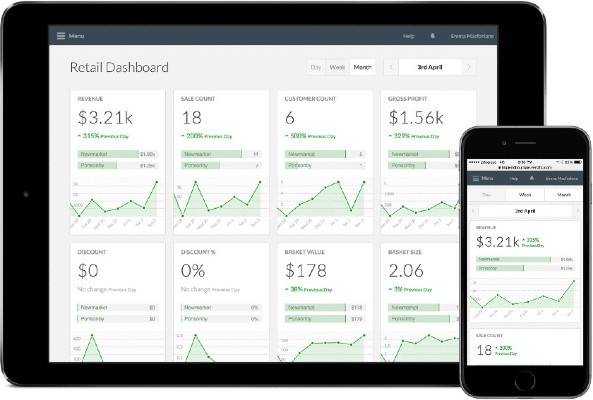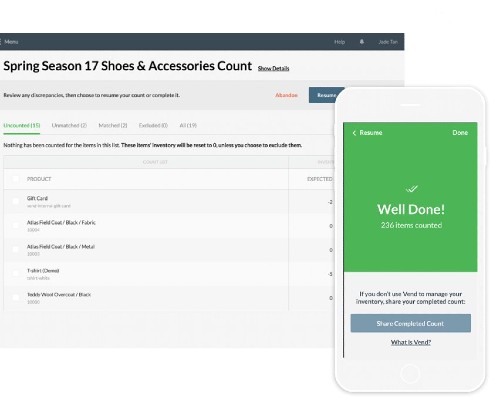 Vend POS Features
POS: User-friendly cloud system with offline processing, staff logins, flexible configurations including layaway and on-account sales, store credit, gift cards, and partial payment.
Detailed inventory tools: Track variants and bundles, create, import, and print bar codes, build a centralized product catalog, set custom low-stock alerts, and manage tax rates.
Mobile bar code scanning app: Vend has a free iOS app for scanning bar codes to perform quick inventory counts, receive shipments, or lookup product details from the sales floor. Any changes made in the app can sync to Vend's reporting data.
Add-ons and growth tools: Vend comes with a native loyalty program and integrates with third-party tools for ecommerce, accounting, employee scheduling, and multichannel inventory management.
If you're ready to get started, visit Vend for a 14-day free trial.
PayPal Here: Best Free mPOS for Mobile Vendors

PayPal Here is a free mobile POS powered by PayPal that allows businesses to accept payments and send invoices from anywhere. PayPal is the only small business mobile POS that directly accepts PayPal payments. This option makes it a convenient Square POS and payments alternative for mobile vendors and their customers.
| PayPal Strengths | PayPal Weaknesses |
| --- | --- |
| Easy to setup and use - works on many devices | Account stability |
| No monthly fees, predictable transaction fees | Not ideal for high-risk or high-volume businesses |
| Best for accepting occasional mobile payments | Not a full-featured POS |
PayPal Here Pricing
Mobile POS app: Free
Chip and swipe payments: 2.7%
Invoice payments: 2.9% plus 30 cents per transaction
Keyed-in payments: 3.5% plus 15 cents per transaction
Contactless and chip reader: $24.99 to $74.99; we recommend purchasing a chip reader (instead of magstripe) for more secure payments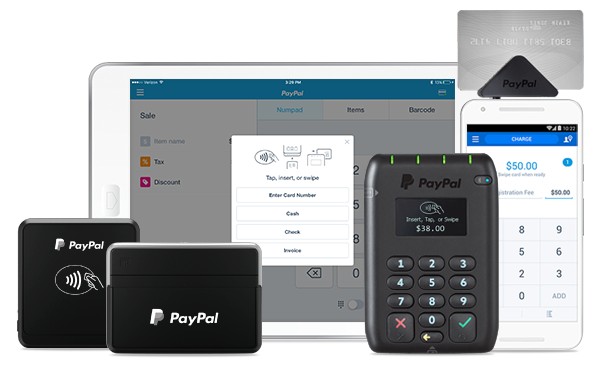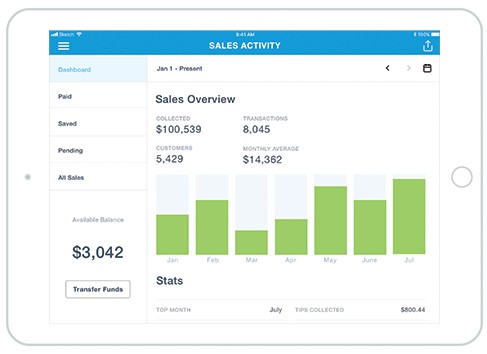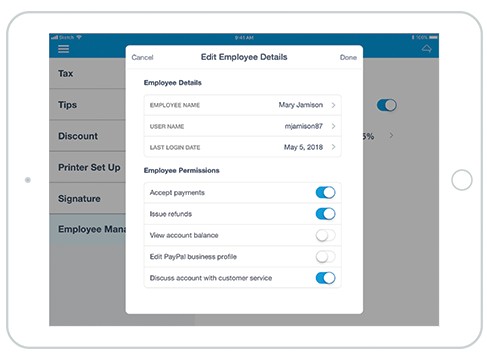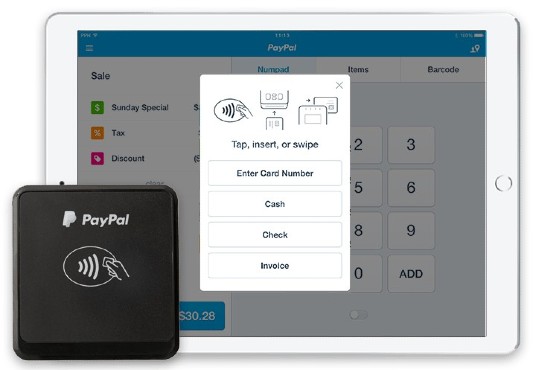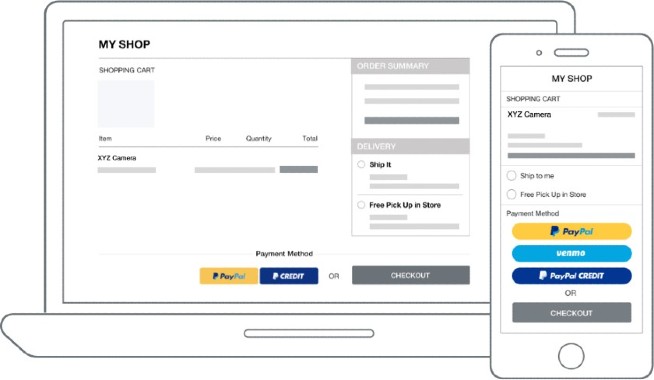 PayPal Here Features
Mobile POS app: Download PayPal Here on any smartphone or tablet to accept credit, debit, and PayPal payments, or to create and send invoices.
Business management: Create customized receipts, calculate sales tax, manage a product list (including descriptions and photos), assign user roles and permission, and track sales with reports.
Limited features: Paypal Here is best for businesses that don't need a lot of management features, and just want a simple tool to process occasional payments.
If you're ready to get started, visit PayPal to create a free account.
Fresha: Best Spa and Salon POS

Fresha, formerly known as Shedul, is a free and versatile spa and salon POS and management software for beauty industry professionals. Fresha combines retail sales and inventory management features with online appointment booking, calendar management, marketing tools, and reporting for an all-in-one POS software. The software is completely free to use, which is an unbeatable value.
| Fresha Strengths | Fresha Weaknesses |
| --- | --- |
| Combines online booking, CRM, retail POS, and calendar management | No phone support |
| Extremely user-friendly | Free plan has limited features |
| Free plan options | |
Fresha Pricing
Monthly software fee: N/A—software is free to use. No setup or installation fees.
Payment processing: 2.19% + 20 cents per transaction.
New client fee: 20% when booking through Fresha customer-facing marketplace. The fee does not apply to customers that book directly through your website or social pages.
Hardware fees: POS is web-based; iOS and Android apps available. Payments can be processed online, so no specific hardware required. Fresha also offers wireless, touchscreen, countertop terminals for processing contactless, chip, and swiped payments.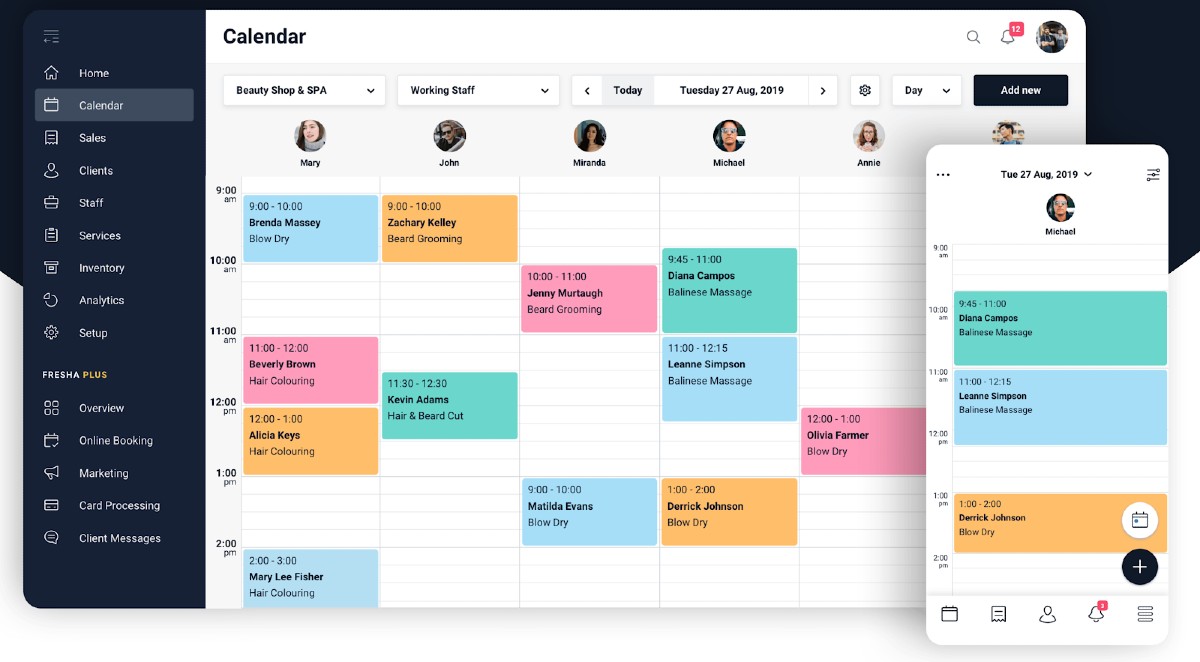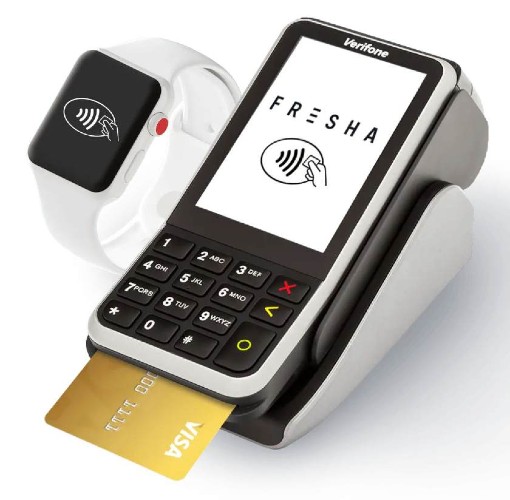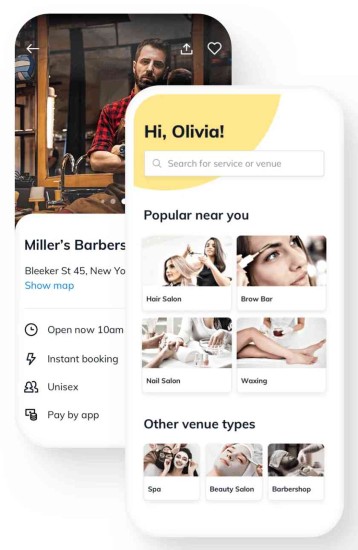 Fresha Features
POS: Fresha offers solutions for spas, salons, barbershops, personal training professionals, tanning studios, tattoo and piercing businesses, and health, beauty, and fitness businesses. Support bar code scanners, receipt printers, and cash drawers.
Appointment management: Customers can book online through your website, Fresha marketplace, Instagram, Facebook, and Google. Send automated reminders and allow employees to track their schedules.
CRM tools: Create targeted email campaigns, identify top clients, segment client groups, send personalized offers, and more.
Management and reporting: Track inventory levels, generate supply orders, track internal product use, view real-time performance, and financial reports.
If you're ready to get started, visit Fresha to create a free account.
Revel Systems: Best QuickService POS for Multilocation Restaurants

Revel Systems is a cloud-based foodservice POS that has configurable features for self-order kiosks, customer-facing displays, mobile and tableside ordering, and online ordering. This makes Revel a good fit for large, high-volume, or chain restaurants that need more than just a checkout counter or tableside POS. The digital kitchen display automatically sends orders from the POS to iPad touchscreens in the kitchen.
| Revel Systems Strengths | Revel Systems Weaknesses |
| --- | --- |
| Robust, customizable system | Complex cost and setup |
| Granular reporting tools | Expensive system with no free trials |
| Back Office management accessible through registers | Not as user-friendly as other systems |
Revel Systems Pricing
POS software: Starts at $99 per month, per terminal.
Payment processing: Flat transaction fee—specific rates not disclosed.
Installation and onboarding fee: Starts at $649.
Hardware: iPads and stands, self-serve kiosks, PIN pads (including contactless payment options), kitchen printers, and other kitchen-specific hardware available at custom quoted pricing.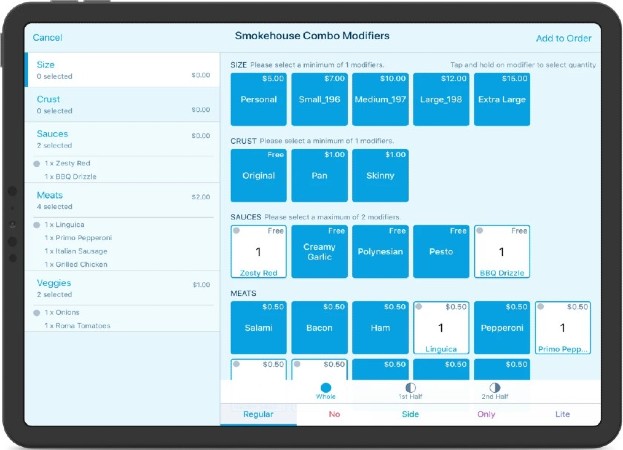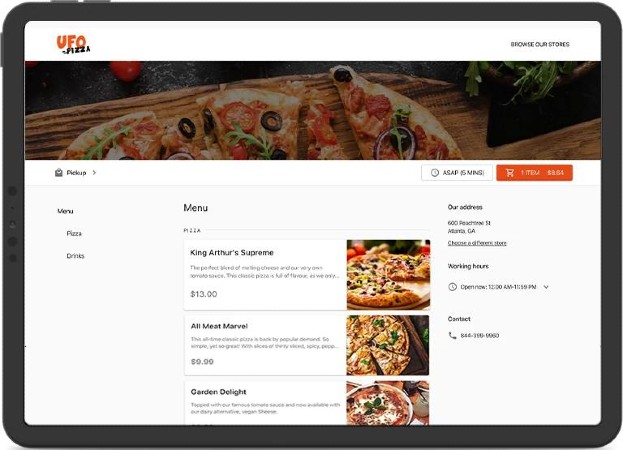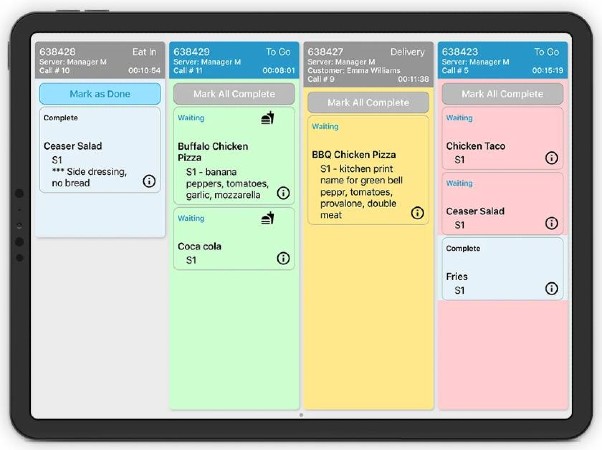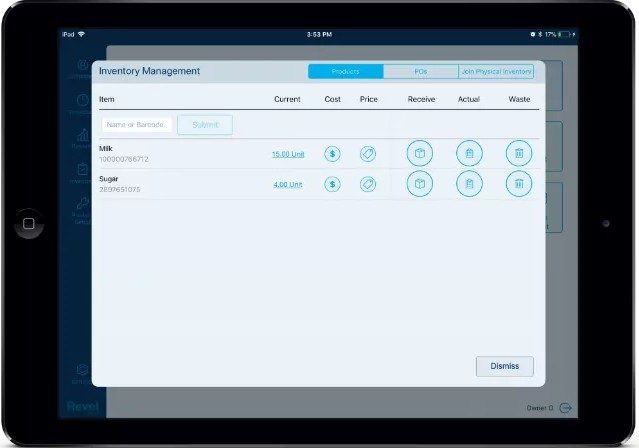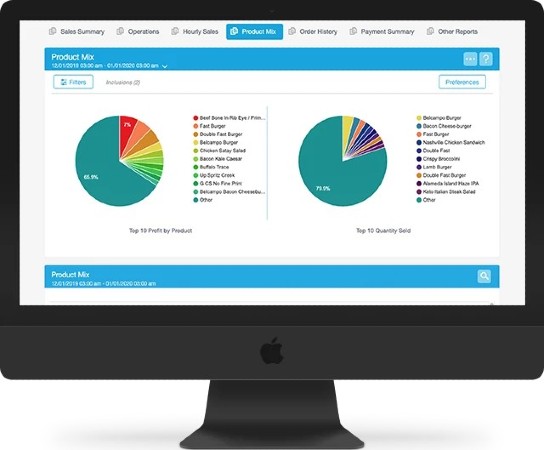 Revel Systems Features
Front-of-house tools: Revel has comprehensive permission settings, detailed table mapping and management, and offline payment processing.
Reporting and management: Revel Insights reporting offers real-time ingredient-level inventory tracking, performance metrics, and sales reports.
Back-of-house: Menu-building tools, integrated kitchen display communication, integrated online ordering, centralized multi-location management, and an open API allow businesses to build a setup that meets their needs.
Customer-facing features: Revel has features for customer display systems, self-order kiosks, and mobile ordering for speedy and contactless service, plus loyalty, gift card, and discount tools for customer retention.
To learn more about why Revel POS is a great option for multi-location restaurants, read our full Revel Systems review. If you're ready to get started, visit Revel Systems for a free demo.
IT Retail: Best Grocery POS

IT Retail's Market POS is a specific system that includes hard-to-find features like scale integration for selling goods by weight, bottle deposit management, automated shopper rewards program, and self-checkout options. The POS comes packaged in rugged hardware necessary in a grocery environment and allows markets to sell online and connect with a network of delivery drivers.
| IT Retail Strengths | IT Retail Weaknesses |
| --- | --- |
| Grocery and market-specific features | No fuel pump or deli/cafe features |
| Scale integration and strong loyalty features | High hardware costs |
| 24/7 support | Not a lot of available pricing information |
IT Retail POS Pricing
Market POS: Starts at $59 per month. Custom quotes for larger markets and multi-location businesses.
Hardware: Terminals, scanner scales, customer displays, self-checkout kiosks, and PIN pads all available for custom fees.
Setup: Quote-based fees for on-site installation, product import, and data backups.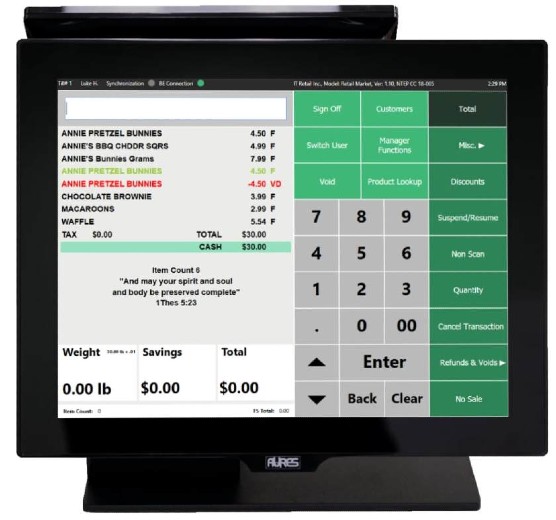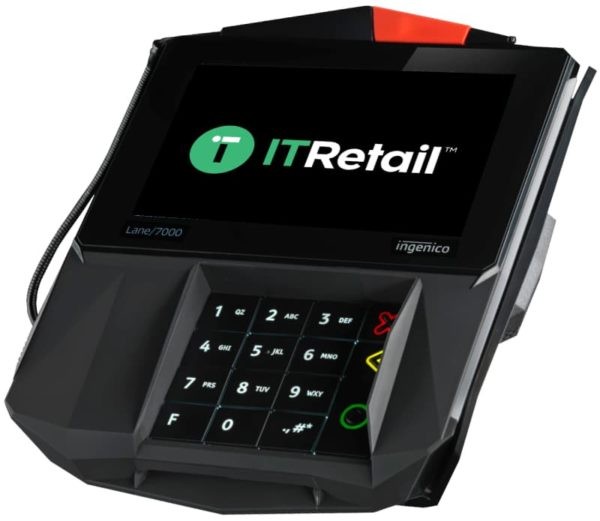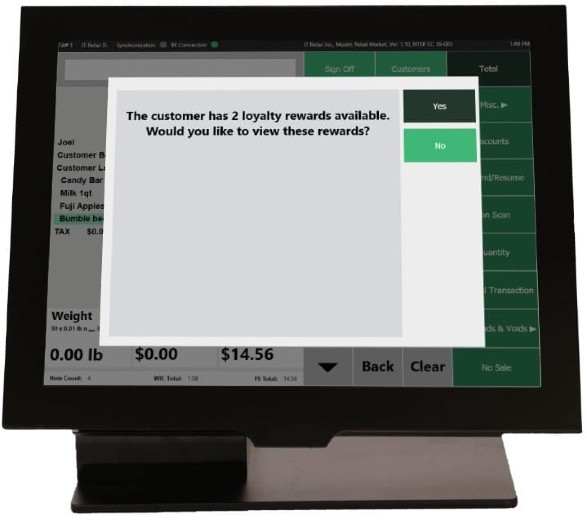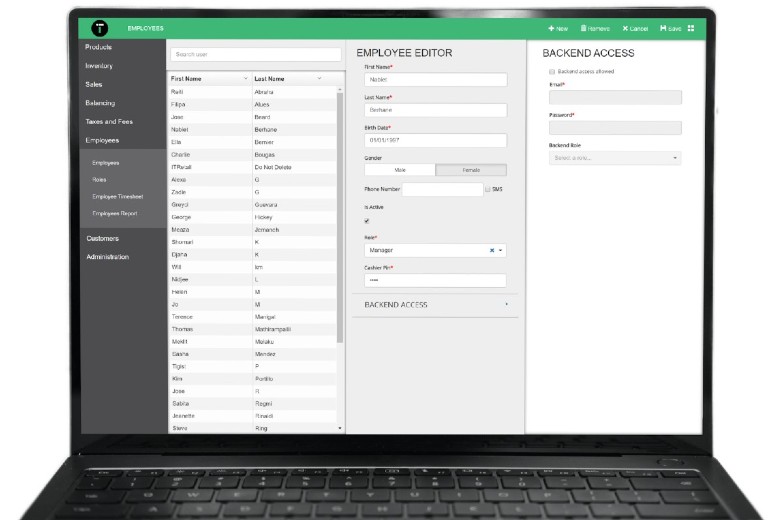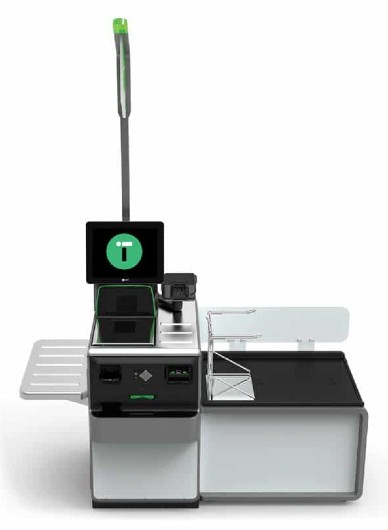 IT Retail POS Features
Checkout: Flexible checkout options for produce and bulk goods, scale integration for selling goods by weight, customer-display, and self-checkout setups. Accept all major credit and debit cards, EBT food and cash payments, gift cards, eWIC, and contactless payments such as Apple Pay.
Inventory management: Create, print, and scan bar code labels, generate purchase orders, receive and count stock using a mobile app, generate purchase orders, and generate shelf tags. Mobile reporting available on any device.
CRM tools: Issue scannable loyalty cards, create a custom loyalty program, POS automatically tracks available rewards at checkout.
Online grocery: Enable online ordering and delivery, including specialty and fresh items, with Mercato integration.
If you're ready to get started, visit IT Retail for a free demo.
Bottom Line
The best POS systems provide business owners more than simply a way to accept payments. POS trends such as mobile-first technology mean businesses can sell products and services anywhere, anytime. Artificial intelligence (AI) developments in POS software mean that instead of telling businesses how much product they have on-hand, POS systems can tell businesses exactly what they need to order and in what quantities. The best POS software combines analytics and ease of use at a price point that is accessible for small businesses.
Square POS is free to use, and its core features are powerful enough on their own that you may not even need the optional add-ons to build out the POS system. If you do opt to include the loyalty program, staff management features, or payroll, you'll still likely pay less than some other POS systems. Get a free account today.