6 Best Customer Loyalty Program Software
Although you can create and manage a loyalty program on your own, good customer loyalty program software will help streamline your operations. The best software will also provide automation features and unique loyalty elements that you can utilize to encourage customer retention and drive sales.
We looked at over a dozen customer loyalty program software to select the six best for 2022:
Best Customer Loyalty Program Software Compared
| | Pricing | POS and Ecommerce Integrations | Outreach Marketing | Reward Structure Options | Free Option |
| --- | --- | --- | --- | --- | --- |
| Visit LoyaltyLion | $0–$1,500 /month | 4+ | SMS and Email | Points, tiers, rewards, reviews, referrals | Yes (up to 400 orders per month) |
| Visit TapMango | Starting at $239/month | 7 | SMS and Email | Points, rewards, referrals | No |
| Visit Yotpo | $19–$149+ /month | 6+ | SMS and Email | Points, tiers, rewards, reviews, referrals | Yes (limited features) |
| Visit AnnexCloud | Custom | 5 | SMS and Email | Points, tiers, rewards, reviews, referrals, and more | No |
| Visit Zinrelo | $7,000–$30,000 annually | 8 | Email | Points, tiers, rewards, reviews, referrals | No |
| Visit Smile.io | $0–$600 /month | 4 | SMS and Email | Points, tiers, referrals | Yes (limited features) |
LoyaltyLion: Best Overall Customer Loyalty Software
LoyaltyLion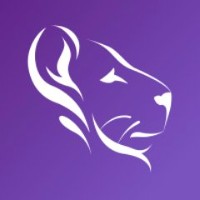 What We Like
High flexibility in designing your loyalty program
Completely branded to your business
Extensive integration capabilities
What's Missing
Customer support availability
Counterintuitive design interface
High price point for plans that accommodate over 400 orders
Deciding Factors:
POS and Ecommerce Integrations: Shopify, BigCommerce, WooCommerce, Magento, and others via API option
Pricing: $0–$1,500 per month

Free trial: Yes
Free for businesses processing under 400 orders/month
On-site equipment: None
Price is scaled based on number of orders and features
Subscription period: Monthly
LoyaltyLion is a high-quality custom loyalty software that stands out from the others in our list because of its breadth of features and customization options. It is best suited for ecommerce companies that want to design their own unique loyalty program and are ready to invest in their customer retention.
To make your business memorable and boost customer engagement (and spending), LoyaltyLion offers rewards, points, and tiered membership options. It also allows you to customize every interface and piece of text in your customer loyalty program so your website is seamless and cohesive.
This is our top-scoring customer loyalty software, with a 4.56 out of 5, because of its comprehensive features and customization. LoyaltyLion also got top marks for its overall quality and popularity, as well as customer satisfaction. A lack of POS integrations and mixed customer reviews, however, brought its score down. For better customer marks, check out Yotpo and Zinrelo.
LoyaltyLion Features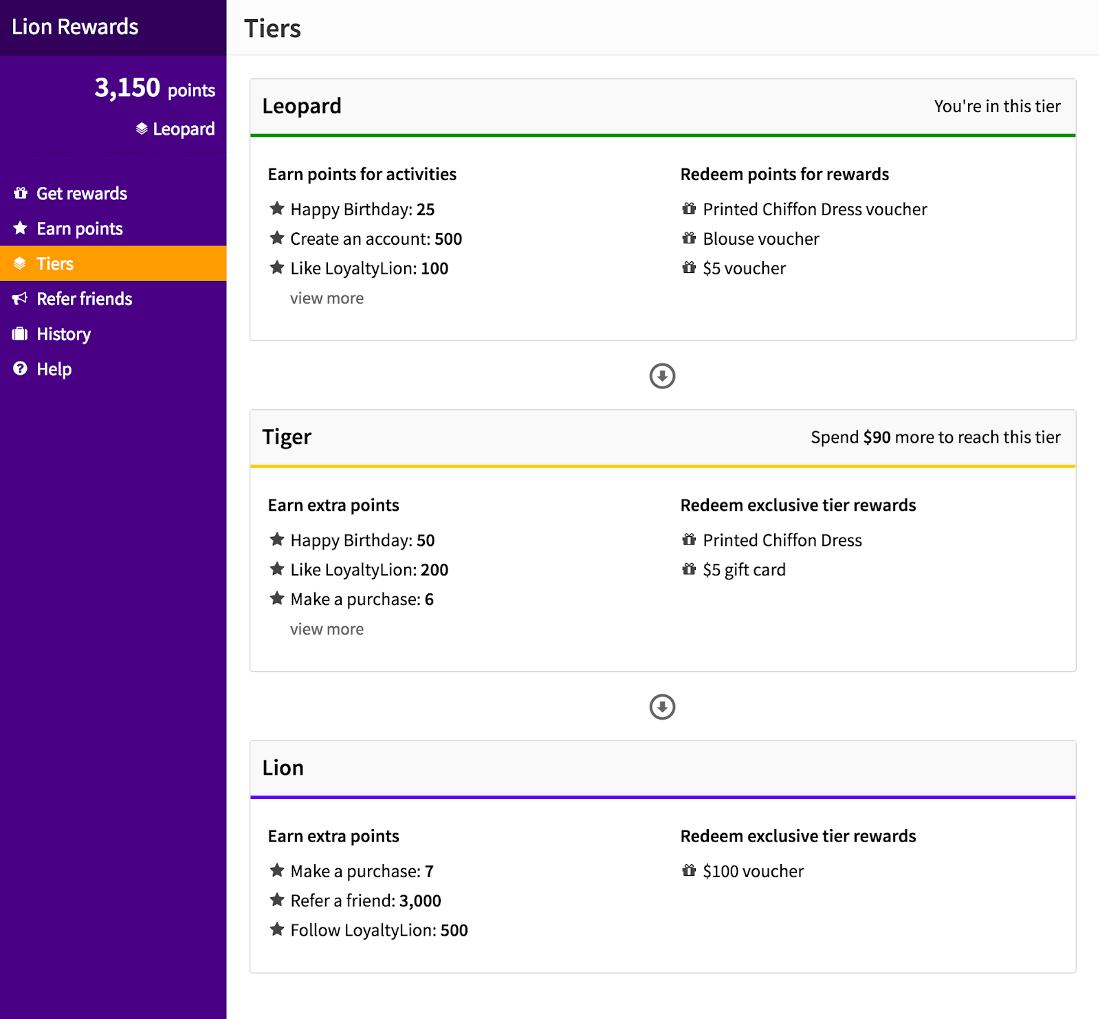 ---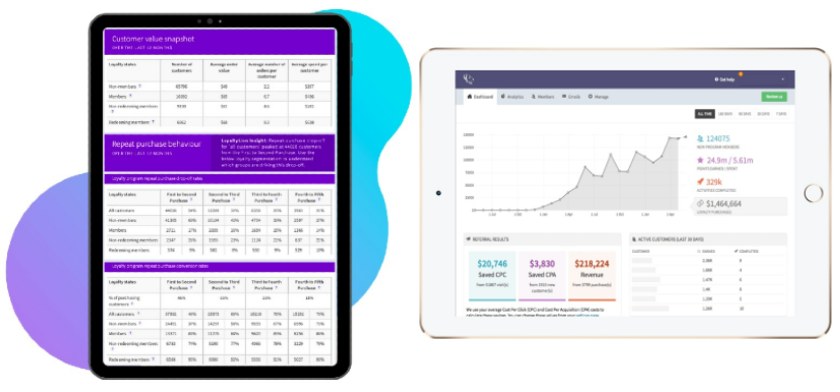 ---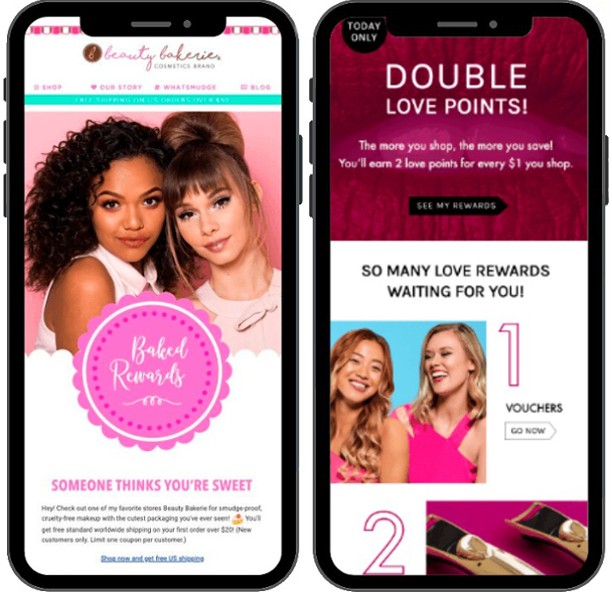 ---
To start, LoyaltyLion lets you design your program and customize your loyalty rewards so that they effectively incentivize return visits among your unique customer base. The software walks you through the whole process step by step to make it easy. From there, you get to add visual customizations. Another great option with an even more custom experience is Annex Cloud, which we will explore below.
LoyaltyLion can integrate with most major ecommerce platforms and has also partnered with Vend for mobile app integration.
Points and Rewards System: Offer customer points for purchases, referrals, reviews, or any other on-site activity. The customers can exchange those points for gift cards, vouchers, or rewards like free shipping or an exclusive discount.
Tiered Memberships: Reward customers for engaging with and spending money at your business. Offer platinum, gold, silver, and bronze membership levels, and give better rewards as people climb the ladder.
Referral Rewards: Reward customers for sharing on social media, via email, or over text through custom referral links or use the LoyaltyLion referrals widget.
Email Outreach: Reach out to your customers via email to remind them of their points, offer discounts, promote sales, and keep customers interacting with your loyalty program. LoyaltyLion offers different email templates and designs for you to choose from, so your emails can be custom to your message. (LoyaltyLion offers limited email program integrations, but you can use a custom API.)
Reporting: Access real-time statistics and referral and rewards information through your dashboard so you can better understand and target your customer base.
Integrations: It integrates seamlessly with most ecommerce software, including Shopify and Magento. LoyaltyLion also offers custom integrations through its dev team via API for both ecommerce and POS integrations.
CSS Theme Editor: It includes a built-in editing tool that allows you to customize how your loyalty program appears on your website.
LoyaltyLion Pricing
LoyaltyLion scales its pricing based on the number of orders you have each month. While it's free for businesses processing fewer than 400 orders per month, it primarily has three subscription tiers: Classic (from $399, up to 2,000 orders), Advanced (from $699, up to 4,000 orders), and Plus (from $1,500, up to 10,000 orders). As your business grows and your LoyaltyLion plan changes, you also get access to more features and customization options.
What LoyaltyLion Is Missing
LoyaltyLion is best suited for ecommerce due to its limited point-of-sale (POS) integration options. For brick-and-mortar stores, a better customer loyalty option is TapMango. Additionally, LoyaltyLion's user interface can be difficult to understand and master, unlike Yotpo, and its customer support can be difficult to reach. Not only that, but TapMango's customer service is highly reviewed and personalized. See its pricing and features below.
TapMango: Best for In-store Customer Behavior Insights
TapMango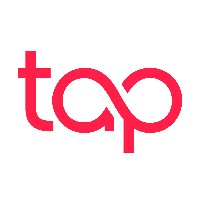 What We Like
Social media integrations from the sign-in tablet
Automatically send referral codes to all customers
Automated outreach marketing campaigns
What's Missing
Online integrates with Shopify ecommerce platforms
Difficult-to-navigate merchant interface
No free trial; high price point
Deciding Factors:
POS and Ecommerce Integrations: Ecards, Shopify, Clover, Toast, Vend, Square, Lightspeed Retail
Pricing: Starting at $239/month

Free trial: No
On-site equipment: Tablet, included in cost
Price is scaled based on revenue
Subscription period: Monthly
TapMango got second place in our scoring, with a 4.51 out of 5. The software offers some of the best reporting tools in the customer loyalty program software market, providing insights into customer behaviors and program performance. The TapMango reporting hub also gives you access to tons of information and analysis about your customers, allowing you to better understand and target their needs and wants. TapMango is perfect for any brick-and-mortar business trying to better understand its customers or those looking to start data-driven loyalty initiatives.
Along with its reporting tools, TapMango also offers a slew of different types of rewards structures that you can choose from and allows you to customize the appearance of all your correspondences so you maintain a cohesive brand image. Additionally, TapMango has a highly regarded and personalized customer support system that is available at all times to help you along the way.
The software lost points, however, for its ecommerce integration limitations. If you are looking for an option that will be better suited to an online business, try Annex Cloud, Yotpo, Smile.io, or Zinrelo.
TapMango Features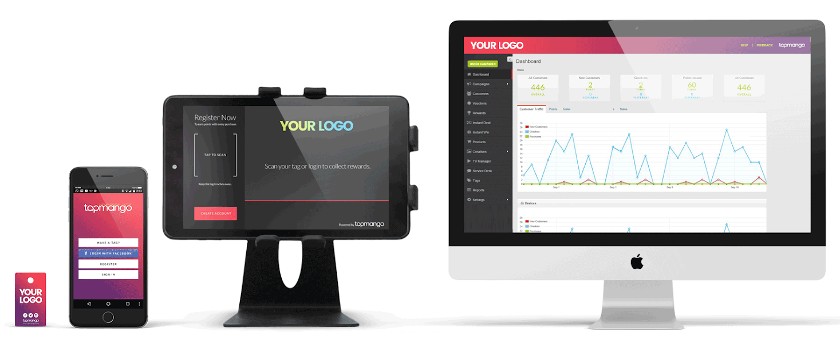 ---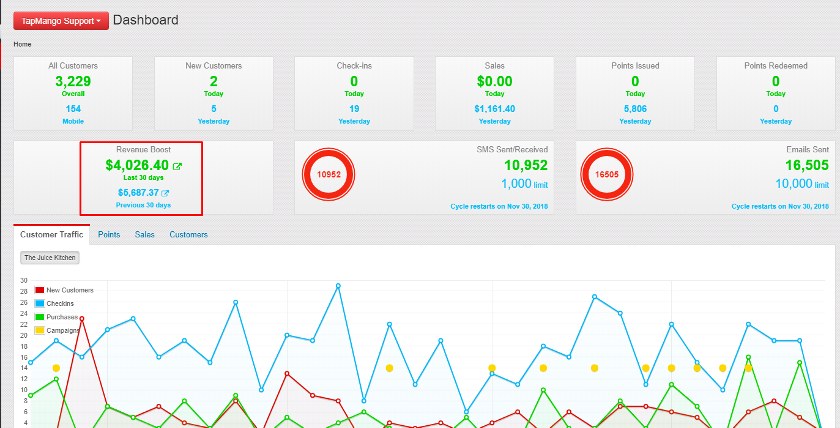 ---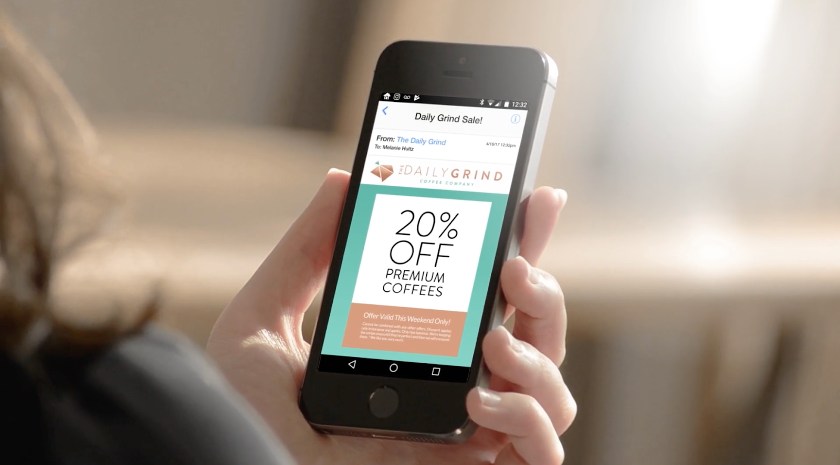 ---

---
TapMango allows you to connect to your customers through a branded loyalty app where you can give rewards to customers for spending and interacting with your business. What you reward is completely up to you, whether that be reviews, referrals, or frequent purchases—it's totally flexible.
When customers visit your store, they can sign into their loyalty account through the in-store tablet either manually or by scanning their loyalty card, giving them access to all their rewards history and adding more as they make purchases. They can also access their loyalty info through the TapMango app, and see their membership status and points history there.
SMS, Push Notification, and Email Outreach Marketing: Connect with your customers with automated or manual emails, texts, or app notifications. All emails are fully customizable to your brand.
In-store Sharing: Customers can take photos to share on their social media directly through the sign-in table. You can then use this user-generated content (UGC) in ads for your business.
Keytags: Branded keychain style tag that customers can carry around and use to scan into your tablet and access their rewards. These tags can also function as gift cards.
Referral Program: Automatically provides referral codes to all customers to share with their friends.
Surveys: Send out surveys through TapMango's loyalty platform that will bolster your Google reviews.
Online Ordering: Customers can order ahead through their loyalty profile online or in the app and ask for pickup, shipping, or curbside delivery.
Reporting: The TapMango reporting feature lets you see how your program is performing and determine where you can improve.
Expert Assistance: TapMango pairs you with a rep that can help you understand your reporting, customize your program, use your software, and answer any questions.
Tablet and Messaging Customization: Customize the appearance of your sign-in tablet, your emails, and your texts so that they reflect your brand.
TapMango Pricing
TapMango has a base price of $239/month that scales based on your business's revenue. TapMango comes with a tablet for in-store use which has no associated fee and can accommodate multiple locations with multiple tablets as you scale. If you are looking for more affordable options, consider Smile.io.
What TapMango Is Missing
TapMango is designed to work primarily with brick-and-mortar businesses, so it lacks many ecommerce integrations that you find with Annex Cloud or LoyaltyLion. Additionally, TapMango does not offer a free trial for you to experiment with the program before purchasing. You can consider LoyaltyLion and Yotpo if you want an option for a free trial.
Yotpo: Best for Boosting Your Reviews
Yotpo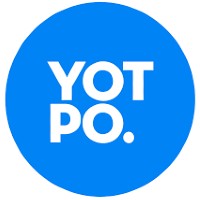 What We Like
Ability to integrate product reviews on product pages
Wide integration capabilities for ecommerce sites
Review accrual through custom on-site and outreach surveys
What's Missing
Limited POS integrations
Price increases quickly and drastically
No email integration/outreach option
Deciding Factors:
POS and Ecommerce Integrations: Shopify, Shopify Plus, Magento, Salesforce Commerce Cloud, BigCommerce, WooCommerce, and others via Heartland Retail
Pricing: $0–$149+/month

Free trial: Free up to 50 orders per month
On-site equipment: None
Price is scaled based on number of orders and features
Subscription period: Monthly
Coming in just under TapMango with a 4.32 out of 5, Yotpo is a great customer loyalty program for businesses looking to use reviews and other UGC to bolster their customer retention. Yotpo uses AI to help generate reviews and has social media integrations where you and customers can add social pictures directly to your website.
Yotpo did not just earn a top score from its review feature. It also offers an extensive list of other programs (detailed below) that can help you boost customer loyalty. In addition, Yotpo is an extremely popular option, and the majority of users agree that it is user-friendly, high-quality, and intuitive to set up. It did, however, lose some points due to limited POS integrations and dissatisfaction surrounding its customer support.
Yotpo Features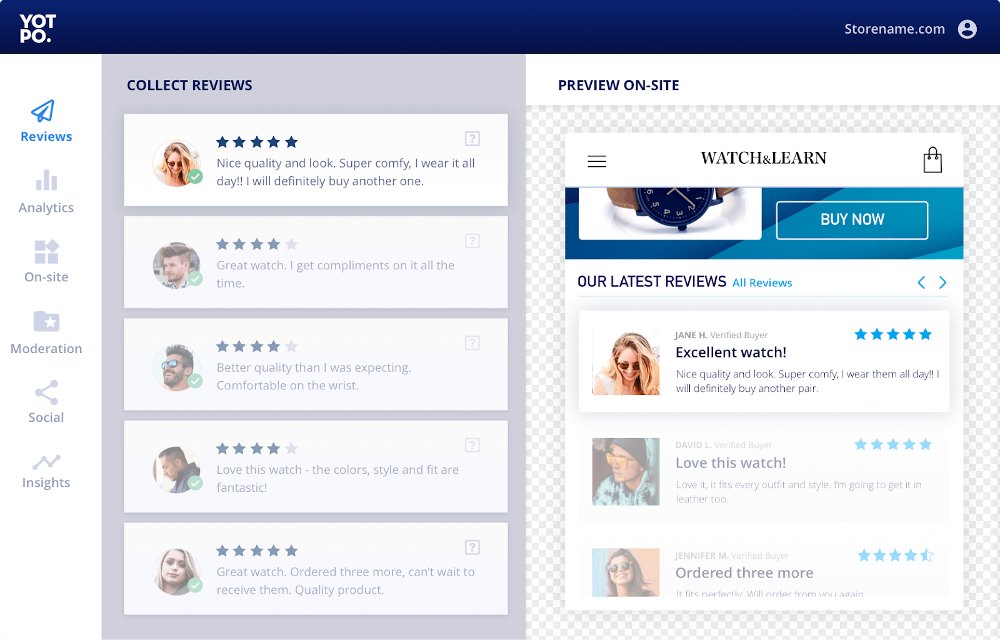 ---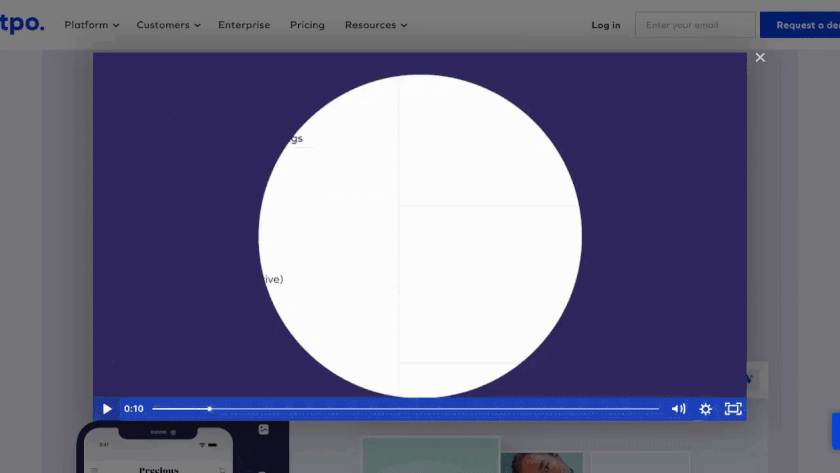 ---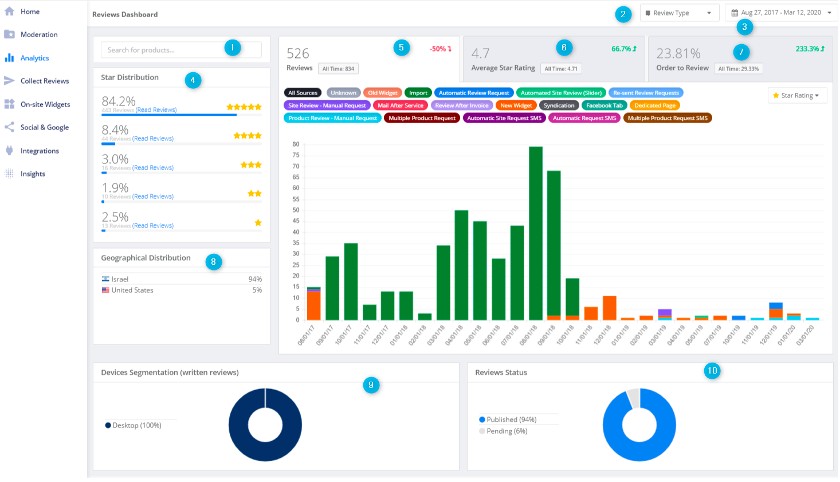 ---
Yotpo offers several different customer loyalty platforms for you to use. Each uses a different strategy to promote customer engagement and allows you to engage with customers along multiple channels to boost impact. Yotpo's loyalty platforms include:

Gather reviews and display them on your website to build trust and incentive buying. You can also reward customers for leaving reviews.
Create a custom rewards program to give shoppers points and prizes for interacting with your business.
Engage with your customers with SMS messaging, and target your audience with the right message for their stage in their relationship with your brand.
Incorporate social media photos and pictures from your reviews onto your website.
Depending on the pricing plan that you choose, Yotpo offers an extensive list of features:
AI-Driven Reviews Generation: Use AI to collect more reviews, photos, and Q&A through an automated requests system that ensures you ask for feedback in the right way, at the right time.
On-Site Widgets: Incorporate customizable on-site widgets to your ecommerce site to display reviews, photos, and customer social images.
SMS Marketing: Send promotions to your customers via text to help boost engagement and promote events. If you prefer to reach your customer via email, try LoyaltyLion for email-focused outreach marketing.
Visual Marketing Suite: Upload photos to your website from your social media or product pages through social media integrations, and let customers upload their own images to your site.
Consumer Insights: Access reporting on your reviews and customer feedback to help you understand how customers really feel about your business.
Customer Q&A: Create custom questions and display customer feedback on your site.
Marketing Integrations: Integrate Yotpo with your current email or other marketing channels to advertise and boost your loyalty program among your customers.
Reporting: Access reporting to help you understand the success of your loyalty program and where you can still maximize your bottom line.
Success Manager: Yotpo gives you a dedicated success manager who can provide best practices and industry insights.
Yotpo Pricing
Yotpo's pricing scheme is based completely on features and is not scaled with order volume like LoyaltyLion. Yotpo starts at $0 with a free trial with no time limitations and very limited features and then offers a $19/month plan and a $149/month plan with increasing feature availability. From there, there are also Premium and Enterprise plans, which are the most popular options, and they offer more custom experiences and are best suited for larger, more established brands.
What Yotpo Is Missing
Yotpo lacks a wide variety of POS integrations, and only works seamlessly with Vend and Shopify. The program does, however, provide an extensive list of ecommerce platform integrations. If you are in the market for in-store loyalty programs, TapMango is a great option.
Yotpo also runs into customer complaints when it comes to pricing. The price tends to increase rapidly and drastically when your program grows and your needs expand. Smile.io offers a more affordable option for businesses looking to save some money. Additionally, unlike LoyaltyLion, Yotpo only lets you contact customers via text and does not have email capabilities.
Other than its pricing and outreach options, Yotpo's customer support could use some bolstering so merchants can get their problems solved in a timely manner. If you are interested in working one-on-one with a developer to guide you, consider Annex Cloud or TapMango for top-tier customer support.
Annex Cloud: Best for Creating a Custom Loyalty Program
Annex Cloud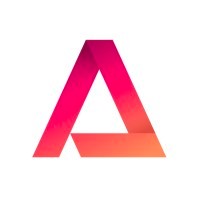 What We Like
Ability to track and analyze the customer journey at every point
Comprehensive and customizable rewards options
Seamless integration with your existing ecommerce website
What's Missing
You have to work with the development team any time you want to add features or adjust your rewards program
Prone to minor glitching
Minimum one-year contract
Deciding Factors:
POS and Ecommerce Integrations: Shopify, Toast, BigCommerce, Magento, and Heartland Retail
Pricing: Custom based on your size, integration needs, and program design

Free trial: No
On-site equipment: Displays to advertise loyalty program, included in the cost
Price is scaled based on revenue and features
Subscription period: Annual
Annex Cloud is a great loyalty program for businesses looking to create something completely custom from the ground up. Annex Cloud takes you step-by-step through the process of creating a loyalty program. From integrations to your analysis, you work with a developer to make everything appear and operate just how you want and need it to. This also ensures that your loyalty program integrates seamlessly into your current platforms and software, and your unique marketing needs can be met.
This in-depth customization process is a major reason why Annex Cloud scored so well in our evaluation, landing at a 4.16 out of 5. The breadth of what you can do with Annex Cloud is fantastic, and little is left wanting when it comes to features. Additionally, because of its custom structure, your Annex Cloud loyalty program will be able to fit seamlessly into your website or brick-and-mortar operations. The software lost points for its operational structure, length of its contract, and quality concerns.
Annex Cloud Features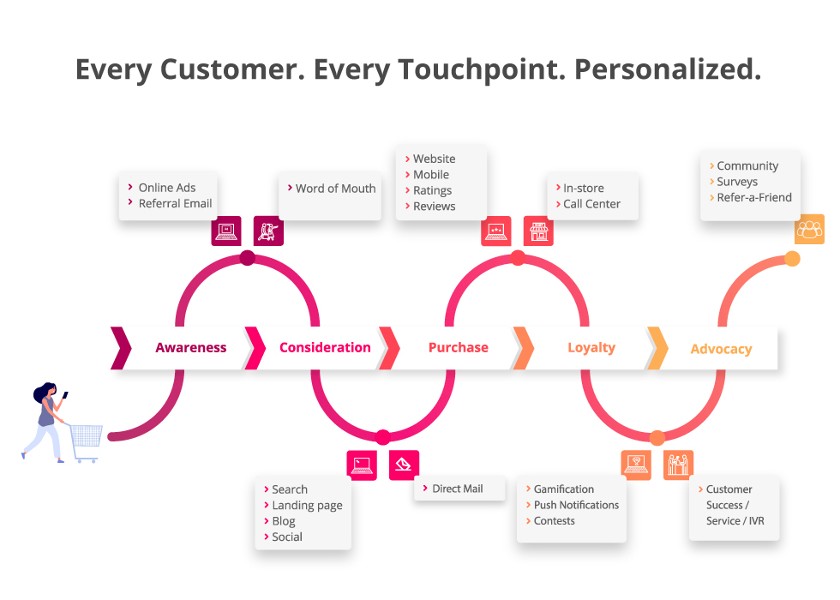 ---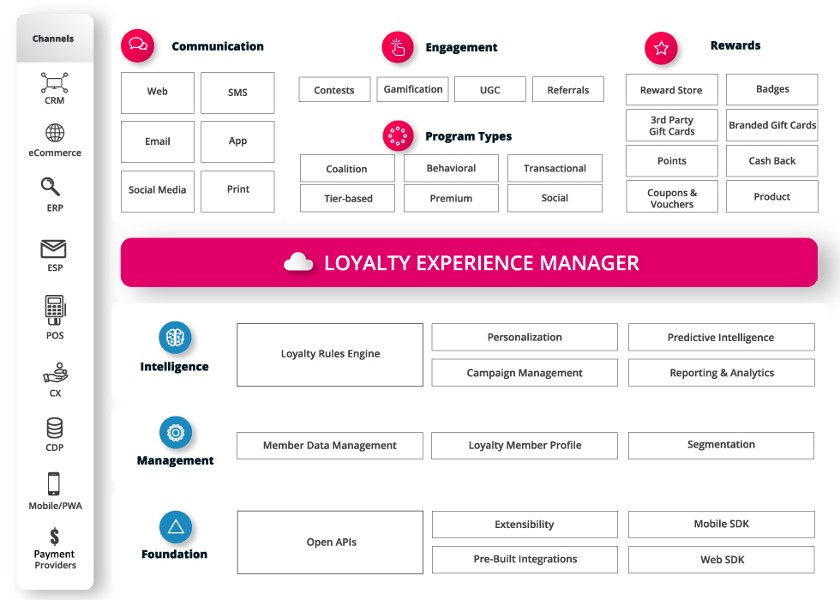 ---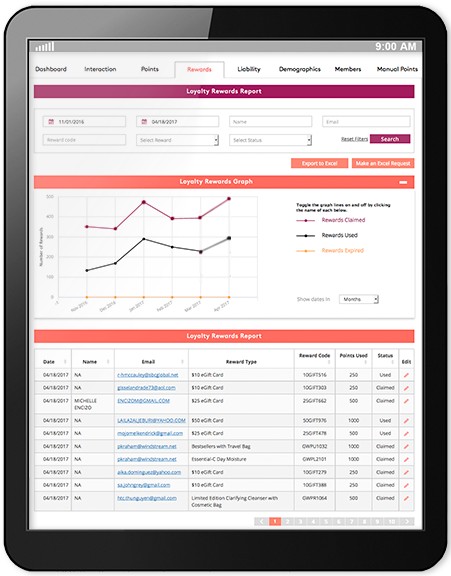 ---
This highly customizable customer loyalty program enables you to monitor your customers at every step in their experience, so you can target them with ads and rewards that are best suited for keeping them engaged and boosting their loyalty to your brand.
When you work with your developer, they will take you through a series of steps to get your customer program off the ground:
Integration: Annex Cloud builds a program custom to the needs of your business's current POS system, website engine, apps, and other programs so your customer loyalty program can fit seamlessly into your existing operations.
Create a program: Design a program that makes sense for your business—reward specific loyalty actions with the custom rewards.
Recruitment: Annex Cloud will help you devise a marketing scheme to get your loyalty program off the ground and recruit new members.
Registration: Create channels for customers to easily and conveniently register to your program.
Redemption: Choose how your customers can redeem their rewards—whether that be in-store, online, or anywhere else.
Marketing: Create a marketing plan that is effective at keeping your customer base coming back over and over again.
Analyze: Annex Cloud's reporting system allows you to look deeply into every step in your customer's journey and act on them to prevent churn and boost engagement accordingly.
Annex Cloud offers an extensive list of features that you can choose from when creating your custom program.
Customizable Loyalty Actions: You can reward customers for the actions of your choosing, including leaving a review, making online purchases, sharing a referral, or engaging with your social media.
Reward Options: Choose rewards that are best suited to your customer base and business model, including discounts, free samples, flash sales, or sneak peek access.
PWA Model: The progressive web app model allows users to access many of the loyalty features in offline mode, including product browsing, cart pages, and rewards statuses.
Social Media Integrations: Customers can connect their social media to their rewards account for more rewards points. This allows you to reward shoppers for social shares and referrals through social media channels and gives you access to more data about your customer base.
Native Receipt Scanning: Customers can scan their receipts from anywhere and get rewards for their purchases.
Gamification: Create tiers, badges, or levels to make your rewards program like a game and promote buying.
Integrated Online Checkout: Rewards are integrated into the checkout process so customers can easily redeem their points and offers.
Promotion Engine: Advanced customer tracking ensures that the right ads and promotions are being sent to the right customer—whether that be one of your regulars or a shopper who hasn't visited in a while.
Recency, frequency, and monetary (RFM) data: Use RFM data to segment customers and better understand your customer base.
Custom Email Triggers: Decide what actions you want to trigger promotional emails.
A/B Testing: Annex Cloud uses A/B testing to ensure that the best CTAs are in use across customer segments.
Customer Segmentation: Segment your shoppers into groups so that you can target different segments and meet their unique needs and buying potential.
Annex Cloud Pricing
Due to its custom nature, pricing is done on a case-by-case basis, depending on the program you create, the features you choose to include, your necessary integrations, and your overall size. When you work with Annex Cloud, you will create a program and then go under a yearlong contract. Be warned, however, Annex Cloud is on the expensive side according to reviews, so if you are looking for a more affordable option, consider Smile.io or Yotpo.
What Annex Cloud Is Missing
With Annex Cloud you have limited control through your merchant portal, so any time you want to make a change to your program, you have to work with Annex Cloud developers. This is unique to Annex Cloud—all the other programs in our list offer control and adjustment options through their merchant portal.
Additionally, Annex Cloud is an investment, and unlike other services that offer free trials and monthly subscriptions, Annex Cloud works under yearlong contracts. If you do want the flexibility of trying a software free before purchases, check out LoyaltyLion and Yotpo.
Zinrelo: Best for Customer Segmentation & Targeted Offers
Zinrelo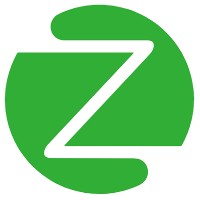 What We Like
Multilevel targeted marketing strategy
Focus on data science to improve efficacy
Intuitive merchant interface
What's Missing
Limited POS integrations
No SMS program
Limited customization options
Deciding Factors:
POS and Ecommerce Integrations: Clover, Shopify, Magento, Salesforce, BigCommerce, Presta, Miva, 3D Cart
Pricing: ~$7,000–$30,000 annually

Free trial: No
On-site equipment: None
Price is scaled based on revenue and features
Subscription period: Annual
Zinrelo offers a customer loyalty program that uses data insights to segment customers based on their journeys and sends shoppers targeted reward opportunities that make sense for their positions. Through its Data Science practice, Zinrelo offers custom program insights, deep data analytics, and machine learning. Zinrelo is a great option for any business that wants to focus on data to improve the efficacy of its customer loyalty program.
A data-focused approach is not the only thing that earned this customer loyalty software a 4.06 out of 5 score. It also offers a variety of loyalty program structures, an easy-to-use merchant interface, and omnichannel capabilities. The software's point losses came into play due to its limitations in POS integrations, SMS marketing, and customization options.
Zinrelo Features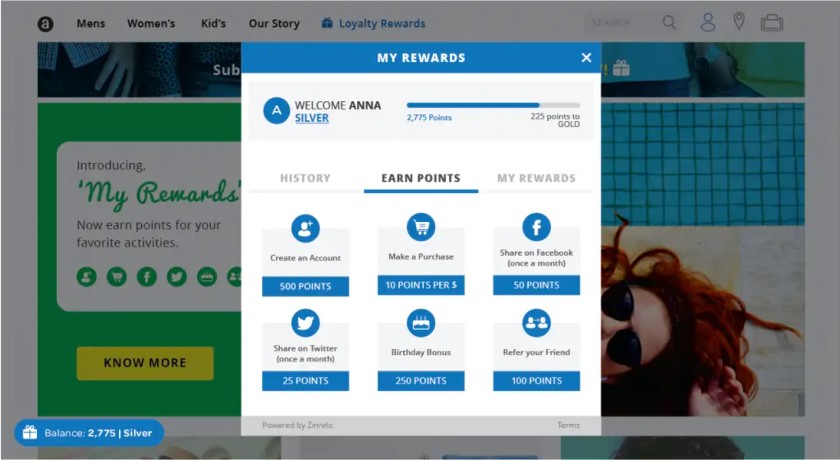 ---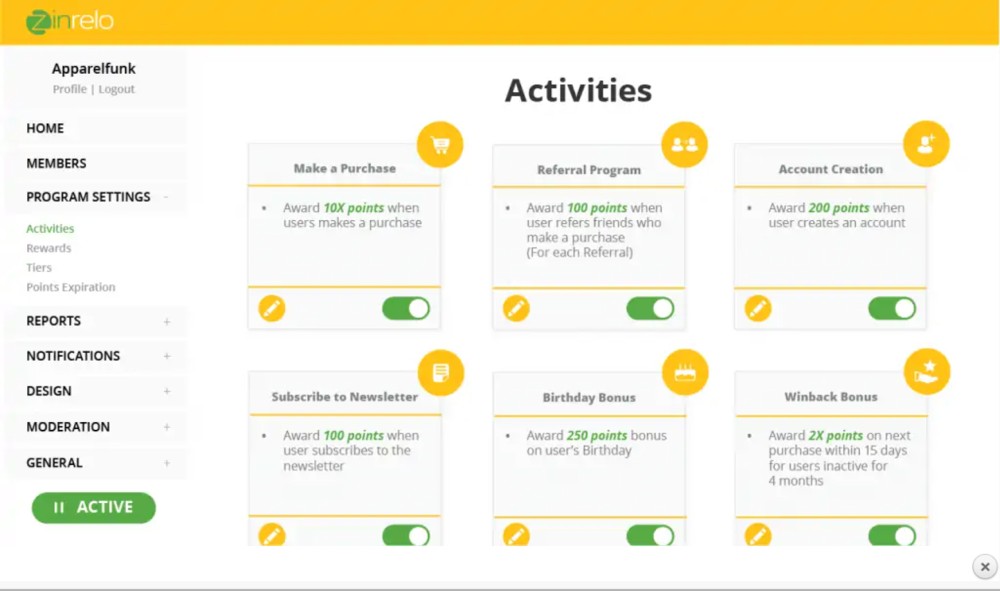 ---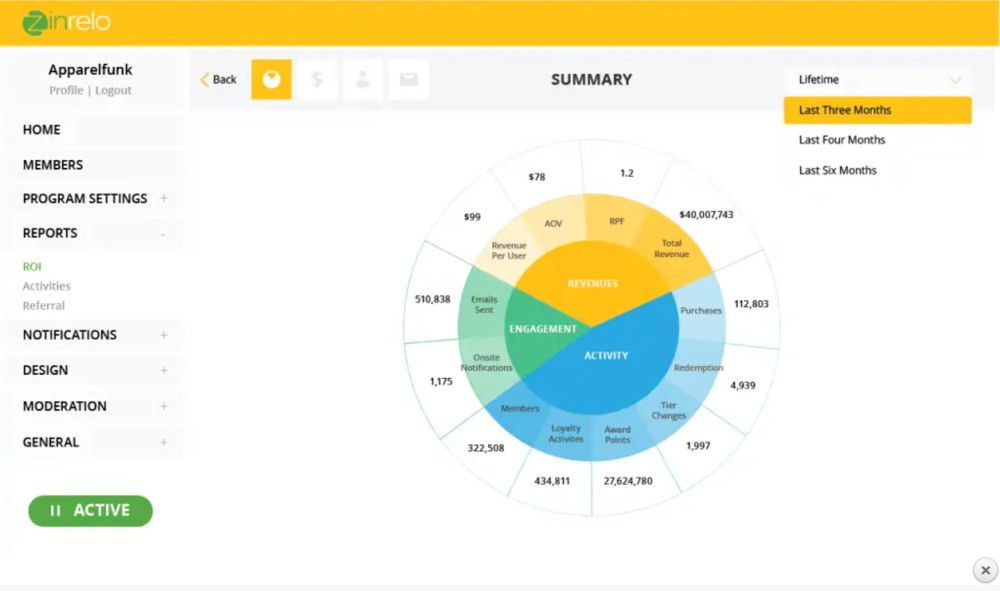 ---
Zinrelo's customer loyalty program can reward a variety of different loyalty actions and uses data-driven insights to help you create the best customer retention strategy for your unique customers. Its program options include:
Let customers exchange their points for discounts, gift cards, or store credit that they can use in-store via your POS or online on your website.
Customers can move up in loyalty tiers as they interact with your business, giving them access to better rewards and benefits.
Customers can pay an annual subscription to be in your VIP program and get access to discounts and benefits.
Customers earn points for every purchase they make that passes a set minimum amount. This program structure is designed to reward large-volume purchases.
Once you select the program option(s) that make sense for your business, customers can begin earning both in-store and online and can interact with their rewards profile through your website.
Zinrelo also offers a slew of advanced management and loyalty features, including:
Data Sciences: Zinrelo provides extensive reports and insights on your customers, segmenting them into groups, analyzing their behaviors, and helping you figure out how best to target different customers at their unique shopping stages.
Professional Support: For an additional cost, Zinrelo has expert support to help streamline integrations, make aesthetic changes, perform premium reporting, or even manage your loyalty program for you.
Loyalty Action Options: Reward customers for referrals, reviews, purchases, social media activity, brand engagement, and custom behaviors. You get to choose what your program looks like, and what actions get rewarded.
Messaging Service: It offers a built-in messaging service to boost customer engagement. Zinrelo lets them know about their rewards opportunities while they are shopping on your site.
Loyalty Promotions: Run exclusive promotions for your loyal customers so your sales are building retention.
Email and Notification Marketing: Send your loyal customers emails and notifications through the app to remind them of their rewards and keep them engaged with your brand.
Tiered Program: You can make your program tiered with Zinrelo, rewarding more loyalty with a higher tier and better rewards.
Customer Profile: Customers can access their points history, see their purchase log, add points, and upgrade tiers through their loyalty profile.
Zinrelo Pricing
The Zinrelo software can range anywhere from $7,000 to $30,000 annually, depending on the plan you choose and the size of your business. Zinrelo offers two packages—one for growing businesses (the SMB plan) and one for large-scale businesses (the Enterprise plan). The SMB plan is less expensive and comes with fewer features, whereas the Enterprise plan is more expensive but offers more features.
What Zinrelo Is Missing
Zinrelo has little to no customization options and few integration capabilities—for a completely custom experience, consider Annex Cloud. Zinrelo also lacks an SMS marketing program, and its customer support access is limited. Look to LoyaltyLion, Annex Cloud, TapMango, Smile.io, or Yotpo for programs with SMS marketing options.
Smile.io: Best Low-maintenance, Automated Solution
Smile.io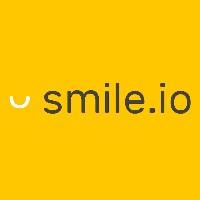 What We Like
Highly automated
Diverse reward offerings
VIP and referral programs are available
What's Missing
Difficult to implement for in-store applications
Limited messaging customization
Few POS integrations
Deciding Factors:
POS and Ecommerce Integrations: Shopify, Shopify Plus BigCommerce, Wix
Pricing: $0–$600/month

Free trial: No
On-site equipment: None
Price is scaled based on features
Subscription period: Monthly
Due to its automated functionality, Smile.io is extremely low maintenance and requires little oversight. Through a web-based application, you can create a place on your website where customers can sign up for your loyalty program as well as check and redeem their rewards over time. Then, as they perform loyalty actions, they will automatically receive rewards—you don't have to do a thing. This makes the Smile.io software a great option for a solo operation or business running with a very small staff.
With an overall score of 3.88 out of 5, Smile.io is a cost-effective option with good value for your dollar. It lost some points due to its limited ability to work for in-store applications and its customization restrictions.
Smile.io Features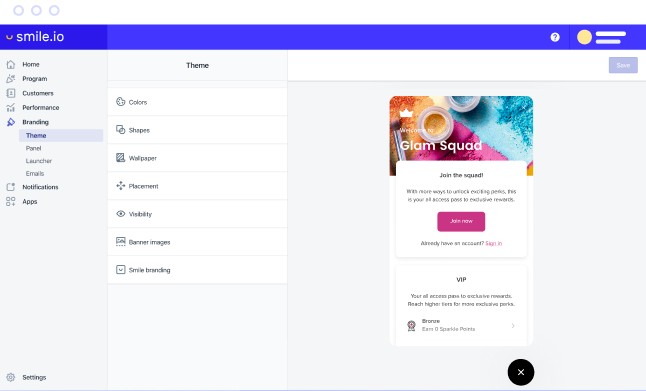 ---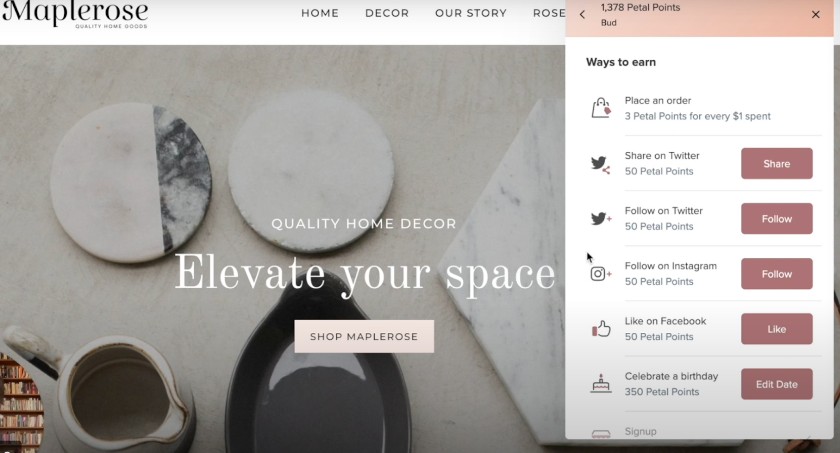 ---

---
Smile.io lets you use rewards, referrals, and VIP loyalty programs to keep customers interacting with your business.
To enhance its loyalty programs and make them effective, Smile.io also uses an array of different features.
Loyalty Action Options: You can choose what actions you want to reward based on what you think will incentivize and engage your unique customer base the most. Your loyalty actions can be anything from account creation to spending $100—there are no limitations.
Reward Options: Offer dollar discounts, percentage discounts, free products, or free shipping as your loyalty rewards.
Customization: You can customize your Smile.io widget and name your rewards points yourself so that your loyalty pages maintain your brand experience.
Tiered Program: Create a VIP program where customers sign up for exclusive discounts or rewards, and move through your membership tiers to unlock better prizes.
Referral Program: Within their rewards profile, customers will have access to a referral link that they can share to earn rewards.
Reports and Administration: Control your loyalty program and check in on its performance through your administration page.
Emails and Nudges: Reach out to your customers and keep them engaging with your brand with custom-designed emails and remind them of their rewards with on-site nudges.
Smile.io Pricing
Smile.io offers a competitive pricing scheme that scales based on both company size and features and has a wide range of price options to suit your business. For businesses testing the waters, Smile.io offers a free loyalty program package with very limited functionality and features that allow you to see how your customer base will respond to the introduction of a loyalty program.
Then comes the Smile.io Starter plan, which is best for businesses that are just starting out at only $49 per month. Then you have the Growth plan for $199/month for businesses looking to expand their current customer base and get access to more features. Finally, there is the Pro plan that costs $599/month and is for large businesses.
What Smile.io Is Missing
Smile.io does not have many POS integrations and is difficult to implement for in-store applications. Additionally, there are limited messaging customization options for your emails and texts, and Smile.io lacks a reviews program.
If you are interested in more customization, Annex Cloud and LoyaltyLion are great options. And, as we covered previously, Yotpo is the best software for boosting those reviews.
How We Evaluated Customer Loyalty Software
When evaluating the performance and quality of the software in this article, we looked for the capabilities that would most effectively keep customers coming back, as well as those that would make your life easiest in the process.
Overall, LoyaltyLion was our top scorer, earning 4.56 out of 5. We found that LoyaltyLion offered some of the best features, integration abilities, and overall user experience. Additionally, it sets itself apart through its extensive customization options that allow you to customize every step of your rewards program with the help of an expert developer.
In this article, we compared loyalty program software based on:
35% of Overall Score
We looked for key loyalty features like customer outreach programs, referral points, reward elements, and much more. Then we scored each program based on its number of offerings.
15% of Overall Score
We looked at how different software charges—whether by scale, features catalog, or both—as well as their free offerings and overall transparency.
20% of Overall Score
We looked at what integration capabilities each program has to offer, including POS, email, website, and app integrations. Additionally, we took into account ease of installation, customer reviews, and customer support capacities.
30% of Overall Score
We looked at value for the money, popularity, overall quality, and an overall score for the program features.
*Percentages of overall score
Bottom Line
Customer loyalty software is a great way to keep customers engaged with your brand and spending at your business. The best customer loyalty programs will offer comprehensive features that make it easy for you to interact with your customers, and your customers to interact with your brand.
To check out our top pick for customer loyalty software, visit LoyaltyLion, which offers a free 14-day trial.
You May Also Like …