Loyalty programs are structured rewards or marketing programs used by retail businesses to encourage shoppers to continue buying. The best programs are digital and automated solutions with engagement features that are easy to use. We compared top-rated programs focusing on price, ease of use, and features to determine the best overall loyalty software for small businesses.
Top 6 Loyalty Program Software for 2019
| Program Software | Best For |
| --- | --- |
| | (Overall Best) Businesses that want an easy-to-use, SMS-based customer loyalty program. |
| | Storefronts wanting an affordable digital punch card customer loyalty program. |
| | Storefronts that want to utilize mobile wallet and beacon technology. |
| | Membership-based businesses in the health and fitness category. |
| | Ecommerce businesses that want customizable rewards programs built for online retailers. |
| | Brick-and-mortar retailers that want to increase new foot traffic. |
How We Evaluated Loyalty Program Software
Traditionally, retailers used low-cost paper punch cards or word of mouth referrals as a customer loyalty program. To make the switch to a software program, businesses need a solution that is cost-effective, easy to use, time-saving, and most importantly, boosts business through repeat sales, new customer referrals, or overall spending. Customer loyalty programs also need to be transparent for customers and easy for employees to navigate.
We compared loyalty program software based on the following criteria:
Price – We looked at how much each program costs per month and if there are any up-front fees.
Ease of Use/Setup – We looked at how easy the program is to set up and how easy it is for employees to navigate and for customers to use.
Hosting – We looked at where the loyalty program is hosted: in an app, integrated into your point-of-sale system, on a third-party site, etc.
POS Integrations – We looked at whether each loyalty program works with point-of-sale systems or if it would operate as a separate standalone program.
Customer Enrollment – We looked at how easy it is for customers to sign up for each type of program.
Reward Systems – We looked at the ways each program allows customers to earn points: through purchases, store visits, referrals, etc., and how businesses can customize the earning process.
Point Redemption – We looked at how each program lets customers redeem points, and what kind of rewards the program lets businesses offer.
Consumer Access – We looked at whether each program has a customer-facing platform that lets shoppers view their points and manage their accounts.
Customer Notifications – We looked at whether each program has a feature to notify shoppers of rewards via push notifications, email, or SMS text messaging.
Reporting – We looked at what kind of data or customer insights each program provides about loyalty program usage and profitability.
Social Spiral is our pick for the best loyalty program software for retailers because customers sign up for and use the loyalty program through text messaging, which is the preferred communication method for many shoppers. Social Spiral is easy to set up and sends customers automated reminders that make it easy to use rewards. Social Spiral is not an all-encompassing program, but it is a powerful marketing and engagement tool for small businesses.
Social Spiral: Best Overall Customer Loyalty Program Software for Small Businesses


Social Spiral is a unique customer loyalty program because it operates over SMS text messaging. Social Spiral is priced individually, so we're not sure how it stacks up against some of the competitors. However, its time-saving customer engagement automations, paired with the easy-to-use SMS text messaging format, make Social Spiral our top choice for loyalty program software.
Social Spiral Pricing
Social Spiral is priced on an individual quote basis. We estimate that there is a range of pricing options, but no concrete information is publicly available. Contact Social Spiral directly to setup a demo and request specific pricing information.
Social Spiral Features
Social Spiral includes customizable rewards programs, promotions, coupons, and reminders that are sent out as SMS text messages to customers. Customers also join the rewards program by texting and can inquire about their points or rewards status through text, both of which are unique features. Businesses manage rewards programs, customer accounts, campaigns, automation triggers, and more through a sleek and intuitive dashboard.
Additional Social Spiral features include:
Social Spiral Rewards Features
Businesses create custom rewards programs through the business dashboard by setting how customers earn points and what they can be redeemed for. To join the rewards program, customers just text "join" to your dedicated phone number. Points and rewards can be redeemed in-store at checkout. Social Spiral is uniquely easy to use because customers don't have to download an app or create an account to join.
Social Spiral Customer Access and Engagement
Customers can check their points or reward status at any time by texting "points" to the dedicated number. Businesses can engage customers through mass text messages about events and sales, as well as through personalized automated text messages like birthday coupons. Businesses can also send customers invites to leave reviews on Google or Facebook.
Social Spiral Reporting
Social Spiral includes analytics for businesses, including campaign and keyword tracking so that businesses can see how their customers are joining the rewards program and engaging with your business. Social Spiral also provides each business with a dedicated support agent who can help analyze your loyalty program and offer suggestions for improvement.
What Social Spiral Is Missing
Social Spiral is great for engaging customers over text messaging. However, it does not integrate with email marketing software, meaning SMS text campaigns and automated triggers that are performed in Social Spiral can't be coordinated with email messages. Social Spiral is best with brick-and-mortar retail businesses, so if you have an online business, LoyaltyLion may be a better fit. For membership-based businesses, look into Perkville.
Social Spiral Reviews
Online reviews for Social Spiral are very positive. Business owners like that it is easy to use and offers a lot of customer engagement features. Reviews also mention that Social Spiral is a good value and costs less than other software solutions that offer similar features.
CandyBar: Best Digital Punch Card Customer Loyalty Program

CandyBar is a browser-based loyalty program that helps brick-and-mortar store owners create rewards programs to track and incentivize repeat customers. CandyBar offers punch-card style rewards programs, where customers earn a stamp with each visit. CandyBar is a simple, yet effective solution for brick-and-mortar businesses that want to reward repeat customers.
CandyBar Pricing
CandyBar is competitively priced $45/month after a 30-day free trial, which includes unlimited customers, loyalty cards, and stamps. CandyBar can be used on any web browser on any device, so no additional hardware is required. CandyBar loyalty cards are digital, so no paper or plastic cards are required either.
CandyBar Features
CandyBar offers a very streamlined, simple solution that takes the concept of a physical loyalty punch card and digitizes it so that customers can't lose it. Businesses benefit from collecting customer data such as when shoppers sign up, when they use the program, and who become regulars. In addition to the punch card, CandyBar includes two-way messaging with customers and an analytics dashboard.
Additional CandyBar features include:
CandyBar Rewards Features
With CandyBar, customers earn one punch on their loyalty card per visit. Businesses set how many punches are required to earn a reward and what those rewards are. Businesses can choose different rewards for different stamp milestones, but there is no ability to offer rewards by dollar amount. Businesses have the web app open on a tablet, phone, or computer at the register to easily look up a customer by phone number to stamp or redeem rewards.
CandyBar Customer Access and Engagement
CandyBar lets businesses message customers directly via the business dashboard to collect feedback or address concerns. However, unlike Social Spiral, customers cannot access their points or rewards on their own. Businesses enroll customers in the loyalty program when they are in-store at the register.
CandyBar Reporting
CandyBar has a business dashboard that provides insight on loyalty program enrollment, the store's busiest days and times, and how frequently loyalty members are visiting your business.
What CandyBar Is Missing
CandyBar is a great solution for businesses looking for a simple, affordable punch card-style customer loyalty program. However, CandyBar only offers loyalty programs based on store visits, not on overall spend. CandyBar also does not offer any automation or customer self-serve feature like Social Spiral does. CandyBar is web-based and does not integrate with POS systems like Perkville does.
CandyBar Reviews
Reviews for CandyBar are very positive. Businesses like that it is a simple solution that is easy to manage and to reward repeat customers. Employees have no problems navigating the system. At $45/month, CandyBar is also within budget for most small businesses.
Loopy Loyalty: Best Mobile Wallet Customer Loyalty Program Software


Loopy Loyalty is a loyalty software program that lets businesses create custom rewards programs with digital loyalty cards that customers store in their mobile wallet. Loopy Loyalty cards are stored in Apple Wallet or Google Pay, meaning businesses using Loopy Loyalty can also send push notifications and location-based messaging. Loopy Loyalty is a good option for businesses that want a rewards program that utilizes mobile wallet technology.
Loopy Loyalty Pricing
Loopy Loyalty is surprisingly affordable for small businesses, with plans ranging from $15 to $50/month. Loopy Loyalty includes location-based marketing with beacon technology, but beacon hardware is sold separately. Businesses can use any beacon hardware. Businesses will also need an iPhone or Android at checkout to scan customers' mobile loyalty cards.
Loopy Loyalty Tiered Features
| | Starter | Growth | Ultimate |
| --- | --- | --- | --- |
| Pricing | $15/month | $39/month | $50/month |
| Loyalty Card Designs | 1 design | 3 designs | 10 designs |
| Store Locations | 1 location | 3 locations | 10 locations |
| Beacon UUIDs | 1 beacon | 3 beacons | 10 beacons |
| Employee Logins | | 10 | 50 |
| Card Customizations | | ✔ | ✔ |
| Unique Customer Enrollments | | | ✔ |
| Data Export | | | ✔ |
Loopy Loyalty Features
Loopy Loyalty is similar to CandyBar in that it is a digital punch card. However, CandyBar is a website that only businesses have access to. With Loopy Loyalty, businesses have a website dashboard for viewing and managing accounts, and a separate mobile Stamper app for employees to scan customers' loyalty cards. Customers store their own Loopy Loyalty reward cards in their mobile wallet.
Loopy Loyalty utilizes mobile wallet technology. That means businesses can also send push notifications to customers' smartphones and use location-based beacon marketing to appear on customers' lock screens when they are near your store.
Loopy Loyalty Starter Plan
The Starter plan is $15/month and includes one custom loyalty stamp card that shoppers keep in their Apple Pay or Google Pay mobile wallet, as well as a location beacon for businesses to send proximity-based push notifications to loyalty plan members. Businesses can customize their loyalty card by the number of stamps, what reward is offered, and brand their card with the business logo and color scheme.
This plan is perfect for businesses that have a single storefront. At $15/month, this plan is well within budget for a small business and offers sophisticated beacon technology that is normally only utilized by national and chain retailers.
Loopy Loyalty Growth Plan
The Growth plan is $39/month and includes two additional loyalty card designs, store locations, and beacons. The Growth plan also includes 10 employee logins (called subusers on the Loopy Loyalty website) and the ability to customize the text and label fields on loyalty cards in addition to the color scheme.
The Growth plan is a good option for businesses that have two or three locations, or a busy store that has multiple employees who will be using the program. With the employee logins, businesses can see which employee performed each action to prevent excess giveaways.
Loopy Loyalty Ultimate Plan
The Ultimate plan contains the same features as Starter and Growth, plus extra card designs, store locations, Bluetooth beacons, and employee logins. Ultimate also has a feature called "Unique Customer Enrollments," which prevents customers from accidentally enrolling in the loyalty program twice by checking their email and mobile number against existing records. Ultimate plan users can also export customer data as CSV files.
The Ultimate plan is really only best for large businesses that have many storefronts and need 10 different loyalty cards or Bluetooth location beacons. The features that prevent duplicate customer rewards accounts and allow businesses to export data are valuable, but for smaller businesses, it is probably not worth paying for the Ultimate level plan just for those two features.
What Loopy Loyalty Is Missing
Loopy Loyalty offers sophisticated mobile wallet technology at an affordable rate for small businesses. But the biggest issue with Loopy Loyalty is that customers need to have and use a mobile wallet to participate in the rewards program. So, by using Loopy Loyalty, businesses run the risk of disappointing customers who do not have smartphones or do not want to use that technology. Loopy Loyalty also does not integrate with any point-of-sale systems.
Loopy Loyalty Reviews
Reviews for Loopy Loyalty are very positive. Business owners like that it is a sophisticated tool that provides lots of features and helps separate their business from competitors. Some reviewers state that they would like it if the program could integrate with their point-of-sale systems or have the ability to schedule push notifications in advance.
Perkville: Best Loyalty Program Software for Membership Businesses:


Perkville is a rewards program popular with membership-based businesses such as fitness centers and spas because it integrates with industry-specific, point-of-sale systems such as MINDBODY and can reward customers for different types of actions, such as purchases, check-ins, or referrals. Perkville is a good option for membership-based businesses because it provides multiple ways for businesses to reward customers.
Perkville Pricing
Perkville pricing is not publically available, but we estimate that it starts at $99/month per location. Perkville is one of the more expensive customer loyalty programs on our list, and is also one of the only solutions that integrates with point-of-sale systems and allows businesses to reward customers based on multiple types of actions.
Perkville Features
One of the biggest advantages of using Perkville is that it integrates with many popular point-of-sale, membership, and CRM programs like MINDBODY, Vend, and Lightspeed so that your rewards and sales data are connected, eliminating the need for employees to manually scan or punch a rewards card. Perkville gives businesses more flexibility in designing a custom rewards program, and completely automates the process of customers earning and redeeming points.
Additional Perkville features include:
Parkville Rewards Features
Perkville has features to reward customers with points for purchases, taking classes, visiting your store, completing surveys, referring friends, posting on social media, and more. Businesses can also create multiple reward offers with different point values. For customers, Perkville is harder to set up because they need to create an account (as opposed to sending a text with Social Spiral or entering in their phone number with CandyBar).
Perkville Customer Access and Engagement
Customers can access their loyalty account online to see how many points they have accumulated, what they can be redeemed for, and learn about other ways to earn points. Perkville also has extra engagement features like referral programs and social media sharing. With Perkville, businesses can also send customers points at will as a reward, or to encourage customers to come back.
Perkville Reporting
Perkville has reports that allow retailers to track point redemptions, referrals, view top point-earning customers, track social media advocates, and more. With Perkville, businesses can also set custom rules for when customers earn rewards to measure specific actions. Businesses can also create referral offers to track which customers are sending in new business.
What Perkville Is Missing
Perkville is great for businesses that have customers sign up for an account, such as gyms, fitness studios, spas and salons, or yoga studios, because Perkville can track and reward non-purchase behaviors such as shares to social media, check-ins, and referrals. If you own a coffee shop, a punch-card style program like Candy Bar might be best.
Perkville Reviews
Online reviews for Perkville are very positive. Business owners like that the program is easy to use for both them and their customers. Businesses also like that Perkville provides a lot of different options for rewarding customers.
LoyaltyLion: Best Loyalty Program Software for eCommerce


LoyaltyLion is a customer engagement and loyalty software specifically designed for ecommerce businesses. It lets online stores create custom rewards programs, increase customer retention with personalized emails, and gain new customers through referral programs, which is why LoyaltyLion is our top choice loyalty program software for ecommerce businesses.
LoyaltyLion Pricing
LoyaltyLion has tiered pricing with four different levels that all include a mobile and desktop loyalty program for ecommerce businesses with unlimited users. There is a free version, two mid-range tiers, and a solution for large businesses. The free and Small Business options are a good value for small ecommerce businesses.
Loyalty Lion Tiered Features
Free

Small Business

Classic

Advanced

Pricing

Free (available with Shopify)

$159/month

$399/month

$699/month

Mobile & Desktop Loyalty Program

✔

✔

✔

✔

Loyalty Members

unlimited

unlimited

unlimited

unlimited

Customer Orders

800/month

800/month

2,000/month

4,000/month

Customers Can Earn Loyalty Points For:
Creating an Account

✔

✔

✔

✔

Visiting Your Site

✔

✔

✔

✔

Purchases

✔

✔

✔

✔

Signing up for Newsletter

✔

✔

✔

Product Reviews

✔

✔

✔

Birthday

✔

✔

✔

Social Followers

✔

✔

✔

Referrals

✔

✔

✔

Custom Activity

✔

✔

Customers Can Redeem Loyalty Points For:
Dollar-value Discounts

✔

✔

✔

✔

Free Shipping

✔

✔

✔

Percentage Discounts

✔

✔

✔

Free Products

✔

✔

Custom Branding:
Choose Language & Currency

✔

✔

✔

✔

Custom CSS Theme

✔

✔

✔

Remove LoyatyLion Branding

✔

✔

✔

Loyalty Tiers

✔

✔

Analytics:
Real-time ROI

✔

✔

✔

✔

Most Engaged Customers

✔

✔

✔

✔

Ecommerce Insights

✔

✔

Customer Retention Insights

✔

✔

Integrations:
Shopify

✔

✔

✔

✔

Yotpo

✔

✔

✔

Mailchimp

✔

✔

Support:
Email Support

✔

✔

✔

✔

Onboarding Manager

✔

✔

Quarterly Advice Calls

✔

✔

Priority Email Address

✔

Onboarding Slack Channel

✔
LoyaltyLion Free Plan
The Free version of LoyaltyLion includes the ability to create a custom rewards program for unlimited members and up to 800 retail purchase orders per month. With the Free version, businesses have the ability to reward customers for creating their account, for purchases, and for visiting your site. Businesses determine their own point system. The Free version also includes real-time ROI analytics and customer engagement insights.
Free LoyaltyLion is only for Shopify users, so this option is only a good fit if you use Shopify POS for your ecommerce store. The Free version of LoyaltyLion is a good option for Shopify users who want to try out LoyaltyLion before committing to a paid version that has more customization and rewards options.
LoyaltyLion Small Business Plan
LoyaltyLion Small Business includes all of the features from the Free version, including a loyalty program for unlimited members and up to 800 monthly orders, plus the ability to reward customers for additional actions like signing up for newsletters or leaving product reviews. Small Business customers can also customize the appearance of the rewards program on their website and remove the LoyaltyLion branding.
At $159/month, LoyaltyLion Small Business is a good option for businesses that do less than 800 orders per month but want more customization and engagement options than what is included in the Free version.
LoyaltyLion Classic Plan
LoyaltyLion Classic includes a loyalty program for unlimited users and up to 2,000 monthly orders. The Classic version includes everything in Free and Small Business, plus the extra 1,200 monthly orders. Classic LoyaltyLion also offers additional ecommerce analytics and additional customer support for businesses with an Onboarding Manager and quarterly advice calls.
At $399/month, LoyaltyLion Classic can be a little pricey for small businesses, but is a good option for ecommerce companies that outgrow the Small Business tier by processing over 800 orders a month. With Classic LoyaltyLion, businesses can process more than double the amount of customer orders, up to 2,000.
LoyaltyLion Advanced Plan
Advanced LoyaltyLion includes a loyalty program for unlimited users and up to 4,000 monthly orders. This version includes all of the features that come with the Free, Small Business, and Classic versions plus more customer support, with a priority email address and an Onboarding Slack channel.
At $699/month, LoyaltyLion Advanced is meant for large businesses that process closer to 4,000 orders/month. $699 is beyond most small businesses' budget. If you are looking for a LoyaltyLion plan with advanced features, opt for the Classic program if you process under 2,000 orders/month. The features are almost identical to Advanced for $300/month less.
What LoyaltyLion Is Missing
LoyaltyLion is a great option for ecommerce businesses. But, if you do not have an online store, Social Spiral or CandyBar would be a better solution. LoyaltyLion also does not have the texting features like Social Spiral. LoyaltyLion has more complex and custom rewards programs, so if you are looking for a simpler punch card-style reward, CandyBar is a better fit
LoyaltyLion Reviews
Online reviews for LoyaltyLion are very positive. Business owners like that LoyaltyLion is easy to set up, and that it integrates with most major ecommerce point-of-sale systems. Overall, reviewers say that LoyaltyLion definitely helps with customer loyalty and ROI. The only negative comments are that the program can be expensive for small companies.
SpotOn: Best Loyalty Software for Increasing New Foot Traffic

SpotOn is a turnkey loyalty program for brick-and-mortar businesses that includes additional features like marketing solutions, an analytics dashboard, and online review access. SpotOn is a mobile app that customers can use to find your business, track rewards from multiple businesses, and search for deals. SpotOn is a good loyalty program for brick-and-mortar businesses that want to increase foot traffic from new customers.
SpotOn Pricing
SpotOn software is $195/month, which includes their loyalty program, marketing solutions, and online reviews. SpotOn also offers a point-of-sale solution that is $35/month plus a 1.89 percent + $.15 transaction processing fee; it includes the software programs plus payment analytics, online booking and scheduling, and free payment hardware.
SpotOn Payments vs. SpotOn Software Only
| | SpotOn with Payments | SpotOn Software Only |
| --- | --- | --- |
| Monthly Fee | $35 | $195 |
| Loyalty | ✔ | ✔ |
| Marketing | ✔ | ✔ |
| Reviews | ✔ | ✔ |
| Payment Analytics | ✔ | |
| Online Appointment & Employee Scheduling | ✔ | |
| Free Payment Processing Hardware | ✔ | |
SpotOn Features
SpotOn is a simple, digital punch-card loyalty program that allows businesses to reward customers for shopping at their store. Customers download the SpotOn app to track their points and to earn points when visiting a participating store. SpotOn is great for boosting foot traffic because shoppers who use SpotOn can see your store and available offers in their app, encouraging both new and existing customers to visit your store.
Additional SpotOn features include:
SpotOn Rewards Features
SpotOn is easy for businesses and customers to use. Businesses scan each customer's SpotOn app at checkout, and customers earn a "spot" on their rewards card for that business. Businesses can create multiple rewards options, such as a free small coffee with five spots or a free $10 gift card with 50 spots. Customers can track their rewards and see different available offers right through the SpotOn app.
SpotOn Customer Access and Engagement
Customers can access their rewards account anytime through the app. With SpotOn, businesses can also send out emails, mobile alerts, and time-sensitive offers.
SpotOn Reporting
SpotOn software lets businesses see how many customers are taking advantage of different offers and earning spots with the SpotOn app. If you use the SpotOn point-of-sale system, your sales, loyalty, and marketing data are all connected for a clearer picture. However, businesses can use the software independently and still see loyalty and marketing reports.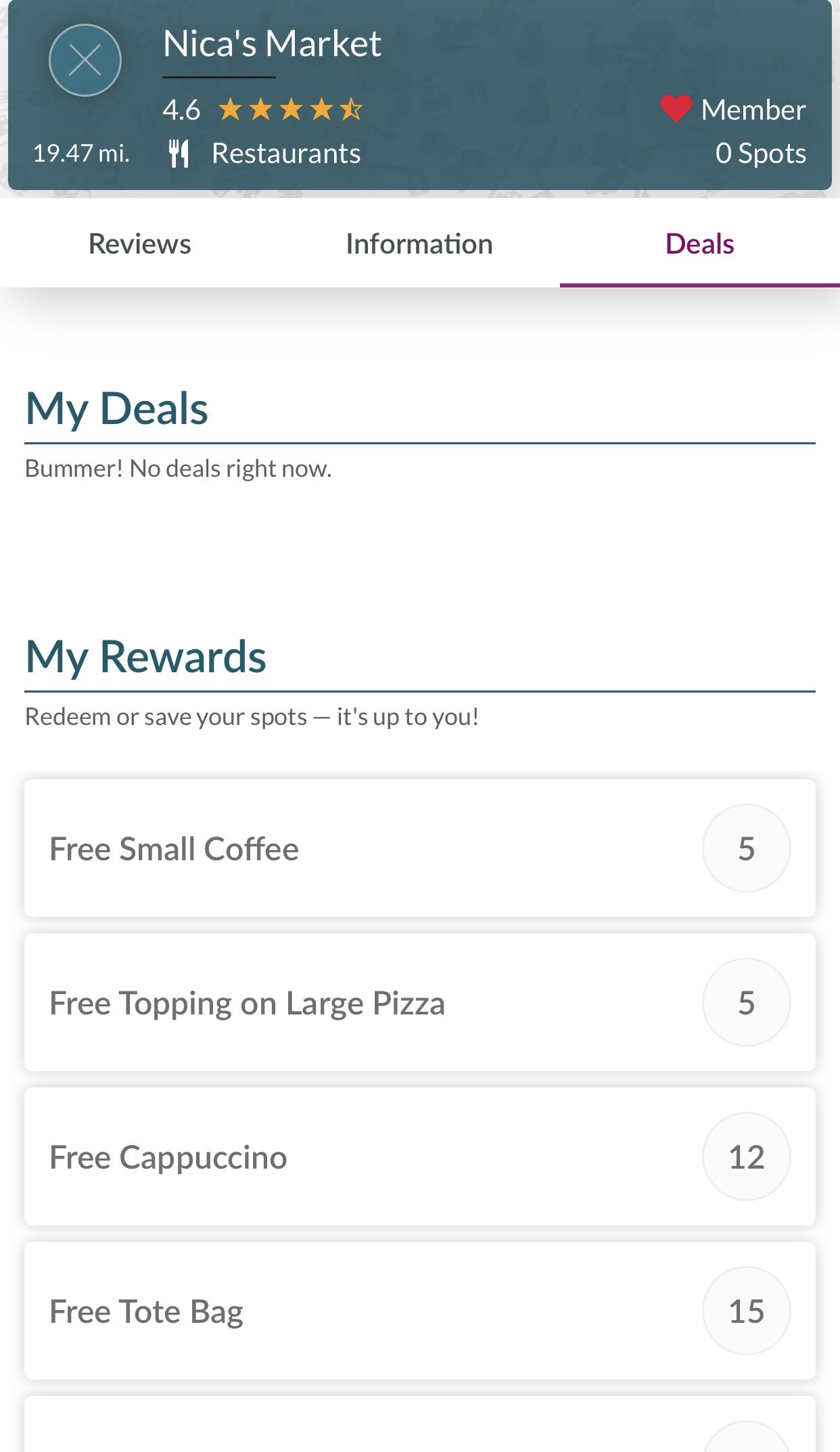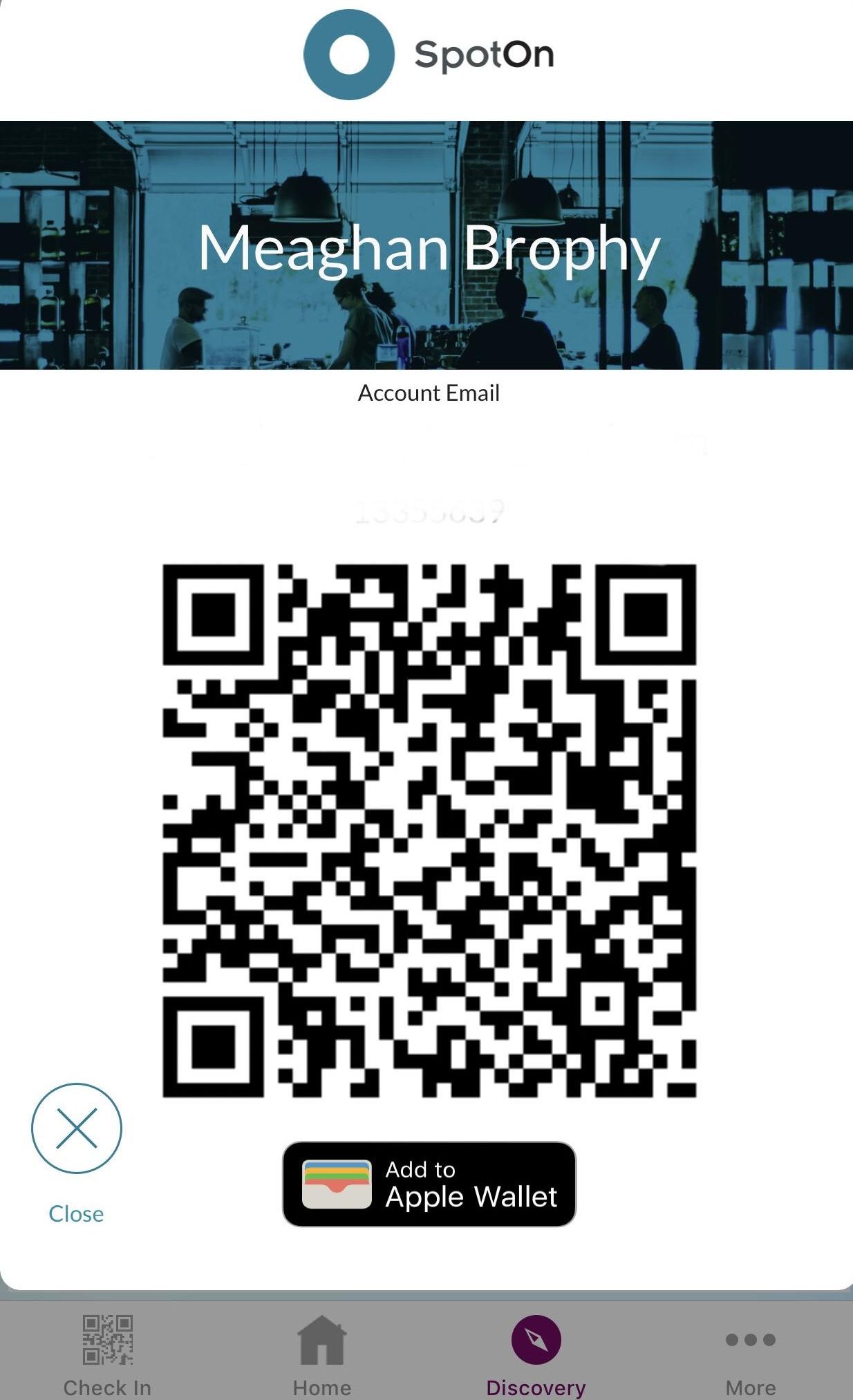 SpotOn Sample Business Profile and QR Code for In-Store Scanning.
What SpotOn Is Missing
SpotOn is great for bringing in new customers who use the app. But SpotOn works best with customers who download and utilize the SpotOn app, which not every customer will want to do. SpotOn also does not let shoppers earn rewards for other non-purchase behaviors like referrals or reviews. In addition, SpotOn is designed for brick-and-mortar businesses.
SpotOn Reviews
SpotOn online reviews are mixed. Overall, business owners say that the software does help with customer loyalty and retention. Negative reviews say there are some glitches in the software, and a few businesses report that the costs were higher than they expected.
Bottom Line
Loyalty programs are a good tool for businesses to retain current customers, attract new shoppers, and increase overall sales. Having a software program to digitize your loyalty program makes the process easier to manage for your business and easier for your customers to utilize.
Our top choice for loyalty program software is Social Spiral because customers join and use the program by sending a text message. There is no need to create an account or download an app, making Social Spiral a more accessible option. Visit the Social Spiral website to learn more and book a free software demo.