SumUp Review: Free Payment App Best for Low-volume Sales
This article is part of a larger series on Payments.

What We Like
Free payment app with unlimited employee logins
Pay-as-you-go subscription
Easy, two-step sign-up process
What's Missing
Account stability issues with holds, freezes, and closures
Does not support high-risk merchants
Low user review scores
Deciding Factors
Monthly fee: $0
In-person transaction: 2.75%
Online transaction: 3.25% + 15 cents
Virtual terminal processing: 3.25% + 15 cents
Gift card processing: 3.25% + 15 cents
Invoice processing: 2.9% + 15 cents
Chargeback fee: $0
Deposit speed: 1–2 business days
Withholds part of funds as reserve upon the provider's discretion
Hardware: From $39
SumUp, an online payment processor that offers flat-rate transaction pricing for small businesses, has features for preparing and processing invoices, tracking cash flow, selling online gift cards, and accepting payments via virtual payment terminals. It provides tools to issue refunds, manage basic inventory, and create multiple tax rates and rules for tax applications and comes with a mobile app and a proprietary mobile card reader that works with iPhone and Android.
As an end-to-end payment solution, SumUp is among the most affordable merchant services providers on the market. It has no long-term contracts or monthly fees for maintaining a merchant account, and its flat rate transaction fees are competitive. Overall, it is ideal for small and seasonal retail businesses that require a mobile solution—such as coffee shops, clothing stores, and businesses participating in farmers markets and trade shows.
In particular, SumUp is best for:
Individuals and low-volume businesses needing a mobile payments app: As a mobile card processing service, SumUp offers mobile card readers and a free mobile app with free subscription and competitive transaction fees. While it did not make our list of the top mobile credit card solutions due to limited customer support hours and lack of detailed POS features, SumUp is among our best credit card payment apps for its simple design and easy-to-use card processor.
Seasonal businesses and those catering to tourists: SumUp does not charge its users additional fees for accepting payments from foreign credit cards, which is ideal for retail businesses that rely on tourism for sales.
Those who are interested in signing up with SumUp are strongly advised to check SumUp's list of restricted businesses. It enumerates business models not supported by SumUp in compliance with requirements imposed by its partner financial regulators and acquiring banks.
Read our guide on credit card processing to learn everything you need to know about transaction fees, plus other costs involved in processing credit card transactions.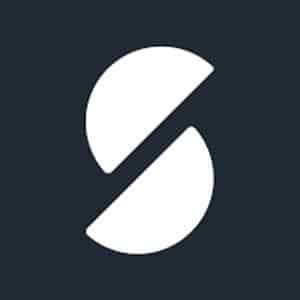 SumUp Fee Calculator
Enter your current in-store and/or online sales volumes and average order values for an estimate on the monthly fees you would pay using SumUp.
SumUp Alternatives & Fees Comparison
| | | | |
| --- | --- | --- | --- |
| | | | |
| Best for | New and small businesses needing a free POS solution | Individuals requiring a reliable solution for occasional payments | Established businesses wanting low rates |
| Monthly fee | Starts at $0 | Starts at $0 | Starts at $59 |
| Card-present transaction fee | 2.6% + 10 cents | 2.7% | Interchange + 8 cents |
| Keyed transaction fee | 3.5% + 15 cents | 5% + fixed fee | Interchange + 18 cents |
| Ecommerce transaction fee | 2.9% + 30 cents | Starts at 3.4% + 30 cents | Interchange + 18 cents |
| | | | |
Since Our Last Update:
Not much has changed on SumUp's pricing, although it is taking big strides in bringing additional features to its US customers. It is launching its own POS software aimed to provide retail management tools for hospitality businesses and is also preparing to offer business bank account services with mobile banking.
Its credit card readers have been updated to offer a more advanced standalone terminal called SumUp Solo. And while the company still has the SumUp Lite card reader listed on its knowledge base, it is no longer advertised on its website or offered on its Amazon shop, which likely means it is being phased out.
SumUp Pricing
SumUp does not charge monthly fees and will not require you to sign a long-term agreement. There is also no startup cost, cancellation fee, and minimum transaction requirement to keep using the system. However, according to its terms and conditions, SumUp assesses an undisclosed amount for chargebacks.
Payment types and transaction fees:
In Person: 2.75% for every swipe, dip, and contactless transactions including Google Pay and Apple Pay
Virtual Terminal: 3.25% + 15 cents per transaction. Please note that the virtual terminal payment feature is not available to all business models. Contact SumUp's support team for details.
Mobile: 3.25% + 15 cents per payment made through a link to a web form sent by email or SMS
Gift Cards: 3.25% + 15 cents for every SumUp gift card sold to customers
Invoice: 2.90% + 15 cents for each invoice paid online through a payment link
SumUp Hardware
SumUp offers both mobile device connectable and standalone mobile card readers. Users are required to purchase any one of these SumUp card readers to start processing credit card transactions. And while it doesn't offer free hardware for each subscription (unlike competitor Square), SumUp's card reader pricing starts at $35, and this already comes with a payment app and EMV and contactless payment capabilities.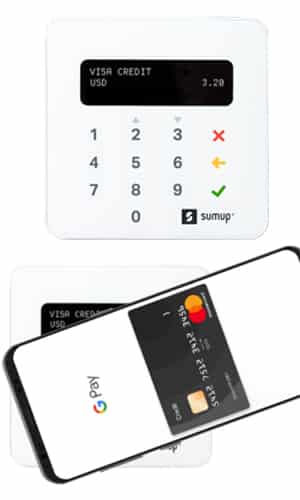 Connects with SumUp app to process payments
Accepts Magstripe, EMV chip, contactless (NFC), Apple Pay and Google Pay payments
Features Bluetooth connectivity
Requires digital signature capture for authorization
Comes with optional charging dock
Holds up to 300 transactions (battery life)
Offers free shipping across the United States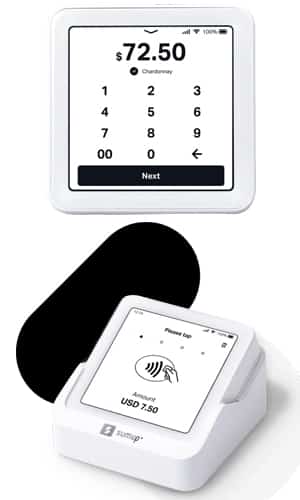 Connects with SumUp app to process payments
Accepts Magstripe, EMV chip, contactless (NFC), Apple Pay and Google Pay payments
Has Bluetooth connectivity
Features an LED screen
Has tip function enabled
Handles up to 500 transactions (battery life)
Offers free shipping across the United States
SumUp Increased Hardware Prices
Previously, SumUp offered a basic $19 card reader. The intro-level reader is now SumUp Plus which is $35. The prices of the Pro and Solo readers also increased ($10, and $20, respectively). These prices are still very competitive for what the readers offer. Each includes a pin pad and accepts swipe, chip, and NFC payments.  Pro and Solo offer additional POS features like tipping.
SumUp Features
SumUp is not the most sophisticated solution when compared to other payment solutions on the market, as its management functions are basic and it lacks key features such as chargeback protection and third-party integrations. However, as a third-party payment processor with mobile processing at its core, SumUp offers many tools ideal for startups and small businesses on-the-go.
Setup & Application
One of SumUp's best features is its two-step, easy sign up process, which includes ordering a card reader and registering for a SumUp account.
Click on any one of the "Sign Up" or "Get Started" buttons on the SumUp website, and it will take you to a page where you can purchase a card reader. This step takes precedence because the email address you provide during your purchase will be assigned as your SumUp username, while your valid phone number will be used to send you a 4-digit activation code. You will be requested to set up an account password as well.
Once this is done, you can login to activate your SumUp account—it is highly advised you do this before you receive your card reader. Log in to the SumUp app on your mobile device or on your desktop via the SumUp Dashboard and provide the activation code.
Note that under the terms and conditions, you are only allowed to have one payment terminal per SumUp account, but you can request for sub-accounts if you need an additional payment processing device.
Expect your card reader within three to four business days, and complete the registration by setting up your card reader. You will then be required to provide the following information:
Legal type and business category
Business name and address
List of beneficial owners
Contact information of authorized signatories
Personal information such as a personal address and date of birth
Bank account in the country in which you operate your business
At this stage, most businesses can be verified by SumUp's electronic Know Your Customer (eKYC) system through the given business identity and address. However, there are some instances where SumUp's team will request additional documents for verification. These may include
Personal identification such as a passport picture and signature page or driver's license
Utility bills from the last six months or bank statements to serve as proof of address
Invoices, company credit card or bank statements, and company website as proof of business.
Until this is resolved, unverified accounts may be limited to a certain processing volume.
---
Contract & Terms of Service
A closer look at SumUp's terms and conditions shows a pretty straightforward agreement with standard terms you will find with similar providers—such as credit checks for verification, prohibited products and services according to card networks rules, and PCI compliance.
However, you may also want to ask SumUp about the following stipulations:
Administrative fee of up to $200 for attempting to process invalid/illegal transactions
Additional fees that may be applied when using third-party services
At any given time, implement a temporary hold of funds and set up reserves at SumUp's sole discretion.
Policy for account inactivity and proceeds of funds from inactive accounts
---
Mobile Payment App
SumUp comes with a free payment app that you can download on your Android and iOS device. It lets you accept swiped, EMV, and contactless card payments from all major credit cards, including Google Pay and Apple Pay, and invoices and gift cards through both mobile and virtual terminals. Depending on roles and permissions, it gives you and your staff access to tools for accepting payments, processing sales, viewing or managing inventory, creating invoices, and more.
---
Three-in-one Card Reader
SumUp has its own proprietary credit card reader. There are two variants that are both capable of accepting swiped, chip, and NFC transactions for credit and debit cards from all major credit cards.
The standalone terminals also have the ability to accept payments for invoices and gift cards. You can send digital receipts through SMS or email, or opt to connect your terminal to a Bluetooth printer for printed receipts. Your receipts can also be customized through SumUp's app by updating your contact details and adding a custom logo and message.
---
SumUp Dashboard
SumUp's dashboard is available when you log in to your SumUp account from a desktop. As with the mobile app, it provides you with the ability to process payments, create and send invoices, and request for support. It shows you your total sales revenue, which you can filter according to your preferred time frame or by employee. You can also get a quick analysis of your transaction history along with basic business activity reports.
The virtual terminal is also accessible from the dashboard. It allows you to accept card payments by entering the card details on your phone or computer if a card reader is unavailable. However, interested users will have to contact customer support to access this feature.
---
SumUp Invoicing
Both SumUp's mobile app and dashboard give you access to its invoicing features. This allows you to create, send, and track all your invoices in one place. You can also include a payment link in your invoices so that your customers can easily send you payments. The process is pretty simple and comes with a preview function that you can use before sending out to your clients.
---
Employee Management
Adding employee accounts allows you to process multiple transactions simultaneously without giving them access to make changes to sensitive information such as owner profile and bank details.
The employee management feature lets you create and manage permissions, with each employee profile having a unique log in, password, and email connected to the account. Employees then are able to process payments and view their sales history. However, permissions for employees are the same and limited to processing sales, accepting payments, and viewing their sales history.
---
Inventory Management
The Product Catalog can be found in SumUp's mobile app and provides you with tools to access basic inventory management features. This includes adding products, categories ,and variants.
SumUp offers a step-by-step guide to building your catalog, from creating categories to adding items in its knowledge base. You can even accept payments from the product catalog tab. Using this feature also enables the sales tax function, which lets you assign sales tax rates.
---
Payout Features
SumUp processes payouts daily at no extra cost and tracks the transfer progress from your dashboard. You can also contact customer support if you prefer a different frequency for your payouts.
Tracking payouts starts when you receive an email notification that your funds have been sent to your bank account, which you can then monitor on your dashboard. SumUp will also provide you with daily and monthly payout reports
Once SumUp offers its banking features in the US, users will have access to next-day funding by directly linking their sales to their SumUp accounts.
---
Gift Cards
SumUp offers free customization tools for digital gift cards from the SumUp app, which you can then share with your customers through a designated link. You can apply different gift card amounts, as well as discounts, and even create designs that your customers can choose from. These gift cards use the same level of security for all of SumUp's payment processing, so you can assure your customers that they are safe to use.
However, not all businesses are qualified to offer and sell gift cards. You will need to contact customer support if you do not find the option on your app.
---
Receipts
You can send digital receipts through SMS or email, or opt to connect your terminal to a Bluetooth printer for printed receipts. Your receipts can also be customized through SumUp's app by updating your contact details and adding a custom logo and message.
---
SumUp Ease of Use
Two-step sign up
Creating a SumUp account only takes minutes with its two-step sign-up feature. A complete guide on procedures for submitting verification information is also available in its knowledge base. However, you need to request for a card reader, which takes three to four business days to arrive.
Easy-to-use platform
SumUp's payment app is simple and easy to use. The mobile app layout is clean, so it's easy to navigate. The standalone card readers are rather small compared to standalone payment terminals from alternatives like Clover—but it does the job. Beginners with no technical background will find SumUp's payment platform user-friendly.
Application Programming Interface (API) & Software Development Kit (SDK) Integrations
SumUp does not support third-party plug-and-play integrations, but it provides a host of API and SDKs for accepting international payments, adding user interface screens for customers of different business models, and more.
SumUp Customer Support
SumUp's help center includes a knowledge base and FAQs on its website. A "Support Tab" is also available within the app, allowing you to directly send support requests using a contact template. SumUp's support team is available via phone at 1-888-250-2164 from Monday to Friday, 9 a.m. to 7 p.m. Eastern time.
What Users Think of SumUp
SumUp reviews are somewhat mixed, although—because it is a Europe-based provider—most of the feedback is not from the US. It is important to note that some key features, such as omnichannel tools, are only available to European customers, which may reflect on the ratings. That said, users appreciate the fact that SumUp is inexpensive and the pricing is simple. Other positive comments mention the system's mobility and ease of use.
Regarding customer service, SumUp reviews are also mixed, with most praises coming from Europe-based users. Most of the negative remarks that the provider received revolves around the need for additional tools, such as customizable reporting and integrations.
| Users Like | Users Don't Like |
| --- | --- |
| User-friendly app | Limited reporting tools |
| Easy set up | Needs more integration |
| Outstanding card reader | Intermittent connection issues |
Bottom Line
SumUp ticks most of the boxes for startups, and this is evident with most of its positive reviews coming from solopreneurs and small business owners. It offers competitive pricing and a handy, inexpensive card reader with built-in chip and contactless processing. And while it does not provide third-party plug-and-play integrations, it comes with API and SDK tools to help users customize their payment process to match their business model. Create a free account today.