2023 SumUp Review: Pricing, Features, Pros & Cons
Find out how mobile-first payment processor SumUp scored 3.43 out of 5 in our review of best merchant services.
This article is part of a larger series on Payments.

Pros
No add-on fees for accepting payments from international credit cards
Free pay-as-you-go payment app
No-cost echeck payments for invoice
Affordable 3-in-1 mobile card reader
Cons
Does not support recurring billing or stored payments
Lacks same-day funding option
POS software with separate monthly fee
Does not support high-risk merchants
Supported Business Types

Flexible

Retail, restaurants, professional services

Standout Features

Most affordable 3-in-1 mobile credit card reader
Free monthly payment
$0 fixed fee per in-person transaction
Mobile-first payment processor
No add-on fees for international credit cards
No extra cost for echeck payments with invoicing

Monthly Software Fees

Competitive

Payments: $0
Pro: $199 (All-in-one POS system)

Setup and Installation Fees

Payments: $0
All-in-one POS system: $400

Contract Length

Pay-as-you-go

Point of Sale Options

Native POS software for a fee

Payment Processing Fees

Competitive

In-person: 2.75%
Online: 3.25% + 15 cents
Invoice: 2.9% + 15 cents
Virtual terminal: 3.25% + 15 cents
Lower rates with the POS system subscription

Customer Support

Phone support: 9 a.m. to 7 p.m., Eastern time
Email support
Help Center and FAQ on the website
| | | | |
| --- | --- | --- | --- |
| Best for | New and small businesses needing a free POS solution | Individuals requiring a reliable solution for occasional payments | Established businesses wanting low rates |
| Monthly fee | Starts at $0 | Starts at $0 | Starts at $14.95 |
| Card-present fee | 2.6% + 10 cents | 2.7% + 9 cents | 2.6% + 10 cents |
| Keyed-in fee | 3.5% + 15 cents | 3.49% + 9 cents | 3.5% + 10 cents |
| Ecommerce fee | 2.9% + 30 cents | 2.59% + 49 cents | 3.5% + 10 cents |
|   | | | |
Looking for the lowest rates? Leading merchant service providers offer custom payment processing rates based on your business size, type, and average order value. To find the most affordable option for you and compare multiple processing rates, read our guide to the cheapest credit card processing.
When to Use SumUp
Individuals and low-volume businesses: SumUp made our list of top mobile credit card solutions and best credit card payment apps for its simple design and affordable, easy-to-use card processor. This makes it ideal for consultants and home-service professionals such as HVAC, plumbing, lawn and garden care, pest control, and electricians.
Seasonal businesses and those catering to tourists: SumUp does not charge additional fees for accepting payments from foreign credit cards, which is ideal for retail businesses that rely on tourism for sales.
When to Use an Alternative
Businesses requiring booking and scheduling tools: Consider Square Payments with a built-in appointment app.
Native ecommerce businesses looking for multichannel sales: We recommend merchant services providers like Helcim that support hosted online stores.
Regulated and age-restricted businesses: Consider our list of top recommended high-risk merchants that offer transparent pricing and chargeback protection features.
SumUp Overview
As an end-to-end payment solution, SumUp is among the most affordable payment processors on the market. It has no long-term contracts or monthly fees for maintaining a merchant account and its flat-rate transaction fees are competitive. Recent upgrades include the launch of its all-in-one POS system and free business banking solution.
SumUp is somewhat similar to Clover (one of the most popular point-of-sale systems), as the choice of hardware will determine the payment processing features available to you. For instance, the magnetic stripe for swiped card transactions is only available on the SumUp Plus card reader, while only SumUp Solo supports custom tipping. Third-party integrations are only available with SumUp POS.
With the new paid subscription plan, SumUp now offers lower transaction fees much similar to Square's card-present and card-not-present rates. It's important to note that you have to pay $199 per month to get the discounted rates, however, if your business processes a large number of low-ticket sales per month, you can get your money's worth with SumUp's 2.75% rate since there's no fixed fee per transaction.
Overall, SumUp is a small business-friendly mobile payment processor. While it did not make our list of merchant services providers, we highly recommend it for small as well as seasonal retail businesses that require a mobile solution—such as coffee shops, clothing stores, and businesses participating in farmers' markets and trade shows.
SumUp Fee Calculator
SumUp lost points primarily because it can only process credit card transactions. However, it does have a free payment processing plan that works well for mobile businesses. SumUp also offers lower transaction rates for in-person payments with a paid plan, but it comes with a one-time setup fee. Either way, hardware needs to be purchased.
SumUp Payment Processing
SumUp offers a mobile-first free plan and a paid Pro plan. Transaction fees are competitive as it does not charge flat per-transaction fees (in cents) like Square, PayPal, or Stripe in the free plan, while the Pro plan rates are cheaper for in-person. However, there is a $10 non-refundable chargeback fee passed on to merchants from SumUp's acquiring bank.
| | Free Plan | Pro Plan |
| --- | --- | --- |
| Monthly fee | $0 | $199 |
| In-Person fee | 2.75% | 2.6% + $0.10 |
| Invoicing fee | 2.9% + 15 cents | 3.5% + $0.15 |
| Online fee | 3.25% + 15 cents | 3.5% + $0.15 |
| Keyed-in fee | 3.25% + 15 cents | 3.5% + $0.15 |
| Hardware type | Mobile credit card readers | Complete POS hardware |
| Installation fee | $0 | $400 |
| Cancellation fee | $0 | $0 |
In Person: For every swipe, dip, and contactless transactions including Google Pay and Apple Pay
Online : For payments made through a link to a web form sent by email or SMS
Invoice: For each invoice paid online through a payment link (no additional cost for payments via echecks)
Virtual Terminal: For every keyed-in transaction. Please note that the virtual terminal payment feature is not available to all business models. Contact SumUp's support team for details.
SumUp Hardware
SumUp offers both mobile device connectable and standalone mobile card readers. Users are required to purchase any one of these SumUp card readers to start processing credit card transactions. And while it doesn't offer free hardware for each subscription (unlike competitor Square), SumUp's card reader pricing starts at $39, and this already comes with a payment app and EMV and contactless payment capabilities.
Merchants also have the option to customize SumUp mobile card readers with accessories that can provide varying degrees of functional upgrades.
SumUp Plus

SumUp Plus Cradle Bundle

SumUp Solo

SumUp Solo Printer Bundle

Connect to a mobile device w/ SumUp payment app
Chip & pin payments
Digital wallet payments
QR code payments
Swipe payments

All SumUp Plus features
With charging station

Standalone card reader
WiFi and built-in SIM card
Built-in SumUp payment app
Chip & pin payments
Digital wallet payments
QR code payments

All SumUp Solo features
With Paper receipt printer

$39

$49

$129

$199
For larger brick-and-mortar businesses looking for a complete POS hardware solution, SumUp has an all-in-one hardware, software, and payments plan. This will set you back $199 per month and $400 for a one-time installation fee. The actual cost of the hardware is not disclosed, however, so contact SumUp for a quote.
Contract & Merchant Agreement
A closer look at SumUp's terms and conditions shows a pretty straightforward agreement with standard terms you will find with similar providers—such as credit checks for verification, prohibited products and services according to card network rules, and Payment Card Industry (PCI) compliance.
However, you may also want to ask SumUp about the following stipulations:
Administrative fee of up to $200 for attempting to process invalid/illegal transactions
Additional fees that may be applied when using third-party services
At any given time, implement a temporary hold of funds and set up reserves at SumUp's sole discretion.
Policy for account inactivity and proceeds of funds from inactive accounts
Also note that under the terms and conditions, you are only allowed to have one payment terminal per SumUp account, but you can request for sub-accounts if you need an additional payment processing device.
Setup & Application
One of SumUp's best features is its two-step, easy sign-up process, which includes ordering a card reader and registering for a SumUp account. However, those who are interested in signing up with SumUp are strongly advised to check SumUp's list of restricted businesses.
To start, click on any one of the "Sign Up" or "Get Started" buttons on the SumUp website, and it will take you to a page where you can purchase a card reader. This step takes precedence because the email address you provide during your purchase will be assigned as your SumUp username, while your valid phone number will be used to send you a 4-digit activation code. You will be requested to set up an account password as well.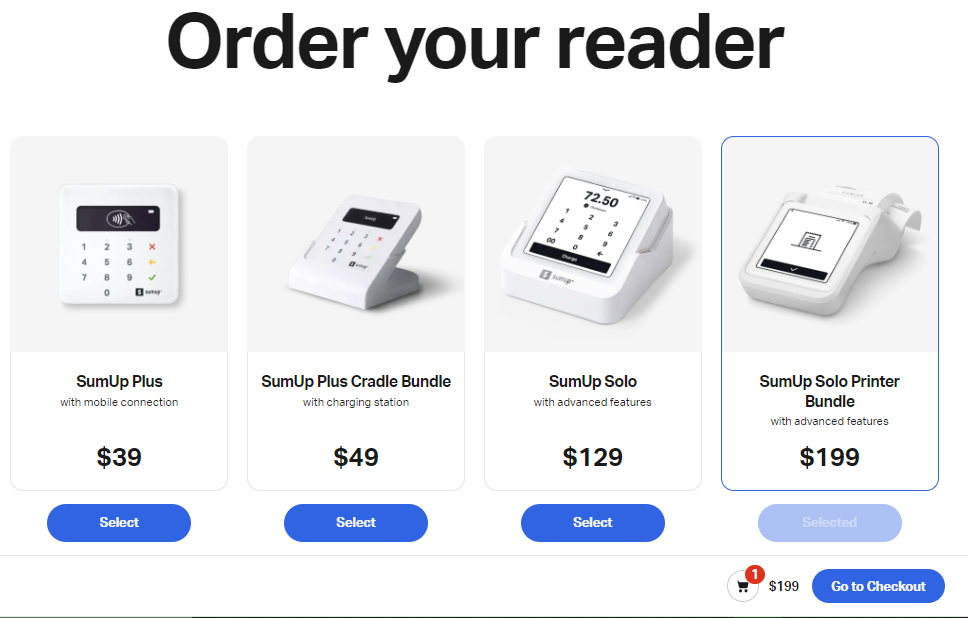 ---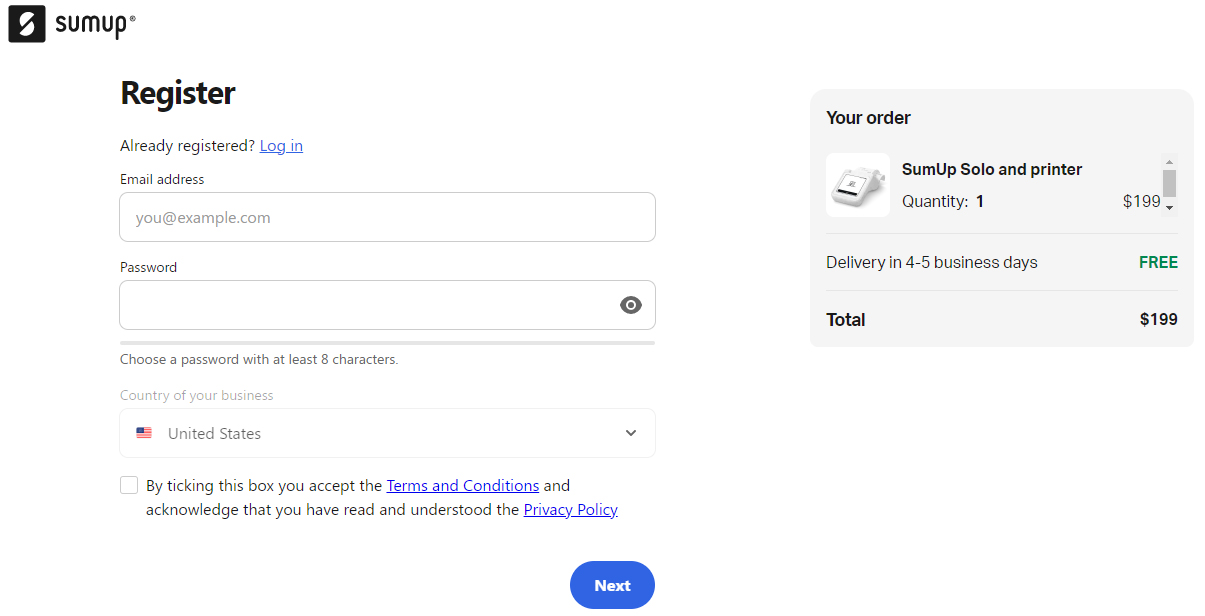 ---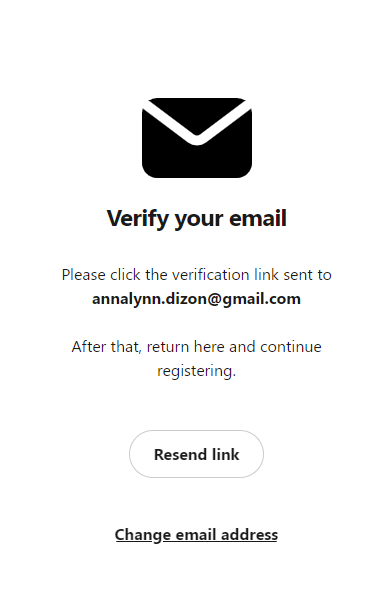 ---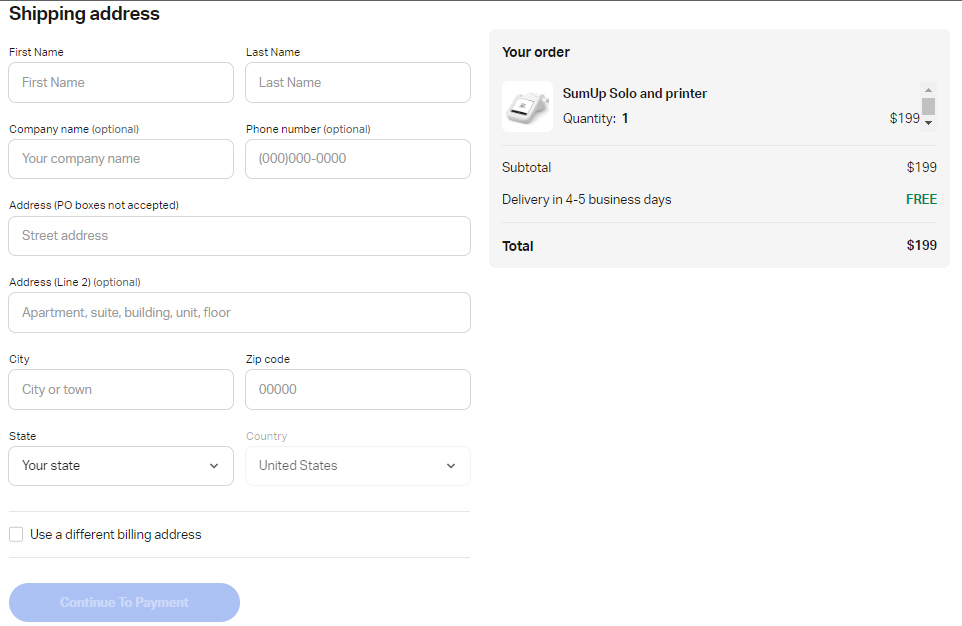 ---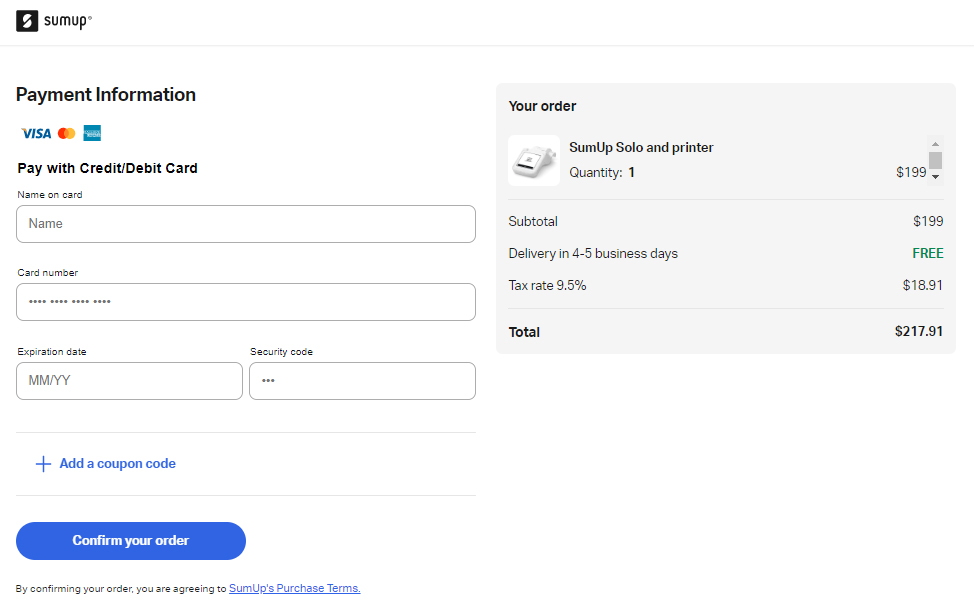 ---
Once this is done, you can log in to activate your SumUp account—it is highly advised you do this before you receive your card reader. Log in to the SumUp app on your mobile device or on your desktop via the SumUp Dashboard and provide the activation code.
Expect your card reader within three to four business days, and complete the registration by setting up your card reader. You will then be required to provide the following information:
Legal type and business category
Business name and address
List of beneficial owners
Contact information of authorized signatories
Personal information such as a personal address and date of birth
Bank account in the country in which you operate your business
At this stage, most businesses can be verified by SumUp's electronic Know Your Customer (eKYC) system through the given business identity and address. However, there are some instances where SumUp's team will request additional documents for verification. These may include:
Personal identification such as a passport picture and signature page or driver's license
Utility bills from the last six months or bank statements to serve as proof of address
Invoices, company credit card or bank statements, and company website as proof of business.
Until this is resolved, unverified accounts may be limited to a certain processing volume.
SumUp is primarily a credit card processor that supports in-person and remote transactions. It can process invoices and even lets you accept e-checks at no extra cost, but lacks support for automated recurring billing and payments. Payment links via email and SMS are supported for ecommerce merchants but there are no website integrations available.
Both SumUp's mobile app and dashboard give you access to its invoicing features. This allows you to create, send, and track all your invoices in one place. You can also include a payment link in your invoices so that your customers can easily send you payments in the form of credit card, cash, or echecks. The process is pretty simple and comes with a preview function that you can use before sending out to your clients.
---
SumUp's in-person transactions are available with the help of its mobile credit card readers and POS hardware. Merchants can use these to accept digital wallet payments and QR code payments. You can also track cash payments with the built-in cash tracking feature. Depending on the credit card reader, some merchants will also have the ability to provide customers with custom tipping options.
---
With SumUp, remote payments include any type of transaction that's processed with the use of payment links—whether for an invoice or otherwise. Merchants can accept remote payments by sending payment links embedded in a digital invoice, or sent via email, SMS, or instant messaging.
SumUp also offers free customization tools for digital gift cards from the SumUp app, which you can then share with your customers through a designated link. You can apply different gift card amounts, as well as discounts, and even create custom designs. Customers can then use these gift cards to complete online purchases.
However, not all businesses are qualified to offer and sell gift cards. You will need to contact customer support if you do not find the option on your app.
---
SumUp comes with a free payment app that you can download on your Android and iOS device. It lets you accept swiped, EMV, and contactless card payments from all major credit cards, including Google Pay and Apple Pay, and invoices and gift cards through both mobile and virtual terminals.
Depending on roles and permissions, it gives you and your staff access to tools for accepting payments, processing sales, viewing or managing inventory, creating invoices, and more.
---
The SumUp merchant dashboard comes with a built-in virtual terminal. This provides merchants with the ability to accept payments by manually entering customer payment details provided via email or over the phone.
Unfortunately, SumUp's virtual terminal can only process credit card transactions, which means it does not allow you to look up an outstanding invoice and settle the payment on your customer's behalf. It's also not available by default. Interested users will have to contact customer support to access this feature.
---
SumUp lost points in this category because it lacks a same-day funding option and instead offers as early as next-day funding with the SumUp Business bank account. Customer support is only available during extended business hours. Business management integrations are also only available when you sign up for SumUp's paid plan.
SumUp's dashboard is available when you log in to your SumUp account from a desktop. As with the mobile app, it provides you with the ability to process payments, create and send invoices, and request for support. It shows you your total sales revenue, which you can filter according to your preferred time frame or by employee. You can also get a quick analysis of your transaction history along with basic business activity reports.
---
The Product Catalog can be found in SumUp's mobile app and provides you with tools to access basic inventory management features. This includes adding products, categories, and variants.
SumUp offers a step-by-step guide to building your catalog, from creating categories to adding items to its knowledge base. You can even accept payments from the product catalog tab. Using this feature also enables the sales tax function, which lets you assign sales tax rates.
---
Adding employee accounts allows you to process multiple transactions simultaneously without giving them access to make changes to sensitive information such as owner profile and bank details.
The employee management feature lets you create and manage permissions, with each employee profile having a unique login, password, and email connected to the account. Employees then are able to process payments and view their sales history. However, permissions for employees are the same and are limited to processing sales, accepting payments, and viewing their sales history.
---
The SumUp POS is an all-in-one point-of-sale system that comes with complete POS software and hardware, as well as a built-in payment processor. Similar to Square POS, SumUp's POS software includes tools such as menu and order management, inventory management, customer management and rewards signups, and sales reporting. It also supports important features such as third-party integrations, accounting, and automated marketing campaigns.
Note that signing up for a SumUp POS means having a paid monthly subscription.
---
Fivestars is a SumUp add-on product that offers merchants the ability to manage customer data, send out marketing campaigns, and manage customer loyalty. It comes with a touch-screen display that you can set up at the checkout counter not only to promote your business, but also to sign up customers with a rewards program at the point of sale. A customer-facing app is also available.
---
The SumUp Business Account is a business banking product. This gives merchants access to banking tools such as ACH debit transfers, wire transfers, check issuance, ATM withdrawals, and mobile check deposit. Opening a bank account is free and comes with a free debit card. There are also no monthly fees, nor does it require a minimum balance.
Merchants who connect a SumUp Business Account with their SumUp merchant account are also guaranteed next-day payouts at no extra cost.
Note that SumUp's banking services is provided by Piermont Bank, Member FDIC.
---
SumUp processes payouts daily at no extra cost and tracks the transfer progress from your dashboard. You can also contact customer support if you prefer a different frequency for your payouts.
Tracking payouts starts when you receive an email notification that your funds have been sent to your bank account, which you can then monitor on your dashboard. SumUp will also provide you with daily and monthly payout reports
---
SumUp's third-party integrations are only available with the SumUp POS. For mobile credit card reader users under the free plan, SumUp provides a host of API and SDKs for accepting international payments, adding user interface screens for customers of different business models, and more.
---
SumUp's help center includes a knowledge base and FAQs on its website. A "Support Tab" is also available within the app, allowing you to directly send support requests using a contact template. SumUp customer service team is available via phone at 1-888-250-2164 from Monday to Friday, 9 a.m. to 7 p.m. Eastern time.
---
As expected, SumUp has done major product updates since we last evaluated this provider. There were highs and lows, particularly with the subscription plan changes, from a small business perspective, and this criteria takes a closer look into the overall effects of these for small businesses.
SumUp now has a paid plan for more established (or larger) SMBs with a brick-and-mortar store. While some who loved SumUp initially because it was entirely free and convenient may say that this is a negative, I find it a positive step toward scalability. With this new plan, SumUp now caters to merchants that have outgrown their original mobile-first solution.
It's also encouraging to see a significant improvement in their payment app. User reviews have gone up in the past 12 months for both iOS and Android. Meanwhile, the new free business banking service is a great option, particularly for startups, making SumUp a step closer to a one-stop payment processor.
On the other hand, it is somewhat disappointing to discover that SumUp has gated most (if not all) of its third-party integrations within the paid plan. So, merchants using the free plan don't have access to accounting, order management, and delivery tools. I also feel that SumUp is missing out on ACH payment processing and same-day funding options with their business banking service.
What Users Say in SumUp Reviews
SumUp reviews are somewhat mixed, although—because it is a Europe-based provider—most of the feedback is not from the US. Some features, such as omnichannel tools, are only available to European customers, which may reflect on the ratings. That said, the overall number of user reviews has increased, while payment software ratings have decreased since our last update.
Users appreciate the fact that SumUp is inexpensive and the pricing is simple. Most cite this as their primary reason for switching to SumUp. Other positive comments mention the system's mobility and ease of use. SumUp card reader reviews by actual users are also mixed, but not alarming.
Most of the negative remarks that the provider received revolve around connection issues and the need for additional tools, such as customizable reporting and integrations.
Users Like

Users Don't Like

User-friendly app
Credit card reader issues
Easy setup
Needs more integration
Practical
Customer support is slow to respond
Methodology—How We Evaluated SumUp
We test each merchant account service provider ourselves to ensure an extensive review of the product. We start by comparing pricing methods, giving preference to those that offer zero monthly fees, pay-as-you-go terms, and low transaction fees. We then evaluate its range of payment processing features, scalability, and ease of use.
We use these criteria to examine the best overall merchant services. However, we adjust the criteria when looking at specific use cases, such as for different business types and merchant categories. This is why every merchant services provider has multiple scores across our site depending on the use case you are looking for.
Click through the tabs below for our overall merchant services evaluation criteria:
25% of Overall Score
We awarded points to merchant account providers that don't require contracts and offer month-to-month or pay-as-you-go billing. Additionally, we prioritized providers that don't charge hefty monthly fees, cancellation fees, or chargeback fees and only included providers that offer competitive and predictable flat-rate or interchange-plus pricing. We also awarded points to processors that offer volume discounts, and extra points if those discounts are transparent or automated.
Helcim performed well in this criteria, only losing points for chargeback fees and hardware pricing.
30% of Overall Score
The best merchant accounts can accept various payment types—including POS and card-present transactions, mobile payments, contactless payments, ecommerce transactions, and ACH and e-check payments—and offer free virtual terminal and invoicing solutions for phone orders, recurring billing, and card-on-file payments.
Helcim earned perfect marks for this section.
25% of Overall Score
We prioritized merchant accounts with free 24/7 phone and email support. Small businesses also need fast deposits, so payment processors offering free same- or next-day funding earned bonus points. Finally, we considered whether each system has affordable and flexible hardware options and offers any business management tools, like dispute and chargeback management, reporting, or customer management.
Helcim somewhat struggled in this criteria, earning only partial points for deposit speed and hardware purchasing options.
20% of Overall Score
We judged each system based on its overall pricing and advertising transparency, ease of use (including account stability), popularity, and reputation among business owners and sites like Better Business Bureau. Finally, we considered how well each system works with other popular small business software, like accounting, point-of-sale, and ecommerce solutions.
Helcim fared well in this category, only missing points for popularity and integrations.
*Percentages of overall score
SumUp Frequently Asked Questions (FAQs)
SumUp is a European mobile-first payment processing platform that offers one of the most affordable mobile credit card readers in the market. It offers zero monthly fees for mobile payment processing and can process most credit card payment methods and send out invoices to bill remote customers.
---
SumUp provides merchants with a secure mobile credit card reader and a mobile payment app. With these, you can accept credit card payments by swiping, tapping, or using a secure PIN pad to authorize the payment. It uses a payment gateway to send payment links for invoicing and other remote transactions.
---
You can schedule deposits to your bank account every day. SumUp will take at least two business days to process these transfers. However, next-day funding is available if you sign up for a SumUp business bank account.
---
Yes, most payment processors like SumUp use data encryption to protect cardholder data and transaction information. With SumUp, your information is encrypted with SSL (Secure Socket Layer) and TLS (Transport Layer Security) and are not stored within the hardware.
---
Bottom Line
SumUp ticks most of the boxes for startups, and this is evident with most of its positive reviews coming from solopreneurs and small business owners. It offers competitive pricing and a handy, inexpensive card reader with built-in chip and contactless processing. And while it does not provide third-party plug-and-play integrations, it comes with API and SDK tools to help users customize their payment process to match their business model. Create a free account today.