8 Customer Loyalty Program Ideas & Examples for 2023
Returning customers spend 67% more than new customers, according to a widely reported stat, and implementing loyalty programs is one way to encourage customer retention. Even with the inflation crisis and lingering effect of the COVID-19 pandemic, loyalty programs remain a highly effective lifeline for businesses.
This article shares eight customer loyalty program ideas that offer monetary incentives (rewards) and non-monetary value.
1. Give First-time Purchase Discounts to Attract New Members
Shopify's Future of Commerce report found that 50% of shoppers are significantly influenced to purchase when offered personalized discounts. So, incentivize a sale by giving new shoppers a first-time purchase offer to help them get over the hesitation that comes with trying a new retailer.
First-time offers are a significant part of acquiring new customers, especially for ecommerce stores. Shoppers cannot touch or experience online products, and it is hard for them to know what to expect from an unknown retailer. This generates more buying hesitation and a greater need to create incentives for people to take the plunge and try your shop.
Example: Pampelone
Pampelone is an online women's clothing boutique that sells high-end women's dresses and knits. With its pieces running a high ticket and there being no way for people to experience them firsthand, Pampelone works to overcome first-time purchase hesitation with a $10 discount for new shoppers.
2. Reward Customer Referrals
Another strategy that you can use in your customer loyalty program is a referral program. This is a word-of-mouth (WOM) marketing strategy where you offer rewards to current shoppers when they refer their friends to your store. This strategy not only helps boost your overall traffic; referred customers are 18% more loyal and have a 16% higher lifetime value and a 13.2% higher spending rate than non-referred shoppers.
One way you can introduce a referral program is through custom links that are tied to customer accounts. Customers can copy the custom link on their account and share it with friends, then you can track and reward that customer based on the actions that happen on that link. You can acquire custom links either from a referral service or through customer loyalty software.
Alternatively, you can give customers a discount code to share with friends. They then get access to a discount once their friends redeem their codes. For example, you can give customers a sharable 20% off code, and when their code gets used, they, too, get a 20% off code.
You can (and should) also use social media as part of your referral program. You can host contests where people have to tag their friends for entry or create custom links to your social pages that customers can share with their connections. Loyalty programs such as LoyaltyLion allow you to create custom referral links for sharing on social media, via email, or over text. You can also use the LoyaltyLion referrals widget.
Most shoppers recommend brands without considering their loyalty programs, but they do motivate customers to return. Forty percent are likely to buy again from brands that reward loyalty.
Example: Glossier
A few years ago, Glossier was a small makeup and skincare brand that was just coming onto the market. It grew rapidly, however, and is now one of the most successful independent beauty brands out there, and this was largely due to its straightforward, easy-to-use referral program.
Glossier offers a 20% off code to anyone that uses a custom link to refer and convert a customer. This—coupled with its branding as a young girl's brand—made its name spread like wildfire as girls shared their links and got their rewards.
3. Award Points for Spending
Another way that you can boost customer engagement in your customer loyalty program is through a points program. In fact, 91% of consumers have earned or redeemed a reward in the past six months, further cementing the idea that point-based reward programs are a great way to increase customer spending and create brand loyalty.
In a points program, you award points that can be redeemed for rewards (e.g., discounts, gift cards, and special offers). What you award points for, however, varies from business to business based on what strategy works best. It is worth noting that today's loyalty programs still lean heavily on cash rewards, with 59% of most B2C businesses offering cash back.
Here are several ways that you can structure your loyalty points program:
Spend-based Program: A spend-based program offers points based on dollars spent. This type of points program is best suited for companies that want to incentivize larger purchases.
Visit-based Program: This points program gives points based on the number of customer transactions and is best for businesses that rely on frequent, small purchases.
Loyalty Actions Program: A loyalty actions program is when award points are based on your defined loyalty actions. These actions might be commenting on a social media post, reviewing your products, shopping on a sale day, or buying more than two items. You define the actions that you want to see from your customers and that most benefit your brand. You can also create incentives with rewards and watch as customers start acting.
Example: Nordstrom
Nordstrom has a very popular loyalty program dubbed "The Nordy Club" that operates on a points system. In The Nordy Club, customers earn points based on how many dollars they spend and get both cashback and exclusive access as they accrue more points. It is a great example of a points program that not only leverages money-back rewards but also exclusivity to grow its program.
Did you know?
In the book Marketing Metrics, it was found that businesses have a 60% to 70% chance of selling to an existing customer, while the probability of selling to a new prospect is only 5% to 20%
4. Create Perks Based on Tiers or Levels
Exclusivity is increasingly important to the modern shopper. You can capitalize on this desire for exclusiveness in your loyalty program by creating a tiered membership structure.
In this model, as customers engage and spend more at your business, their loyalty status increases, giving them access to exclusive deals and offers (similar to The Nordy Club example above). Shoppers are incentivized to continue to frequent and spend at your business so that their status and offers improve and become more exclusive.
Tip:
Clearly advertise the offerings that come with a higher membership so that people know what they are missing out on at their lower tier and are incentivized to reach the next level.
Typically, tiered programs have at least three levels and are tied to a points system. In other words, the number of points you have determines what membership tier you get to be in. This helps streamline the membership process and makes things easier to track and implement.
Example: Sephora
Sephora, a major makeup retailer, has a popular tiered loyalty program known as the "Beauty Insider Program." Here, members can either be an Insider, a Very Important Beauty, or Rouge based on their points.
As members climb the ranks, they get access to better deals, greater discounts, and exclusive freebies and events. Additionally, at Sephora's rare sales, they get earlier access and a higher discount. The Beauty Insider program uses exclusivity as a weapon to drive Sephora's loyalty program and incentivize spending.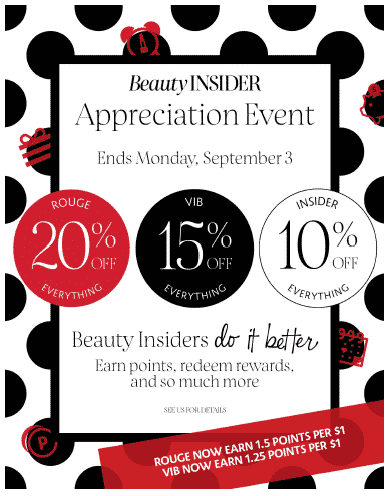 5. Gamify to Boost Engagement
Gamification:
The process of introducing game elements—like competition and scoreboards—into areas where they are not typically found, like your loyalty program. The goal of gamification is to boost engagement and drive sales.
As consumers are increasingly distracted and difficult to engage, gamification is becoming an important part of retailers' marketing strategies. In fact, retail holds the largest share in the global gamification market. When Walgreens employed "gamification" tactics, it reported an increase in engagement and loyalty of 30%.
You can gamify your loyalty program in a few ways with the help of gamifying tools:
VR: Get customers to interact with your brand in an exciting and engaging way by using technology like VR.
Contests: Contests with prizes boost your engagement. Maybe you do a raffle where every referral counts as an entry or you offer a special discount to your top monthly point holders. Get creative and motivate people with prizes that they actually care about.
Prize Wheels: Let customers spin a wheel with different prizes and discount offerings. You can either create a prize wheel pop-up for your website or install a physical one in your store. Either way, you are sure to get people involved.
Scratch Off: Create a scratch-off game that customers can get involved in as they buy more products. For example, say you add a scratch-off sticker to your large coffees, and if a customer gets a three of a kind, then they get a free large drink and pastry of their choosing.
Example: throtl
throtl is a car parts and gear ecommerce website that uses car giveaway contests to get people excited about spending and to boost engagement. If you are a throtl VIP member, you pay $10 a month to get access to your special rewards and offers, and those $10 count as 10 entries into the car raffle. For everyone else, every dollar spent equals one entry into the contest. This way, customers are incentivized to spend because of the prospect of a car prize.
6. Run Special Events With Rewards & Limited-time Offers
Offer exclusive member discounts for birthdays, special events, and anniversaries. These limited-time and event-centered promos are highly effective at motivating shoppers.
Most loyalty software allows you to send messages and emails to promote events and offers. If you want to incorporate a birthday promo, be sure that you are collecting member birthday information and that you have a program that has a birthday promo option. We suggest Fivestars for an automated solution.
Example: bareMinerals
bareMinerals is a makeup brand that offers a free birthday gift and sends discounts and offers for most holidays via its loyalty texting and email program. The beauty brand capitalizes on every opportunity to do event-based limited-time offers and has become a successful company doing so.
7. Offer Paid Loyalty Programs
A 2020 Clarus Commerce study on loyalty programs revealed that 70% of consumers would not hesitate to enroll in a paid membership or loyalty program so long as the benefits are valuable to them. And this seems to be a viable option for retailers; a recent study showed that 95% of retailers considered launching a premium loyalty program in 2021.
Usually, paid or premium loyalty programs require members to pay an upfront fee (monthly or annually) in return for exclusive benefits such as bypassing common purchase barriers later on (like shipping fees). Once members join the program, they are more inclined to spend to maximize the program benefit, with 62% more likely to spend more on a brand after joining.
This, in turn, should lead to increased average order values, higher repeat purchase rates, and more customer lifetime value.
However, a member will only be a repeat customer as long as they are enrolled. And if they don't see the benefits as worth paying for, they will not go for a second year. You need to go above and beyond what you have offered in the past.
Examples of Successful Paid Loyalty Programs
Amazon Prime's membership fee unlocks free shipping. This feature allows subscribers to make frequent, repeat purchases without worrying about inconveniences.
REI's lifetime co-op membership requires a one-time $30 fee. Members then accrue points with purchases, can trade in used gear, get free shipping, and get access to exclusive products and discounts.
Birchbox is a monthly beauty subscription program that offers many benefits to its subscribers, plus an added incentive for those that stick around. The VIP program is only activated once you have been a subscriber for six consecutive months—a smart strategy to encourage customer retention.
Did you know?
The COVID-19 pandemic changed buying behavior forever, with a noticeable shift in how customers now focus on value and not loyalty. This shouldn't alarm you, however. You can still encourage brand loyalty by rewarding shoppers with value—lower prices, exclusive promotions, bundles or upgrades, or free shipping.
8. Roll Out Mission-driven Loyalty Programs
The pandemic also increased social justice awareness for consumers, as they prioritize brands that share their own beliefs and values. In fact, two-thirds of customers are more willing to invest in brands that take stances on social and political issues they care about.
To do this, you need to know your buyer's ideals and values. From there, find a common goal you can share. There are businesses that find greater success in resonating with their audience by offering benefits unrelated to money—building a special connection with customers and fostering trust and loyalty.
Examples of Mission-driven Loyalty Programs
TOMS shoes has a free, point-based reward system that allows customers to donate their points to support their listed foundations—a variety of awesome grassroots partners. These points correspond to a monetary value.
Body Shop's Love Your Body Club also offers a point-based system where you have the option to redeem them for discounts or donate to a variety of charities. Members also receive a $10 coupon for their birthday.
Tips for Implementing a Customer Loyalty Program
Whichever loyalty program idea you decide to implement, it would be best to keep the following tips in mind.
Before you set out to create your customer loyalty program, it is important to understand your target market and the strategies that will speak to your customers. For example, the demographic that shops at a baby boutique would probably love to get a free bottle with a $75 purchase, but this same rewards structure would not be an effective way to create loyalty among the market that shops at sports and outdoors stores.
Ask yourself whether your idea is something that customers will like. Will it make them want to come back? Is there anything I can do to make the idea more on-brand?
Use reporting tools within a customer loyalty software like TapMango so you can analyze buyers' behavior.
Use A/B testing on your customers—this greatly helps test new ideas and weed through strategies that do and don't work.
Monitor how your loyalty program is performing over time so that you can make adjustments and create the most effective program for your business.
The effectiveness of your loyalty program matters. Consumers who participate in high-performing loyalty programs (programs that have positively changed respondents' behaviors and overall satisfaction) are 80% more likely to choose the brand over competitors and twice as likely to recommend the brand to their friends.
Example: Kaldi's Coffee
Kaldi's is a local coffee shop franchise based in St. Louis. Located in neighborhoods around college campuses and in walking neighborhoods, Kaldi's knew that its target market was the neighborhood regular. This shopper makes frequent small purchases and is either on the go or taking over a cafe table to camp out for the afternoon.
In efforts to speak to this customer, Kaldi's created a punchcard-style loyalty program that rewarded regular customers with a free coffee after 10 purchases. Additionally, when they filled out three punch cards, they got a Kaldi's mug that they could bring with them for their daily cup. Not only this, but employees would make efforts to know loyalty cup holders' names and know their regular orders.
This program was highly successful, fostering regular visits and brand loyalty hedged in a sense of community.
---
Building on the concept above, you should also ensure that your loyalty program is consistent with your brand to create a cohesive experience for your customers. This is not just for appearances; presenting your brand uniformly across all platforms can increase revenue by up to 10% to 20%. Additionally, good branding in your loyalty program will help reinforce your business in customers' minds and make it more recognizable in the future.
Be consistent with your branding when it comes to developing materials for your loyalty program—from colors and logos to themes.
More than visual branding, ensure that the verbiage you use is in your brand voice, the images reflect your brand image, and any strategies you choose make sense with your overall branding scheme.
Example: WeWoreWhat
WeWoreWhat is a growing clothing brand with a huge emphasis on branding in its customer loyalty program. Its brand is a fashion-forward city girl, who is always on the go and forever stylish. Some may call her "the girl boss."
WeWoreWhat refers to all its members as "babe," uses sassy messaging, and offers a loyalty structure that rewards large, infrequent purchases. This all makes sense for the WeWoreWhat brand. The tone of the program is in line with its city girl aesthetic, and the rewards structure helps foster big sales for its infrequent drops.
---
Comarch's recent white paper on customer loyalty building said that shoppers have an average of 14.8 loyalty program memberships, but are only active in half of them. While acquiring loyalty members might be easy no matter what program you roll out, keeping them engaged is another story.
Offering rewards instantly and more frequently helps keep your loyalty members active and engaged. For example, you can give incentives or rewards just by letting them add or update their profile data preferences. In turn, you can use this updated information to develop more events and promotions. These small perks keep members connected with your brand.
---
No matter the loyalty program, the key to keeping people consistently more involved in it is to regularly reach out to them via text or email. Let your loyal members know about your upcoming sales or discounts, remind them of their points and rewards, tell them about new products or exciting changes, or offer them an exclusive deal. Remember, brand loyalty is ultimately a relationship between you and your customers, so don't treat them like strangers.
Some loyalty software like Smile.io and Fivestars have automated loyalty messaging where you get to choose certain triggers, and then messages get sent out automatically. For example, you could have a trigger that sends texts to people who haven't been by your coffee shop in a week or an email trigger that correlates with your sales schedule.
Example: J.ING
J.ING is a contemporary women's clothing brand that uses text outreach to keep in touch with customers and keep them engaged with its brand. To become a J.ING loyalty member and get your 15% off discount code, you have to provide your phone number. J.ING then uses this to let all its loyal customers know about upcoming sales and other exciting promotions and collections.
---
Our world is becoming increasingly digital, and people's preferences are changing right along with it. More than ever, customers do not want a physical loyalty card that they have to carry around with them. Rather, the modern shopper demands a completely digital experience, and physical aspects tend to be frustrating or a complete turn-off.
If you are using loyalty program software, creating a digital loyalty program is easy, as most software track customer points and rewards and allow you to access purchase histories and more. Additionally, most software options have an integrated customer portal via an app or website that lets customers access their loyalty member accounts and check their status online.
Try to cut out paper wherever you can, and use digital options whenever possible. You can also send text or email announcements rather than handing out flyers, have a digital points tracking system in place rather than physical punchcards, and give out digital coupons rather than supplying physical ones. Whatever you can do to make your customers' lives easier will help you attract people to your loyalty program and grow your base.
Example: Safeway
A great example of this is Safeway's digital loyalty program. Unlike traditional grocers, Safeway does not use any physical cards; rather, an employee signs you up on their computer. Then, each time you checkout, you provide your phone number. This pulls your account up and gives you access to your rewards.
In this program, customers do not have to worry about keeping track of anything or filling any paperwork out. Rather, joining Safeway's loyalty program is painless, and continuing to get access to deals and rewards requires no effort.
---
Bottom Line
With recent changes in customer preferences and buying behavior, fostering loyalty is more than just motivating customers to buy more. Industry experts call the new evolution of brand loyalty Loyalty 3.0, which focuses more on the emotional side of customer loyalty.
Today's loyalty programs should center around customer engagement both inside and outside of the buying cycle. Shoppers expect to be rewarded for actions that are not just based on spending to foster brand love.
We would recommend you do a mix of the above-mentioned ideas to fit your business strategy. With a hybrid program, you can easily drive non-commercial goals too, such as supporting your brand positioning, culture, and advocacy (such as charities and foundations).
Ready to get started? Learn how to create your customer loyalty program and choose from our recommended top loyalty software programs.
You May Also Like…