User-generated Content for Ecommerce: 2023 Ultimate Guide
For many small business owners, content creation is a struggle. It requires a lot of time and resources, and it's hard to know if it will impact your bottom line until after you execute the idea. User-generated content (UGC)—essentially asking your customers to make content for you—is one way to make content creation a bit easier, more organic, and less resource-exhaustive.
UGC for ecommerce is an effective format for building trust and driving sales. And it requires minimal resources. Let's dive into what it is, why you want to use UGC, and how to incorporate it into your ecommerce marketing strategy.
What Is User-generated Content (UGC)?
User-generated content (UGC) is any piece of content created by people—often customers—instead of a brand. UGC includes customer reviews, recommendations, and images and videos posted on social media. When done right, UGC drives traffic to both your physical and online stores.
Did you know? Consumers find UGC to be most valuable for clothing (78%), electronics (70%), appliances (63%), home and garden (62%) and health and beauty (60%).
Benefits of UGC in Ecommerce
UGC serves as free marketing and exposure for your ecommerce business. When people see your customers post pictures of themselves enjoying your product, it helps them trust your brand and drives interest in your products and services.
Drive Sales
Consumers want to see UGC as part of their purchase journey. It helps them feel more confident in making a purchase. More than three-quarters of shoppers read customer reviews, and 90% want to see content from real customers, not just brands, celebrities, and influencers. In fact, nearly all (99%) consumers look at customer photos and videos at least occasionally.
And studies have shown that UGC drives purchase intent. In fact, one survey found that 83% of shoppers are more inclined to purchase something from a brand after seeing UGC promoting it.
If that hasn't convinced you yet, consider this insight: There's a 91.4% lift in conversion when shoppers engage with UGC photos and videos on a product page.
Create Relationships
UGC can also be a tool to nurture relationships with existing customers and improve your customer retention rate. As many as 80% of Gen Z consumers, for example, are willing to share about their purchases on social media—and 55% of them actually want brands to feature their UGC posts in the brand's own channels. Reposting or sharing UGC is a way to say thanks and give back to your brand advocates.
Build Trust
Equally important to your business's success is trust with your audience. As more consumers grow increasingly weary of influencers and celebrity endorsements, UGC is taking priority—at least in their eyes. It's also a fast way to earn shopper trust.
Consider this: 81% of consumers say influencer posts either have no impact or a negative impact on their desire to shop with a brand; just over half scroll past influencer posts and nearly a third actually hate and mistrust influencer posts. On the other hand, 86% of consumers trust a brand that prioritizes UGC over influencer marketing, and 80% prefer recommendations to influencer promotions.
Save on Marketing Costs
While influencer marketing and celebrity endorsements come with considerable price tags, UGC doesn't have to cost much, if anything. It simply requires a bit of strategy, and then you can let your customers do the rest. As long as you focus on providing an excellent customer experience every time, you can encourage shoppers to share those experiences with their networks, no matter how big or small.
See also: 20 Cheap or Free Small Business Marketing Ideas for 2023
Tips for Using UGC for Ecommerce
Keep the following tips and best practices in mind when incorporating UGC for ecommerce into your business's marketing mix.
Encourage Customers to Share
Not every customer is going to talk about your brand unprompted. Many shoppers need a little nudge to get them talking and sharing about your business. Here are some ideas on how to get your customers to share:
Incentivize sharing with rewards, like points in your customer loyalty program or a discount on their next purchase
Send post-purchase communications to solicit customer reviews
Host contests or giveaways that encourage customers to share photos, videos, or stories featuring your products
Allow users to tag your business page
This doesn't have to be complicated or too time-consuming. In fact, many of these tasks can be automated—you don't need to personally follow up with each shopper after they've made a purchase.
See also:
Create a Branded Hashtag
Develop a unique hashtag customers can use when posting about your products on social media. This makes it easy to track, curate, and share UGC.
To promote the hashtag, use it in your own posts and include it in marketing collateral. Print the hashtag on receipts, include it in emails, and put it on mirrors in fitting rooms. Constantly reminding shoppers of your branded hashtag will help them more easily remember it.
Engage With & Repurpose UGC
When you see customers posting UGC, it's important to acknowledge it. Show appreciation by way of engagement—like and comment on the posts, repost to your own feed, and respond to customer reviews. Here are some ideas on how to use and repurpose UGC for your own needs:
Incorporate UGC into your paid advertising campaigns: Display real customer experiences to increase the authenticity of your ads.
Share customer stories: You can reach out to UGC creators and interview them for more in-depth content and features. Share how your products have positively impacted their lives or solved specific problems.
Allow photos and videos in customer reviews: You can follow Amazon's lead and instead of using text-only customer reviews, use a review tool that allows shoppers to include photos and videos with their review.
Repurpose UGC for email campaigns: Include UGC in your email marketing campaigns to personalize your communications and showcase the experiences of real customers.
Put a feed on your website and product pages: Highlight UGC posts under your branded hashtag. Curate the best content that showcases your products in real-life situations or highlights unique use cases.
Always Ask for Permission to Reshare. It's important to get the original poster's permission before using UGC, but remember, most users are happy to have their content shared—especially when it comes to Gen Z shoppers.
Go for a Diverse Content Mix
While social media posts are often considered the go-to format for UGC, there are far more formats to consider. The best UGC strategy incorporates a diverse mix of formats to accommodate shopper preferences. More than three-quarters of consumers "always" or "regularly" search for visual content from others who have already purchased a product, and 80% consider photos from real-world customers to be more valuable than photos from brands.
Get on different channels, including Instagram, Facebook, TikTok, YouTube, etc.—and encourage sharing in a multitude of ways. UGC formats include but aren't limited to:
Customer reviews
Photos
Videos
Video testimonials
Written testimonials
Q&As
Social posts
YouTube videos
Unboxing videos
Examples of UGC for Ecommerce
Let's look at some top examples of how ecommerce brands are using UGC in their marketing mix.
Fenty Beauty
Rihanna's cosmetics brand, Fenty Beauty, is all about inclusivity and representation. And it has the UGC to prove it. Scroll down on the beauty website's homepage and you'll find a carefully curated feed of UGC posts, sourced from Instagram. The brand also prompts others to share UGC of their own, with the headline "We wanna see your Fenty face" and mention of its branded hashtag, #FentyBeauty, and Instagram handle.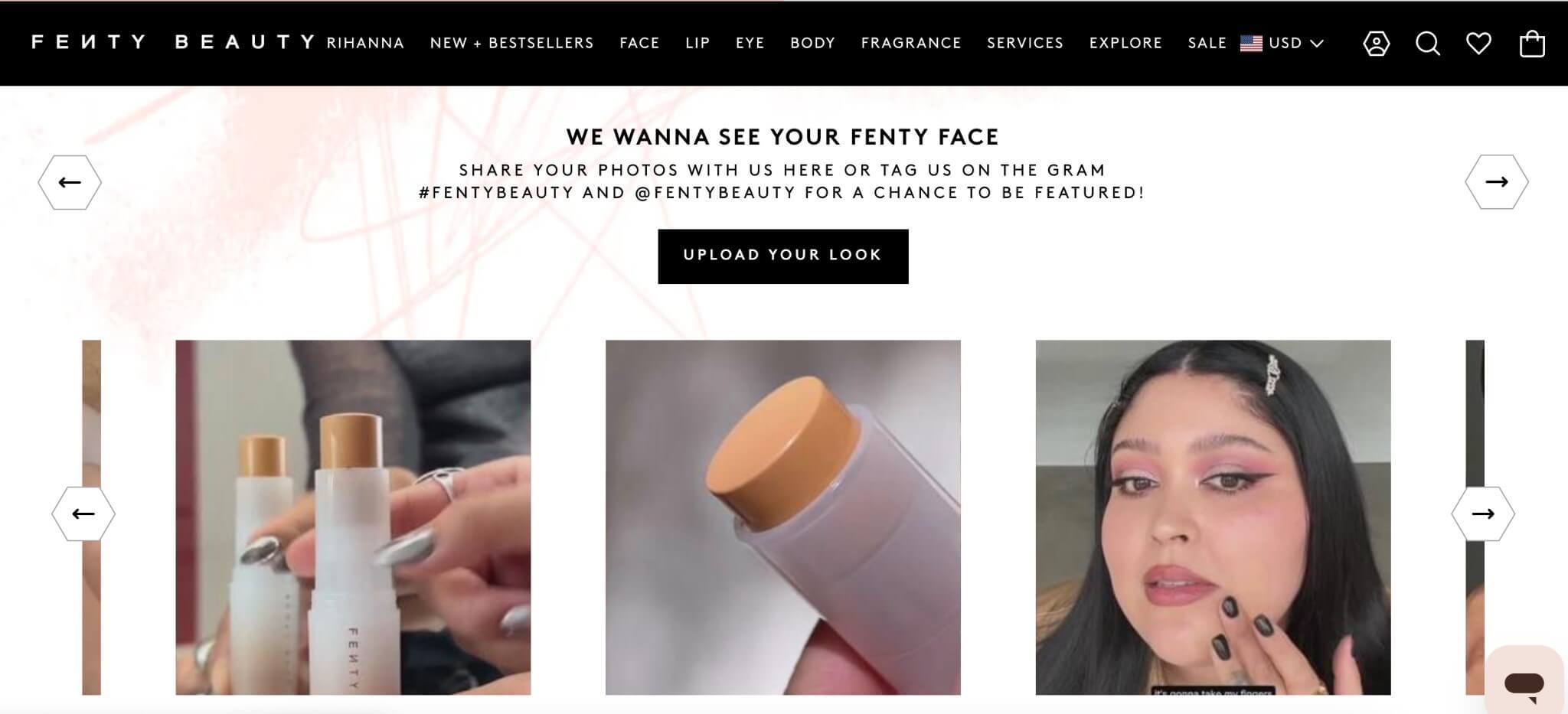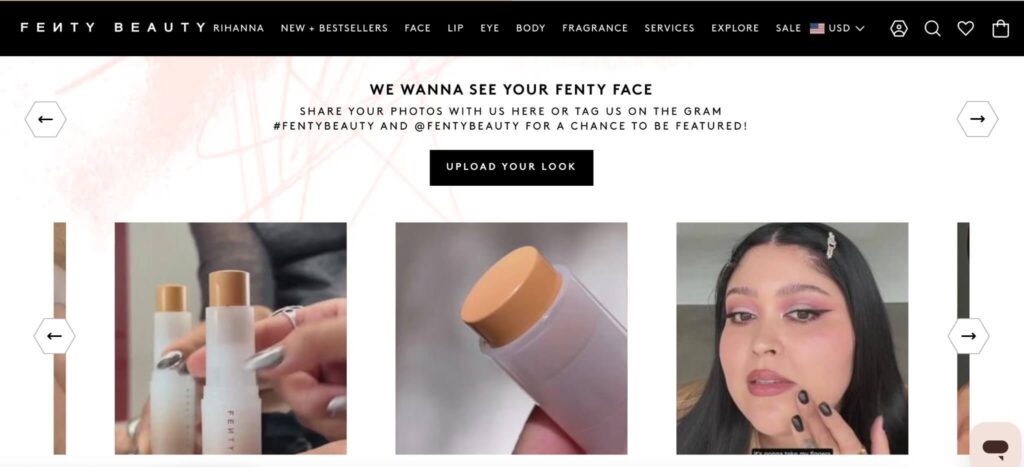 Salt Gypsy
Swimwear brand Salt Gypsy uses customer reviews on its homepage instead of isolating them to specific product pages. While the reviews are text-only, they're still impactful. It can help boost SEO by way of including target keywords, straight from shoppers themselves, as well as build credibility and trust.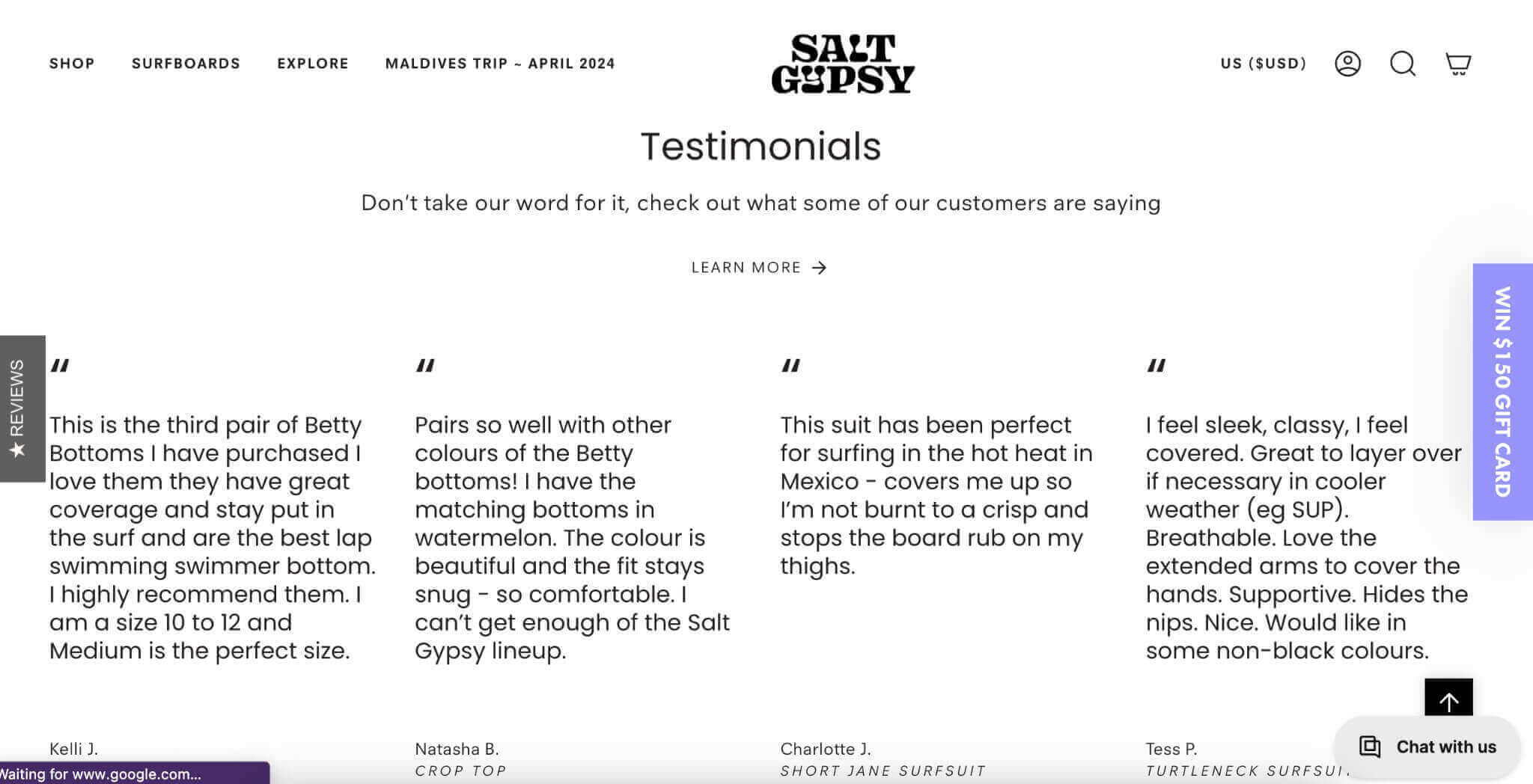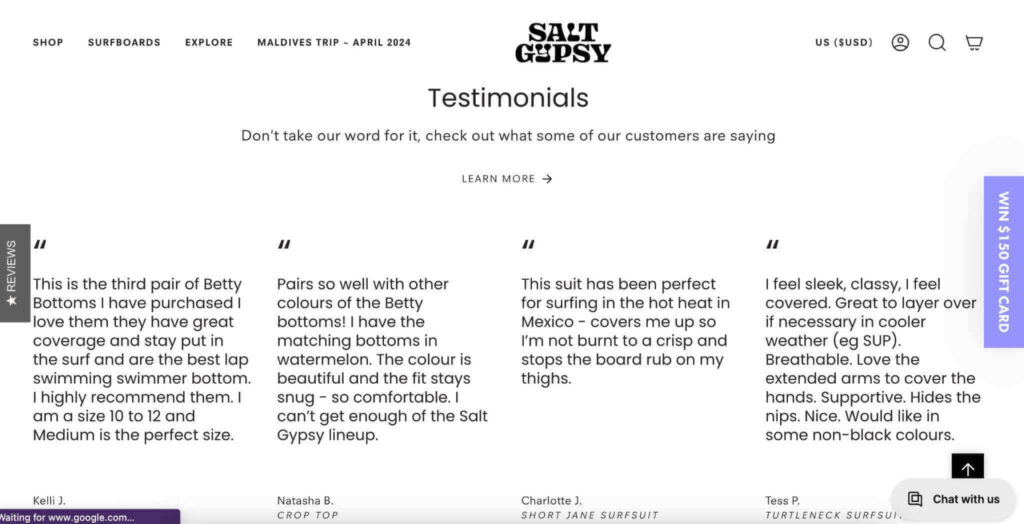 Path
Customer reviews also make great social media content. Path, a virtual photo editing studio, turns its top Trustpilot customer reviews into branded social media graphics. This helps Path broadcast review UGC to its social media followers, who may not see the reviews on Trustpilot themselves.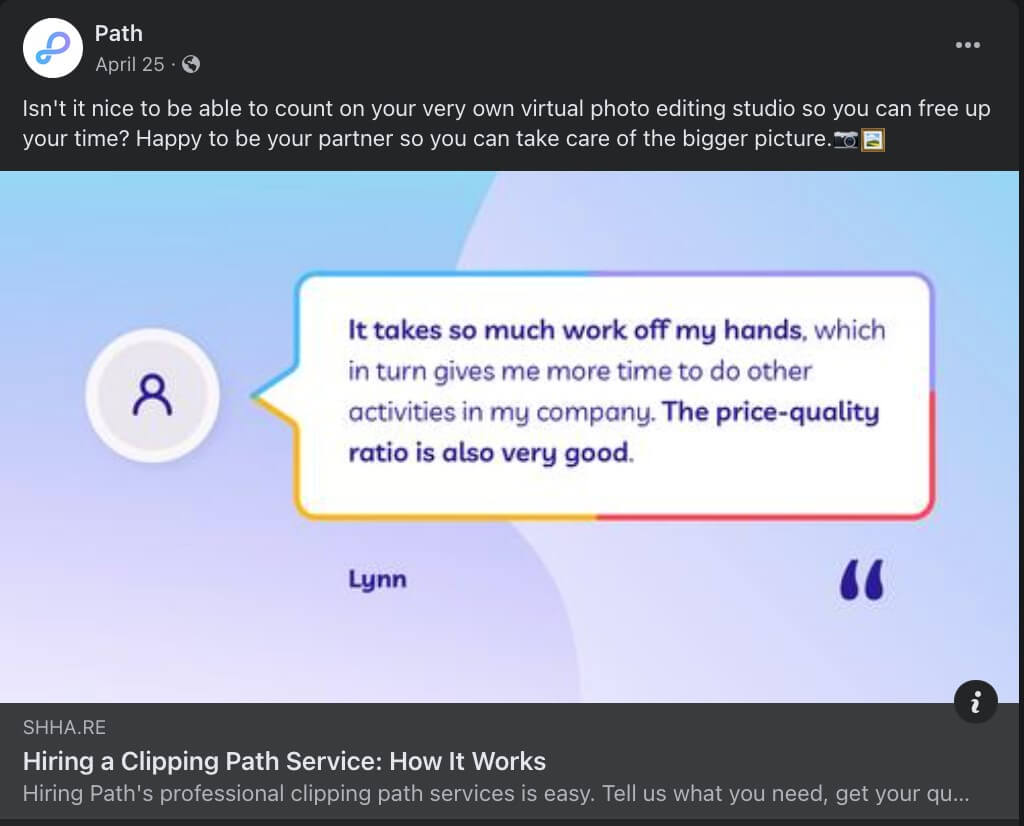 User-generated Content Frequently Asked Questions (FAQs)
Expand the sections below to learn more about common questions around user-generated content for ecommerce.
User-generated content in ecommerce is when real-world shoppers post content—text, photos, or videos—about their experiences with the brand and/or its products. It can take the form of customer reviews and testimonials, social media posts, blog posts, and more.
---
UGC is technically free. However, businesses may need to allocate budget and resources to monitoring, curating, and promoting UGC and related strategies.
---
UGC is different from influencer marketing because it comes from "average" shoppers. Influencers already have an engaged and targeted audience, which they monetize through various means. UGC creators, on the other hand, are less financially motivated. You can argue that UGC is more authentic, relatable, and organic—and it's also becoming increasingly more effective and trustworthy than influencer marketing.
---
Bottom Line
UGC is an incredibly powerful and cost-effective tool to throw into your marketing mix. It can offer your brand more credibility, building trust among potential new customers. Plus, you can repurpose UGC for your own promotional needs. And as consumers become more wary and mistrusting of influencer marketing, UGC is a great way to fill in the gaps.