6 Best Mortgage CRM Software
This article is part of a larger series on CRM.
Customer relationship management (CRM) software for mortgage providers lets users manage customer loans by integrating with a loan origination system (LOS), generate homebuyer leads, and track critical documents all in one system. Furthermore, mortgage CRM software helps you stay connected with new, current, and previous homebuyers with communication tools. We evaluated dozens of mortgage CRM software and identified the top six options:
Best Mortgage CRM Providers Compared
Provider

Free Plan

Starting Price for Paid Plans*

Free Trial for Paid Plans

Special Features

Customer Support

✔

$15 per user, per month

14 days

Pipeline and task management through Gmail integration

Email, live chat, and online resources

✕

$150 per month for minimum of 3 users

✕

Premade CRM for mortgage operations

Email and phone support during business hours

✕

$148 per month for 1 user**

✕

Multichannel marketing tools

Phone and email support during business hours

✕

Must contact for pricing

✕

Sales, marketing, and transaction management features

Phone and email support during business hours

✕

Must contact for pricing

✕

Automated marketing through email and direct mail

Phone, email, and chat support during business hours

✕

Must contact for pricing

✕

Extensive content library built in the CRM

Email support only during business hours
*Based on annual billing. Monthly billing is also available for certain products at slightly higher rates.
** Plus a one-time $99 activation fee
Streak: Best Overall Mortgage CRM Software
What We Like
Excellent free email tools
Integrates with Gmail for contacts, pipeline, task, and note management
Intuitive system with a similar feel to Google Workspace applications
What's Missing
Multiple users requires Pro plan, which can get expensive
Lacks LOS integration options
No built-in document management features for generating contracts
Streak Pricing at a Glance*
Free: Up to 1 user
Solo: $15 per user, per month for one person
Pro: $49 per user, per month
Enterprise: $129 per user, per month
Free trial: 14 days
*Pricing based on annual billing. Monthly billing is also available at a higher cost.
Though not an industry-specific CRM like others on this list, Streak was built purely for Gmail and Google Workspace users. Users can track tasks, contacts, and various pipelines directly from their Gmail system through the right integrations, which automatically updates and tells you what you need to do next based on your inbox. You can also manage and share documents such as mortgage proposals through the Google Drive integration.
The feel is virtually identical to using other Google Workspace applications, which is why we recommend it for Google users. Other features that give it our pick for the best overall include customizable pipelines and data fields, email link tracking, and email automation options. Mortgage provider users who subscribe to its higher-tier plans also get contact enrichment tools and the ability to integrate their voice-over-internet-protocol (VoIP) phone system.
The biggest flaw of Streak for mortgage providers is that it does not let you integrate the CRM with a loan origination system. Therefore, users can't manage loans in one central portal. Alternatively, Whiteboard and BNTouch are mortgage CRM alternatives that allow you to integrate with LOS platforms.
Streak Plan Summary
| | Free | Solo | Pro | Enterprise |
| --- | --- | --- | --- | --- |
| Pipeline & Contact Management | ✔ | ✔ | ✔ | ✔ |
| Mail Merge Automation | 50 per day | 800 per day | 1,500 per day | 1,500 per day |
| Email Tracking & Templates | ✔ | ✔ | ✔ | ✔ |
| File Attachment | ✔ | ✔ | ✔ | ✔ |
| Integrates with Gmail, Calendar, Drive, Sheets & Chat | ✔ | ✔ | ✔ | ✔ |
| Custom Columns & Fields | ✔ | ✔ | ✔ | ✔ |
| Email Link Tracking | ✕ | ✔ | ✔ | ✔ |
| Reporting | ✕ | ✕ | ✔ | ✔ |
| Contact Enrichment | ✕ | ✕ | ✔ | ✔ |
| Team Email Sharing | | | ✔ | ✔ |
| Telephone Integration | ✕ | ✕ | ✔ | ✔ |
| Data Validation | ✕ | ✕ | ✕ | ✔ |
Streak Key Features
Gmail integration: Pipelines, contacts, and tasks can be directly managed from your Gmail inbox.
Mail merge automation: Ability to mass send emails along with scheduled automated follow-ups through Gmail.
Email and link tracking: Users can see when an email is opened as well as when and if an email link is clicked in real time.
Contact enrichment: Automated data updates on contact profiles for name, contact information, employee counts, and company.
Sales pipeline management: Tracking workflows or pipelines for sales, hiring, deal processes, and any custom series of work stages through Gmail.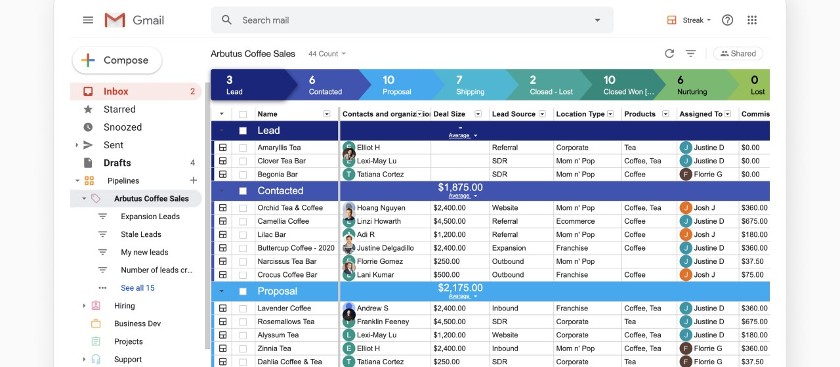 ---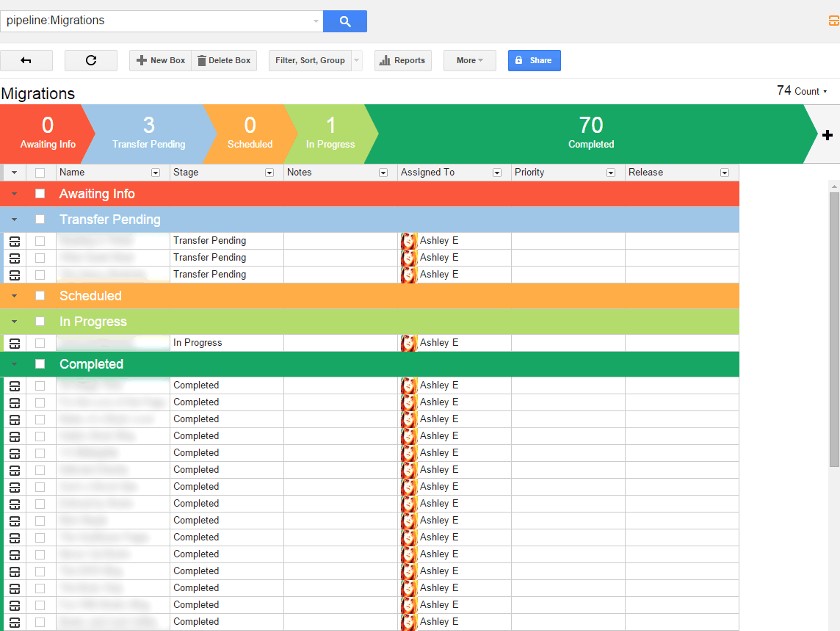 ---
Streak Customer Support
Streak offers email support for all users and live chat options if you're a paid user. Furthermore, this CRM has online resources, including Streak University for user tutorials, a knowledge base with advice and answers, and a blog with CRM and sales content.
Learn more about everything this CRM system offers in our in-depth Streak review. You'll get full insights on pricing, features, and usability to learn if it's right for your business.
Pro tip: A mortgage CRM is only as good as the leads that it organizes and manages. Check out our article on the top mortgage broker lead generation ideas to learn new ways you can keep your pipeline full of opportunities and stand out from competitors.
Whiteboard: Best for Managing Mortgage Provider Operations
What We Like
LOS integrations including Calyx and Encompass
Lead generation capabilities through integrations with Facebook Ads, Realtor.com, and Zillow
All-in-one mortgage provider CRM system
What's Missing
Relatively expensive pricing
No live chat support
No telephonic system built in or through integrations
Whiteboard Pricing at a Glance
1-19 Users: $150 per month for 3 users minimum, then $125 per user, per month for 10 to 19 users
20+ Users: $100 per user, per month
Enterprise: $100+ per user, per month, tailored to the business' needs
Recently acquired by Daily AI, Whiteboard is a CRM specifically built for mortgage providers. Through external integrations and the custom-built CRM design, users can manage all aspects of a mortgage business, including lead generation, nurturing, loan processing, and campaign marketing.
It's the best option overall for managing mortgage broker operations for a few reasons, the first being there's a premade system known as the "Mortgage Playbook." This prebuilt structure gives new users templates for campaigns, dashboards for reporting, and tasks management modules designed for mortgage brokers. This CRM also integrates with LOS systems to process loans and popular real estate sites to generate buyer leads.
Due to the robust mortgage features available, this platform is relatively expensive compared to others on this list. For a low-cost mortgage industry option that offers some of the basics for sales and marketing, we recommend Streak as a great alternative.
Whiteboard Plan Summary
| | 1-19 Users | 20+ Users | Enterprise Plan |
| --- | --- | --- | --- |
| Transaction Opportunity (Pipeline) Management | ✔ | ✔ | ✔ |
| Email & Texting Campaigns | ✔ | ✔ | ✔ |
| Lead & Lead Conversion Tracking | ✔ | ✔ | ✔ |
| Dashboard With Task Management | ✔ | ✔ | ✔ |
| Built-in Website Form Editor | ✔ | ✔ | ✔ |
| Lead Source Integrations | ✕ | ✕ | ✔ |
| LOS Integrations | | ✕ | ✔ |
| Enhanced Onboarding Support | ✕ | ✕ | ✔ |
Whiteboard Key Features
The Mortgage Playbook: Predesigned CRM system with automated marketing materials, including text messaging campaign templates, email templates, call scripts, and web lead forms as well as system dashboard, tasks, and reporting tools.
Robust reporting: Dashboard reporting and analytics features track things like loan applications, lead conversion rates, and top referral sources.
Email and text campaign management: Ability to automate and mass send email and text campaigns to nurture leads using premade templates.
Mortgage platform integration: Integrates with popular LOS software such as Calyx and Encompass to manage the loan process and lead generation tools such as Realtor.com, Zillow, and Facebook Ads.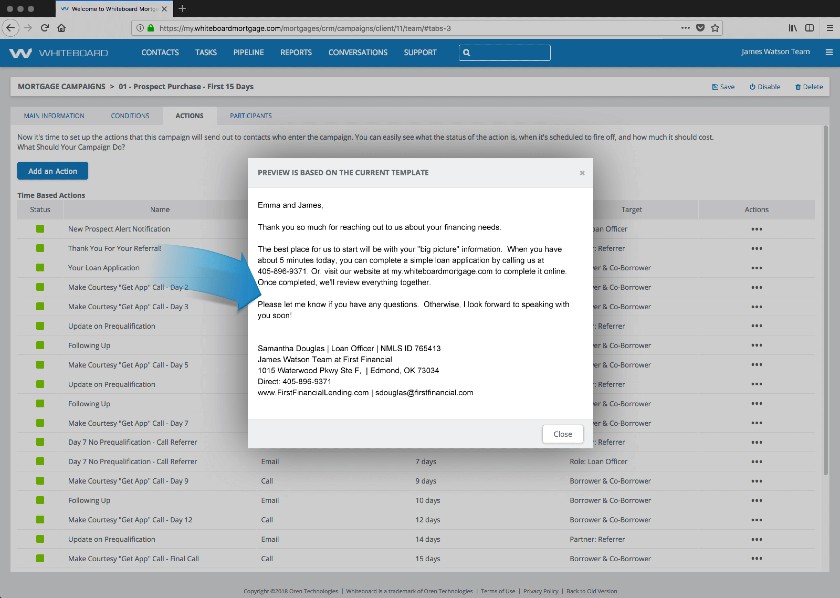 ---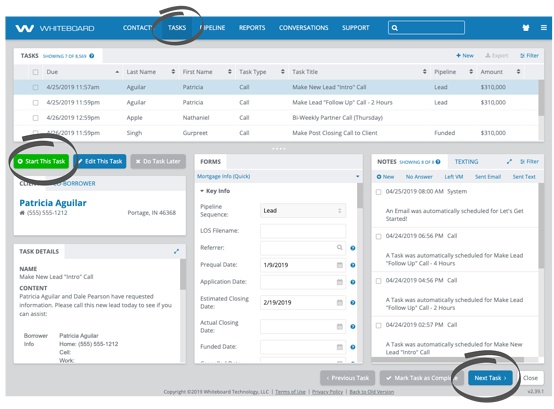 ---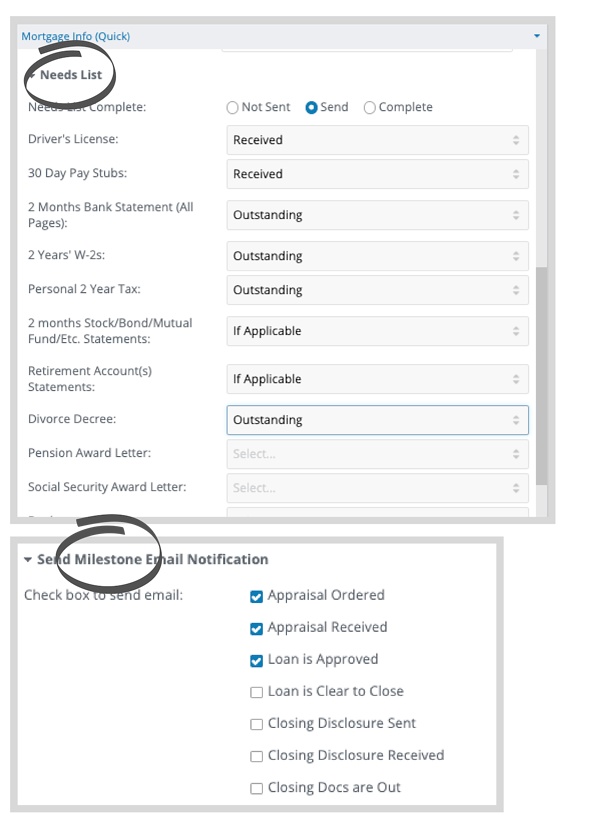 ---
Whiteboard Customer Support
Whiteboard has customer support through phone and email during standard business hours (9:00 a.m. to 5:00 p.m. Central Time). There's also a blog with content related to sales, marketing, and mortgages as well as company news and information on using the Whiteboard CRM platform.
BNTouch: Best for Multichannel Marketing
What We Like
Multichannel communication options such as video, email, SMS, voicemail, and direct mail
Integrates with LOS applications like Calyx and Encompass
Lead generation features include integrations with Lending Tree, Zillow, and Homes.com, as well as automated lead distribution
What's Missing
Lacks a free-forever plan
No live chat support
Features for referral partner management and marketing automation are only available on Enterprise plan
BNTouch Pricing at a Glance
Individual: $99 activation fee plus $148 per month for 1 user
Team: $69 to $79 activation fee plus $79 per user, per month for 2 to 5 users and $69 per user, per month for 6 to 50 users
Enterprise: Must contact for pricing
BNTouch is a specialty mortgage CRM that makes it simple to organize contacts and opportunities and communicate with buyers. Users can also integrate the platform with Calyx, LendingPad, Encompass, and ByteSoftware to manage applications and outstanding loans. The CRM is easy to use and has solid subscription options for individuals, teams, and multidepartment firms.
By far, the best attribute of BNTouch is its marketing and content development tools. Mortgage brokers can communicate with leads, clients, referral partners, and target audiences through video, email, SMS, voicemail, and direct mail. The system has plenty of features for the delivery of the campaigns and their design, which includes hundreds of premade templates.
Unfortunately, BNTouch does not offer a free-forever plan or free trial. Users who want a free CRM with solid communication capabilities should consider Streak as an alternative option.
BNTouch Plan Summary
| | Individual | Team | Enterprise |
| --- | --- | --- | --- |
| Contact Record Organization | 2,500 records | 2,500 records per user | Unlimited records |
| Unlimited Emails & Campaigns | ✔ | ✔ | ✔ |
| Unlimited Video Marketing | ✔ | ✔ | ✔ |
| Text & Voice Marketing | ✔ | ✔ | ✔ |
| Lead Generation Integration | ✔ | ✔ | ✔ |
| Automated Follow-ups | ✔ | ✔ | ✔ |
| LOS Integrations | ✔ | ✔ | ✔ |
| Reporting Features | ✕ | ✔ | ✔ |
| Automated Lead Distribution | ✕ | ✔ | ✔ |
| Multilevel Analytics | ✕ | ✕ | ✔ |
| Referral Partner Management | ✕ | ✕ | ✔ |
BNTouch Key Features
Referral partner management: Partnership-building tool for tracking leads, communicating with referral partners, and analyzing top referral partners.
Video marketing: Features for creating and sending video recordings and explainer animation videos directly to clients.
Email and text campaigns: Campaign development and deployment to an unlimited number of recipients using premade templates.
Integrated lead management: Integrations with popular platforms like Zillow, Homes.com, Facebook, and Lending Tree to generate leads, which also includes automatic lead distribution capabilities.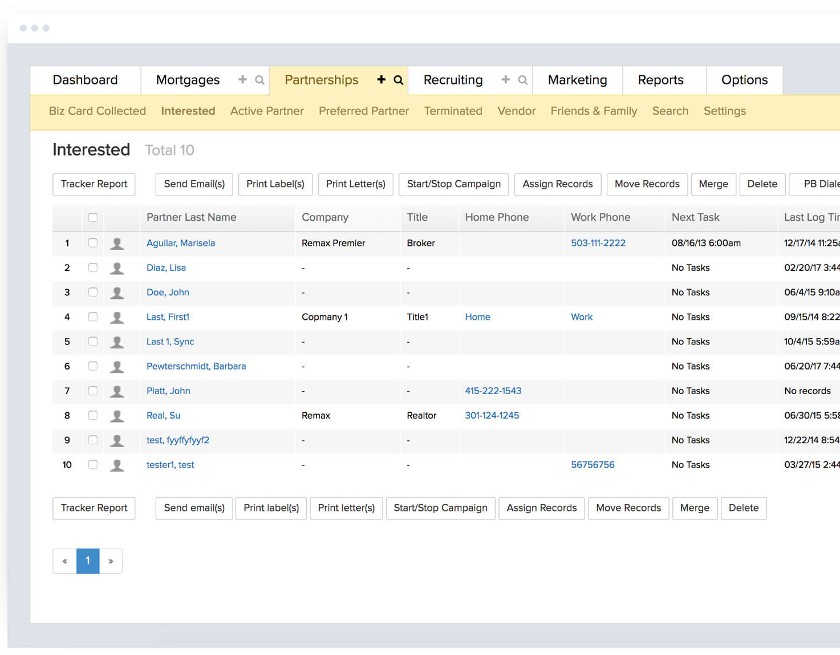 ---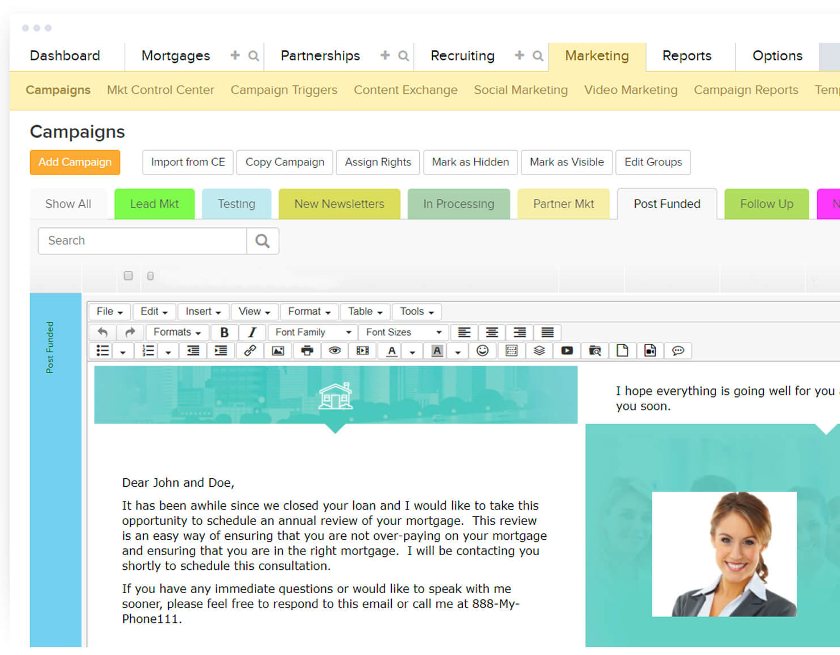 ---
BNTouch Customer Support
BNTouch offers phone and email support during standard Pacific Time business hours. Users can also check out their blog for educational content on CRMs, marketing, mortgage, and customer service topics as well as view how-to guides, infographics, and case studies.
Jungo: Best for Joint Mortgage & Real Estate Businesses
What We Like
Combined mortgage and real estate CRM solution
All-in-one sales, marketing, and operations system for mortgage providers
Robust integration options with LOS, lead generation, and other CRM platforms
What's Missing
Steep learning curve for setting up
Lacks transparent pricing
No live chat customer support
Jungo Pricing at a Glance
Jungo: Must contact for pricing
Jungo offers an all-in-one system for generating lead buyers, communicating with them, and managing loans through integrations with popular LOS software like Calyx and Encompass. There are also solid document management tools for keeping track of required files and tasks necessary for each buyer. Lastly, there is a broad range of marketing capabilities through email, text, and video to connect and stay engaged with new and previous homebuyers.
It's not uncommon for mortgage providers to double as real estate agents as the services complement each other nicely. With that said, this comprehensive platform serves as an excellent marketing, sales, and operations management system applicable for providing loans and helping buyers and sellers find, purchase, and sell homes.
Though the features are robust, there is no clear indication of the cost of a subscription, and other reviews estimate it's close to $1,000 per user, per year. For more transparent pricing that offers tiers, we recommend BNTouch as an alternative.
Jungo Plan Summary
Jungo

LOS Sync

Loan data synchronization between CRM and LOS platforms like Calyx, Encompass, LendingPad, and Byte Software

Lead Capture

Auto-lead distribution to agents and reps as well as integrations with buyer generating sites like Zillow, LendingTree, and Trulia

Referral Partners Management

Tracking, reporting, and automated communication with referral partners

Email & Text Marketing

Automated campaigns with premade CRM templates

Integration With Salesforce

✔

Video Messaging

Integration with

BombBomb

to send video emails directly from the CRM

Comprehensive Loan Management

Document management, requested document tracking, task assignment, email follow-ups, and document alerts

Property Listings

Ability to create single-property websites directly from the CRM and generate leads through it

Mortgage Reviews
Jungo Key Features
Referral partner management: Full tracking and organization of key referral partners, which includes automated communication options.
Loan document management: Loan document tracking, follow-ups with buyers, and the ability to build document needs lists.
Full-cycle marketing: Video, SMS, and email marketing before, during, and after the loan process.
Real estate flyer designer: Premade templates stored in the CRM to create co-branded open house flyers, rates sheets, and postcards.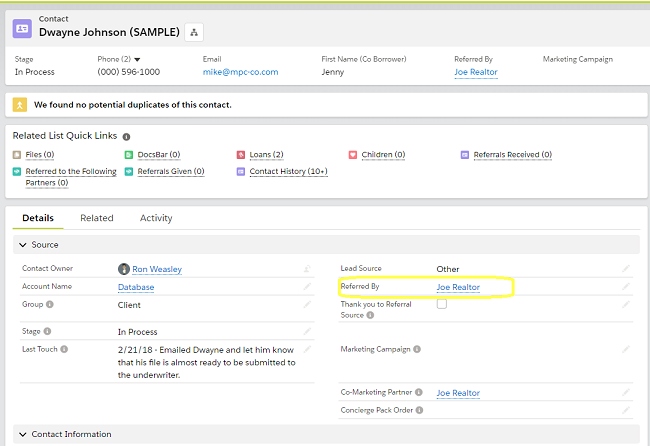 ---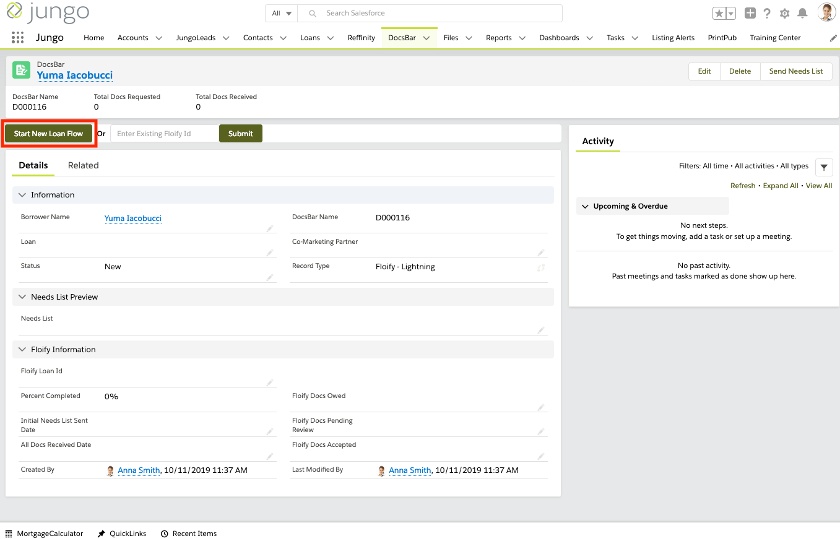 ---
Jungo Customer Support
Jungo has customer support options through phone or email from 8:00 a.m. to 5:00 p.m. Pacific Time. They also have online resources such as tutorials, webinars, podcasts, and a blog, and onboarding training is conducted for new customers.
MyCRM Dashboard (by Continuity Programs): Best for Building Long-term Relationships
What We Like
System is intuitive to navigate
Solid contact and lead management tools for building relationships
Unique reputation management features
What's Missing
Lacks transparent pricing
No live chat customer support
Does not offer a mobile application
MyCRM Dashboard Pricing at a Glance
MyCRM Dashboard: Must contact for pricing
MyCRM Dashboard is a mortgage CRM software with LOS integrations, lead management tools, and key performance indicator (KPI) reporting capabilities. Users can automate emails, manage their reputation with customer reviews sharing features, and design surveys and thank-you cards all from one system. The platform has a simple design using minimal buttons and tabs, making it easy to use its features and navigate the interface.
What makes this CRM stand out the most are the features for building relationships with partners and buyers. For instance, MyCRM Dashboard has a feature called the Connections Program. Users can decide between three-, five-, and seven-year options to continuously send a series of emails, direct mail, videos, and other assets automatically to previous customers. This enables brokers to continue the relationship and potentially generate more referrals.
This platform, unfortunately, does not have a mobile application option. If that feature is important for you to manage loans and leads on the go, consider Jungo or Whiteboard as alternatives.
MyCRM Dashboard Plan Summary
| | MyCRM Dashboard |
| --- | --- |
| Custom Online Storefronts | Ability to create branded materials for easy-to-order direct print mail or email as well as web pages with geo-targeting |
| Reputation Management | Customer experience reviews with options for lead generation through review and easy website and social media sharing |
| Executive Reporting | Monthly KPI analysis and reports broken down by branch or loan officer |
| Appreciation & Satisfaction Management | Easy-to-make and distribute electronic thank-you cards, surveys, and personalized emails |
| Email Campaigns | Automated drip campaigns for prospects, referral partners, and customers |
| Personalized URLs | Personal links that are easy to copy, paste, and send for customers to ask you questions or refer business over |
| LOS Integrations | Integrates with Calyx and LendingQB for loan management |
MyCRM Dashboard Key Features
Connections Program: Three- to seven-year automated program that sends a combination of direct mail, surveys, e-cards, videos, newsletters, and birthday cards to past clients to remain in touch.
E-connections: Email design tools with premade templates and automatic deployment to customers, potential buyers, and referral partners.
PURLS features: Personalized URLs to have lead notifications directly sent to your inbox.
LOS integration: Full LOS integration with popular platforms like Calyx, LendingQB, Mortgage Bot, Mortgage Builder, and Open Close.
MyCRM Dashboard Customer Support
MyCRM Dashboard and other Continuity Programs product users can reach customer support through phone, email, or website chat from 8:00 a.m. to 5:00 p.m. Eastern Time. There's also a blog on the website, plus virtual training available.
Surefire (by Top of Mind): Best for Content Development
What We Like
Content development features through built-in tools and integrations
LOS integration options
Full mortgage content library included in CRM system
What's Missing
Lacks transparent pricing
Users report the interface is difficult to navigate
Only has email support
Surefire Pricing at a Glance*
Surefire: Must contact for pricing
*Pricing based on annual billing. Monthly billing is also available at a higher cost.
Surefire is a specialty CRM for mortgage providers both in the retail and wholesale loan space. It offers LOS integrations, content development tools, and robust automation options for marketing, task management, lead distribution, and any other workflow you'd like that Zapier permits.
The standout feature of this platform is its extensive content library. Many mortgage professionals use visuals like posts, videos, and graphics to educate customers and potential clients on the complex buying process. Surefire's library has over 1,000 premade content pieces that are fully compliant and ready to be applied to its users' marketing campaigns.
Compared to other mortgage CRM products on this list, Surefire lacks in the customer support area. Support is only available through email during business hours, and they offer minimal online resources. Whiteboard is an alternative that provides phone support and email as well as an extensive online blog with content on how to use their CRM.
Surefire Plan Summary
| | Plan |
| --- | --- |
| Omnichannel Marketing | Design and deployment of text, email, and print marketing campaigns |
| Lead Generation Forms | Custom web forms for inquiries |
| LOS Integrations | Data syncing through LOS integrations such as Encompass, Calyx, LendingPad, and LandingQB |
| POS Integrations | Automated mortgage processing and updates on documents through integration with Floify, SimpleNexus, and Blend |
| Auto-lead Distribution | Automatic routing of new leads to assigned reps |
| Deduplication | Data management features preventing two or more of the same records |
| Video Marketing | Integration with BombBomb and as well as built-in Power Video tool for video creation |
| Zapier Integration | Allows for the creation of automated workflows between external third-party applications |
| Task Management | Automated task creation, assignment, and tracking |
| Premade Content | Over 1,000 pieces of mortgage-related content that can be used for email or direct print campaigns |
Surefire Key Features
Client for Life Campaign: Automated workflow features to remain in contact with past clients through email, text, or printed media.
Brand Aware content library: 1,000-plus compliant-ready pieces to use in direct mail campaigns, emails, and social media posts.
Power video: Built-in feature to shoot videos and easily deploy them via text or email as well as configure deployment schedules.
Wholesale lending: Modules for business-to-business (B2B) communication with wholesalers and account executives, with one-on-one emailing and simple rate sheet distribution.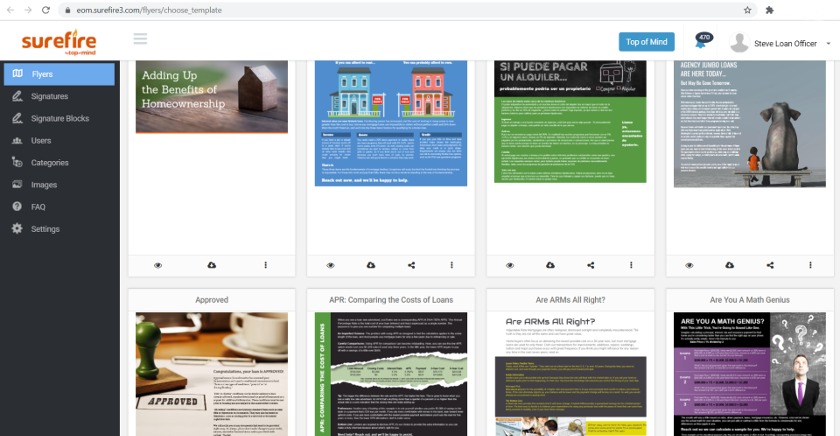 ---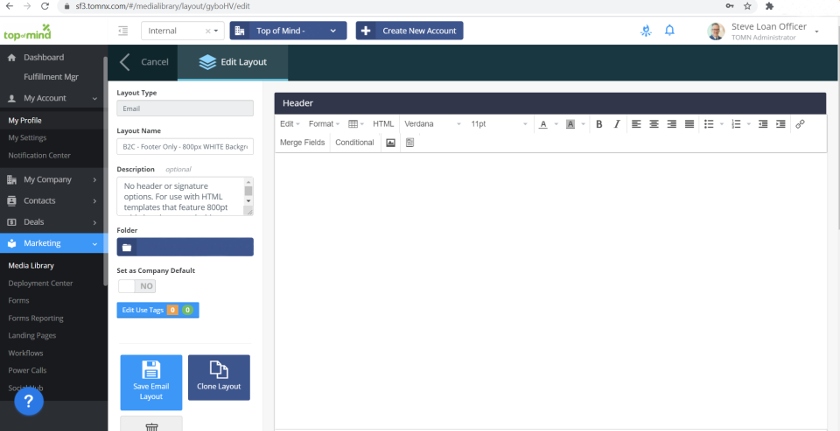 ---
Surefire Customer Support
Surefire has limited customer support that's only available via email during standard business hours Eastern Time. They do have some online resources included in the help center and live training events.
How We Evaluated the Best Mortgage CRM Software
To determine the best CRM for mortgage brokers and home loan providers, we evaluated the software in terms of features relevant to these businesses. For example, we looked at the ability to integrate with a loan origination system. Additionally, each CRM must generate buyer leads and manage critical mortgage documentation. We also evaluated general product characteristics such as price, ease of use, and customer support.
We found Streak to be the best mortgage CRM as it offers a free plan, relatively low prices, and an intuitive system to operate. Additionally, CRM features such as contact, pipeline, and task management work within the Gmail system—giving it the same usability traits as other Google Workspace applications. Finally, users can manage their critical mortgage files through integration with Google Drive to store and share important documents with buyers.
The tabs below offer insight into our evaluation process:
30% of Overall Score
We looked at overall features we feel are necessities for any business, such as CRM integration options, analytics tools, and a mobile app. We also evaluated features specific to mortgage providers, such as integrations with loan origination software, the ability to generate and track homebuyer opportunities, and robust document management systems to organize important loan files.
25% of Overall Score
Since many mortgage officers may not come from a sales history or have experience with a CRM, platform usability was an important criterion. This was analyzed in terms of the expertise needed to set up an account, the ease of integrating with native or third-party applications, and the skill required to use the features specific to mortgage companies. We also reviewed the overall intuitiveness of navigating the system's interface.
20% of Overall Score
Pricing considered free plan availability and scalable yet affordable product subscription options. We also looked at each provider's ability to offer flexibility to pay monthly subscription fees or save more by paying annually.
15% of Overall Score
Extensive support and service help prevent poor user experiences and outcomes users may encounter while using any of these platforms. Help and support were evaluated in terms of customer service hours and the availability of support via phone, live chat, and email.
10% of Overall Score
In addition to firsthand experience with these software systems, we evaluated what users say about each product. These criteria consider how customers feel, based on their reviews, to gain insight into platform popularity, ease of use, and overall value for the price.
*Percentages of overall score