Customer relationship management (CRM) software for businesses engaged in mortgage sales provide tools to manage essential documents, generate leads, and market their product offerings to a mass audience. Additionally, the best mortgage CRM systems integrate with various loan origination software (LOS) for managing applications. We evaluated various CRM software that work best for mortgage providers and narrowed it down to the top six options.
How We Evaluated the Best Mortgage CRM Systems
A mortgage CRM software is an industry-specific CRM designed for loan officers and mortgage providers. We evaluated costs and CRM capabilities specific to mortgage businesses to determine the best providers, such as loan management features, lead generation tools, and clerical task automation. In addition to that, we also considered other factors associated with product usability and customer support.
Based on our evaluation, Jungo is the best overall mortgage CRM. It can double as a mortgage CRM and a real estate CRM, offering a centralized platform to broker real estate properties, sell mortgage loans, and market their brand.
The tabs below offer insight into our evaluation process for choosing the best CRM software options for mortgage businesses:
30% of Overall Score
Total costs and various pricing options are typically the most important criteria for any small business decision, so it was most heavily weighed when reviewing the CRM providers for mortgage businesses. We considered the availability of a free plan, varying subscription options, and whether or not there are monthly billing plans available.
25% of Overall Score
The purpose of any type of CRM is to provide functional solutions associated with sales, marketing, customer service, and project management. Specifically, we looked at features that we consider necessary in a solid mortgage CRM, including integration with loan origination software, advanced contact insight features, and document management capabilities.
20% of Overall Score
The functions of any application are only as beneficial as they are usable. These criteria were analyzed by knowledge required to set up the CRM, skill needed to operate the platform, and intuitiveness of navigating the user interface.
15% of Overall Score
Extensive support and service can prevent issues that a user might encounter when using the platform. These were evaluated in terms of customer service hours and availability of support through various channels like phone, live chat, and email.
10% of Overall Score
In addition to our firsthand experiences with the providers, we evaluated what others users are saying about each CRM. These criteria consider how customers feel based on their reviews to gauge overall popularity, ease of use, value for money, and how helpful some of the built-in features are to users.
*Percentages of overall score
Jungo: Best Overall Mortgage CRM
Jungo

Overall Score:
3.89

OUT OF

5
i
Our score is based on a weighted evaluation of dozens of similar products and services conducted by our experts.
What We Like
Jungo has a real estate CRM in addition to the mortgage CRM, which integrate with each other
Automatically syncs with loan origination software (LOS) providers like Encompass, Calyx, and Byte
Mobile application capabilities allow users to access all documents, close deals, track loans, and update the CRM on the go
What's Missing
No low-cost entry plan
Many issues reported about poor customer service and an inability to resolve issues
Generating reports is difficult to learn and can be glitchy
Jungo Pricing at a Glance*
Jungo Plan: $99 per user, per month base rate
*Pricing is a base rate that can be adjusted based on the number of users and billing method.
To create a competitive edge, an increasing trend within the homebuying arena is for real estate agents to also become licensed mortgage brokers and vice versa. Jungo doubles as a CRM for mortgage providers and real estate agencies. It integrates with loan origination software (LOS) like Encompass, Calyx, and Byte to manage and approve loan applications on the mortgage side.
For real estate agents, integrations with Zillow, Trulia, and Realtor.com can capture buyer leads. Both mortgage and real estate activities can be managed and monitored through a centralized CRM system.
Jungo is on the expensive side, with its base fee starting at $99 per user, per month. Mortgage providers who prefer a less costly alternative should consider Streak. It has a free plan with limited features, and paid plans start at $15 per user, per month. While there is a stark pricing difference, it's important to note that Streak doesn't support LOS integrations.
Jungo Features
Built-in customer review database where brokers can look up previous successes based on factors like interest rate and date of purchase for mortgage review presentations
Automated pipeline reports built in to monitor leads from referral partners
Drip email marketing to automate email campaigns based on the lead or pipeline stage
CRM integration with LOS provides a centralized place for loan and client data
DocsBar feature securely stores loan documentation and automatically updates client records, their checklist, and sends the succeeding document requests to the borrower
Streak: Best for Mortgage Providers on a Budget
Streak

Overall Score:
3.87

OUT OF

5
i
Our score is based on a weighted evaluation of dozens of similar products and services conducted by our experts.
What We Like
Has a free version and inexpensive paid plans
Sales pipelines are customizable and displayed well through an easy-to-read color sorting system
Files and documents can be stored and shared through integration with Google Drive
What's Missing
Direct integrations are isolated to Google products; other integrations require an API
Cannot integrate with any loan origination software
Lower-priced plans do not offer built-in phone features
Streak Pricing at a Glance*
Free: Limited features
Solo: $15 per user, per month
Pro: $49 per user, per month
Enterprise: $129 per user, per month
Free trial: 14 days
*Pricing is based on annual billing; a monthly billing option is available for higher prices.
Mortgage businesses that regularly use Gmail and other Google products benefit from Streak due to its free plan and low-cost paid plans. The integrations with Google Workspace also offer an easy CRM migration and setup process.
Additionally, the platform has a similar design to Gmail, which meshes well with the intuitive, customizable pipelines for sales and project management processes utilized in the Gmail application.
Streak is inexpensive and great for businesses that already use Google Workspace. However, it doesn't integrate with LOS to view and approve loan applications. However, mortgage businesses looking to integrate their LOS with their CRM should consider Jungo, Whiteboard Mortgage CRM, or Surefire to access loan management tools.
Streak Features
Free integration with Google Workspace apps like Gmail, Calendar, Drive, Sheets, and Chat
Offers an easy CRM and project management migration process with simple drag-and-drop of CSV data files
Permission setting capabilities to provide different access levels to mortgage transaction files
Built-in project management tools use a spreadsheet design that is intuitive to Gmail users
Read our full Streak review to learn how it helps sales teams track deals, engage prospects, and close more deals.
Whiteboard Mortgage CRM: Best for Automated Lending Management
Whiteboard Mortgage CRM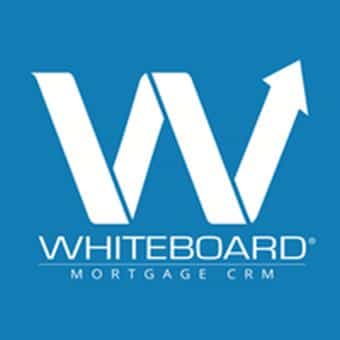 Overall Score:
3.82

OUT OF

5
i
Our score is based on a weighted evaluation of dozens of similar products and services conducted by our experts.
What We Like
Minimal learning curve required as the interface uses few tab options on the top bar for navigation
Detailed reporting for lead conversion, mortgage loans funded, referral sources, and current pipeline
Mobile app allows users to handle communications with contacts, manage tasks, and update contact and mortgage records on the go
What's Missing
No built-in telephonic system
Creating content for marketing campaigns can be challenging
Some users would like to see video tutorials for some of the advanced features, such as the automation functions
Whiteboard Mortgage CRM Pricing at a Glance*
CRM: $79 per user, per month plus a $299 setup and onboarding fee
Texting: $33 per user, per month
*Pricing is based on annual billing; monthly billing is available for higher prices.
Whiteboard Mortgage CRM stands out for its tasks and workflow automation functionalities. It automates lead follow-ups, referral partner notifications, loan status update notifications, scheduling, and task reminders.
Mortgage providers looking for content management tools for their marketing campaigns may want to check out BNTouch and Surefire. These two alternatives offer a more intuitive content generation experience than Whiteboard Mortgage CRM.
Whiteboard Mortgage CRM Features
Can integrate with LOS like Calyx and Encompass
Integrations with real estate lead sources like Zillow and Realtor.com
Built-in team communication features for SMS and email channels
Automated lead follow-up feature for texting and emailing a new buyer to set up an appointment, calling, or going online to fill out the 1003 online residential loan application
Automation feature built-in for informing a referral partner via email or text that a lead has been received and the user/broker is following up
BNTouch: Best Mortgage CRM for Content Marketing
BNTouch

Overall Score:
3.17

OUT OF

5
i
Our score is based on a weighted evaluation of dozens of similar products and services conducted by our experts.
What We Like
Built-in accessibility to 1003 loan application online form and loan partner application portals
Premade content for an unlimited number of marketing, video, and email campaigns
Integrations with lead provider sites like LendingTree, Mortgage Lenders Plus, and LoanBright
What's Missing
Platform is challenging to operate as formatting is clunky and the system is glitchy
No customization on the display or button layout
Automated features for lead communication and loan notification are not available on the lowest-priced plan
BNTouch Pricing at a Glance
Individual: $148 per month plus $99 activation fee
Team: Ranges from $69 to $79 per user, per month plus $69 to $79 activation fee per user depending on the number of users
Enterprise: Quoted separately
The most significant standout feature of BNTouch is its content exchange system. It offers users tons of white-labeled content and templates that can be branded to the user's business for newsletters, mortgage and property market updates, explainer videos, holiday and birthday cards, social media content, email templates, and templates for drip campaigns.
Since BNTouch doesn't offer task automation on its lowest-priced plan, businesses should consider Whiteboard Mortgage CRM as an alternative platform that offers automation tools on their lowest-priced (and only) CRM plan, starting at $79 per user, per month.
BNTouch Features
Built-in tap-to-call functionality for previous customers to offer refinance opportunities
Voice and text message marketing can be automated to communicate with borrowers
Content exchange feature offers premade content that can be custom branded for various business users
Integration with third-party real estate sites like Zillow and Homes.com
Surefire: Best Mortgage CRM for Managing Client Education
Surefire

Overall Score:
3.14

OUT OF

5
i
Our score is based on a weighted evaluation of dozens of similar products and services conducted by our experts.
What We Like
Range of native software integrations including Power Call, Power Video, BombBomb, and Power Messaging
Mortgage content library within the platform for both digital and printed materials
Loan origination software integrations with all major providers, including Encompass, Calyx, LendingPad, LendingQB, and OpenClose
What's Missing
No pricing transparency; each plan is priced separately based mainly on the number of users
Can be difficult to import data into the platform
Custom reporting features aren't intuitive to figure out, especially early on
Surefire Pricing at a Glance
Surefire: Pricing available upon request
Surefire offers a library of thousands of content templates to utilize as visuals for email, print, and text media. However, its most unique feature is the native integration called Power Video. Power Video allows users to create and host videos through the platform.
The videos are easy to shoot and send as the user can upload prerecorded footage for repeat use, then schedule video campaigns through Power Message or email. Video content is especially useful for mortgage providers because it can be used to educate clients on complex terminology and offers a personalized client experience.
Both Surefire and BNTouch provide robust content generation capabilities as each of them has extensive content libraries. The main difference is that BNTouch utilizes an easy-to-use, plug-and-play system for trying out different templates for image-based content. On the other hand, Surefire offers its Power Video feature within the platform to make it easy to generate video-specific content.
Additionally, users tend to find that importing data is one of the more difficult tasks to complete within Surefire. For an easier CRM alternative, you can explore Streak, which uses drag-and-drop file imports and automatically transfers a CSV into contact profiles.
Surefire Features
Point-of-sale (POS) integrations with SimpleNexus, Blend, and Floify
Native integration with Power Call tool for making outbound calls effectively through automated dial lists and prebuilt scripts
Ability to generate custom, branded gifts within the platform for homebuyers
Power Video tool native integration to quickly generate video content with the ability to send on a schedule, send by a trigger (like a new lead), and send via email
MyCRM Dashboard: Best for Long-term Relationship Building
MyCRM Dashboard

Overall Score:
3.11

OUT OF

5
i
Our score is based on a weighted evaluation of dozens of similar products and services conducted by our experts.
What We Like
Connections Program upgrade offers an automated system for sending both email and printed mail to mortgage customers over a three-, five-, or seven-year period
Integration capabilities with various loan origination software, such as Calyx, LendingQB, Mortgage Bot, and Open Close
Integration with Salesforce CRM
What's Missing
No mobile application
Limited customer support with availability only during standard business hours and no live chat
Dashboard and interface overall aren't intuitive to navigate
MyCRM Dashboard Pricing at a Glance
MyCRM Dashboard Plan: Base price starting at $49.99 per month
The unique feature that makes MyCRM Dashboard stand out is the Connections Program, which takes contacts and customers from the CRM database and automates sending emails and direct mailing campaigns. These campaigns last from three to seven years and offer between 36 and 82 touchpoints to facilitate an ongoing, long-term relationship with customers.
Unfortunately, MyCRM Dashboard doesn't have a mobile application to manage your CRM on the go. Mortgage businesses seeking a mobile option from this list should consider Jungo and Whiteboard Mortgage CRM as viable options that offer mobile management of your mortgage operation.
MyCRM Dashboard Features
Built-in reputation management tools for measuring employee and branch performance, as well as sharing of reviews on website and social media accounts
Ability to create personalized URLs for generating leads through online response forms
Key performance indicators (KPIs) included in reporting metrics to evaluate prospecting rates and closing rates
Easy-to-order print templates available in the platform for direct mail campaigns