The secret to a successful sales email is to personalize your message. Using a strong sales email template, like the ones we've provided, is a good start, but you'll ultimately need to customize your intro, pitch and call-to-action in order to attract your recipient's attention.
In this guide, we share 7 different email templates, each personalized in a different way, depending on how you found the prospect. But don't stop there — your email efforts are wasted if you don't follow up. A CRM like Pipedrive can help you keep track of which prospects actually open and read your messages. You can then plug these customer profiles into Pipedrive's visual sales pipeline to cultivate the relationship and close each deal. Click here for a 14-day free trial.
Free Sales Email Template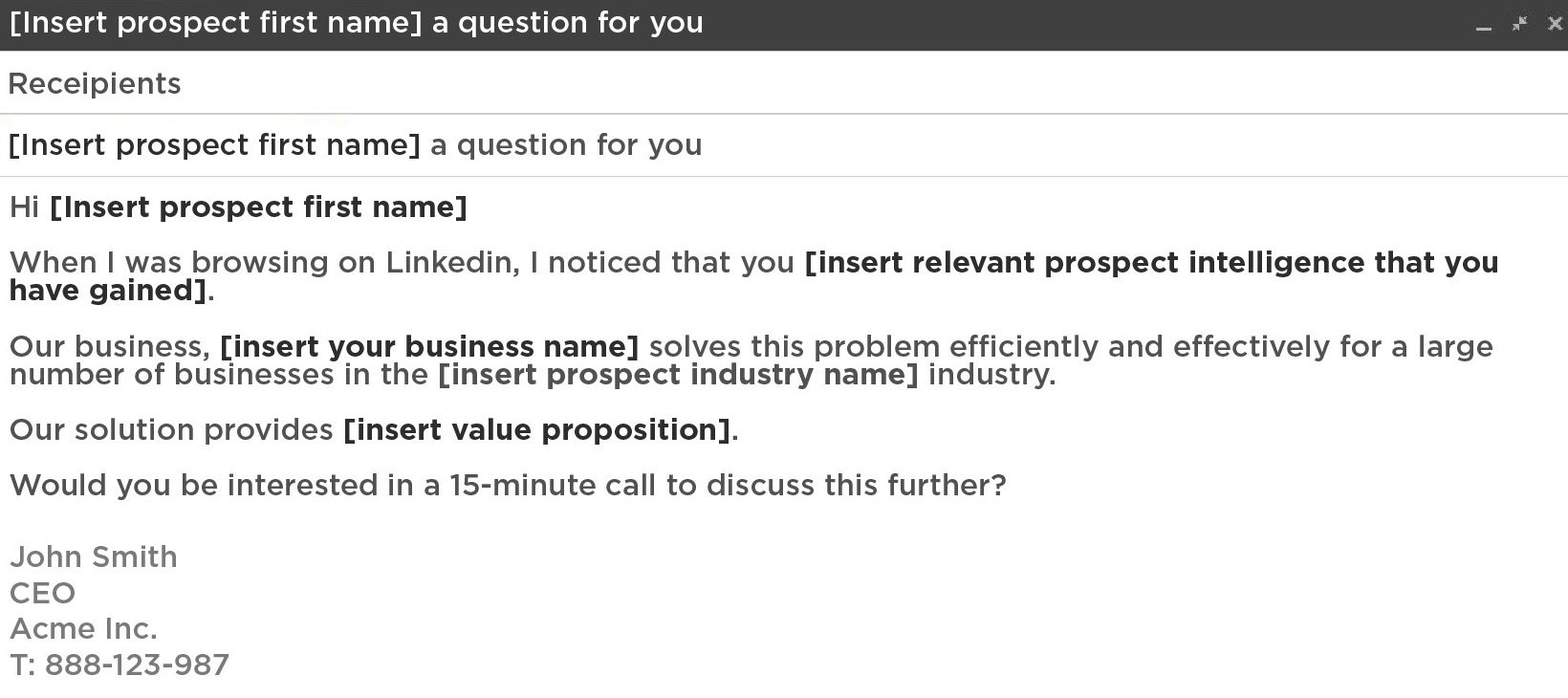 Click here to download Sales Email Template.docx
The above is an example of an effective sales email template that follows the best practices to high-performing sales emails. The key is to understand the principles and then start creating and testing different use-cases based on the same principles.
The 5 key elements of a successful sales email template are:
The subject line – this needs to be personalized, because an email from a complete stranger is easy to overlook
The opening line – this needs to be about the prospect, not about you
The offer – this needs to be either a brief pitch or an offer to help
The close – this should be simple and not salesy
The signature – keep it simple; just you name, direct phone number and website URL
Whether you use this template or any of the templates below, consider using Grammarly, a free spelling and grammar checker. Grammarly automatically identifies any errors and offers suggestions along the way, so your email is clear, mistake-free, and more effective.
More Sales Email Templates For Different Scenarios
The following six use-cases cover the most powerful ways to make a personal connection. Once you get a feel for them, you can then experiment with your own bespoke templates using the step-by-step approach I've provided further below.
Use Case #1: Highlight a Priority
If you do your homework and are able to identify a current priority for your prospect, this can be a very effective way to initiate a new relationship.

Use Case #2: Highlight a Mutual Contact
Connecting via a mutual contact is a great way to make a personal connection. If Dave holds Gary in good regard, he'll be sure to respond.

Use Case #3: Following a Conference
If you've had a brief meeting, or even if you had wanted to meet someone at a conference and were unable to, you can breathe life into a fledgling new relationship with the following sales email template:

Use Case #4: Create Rapport
Using sales intelligence tools like LinkedIn Sales Navigator with help you to find a wide range of ways to generate rapport. An easy starting point is to find something that you have in common and even inject a little humour.
Use Case #5: Compliment The Lead
Let's be honest, would you stop reading an email that opened by paying you a genuine compliment? Neither would I. This sales email template is great for connecting with influential industry experts and bloggers: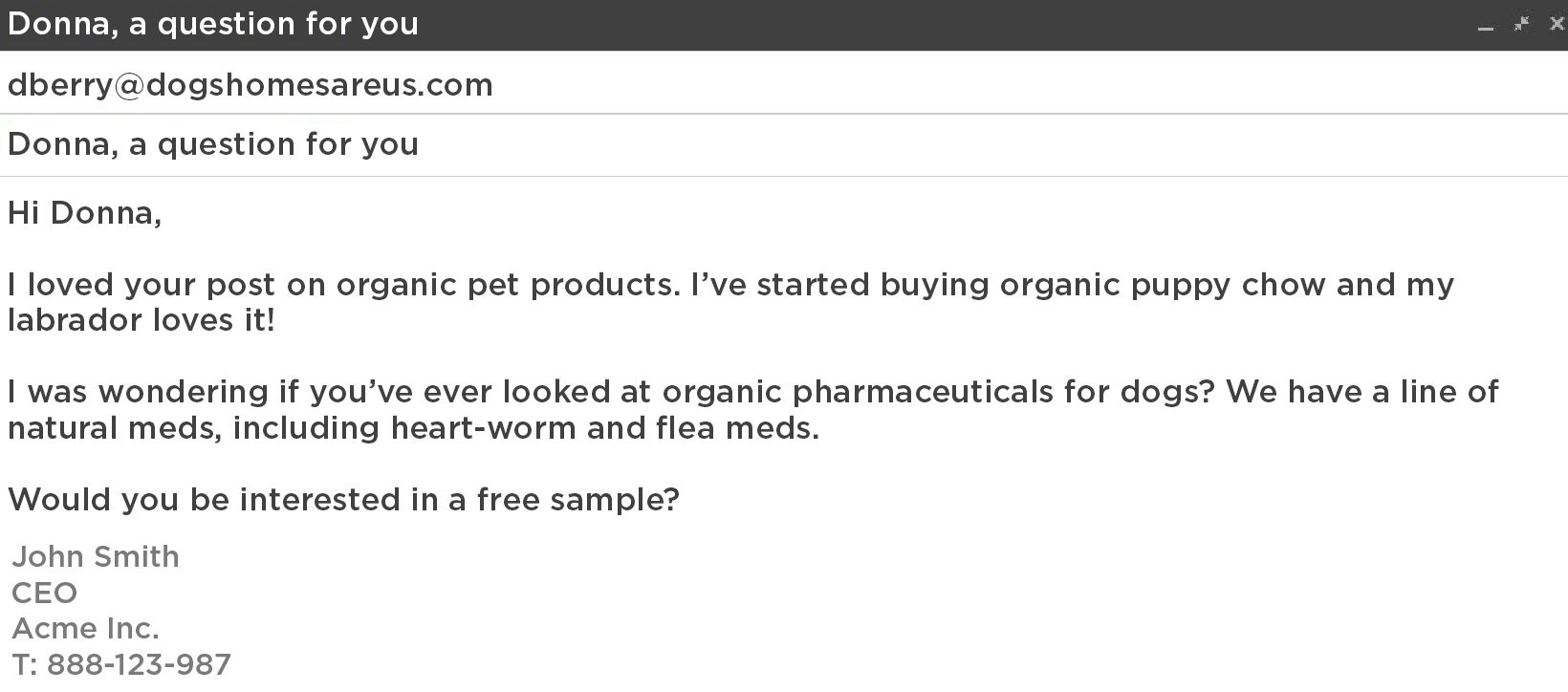 Use Case #6: Congratulate The Lead
We all like to be praised. The great this is that the things you are likely to congratulate are also events that make trigger fresh buying cycles, like change of job or change of location.

3 Additional Tips for Sales Email Success
Don't Expect Too Much – Make it easy for people to respond without saying or asking for too much. For instance, don't expect them to open attachments or answer time consuming questions, just ask if they are interested.
Follow Up Like a Demon – I recommend cold calling to follow-up. Most people don't realize that it takes on 7-8 follow-up calls/emails before you can expect to engage most prospects.
Measure Performance, Refine & Improve  – Make use of a powerful small business sales CRM like Pipedrive and integrate it with a good email automation tool like Constant Contact. This way you can test different sales email templates to learn and improve. You can also automate follow-up emails.
How to Write a Sales Email: The Step-by-Step Process
A sales email template is a great way to get started. You also need a simple process that will help to ensure each sales email is effective at opening up new relationships.
These 7 steps will help you to create consistently high-performing sales emails:
Step 1 – Research Your Prospect
Properly personalized sales emails are far more effective than canned emails. As a result it makes a lot of sense to use intelligence tools like LinkedIn Sales Navigator to really know your prospect and select the best way to personalise your email. Genuine personalisation is crucial to your success.
Here are some examples of intelligence that you could use to help you personalise your introduction:
A mutual connection
Worked for the same company
Membership of the same society or interest group
Step 2 – Personalize Your Subject Line
Your subject line will have the biggest impact on whether or not your email gets opened or not.
The key is to establish a personal connection. Either address the contact by name, their company name, or a mutual connection that will help you to build immediate rapport. Here are some examples of good sales email subject lines:
"[Contact name], question for you"
"[Contact name], free for a conversation tomorrow?"
"[Mutual connection] recommended I get in touch"
Be Careful With Your Word Choice
Note that the first message fails to create a personal connection:  "Have time for a quick meeting?" It also includes some words that are generally displeasing to recipients ("quick" and "meeting"). According to a survey by Hubspot, subtle word choices can have a huge impact on how many of your emails get opened:
Avoid "quick" and "meeting" – these words sound pesky and unappealing to people with busy schedules. Using them in the subject of an email reduces the chance of it getting opened by 17% and 7%, respectively.
If you want a timely response, use "tomorrow" – i.e. "free for a chat tomorrow?" Emails with the word "tomorrow" in the subject were 10% more likely to be opened than those without.
Likewise, the word "free" is a good addition. As in, "when are you free," NOT "here's a free prize!"
Step 3 – Make Your Opening Line About Them
The opener is the first line of the email body. Like the subject, they will appear in the recipient's inbox.

One of the biggest mistakes is to talk about yourself in the first sentence. See the first message above: "My name is Luisa and I work for ABC Consulting." At a glance, this comes across as overly formal and fails to make a personal connection. Instead, you should talk about your prospect. Here's a few examples of tried and tested openers that work:
"Loved your post on [blog post topic]"
"I saw that we both [attended an event, are members of a group, etc.]"
"I noticed you're still using [product]"
Step 4 – Pitch a Simple Offer
Next comes the purpose for your email. This may be your value proposition or an offer of help to help initiate a new relationship. Your pitch also has to be short and sweet and relevant to your prospect.
One way to do this is to open up with a question, then follow up with your value proposition. Here's a couple of examples:
"What are you paying right now for credit card processing? We have merchant services with fees as low as 1.75% of credit card transaction value."
"How much foot traffic are you getting in your store after 4pm? I couldn't help noticing that your storefront is dimly lit. Would you like me to put you in touch with a good local lighting contractor I know personally?
You may also want to use Grammarly to check for any spelling or grammatical errors as you write. Click here to get started for free.
Step 5 – Close Simply
The next part of the email is the "call to action." They key is to keep it simple and non-salesy. Here's a couple of examples:
"Let me know if you're interested"
"Let me know if you'd like to discuss this further"
Step 6 – Add a Professional Signature
The final element of your sales email template is your signature. This will perform better if you keep it simple and easy to read. I recommend providing your direct phone number, email address and website URL and no more.
Step 7 – Analyze, Refine & Improve
Once you have grasped the basic principles of using a sales email template, you'll soon be creating your own use cases. Beyond this, the improvement in your sales email performance with come from analysing how different elements of your email perform in a split test.
For instance, you could create a template and test two different types of subject line to see which achieves the best open rate for your business. When you send emails using a CRM like Pipedrive, or email marketing system like Constant Contact, it's easy to measure open and click-through rates with simple reports.
The Bottom Line
A good sales email template will help you to understand the core principles and key steps in delivering sales emails that open-up new customer relationships.
Once you understand the principles, I would recommend experimenting around these core principles and measuring how your own bespoke sales emails perform. A good sales CRM like Pipedrive integrated with a small business email automation tool like Constant Contact will provide the performance analytics you need and they'll also make it easy to automate follow-up emails.