Multi-line phone systems, or desk phones, allow for multiple numbers to be provisioned on a single hardware unit. This streamlines call management and improves communication efforts with internal and external callers. To determine the best solution for small businesses, we assessed the most popular multi-line phones and evaluated them based on the criteria outlined below.
However, the phone you use is only as good as the system it works with, which is why you should also consider a reliable, cost-effective service like RingCentral when determining how calls will be managed. This is because RingCentral is more than a phone service. It also has a comprehensive list of multi-line phones you can lease, which gives you one less piece of technology you need to manage, making it an all-in-one solution for your business.
Top 6 Best Multi-line Phone Systems for 2020
| Multi-line Phone System | Best For |
| --- | --- |
| | (Best Overall) Small businesses seeking a capable, affordable device |
| | Teams that need video conferencing support |
| | Budget-conscious businesses that need an affordable system |
| | Companies that require cordless devices that are easy to move around an office |
| | Receptionists who need robust call queuing and other functionality |
| | Skype users who want an integrated phone system |
How We Evaluated Multi-line Phone Systems
Multi-line phone systems (sometimes referred to as four-line phone systems) should enable users to access multiple phone numbers from a single device. They function in many of the same ways a premise-based public branch exchange (PBX) does without many of the expensive costs that are associated with that type of device. Services should be affordable enough for small business customers.
It is worth noting that you will need a voice-over-internet-protocol (VoIP) service to use with your multi-line phone system. If you are in the market for a new service and are unfamiliar with VoIP technology, we recommend checking out our guide to VoIP systems.
We evaluated multi-line phone systems based on the following:
Price: We examined the cost of each product to see how economical they are for easy deployment in offices of all sizes.
Ease of use: In order for these phones to make our list, they had to be easy to install and easy for the average user to learn how to use.
Compatibility with service providers: We checked whether each service offers compatibility with analog, session initiation protocol (SIP), or hosted business phone service providers.
Call management features: We looked at each device's support of call forward, block, route, screen, and more.
Call quality and reliability: Audio quality during calls should be clear and consistent.
Bluetooth compatibility: Leading devices offer the ability to connect a wireless Bluetooth headset.
Power over Ethernet (PoE) compatibility: The best phones on the market receive power and connectivity through a single Ethernet connection, which eliminates the need for a power cable.
Expansion module compatibility: Expansion modules enhance the administrative capacity of phones by adding a larger range of programmable numbers for frequently used extensions or other key functions.
Video features: Advancements in available bandwidth speeds has made video conferencing viable for small business use.
Based on these buying criteria, the Fanvil X7 is our pick for best multi-line phone for small business. This phone is incredibly user-friendly and comes packed with features that will greatly enhance your office's communication efforts. It also comes with 127 direct station selection (DSS) keys, which allow for an impressive amount of customization.
Fanvil X7: Best Overall Multi-line Phone System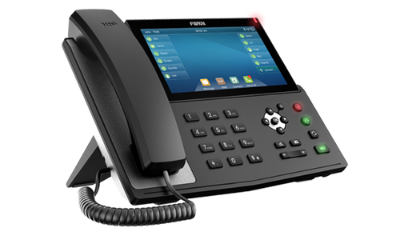 The Fanvil X7 is a multi-line internet protocol (IP) phone that supports up to 20 lines and comes complete with a 7-inch full-color touch display. The device, which costs around $139, supports Bluetooth accessories, Wi-Fi connectivity, is video calling, and is fully customizable with 127 DSS keys on the touch-screen display. It is our top pick for small businesses because it offers so much functionality in an affordable, intuitive package.
Fanvil X7 Pricing
The phone is available online for as little as $139 per unit. Depending on where you purchase the device, there may be discounts if you purchase the phone in higher quantities. This is one of the more affordable devices available today.
Fanvil X7 Features
The Fanvil X7 is designed with customization in mind. The device is intended to be used as a replacement unit for private branch exchange (PBX) services, and operates in many of the same ways that a PBX functions. The 127 DSS keys offer users the ability to quickly access information about their phone system and can quickly initiate phone system functions such as speed dial, call forwarding, and other key phone system features that many other phones cannot.
User Interface
The touch-screen interface of the Fanvil X7 is smooth and easy to understand. Information on the screen is displayed in a clear 480p resolution that is fully customizable to your unique specifications. The user interface provides information in a logical and easy-to-understand manner that reduces the overall learning curve for the device and enhances the control capabilities of the device.
Voice Quality
The Fanvil X7 supports high-definition (HD) voice calls, meaning you will be able to clearly and concisely hear every phone call made with this phone. HD voice, which is known as the G.722 codec, is quickly becoming a gold standard for phone hardware, and the Fanvil X7's inclusion of this feature is one of the many reasons it sits at the top of our list. The phone also supports HD voice on Bluetooth and corded headset configurations.
Phone System Capacity
The Fanvil X7 is fully capable of supporting up to 20 lines, which is the most of any of the phones on this list and one of the highest capacities for any singular phone on the market. The expanded capacity of this device means that you can confidently purchase this phone with the intention of scaling its use as you add more numbers to your office LAN in the near future. This unprecedented line capacity is further reinforced by the 127 customizable DSS keys.
Support Features
Making its debut in April 2019, the Fanvil X7 includes features like an online trouble ticket service, firmware updates available through their website, and support manuals that are available online to aid in the setup of the equipment. All of these components combine to create an effective customer service experience that will continue throughout the life cycle of the product.
What the Fanvil X7 Is Missing
While the Fanvil X7 does include codecs embedded in its hardware to enable video calling, the device does not come equipped with a webcam out of the box. If you want to enjoy video calling capabilities without having to buy extra equipment, we recommend looking at the Grandstream GXV3370, which has an integrated camera.
What Users Think About the Fanvil X7
Users online state the Fanvil X7 as a multi-line phone system that is powerful and easy to use. They find that it has an easy installation process, effective customer service team, and that the hardware is quality. However, some customers find that the touch screen can be unresponsive.
Grandstream GXV3370: Best Multi-line Phone System to Support Video Calling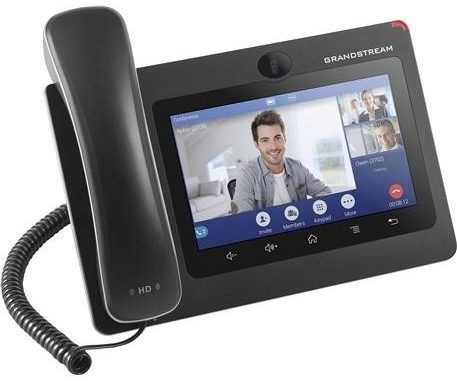 The Grandstream GXV3370, a multi-line phone that places heavy emphasis on video calling functionality, is one of the few multi-line phones on the market that is powered by the Android OS. Powered by a 7-inch touch screen, the phone-tablet supports session initiated protocol (SIP) functionality and offers both HD voice and video telephony over both Bluetooth and Wi-Fi connectivity. The phone costs around $219.99 from most online retailers.
Grandstream GXV3370 Pricing
This phone can be found for sale online starting at $219.99. However, the device is sometimes offered for a discount depending on seasonal promotions. This is one of the more expensive offerings on the market.
Grandstream GXV3370 Features
The Grandstream GXV3370 phone represents some of the most advanced telephony technology on the market by providing premium multi-line phone systems features with the popular Android operating system. The tablet phone comes with 2GB of RAM and 3GB of flash storage, which makes it not just a desk phone, but a comprehensive business communications device.
User Interface
The real competitive advantage in the Grandstream GXV3370 is in its user interface. With a 720p screen resolution that runs video calls at 30 frames per second, the Grandstream GXV3370 offers one of the highest screen qualities in the industry. The user interface is powered by Android's Nougat operating system.
Voice Quality
The voice quality on the Grandstream GXV3370 is exceptional. The phone supports high-definition voice on the handset and also provides HD voice with an advanced acoustic echo reduction on its speakerphone. This means that you can feel confident in knowing your calls can be made clearly and concisely. Additionally, G.722 video and audio codecs are fully supported by this device.
Phone System Capacity
The Grandstream GXV3370 supports 16 lines per device. This IP phone can support an entire office on a single device with such a high number of lines, and can easily improve office communication by enabling easy communication between employees with dedicated lines and people calling those direct lines. Each line can be easily provisioned with its own voicemail and other call features through the easy-to-use Android-based operating system.
Support Features
The Grandstream GXV3370 enjoys support features by both Grandstream and Android. The Grandstream website has a wealth of firmware update documentation, installation guides, and datasheets that will enable comprehensive support of your device. For situations where help is required, Grandstream has an active community forum and a help desk support ticket system that will help you get in touch with engineers to diagnose issues with your phone hardware.
What the Grandstream GXV3370 Is Missing
In terms of functionality, the Grandstream GXV3370 isn't missing anything. It offers a wide set of features and customizable options that make it a very comprehensive multi-line phone system. However, it could be too expensive for some small business users. If affordability is a top priority for you, then we suggest looking at the less expensive Cisco SPA525G2.
What Users Think About the Grandstream GXV3370
The Grandstream GXV3370 enjoys high ratings from online reviewers. Customers praise the video features, the support for SIP, and its Android-powered mobile interface. Common complaints include the device's high price.
Cisco SPA525G2: Most Affordable Multi-line Phone System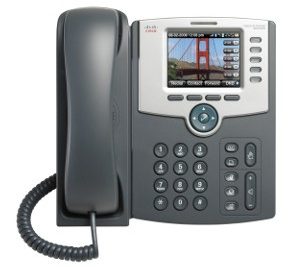 The Cisco SPA525G2 is the latest iteration of one of the most popular lines of multi-line phones on the market. The device costs $51.95 from most sellers. Cisco's SPA series represents one of the market's most reliable and dependable machines that is available at a competitive price point. The phone delivers a premium calling experience that can deliver up to five active lines and is managed through a high-resolution color video screen.
Cisco SPA525G2 Pricing
The Cisco SPA525G2 is available at extremely competitive price points but does lack some of the premium features found in more expensive handsets. The phones can be found on Amazon for as low as $51.95. This phone is worth considering especially if you have a significant number of phones that you need to purchase.
Cisco SPA525G2 Features
As a basic-entry level phone that is designed for businesses on a budget, the Cisco SPA525G2 sacrifices quality in order to achieve the lowest price point of the phones reviewed on this list. One of the biggest omissions is the lack of HD voice functionality, which has become a standard feature in the industry. While this phone might not be feature-rich, it is a great phone for businesses that require desk phones but do not have the funds to buy expensive handsets
User Interface
The interface on the Cisco SPA525G2 is a 3.2-inch, full-color 240p screen that is controlled by nine different buttons and a directional pad. The interface feels much more cluttered than that found on the Fanvil X7. Still, these buttons enable the user to have full control over the features provided on the device. However, the small size of the screen puts it way behind the Grandstream GXV3370.
Voice Quality
While this is an entry-level phone, it does, in fact, support high-definition voice features through its utilization of the G.722 audio codec. The phone also supports a full-duplex speakerphone with advanced echo reduction, which means that calls can be clearly heard and received on the device's speakerphone.
Phone System Capacity
The Cisco SPA525G2 supports five lines on each device that can be modified to carry two SPA500S expansion modules, which upgrade the interface of the device with 32 buttons per expansion modules. The fact that the phone is so easy to expand makes it great for growing companies, as it makes the system highly scalable.
Support Features
As one of the key players in the phone hardware industry, Cisco has one of the most complete support infrastructures on the market. The company provides a support line that offers direct access to Cisco experts who can help address problems quickly. The webpage also offers a comprehensive list of support resources that will help you take full advantage of your Cisco hardware.
What the Cisco SPA525G2 Is Missing
The Cisco SPA525G2 sacrifices functionality in order to make an affordable and easily scalable multi-line phone system. It also comes with a relatively short cord, so you will not be able to walk very far with your handset. If you are seeking a cordless business desk phone, we recommend looking at the Yealink SIP-W52P.
What Users Think About the Cisco SPA525G2
Despite the features that this phone is missing, it still has good reviews from customers. Users praise the professional and simple look of the device, and many reviews frequently mention that the phone is incredibly reliable and easy to use. However, they wish the phone offered more advanced features.
Yealink SIP-W52P: Best Cordless Multi-line Phone System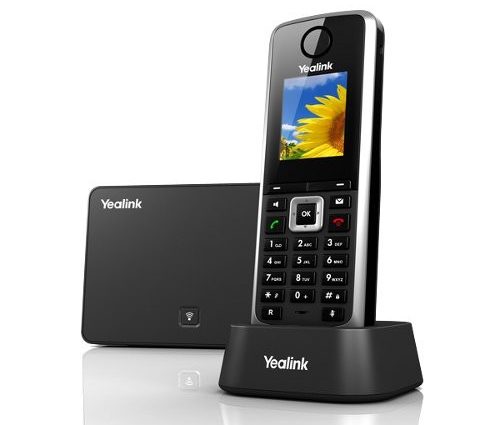 The Yealink SIP-W52P, which costs around $143, is a cordless multi-line phone system that supports up to five handsets with five corresponding lines. The phone system comes with a base station that enables the wireless phones to have a range of 150 feet indoors and up to 950 feet outdoors. It is perfect for small businesses that might not necessarily have employees working in a stationary environment.
Yealink SIP-W52P Pricing
The pricing components for the Yealink SIP-W52P come in a package that includes a handset and a base station. It is available on Amazon for $143. This pricing makes it one of the more moderately priced solutions available.
Yealink SIP-W52P Features
The Yealink SIP-W52P is a simple, easy-to-use multi-line phone system. This phone is the only cordless device on our list, which makes it the best fit for workers who like mobility. Each handset comes out of the box with two AA batteries that can be recharged via the handset's cradle.
User Interface
The device's interface comes on a 1.8-inch color display that can perform advanced call routing functions. It can also help users navigate through their phone book and make calls to contacts. It about matches the competition when it comes to overall usability.
Voice Quality
Like other products we looked at, the Yealink SIP-W52P supports G.722 high-definition voice. The audio quality during calls is so clear that it can almost sound like the other person on the line is right next to you.
Phone System Capacity
The Yealink SIP-W52P supports five lines per base station. Each base station allows phone numbers to be assigned to dedicated handsets. The product matches competing offerings when it comes to scalability.
Support Features
The Yealink support site offers comprehensive frequently asked questions (FAQs) that you can use to troubleshoot issues. It also comes with dedicated training modules and a ticket support system that can put you in touch with one of the company's technicians. Yealink provides all the channels a manager would need if they run into an issue while using the handset.
What the Yealink SIP-W52P Is Missing
The design of this phone is fairly minimal. The color display is not very large, and it does not have many features beyond basic calling. If you are looking for something with more robust functionality, you may want to check out the Cisco 8861, as it allows for optional key expansion modules that can allow for greater call handling.
What Users Think About the Yealink SIP-W52P
The Yealink SIP-W52P has good online reviews. A number of reviewers have specifically mentioned that it works flawlessly when paired with the Vonage VoIP service. Customers are particularly enamored with the device's wireless range.
Cisco 8861: Best Multi-line Phone System for Receptionists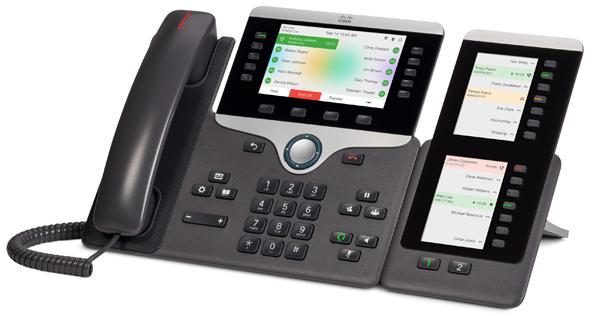 The Cisco 8861 is a business communication device that was designed from the ground up with receptionists in mind. The physical size of the device, which costs $202.99, is rather large, and it boasts a durable design that makes it ideal for heavy use by multiple staff members, especially a rotating crew of receptionists. It also allows for a key expansion module for up to 36 additional keys to the device, which makes it great for handling high incoming call volumes.
Cisco 8861 Pricing
The Cisco 8861 costs around $202.99 for the actual device. On top of that, the key expansion module is sold separately and usually costs around $145 from most online sellers. This makes it among the more expensive options on the market.
Cisco 8861 Features
The Cisco 8861 is a powerful multi-line phone system that is designed to enhance the administrative capacity of its users by providing advanced features like call routing protocols and viewing user extensions. The ergonomic design of the device, combined with high-definition voice capabilities, make this an excellent phone for workers with high call volumes.
User Interface
The user interface of the Cisco 8861 is accessed through a crisp 5-inch, 480p color display. While the display is of a lower resolution than other systems we looked at, it still looks sharp and sleek. The interface is not a touch screen, unlike the Grandstream GXV3370. Still, it is easy to navigate.
Voice Quality
The Cisco 8861 supports the G.722 codec and comes equipped with a full-duplex speakerphone for optimal audio quality. The phone also supports both Bluetooth connectivity and 3.5mm headset connections. This all helps the device work in a way that suits the individual worker's preferences.
Phone System Capacity
The Cisco 8861 supports up to five lines simultaneously. This is minimal when compared to the Fanvil X7's 20-line support. As such, it is best suited for companies that are fine with sending some callers to voicemail if all lines are currently being used.
Support Features
Cisco has a comprehensive support website that offers a wide array of helpful channels for customers. They offer robust documentation, a firmware database, and a support line that you can call with any questions you may have. Cisco has some of the best support of any business phone hardware provider.
What the Cisco 8861 Is Missing
The Cisco 8861 is a premium device for office environments with high call volumes. However, the fact that the color display is not a touch screen means it is less intuitive than some competing devices. Additionally, we wish the device supported more lines out of the box.
What Users Think About the Cisco 8861
Those who review Cisco 8861 love its intuitive design. They also offer a great deal of praise for the system's interface and features. However, some users have complained about choppy call quality when using the device.
Polycom VVX 411: Best Multi-line Phone System for Skype Integrations
The Polycom VVX 411 is a 12-line desk phone that sports a 3.5-inch color LCD display. What sets the device apart from competitors is that it comes with native integration with the Skype (and its replacement, Microsoft Teams) conferencing service. This makes it ideal for teams that use the popular platform for their business communications.
Polycom VVX 411 Pricing
The Polycom VVX 411 is priced at around $111.55 through most internet sellers. You can also buy a color expansion module that adds more keys and another screen to the phone. This is a fantastic midrange telephony option.
Polycom VVX 411 Features
The Polycom VVX 411 is a high-definition voice multi-line phone system that comes equipped with a full-color LCD screen and offers the ability to integrate with a wealth of third-party business apps. It is good for businesses that are looking for a unified software experience that spans different apps and devices.
User Interface
The user interface for the Polycom VVX 411 is delivered via a 240p resolution on a 3.5-inch color LCD screen and 16 programmable buttons surrounding the display. The interface is configurable and able to run custom applications, all of which can be programmed by a web-based dashboard. From this dashboard, you can easily configure the devices firmware, provision applications, and settings.
Voice Quality
Polycom's VVX 411 runs on its own proprietary G722.1 codec, which is owned and exclusively administered by Polycom. The codec operates similarly to G.722 with some differences in how the data is compressed. The device does not support Bluetooth headsets, but does accommodate USB headsets. The phone also has an RJ-9 headset port, which makes for easy configuration of multiple types of headsets.
Phone System Capacity
The Polycom VVX 411 is designed to efficiently run 12 lines per device. It also offers integration with Skype and other systems like Microsoft Exchange. Therefore, this device is a true multimedia VoIP platform that can help with all kinds of business communications.
Support Features
Like the other vendors, Polycom offers an extensive support page online for troubleshooting and resolving issues that may arise with their hardware. The company also releases frequent firmware updates for their devices and has curated a large list of helpful guides and end-user handbooks to help businesses get the most out of their investment.
What the Polycom VVX 411 Is Missing
We would have liked to see a webcam included with the Polycom VVX 411 so that business users could hold both video and voice calls. We also would have liked to be able to navigate through the device's interface via a touch screen rather than physical buttons. This is especially true considering the price of the phone.
What Users Think About the Polycom VVX 411
The Polycom VVX 411 has good reviews from online users. They are satisfied with the quality of the hardware and the reliability of the device. However, some reviews claim that the interface doesn't work well with the buttons provided and that customer service can be slow to respond to tickets.
Bottom Line
Multi-line phone systems are a critical component of most growing businesses because they allow you to dramatically improve your business' internal and external communication. They make it easy for receptionists to answer incoming calls promptly and allow others in the organization to forward calls to appropriate parties without requiring anyone to memorize extensions.
The Fanvil X7 gets our full recommendation as the number one multi-line phone system that can greatly enhance your business. The combination of its fully customizable touch-screen functionality with its premium hardware design make this the best choice for small businesses looking to greatly enhance their office communication. Click the button below to learn more today.