Nextiva is an all-in-one voice-over-internet-protocol (VoIP) business phone software with collaboration and customer management capabilities. Based on Nextiva reviews, small businesses like its 99.999% service reliability, robust call management, and video conferencing features. Nextiva is best for small businesses looking for scalable call management systems with unlimited domestic calling. Monthly subscriptions start at $30.95 per user.
Nextiva Review: At a Glance
What We Liked
Unlimited voice and video calling
Professionally recorded greetings
Cospace application that incorporates team collaboration functionality
99.999% uptime for all plans
Free number porting
What's Missing
Does not offer a free version
Lacks international phone numbers and unlimited international calling
Gets expensive when you only need an office phone system, especially if you're not taking advantage of annual or volume discounts
---
Freelancer or solopreneur looking for a cheap or free business phone system: Nextiva's extensive call management and communication features may be too much. For basic VoIP features, such as calls, texts, and inbound caller ID, consider providers with free options like Ooma, Google Voice, or Freshdesk.
Startup with lean teams and low call volumes: Nextiva's plans come with toll-free minutes and unlimited domestic calling, but businesses with low call volumes are better off with a provider like Phone.com, which offers shared minutes and pooled text messages. This earned Phone.com a spot on our list of the top VoIP services for home offices.
Businesses that make frequent international calls: While Nextiva has per-minute international rates, businesses operating globally save on call costs by opting for a provider offering unmetered international calling. 8×8 has international phone numbers and unlimited international calling for up to 48 countries, which we cover in our 8×8 vs Nextiva article.
---
Nextiva Deciding Factors
Nextiva is a complete phone system solution with advanced features, including professionally recorded greetings, multi-level auto-attendants, and customer relationship management (CRM) integrations—designed to match varying business communication needs. Nextiva's Cospace collaborative functions ensure you and your team remain connected and synchronized no matter where you are.
Best For

Businesses requiring a wide array of communications channels for both customers and colleagues

Standout Features

Cospace team collaboration
Unlimited calling with the U.S. and Canada
Extended video conferencing for up to 250 participants

Pricing Plans

Free trial: Seven days
From $17.95 monthly for each user with annual and volume discounts

Annual or Volume Discounts Available

Both are available with Nextiva; with annual pricing, you save anywhere from 20% to 28% per month

Key Integrations

Salesforce, Zoho, HubSpot, Microsoft Outlook, Zendesk, Sugar CRM, Microsoft Teams

Customer Service

24/7 phone support, live chat, and email support
Nextiva Alternatives
Nextiva is one of the best business phone systems, but there are certain features it lacks, such as extensive third-party integrations, unmetered global calling, and cost-effective mix-and-match plans. Here are some alternative providers based on Nextiva customer reviews and feedback from small business owners and platform users.
If you're looking for a VoIP service provider other than Nextiva, here are the top three Nextiva alternatives to consider:
| | | | |
| --- | --- | --- | --- |
| Best For | Businesses wanting full-featured phone systems with extensive third-party integrations | Budget-conscious teams needing mix-and-match plans as well as international unmetered calling and numbers | Companies in need of unmetered calls from over 50 countries |
| Monthly Starting Price (per User) | $30 | $15 | $32 |
| Learn More | | | |
Nextiva pricing and plans include advanced phone features useful for companies looking to streamline their communication systems. All plans come with toll-free numbers, Microsoft Outlook and Google contacts integrations, unlimited internet fax, and voicemail. Nextiva's pricing starts at $30.95 per user for up to four agents, and annual payments will save you up to 22%. It also offers a seven-day free trial for interested parties.
Nextiva Plans

Essentials

Professional

Enterprise

Best For

Small teams needing all-in-one phone and video solutions

Small to mid-sized businesses with higher call volumes and CRM integration needs

Large companies with high call volumes requiring comprehensive UC solutions

Monthly Pricing

($/User/Month)*

$30.95

$35.95

$45.95

Annual Pricing*

($/User/Month)

$23.95

$27.95

$37.95

Team Collaboration & Chat Messaging

✓

✓

✓

Unlimited Calling Within the U.S. & Canada

✓

✓

✓

Unlimited Conference Calls

✕

40 participants

Unlimited participants

No. of Professionally Recorded Greetings

0

1

3

Toll-free Minutes

Up to 1,500 minutes

Up to 3,000 minutes

Up to 12,500 minutes

Advanced Integrations With the Most Popular CRM & Customer-facing Apps

✕

✓

✓

Call Recording

✕

✕

✓
*Pricing based on one to four users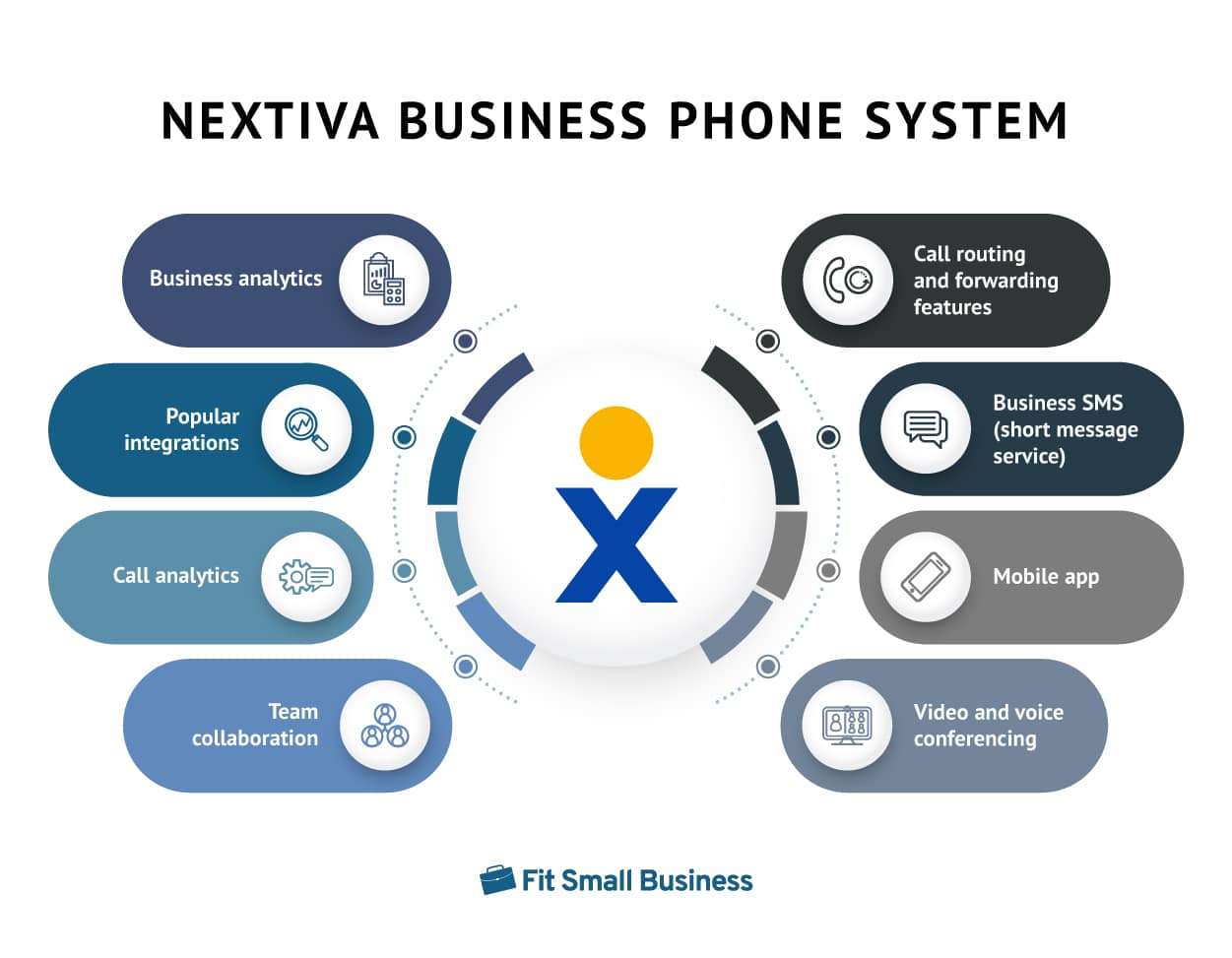 If you're searching for a home or office-based communication system, Nextiva's platform is able to house all of your communication needs, from instant messaging to phone calls and video conferencing. Its call management features include recorded greetings and call flips, and it comes with extensive 24/7 email, chat, and phone support.
In addition to Nextiva's core capabilities, other features worth mentioning are:
Internet fax: Nextiva provides standard and HIPAA (Health Insurance Portability and Accountability Act)-compliant internet fax services, accessible through multiple devices, such as computers and mobile devices. Connect Nextiva with your traditional fax machine using the Nextiva Fax Bridge device.
Collaboration: Team collaboration and video features, including task management, team calendar, meeting scheduling, screen sharing, chat, and a directory, are part of Nextiva Cospace.
Number porting: All Nextiva users may transfer their phone numbers from their current carrier to Nextiva at no cost. The process is handled by Nextiva and requires users to submit a completed Letter of Agency (LOA) form.
Visual voicemail: Nextiva's visual voicemail automatically routes calls to voicemail when unanswered. Easily customize your settings, receive voicemail messages through email, or record multiple greetings.
Third-party app integrations: Maximize your existing tools with Nextiva's platform to experience your software's full potential. It integrates seamlessly with popular apps like MS Outlook, Google Contacts, Zendesk, NetSuite, and Microsoft Dynamics 365.
Nextiva also has a respectable number of features for businesses looking to do more. Here's a breakdown of several of these features that incorporate things like analytics and call management:
Improving your call center performance is more than having the right script or recorded greeting. Tracking call center key performance indicators (KPIs) is crucial to improving customer service. Nextiva Analytics is a powerful reporting and analysis tool that consolidates call data for visual presentation. View historical data and track real-time data in easy-to-read dashboards and customizable reports to gain insights on reducing costs or operating more efficiently.
Learn more about how this monitoring tool, called the NextOS, helps improve customer satisfaction and agent performance in our Nextiva Analytics article.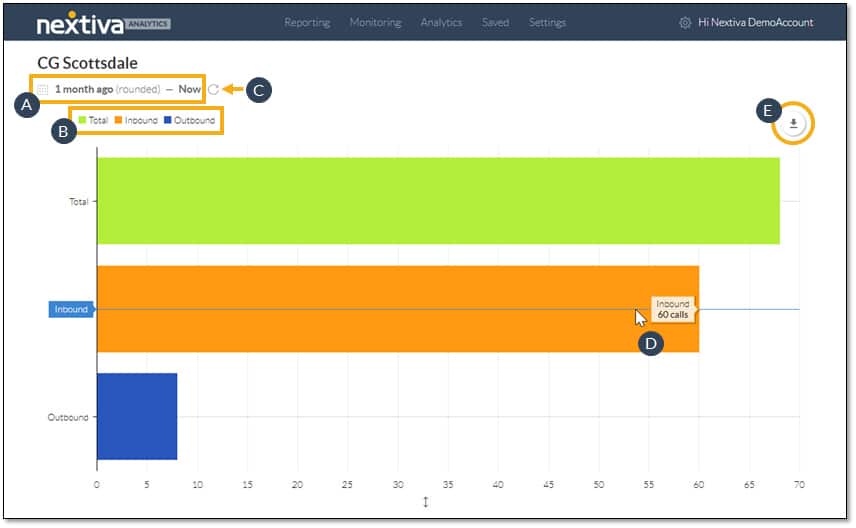 ---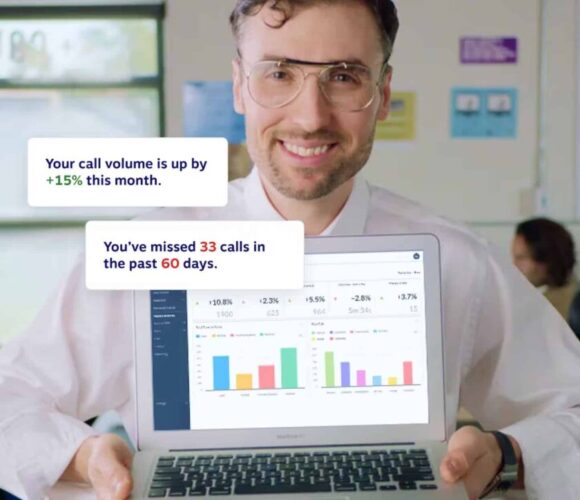 ---
---
Nextiva offers you not just an internet phone; it's a powerful business tool that helps you efficiently route, hold, divert, and block incoming calls. Use the auto-attendant feature to handle your front desk operations to reduce customer frustration, improve productivity, and increase issue resolution. If you have nationwide teams and clients, Nextiva's unlimited domestic calling and toll-free minutes reduce your communication costs. Here are other Nextiva call features:
Unlimited domestic calls
Free local and toll-free numbers
Toll-free minutes
Voicemail
Simultaneous ring
Shared call appearance
private branch exchange (PBX)/session initiation protocol (SIP) trunking
Call history
Call log reports
Auto- and multi-level attendant
Call pop
Call forwarding
Call recording
Call waiting
Do not disturb
Music on hold
Professional greetings
---
Improve productivity by using video communications to connect with customers and colleagues. Nextiva's video conferencing features easily facilitate collaboration, optimize remote staff attendance, and enable teams to share knowledge faster and more efficiently. Here are some of the key virtual meeting features offered by Nextiva:
Unlimited HD video conferencing
Video calling
Video meetings
Video conference recording
Live screen sharing
Simultaneous text-based chatting
Multi-device support
Speaker and participant mute
File sharing
Livestreaming and webinars
---
Nextiva's unified communications (UC) platform is designed to allow the greatest level of flexibility. Its extensive phone compatibility and mobile applications enable you to reach colleagues working in the field or remotely. According to Nextiva app reviews, the desktop app for Windows and Mac and iOS and Android applications are straightforward.
---
Nextiva's business software equips you with the functions you need to get more done from a single workspace. Create different rooms for specific projects or topics, message teammates directly, or broadcast in groups. Nextiva makes it easy to share and search documents and easily schedule meetings through integrated calendars and chat for quick coordination and response. Here are our favorite productivity features from Nextiva:
Desktop SMS
File sharing
Team messaging
Video meetings
Integrated calendars
Threaded conversations
Notes on contacts and calls
Contact management
Google and Outlook integration
Voicemail transcription
Voicemail to SMS notifications
Team presence and status
Shared line appearance
Busy lamp field
Single sign-on
---
Nextiva integrates with 19 popular third-party applications, including Zoho, Salesforce, HubSpot, Zendesk, Google Workspace, and Oracle Sales Cloud. Nextiva seamlessly integrates with your customer relationship manager (CRM), sales, and productivity platforms, allowing you to sync data or click-to-call from browsers. These integrations make it easier for you to maximize your favorite business tools.
In addition to its business communications plans, Nextiva offers intelligent cloud contact center solutions with four paid plan tiers. Depending on your plan, tools include inbound and outbound calling, quality management services, and workforce and workflow optimization solutions. Contact Nextiva's sales team for custom pricing to learn more.
---
When it comes to customer support experience, Nextiva has just about everything you need as a business owner. Nextiva states its system provides "support when you need it," which is an apt description of its services since they have phone support on a 24/7 basis. In addition to its phone-based support channel, Nextiva also provides the ability to create support tickets, a live chat system, email-based support, and a dedicated support center.
Overall, this has earned Nextiva a 5 out of 5 since business users are so supported on the platform. Its support structure allows users to really pick their preferred support methodology so that any issues that arise are quickly resolved.
Similar to noteworthy office phone system providers, like Grasshopper, Nextiva has a user interface that requires no dedicated technical knowledge. Within its system, you'll be able to set up your phone system quickly, add on features, and upgrade to higher tiers when needed.
In addition to the lack of required technical skills required for setup, there are also very few needed skills needed for daily use. Things like Nextiva Analytics are easy to use and understand, and switching between phone, chat, and video is simple.
Based on Nextiva reviews, customers report their calls are efficiently routed, and there have been minimal to no issues with connectivity. Nextiva has helped reduce phone bills and increased control over call management. Users appreciate efficient customer service, a smooth onboarding process, and portability through mobile applications.
At the time of publication, Nextiva has earned the following scores on popular user review sites:
Our own expert reviews corroborate this. Users save when switching to Nextiva, especially with their volume and annual discount options. Additionally, the support, application options, and overall ease of use make it a strong contender for the best small business VoIP service.
How We Evaluated Nextiva
To evaluate Nextiva, we identified several critical factors: pricing, features, customer service, and ease of use. We compared these criteria to other office phone and business communications systems and checked third-party review platforms to see how it accommodates the needs of actual users.
Learn how we evaluated Nextiva by clicking on the tabs below:
20% of Overall Score
To determine the platform's affordability, we checked if it offers a free version and an entry-level subscription for less than $30. We considered the provider's number of plans and available volume or annual discounts.
25% of Overall Score
The essential capabilities we looked for include important features that any business could use for day-to-day communications. These included unlimited calling within the U.S. and Canada, video and audio conferencing, available uptime service level agreements (SLAs), and the availability of mobile applications.
20% of Overall Score
Some features can be a value-add for only some company types. For this criteria, we looked at features that might help companies expand and bring in new customers. This included international calling and number availability, interactive voice response (IVR) systems, and software integrations.
10% of Overall Score
The schedule and types of customer support were part of our assessment. The provider received more points for having 24/7 customer service.
10% of Overall Score
To determine whether or not the platform is user-friendly, we checked if the interface is intuitive. We also considered the ease of getting started with the contact center system.
15% of Overall Score
This covers our evaluation of the provider's popularity with users, value for money, and ease of use. We also looked at its features and assessed how they stack up against competitors.
*Percentages of overall score
Bottom Line
Nextiva is a business phone system that handles both your inbound and outbound calls and offers advanced collaboration features, such as HD conferencing and automated call forwarding. Nextiva's pricing plans are best for small businesses in the market for high-quality call management solutions. Users will get great value for money by choosing Nextiva's all-in-one platform to accommodate their growing business needs.