Salon software can help you to manage everything from scheduling appointments to in-store and online sales, payroll, email marketing, and more. We looked at the most popular options and rising stars and decided to review Booker, Shedul, and Square Appointments. These services covered the range for small businesses in terms of features and price. Read on for our comparison and review of these three options, as well as our top recommendations.
Best Salon Software for 2017: Booker
We recommend Booker as the best salon software for 2017 because it offers the most comprehensive suite of features for a competitive price.
Salon Software Comparison Table: Booker vs Shedul vs Square
Booker

Shedul

Square

Best For
Most salons
Salons on a tight budget who need a low-cost or free solution
Mobile payment processing
Ease of Setup and Use

Learn More
Easy
Easy
Easy
Differentiating Features




Learn More

Booker Marketing Network lets you book appointments through third-party websites
Payroll management
CRM

Online Booking
Yes
Yes
Yes
Customer Support




Learn More
Phone, email, and online chat support from 9am-10pm EST, Monday to Friday, and 10am-7pm EST, Saturday and Sunday

Online knowledge base
Email based support

Online knowledge base
Phone, email, and online chat support from 6am-6pm PST, Monday to Friday

Online knowledge base
www.Booker.com
www.Shedul.com
www.Square.com
Pricing
Booker

Shedul

Square

Pricing as Reviewed
$85/ month
Free

$30/ month for one user
$50/ month for 2-5 users
$90/ month for unlimited users

Merchant Fees
$10/ month and 0.99% + $0.25
per debit transaction or
1.69% + $0.20 per credit card transaction
N/A
2.75% per transaction
Free Trial
No
No
30 days
www.Booker.com
www.Shedul.com
www.Square.com
Square
offers a number of products that are extensions of their mobile payment platform. For the purposes of this guide, we will be reviewing their Appointments service.
Best Salon Software: Booker

We recommend Booker as the best salon software because it delivers the widest range of features at a competitive price. Booker provides a complete end-to-end solution to managing your salon, from customer acquisition to retention and ongoing administration.
Booker's Marketing Network is the software's primary differentiating feature. Salon owners can link the software's scheduling tool with third-party websites, such as Google, Yelp, Yellow Pages, MapQuest, SpaFinder, and more and display an "Online Booking" widget directly on their profiles.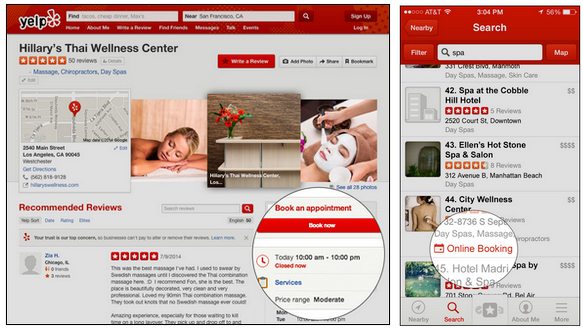 This targets prospective clients when they're actively searching for the service and when they're most likely to book. Neither Shedul nor Square offer this feature; however, it does come at an additional cost with Booker.
Your clients can schedule appointments at your salon quickly and easily, either by calling you directly or by visiting your website. A customized booking page integrates with your website's look and feel, seamlessly connecting your clients with your stylist's calendars. They can then choose the type of service they'd like to receive as well as the date and time to schedule it. This function can even be added to your social media accounts, such as your Facebook page.
With appointments booked, you can use this information to manage your staffing needs. Booker's scheduling software and payroll management will help you coordinate your stylist's schedules with their appointments, send shift notifications automatically, and even let you define your compensation structure including reporting on hours worked, service deductions, and tips received. As a company, Square offers a payroll management tool in their suite of products, but it's not included in their Appointments product that we reviewed for this guide.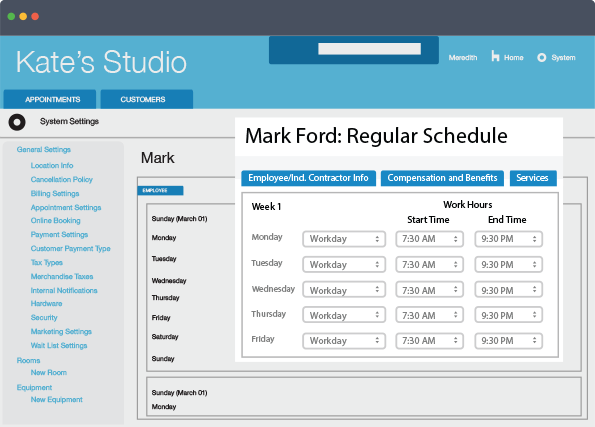 Once your clients are in your salon, Booker acts as your point of sale (POS) software as well. Process transactions, track your client's purchases over time, process credit card payments, sell gift certificates, manage inventory, or even sell products through your website — Booker's POS can help you manage it all. Square also offers ecommerce functionality, but Shedul does not.
Basic customer relationship management (CRM) features also let you track your clients over time, including appointments, total spend, any marketing campaigns they responded to, and generate reports to measure their effectiveness.
Finally, customer loyalty features help you to retain your clients. Send follow-up notifications, fill last-minute openings, send satisfaction surveys, or create memberships with exclusive benefits for individual clients or groups — all from within Booker.
Best Low-Cost Salon Software: Shedul

We recommend Shedul as the best low-cost salon software because it offers most of the basic features your salon will require — for free. Shedul is currently in the early stages of their business; they plan to require payment for subscriptions in the near future, but anyone who signs up for the service before then will receive a lifetime membership for free.
Other than the price, there is little to differentiate Shedul from the other services we reviewed. It includes most of the basic functionality that your salon will use in its day-to-day operations, but little extra. But what it does do, it does well and within a simple user interface. This includes:
A dashboard that consolidates your day's activities, such as appointments, notifications, sales, and other metrics
Schedule appointments in person or online through your website, embedded widgets, or Facebook
Send automated notifications to your clients to remind them of upcoming appointments
Store client history, including appointments, services, preferences, and purchases
POS software to manage sales transactions, invoicing, receipts, taxes, and product inventory management
Booker and Square offer all of these features as well, but, again, the primary difference is that Shedul is a free service where Booker and Square are not.
One significant omission is the lack of credit card processing. Shedul plans to include this in the future, but for now you will have to partner with a third-party merchant to process payments by credit card.
However, credit card processing aside, it's hard to argue against the value of Shedul considering that it's a free service. It may not be the most feature-rich, but with new features planned to be added in the future, securing a free lifetime account will present significant savings over the long-term to offset any short-term inconveniences.
Best Salon Software for Mobile Payment Processing: Square

Square's service will meet the needs of most salons, but because its payment processing fees are significantly higher, thus raising your overall monthly cost, we don't recommend it over Booker or Shedul.
Like Booker and Shedul, Square offers most of the basic functions that will help you to manage the day-to-day operations of your salon. Online scheduling software, website integration, staff calendars, client email and SMS notifications, and POS software are all included with all of their plans. However, other than the convenience of including their proprietary credit card reader, there is little to differentiate it from the other software we reviewed — and certainly not enough to justify its higher price.
Booker offers a much more end-to-end solution than Square, including their marketing network feature, the ability to schedule appointments through social media, payroll management, and CRM. One management feature that Square offers but Booker and Shedul don't, though, is that it integrates with Quickbooks and Xero to assist with your accounting.
The other additional feature of note is that Square includes a mobile app for free with all of their plans. With their app, you can view and manage your appointments, process payments, and access client information. Booker also offers a mobile app, but it comes at an additional cost, and Shedul does not offer a mobile app at all.
But with Square's transaction fees set at 2.75% versus $10/month and 0.99% + $0.25 per debit transaction or 1.69% + $0.20 per credit card transaction for Booker, you will pay much higher per month for Square's service with little additional benefit.
In-Depth Review: Booker vs Shedul vs Square
Ease of Setup/Use
Salon software should be easy to setup and easy to use, freeing you up to focus on delivering exceptional care to your clients. It should make the day-to-day management of your salon easier, saving you both time and money.
On the business side, schedules, customer information, and reporting should be immediately accessible, clearly displayed, and quick to update. And on the customer side, booking an appointment should involve as few clicks as possible to minimize any potential drop-off.
Booker strikes a fair balance between a wide range of features, but remains easy to use without overwhelming the user with options. The user interface could use an update — it looks rather dated — and there are many tabs and sub-tabs to navigate through, but it remains nonetheless intuitive to use.
One of the primary benefits of Booker is that it offers an end-to-end solution; so where some salons may use different software for different purposes, Booker is fully integrated. This significantly reduces your overall learning curve, minimized setup, and ensures that all of your salon's and clients' data is centrally located and updated.
Shedul excels by offering you only what you need with no superfluous features that complicate the software's user interface. As the newest of the three services, Shedul is also the most aesthetically pleasing and visually similar to other leading SaaS products.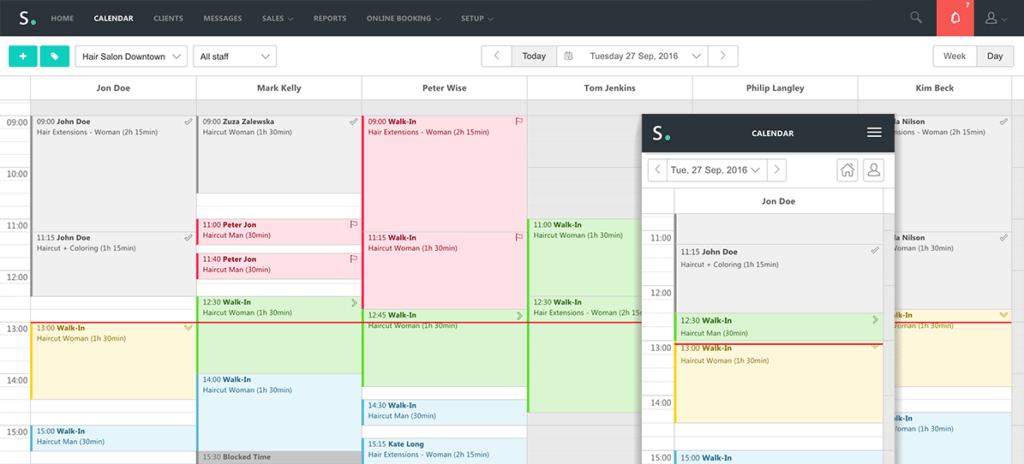 Users will find it easy to navigate with a familiar interface, including clear navigation, drag-and-drop functionality, and efficient search and filter tools. Without an excess of features, the user experience is greatly simplified.
Square features a clean and modern interface with clear graphics and a simple layout. For salon owners who may not have much exposure to other SaaS products, Square's design will minimize any feelings of intimidation despite the power behind it.
After signing up, Square prompts you to enter some basic information about your salon such as its name, the services you offer, the time each service requires, what each service costs, and your staff. Once complete, another series of brief pop-ups will guide you through any final setup steps that Square recommends.
Square was initially conceived as a mobile payment processing system and this functionality still serves as the backbone of their service offerings. Their appointments product is an add-on to their payment processing — as such, it's not salon-specific, but the integration with the payment processing is seamless and performs very well on mobile devices.
One other benefit of Square that may help reassure you of its ease of use is that it offers a 30 day free trial. No matter how easy we may find a piece of software to use, it's how you use it that matters most. Similarly, Shedul is free to use, so you can try it risk-free as well. Booker does not offer a free trial of any kind, so there is some inherent risk in committing to a subscription.
Features
All of the salon software that we reviewed shared a common set of basic features that would help a salon owner manage the day-to-day operations of their business. These include:
The ability for staff to schedule appointments in the salon
Website integration that allows clients to schedule appointments online
Automatic notifications to remind clients of their appointments
Client management, including their appointment and purchase history, preferences, and contact information
A centralized dashboard that shows the day's activities and summaries of sales and other metrics
POS functionality to manage payments for products and services
Beyond these basic functions, Booker, Shedul, and Square offered some additional features that helped to differentiate them from each other.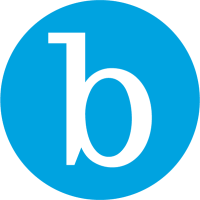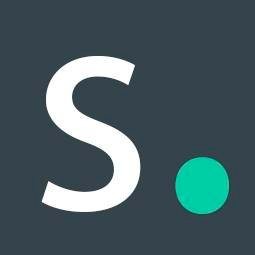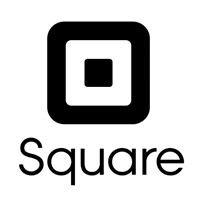 Customer Support
In addition to being easy to use, salon software should also offer comprehensive customer support options. As with any small business, the easier customer support is to access when it's needed, the more time salon owners will have to focus on their clients.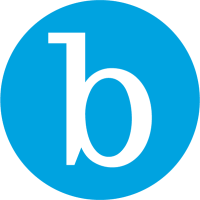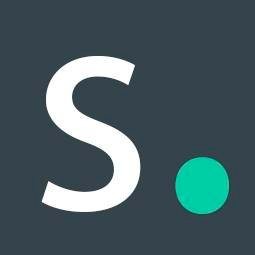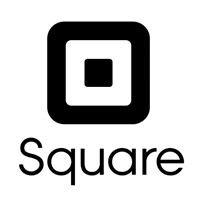 Other Salon Software Options
There are many other salon software options on the market that may be a better fit for your business' needs. Here are some of the others that we liked and what makes them unique:
| Provider Name | What Makes It Unique? |
| --- | --- |
| Booker | Best overall salon software |
| Shedul | Completely free service |
| Square | Mobile payment processing |
| MINDBODY | Competitively priced if you also sell memberships |
| Rosy | Basic software at a lower price |
| Vend | Powerful POS that can manage your salon when paired with Timely |
| Booksy | Best mobile app |
| Salon Iris | Confirm appointments by SMS |
| Schedule.it | Another salon software option |
| Versum | Takes note of inventory, client profiles, and appointment scheduling and cancellations. |
The Bottom Line
Booker's wide range of features, which will help your salon acquire, manage, service, and retain clients make it the most complete end-to-end solution that we reviewed. This, as well as its competitive price, make it our recommendation for the best salon software for 2017.