6 Best Salon Software for Small Business
This article is part of a larger series on CRM.
Salon booking software enables users to manage various aspects of their business—from scheduling bookings and tracking product inventory to managing rewards programs and processing payments. The best salon scheduling software also includes marketing tools for social media, email, and SMS, as well as unlimited booking allocation and low transaction fees.
We've reviewed dozens of options to see how each compares based on cost, ease of use, and niche features. Here are our top picks for the six best salon management software:
Best Salon Software for Small Businesses Compared
Provider

Pricing Plans

Key Features

Help & Support

Starts at $25/month for 1 calendar

Calendar management, COVID-ready badge, payments

24/7 phone, email, and chat plus free training

Customized

Multilocation management and marketing

Live chat, tickets, and community support

$24/month

Scheduling, business branding, analytics

Email and SMS, M-F, 10 a.m. - 8 p.m. Eastern Time

Free

Scheduling, social media bookings

Email; daily from 7 a.m. - 7 p.m.

Paid plans start at $34.99/month

Scheduling, class management

Email and phone support plus community support

Starts at $159/month

AI front desk, branded mobile app

24/7 phone, email, and chat support
If you're not running a salon business and are looking for a different kind of customer relationship management (CRM) tool, check out our article on industry-specific CRMs.
Vagaro: Best All-in-One Salon Management Software
What We Like
No online booking transactions; 100% of profits go to your business
No long-term contracts
Covers a wide range of wellness businesses—from salon to fitness centers
What's Missing
No free plan
Expensive to scale up
Pricing Summary*
Base Plan: Ranges from $25 to $75 per month for 1 to 6 bookable calendars; $85 per month for 7 or more calendars
Add-ons:
Payment processing: Starts at 2.2% per transaction
Text message marketing: Starts at $20 per month
Website builder (booking page): Starts at $10 per month
*Based on monthly billing
Vagaro is a scheduling and management software designed for various beauty and wellness businesses, including salons, spas, tattoo parlors, and fitness centers. It provides an all-in-one solution for business owners to manage their customer profiles, schedule bookings and appointments, process payments, and track inventory. It also has administrative features, including payroll, staff, and rental fee management.
While Vagaro provides an all-in-one management solution for salon and wellness businesses, it doesn't offer a free plan, and its subscription prices make it expensive for small businesses to scale up. If you prefer a free app, we recommend Fresha. On the other hand, if you want more budget-friendly pricing options, check out Schedulicity, which offers a number of unlimited features in their paid plans, including unlimited appointments and classes.
Vagaro Features
Vagaro provides users with extensive tools to manage all aspects of their business—from booking appointments to processing payments. Below are some of our favorite features from the software:
Calendar management: Schedule or reschedule an appointment with a simple drag-and-drop tool. After moving a booking, you also have the option to notify the customer of the change.
COVID-ready badge: Acquire a COVID-safe badge for your business upon receiving five or more positive safety ratings from visiting clients.
Inventory management: Track item and product inventory, automatically re-order products, and record your purchase order history straight from the platform.
Payment processing: Collect credit card payments in-store or on the go with Vagaro's EMV chip card reader. Users can also make direct payments online when booking their appointments.

---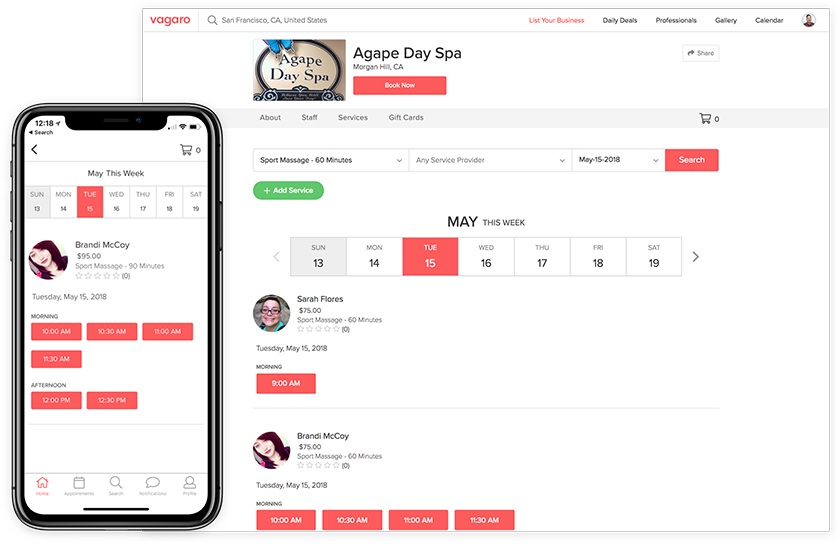 ---
Vagaro addresses the most essential parts of scheduling and reminding customers of their appointments—making it a great choice for beauty, wellness, and fitness businesses. Its payment processing and online store management also offer businesses reliable tools to manage the administrative aspects of running their salon. Read our in-depth Vagaro review to find out if it suits your needs.
Phorest: Best Salon Software for Business With Multiple Branches & Locations
What We Like
Easily toggle between various branches or locations of your salon business
Lets users send automated review requests on Facebook and Google Business
Offers a centralized loyalty management program
What's Missing
No fixed pricing
No free trial
Pricing Summary
Pricing is fully customized for various plans and features.
Phorest specializes in offering salon businesses multilocation management features. Its advanced reporting suite lets business owners see their overall sales performance as well as dive into the details of each of their locations. Its seamless interactivity between branches allows each salon to share resources and work together. You can also switch between any of your salons to see the real-time information you need—no need for multiple accounts.
Phorest, however, doesn't offer fixed pricing plans, and subscription costs are customized. It also doesn't provide a free trial. If you prefer a more predictable billing scheme, consider Vagaro. Meanwhile, if you want to try out the app first before committing to a paid plan, try GlossGenius.
Phorest Features
Phorest offers extensive tools to help users with various salon branches manage all their business needs in a centralized platform. Below are some of our top picks for multilocation management features:
Staff roster and performance tracking: Set and manage staff rosters, allowing staff members to be available at multiple locations even on the same day. Set goals for your staff within the app and track their progress, including the number of clients and the value of services provided.
Centralized business information and database: Quickly and easily access client information across all locations, as well as service histories, branch history, and product history.
Centralized loyalty management program: Allow your clients to earn and redeem points and rewards when purchasing products or services at any of your locations.
Multilocation marketing: Provide personalized marketing while targeting clients across a single branch or all locations with ready-made SMS and email templates.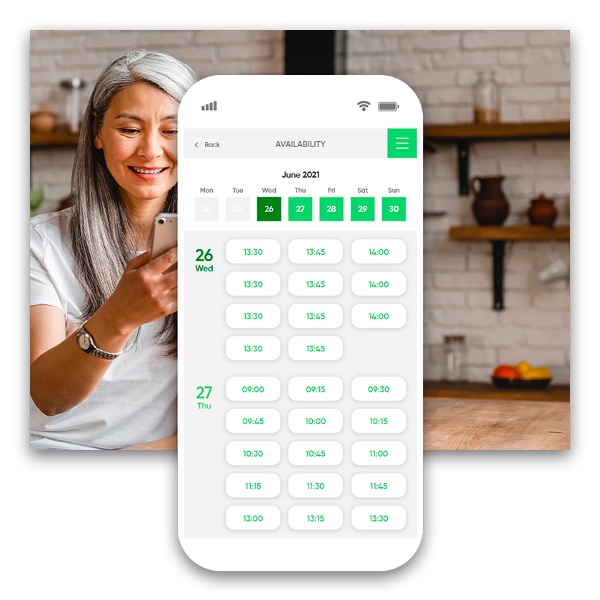 ---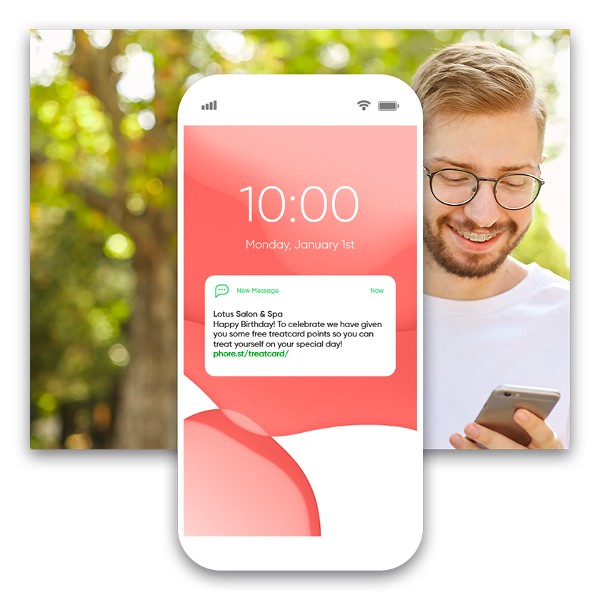 ---
GlossGenius: Best Salon Software With Robust Mobile App
What We Like
Sleek, intuitive mobile app
Simple standard pricing plan that includes all features
Has brand building tools to help businesses design a professional-looking booking interface
What's Missing
No free plan
Offers a premium plan, but on an invitation-only basis
Pricing Summary*
Add-on:
Payment processing: 2.6% per transaction
*Based on monthly billing
GlossGenius offers a sleek and sophisticated mobile booking interface for salon owners. Easily accessible and manageable via iOS and Android, GlossGenius provides businesses with an easy-to-use calendar that lets their customers book appointments 24/7. It also has brand-building tools that let businesses build beautiful customizations to their booking interface and design appealing service menus.
While GlossGenius' interface looks luxurious and the provider offers robust brand-building tools, it doesn't have a free plan for businesses with limited budgets. If you don't want to spend on monthly subscription fees, check out Fresha or Schedulicity instead, as both providers offer a free plan.
GlossGenius Features
GlossGenius provides users with an intuitive interface for appointment scheduling—making it ideal for beauty salons that want to have a certain luxe branding. The app also allows customers to book through social media links via Instagram and Facebook. Below are its standout features:
Client profiles: Add client notes and photos, record appointment and purchase history, and automate birthday promotions.
Marketing tools: Automate customer review requests to increase your positive ratings online. Send promo messages to clients via email, SMS, or social media.
Calendar scheduling: View daily, weekly, and monthly calendars. Manage employee schedules, personal time blocks, and recurring bookings.
Sales analytics: Have complete visibility of your business performance, including sales to date, monthly and yearly sales trends, as well as average customer bills.
Fresha: Best Free Salon Management Software Solution
What We Like
No monthly subscription fee
Unlimited bookings and staff
Low card transaction fees
What's Missing
Lacks essential integrations (like accounting and messaging tools)
Customer support is limited via email
Pricing Summary*
Base plan: Free
Add-ons:
New client fee: 20% finder's fee for every new client booking through Fresha's marketplace
Blast campaigns: 5 cents per SMS, 2 cents per email
Payment processing fee: 2.19% + 20 cents per transaction
*Based on monthly billing
Fresha is a completely free salon booking app that provides users with basic but crucial features to manage their salon and wellness business. Fresha offers users unlimited appointment bookings and locations and lets users enroll unlimited team members and clients. It also manages unlimited product inventory.
Fresha lacks essential software integrations like accounting (such as Xero) and messaging tools (like WhatsApp Business). It also offers limited support via email. Users who want a provider with wider integrations and better customer support should consider Schedulicity instead.
Fresha Features
Fresha, while free, provides essential salon management tools for small businesses—making it ideal for business owners who just started running their salons. Below are some of its best features:
Appointment scheduling: Manage appointments and booking from various devices, including desktop, tablets, and mobile.
Social media booking: Add unlimited "Book Now" buttons to your Instagram and Facebook pages so new or existing clients can book online instantly.
Payment processing: Securely process client payments via pay by link, saved card, and Fresha card terminals for a seamless checkout experience.
Automated marketing: Target client groups with filtering tools to reach your top spenders, most loyal, and lapsed clients. Send personalized emails to your regular clients on milestone events, including birthdays and anniversaries.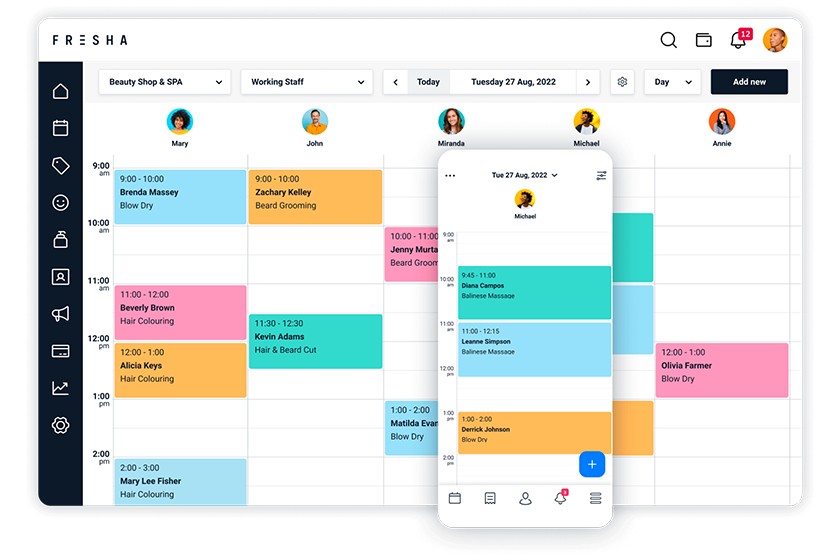 ---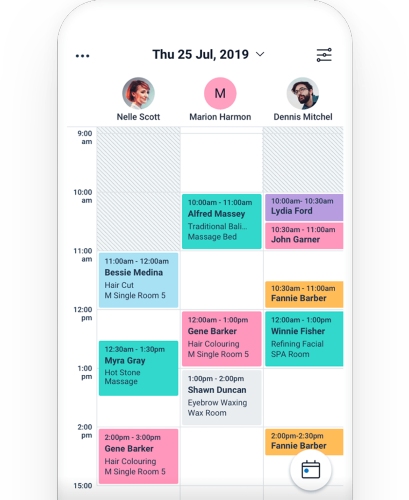 ---
Fresha is ideal for small salons because of its free plan and unlimited bookings. Its marketing tools are also helpful for small salons to expand their customer base and retain their existing ones. Are you considering Fresha as your salon software program? Read our extensive Fresha review to learn more about this provider.
Schedulicity: Best Easy-to-Use Salon Management Software With Class Management Tools
What We Like
Offers a free plan
User-friendly interface
Unlimited email and phone support
What's Missing
Free plan only allows up to 10 bookings per month
Free plan doesn't include payment processing feature
Pricing Summary*
Free Plan: Up to 10 bookings per month
Solo Provider: $34.99 per month
Growing Business: $44.99 to $84.99 per month (up to 5 providers)**
Big Businesses: $94.99 per month
Add-ons:
Payment processing: 2.5% per transaction + 15 cents
*Based on monthly billing
**A provider includes any professional offering a service, class, or workshop, such as a yoga teacher, massage therapist, or stylist
Schedulicity provides salon and wellness businesses with a simple app to manage and process bookings. It provides a free plan that suits micro-businesses as well as paid subscriptions for more established companies. Its features include appointment scheduling, staff management, and marketing tools. It also offers class management tools for wellness and fitness centers, including class listings, waitlist management, and safety waivers.
However, Shedulicity's free plan only offers up to 10 bookings. Its free plan also doesn't have a payment processing feature. If you are looking for an alternative that provides both, we recommend checking out Fresha.
Schedulicity Features
Schedulicity doesn't only offer appointment booking for salon businesses—it also provides features to help wellness establishments manage class bookings. Below are some of its key features:
Appointment scheduling: Lets you keep full control of your calendar with color-coordinated appointment blocks. You can easily spot first-time clients, client messages, waitlist requests, and more.
Class management: Add and edit class listings, check in attendees, and mark cancellations. Offer waitlists for your most popular times and instructor, and get instant alerts when someone on the waitlist can fill a spot.
Team and partner management: Allows you to link multiple employees and business partners at one location while keeping payments and client lists separate.
Mobile app: Lets you manage bookings completely on the mobile app—even without a website.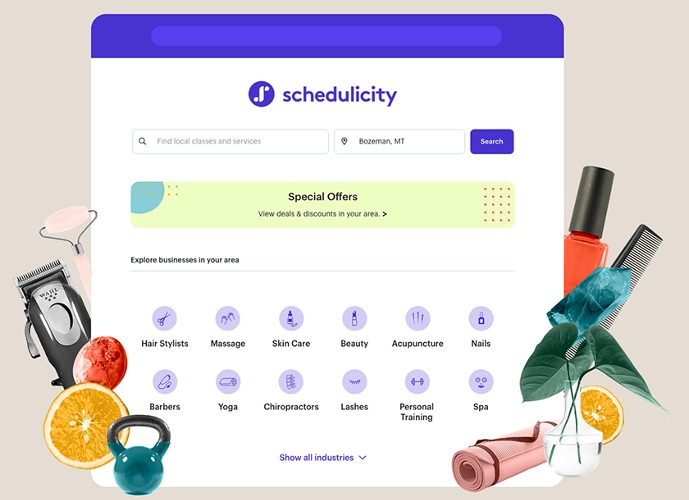 ---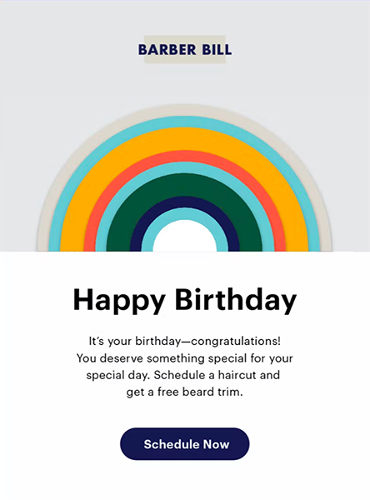 ---
MindBody: Best Salon Management App With AI Capabilities
What We Like
Has an AI receptionist tool that lets users manage and track all check-ins
Offers robust reporting tools
Has marketing tools to nurture client relationships
What's Missing
Expensive pricing plans
Email and text marketing require high-tiered plans
Pricing Summary*
Starter: $159 per month
Accelerate: $279 per month
Ultimate: $499 per month
Ultimate Plus: $699 per month
*Based on monthly billing
MindBody is a salon, wellness, and gym management app designed for larger chains and established businesses. Its features include payment processing, referral tracking, and team management—including tools to track hours and manage payroll. One of its notable features is its AI front desk tool, which automatically answers questions, makes sales, and books salon appointments whenever your staff cannot attend to customers personally.
While MindBody offers advanced and robust salon management features, it has an expensive entry-level cost. Its marketing tools are also only covered in the more expensive plans. Business owners who prefer to invest in more affordable providers with marketing tools can consider GlossGenius or Schedulicity instead.
MindBody Features
MindBody is a robust, all-in-one solution that helps users manage all aspects of their salon chain business. Check out some of our favorite features below:
AI front desk: Automatically text clients immediately after a missed call, answer their questions on your site, or chat with them on Facebook. The AI front desk can even follow up after their visit to rebook another appointment.
Branded mobile app: Allows you to design the MindBody app like your own and put your branding on it. MindBody will help you design the aesthetics and interface, and also publish it in app stores, so your clients can easily find it.
Reporting and analytics: Keep track of your sales performance for each store or salon chain. Spot trends from seasons and promos so you can design your marketing campaigns more effectively.
Performance leaderboard: Motivate your staff by showing them how they're tracking their key performance indicators (KPIs). You can also hold contests and set goals, and reward your staff based on how they perform after completing each week or month.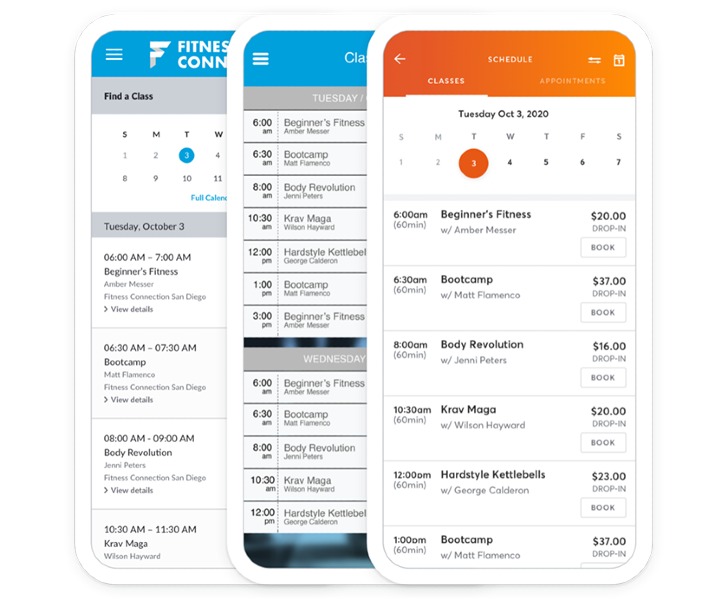 ---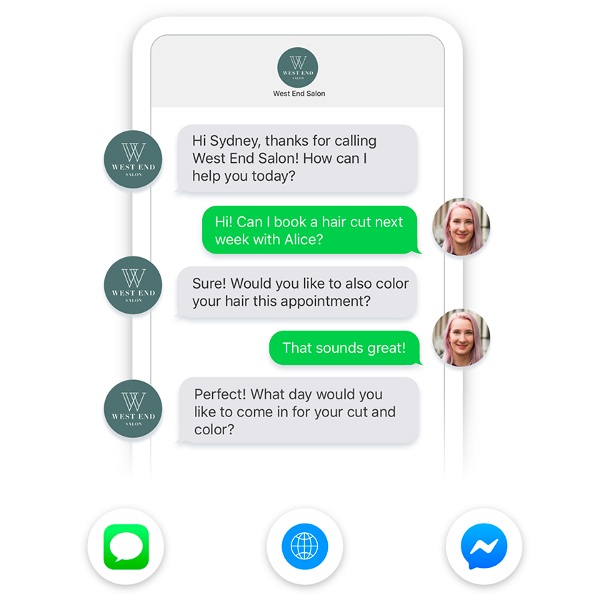 ---
How We Evaluated the Best Salon Software for Small Business
To determine the best salon management software, we looked at the availability of the most crucial features, including scheduling, staff management, and multilocation tracking. We also evaluated the pricing options, availability of marketing tools, and inventory management features.
We chose Vagaro as the best overall salon booking software because it offers an all-in-one solution that allows users to manage everything about their salon and wellness business. It has an easy-to-use booking interface, a scheduling management system, an online and offline payment processing system, and an inventory tracking tool.
The tabs below offer insight into our evaluation process for choosing the best salon management software for small businesses:
10% of Overall Score
Cost is typically among the most important criteria for any business. We considered the availability of a free plan, the option to scale, and the payment scheme and terms.
10% of Overall Score
We looked at overall features we feel are necessities in any salon management system, such as scheduling and booking, as well as staff management tools.
30% of Overall Score
We also looked at niche features needed in a salon management app. We looked for the availability of a customer directory, inventory management, and a payment processing system.
20% of Overall Score
The best salon management app makes it easy for both business owners and customers to use. We looked at the ease of booking and managing appointments. We also evaluated the level of technical experience needed to operate the app.
20% of Overall Score
Extensive support and service help prevent poor user experiences and outcomes users may encounter while using any of these salon management software platforms. Help and support were evaluated in terms of customer service hours and the availability of support via phone, live chat, and email.
10% of Overall Score
In addition to firsthand experiences with the best salon management software, we evaluated what other users say about each product. These criteria consider how customers feel, based on their reviews, to gain insight into platform popularity, ease of use, and overall value for the price.
*Percentages of overall score