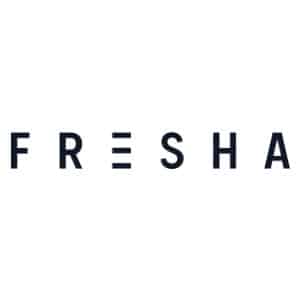 What We Recommend Fresha For
Fresha is a POS system made specifically for health and wellness establishments. Though its features may not be robust or versatile enough for a large business or medical office, its free online booking platform offers an incredible value for small salon, beauty, and wellness businesses.
We found Fresha particularly suited for the following:
Wellness businesses with a limited budget or that sell retail: Fresha lets you book unlimited appointments and manage unlimited inventory along with management tools for selling. It has card transaction fees that are among the most competitive in the market. Fresha is free to use and makes our list of top free appointment scheduling software.
Salons and spas with multiple stylists that need resource management tools: Unlike other popular appointment apps, Fresha's free platform allows scheduling for unlimited team members, appointments, and booking availability for rooms, booths, and equipment. Because there is no extra cost to accepting appointments for multiple stylists, we listed this software among our best salon and spa POS systems.
When Fresha Would Not Be a Good Fit
Busy salons with walk-in clients: While Fresha can book unlimited appointments, arranging a large number of walk-in clients can become overwhelming from a single desk. We recommend Salon Iris, as it offers walk-in kiosk features along with a regular appointment booking system.
Solopreneur wellness professionals: Fresha is designed to manage a calendar for multiple staff members. As such, solopreneurs in the wellness industry should consider Square Appointments, which offers tools for managing one calendar per user, including the integration of personal calendars.
Online businesses: Personal trainers, fitness instructors, and other wellness coaches that work online require a video calling platform, which Fresha does not support. We recommend that these types of users consider alternative scheduling software applications, such as Picktime and 10to8.
Fresha Overview
PROS

CONS

No monthly fees
Online booking features are an add-on
Low card transaction fees
Lacks key business integrations
Unlimited bookings and staff
No-show protection only for Plus plan subscribers
Built-in order management features
No group booking capability
Fresha Pricing
Although Fresha advertises having a Free and Plus plan option, the software is actually as free-to-use as can be. Signing up to Fresha's Plus plan means you get access to added tools, including a couple of pay-as-you-go features, namely integrated card payment processing with a transaction fee of 2.19% + 20 cents and online booking with a finder's fee for first-time clients of 20%. There are no monthly fees, even for Fresha's Plus plan.
Monthly subscription: Fresha does not charge a monthly fee for either Free or Plus plans.
Transaction fee: Fresha charges 2.19% + 20 cents per appointment after a client books online, accepts your no-show policy, and pays for the service.
New client fee: The provider charges a one-time 20% finder's fee for every new client booking through Fresha's marketplace. This fee does not apply to any return clients and if customers book through your website or social pages.
Fresha Basic Plan

Fresha Plus Plan

Cash transactions
Third-party card payments*
Calendar management
Sales summary
Client management
Staff management
Services menu
Inventory management
Analytics

All basic plan features, plus:
Listing on Fresha marketplace
Integrated card payment processing
Online booking
No-show protection
Marketing tools
Voucher sales
Consultation/ in-take forms
Client messaging
*Fresha accepts Visa and Mastercard payments without signing up for the Plus plan, which means businesses will have to apply for a third-party payment processor with a different transaction fee rate.
Fresha Hardware
Fresha runs on both iOS and Android devices, so you can purchase or use any existing hardware that runs on either operating software. This means being able to use any compatible accessories such as barcode scanners, cash drawers, and printers. Fresha uses Verifone card terminals for integrated card transactions, which can be ordered through the Fresha platform.
Verifone v400m

Verifone e285

Best for: Countertop checkout

Best for: Mobile checkout

Accepts credit, debit, and gift cards
Supports contactless payments
Add a tip option
Wireless connection through Wi-Fi
Built-in printer

Accepts credit, debit, and gift cards
Supports contactless payments
Add a tip option
Wireless connection through Wi-Fi
Prices for the card terminals are not readily available, but Fresha's website discloses that the hardware is purchased and not rented. Users are also asked to specify their estimated monthly transaction by choosing from a list of dollar brackets.
Fresha Features
Fresha may be free, but it is packed with features that can help organize your schedule, stocks, and staff more efficiently. Businesses wanting integrated payment processing will have to sign up for the Fresha's Plus plan, which gives access to online booking features.
Click-through the tabs below for a full breakdown of Fresha's features:
Real-Time Booking
Calendars are accessible from mobile and desktop, where you will get real-time information. See which staff are working on specific dates, or view the full schedule of a certain staff member for the day or week. You can also manually add new appointments or block times and ring up sales for walk-in clients directly from the calendar.
---
Client Management
You can add clients on Fresha individually (for walk-ins) or in bulk by uploading a CSV file. Apart from their contact details, each client file contains your client's consultation form, upcoming and previous appointments, purchase history, and invoices. You can even update, merge, delete, or block a client file, and any changes will show up in real time for other users of the platform.
Your clients can also create their own profiles by booking online or using the downloadable Fresha client app. These clients will have a star next to their name in your client management tab; and while they have full access to edit their contact information, you also have the option to accept the changes or restore the original contact details for your records.
---
Staff Management
You can add bookable and non-bookable (for admin and receptionists) staff members on your Fresha platform, including their contact information and job title. You can also add locations (for multiple-location businesses) and work hours, but you'll need to specify commissions and the services employees provide by choosing from your list in the services tab. A toggle button will allow your staff member to add bookings to the calendar.
Staff permissions are multi-level and can be customized based on each of your staff member's roles. You can remove or adjust access levels at any time.
Basic permissions only allow for viewing
Low-level permissions are for service providers
Medium-level permissions are for admin and receptionist roles
---
Services Creation
The services tab allows you to do the following:
make a list of services that can be booked by one client in a single visit
make a service available for online booking and voucher sales
create a single service or a package that can be booked together in one appointment
specify the staff available for each service, commission, and tax rate
If you upgrade to Fresha Plus, you can make services available for booking on the Fresha marketplace and your own website, as well as through "book now" buttons on your social channels.
---
Online Booking
Fresha Plus allows businesses to have clients book appointments from Instagram, Facebook, Google, and their own website with a "Book Now" button. It also gives customers the ability to reschedule, cancel, and rebook appointments online so that they don't need to make a call. With online booking, businesses can receive and automatically accept booking appointments at any time of the day.
Fresha's marketplace is an online, customer-facing platform where business owners who use Fresha's scheduling software can make their services available to clients on their mobile devices.
Service providers can set up their business profile and list their paid plan services, whereas clients can create their own customer account and browse services available for sign-up. It also allows them to leave reviews and ratings that other customers can view. This feature is unique to Fresha and can be a great way for new businesses to attract customers.
---
Point-of-Sale
Fresha allows you to set up payment types for use during checkout. The platform can add tips on checkout and set payment and discount types, staff commission rates, and voucher duration. It can also manage tax rates on certain items, configure details displayed, and place custom prefixes or numbers on invoices issued to customers.
Subscribing to Fresha's Plus plan allows you to set up integrated card payment processing, manage tip settings, and accept Pay By Text messaging for offline and even online bookings. Clients receive a secure payment link through an SMS message and an authorization code to complete the payment.
Payments Accepted with Basic Plan

Payments Accepted with Plus Plan

Cash
Vouchers
Third-party card processor

Cash
Vouchers
Integrated card payments
Third-party card processor
Apple Pay and Google Pay
Pay-by-text messaging
---
Inventory Management
You can upload unlimited inventory for product sales and create categories and brand listings separately so that you can specify each while adding your products. There's also a tab for creating a suppliers list, allowing you to keep track of the details you need for purchase orders.
Fresha's stock control tools are also worth mentioning. It enables you to order directly from the platform—a feature that's usually an add-on for other popular POS systems. Stock transfer is also available for businesses that have more than one location. Barcode scanners can be used to search for stocks that are being sold or transferred.
Additionally, Fresha can track internal product consumption such as shampoo and hair dyes for salons. You can even view reports for internal use, damaged, lost, and expired products to keep an eye on shrinkage. This feature is not found in most all-purpose POS systems.
---
Reporting and Analytics
The platform has an extensive list of reports and a range of analytics that provide insight into your sales, appointments, and client retention performance. It enables you to
monitor your finances, staff performance, and inventory
track your voucher sales, redemption rates, and cancelation rates
view projected revenues for upcoming appointments
identify your best clients
---
Integrated Payments
Users who sign up for Fresha Plus get access to its integrated card processing function, Fresh Pay, which securely encrypts client information with industry-standard PCI compliance. This enables you to accept payments and get advanced no-show protection by being able to charge penalties from a client's card-on-file. Your available funds will be transferred daily to your bank account, and you can keep track of it in real time.
Meanwhile, cancelation policies can be customized. You can specify the cancelation rate and the length of advanced notice required before penalties are charged. The details will show up on your Fresha marketplace profile, and clients will be asked to confirm their booking by adding credit card information. You also have the ability to override policy settings for specific clients and appointments.
---
Consultation Forms
Fresha's consultation form, which is highly customizable, is where clients provide service-related information such as medical history and consent. The form builder allows users to create forms from scratch or start with the help of ready-made templates. You can also personalize the response types (e.g., multiple-choice, drop-down, or short-text) to suit your business needs. Note that this feature is available with Fresha Plus.
The system automatically sends the form to clients before their appointment and can easily be accessed on mobile. Once completed, clients can save their answered forms, which are then automatically saved on their profile.
---
Client Messaging
By default, your notifications are sent via email to your clients. Subscribing to Fresha Plus gives you access to SMS text messaging and app push notifications. The messages and settings are both customizable and give you a preview of what your message will look like as an email, SMS message, and app notification.
You can also review your sent client notifications. The client messaging section on the platform has a message log tab where all messages are listed and sorted from most recent to earliest. You can also use the search tool to look for a specific message.
---
Marketing Tools
Fresha Plus includes smart marketing tools that can be automatically triggered based on your calendar and client list. The platform uses a smart delivery system that sends out blast messages based on live client information, preferences, and your business's default settings. This can be used to send out exclusive discounts and announce special events to a specific clientele.
---
Integrations
There are only a handful of integrations available for Fresha users and are entirely for marketing and online booking purposes.
Reserve with Google
Google Analytics
Facebook Pixels
Instagram
---
Fresha Ease of Use
Easy to use interface
Knowledge Base
Video Tutorials
Community forum
Knowledgebase
Runs on iOS, Android, and Windows
No phone support
No offline access
It takes only a few minutes to sign up with Fresha, and the system itself guides you through the setup process, which includes a demo feature that you can use as you familiarize yourself with the interface. There's a setup tab that explains which tools are available for you and which ones are only accessible with the basic plan. There's also a 14-day preview for those who want to try the Fresha Plus plan.
The platform also has a help center and a community forum where users share ideas on future upgrades. It also has training videos on its YouTube channel for a quick run-through of features. Fresha's customer support is available only through email, available daily from 7 a.m. to 7 p.m.
Fresha Alternatives
| Square Appointments | Acuity Scheduling | Bookeo |
| --- | --- | --- |
| Best for: Solopreneurs in the service industry | Best for: Consulting-based businesses | Best for: Businesses looking for built-in marketing features |
| Software from: From $0 | Software from: $0 | Software from: $14.95/month |
| Hardware from: $49 | Hardware from: Varies | Hardware from: Varies |
| | | |
See more details on how Fresha compares with other popular scheduling apps.
What Users Think of Fresha
Reviews for Fresha are positive overall, with most users saying they are very happy with how easy it is to understand the platform. It's also interesting to note that while Fresha's pricing structure seems simple, a number of complaints about the software are about its confusing monthly bill. Fresha is rated 3.7 out of 5 based on 26 reviews from Apple's App Store and 4.5 out of 5 based on over 1,600 reviews from Google's Play Store.
Other popular third-party review websites rated Fresha as follows:
Finances Online has a Customer Satisfaction Algorithm that gathers reviews, comments, and opinions on software from many different social media sites and analyzes the data to provide a score out of 100. Fresha garnered an overall user satisfaction rating of 87%.
These are the trending positive and negative comments that I noticed while reading through the reviews:
| Users Like | Users Don't Like |
| --- | --- |
| Easy account setup | Missing key add-ons |
| Clean user interface layout | Customization for commissions |
| Extensive reporting | Too frequent updates |
| Ability to create custom vouchers | Somewhat confusing billing |
Bottom Line
With unlimited scheduling in a free subscription plan, Fresha is an ideal appointment scheduling solution for a small health and wellness business. It offers a wide range of appointment customization tools and unlimited retail features, including a built-in stock ordering and control, that usually cost extra when subscribing to other POS platforms. Updates are being made regularly to the system, so users should expect promising developments from Fresha in the near future.