6 Best VoIP Conference Phones of 2022
This article is part of a larger series on VoIP.
The top voice-over-internet-protocol (VoIP) conference phones offer crisp audio and background noise suppression to keep voices clear with controls that make it easy to set up and begin your meeting. They also support a variety of room sizes and budgets. We assessed conference phones based on call management functionality, media features, and microphone ranges to find the best VoIP conference phones for small businesses.
VoIP Conference Phones at a Glance
VoIP Conference Phone

Starting Price

Key Features

Room Size

FSB Rating

Konftel 55Wx

$369

Up to 9 hours of call time
2-year warranty
360-degree microphone

Small

4 out of 5

Polycom Trio 8500

$324.95

One-touch join
5-inch screen
Calendar integration

Small to medium

3.88 out of 5

Grandstream GAC2500

$280

3 microphones
4.3-inch display
2,000 contacts and call histories

Small

3.86 out of 5

Konftel 300Wx

$549.88

Up to 60 hours of call time
Smartphone integration
Omnidirectional microphones

Small

3.84 out of 5

Yealink CP960

$614.99

5-inch display
Active-speaker
1,000 phone book contacts

Medium to large

3.76 out of 5

Polycom RealPresence Trio 8800

$490

5-inch screen
Acoustic Clarity technology
Voice activity detection

Medium to large

3.67 out of 5
Konftel 55Wx: Best Overall VoIP Conference Phone for Small Teams
What We Like
The 2-year warranty is double what other manufacturers offer
Supports up to a 32GB memory card for audio recording
Phone menu and guides available in 17 languages
What's Missing
Smaller display with no video capabilities
Only 1 universal serial bus (USB) port
Konftel 55Wx Pricing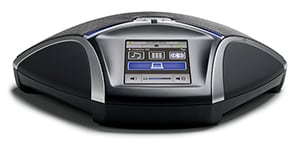 The Konftel 55Wx is a mid-priced VoIP conference phone perfect for huddles with up to 12 people. It features high-definition (HD) audio, echo cancellation, and noise suppression for clear conversations. The multidirectional microphone captures audio in a 320-square-foot room, and the volume goes up to 90 decibels (dB) sound pressure level (SPL).
It's compatible with several VoIP providers, including Avaya, Skype for Business, Cisco, and Mitel. Plus, the Konftel 55Wx has integrated Bluetooth and near-field communications (NFC) for seamless in-room device connections. Unlike the less expensive Grandstream GAC2500, you can expand the range of Konftel 55Wx using optional microphones.
Konftel 55Wx Features
Scalable: The Konftel 55Wx grows with you, and you can update your software for free using a USB-connected, Windows-based computer. Add expansion microphones and conference cameras for large meeting support and easily connect your tablet, smartphone, computer, or desk phone.
Touchscreen: Use the display to switch or combine connections, record calls to an optional memory card, and use VoIP call management tools.
Omnisound: Konftel's audio technology is full-duplex, meaning it supplies clear sound in both directions. The 360-degree microphones feature automatic echo suppression and static reduction to keep background noise to a minimum.
Polycom Trio 8500: Best VoIP Conference Phone for Multilocation Provisioning
What We Like
Simultaneously register your device for multiple session initiation protocols (SIPs)
Certified by Microsoft Teams, Zoom, and Skype for Business
3 illuminated mute buttons reduce accidental hang-ups
What's Missing
1-year warranty is less than what Konftel offers
Doesn't have built-in Wi-Fi for audio conferencing
Polycom Trio 8500 Pricing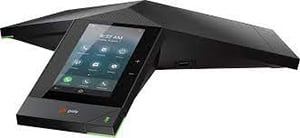 The Polycom Trio 8500 is a popular device sold by several VoIP providers, including Vonage and RingCentral. Its gesture-based, five-inch touchscreen is user-friendly—requiring one-touch to join a meeting. Like Konftel 55Wx, the Polycom Trio 8500 supports 17 menu languages. However, the Poly phone has a USB A and micro B port, whereas the Konftel 55Wx supports a single micro-B USB.
Poly also makes deployment simple, so it's an excellent option for enterprises with multiple locations. You can configure devices and review endpoint statuses using Poly's resource management tool. The Polycom Trio 8500 works with many business phone services, including 8×8 and Nextiva. But the speakers have 14 kilohertz (kHz) compared to 22 kHz with the Polycom Real Presence Trio 8800, so it has slightly less sound quality, which can be noticeable in larger spaces.
Polycom Trio 8500 Features
RealPresence Resource Manager: Oversee all Poly devices and configure standard or custom setups for each one. In addition, you can integrate your conference scheduling tools for simplified meeting management from your desktop.
Call handling: Manage up to three lines and use the local five-way audio conferencing tool to connect with additional huddle spaces.
Multiformat sharing: Share audio, video, and content using your Polycom Trio 8500 device. It supports Bluetooth for wideband speech and multimedia streaming.
Grandstream GAC2500: Most Affordable VoIP Conference Phone
What We Like
7-line conference bridge supports more lines than the Polycom Trio 8500
Full-color 4.3-inch touchscreen
Can configure 6 session initiation protocol (SIP) accounts on 1 device
What's Missing
Less intuitive to configure than other conference phones
An older Android operating system (OS) compared to Polycom software
Grandstream GAC2500 Pricing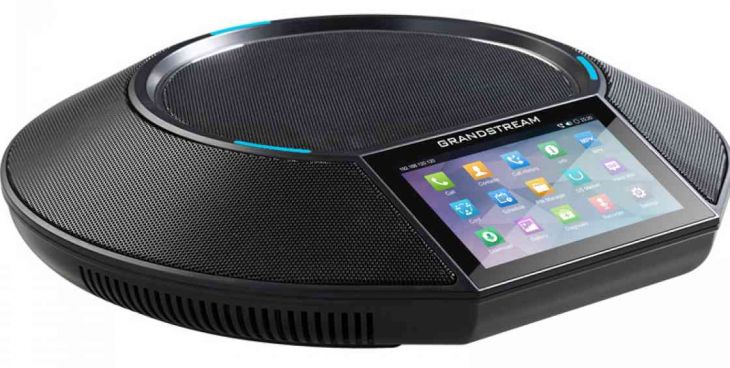 The Grandstream GAC2500 is the best overall value as it works with six lines, seven-way calls, and six SIP accounts at nearly $100 less than our top pick, the Konftel 55Wx. Like other VoIP conference phones, the Grandstream GAC2500 has built-in Wi-Fi and Bluetooth so that you can connect headsets and mobile phones.
However, it's less scalable than other equipment, as it supports daisy chains of two devices versus three with the Polycom Trio 8500, and you can't expand the voice range with additional microphones. Likewise, the 86 dB volume is less than Konftel and Poly devices, making it harder to hear in larger spaces.
Grandstream GAC2500 Features
Call scheduler: Use your desktop to schedule a meeting or view upcoming or previous events. You can also organize conferences via your Google Calendar, and it'll sync with your device.
VoIP functions: Save up to 2,000 contacts in a downloadable phonebook, create personalized ringtones, and park calls. Other VoIP capabilities include call waiting, music on hold, and call logs.
Third-party apps: Customize your phone by downloading apps from the Google Play Store, such as Skype for Business or Google Voice.
Konftel 300Wx: Best VoIP Conference Phone for Portability
What We Like
Record up to 100 hours on an optional memory card
Supports up to 5 simultaneous calls
Smartphones can control the conference phone
What's Missing
Only supports 200 phonebook contacts
More expensive than comparable VoIP meeting phones
Konftel 300Wx Pricing

The Konftel 300Wx is a wireless conferencing system that works with an elective digital enhanced cordless telephone (DECT) base station. It's the best option if you want to move your device between meeting rooms or locations without messing with wires. The battery lasts up to 60 hours of use (51 more hours than the Konftel 55Wx or 270 hours on standby. It's backed by a two-year warranty and supports an optional standard definition (SD) memory card of up to 2GB.
However, you can't daisy chain Konftel 300Wx devices like the Grandstream GAC2500 and Polycom Trio 8500. You'll also need to purchase extra microphones if you have more than 12 people or people sitting further than 14 feet from the device.
Konftel 300Wx Features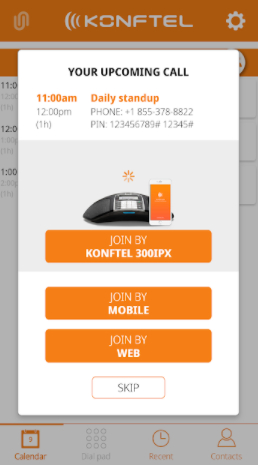 Konftel Unite app: Add the Unite adaptor to your Konftel 300Wx for ultimate portability. It transfers control of your conference phone to a mobile device, allowing one-touch conferencing from a smartphone.
On-screen menu: Your base station has six main functions viewable on the display, and you can toggle between them using the keypad. It includes a call list, phone book, conference guide, recording, settings, and status.
Conference groups: If you regularly meet with the same people, the Konftel 300Wx makes it easier by allowing preset categories with up to six individuals. Press one button to pick a group, see who's in it, and make a call to everyone. Once they answer, they're automatically connected to the conference call.
Yealink CP960: Best VoIP Conference Phone for Large Meetings
What We Like
Clear, easy-to-navigate screen
Meetings with up to 20 people in the room
Automatically mutes the microphone when speech isn't detected
What's Missing
Most expensive conference phone on the list
Fewer conference lines than Grandstream
Yealink CP960 Pricing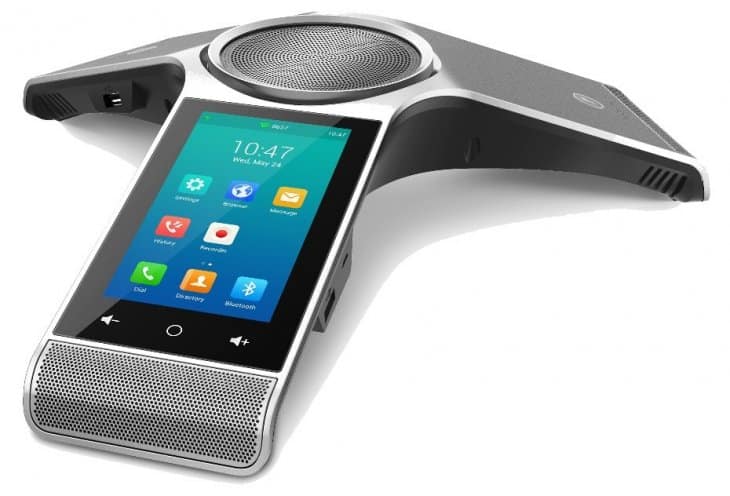 The Yealink CP960 is an excellent choice for larger spaces as the speakers sound clear up to 20 feet away without dead zones. Plus, you can add a wireless microphone to include people up to 60 feet away. Since it automatically mutes when human speech isn't detected, you can put it in the center of the room without needing to repeatedly reach for the mute button.
In addition, the Yealink CP960 has a unique feature that shows the name of the current speaker on screen. It also supports up to 100 hours of local call recording and five-line conference calls, fewer than Grandstream's seven. However, the Yealink CP960 uses the Android 5.1 operating system (OS), whereas Grandstream has the older 4.4 version.
Yealink CP960 Features
Unified communications (UC) meeting enabled: Start calls from your computer's VoIP softphone or smartphone and route them to your Yealink device via a USB port or Bluetooth connection.
Sound: The Harman-based acoustic technologies convey crisp audio with a 20-foot, 360-degree voice pick-up zone without dead spots. The noise-proof technology reduces background noise and mutes the microphone when speech isn't detected.
Active speaker: Look at the display to see the contact name of the active speaker so you don't have to ask who is speaking.
Polycom RealPresence Trio 8800: Best VoIP Conference Phone for Full-range Audio
What We Like
Offers the highest peak volume at 92 dB
Works with over 60 communications platforms
User interface supports 17 languages
What's Missing
Supports up to 3 lines versus 6 offered by the Grandstream model
May be overkill for small rooms and meetings
Polycom RealPresence Trio 8800 Pricing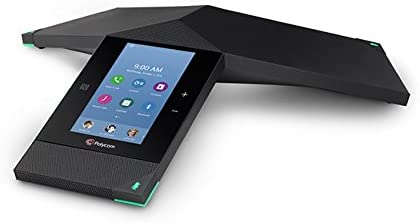 The Polycom RealPresence Trio 8800 provides the highest acoustic clarity with a frequency response of 100 hertz (Hz) to 22 kHz, as compared to the Polycom Trio 8500's 200 Hz to 14 kHz. It also includes Wi-Fi network connectivity, Bluetooth, and NFC. As such, the Polycom RealPresence Trio 8800 is an excellent fit for larger meetings with eight or more people and has a 20-foot pick-up range.
Like the Polycom Trio 8500, the RealPresence Trio 8800 works with many VoIP phone services, such as RingCentral, 8×8, and Vonage. Plus, it's certified through Microsoft Teams. However, if your space is smaller and you have fewer people in the room, consider the less expensive Konftel 55Wx or Polycom Trio 8500 models.
Polycom RealPresence Trio 8800 Features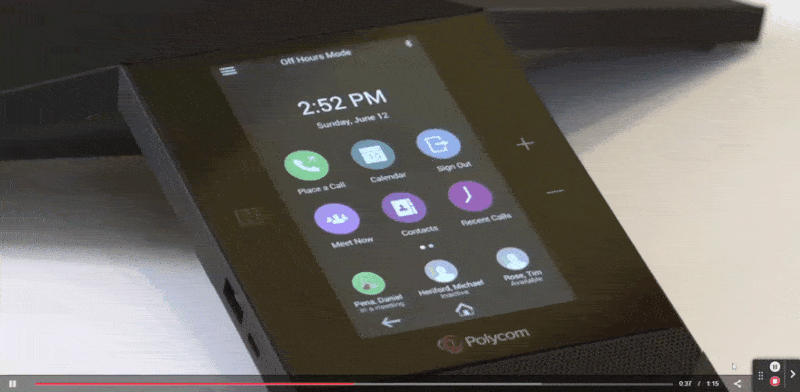 ---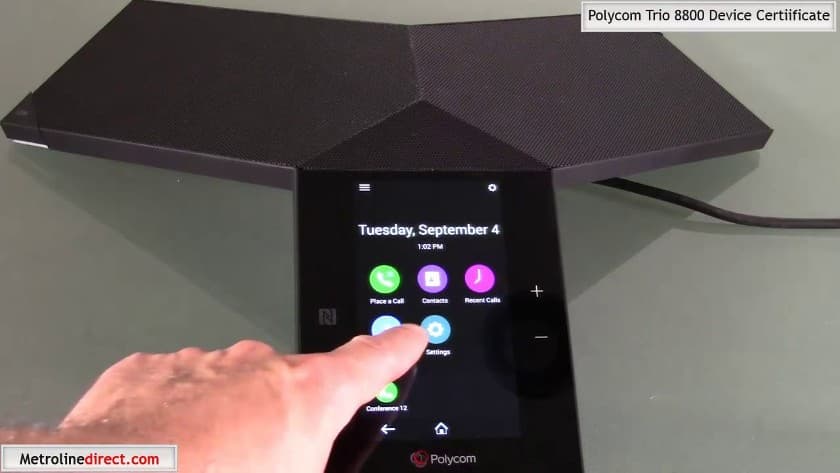 ---
Call management: Access your corporate directory and transfer, forward, or put calls on hold from your VoIP conference phone. It also has a one-touch speed dial, call waiting, and a do not disturb (DND) function.
Sound: The Polycom RealPresence Trio 8800 offers the fullest range of all the phones on our list, allowing listeners to hear the highs and lows of most voice conversations. It also has echo cancellation and noise reduction with intelligent processing.
Expandable: Connect up to three other conference phones and add a camera for video conferencing and content sharing. It works with Visual+ and VisualPro, so you can create inclusive, collaborative experiences for on- and off-premises staff.
Check out Polycom RealPresence Trio 8800
How We Evaluated the Best VoIP Conference Phone
Phones for your conference spaces should deliver high-definition audio and provide a user-friendly interface, whether that's via a keypad or touchscreen. Additionally, your VoIP meeting phones should fit your budget and room size. We assessed several phone models based on pricing, general and advanced features, and our expert score.
Learn how we evaluated the best VoIP conference phone by clicking on the tabs below:
15% of Overall Score
VoIP conference phones range from $280 to $600-plus and come with a one- or two-year warranty. We rated models based on the price and guarantee length.
30% of Overall Score
Phone consoles with longer microphone ranges and talk times earned higher scores, and we gave points to models with HD voice, call management, and call recording capabilities. Plus, we looked for VoIP features like call queuing, voicemail, call analytics, and an auto-attendant.
25% of Overall Score
Conference phones with full-color display, built-in video cameras, and detachable microphones scored higher than those without. We also considered Bluetooth headset compatibility, app support, and portability.
30% of Overall Score
Our expert score considers unique or standout features and overall value for the money. We also evaluated user experiences to determine each device's popularity and how easy it is to interact with the user interface and provision new units.
*Percentages of overall score
Bottom Line
Adding a VoIP conference phone to your meeting rooms or huddle spaces can improve collaboration between your on-premise and remote workforce. A device with clear audio and Bluetooth-enabled connectivity lets your teams share multimedia for more productive conferences. But meeting consoles can be pricey, so it's best to consider your room size before buying a new phone.
The Konftel 55Wx earned 4 out of 5 rating, making it the best overall VoIP conference phone. It's suitable for small spaces and meetings with up to 12 people, but it's also scalable with optional, compatible expansion microphones. Upgrade your meeting spaces with the Konftel 55Wx.