VoIP conference phones connect your shared office spaces, such as meeting rooms, to your VoIP phone service provider. The VoIP phone you choose for your conference room should be able to handle the size of the room as well as offer features that will assist your team on their calls.
We looked at the most popular VoIP conference phone options that covered the range of options for small businesses in terms of cost and available features. Read on for our comparison and to see what options are available at different price points.
Many VoIP providers offer phones when you sign up for their service. RingCentral, the most-recognized VoIP provider, has a great selection of desk phones, conference phones, and headsets available. Click here for details.
Best VoIP Conference Phones for Business Comparison Table
We recommend the Grandstream GAC2500 as the best overall VoIP conference phone for small businesses because of its range of features, access to the Google Play store, and competitive price.
| | Grandstream GAC2500 | Vtech ErisStation VCS754 | Polycom RealPresence Trio 8800 |
| --- | --- | --- | --- |
| Price | $353.65 | $320.95 | $1,019.00 |
| Microphone Range | 12 feet | 20 feet | 20 feet |
| Included Satellite Microphones | 0 | 4 | 0 |
| Display | 4.3" color LCD at 800 x 480 resolution | 2.3" greyscale LCD at 158 x 57 resolution | 5" color LCD at 1280 x 720 resolution |
| Touchscreen | ✔ | ✕ | ✔ |
| Bluetooth | ✔ | ✕ | ✔ |
| Caller ID | ✔ | ✔ | ✔ |
| Caller Hold | ✔ | ✔ | ✔ |
| HD Voice | ✔ | ✔ | ✔ |
| HDMI Output | ✕ | ✕ | ✔ |
| Power Over Ethernet | ✔ | ✕ | ✔ |
| WiFi Connectivity | ✔ | ✕ | ✔ |
The Right VoIP Conference Phone for Your Business
VoIP phones, both desk and conference, generally resemble your traditional landline phones. However, they usually include a wider range of features and, more importantly, they connect to your business' internet connection rather than a traditional phone line.
When choosing the right VoIP conference phone for your business, there are a number of considerations to make. Primary among them are:
How many people do you expect to be in the conference room and sharing the phone at one time?
Who is your VoIP phone service provider?
What is your budget?
VoIP conference phones will have a specified range in which they can detect and transmit voices. This can range from a few feet for smaller teams on the low end to 20 feet or more on the high end. The size of the conference room, the size of the desk or table that the phone will sit on, and the number of people who usually attend meetings and share the phone will all contribute to this decision.
Some VoIP phone service providers recommend specific brands or models of phones over others because they work well on their systems. While this used to be an important consideration to make, it's becoming less so as phones become more universal in their compatibility. However, some phone features may also be offered by your service provider, so this may add to the cost of the phone unnecessarily.
Finally, the price is the main concern for most businesses. Remember to include all of your conference and meeting rooms that will need a phone, as well as any future growth.
We recommend the Grandstream GAC2500 as the best VoIP conference phone for your business because it offers a wide range of features at a very competitive price.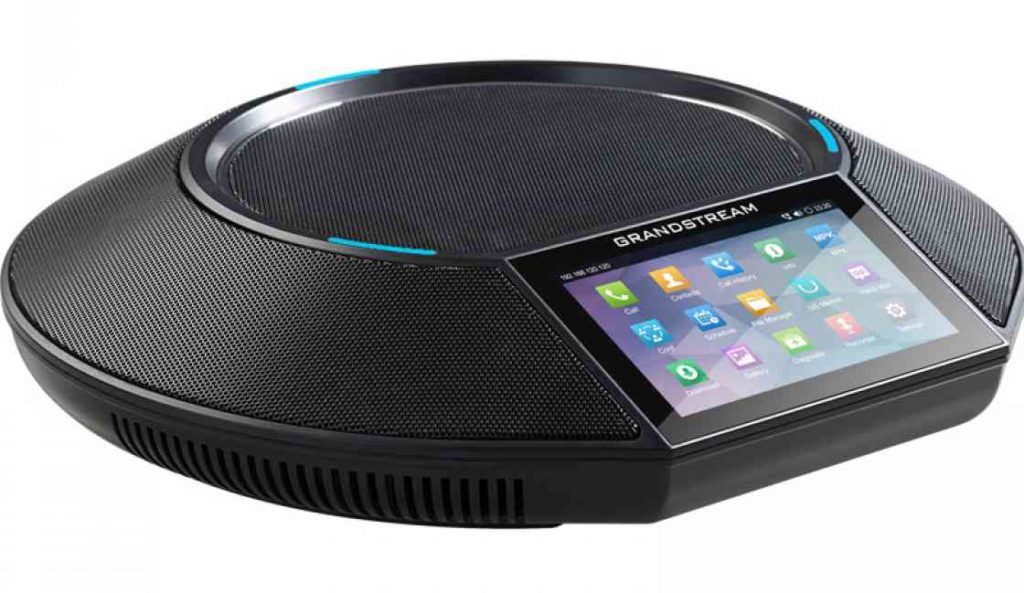 The Grandstream GAC2500 supports up to six lines and offers a variety of in-call features, such as caller ID, call hold, and full HD audio quality.
But most impressively, the Grandstream GAC2500 is based on the Android operating system and offers full access to the Google Play store, allowing it to host conferences via third-party applications like Skype, Google Hangouts, and more through its 4.3" LCD touchscreen.
The one downside to the Grandstream GAC2500 is that at 12 feet its microphone range is smaller than both the Vtech ErisStation VCS754 and Polycom RealPresence Trio 8800, However, with a variety of connectivity options, including Bluetooth for pairing headsets or other mobile devices and WiFi, you're not limited to the microphone's range or even the conference room to make your calls.
With two microphones on its base station and four wireless satellite microphones, the Vtech ErisStation VCS754 is our recommendation for the best VoIP conference phone for larger rooms.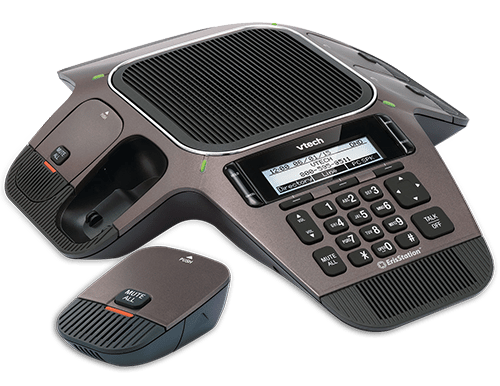 The two microphones on the base station have a range of 20 feet, which is on par with the much more expensive Polycom RealPresence Trio 8800 and 8 feet more than the similarly priced (albeit more fully-featured) Grandstream GAC2500, and the four wireless DECT 6.0 microphones can be placed anywhere in your conference room.
What you gain in microphone range, you lose in other features when compared to similarly priced VoIP conference phones. The Vtech ErisStation VCS754 includes basic in-call features like HD audio, caller ID, call transfer, and call hold as well as physical features like programmable keys and phone books; however, the 2.3" greyscale LCD screen at 158 x 57 resolution is much smaller and less user friendly than the Grandstream GAC2500's 4.3" color LCD touchscreen. The Vtech ErisStation VCS754 doesn't offer Bluetooth or WiFi connectivity either.
Buy Vtech ErisStation VCS754 Here
The Polycom RealPresence Trio 8800 exceeds any reasonable expectations of what a VoIP conference phone can offer with a wide range of collaboration features in addition to its exceptional call quality — albeit with a price to match.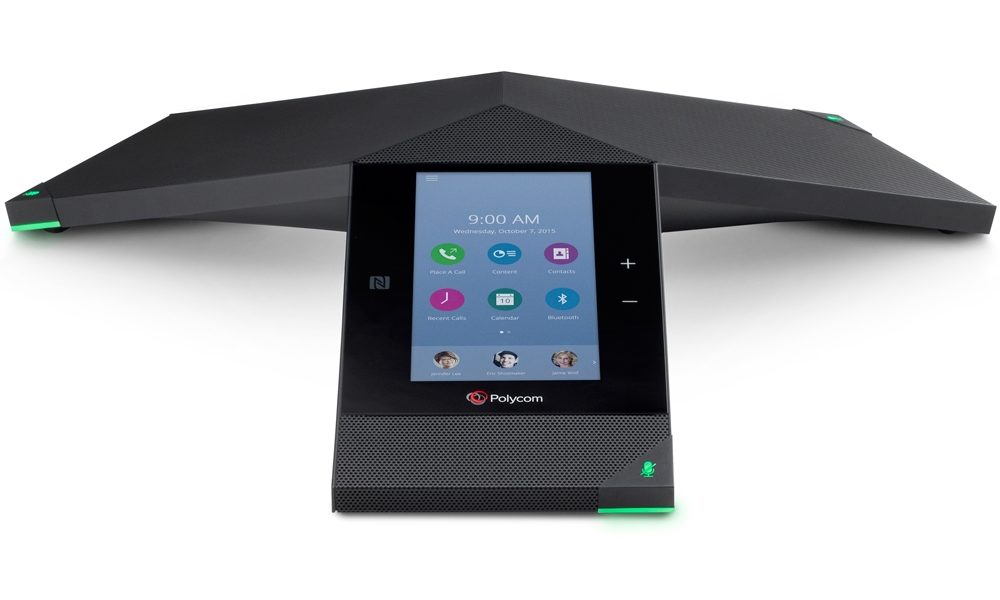 The Polycom RealPresence Trio 8800 includes all of the calling features that you would expect from a phone of its caliber, such as caller ID, call hold, and call transfer. Connectivity options include Bluetooth, near field communication (NFC), and an HDMI output.
Its 360° microphones cover a 20-foot range and intelligently mute any background noise, while its speakers broadcast your call's participants with HD quality. And its sleek design will be at home in even the most modern of offices.
Most impressively, though, is that the RealPresence Trio 8800 is the only conference phone on the market with the ability for you to share HD content from your own devices, such as your mobile phone, tablet, or computer. This content sharing is supported by third-party applications like Skype for Business as well as proprietary Polycom applications, People+Content IP (PPCIP) or RealPresence solutions with SmartPairing. Finally, the RealPresence Trio 8800 provides support for external cameras up to 1080p for HD video calls.
Of course, these industry leading features come at a cost. In the case of the Polycom RealPresence Trio 8800, that cost is about three times our recommended Grandstream GAC2500; however, for an executive-level conference phone with the widest range of available features, the Polycom RealPresence Trio 8800 has no peer on the market.
Buy Polycom RealPresence Trio 8800 Here
The Bottom Line: Best VoIP Conference Phones
If you make a lot of conference calls at your business, a high-quality speakerphone is a worthy investment. Although there are less expensive options on the market, they generally come with poorer sound quality and limited features that can inhibit your conversations. This can lead to a loss in productivity if you have to repeatedly deal with echoes, static, or muffled voices. Thankfully, enhancements in VoIP technology has made higher quality conference phones more accessibly priced.
For its balance of call quality, features, and price, we recommend the Grandstream GAC2500 as the best VoIP conference phone for your business.