Most credit cards hold you personally responsible for any debt. However, business credit cards with no personal guarantee reduce or eliminate that liability. It's no wonder these cards are sought after by owners looking to fund expenses and protect personal assets. But it's not easy to qualify for these cards, which typically require at least $1 million to $5 million in annual revenue, plus one to two years or more in cash reserves.
Personal guarantees protect credit card issuers by transferring the risk of unpaid debt to the business owners directly. With more than 30% of businesses failing in the first two years, it's rare for issuers to give up this security. You can limit your risk with a business credit card with no personal liability if your company has enough revenue, employees, and business credit to justify the risk to card issuers.
The top business credit cards without a personal guarantee are:
Brex Card for Startups: Overall Best Business Credit Card Without a Personal Guarantee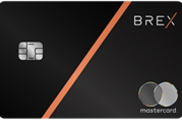 Why we like it: When it comes to funding business expenses and safeguarding your personal assets, the Brex Card for Startups is a favorite. This card is designed specifically for startups, offering ongoing rewards on travel, restaurant, and even rideshare expenses. Although you won't get a large introductory bonus here, you will have access to discounts on companies like Apple, Amazon, and Slack that can save you significant money.
Plus, it's one of the only startup business cards that lets you earn rewards on software expenses―a unique way to save money. You can opt to repay those expenses and others with its 30- to 60-day interest-free repayment plans. There's also no limit to the number of points you can earn, which never expire.
This card's biggest hurdle is the minimum $100,000 bank balance required for approval. Although the requirement is steep, once you qualify, there's no interest or annual fees to speak of. Most importantly, you can apply for this card without damaging your personal credit or signing a personal guarantee.
Shell Small Business Card: Best for Rebates on Nationwide Gas Purchases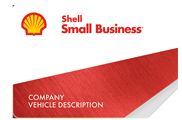 Why we like it: If gas is a major expense for your business, the Shell Small Business Card is a terrific option. Firms with at least three years of business history can use this card to earn gas rewards on each purchase in the form of rebates. With it being one of the few gas cards that offer no personal guarantee, it's also the best small business fuel card available. However, this card's stiff income standard requires businesses to earn at least $1 million annually to qualify.
If you qualify, you can earn a rebate of up to 6 cents for each gallon purchased at Shell gas stations. With more than 14,000 participating locations, it's easy to rack up rewards. In addition to the rewards, you'll get discounts on Jiffy Lube services, giving you more opportunities to save on expenses.
However, where this card shines is its tracking capability, allowing owners an expanded view of employee activity based on each driver's identification. This makes it easy to keep an eye on the driver's fueling habits, even down to the type of fuel purchased at each location.
Sam's Club Business Credit Card: Best for Earning Rewards on Sam's Club Expenses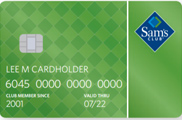 Why we like: If you're a regular Sam's Club shopper, the Sam's Club Business Credit Card is a great option. Besides earning excellent cash back rewards on gas, dining, and travel purchases, you'll also avoid the personal liability that comes with most business credit cards. However, this card's no personal guarantee feature is only available if you have at least $5 million in annual revenue.
If the revenue isn't an issue, you'll earn up to 5% cash back on the first $6,000 on gas purchases made each year, enough to cover $300 in gas expenses each year. However, this card's top rewards don't only apply to all gas stations-earning only 1% back at Costco, BJ's, HEB, Kroger, Meijer's, and Publix. However, you'll still earn 3% cash back on dining and travel purchases, including airline, rental car, hotel, and bus lines.
Businesses that want to qualify without a personal guarantee will need to have been in business for at least two years. Your business must have more than 10 employees to qualify and can't be a sole proprietorship or partnership. There's no annual fee for this card, but you will need to be a Sam's Club Member to qualify, which costs $45 each year.
Bento for Business: Best for Managing Expenses With an Easy Approval Card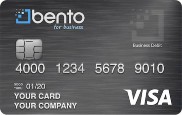 Why we like: If you want a prepaid business card that doesn't require a personal credit check or personal guarantee, Bento for Business is a solid pick. Because it's prepaid, you won't get a credit line with this card. Instead, you'll need to fund your account with your own expenses. However, you can still issue employee cards and track company spending just as you would with a business credit card. This card is a great alternative for owners who can't meet the annual revenue requirements on corporate cards.
No Personal Guarantee Business Credit Cards Costs
| | Corporate Credit Card | Corporate Gas Card | Prepaid Card |
| --- | --- | --- | --- |
| Qualifications | $4 million to $25 million+ revenue | At least $1 million in revenue | Line of credit secured by cash |
| Annual Percentage Rate (APR) | None | 22% to 25% | None |
| Annual Cost | $25 to $100 per card | Up to $25 per card | $0 to $25 |
| Best For | Companies with 15 or more users | Companies with two or more vehicles | Poor and fair personal credit |
Types of No-guarantee Business Cards
Business credit cards without personal guarantees hold the company liable for the business card debt instead of the business owner. The top options include corporate credit cards, co-branded gas cards, and prepaid business cards. These cards allow businesses to forego personal liability and cover expenses while tracking employee spending easily.
Corporate Credit Card
Corporate credit cards are ideal for companies with 15 or more cardholders and at least $4 million in annual revenue. Liability on these cards may rest solely with the business or be shared between the business and individual cardholders. For this reason, it's a good idea to keep a corporate credit card policy agreement on file. Having a clear policy on employee spending and repayment responsibilities will protect your business further from unnecessary losses.
Corporate credit cards tend to have higher annual fees than many standard business credit cards, so expect to pay $25 to more than $100 per card. You also may be required to spend at least $250,000 per year on your corporate card. However, you must pay most corporate credit cards in full each month so that you won't pay any interest.
Corporate Gas Card
To qualify for a corporate gas card, be prepared to have at least $1 million in annual revenue. You will also need at least fair credit, with many issuers requiring a personal credit score of 650 or higher.
Corporate gas cards come in the form of either fuel cards or fleet cards, some of which don't require a personal guarantee. Fuel cards are best for businesses that use one to two vehicles while fleet cards are best for companies with two or more vehicles. Some small business fuel cards can be used to make purchases other than gas or maintenance, but fleet cards restrict payments to gas purchases, vehicle repairs, and maintenance at participating businesses.
Fleet cards are also a better fit for companies that use 1,000 to 5,000 gallons of gas per month on average. You can typically receive discounts of between 10% and 15% off the purchase of tires, general maintenance, or vehicle repairs and up to 10 cents per gallon on gas. Meanwhile, fuel cards may offer discounts of as much as 6 cents per gallon.
Business Prepaid Card
If you're unsure whether you'd qualify for a corporate credit card or business credit card, a business prepaid card is a good alternative. The business owner's money backs these cards, so there's no risk of unpaid debt and no personal guarantee needed. Monthly fees range from no charge to more than $25, which can be expensive if you have multiple employee cards. However, you won't be subjected to a personal credit check when you apply.
Prepaid cards are funded with cash, so once the cash is gone, the card is no longer usable until the balance is reloaded. However, you can't use these cards to build business credit like you can with unsecured and secured business credit cards. However, you'll never face overdraft or overlimit fees with prepaid cards because you can't spend more than what's available.
Prepaid cards work on the same card networks as credit cards, which means you can use them in all the same places you would normally use a credit card. However, you won't get the cash back or points rewards that come with some small business credit cards since prepaid business credit cards don't offer introductory or ongoing rewards.
Other Ways to Limit Liability
Business cards with no personal guarantee aren't attainable for most small business owners, being a better fit for mid- to large-sized businesses with high annual revenue. However, if you're a small business owner looking to limit your personal liability, there are a few ways you can reduce your exposure to unpaid debt and personal liability without one of these cards. These ways are also good business credit card practices in general, including:
Manage employee spending: It's essential to limit the number of cards to only necessary users, maintain spending limits, and review employee card use each month. This way, your monthly charges won't go unnoticed.
Spend responsibly: Overspending leads to inflated card balances that increase the likelihood of default payments. Setting a monthly card limit will ensure you won't overspend.
Make timely payments: You'll avoid negative reporting to your personal credit report by making your monthly payments on time.
Bottom Line
Corporate credit cards, prepaid business cards, and fleet cards offer the limited liability most business owners hope for. However, because of steep income requirements, these cards aren't a viable option for most small businesses. If you manage card debt responsibly by keeping employee expenses low, monitoring card activity, and making timely payments, you can reduce your personal liability with any credit card.