Let's be honest: Who doesn't dream of running a business, calling all the shots, and raking in the profits? Fortunately, it's cheaper—and easier—than ever for entrepreneurs to start a profitable business. You can start a website for a few dollars, and the vast number of affordable, easy-to-use digital and artificial intelligence (AI) powered tools offer ready access to just about everything a startup business needs.
Below, we look at a few $500 business startup ideas to jump-start your new venture for a small cost.
Did you know? In 2021, for every 100,000 Americans, 360 became new entrepreneurs in a given month, according to the Kauffman Index. And a Chamber of Commerce report indicates that there were over 32 million small businesses in the US as of 2022, with 70% of these being individually owned and operated. The Small Business Administration (SBA) further reports that half of all businesses are started at home—60%, if you count businesses without staff. This got us thinking: Which types of businesses can be started with minimal upfront cost? And of those businesses, which would likely make entrepreneurs the most money? To find the answers, we researched businesses that require an upfront cost of $500 or less, do not require an advanced degree or extensive experience, have proven income potential in an existing market, can be started anywhere in the country, have the potential to generate profits year-round, and can be launched in three months or less.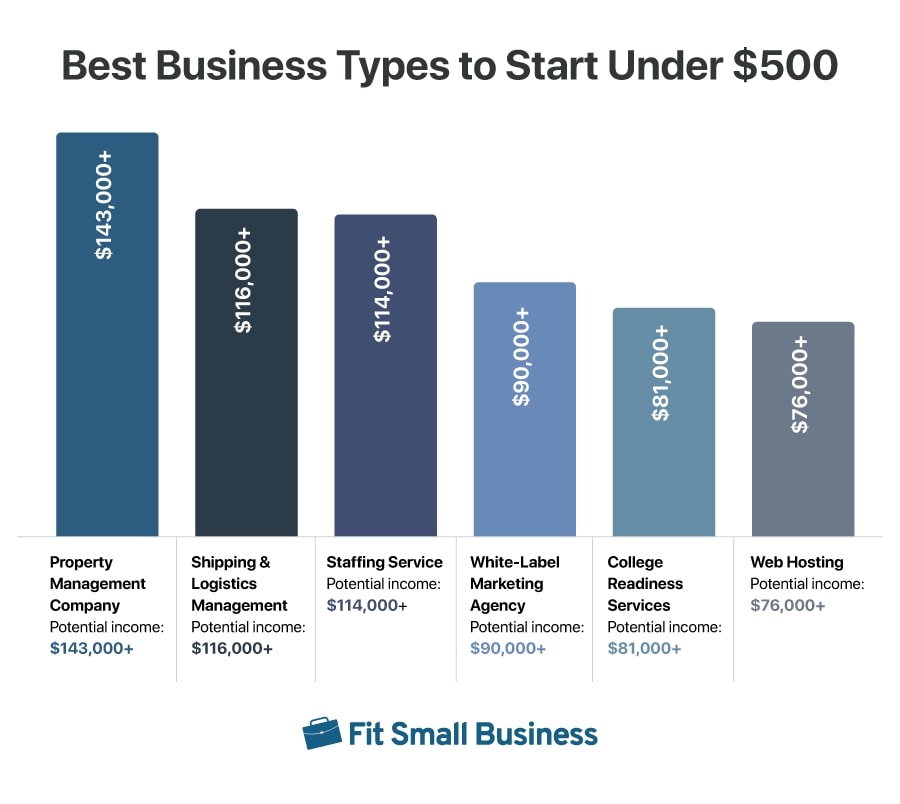 Below is our list of the top businesses to start for under $500 (ranked by income potential):
1. Residential Property Management
Average annual income (President): $143,000+
Minimum upfront cost: $150–$200
Once upon a time, homeowners with multiple properties were burdened with the maintenance of more than one house. Now, homeowners are seeking property managers to help them manage their second homes, which they have converted to Airbnb vacation rentals. The average salary of residential property managers is $143,470 according to Salary.com, though these figures are likely higher as vacation rental property managers often get a commission on bookings.
So what does property management entail? Property managers manage all service providers, such as house cleaners, gardeners and lawn care, and plumbers and electrical service providers, as well as facilitate check-ins and check-outs. They also manage rentals through third-party booking platforms like Airbnb, VRBO, and so on.
To get started, you will need to build a website and market your business online. While marketing can be expensive, it can also be affordable; consider leveraging listings in free directories, social media, and direct outreach to vacation and nightly rental owners.
Besides a website and marketing, there are some startup essentials to know before opening the doors (or website) of your business. For example, you'll want to decide on a legal entity (e.g., LLC, C-corp, S-corp, or sole proprietorship) for your company, complete state and federal licensing requirements, get liability insurance, and more. Read our full guide on how to start a business to learn more.
2. Shipping & Logistics Management
Average annual income (Manager): $116,000+
Minimum upfront cost: $250–$300
Shipping and logistics may not be a career path you've considered. But it's happening all around you; the shipping industry handles everything from temperature-sensitive meat and produce to antique barns and zoo animals.
Behind every product is a logistics and shipping company—and the outsized demand means good pay. In fact, the average salary for a logistics manager is $116,367 per year, according to Salary.com. Plus, thanks to booming ecommerce, it's a rapidly growing industry. Average logistics manager salaries have increased significantly in the past few years—the North American logistics market size in 2022 rocketed past $1 trillion.
Those interested should have some experience in the industry and have a strong grasp of logistics and analysis in general. What you won't need is a costly fleet or massive warehouse space. Instead, it's possible to start for under $500 by subcontracting drivers who own their own vehicles. To be successful, you will need to acquire contracts with businesses that frequently ship products, such as auction houses or regional or national ecommerce sites.
3. Staffing and Recruiting Services
Average annual income (President): $114,000+
Minimum upfront cost: $150–$200
Staffing agencies made our list of the best businesses to start with $500 or less because owners have an average salary of at least $114,000 per year—far above the national average income. Little wonder it's so high; the global staffing industry is valued at $648 billion, according to Staffing Industry Analysts. Though growth is predicted to slow down slightly in 2023, it is expected to pick back up in 2024.
Recruiting and staffing service companies are also very affordable to start. Nowadays, job postings, resume submission, interviews, and hiring can all be done virtually, eliminating the expense of commercial space. A website will be necessary, though this can be built and launched quickly and inexpensively using a drag-and-drop website builder, which costs as little as $3 per month.
If you're genuinely interested in this avenue, consider a niche job site, such as staffing for international nannies or children's summer camps, to differentiate yourself from other staffing agencies. Learn more about how staffing agencies work and what it costs to start one as you research this low-cost business idea.
4. White Labeled Marketing Services
Average annual income (Owner): $90,000+
Minimum upfront cost: $300–$350
As opposed to marketing agencies with in-house experts that provide hands-on services, white label digital marketing agencies are easy to start, even if you don't have a ton of experience in marketing. They typically offer services like paid search, social media marketing, and search engine optimization (SEO). A white label marketing firm handles the work for you—and you simply deliver the results to your clients.
Sounds too good to be true? It isn't. Agency owners at firms like these have an average total annual income of over $90,000. These agencies are part of the digital advertising industry with a total ad spend of over $679 billion in 2023 and a projected growth of 7.57% over the next four years (2023-2027), according to Statista Market Insights.
Another benefit: Because you're hiring white label experts to handle your workload, there are no upfront staffing costs. Also, your agency can be run remotely and only requires a website, some basic marketing certifications—which you can easily get online—and good old-fashioned networking skills to get started.
5. College Prep Services
Average annual income: $81,000+
Minimum upfront cost: $175–$200 (not including the cost of a degree)
College preparation services help teens get set up for admissions success with standardized test prep, class tutoring, and college advising. The average salary of a College Readiness employee is $81,886 according to Salary.com. This line of work is also not going anywhere; in 2022, the industry had a total market size of nearly $2 billion and a growth rate of 17.7%.
While there are no official credentials involved, top-earning tutors typically hold advanced degrees from well-regarded colleges and universities. (After all, if you haven't gone to college, you won't likely have a great grasp on the admission and standardized testing processes involved in getting into college.) With a formal degree and an aptitude for teaching in place, you will need to promote your business with a website and build awareness through networking and digital advertising.
6. Web Hosting Reselling Business
Average annual income (Engineer): $76,000+
Minimum upfront cost: $300–$400
Owning a web hosting company sounds expensive and technical (and it is). However, reseller hosting and server leasing is a low-cost business that doesn't require a degree from MIT or decades of experience. Glassdoor reports that web hosting engineers in the US have an average annual salary of $76,053. The web hosting industry is expected to grow significantly, with a projected compound annual growth rate of 14.13% between 2022 and 2027, according to Technavio.
To get started, all you need is a reseller hosting plan. All of the leading web hosting companies offer reseller programs, where businesses can sell their hosting plans to clients directly—many under a white label. Consider a reseller hosting plan for around $25 per month to start, then implement a marketing plan to start drawing in clients.
Did you know? Many web hosting companies and other software platforms have affiliate programs that allow you to earn passive income, typically by generating sales of their products originating from links on your site.
How We Decided Which Were the Best $500-or less Businesses to Start
We based the ranking of the best businesses to start for under $500 on six overarching categories composed of 14 metrics in total. We then weighted each metric based on its relative importance.
Our ranking considered the following factors:
20% of Overall Score
In order to qualify for our list, each business must incur launch costs of no more than $500. This included all necessary upfront costs required to launch a business, such as tools and equipment, educational costs, required licensing, labor, a website (with a minimum year-long plan), and marketing. The cost does not factor in the fees to register a business, as these vary greatly from state to state, and some states, such as Massachusetts, charge $500 to file for an LLC alone.
20% of Overall Score
Each business idea considered for our list had to have an average income above the national average adjusted gross income of $76,539 (as of 2021). Average income can be found on sites like PayScale and Glassdoor, and while these are largely reflective of employee salaries and earnings, they serve as indicators of likely profit for new business owners. When available, average income for the business itself was used in lieu of average employee salaries.
20% of Overall Score
For businesses to qualify for our list, there had to be minimal prerequisites for launching them. To ensure this, each business we ranked requires no more than a bachelor's degree or a few years of experience in the field; each can legally be started in any state in the U.S. and is not location-specific; and each one has the opportunity to be run as a full-time, year-round business. This weeds out business ideas that are too specialized and therefore exclusive, as well as ideas that are run as side gigs.
20% of Overall Score
Businesses must be in industries with large existing markets. The reason for this is because innovative and experimental business ideas typically require extensive marketing efforts in order to gain product knowledge and awareness, making them unlikely to be started for $500 or less. To measure market size, we looked at the value of each industry in the US; to make our list, the business had to be in an industry with revenues of at least $1 billion.
20% of Overall Score
To avoid gimmicky and fad-type business ideas, we considered industry growth as an indicator of future profitability and business longevity. We sought businesses in industries with average growth rates above the average year-over-year business growth rates of 2.5%.
*Percentages of overall score
Frequently Asked Questions (FAQs)
Click through each section below to learn more about businesses you can start for $500 or less, and other things you need to consider:
If you want the highest possible incomes, look into shipping and logistics management, property management, staffing services, white-label marketing agencies, college readiness services, and web hosting. Other businesses may require the same investment of $500 or less, but will provide fewer returns.
---
Staffing services require an initial investment of just $200 or less. Most of the initial legwork can be done online for low cost and effort.
---
Apart from upfront financial costs, consider your online presence, marketing and branding, target audience and how niche you want your business to be, how to improve your network of contacts, and any applicable local or state laws.
---
Bottom Line
As tech and AI become more affordable and accessible, it also makes it cheaper than ever to start a business. That's why we sought out businesses you can start right now for $500 or less. To do so, we considered profitability based on average income and earnings, market size, and market growth, then get started on your dream career today with minimal upfront cost.