Drag-and-drop site builders eliminate the need to learn code or master complex software to build a custom-looking website. The best apps are affordable, easy to use, and offer easy-to-implement functionality for business needs like ecommerce, appointments, lead generation, events, and marketing. We tested dozens to help you find the best drag-and-drop website builder to use and ranked them below:
Best Drag-and-Drop Website Builders at a Glance
Site Builder

Score Out of 5

Free Plan

Starting Cost per Month

Ecommerce Starting Cost

Free Domain

4.89

✓

$16

$27

✓

4.88

✕

$16

$23

✓

4.85

✕

$14

$21.25

✕

4.82

✕

$2.99**

$2.99**

✓

4.64

✓

$12

Free

✓

4.58

✕

$7

$12

✓

4.43

✓

$23

$23

✕

4.42

✓

$4

$4

✕

4.25

✕

$2.95**

$9.99**

✓

3.94

✓

$9

$18

✓
*Starting cost per month with annual billing
**With annual billing and renews at a higher rate after the first year

Take our quiz to find out which drag-and-drop website builder works best for you.

Which drag-and-drop website builder is best for you?
While all of the site builders above offer drag-and-drop page building functionality to some extent, only Wix, Squarespace, Hostinger, and Duda offer full drag-and-drop editing capabilities.
Wix: Best Drag-and-Drop Website Builder for Custom Site Design

Pros
True drag-and-drop editor & max design freedom
Beginner-friendly and intuitive
Free plan to get you started
Responsive templates for a good user experience (UX) on any device
Advanced search engine optimization (SEO) features
Cons
Limited storage on lower-tier plans (try Squarespace or Dorik for content-heavy sites)
Can't change templates without starting over, unlike Squarespace
While robust, ecommerce is more expensive vs Weebly or Hostinger
True drag-and-drop editing capabilities
Hundreds of pre-made content blocks to speed up site-building
Free image library
Native AI writing assistant and large page number limits make it one of the best blogging platforms
Artificial design intelligence (ADI)-built template or choose from 900-plus templates
300-plus paid and free integrations and thousands more through with cut-and-paste code embedding
Base ecommerce tier with unlimited products, appointments, reservations, events, online ordering, memberships, and subscriptions
Best site builder for SEO thanks to its auto image compression, schema markup, code embedding, and Semrush keyword research in the dashboard
Annual plans include hosting, secure sockets layer (SSL) certificate, and a free domain name
---
| | Free | Light | Core (Ecommerce) |
| --- | --- | --- | --- |
| *Cost per Month | $0 | $16 | $27 |
| Storage & Bandwidth | 2GB | 2GB | 50GB |
| Free Domain | ✕ | ✓ | ✓ |
| App Marketplace | ✓ | ✓ | ✓ |
| SEO Wiz | ✓ | ✓ | ✓ |
| Multilanguage Sites | ✓ | ✓ | ✓ |
| SEO Site Booster | ✕ | ✕ | ✓ |
| Unlimited Ecommerce | ✕ | ✕ | ✓ |
| Cart Abandonment | ✕ | ✕ | ✓ |
| Events, Appointments & Reservations | ✕ | ✕ | ✓ |
| Subscriptions & Memberships | ✕ | ✕ | ✓ |
| Social Selling & Ad Vouchers | ✕ | ✕ | ✓ |
| Video Capacity | ✕ | 30 minutes | 5 hours |
*12-month subscription, paid annually.
---
New features and tools added since last update:
AI writing assistant
Custom lead capture forms and fields
Revised plans with niche marketing and ecommerce features for artists, restaurants, fitness, events, and businesses that sell using appointments, online reservations, and online ordering
Wix is the best overall drag-and-drop site builder for small businesses. It tops our list because it has true drag-and-drop editing capabilities and allows for the most design freedom and website customization. Plus, it does so without sacrificing beginner-friendliness and intuitive ease of use. To get started, see how to make a Wix website in a few easy steps.
With Wix, you can drag elements anywhere on the page and resize anything. You also have full control over your site's fonts, colors, and design elements, like buttons. There are premade page blocks to choose from and tons of variations for elements like buttons, menus, and galleries. With Wix, you get far more design capabilities than with any other website builder.
Plus, virtually all types of website functionality are provided for in the Business plans, including unlimited ecommerce, online ordering, reservations, appointments, and subscriptions. This makes Wix a top option for building brand presence online for nearly any type of company.
Wix plans offer the best of both worlds, combining robust features and advanced functionality you'd normally need to use WordPress to obtain with the ease of use of a no-code site builder. For example, the base ecommerce tier includes all the tools needed to build an online store, operate online ordering for a restaurant, and accommodate paid appointments or retainer-based services.
Unless you need features requiring developer-level coding, Wix is the best site builder for those needing a fully custom business website. Learn more in our Wix vs WordPress head-to-head comparison.
Expert Opinion
If you're looking for the overall best drag-and-drop website builder, choose Wix. Even if you lack web design experience, its intuitive tools, premade templates, free image library, and full drag-and-drop editor make it easy to build a beautiful website for your business. Read our Wix review to learn more or use the free plan to get started today.
Squarespace: Best for Creatives and High-end Brands

Pros
Full drag-and-drop editing with Fluid Engine
Sleek, modern templates you can change any time
Library of free images
Unlimited storage and bandwidth Video Studio to create branded content
14-day free trial
Cons
Far fewer templates than Wix (and most other platforms)
Appointments, member sites, and reservations all require add-ons, unlike Wix and Weebly
No free plan, unlike Wix or HubSpot
Very few (around 35) third-party integrations compared to competitors
Tons of design freedom with true drag-and-drop editing capabilities
Free image library
Sleek, fully responsive, such as mobile-friendly, templates and premade content blocks
Affordable for online stores, one of the best ecommerce platforms
Multiple contributors with any plan
Annual plans include hosting, SSL certificate, and a free domain name
Unlimited storage and bandwidth on all plans
Google Workspace & Gmail business email free for 12 months (Business plan or higher)
---
| | Personal | Business | Commerce |
| --- | --- | --- | --- |
| *Cost per Month | $16 | $23 | $27 |
| Unlimited Storage & Bandwidth | ✓ | ✓ | ✓ |
| Free Domain & SSL | ✓ | ✓ | ✓ |
| Video Studio | Limited | Full | Full |
| Contributors | 2 | Unlimited | Unlimited |
| App Marketplace | ✓ | ✓ | ✓ |
| Google Workspace (One Year Free) | ✕ | ✓ | ✓ |
| Unlimited Ecommerce | ✕ | ✓ | ✓ |
| Transaction Fees | N/A | 3% | 0% |
| Point-of-Sale (POS) System | ✕ | ✕ | ✓ |
| Accept Donations | ✕ | ✕ | ✓ |
| Social Selling | ✕ | ✕ | ✓ |
*12-month subscription, paid annually. Monthly contracts are also available for a higher price.
---
Squarespace ranks as one of the best website builders for small business, partly for its modern, impeccably-designed templates. Anyone can easily build a visually impactful professional website to engage visitors with little time and effort, even design and website beginners. Since there are no limits to storage, Squarespace is our top pick for creatives and any type of business that wants a beautiful online portfolio and sleek site design.
For more insight, read our step-by-step instructions on how to use Squarespace or watch the video tutorial showcasing its drag-and-drop editor below.
Assuming you want to customize your template so your website stands out, Squarespace's Fluid Engine editor makes this easy. Previously, you could add sections and move them around on Squarespace, but changing spacing or moving elements around in a section was nearly impossible. With the new Fluid Engine editor, you can now literally drag any element to a new spot and easily change the spacing between and the sizing of objects.
Another plus of choosing Squarespace's drag-and-drop website builder is that the templates are all fully responsive, and you can change them anytime. For example, Wix and Weebly's templates are responsive for the most part, but you will likely need to make some design adjustments for the mobile versions. Also, you can't swap in a new template with either site builder without completely rebuilding your site.
Notably, unlike Wix, tools for appointment booking, reservations, events and ticketing, membership sites, and features most restaurants need aren't included in any of Squarespace's plans. Instead, they are offered as add-ons you can purchase in addition to your Squarespace subscription to gain specific functionality.
Expert Opinion
Squarespace is a good choice for users of all skill levels who need a high-quality site that both looks and functions as if a web design expert built it. It also provides tools to drive traffic to your website, build your online presence through social media, create branded videos, and set up a fully-functional ecommerce website. Read our Squarespace review to learn more or sign up for a free, no card required 14-day trial today.
Duda: Best Drag-and-Drop Website Builder for Local Businesses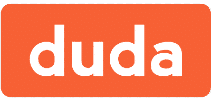 Pros
Fields to add local schema markup
NEW: Full drag-and-drop editing
NEW: AI content writer
Google Maps widget Library of free images
NEW: Floating menu bars in the editor (easy access to design tools)
Cons
Ecommerce is a third-party add-on and doesn't yet support the sale of digital products
While you can embed code, the one-click app marketplace is fairly small
Domain isn't included with paid plans
Duda's intuitive website builder offers drag-and-drop design freedom
Flex mode snaps your images along vertical or horizontal grid lines
Templates are fully mobile responsive (Duda first made its name as a mobile site builder)
Multiple collaborators in all but the base plan
Paid plans include free SSL, but not a domain (get one from the best domain registrars)
Popular with agencies and freelancers thanks to white label and client billing tools
---
| | Basic | Team | Agency |
| --- | --- | --- | --- |
| *Cost per Month | $14 | $22 | $44 |
| Cost per Month* for Ecommerce (100 Products) | $21.25 | $29.25 | $51.25 |
| Free SSL | ✓ | ✓ | ✓ |
| Third-party Apps | ✓ | ✓ | ✓ |
| Gate Pages for Members | ✓ | ✓ | ✓ |
| Local Business Schema Fields | ✓ | ✓ | ✓ |
| Free Image Library | ✓ | ✓ | ✓ |
| AI Writer | ✓ | ✓ | ✓ |
| Multilanguage Sites | ✓ | ✓ | ✓ |
| Widget Builder | ✕ | ✓ | ✓ |
| Client Billing | ✕ | | ✓ |
| Collaborators | ✕ | 4 | 10 |
| Support | Email | Email | Email, chat, and phone |
*With annual billing
---
Duda is our top pick for the best drag-and-drop website builder for local businesses. You can embed a Google map onto any page with a click of the mouse, and it has fields for adding local business schema. Allow me to bring out my inner geek one more time to tell you how.
To toggle this feature on, click on the gear icon in the left side menu (settings), then click on SEO and click to "Enable Local Business Schema." Next, follow the prompts to add your business location information. Duda has also just added schema for blogs and videos, which makes this site builder even more effective in helping local businesses get found online.
Duda (like Wix and Hostinger) is a great website builder if you want a platform that's constantly making improvements to design tools. They recently updated the editor to allow for full drag-and-drop website building, including "Flex mode" to keep your design well-aligned visually.
The biggest drawback to using Duda is that ecommerce is a third-party add-on, and it's limited to 100 physical products. Still, that could be more than enough for local businesses like restaurants (and Duda is on our list of the best restaurant website builders).
Expert Opinion
Duda's sleek, modern templates, free image library, and drag-and-drop editing tools make site building a small business website fast and easy. For local businesses, even more so, since dropping in a Google map and adding local business schema is simple. Give it a try with the no-card-required 14-day free trial.
Hostinger: Best AI Tools and Cheapest for Branded Ecommerce

Pros
AI tools for creating content, images, and analyzing engagement
Full drag-and-drop design freedom with intuitive, easy-to-use tools
Free image library
Affordable forever: $2.99 per month the first year; $8.99 per month on renewal
No extra cost for ecommerce
Google and Facebook remarketing and Google AdSense
Cons
No free plan or trial
Daily limits on AI writing assistant
Few third-party apps, but you can embed code
No native email marketing tools, unlike Wix and Weebly
Ecommerce doesn't include recurring payments/subscriptions
Section-based editing with the design freedom of a true drag-and-drop website builder
One of the most intuitive and beginner-friendly site builders we tested
Includes native AI content marketing tools to build your template, create a logo, and an AI content writer to generate text for your web pages and blog posts
Plan has multiple sites, domain, unlimited SSL, and business email
Easy to monetize: Build an online store with physical or digital products, or start a business blog and make money through ads with one-click integration of Google AdSense
Build multiple websites in the same plan on either WordPress or Hostinger's website builder (also great as an agency solution)
---
Hostinger has one plan, and it's generous and affordable.
| Billing Term | Introductory Monthly Cost | Renewal Cost per Month |
| --- | --- | --- |
| Month to Month | $11.99 | $11.99 |
| 12 Months | $2.99 | $8.99 |
| 24 Months | $2.99 | $7.99 |
| 48 Months | $2.99 | $6.99 |
Up to 100 websites
Free domain and unlimited free SSL
Build sites with the drag-and-drop website builder or WordPress (one-click install)
One 1GB business email for each domain in the plan
99.9% uptime and weekly backups
Multilanguage websites
---
Hostinger's site builder is one of my favorite finds of the year. In part, because it was one of the first site builders to incorporate an AI writing assistant to speed up content creation and help with content optimization.
In addition, it has an AI heatmap analyzer that will show you where people are engaging with your content. This makes it easier for you to position elements like calls to action, web forms, and buttons where you have the most opportunity to get on-page engagements, which boosts SEO, as well as conversions. (Thanks for letting me geek out there.)
Hostinger's editor is also one of the easiest drag-and-drop website builders I've used. Choose from the sleek pre-made templates or lean into AI again and let the site builder make a template for you. If your website needs are pretty basic, you could easily make a website on Hostinger and get your brand online in under a day. For more insight, read our step-by-step instructions on how to use the Hostinger website builder and follow along with the video tutorial below.
Plus, everything you need comes in an affordable bundle. Web hosting, domain, SSL, and even business email, and there's no extra cost to build an ecommerce site and sell digital or physical products. You can pay monthly, or opt for a 12-, 24-, or 48-month plan for cheap first-year pricing to maximize your budget. Even on renewal, Hostinger plans will still be notably lower than most other site builders, especially for ecommerce.
Expert Opinion
While there's no free plan or trial, the low first-year pricing makes testing Hostinger's drag-and-drop site builder fairly risk-free. It's super beginner-friendly and even true web design beginners won't struggle to build a website that looks professionally designed. Read our Hostinger website builder review and check it out today.
Weebly: Best for Online Stores & Restaurants

Pros
Forever free plan with ecommerce
App marketplace for paid users
Photo studio app to perfect product images and menu items
Weebly Promote drag-and-drop email newsletter builder
Cons
Can't switch from Square editor to the more versatile Weebly option
Free ecommerce only for US users
Shoppable social posts only via Square editor (not Weebly)
Drag and drop is limited vs Wix or Squarespace
Two section-based editors with limited drag-and-drop capabilities: AI-generated template via Square editor for ecommerce websites or Weebly editor (choice of template) for personal sites, online stores, and blogs
Robust ecommerce on all plans and with either editor
Online ordering (see why Weebly is the best website builder for restaurants)
One-click integrations (300-plus with Weebly editor, around 36 with Square editor)
Embed code at the page level for more third-party capabilities
---
| | Free | Professional | Performance |
| --- | --- | --- | --- |
| *Cost per Month | $0 | $12 | $26 |
| Unlimited Storage & Bandwidth | ✕ | ✓ | ✓ |
| Free Domain & SSL | ✕ | ✓ | ✓ |
| Free Image Library | ✓ | ✓ | ✓ |
| Ecommerce (Physical Goods plus Online Ordering) | ✓ | ✓ | ✓ |
| 2.9% plus 30 cents Transaction Fee | ✓ | ✓ | ✓ |
| Inventory Management | ✓ | ✓ | ✓ |
| Sell Digital Products | ✕ | ✓ | ✓ |
| Subscriptions | ✕ | ✕ | ✓ |
| Abandoned Cart Recovery | ✕ | ✕ | ✓ |
| Customer Accounts | ✕ | ✕ | ✓ |
| PayPal Payments | ✕ | ✕ | ✓ |
*With annual billing.
---
Like many section-based editors, Weebly's drag-and-drop capabilities are more limited than the full design freedom you get with Wix, Squarespace, or Hostinger. On the other hand, this also reduces the chances that you'll make a mistake or create a design that looks great on desktop but doesn't work for mobile. Which makes Weebly a great choice for beginners.
It's also well-known for ecommerce and restaurants. Square payment processing is built in (even in the free version) and has robust tools for online stores selling physical products. It's also great for restaurants looking for an online ordering system and tools for taking reservations. See more information on how to build a Weebly website with our guide.
Weebly offers two editors: the original Weebly editor and the section-based Square editor. It's a little confusing, as during setup, you'll be asked if you want a business website or a personal website, so here's a quick guide for reference:
Weebly Editor for Personal Sites

Square Editor for Business Websites

Websites with a blog
Choose from templates
Extensive integrations (300-plus)
Restaurants wanting to use the Weebly Restaurant plugin (aka GloriaFood)
Online stores (digital or physical goods or dropshipping)

Websites with no blog
AI-generated template
Minimal integrations (around 40)
Restaurants (comparable native tools, but no access to Weebly Restaurant plugin)
Online stores (digital or physical goods or dropshipping)
Both are beginner-friendly, but you can't switch from the Square editor to the Weebly editor, nor can you access Weebly's third-party app marketplace with the Square editor. If you choose the Square editor, a template will be built for you using AI, and you can customize it from there. Watch our Weebly ecommerce website tutorial on YouTube for more guidance.
When using the Weebly editor, you'll have access to its library of templates. Some are a bit basic or dated, and there are only about 50 to choose from. If you're looking for better design, check out Wix's 800+ templates, or Squarespace's ultra-modern selection, instead.
Expert Opinion
Weebly is the best drag-and-drop website builder for restaurants and for small eCommerce operations thanks to robust eCommerce and point-of-sale features and affordable plans. In addition, its built-in SEO tools are useful for businesses looking to build an online presence and grow their store. Read our full Weebly review for more, or test the platform using the free plan.
Webador: Easiest Drag-and-Drop Site Builder for Beginners

Pros
Simple interface for beginners
Free plan and affordable paid options Unlimited pages, storage, and blogging on all plans (even free)
Sleek, modern templates that are easy to customize Unsplash stock images embedded in the editor
Cons
No pre-made content blocks beyond what each template has
First paid plan still shows Webador branding in the footer
SEO tools are very basic
Base ecommerce plan only allows 10 products
No appointment booking tools
Build a site in minutes (literally) with intuitive tools and simple design options
Not as versatile as Wix, Squarespace, or Hostinger but easier for beginners as a result
Ecommerce with features for online stores, restaurants, subscription, and member-based sites
Most SEO is locked behind ecommerce plans
Create to your heart's content with no limits on the size, storage, or number of pages or blog posts on your site
---
| | Free | Lite | Business |
| --- | --- | --- | --- |
| Cost per Month* | $0 | $4.50 | $16 |
| Free Domain & SSL | ✓ | ✓ | ✓ |
| Unlimited Storage & Bandwidth | ✓ | ✓ | ✓ |
| Blog | ✓ | ✓ | ✓ |
| Free Stock Photos | ✓ | ✓ | ✓ |
| Multilanguage Sites | ✓ | ✓ | ✓ |
| Remove Ads | ✕ | ✕ | ✓ |
| Webshop (Unlimited Products) | ✕ | ✕ | ✓ |
| Subscriptions & Memberships | ✕ | ✕ | ✓ |
| Multiple Contributors | ✕ | ✕ | ✓ |
| Connect Google Analytics, Search & Profile | ✕ | ✕ | ✓ |
*With annual billing
---
Like Hostinger, Webador is a drag-and-drop website builder I discovered when researching and testing the best cheap website builders earlier this year. I got what I can only describe as a jolt of joy the first time I tried it. The interface is simple, granted, but everything feels so modern and intuitive, and all the design tools are well within reach.
Simplicity is essential for beginners, which is why Webador is our top pick for the easiest drag-and-drop builder. In addition to ease of use, extras are included, like the ability to embed a Google map, social sharing buttons, free stock images from Unsplash, and even audio and video files (you'll need the Business plan for those).
You don't need to have an inner geek to appreciate Webador. The ease of building a page out and adding content speaks for itself. It's especially great for creatives, artists, and designers since no-limit storage means you can create a fantastic portfolio to showcase your work.
If they asked me for a quick way to improve Webador, my suggestion would be to create some simple premade content blocks that could be dragged into place in addition to the columns and elements. I say this because a lot of web design beginners have trouble visualizing what a page will look like, but seeing the pre-made blocks offers a better idea of how the visual design will come out.
If Webador seems just a little too rudimentary to you, go with the Cadillac of drag-and-drop website builders, Wix. Alternatively, choose its close (but easier to use) cousin: Hostinger.
Expert Opinion
Every small business needs a website, but the process of building it doesn't have to be technical or time-consuming. If building a website quickly is a top priority, and you don't have the bandwidth to learn web design, go with Webador. Test the free version to see what you can do with this nifty site builder today.
HubSpot: Best for SEO Prompts & Guidance & Best Free Option

Pros
Only site builder that lets build on your own domain on the free plan
SEO guides and prompts appear as you create pages and content
Conversion-optimized landing pages
Animations for visual interest Design images and get photos from Canva (in the app)
Strong SEO features & tons of integrations
Cons
Expensive jump in cost after base
No native ecommerce tools (only through integrations)
Paid plans don't include a domain
AI content writer is locked down in waitlist mode (Private Beta)
Intuitive, section-based editor with limited drag-and-drop capabilities
Effects like animations increase visual interest and engagement
No stock image library, but you can connect Canva and access free images and design tools seamlessly from the HubSpot CMS interface
Low-cost starter plan offers all the bells and whistles most small businesses need
Enterprise-grade tools, features, and security
Dedicated landing pages for sales and marketing campaigns
Connect other freemium model HubSpot tools like its customer relationship management (CRM), customer service, and email marketing hubs, plus thousands more third-party integrations
---
| | Free | Starter | Professional |
| --- | --- | --- | --- |
| *Cost per Month | $0 | $23 | $360 |
| Connect a Domain & Free SSL | ✓ | ✓ | ✓ |
| Multilanguage Sites | ✓ | ✓ | ✓ |
| Online Store via App Integration | ✓ | ✓ | ✓ |
| Ad-free | ✕ | ✓ | ✓ |
| Website Pages | 25 | 50 | 10,000 |
| Landing Pages | 20 | 20 | 10,000 |
| Blog Posts | 100 | 10,000 | 10,000 |
| Subdomains | 1 | 1 | Unlimited |
| HubSpot Payments | ✕ | ✓ | ✓ |
| Recurring Payments | ✕ | ✓ | ✓ |
| Membership Sites | ✕ | ✕ | ✓ |
*With annual billing; month-to-month contracts available for higher prices.
---
HubSpot is an industry leader in the world of sales software, including its renowned CRM. So it shouldn't come as a surprise that its web CMS showcases enterprise-grade features, including strong SEO capabilities and tools. It's also fairly easy to use, though with more functionality, it's less beginner-friendly than platforms like Hostinger and Webador.
To make setting up your website easier, HubSpot's handy User Guide walks you through the steps, and there's a checklist for SEO. There's even a specific guide to help you get started with the drag-and-drop builder. Learn more in our guide detailing how to build a HubSpot website in just six steps.
As you can see from the image below, as you add pages and content to your site, a search engine optimization checklist appears with prompts to guide you through the process. Whether you have an inner geek that would love to learn SEO or not, you can fully optimize your website with the guidance in the platform.
The HubSpot CMS is a relative newcomer (compared to apps like Wix and Squarespace) that offers some truly unique features to set itself apart. On its free plan, you can connect a custom domain to build your brand presence online, unlike any other free site builder. Plus, you can integrate all of HubSpot's other free and paid apps easily to turn your website into a lead and sales-generating powerhouse.
All of HubSpot's solutions can be integrated easily through the HubSpot CMS, and most have free starter versions. This includes the world-class HubSpot CRM, and its customer service, email marketing, and operations apps. As they are designed for enterprise-level operations, your website will be geared with some of the best software on the market, and scalable, able to keep pace as your company grows.
Expert Opinion
HubSpot CMS's strong SEO tools and features are unique among site builders. You can connect a custom domain on the free plan and integrate HubSpot's wealth of CRM, sales, marketing, operations, and service tools (all starting for free). SEO guidance is baked into the site building experience to ensure your site can get found online. Test the free version to see if it's right for you or read our HubSpot CMS review to learn more.
Dorik: Best Subscriber Sales and Membership Site Builder

Pros
Lots of customization through section and element settings
Create reusable section blocks
Memberships in all plans (even free)
Paid membership and subscription sites for $4 per month
Popups and lead gen forms (all plans)
Unlimited blogging and storage in paid plans
Cons
No blog in free plan
Limit of 25 pages, 200 blog posts, and 3,000 members in base paid plan
No image library
Won't work for online stores or restaurants
Not as visually oriented as other site builders—takes more time to customize design via settings
Ecommerce for businesses that sell services, retainer-based plans, memberships, and subscriptions at a super-low cost ($48 annually)
Section-based page editing with somewhat limited drag-and-drop capabilities, though extensive customization can be achieved through section and element settings
Animate sections for visual interest and add pop-ups and lead generation forms easily
Create reusable section blocks to speed up building new pages
Unlimited storage in all plans, even free, makes it a good option for hosting your creative portfolio
Unlimited blogging with the Business plan (Dorik is on our list of the best blogging platforms)
Cheap agency-friendly plans for up to 100 websites, including white labeling
---
| | Free | Personal | Business |
| --- | --- | --- | --- |
| First 2 Years | $0 | $79 (one time) | $199 (one time) |
| Renews at | N/A | $49 per year | $129 per year |
| Sites Allowed | 5 | 1 | 10 |
| Paid Members | 0 | 3,000 | 10,000 |
| Pages | 5 | 25 | Unlimited |
| Users | 2 | 1 | 10 |
| Blog Posts | 0 | 200 | Unlimited |
| Unlimited Storage & Bandwidth | ✓ | ✓ | ✓ |
| Code Embed | ✕ | ✓ | ✓ |
| Custom Forms | ✕ | ✕ | ✓ |
| White Label | ✕ | ✕ | ✓ |
---
Dorik was built to facilitate memberships and subscriptions. Even in the free version, you can have 100 members (but not paid members). For paid members, services, or subscriptions (and a "Payment button") you'll have to have a paid plan.
It wouldn't be a great solution for an online store, for example, but it would be well-suited to a software app or software as a service (SaaS) type application. It would also work well for repeat service businesses like counselors or business-to-business operations that sell on a retainer basis (like a digital marketing agency).
Dorik is another relative newbie in the drag-and-drop website builder arena. It offers a low starting cost (and stays low) with an editor that allows for a lot of customization through settings. While this is a lot less intuitive visually than apps like Wix or Hostinger, it gives you a ton of design freedom once you understand how you can place, size, and use elements.
For example, you can designate a row to be a popup that only appears when a site visitor hovers over an element. You can also set a section to a negative, such as -100px, so that it slightly overlaps the element above it. You can indicate whether you want a section to cover the default width of the site or the entire screen for the user.
Expert Opinion
Dorik's low price point, customization capabilities, and unique use cases make it a solid choice for agencies or bloggers looking to monetize through memberships. You can test the site builder's capabilities in the free plan before making a commitment before opting for an affordable paid plan.
Bluehost: Best Drag-and-Drop Website Builder for WordPress

Pros
No-code drag-and-drop page builder for WordPress
Virtually unlimited use cases through WordPress plugins, widgets, and customizability with a much lower learning curve for beginners
Web hosting, SSL, and email, plus a free domain with paid plans
WordPress is installed and core updates are managed for you
Cons
No free version or trial & cost goes up after the first year
Still some learning curve—you'll need to install and configure plugins for site security, SEO, and any custom functionality you want
Can't change themes without starting over
Backups aren't included in base tier
Bluehost Builder included with all plans for no-coding-needed page building on WordPress
300-plus templates in the base plan or more than 1,000 design options in higher tiers
Stock image library included
Switch easily between the Bluehost Builder and WordPress dashboard
All-inclusive web hosting plans with domain, SSL, and email addresses
Plans for basic websites and online stores with all the plugins you need preinstalled
24/7 support
---
| | Basic | Choice Plus | Online Store |
| --- | --- | --- | --- |
| *Intro Cost per Month | $2.95 | $5.45 | $9.95 |
| *Renews at | $10.99 | $19.99 | $24.95 |
| Storage | 10GB | 40GB | 100GB |
| Websites | 1 | Unlimited | Unlimited |
| Themes | ✓ | ✓ | ✓ |
| Free Domain & SSL | ✓ | ✓ | ✓ |
| Business Email | ✓ | ✓ | ✓ |
| Email Marketing | ✓ | ✓ | ✓ |
| Automatic Backups | ✕ | ✓ | ✓ |
| Ecommerce Plugin | ✕ | ✕ | ✓ |
| Recurring Payments | ✕ | ✕ | ✓ |
| Shipping Plugin | ✕ | ✕ | ✓ |
| Subscriptions & Memberships | ✕ | ✕ | ✓ |
| Bookings & Appointments | ✕ | ✕ | ✓ |
*Billed annually; monthly billing is also available at a higher cost.
---
All Bluehost plans come with the Bluehost Builder, one of the best WordPress website builders. WordPress isn't intuitive to use (nor is its native Gutenberg block-based builder). If you're tied to WP but struggling to get the look you want for your site, Bluehost Builder could be the answer. It comes with custom themes and intuitive, section-based drag-and-drop capabilities that greatly lessen the pain of building on WordPress. Learn more by reading our tutorial on how to make a WordPress website.
You can move between the Bluehost Builder and WordPress administrative dashboards easily. This enables you to expand your site's functionality through plugins, which may mean you don't need to access more expensive plan tiers with Bluehost to get your desired capabilities, like the ability to accept payments. (But you will need a working knowledge of how to use WordPress.)
Bluehost's dedicated WordPress website builder, which comes in all plans, bridges the gap between WordPress and all-in-one site builders like Squarespace and Wix. But keep in mind that the plan costs above might not be all the investment needed to build on WordPress. Read up on what WordPress costs, including hidden expenses you might not have anticipated.
You're likely to need some premium plugins, especially if you want any kind of unique functionality. You'll also need to be able to add code for things like Google Analytics or Google Data Studio integration. Our list of WordPress tips and tricks details aspects of building on WordPress you'll need to know to ensure your site is secure, optimized for search, and offers a good site visitor experience.
Expert Opinion
If you've been waiting for WordPress to get easier, your day has come. All Bluehost plans come with a no-code drag-and-drop site builder to build a WordPress website in a fraction of the time, and WordPress updates will be managed for you. However, keep in mind that you're likely to still have some learning curve to use WordPress, and you'll have to manage plugin installation and updates yourself.
Jimdo: Best for Selling on Social Media

Pros
No-code editor with modern templates and content blocks
Affordable plans (plus a free version)
Ecommerce with social selling tools built in (digital or physical products)
Appointment booking with paid plans Built-in logo maker Business listings add-on
Cons
Can be confusing to know which editor to choose
No-code editor doesn't offer blogging
Page, storage, and bandwidth limits on all but the highest online store plan
Store limited to 100 products
Free image library isn't included with the Creator editor
Choose your own adventure: A super-simple site builder for beginners and very basic websites or a (still easy) but more sophisticated editor
Ecommerce plans include social selling and offer many payment options
AI onboarding to help you get to ideal templates quickly or click "Surprise me!" to get an AI-generated template
Grab images from your Google page, Facebook or Instagram accounts, or Jimdo's free image library with the simple editor
All paid plans include a domain and SSL
More sophisticated editor is much harder to create a site with, and its plans cost more but is the only option if you need blog functionality
---
| | Free | Start | Business |
| --- | --- | --- | --- |
| Cost per Month* | $0 | $9 | $18 |
| Domain & SSL | Both | Both | Both |
| Storage | 500MB | 5GB | 15GB |
| Bandwidth | 2GB | 10GB | 20GB |
| Pages | 5 | 10 | 10 |
| Forwarding Emails | ✓ | ✓ | ✓ |
| Web Forms | ✓ | ✓ | ✓ |
| Bookings | ✓ | ✓ | ✓ |
| Analytics | ✓ | ✓ | ✓ |
| Online Store | ✓ | ✓ | ✓ |
| Social Selling | ✓ | ✓ | ✓ |
| Fast Indexing | ✓ | ✓ | ✓ |
*Billed annually
---
Jimdo (pronounced "Jim – do," not "Jim – doe") is another AI-powered drag-and-drop website builder you may not have heard of before. All of its ecommerce plans are social-selling-ready, which makes it a good option for restaurants or small online stores looking for a low-cost, multichannel ecommerce solution.
The platform offers two editors. The one being showcased here is its no-code editor as it has essentials (like a free image library and premade content blocks) that beginners will need, and its paid plans include appointment booking. Keep in mind, though, that you'll have to choose the less beginner-friendly editor (which also doesn't come with all the essential goodies mentioned above) if you need blog functionality.
All Jimdo plans except for the highest online store plan have some limits on the number of pages you can have, as well as storage and bandwidth. For creatives, this could be a dealbreaker, and for this, we recommend an alternative like Squarespace or Webador instead.
Expert Opinion
Jimdo offers an affordable option for getting your brand online. From a basic website for any type of business to a service-based business, online store, or restaurant, the app has what you need to quickly build a professional-looking website to grow your business. Test it out with the free option to see if it will work for your project.
Pro tip:
All these site builders are easy to use, but if you lack the time or know-how, you can hire a freelance web designer on Fiverr starting under $50. You'll find freelancers skilled in building on Wix, Squarespace, or your preferred platform who can create your site quickly, optimize it for search, set up your store, and integrate third-party apps—visit Fiverr.
How We Evaluated the Best Drag-and-Drop Website Builders
Design-friendly site builders have intuitive tools that enable users of any experience level to build a website with little to no learning curve. They're affordable, provide good value for the money, and include everything needed to build, launch, and manage a small business website. We analyzed about a dozen site builders and narrowed our list to the top options overall based on the use case.
Click the tabs to learn more about how we ranked our top picks:
20% of Overall Score
The best platforms offer competitively priced plans for professional-use websites. We compared plans by price for plan type and contract length. We also considered whether a free version was available as well as the length of free trial periods and money-back satisfaction guarantees.
30% of Overall Score
We looked at the total value provided, such as storage, bandwidth, domain, and so on. We also compared features that would matter to someone wanting good design tools, such as the availability, quality, and variety of templates. Plus, we looked into whether a free image library is included, and the level of drag-and-drop capabilities, such as full, limited, or none.
25% of Overall Score
Platforms were awarded higher scores for niche functionality and tools, like unlimited blogging, built-in AI, and tools for appointment booking and social selling. We also checked their ability to sell digital products and rated each platform's SEO tools and features since getting found online is a must-have item, not just a nice-to-have item.
10% of Overall Score
Most of the platforms here are 100% beginner-friendly, but it's nice to know that support is available should you need it. Providers were rated on the hours support is available as well as the channel types, such as phone and chat, and whether a help center and tutorials are available online.
15% of Overall Score
After many hours of first-hand experience building sites with these drag-and-drop site builders, we also took our own expertise into consideration. We tested each site builder to determine our top picks, verify the claims made about the editors and platform features, and even answered the toughest question of all: would we recommend it?
*Percentages of overall score
Frequently Asked Questions (FAQs)
To a degree, all drag-and-drop website builders simplify the process of building a website. Even true beginners can build a fully functional website to establish their brand presence and grow online. However, our testing found that Webador and Hostinger were the easiest to use. Wix is also very easy to use, and you don't have to sacrifice design freedom.
---
Wix is the best free drag-and-drop website builder, with HubSpot coming in a close second. Wix offers the most extensive freedom in both site design and functionality in a free website builder. It also has robust SEO features to ensure your site gets found online. However, we don't recommend using a free site builder if it means you can't use a custom domain—HubSpot allows you to do this 100% free.
---
Wix and Squarespace are both leading all-in-one business website builders, but they are not without their differences. For example, Squarespace is more predesigned to ensure that no matter what your experience with web design is, your site will look professional. Meanwhile, if you have an eye for design and are looking for the most design flexibility, Wix will be your better choice.
---
Bottom Line
Getting your brand established online is easier than ever with the best site builders. There are options for every budget (even free) with intuitive and beginner-friendly editing tools, any type of functionality your website needs, and scalable plans to grow with your business.
For the best website design experience, we highly recommend Wix. You can test it out for as long as you'd like using the free version and then get a free domain with an upgrade to a paid plan.