Centime is a three-in-one cash flow management, accounts receivable, and accounts payable software. It also allows key performance indicator (KPI) tracking, which is useful for monitoring performance in managing cash, invoices, and bills. Centime is not a stand-alone software and must be integrated with a general ledger system, like QuickBooks. Pricing starts at $149 per month, and a free trial is unavailable. There is a free demo account that users may explore to get the look and feel of the software.
Pros
Combines A/P and A/R management with cash flow tracking
Free demo account available
Monitors KPIs, days sales outstanding (DSO), and days payables outstanding (DPO)
Monitors cash flow forecasts and outstanding debts
Tracks bills and bill payments in one window
Cons
Has a costly starting price
Lacks a free trial to use with your actual company data
Has limited features to experiment with when using the free demo account
Can be overwhelming for first-time users
Supported Business

Businesses looking for bill tracking integrated with cash flow management and banking solutions

Pricing

Starts at $149 per month

Discount

N/A

Free Trial

N/A

Standout Features

Cash flow tracking and forecasting
Accounts payable (A/P) and accounts receivable (A/R) management features
Diversified cash sweep account
KPI tracking for cash flow, A/R, and A/P metrics
Credit services via Centime Card
Dedicated customer service representative
Automated vendor invoice processing: Centime can capture data from vendor invoices and fill out the invoice form automatically. You can also add invoice codes for classification and invoice routing for approvals.
QuickBooks users: Centime integrates with both QuickBooks Online and QuickBooks Desktop to add excellent cash flow management and KPIs to the leading small business accounting software.
Maximizing cash discounts: Through DPO tracking, Centime will help you track early payment discounts and get as much as 20% cash back.
Credit services: To aid users in maximizing early payment discounts, Centime's credit services let you borrow funds to finance working capital, pay accounts payable, and take advantage of early payment discounts.
Banking services: Aside from cash flow management features, Centime is about to launch banking services through Centime Checking Plus.
Those looking for basic A/P management: Centime is a sophisticated system that not only manages A/P and A/R, but then uses that information to make cash flow projections. If you're not going to take advantage of Centime's features, there are simpler and less expensive alternatives for tracking and paying bills. Our best recommendation for simple A/P management is BILL because it can track outstanding bills, bill payments, approvals, and deadlines. Read our BILL review to discover its outstanding features.
Those looking for a free solution: Melio is our best free A/P tracking software with decent A/P features. It charges only transaction fees, making it ideal for those who don't process a lot of payments monthly. Our review of Melio discusses these features in greater detail.
Those looking for A/P and bookkeeping features: Centime is not a substitute for bookkeeping software even with its A/R and A/P features. We recommend QuickBooks Online, our best small business accounting software because it is accounting software with A/P features. To help you decide if it fits your business needs, check out our QuickBooks Online review.
Centime Alternatives
|         |                         | |
| --- | --- | --- |
| | | |
| Best for: Dedicated A/P tracking at a lower price point | Best for: Free A/P tracking | Best for: Businesses looking for accounting software with A/P features |
| Cost: $45 per user, per month | Cost: Free |  Cost: $60 to $200 per month |
Why We Like Centime
Centime is our best pick for businesses wanting to manage cash flow, A/P, and A/R. Its A/P module works well with the cash flow management module since it shows users' payments and due dates in a single dashboard. Overall, it is a good solution for the management of working capital as it also provides additional services like Centime Card. It is also about to launch Centime Checking Plus.
Centime Pricing
Its custom base plan starts at $149 per month. There is little Centime pricing information on the provider's website, so it's best if you reach out directly for details. You may check out the demo account to get the look and feel of the software. To access it, you just need to register with Centime for a self-guided tour.
Centime Features
Our Centime review covers the platform's outstanding features in A/P, A/R, cash flow tracking, and KPI monitoring. However, we were unable to try some of Centime's features because these are unavailable in the sandbox account.
The image below shows the dashboard of the sandbox account that we used for this review. We like that it's organized and clean. However, the graphs shown in each box are static and for design only. It would've been better if these were actual graphs based on the numbers presented.
Overall, the dashboard is clean, but it doesn't provide an overview of all data sources. If you like to see actual and interactive graphs, you'll have to click each box first, which is counterintuitive since you won't see a bird's-eye view of all important metrics to track.
---
Though the dashboard is a bit disappointing — as discussed above — Centime redeems itself if you visit each section. The Payables module presents an interactive chart on top and a list of transactions below it. From a user experience (UX) standpoint, the window seems to be cramped since the data visualization section and data table share the same screen.
The chart above shows the A/P aging graph by default, but you can change it to a cash impact bar or cash impact waterfall chart. These two graphs will show how cash inflows and outflows impact your business's cash balance. Moreover, the data table below is customizable through filters and column width adjustments. You can rearrange columns to reorder the data that you'd like to see first.
---
The A/R module follows the same concept as the A/P module. The graphs on top can be changed to cash impact graphs to see the impact of cash inflows on cash balances. The table below the graphs shows customer and invoice information which is similar to the A/P module.
A minor thing we noticed here is the use of the term "invoice" in both A/P and A/R modules. The use of the term is technically correct but can be confusing for users without an accounting background. To avoid confusion, vendor invoices should be referred to as "bills." But if ever you decide to use Centime, this minor observation won't affect your overall experience.
---
Centime's features revolve around its cash flow tracking capabilities. All payables and receivables affect cash and Centime helps you forecast and track cash flow from inflows and outflows. The images below show the three highlights of Centime's cash flow tracking features.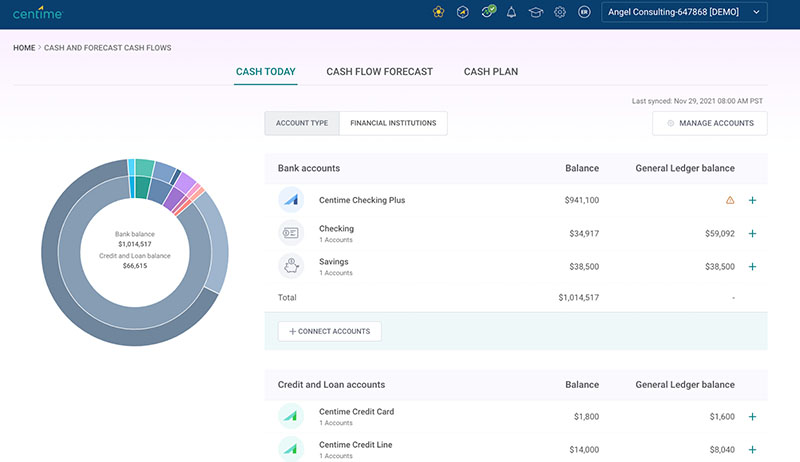 ---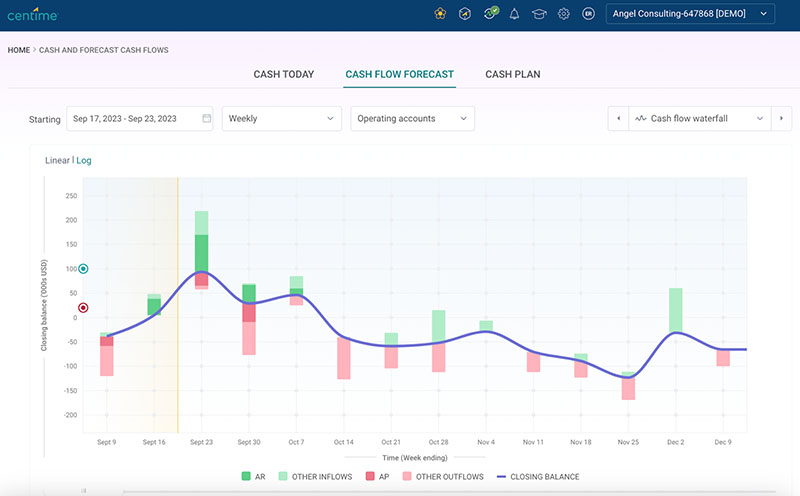 ---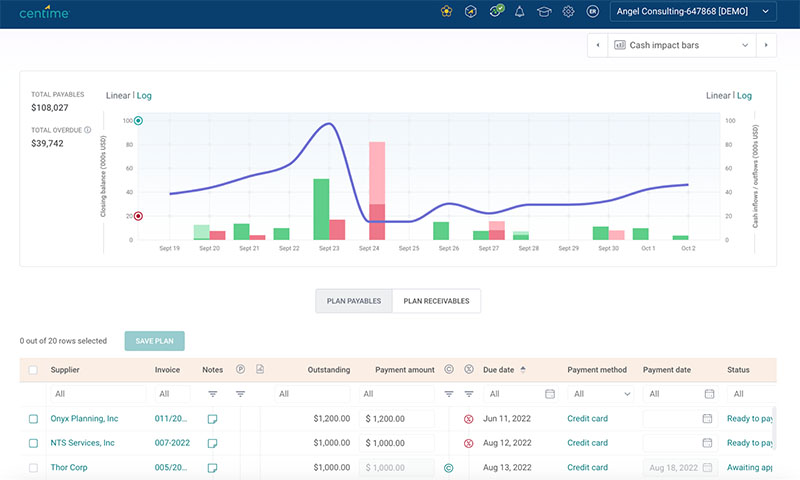 ---
---
Centime tracks cash flow, operating cash flow, net burn rate, gross burn rate, and cash runway as part of its KPI monitoring for cash flow as shown in the image below. However, you can change the Performance Category to receivables or payables for a different set of KPIs.
Below are the KPI metrics used for payables and receivables:

---

---
Overall, we like Centime's KPI module. It shows important metrics that are useful in decision-making and working capital management.
---
Centime & QuickBooks Online Integration
QuickBooks Online users can integrate Centime to access the software's excellent cash management features. The integration allows Centime and QuickBooks Online to capture payables and receivables and route them for review and approval. It also lets users manage payments within Centime, and once payment has been made, it will sync to QuickBooks Online for reconciliation.
The best feature of the integration would be cash flow management. QuickBooks Online is missing features for tracking and forecasting cash flow—and Centime can fill in this feature gap. To integrate QuickBooks Online with Centime, you'll have to contact Centime support to facilitate the integration.
Centime Ease of Use
Centime is relatively easy to use based on our experience with the demo account. It's easy to navigate the software, but some modules are cramped.  Although we like its features, Centime doesn't have integrations with productivity software, making it difficult for users who use productivity tools like monday.com for invoicing. Our evaluation of Centime's ease of use is limited only to its sandbox account, so we're not able to evaluate all of its features.
Centime Reviews From Users
Only a few users have left a Centime review on third-party websites, and we can't objectively provide an expert opinion about their feedback. What we gather is that most users find Centime helpful in KPI monitoring and cash flow management. However, some pointed out that it was quite a challenge for them to insert Centime into their workflow because it doesn't have enough integrations with third-party apps.
Centime's user review scores are as follows:
G21: 4.6 out of 5 stars based on around 10 reviews
Software Advice2: 4.5 out of 5 stars based on less than 10 reviews
How We Evaluated Centime
Centime is part of our best accounts payable software buyer's guide. Our evaluation focused in the following areas: pricing, general A/P features, special A/P features, and ease of use.
25% of Overall Score
In assessing the pricing, we considered the transparency, affordability, and flexibility of pricing plans. We also gave more credit to the software providers that can accommodate more users.
25% of Overall Score
When considering basic A/P functionality, we looked at features, such as creating vendors, tracking vendor transactions, viewing outstanding bills, recording vendor credits, and other minor A/P features.
25% of Overall Score
In evaluating special A/P features, we focused more on A/P automation. We heavily considered the ability of the software to reduce data entry time, workflow approvals, and batch processing. We also included the following:
Automatic payments: We looked at whether the software automates the payment process for recurring bills.
Automated alerts: For every vendor that's set up in the system, we considered whether you can create custom alerts to inform you when a bill has arrived or is due.
E-bill aggregation: We evaluated whether electronic copies of all your bills can be sent directly to your accounting software.
Audit trails: An audit trail helps approvers of bills see the history of the transaction being processed. Audit trails provide transparency and establish evidence that bills have been processed according to the company's policies.
*Percentages of overall score
Frequently Asked Questions (FAQs)
No, but you may try the sandbox account to get the look and feel of the software. However, the sandbox account does have limitations, such as the inability to add new records in the sample data set.
---
Centime is a cash management app that offers decent A/P management features. It allows you to track vendor invoices, due dates, and payments.
---
Bottom Line
Centime offers a three-in-one solution for cash, A/P, and A/R management. It has decent A/P features that enable users to track vendor invoices and payments and plan payables settlement to maximize cash on hand.
---
User review references:
1G2
2Software Advice