Bill.com Review: Features and Pricing in 2022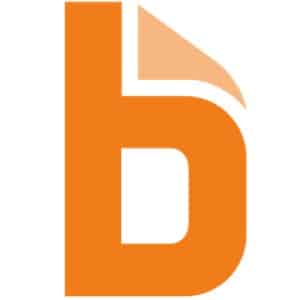 What We Recommend Bill.com For
Bill.com is our overall best A/P software because of its outstanding A/P features for an affordable price. We recommend this software for businesses who need A/P assistance and automation. Bill.com is a perfect complement to your accounting software or enterprise resource planning (ERP) system.
Bill.com Is Especially Good For
Accounting firms that need assistance in invoicing and billing: The Accountant Partner Program can help accounting firms streamline their A/P and accounts receivable (A/R) processes through automatic data capture and synchronization with accounting systems. Accounting firms can also use their subscription to offer A/P and A/R assistance to clients at cheaper rates.
QuickBooks Online and Xero Users: Bill.com has a two-way integration with popular accounting software like QuickBooks Online and Xero, which makes it easier for businesses to record bills and bill payments without manually importing transactions.
Businesses with voluminous A/P and A/R transactions: If you process many invoices and bills, Bill.com can help in automating and streamlining the process. You can save hours in data entry and focus more on approving and reviewing invoices and bills.
Bill.com Is Not a Good Fit For
Businesses looking for an accounting software program: Bill.com is excellent in A/R and A/P but it isn't a substitute for accounting software. We recommend choosing QuickBooks Online, our best small business accounting software, because of its dynamic accounting features that can also help you account for payables and receivables accurately.
Freelancers who are looking for easy accounting software with A/P and A/R: QuickBooks Online can be too advanced for freelancers and solopreneurs. FreshBooks is one of our best QuickBooks alternatives if you're looking for excellent customer service plus easy-to-use accounting software with invoicing and billing functions.
Businesses that are looking for a strong A/P and A/R software with unlimited users: Bill.com charges per user and the monthly cost can be too expensive if you need to enroll many employees in the software. We recommend choosing Invoicera, our best standalone invoicing software. It's like Bill.com because it combines A/R and A/P. However, the Infinite plan of Invoicera includes unlimited users for only $149 per month. Moreover, the A/R features of Bill.com aren't as detailed as Invoicera's A/R features due to the lack of invoice customization features. Choosing Invoicera is better if you need strong functionality for both strong A/R and A/P.
Bill.com Pros and Cons
PROS

CONS

Affordable pricing for small businesses
Not a full accounting software
Integrates with popular accounting and ERP software
Can be too costly for businesses with many enrolled users
Can choose between invoicing, billing, or both subscription plans
Limited invoice tracking if the payor doesn't have a Bill.com account unless you establish a two-way sync with QuickBooks Online
Easier connection with vendors and customers who are also using Bill.com
Limited A/R functions
Multiple money transmitter licenses in all 50 states for a more secure payment
Bill.com Pricing
Bill.com offers a billing and invoicing solution for businesses and accounting firms. Customers can choose invoicing solutions (A/R), billing solutions (A/P), or a combination of both. Bill.com also offers free basic A/R and A/P functions if you get either the Pay Bills or Get Paid plan. However, if you want advanced features like automatic sync with accounting software, getting the paid plans―Pay Bills, Get Paid, or both―is needed.
For Small Businesses
| | Essentials | Team |
| --- | --- | --- |
| Monthly Pricing | $39 per user | $49 per user |
| QuickBooks Pro & Premier and Xero Integration | N/A | ✓ |
| Customizable User Roles | N/A | ✓ |
| Unlimited Data Storage | ✓ | ✓ |
| Automated Clearing House (ACH), Check, Credit Card & International Wire Transfer | ✓ | ✓ |
| Basic A/R functions | ✓ | ✓ |
| | Essentials | Team |
| --- | --- | --- |
| Monthly Pricing | $39 per user | $49 per user |
| QuickBooks Pro & Premier and Xero Integration | N/A | ✓ |
| Customized Invoice Templates | ✓ | ✓ |
| Single or Recurring Invoices | ✓ | ✓ |
| Payment Status Tracking | ✓ | ✓ |
| | Corporate | Enterprise |
| --- | --- | --- |
| Monthly Pricing | $69 per user | Custom Pricing |
| QuickBooks Pro & Premier and Xero Integration | N/A | ✓ |
| QuickBooks Enterprise, Oracle, NetSuite, Stage Intacct, Microsoft Dynamics & Other ERP Software Integration | ✓ | ✓ |
| Customized Invoice Templates | ✓ | ✓ |
| Single or Recurring Invoices | ✓ | ✓ |
| Payment Status Tracking | ✓ | ✓ |
| Customizable User Roles | ✓ | ✓ |
| Unlimited Data Storage | ✓ | ✓ |
| ACH, Check, Credit Card & International Wire Transfer | ✓ | ✓ |
| Single Sign-on (SSO) and Dual Control | N/A | ✓ |
| Phone Support | N/A | ✓ |
| Multi-entity, Multilocation Accounting File Capabilities | N/A | ✓ |
For Accounting Firms
The Accountant Partner Program of Bill.com is accessible to accounting professionals at $49 per month. The program includes the following:
Automatic data capture for bills and invoices
Bill routing to approvers
Product training with the possibility of earning CPE credits
Resell AP/AR services to clients
Transaction Fees
When sending or receiving payments via Bill.com, transaction fees will apply.
ePayment/ACH Processing Fee

$0.49 per transaction (send & receive)

Check or Invoice Mailing by Bill.com

$1.69 per check or invoice

Payment by Credit or Debit Card

2.9% of payment (applies to the payor)

Receiving Payments by Credit or Debit Card

Level 3 processing rates

International Wire Transfer (Local Currency)

$0 fee and competitive exchange rates

International Wire Transfer (USD)

Flat fee

Vendor Direct Virtual Card payment

$0 for vendors who accept Vendor Direct

Faster ACH Payments

$9.99 (same or next day)

Faster Check Payments

Overnight: $19.99

Two-day: $14.99

Three-day: $9.99
Bill.com Features
Bill.com is both an A/P and A/R solution for small businesses. Let's go over Bill.com's A/P and A/R features.
The dashboard shows both the A/P and A/R information. The Overview page of Bill.com will present several cards that summarize outgoing and incoming transactions. The dashboard of Bill.com is clean and organized. It's easy to navigate from the Overview page. This kind of user experience is suitable for small business owners who perform billing and invoicing.
Automatic Bill and Invoice Capture from Email
Receiving bills and sending invoices via email can be a problem without proper segregation of documents. On Bill.com, you'll be provided with a specific email address where you can send invoices to customers and receive bills from vendors. In the image below, you'll see the email address where all bills and invoices are forwarded. Once forwarded, you'll get a notification in the Bill.com inbox.
Forwarding address: Your vendors can email their invoices to this forwarding address from Bill.com. Instead of giving them a traditional email address and manually exporting vendor invoices, this Bill.com address automatically fetches all invoices and brings them to the platform. You can also customize the forwarding address to insert your company name.
Inbox: Vendor invoices or files sent to the forwarding address will appear in this inbox. Bill.com extracts useful information like vendor name, due date, and amount due for a quick reference automatically. If you click an item, the full invoice will appear on the right.
Once you receive a bill, Bill.com's Intelligent Virtual Assistant (IVA) will capture key billing information like vendor name, vendor's invoice number, due date, and amount due. However, the A/P clerk can still fill in other fields like purchase order (PO) number or payment terms.
---
Bill Creation
When you receive a bill from a vendor, Bill.com captures important information like the due date, invoice number, invoice date, and amount due from the PDF or scanned vendor invoice automatically. In the image below, you'll see some fields completed for you automatically.
Bill.com has an outstanding optical character recognition (OCR) feature powered by its artificial intelligence (AI). It only takes a maximum of 30 seconds for Bill.com to read a PDF document and capture essential information.
---
Efficient Document Management
If you're thinking that Bill.com only stores bills, you can also manage other kinds of documents on the platform. Bill.com's intelligent virtual assistant can read handwritten invoices and capture important information like vendor name and amount due. Bill.com can also detect duplicate invoices by checking the invoice numbers and then linking out to the original invoice.
In case of multiple bills in one PDF file, Bill.com will split them into three files automatically whenever the system detects different vendor names. With Bill.com's unlimited storage feature, you can also bring in other document types like W-9s, contracts, and agreements. Moreover, you can assign documents to vendors for easier access.
For example, you can attach a W-9 to a vendor while it's being stored in a particular folder. In this way, you can access all W-9 forms easily in the W-9 folder or access a specific W-9 by going to the vendor profile.
---
Automatic Bill Codification
Bill.com learns from your past transactions. Whenever you receive a bill from a vendor, the system codifies the bill automatically by suggesting accounts affected by the transaction. In our image below, Bill.com suggested that the bill from Snyder Uniform Supply is chargeable to specific expense accounts.
---
Automatic Bill Approvers
Bill.com can also automate the assignment of approvers through Bill Approval Policies. If you think that you need to manually assign approvers per invoice, you can let Bill.com do the majority of the work for you through Bill Approval Policies.
You can set logical arguments and criteria when creating policies. In this way, Bill.com can assign approvers for you automatically if the transaction matches the criteria. You can also create multiple approval policies to help reduce the data entry time in every transaction.
Approval Workflows
After the approver is assigned automatically, they will see the billing on a dedicated page for approvers only. In the approver's dashboard, they'll see the invoice number, vendor, account affected, due date, invoice date, and billed amount. On the far right of the screen, they can immediately approve the bill by simply clicking Approve.
The approver can also batch approve or manually approve bills one by one. They can click the item to view all the details about the transaction. In the image below, we can see all the details pertaining to the transaction including the actual vendor invoice. On the approver's end, invoice details are view-only. They cannot edit it to correct mistakes or change the information.
If the approver finds a problem, they can return it to the submitter for revision. When denying or rejecting bills and vendor credits, the approver must select a reason for rejection. These reasons include:
Duplicate bill
Data entry error
Incorrect approver
Other (The approver must specify)
Once the approver is satisfied with the bill or the bill has been rerouted to another person, the approver can approve the bill. After clicking Approve, Bill.com will generate a timestamp and generate a virtual signature after approval. Once approved, the bill cannot be edited or deleted to preserve the integrity of accounting records.
---
Auditor Access and Audit Trail
Bill.com also has an auditor access feature that gives your company's auditor easy access to documents without going through you. Just like the approver's page, the auditors will have a special login page where they can pull up any invoice or record from your account.
When changes are made to transactions, every change will appear in the audit trail. You can view the audit trail per transaction.
The audit trail shows who edited the transaction, when it was edited, what field was affected, and what changes occurred. Having an audit trail helps in improving your business' internal control and prevents employees from performing fraudulent acts.
---
Bill Payments
All approved bills will go to the Bills section. In the Bills section, you'll see a list of bills approved, including details like due dates, balance due, payment status, and payment amount.
Through Bill.com, you pay vendors in various ways. You can perform e-payments, Vendor Direct for larger billers, international wire transfers across 130 currencies, and check payments. The Vendor Direct program is for billers that prefer credit card payments and you can set it up without enrolling or paying additional fees.
In the upper right corner, you set the date to bulk pay bills. After you've set the date, the process date of all check bills will adjust automatically, based on the payment date. You can also partially pay bills by modifying the amount under the Payment Amount column. Once you're set, click Review & Pay to proceed to the Remittance screen.
In the remittance screen, you'll have the chance to review payment details like mailing address and email address. You can also add notes in the memo up to 80 characters. When you enter something in the memo field, the same will appear in the memo line of the check. Once bills have been submitted for payment, all transactions will transfer to the Payments Out screen.
You can still manage payments in the Payments Out screen. If payments have been processed but not yet deposited, you can click Void under the Actions column to cancel the payment. However, if payments are still scheduled or pending approval, you can cancel them by clicking Cancel Payment.
---
Mobile App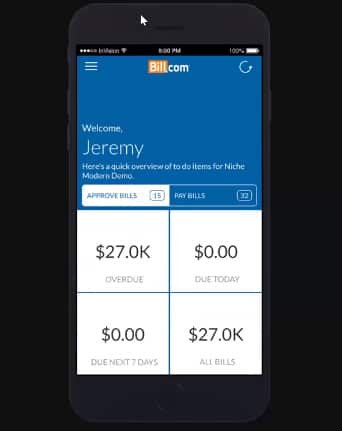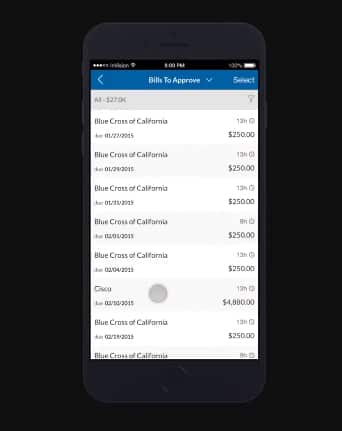 Bill.com also has a mobile app that you can use to capture receipts and approve bills on the go. With the mobile app, users can still process bills from vendors and approvers can review submitted bills even if they are away from their desktop. Approvers can swipe right to approve bills and swipe left to reject them.
---
Invoice Creation
Bill.com's invoicing and basic accounts receivable features are free in the A/P subscription. However, the free invoicing in the A/P subscription doesn't include unlimited data storage for invoices, automatic sync with accounting software, or recurring invoices. If you need these features, you should get the Get Paid and Pay Bills plan.
The invoicing features of Bill.com aren't as impressive as other invoicing software. It doesn't offer a wide array of features that lets you add some branding to your invoice. Though Bill.com has three templates to choose from, we can't recommend their invoicing if you want to add logos and other company branding to your invoice. Instead, you may choose Invoicera for full customization of invoices.
Tracking Invoice Statuses
Bill.com's invoicing is perfect if your customers are also using Bill.com. Once you send them invoices, you can track the status of the invoice from within the Bill.com app. However, if the customer doesn't have a Bill.com account, there's no way of tracking the invoice electronically. You can instead reach out to the payor to ask about the status.
If the customer processes your invoice through Bill.com but didn't pay using Bill.com, the invoice status will be marked as Paid Outside of Bill.com. You need to manually record payment to close the invoice.
---
Customer Service and Ease of Use
Users can access live support from 5 a.m. to 6 p.m. Pacific time, Monday to Friday. For immediate support, users may check the Help Center to search for answers. They don't have phone numbers where customers can call them directly. As an alternative to the live chat and Help Center, users can fill up the query form.
Bill.com's A/P function is outstanding. It can help you organize your billings and process payments from within the app. The user interface is also neat and easy to use even for small business owners. However, we don't like the limitations of Bill.com's A/R functions. You can only maximize its features if your customers are also using Bill.com. Otherwise, it'll be hard to track invoice status and determine if payment has been sent.
Bill.com Integrations
Bill.com integrates with popular accounting software and ERP solutions. You can integrate Bill.com with:
Bill.com Alternatives
| | | |
| --- | --- | --- |
| Best for: Businesses that are looking for complete accounting software with A/P and A/R functions | Best for: Freelancers that are looking for QuickBooks alternatives with excellent customer service | Best for: Businesses that need an A/R and A/P software for unlimited users |
| Starts at: $55 per month | Starts at: $15 per month | Priced at: $149 per month for unlimited users |
Bottom Line
Bill.com offers a convenient two-in-one solution for billing and invoicing. Its A/P automation and A/P workflow make billing simpler with less data entry and easier with approvers on standby. If your vendors are also using Bill.com, it'll be easier for them to track their invoices with invoice statuses. In our Bill.com review, we also explored the possibilities of integrating Bill.com with QuickBooks Online and Xero.
Bill.com's invoicing side has limitations if your customers aren't using Bill.com. You can't fully utilize the invoice tracking features for customers processing invoices outside Bill.com. Moreover, the invoice creation features of Bill.com are very limited in terms of incorporating company branding in the invoice design. Overall, Bill.com is a recommended software for A/P only. It's a convenient solution to process bills and pay your vendors easily.