Because there isn't a single policy to cover all their risks, dance instructors need multiple dance studio insurance policies. In most cases, instructors can obtain bundled insurance coverage under a business owner's policy (BOP) to get comprehensive protection for their most likely losses. BOPs for dance instructors start at $300 annually.
Whether you own a dance studio or are an individual dance instructor, getting coverage that protects your interests is important. Insurance companies such as The Hartford help decipher the right coverage for your business with a quick, no obligation application. In just a few minutes, you can have the coverage you need with the confidence to turn the music up and dance.
Dance Instructor Insurance Providers
Different types of dance studios have different risks to address when it comes to dance instructor insurance. While you may be able to cover all of your dance studio's insurance needs through national carriers, there may be some special circumstances where you need a smaller boutique insurance provider.
Top Dance Instructor Insurance Providers
| Provider | Best For |
| --- | --- |
| | Dance studios that teach lessons and perform exhibitions at local events |
| | Mixed-use dance studios of all sizes with dance, art, and exercise classes |
| | Individual dance instructors who work at multiple studios or give private lessons |
| Nationwide | Studios with extensive children's programs and after school program contracts |
| | Dance studios owners who also offer yoga or tumbling lessons |
The Hartford is a small business insurance leader offering policies across the country. The Hartford's reputation for innovation with insurance starts with how it has built a business owner's policy (BOP) that is both affordable and also has more coverage options than its competitors.
The Hartford is the right choice for dance studios where dance lessons include exhibitions at local events such as schools and local fairs. Dance instructors are able to get comprehensive coverage that includes medical payments for student injuries during dance lessons.
CoverWallet is an online insurance broker that shops and places business insurance for companies across the country. This provider partners with more than two dozen top-tiered insurance carriers to make sure every small business owner can find the right coverage for the right price.
CoverWallet is the best choice for a dance studios that offers a wide range of dance classes in the studio and at external locations while also using their studio for art, drama, and exercise programs. Because CoverWallet has access to so many carriers, it has the ability to get the perfectly tailored policy for its clients.
As a small business insurance specialist, Hiscox takes great strides to understand the unique risks faced by specific industries. This knowledge allows Hiscox to provide customized coverage to its clients in the dance studio industry. Moreover, dance instructors or studio owners can pay their annual premiums in monthly installments at no additional charge.
Hiscox is the right choice for individual dance instructors seeking to protect their personal business interests or who need to show certificates of insurance to studios they contract with. Hiscox's ability to price sole proprietor policies in a range that is affordable for many budgets has made them the leader for independent contractor insurance.
Nationwide
Nationwide is a national insurance carrier that offers personal insurance lines such as auto and home insurance as well as extensive options for small business insurance. Nationwide is able to help business owners protect the business property, including the actual building, assets, and supplies as well as protect companies with general liability and business interruption insurance.
Nationwide is a good option for studio owners who offer children's programs in a primary studio or third-party location, like a school. If you want a comprehensive policy covering many of the risks faced as a studio owner—including protection for accidents on your premises as well as those at an off-site location—Nationwide is the right choice for you.
Sadler Sports & Recreation Insurance is a specialty insurance broker that covers higher-risk types of businesses where injuries are more likely. They offer bundled programs that often include general liability, business property, and special industry-specific inclusions such as medical payments.
Sadler Sports & Recreation Insurance is the right choice for studios that do more than just dance lessons and need a policy that won't exclude programs such as yoga, tumbling, or drama lessons. As a specialty provider, Sadler Sports & Recreation builds policies specifically with the unique needs of any dance, fitness, or sports operation.
What Dance Studio Insurance Is
Dance studio insurance is not one policy that covers every risk a dance studio or instructor may need. Instead, dance instructors need a combination of policies to cover their biggest risks. For example, dance studio insurance often includes general liability, building tenant insurance, property coverage, and workers' compensation.
Dance studio owners may be required by landlords to get building tenant insurance but might not be required to add any other policies. However, they still face exposures in several areas, such as student and employee injuries, and clients often prefer to work with businesses that are properly insured.
What Dance Studio Insurance Covers
Dance studio liability insurance covers the potential accidents that lead to other people's bodily injury, property damage, and financial loss. Dance instructor insurance may also cover professional liability such as causing an injury by incorrectly teaching a dance move, e.g., a swing dance jump students are not prepared to do.
Other policies are designed to cover damage to business personal property and buildings as well as business interruption and employee injuries.
The primary areas of coverage dance studio insurance covers include:
Injuries to consumers and clients due to slip-and-fall types of accidents
Personal property damage to clients whose items are damaged or broken
Damage or loss of the studio location or physical assets as a result of fire, theft, vandalism, and other similar incidents
Lawsuits against dance studio instructors claiming poor professional advice or lack of services rendered resulted in financial or physical harm to clients
Injuries and lost wages for employees hurt while working in the studio
There are many facets to business insurance needs, particularly with exercise locations such as dance studios. One dance studio might not need the same business insurance coverage as another. Some may elect higher coverage for the once-in-a-lifetime accident but not feel smaller claims need coverage and elect bigger deductibles to save costs.
What Dance Insurance Doesn't Cover
Every insurance policy has exclusions and dance studio insurance is no different. Policies vary among insurance carriers, so be sure to check exclusions when purchasing the policy so you know what to expect from your coverage. Most claims are denied because the studio owner did not choose the right policy or coverage. Doing your homework ahead of time saves a lot of headache and frustration.
Types of situations that dance studio insurance doesn't cover include:
Unlawful actions including false statements and guarantees: Telling a student "You will be on Broadway in a year, guaranteed," is a guarantee.
Private labeled products and clothing: Selling any supplements or dance clothing under your own name requires a different insurance policy, including a different risk class or a provider who will tailor the policy.
Limitations on programs for minors: Allowing kids under the age of 18 may result in restrictions or exclusions.
Additional services and classes: Martial arts, drama classes, yoga, and crafts may be excluded unless specifically added on.
Student injury during class: Dance injuries are normally excluded unless specifically added with medical payments coverage.
Complete applications with as much detail as possible to get the right quote and ensure claims are covered. If you are unsure, give your insurance provider a call to confirm what is covered and what isn't.
Dance Instructor & Dance Studio Insurance Costs
Because instructors need multiple policies, it's important to add up the costs. Dance instructors and studio owners get the best price if they bundle coverage by purchasing a BOP from a provider that allows industry-specific add-ons. Starting around $300 annually, BOPs generally cost less than it does to buy liability and business property policies separately.
Dance Instructor & Dance Studio Insurance Costs & Deductibles
| Insurance Type | Typical Premium Cost | Coverage Amount | Deductible |
| --- | --- | --- | --- |
| Business Owner's Policy | $300 - $3,500 | $1 million liability + $30,000 property | $500 |
| Professional Liability Policy | $450 - $1,200 | $1 million | $0 |
| Workers' Compensation | $2,000 - $3,000 | $1 million | $0 |
| Commercial Auto Insurance | $750 - $1,200 per vehicle | $250,000 | $500 |
Dance studio insurance costs vary widely from state to state. These are typical starting costs for policies based on a gym of 2,000 square feet with one desk clerk and $100,000 in fitness and business equipment.
Several factors can impact the cost of dance instructor insurance, including:
The value of property and equipment: If you teach dance classes at clients' homes and have no equipment, property insurance costs are much lower than if you have a large studio full of specialized and costly equipment.
Your experience: Your past history of professional experience in the field of dance, along with any record of past claims, affects professional liability policy costs.
Employees: The more workers you have employed at your studio, the higher the costs of workers' compensation coverage.
If you offer a broad spectrum of fitness services at your studio (or subcontract to others who do), including those may mean some insurers will decline to cover your business, but don't get frustrated. Be honest with your agent so they can find the right policy so you have the confidence that future claims will be paid.
Typical Dance Studio Risks
Risks from a dance studio come from many different areas of business operation. From students injuring themselves while dancing to employees getting hurt, dance studio owners need to be prepared for many different types of claims.
Different types of insurance policies and riders address the various types of potential claims and lawsuits a dance instructor may see over the course of their career.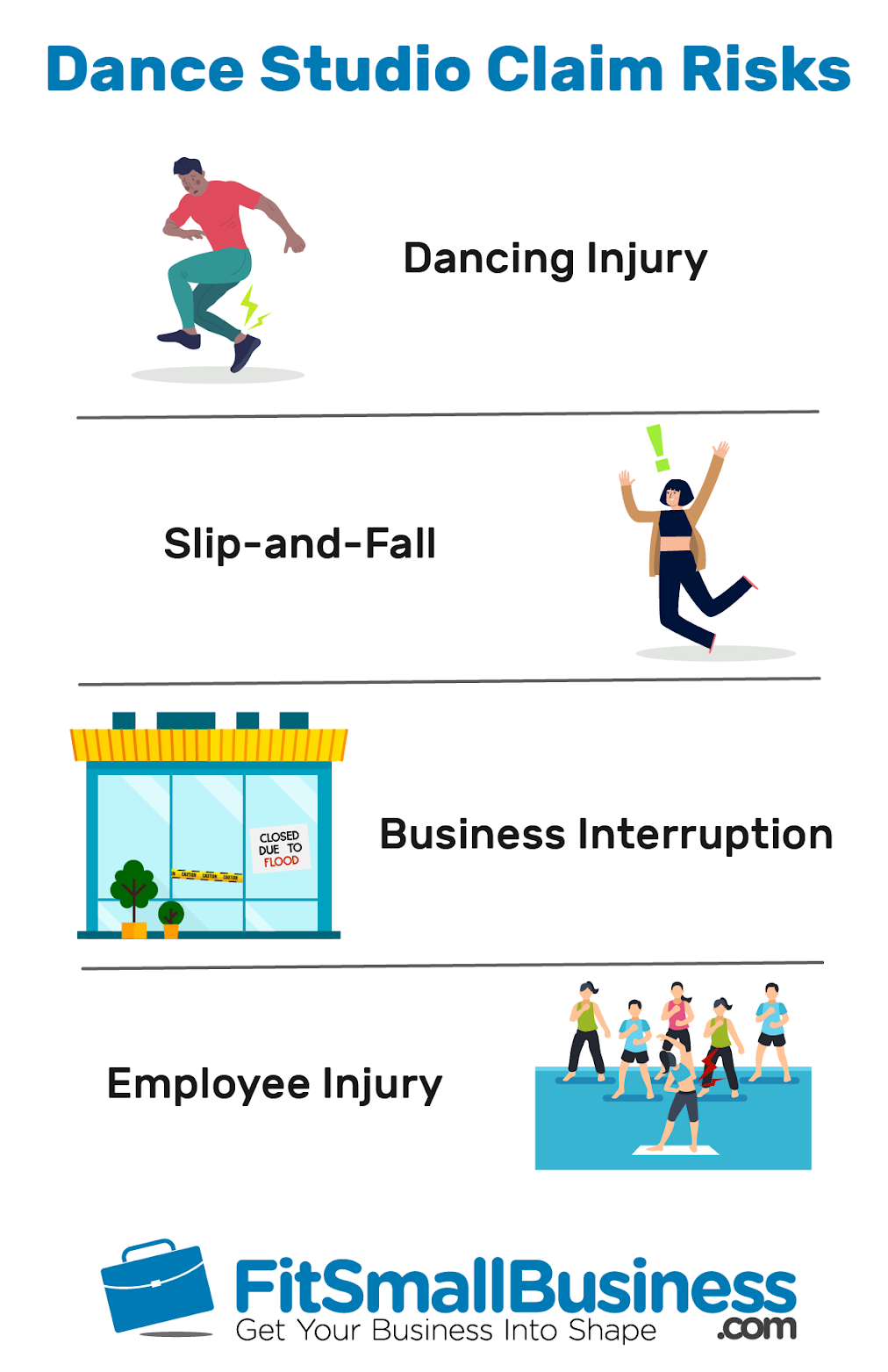 Types of Dance Instructor Insurance & Dance Studio Insurance
Dance instructors must protect themselves from many types of claims and lawsuits. While general liability claims are often the most frequent, professional liability and workers' compensation claims can quickly bankrupt a small business that doesn't have the right insurance policies.
Most Common Types of Dance Studio Insurance
| Type of Insurance | What It Covers |
| --- | --- |
| Business Owner's Policy | General liability and property damage claims |
| Professional Liability Policy | Claims arising from an instructor's professional advice or teaching |
| Workers' Compensation Insurance | Injuries to studio employees |
| Commercial Auto Insurance | Damage to vehicles and liability in auto accidents |
| Accident Coverage | Pays limited health costs, normally the deductible, for students injured while performing |
Business Owner's Policy
A business owner's policy is a policy every dance instructor needs. This policy groups two of the most important types of coverage: general liability and property coverage. A dance instructor needs a general liability policy in case a non-employee gets hurt in the studio. The property coverage in a BOP pays to repair or replace damaged buildings or equipment.
BOPs cover these losses, such as when a student sues after slipping in the changing room, by paying for their medical bills or damaged property. Policies also pay for your legal fees if the student sues.
Professional Liability Policy
There's a risk dance instructors could be sued for advice to clients if the client sustains injury. If an instructor advises a student to go on a diet that lands the student in the hospital, a professional liability policy covers associated claims.
If an instructor makes a misleading statement about services, professional liability covers resulting losses. For example, an instructor sued for bad advice on nutrition or dangerous instruction needs professional liability coverage.
Workers' Compensation Insurance
Many dance studios employ multiple instructors or support staff such as receptionists or cleaners. Throughout the United States, companies that employ others are generally required to buy workers' compensation coverage in case employees are hurt on the job.
The rules differ by state—for example, Texas doesn't require coverage and some other states don't require you to purchase a policy until you have several employees. However, having a policy ensures medical costs and disability benefits are paid to injured workers. If a studio employee slips and falls, workers' compensation insurance covers the resulting costs.
Commercial Auto Insurance
If you travel to different locations to provide instruction or transport students in company vehicles, such as vans to take students to dance competitions, it's imperative you have commercial auto insurance. Your policy covers lawsuits if you cause an accident to occur, and you can add coverage for damage that occurs to your vehicle while driving for work.
Instructors who drive to off-site locations to teach need commercial auto insurance in case of an accident. If your car is wrapped or has any advertisement for your dance studio, it is wise to talk to your insurance agent regarding any potential lawsuits that might happen for all auto accidents, even non-work related ones. People may sue your business just because they see the business name and assume it has more money than an individual.
Accident Insurance & Medical Payments
Accident insurance and medical payments are often excluded from dance studio insurance unless elected as an additional rider. This coverage pays for the medical expenses of someone injured by performing the physical activity in non-negligent incidents.
An example of a covered medical expense is a dancer coming down from a jump and twisting her ankle. If the instructor didn't give incorrect advice, then this isn't a professional liability claim nor is it a slip-and-fall that would be general liability. Without medical payments coverage, the student may need to sue the studio if she can't afford her health insurance deductible.
Tips on Getting Dance Instructor & Dance Studio Insurance
It's best to apply for dance insurance coverage before you begin teaching dance or open the doors to your studio. This allows you to be protected from day one. These tips can help you get the dance studio insurance you need to reduce the risks associated with teaching people to dance.
Get Personal Professional Liability Coverage
It's a good idea to get your professional liability coverage even if you work for a larger studio. Like doctors who maintain medical malpractice independently, having your own policy covers any gaps if a student names you in a lawsuit and the overall company coverage doesn't cover you. Even if coverage is extended, your legal defense is best served with your own policy.
Teaching at Multiple Locations May Require Additional Coverage
Many dance instructors teach at different places, including rental studios. If you rent space, you need a policy that covers damage to that location. Your policy may also need to include coverage not just for you, but for the owners of this rented space. Contracting with schools may also require specific policy language and coverage limits.
Make Sure Your Coverage Is Sufficient
Always read all your insurance policies carefully to confirm you're fully covered for losses. For example, many dance instructors using personal vehicles to travel to rented studios or students' homes assume individual auto insurance will provide coverage. But that may not be the case, as personal auto policies typically exclude commercial driving.
Get Multiple Quotes for Coverage
Bundling policies usually provides the most affordable dance instructor insurance, but it's important to shop around. You can work with a broker or shop using the internet to get quotes from small business insurance companies. Be sure to compare policy premiums, limits, and deductibles to get the most comprehensive dance studio insurance at the best overall price.
Dance Instructor Insurance Frequently Asked Questions (FAQ)
Some of the most frequently asked questions about dance instructor and dance studio insurance are:
What is the difference between general liability coverage & professional liability coverage for dance instructors?
General liability covers injuries and property damage caused by general negligence (e.g., a student slips). Professional liability insurance provides coverage when injuries are caused by your professional instruction or advice. A study in the Journal of Dance Medicine and Science showed 82% of professional modern dancers sustained one to seven injuries over the year, making coverage important.
Will a general liability insurance policy cover employees & independent contractors?
Read your liability insurance policy to determine who is considered an insured person. While employees are typically covered, many policies don't provide insurance protection for independent contractors. If independent contractors teach at your studio and aren't covered, require proof the contractor has his own insurance.
Are there any types of dance instruction not covered by insurance?
High-risk instruction, such as fitness classes, Pilates, yoga, or using aerial hoops, may mean you need a separate insurance rider to be covered. Pricing for additional coverage varies depending upon level of risk as well as how frequently you offer this type of instruction.
Bottom Line
Dance instructors and dance studio owners need to protect themselves against all possible sources of loss with comprehensive dance instructor insurance. With the right policies, you'll be protected if employees are hurt, property is damaged, or if you're sued.
If you're a dance instructor or studio owner, The Hartford can offer you the right coverage for the right price. As a premium small business insurer, The Hartford specializes in finding the perfect policy tailored to your business needs.