An email signature can reveal more about your brand, products, or services. You can ask for referrals, advertise an upcoming event, or even showcase testimonials. Here are some real email signature examples from small business professionals, along with our favorite takeaway tips.
---
1. Share who you are.
Mike Veny, Transforming Stigma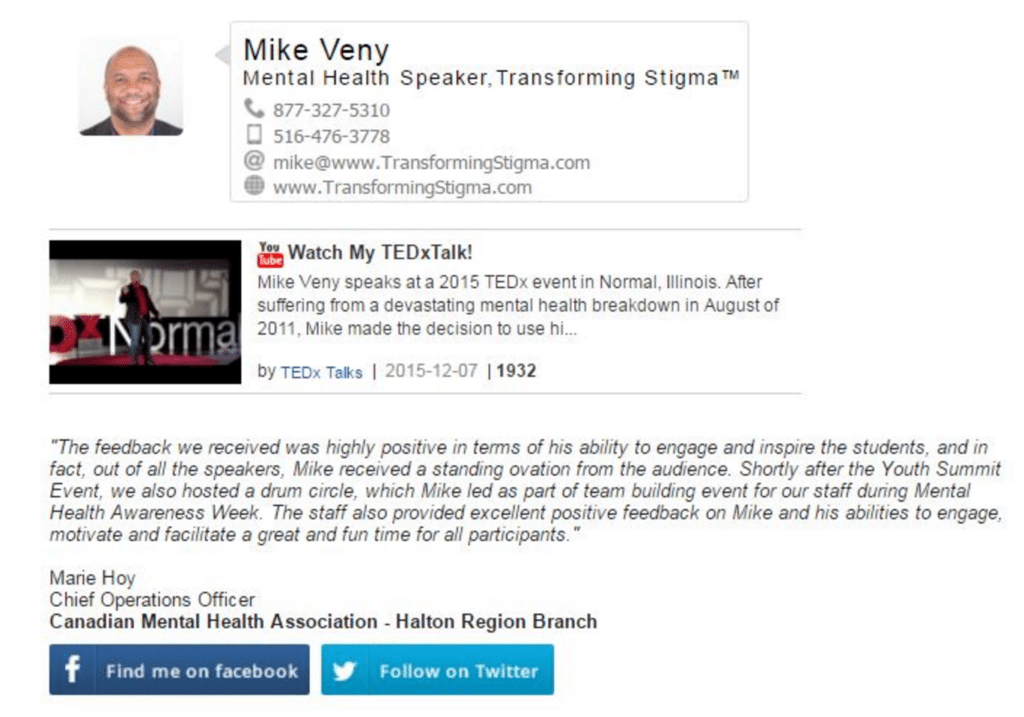 I have struggled with mental health challenges for my entire life. I've been featured on ABC News, CBS News, and have given a TEDx talk on mental health. I decided to embed my TEDx talk and a quote from a client into my email signature to encourage referrals from people I correspond with regularly. It works!
---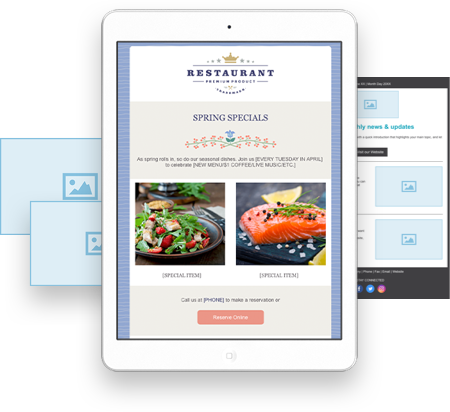 Having an eye-catching signature is important, but your signature is the last part of the email your recipients see. Try using a template, so that the body of your email is always just as striking as your signature. Use Constant Contact's easy-to-edit email templates to enhance your email outreach with the ability to drag-and-drop, customize colors and fonts, add photos, and embed surveys and buy buttons for products. It even lets you segment your subscriber list for targeted sends and tracks results like email opens, clicks and bounce rates. Try it free for 60 days — no credit card required.
For more information on creating a successful email marketing campaign, read our ultimate guide on email marketing. 
---
3. Make it clean, minimalistic and elegant
Laura Casanova, Creative Director, Ontraport

There's a silent power of an elegantly crafted e-signature that truly adds to your brand's authority. We are about to deploy this as our new signature for everyone at Ontraport and we did it for a couple of reasons:
Simplicity. We want you to focus on our email, not an elaborate/over-the-top signature that talks about how awesome we are.
Resourcefulness. We've added 4 links to our signature with an emphasis on free resources such as our blog and free tools.
Make the most out of your well-crafted email signature by creating emails that draw readers in and keeps them engaged with these email design tips.
---
4. Include a call to action.
Victor Clarke, Be Better Do More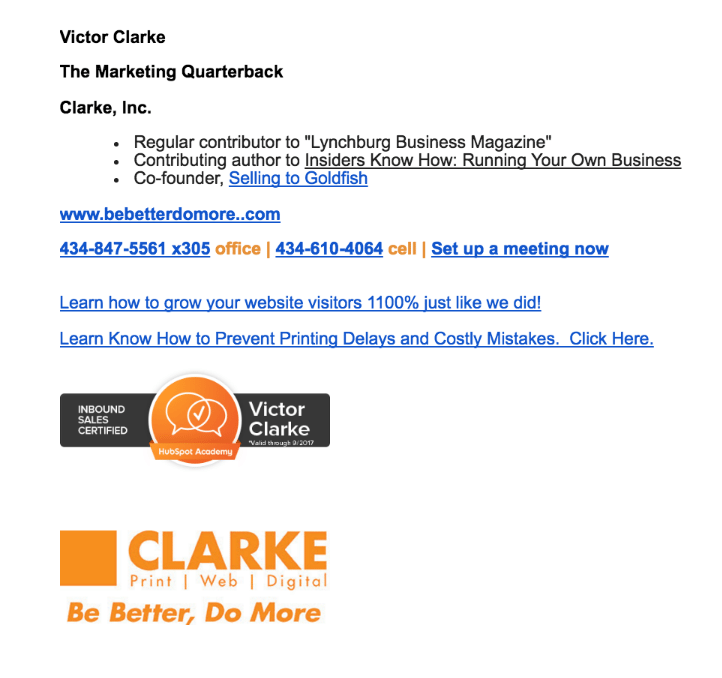 Our company uses calls-to-action in our signatures to get recipients clicking and sharing our content. We also use an auto calendar link so prospects can quickly and easily schedule a meeting with us.
---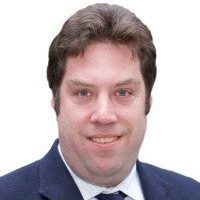 ---
6. Make it look social.
Lauren Pawell, Founder and Owner, Bixa Media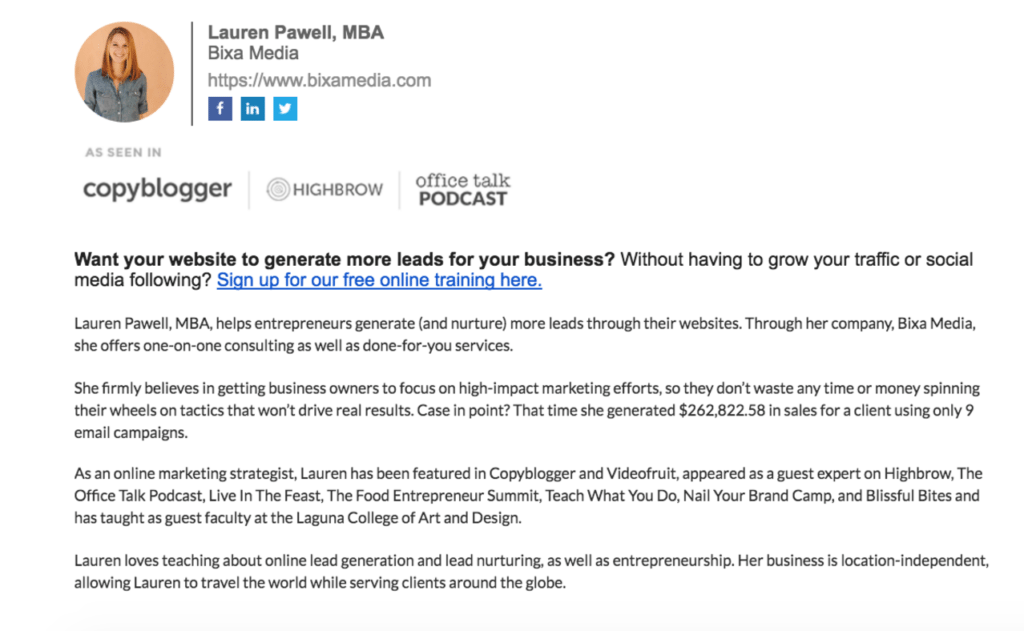 Here are some reasons why my e-signature helps me in growing my business:
Image – This gives a more personal touch. Plus it draws the reader's eye down to my signature.
Credentials – Including credentials (MBA) adds authority.
Press – An image highlighting press received adds social proof.
Lead magnet – A link to our primary lead magnet helps us grow our email list and nurture leads through our educational content.
Social media – Links to our business website and social media profiles makes it easy for people to learn more.
---
7. Provide necessary info but don't make your e-signature your resume.
Richard Blount II, Global Director, The Four Winds Agency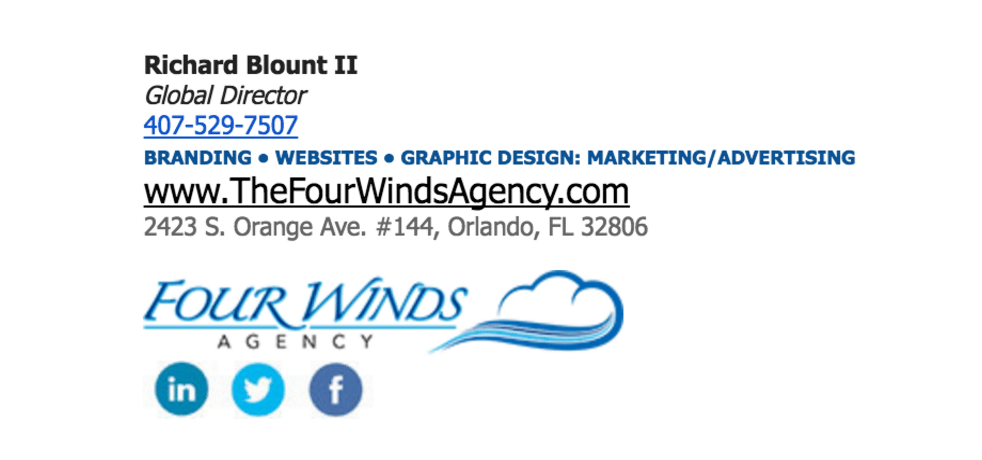 A thorough e-mail signature gives your clients and customers quick and easy access to your contact information as well as any resources that they might need or want. But you don't want your signature to be a complete resume. The goal is to give your contacts a simple way to reach you. But it's also a good opportunity to make your clients aware of all the services and benefits your company provides. There are many times a client only knows about the one service they have used from your company. An email signature that showcases all your services can lead to new business from the same clients.
---
8. Make it simple and text-based.
Jesus Campos, Abogados de Accidentes

The best kind of e-signature is text-based because some email programs will block images or won't download them. Additionally, using a tool like HubSpot-Sales helps me view when a client clicks on my website or social media link through my e-signature.
---
9. Make the description of your expertise or profession conversational to make it personal.
Eleni Cotsis, Recruiter, Linked Startups

Below are the elements of my the sample format that makes it effective:
It has a picture of my face, making the email more personal and putting a face to the sender
Instead of my title, I crafted it in way that explains how exactly I can help the person receiving the email (Formula: "I am a ______ who helps _______ do ______.")
It has all of my relevant contact information (a must for any signature)
And finally, it has a recent blog post for people to check out.
---
10. Create a Free Professional Email Signature with WiseStamp

Wisestamp is a company which automates the process of creating and applying email signatures. This email signature was created in about 15 minutes using Wisestamp's free product. As you can see, in addition to the title and contact information, there is a profile photo, a button which goes to my Linkedin Profile, a link to the most recent post on Fit Small Business (which is dynamically pulled), a legal disclaimer, and a call to action: "follow me on Twitter."
---
11. Make it reflect the overall branding of the company.
Carla Alpert, Creative Director, Carla Alpert

This email signature is beneficial because it's designed in keeping with the overall branding of the company. When coded, it also allows for the recipient to go directly to the links of the social media sites, websites and direct contact information.
---
12. Link to the product you'd like to sell.
Tiffany C. Wright, The Resourceful CEO

Previously, my e-signature included my name, email address and phone number. However, that did not generate any calls or emails for my business. I read an article or book chapter about how your email signature should work for you. When we finally created a tagline for the business, I later added it to my email signature.
After my book was published, I added a link to the Amazon page to my e-signature. (And yes, people have told me they clicked on the email link and purchased my book!) I have not yet directly associated Facebook signups and Twitter followers with my email signature. However, I know that consistent branding and messaging across platforms, including social media, is important and that my email signature supports this.
---
13. Add a pop of color.
Claire Coder, Founder and CEO, Aunt Flow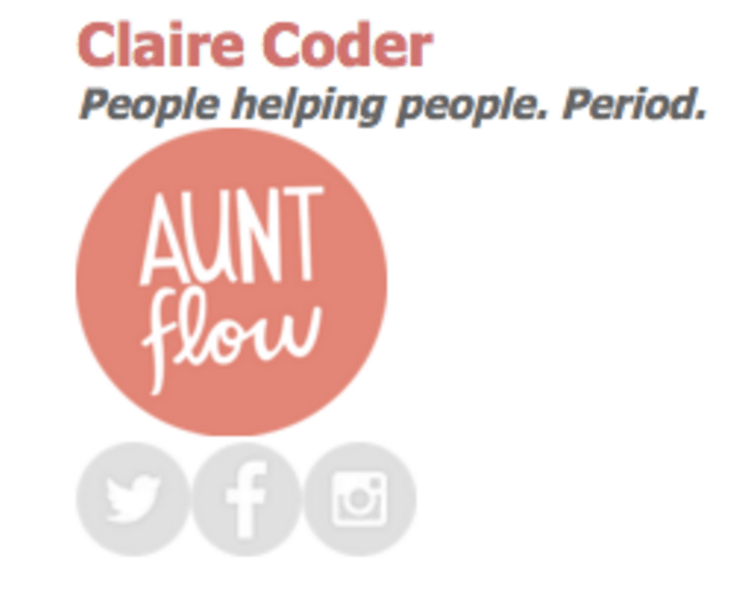 Previously, I kept it simple black and white. Then I thought, why? I want to stick to someone's mind and what better than a sprinkle of color and a dot of change.
---
14. Use an eye-pleasing color palette.
Cristina, Sombras Blancas Art & Design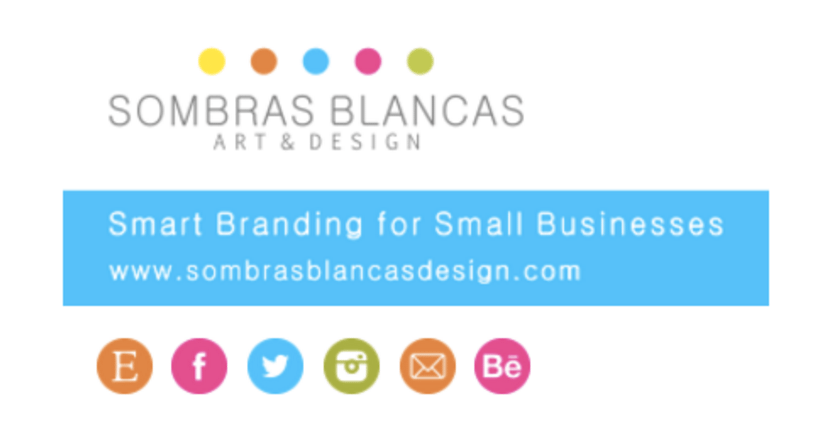 Being a graphic designer myself, I think it is very important for me to have a great signature as part of my own brand. My previous one was a bit more crowded with a lot of text that wasn't really adding any interest to my email signature.
I think a good idea to include all the necessary info without saturating that small space by using icons like the ones you can see on my current design. It helps focus the attention on my logo and tagline but the other links are still present.
---
15. Include an interesting job title that makes your email recipient do a double take.
Lex Barber, Marketing Khaleesi, Liftshare

I don't have a particularly unusual email signature, but wanted to write as mine gains a lot of comments regardless – because of my job title! It's a great ice-breaker, and I receive at least one response e-mail a day referring to it. I've yet to have a negative comment. I work for a start-up and my manager when I joined was keen for me to pick me own job title (within reason of course). This one has definitely been a success!
---
16. Include a sign up to your email newsletter.
Robin Samora, Promotions and PR Expert for Small Business Owners

What I changed from my last signature were the following: 1) Added my free reports and sign up, 2) removed Skype info, and 3) added time zone. With this new signature, I'm able to have anyone I email download my valuable reports – plus sign up for my weekly newsletters.
---
17. Add social proof (testimonials) to your email signature.
Dave Ruch, Performer and Teaching Artist

I love using my email signature to promote whatever I have going on at the time. It's so easy and so powerful, but easily overlooked as we deal with other things.
I always like to use social proof in the signature as well, demonstrating how delighted others have been with my services.
---
18. Use red text to make a part of your message stand out.
Katrina Fox, Journalist, Author, Content Marketer, Media Coach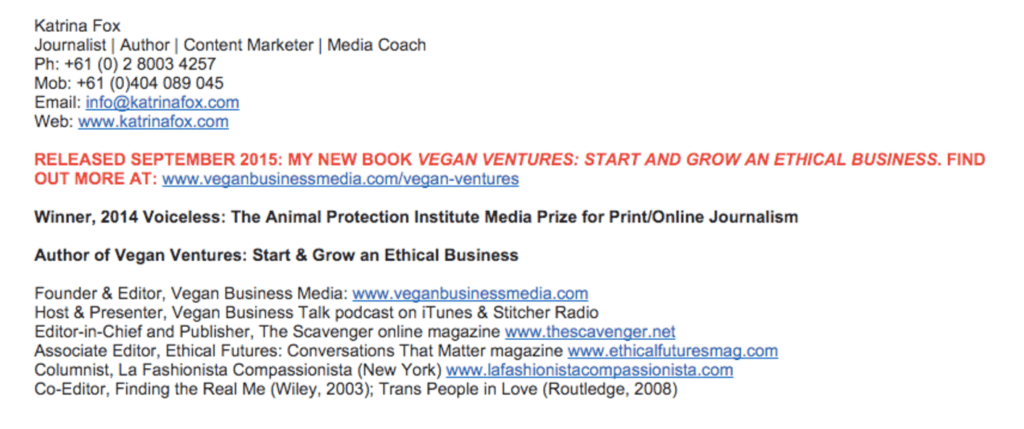 I added in red and bold the details of my book after it was published including a link. I also included the blog that I edit and recently the new podcast I started, as well as a column in a New York digital ethical fashion magazine and a line about an award I won. I did all these to highlight my focus and speciality in vegan business, as well as add authority and credibility to my profile.
I also added in social media icons at the bottom which are hotlinked, so people can look me up on different platforms and follow or connect with me.
---
19. Share all the places you can be found online.
Amy Oestreicher, Actress, Artist, Writer, Speaker, Survivor, and Detourist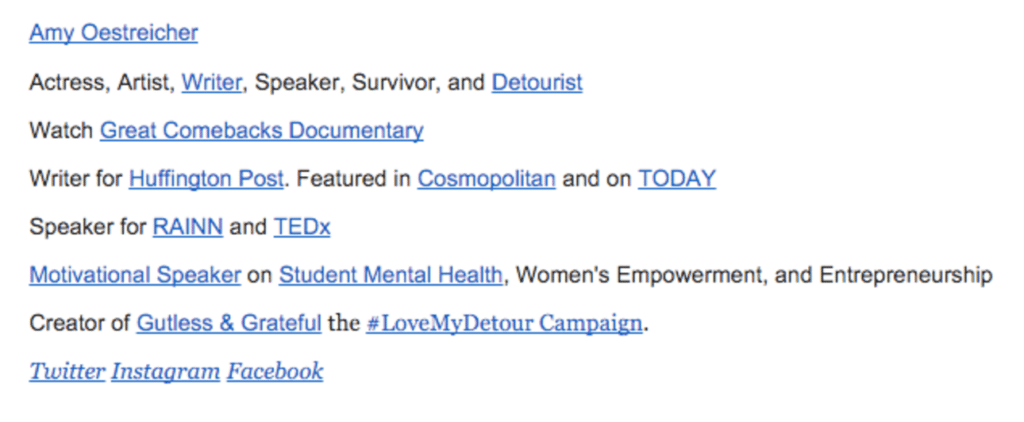 I changed it as I started targeting my business. I went from being an actress with a one-woman show to a survivor with a dynamic mental health and sexual assault prevention program for colleges. I wanted the signature to reflect that.
---
20. Don't be shy– use your e-signature to ask for referrals.
Bob Herman, Co-Founder & President, Tropolis Group LLC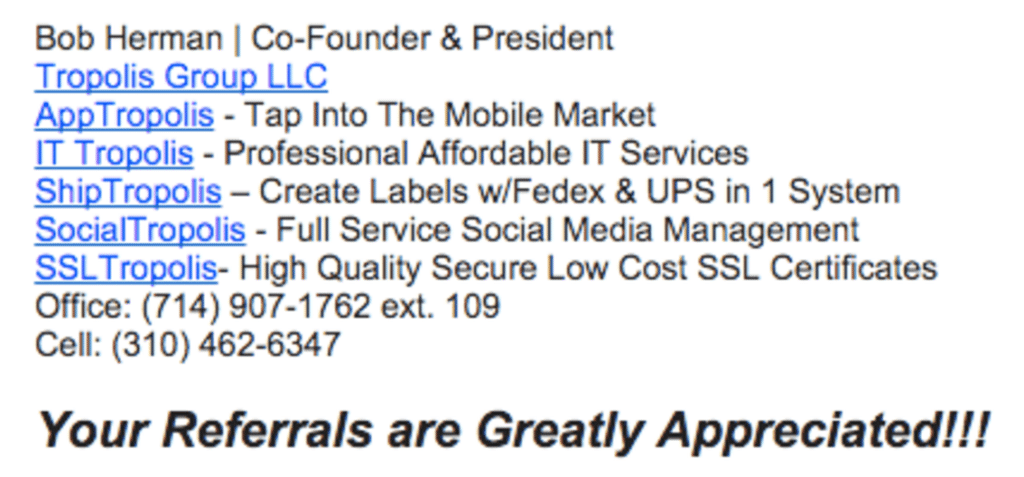 Last quarter I added the statement at the bottom saying, "Your Referrals are Greatly Appreciated!!!" It worked. I've already received several referrals from existing customers that have turned into new businesses.
---
21. Model your email signature after your business card.
Kent Santin, Co-Founder, Kent & Bond

I think the signature I use is very clean and concise. As a relatively new company, it gives my emails instant and additional credibility as the recipient sees a nice clean polished brand at the bottom of each email. In addition, it has all my necessary contact information and my company's social media profiles.
---
22. Ask people to share your content.
Shel Horowitz, Author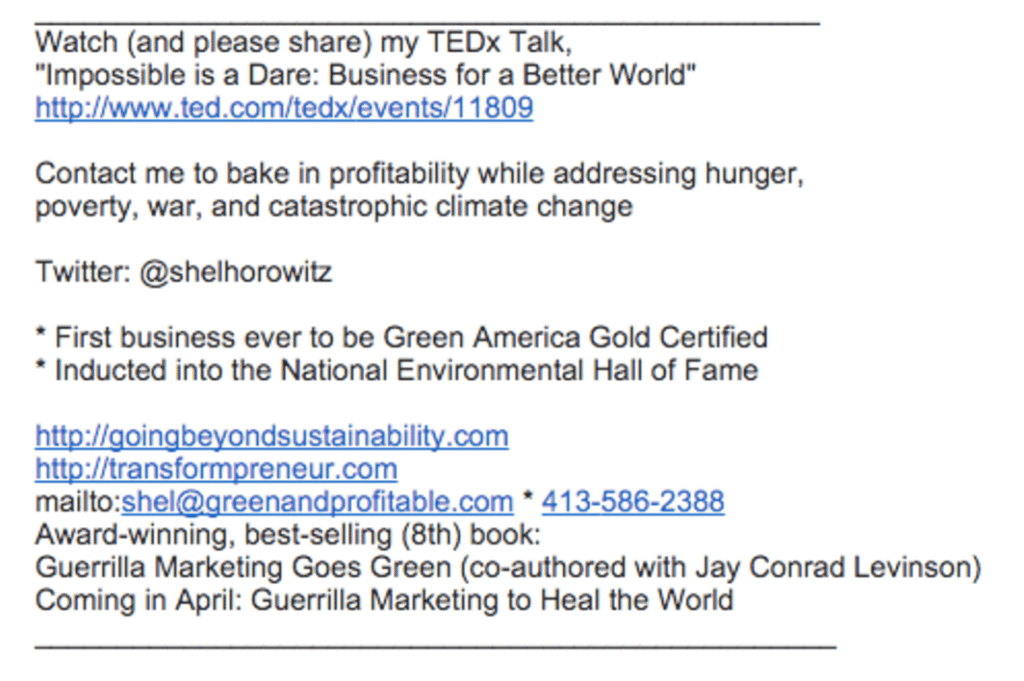 I use several different sigs depending on who I'm talking to (something I started around 1995). This sample is the default. I like this one because it includes my TED talk, my environmental honors, three of my websites and a quick statement of what I can offer to consulting clients. Normally, when writing to journalists, I use one that includes some of the places that have covered me, my Wikipedia page, and some talking points. Once my newest book, Guerrilla Marketing to Heal the World, is out, I'll update this signature.
---
23. Use your brand colors for a sense of uniformity.
Christiano Ferraro, Managing Member, Christiano Ferraro Consultancy, LLC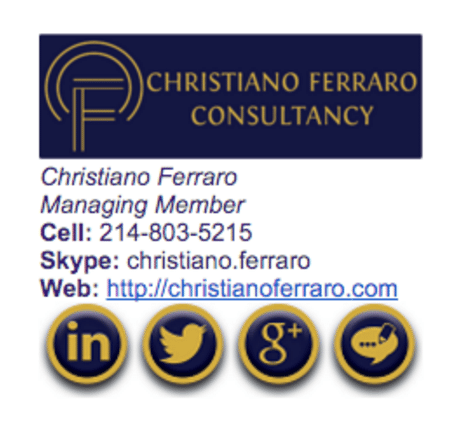 I changed all my social icons at the bottom from my last signature. The intent in the change was to make sure I communicated a synergistic brand by associating the same color combinations to my name as my logo.
Navy blue – business psychology associates this color with trust, loyalty and integrity.
Gold – business psychology associates this color with value, quality and wisdom.
The values remain synonymous to my offering as a management consultant. Communicating them subtly yet visually reinforces that message.
---
24. Include a special award or honor.
Gary Frisch, Swordfish Communications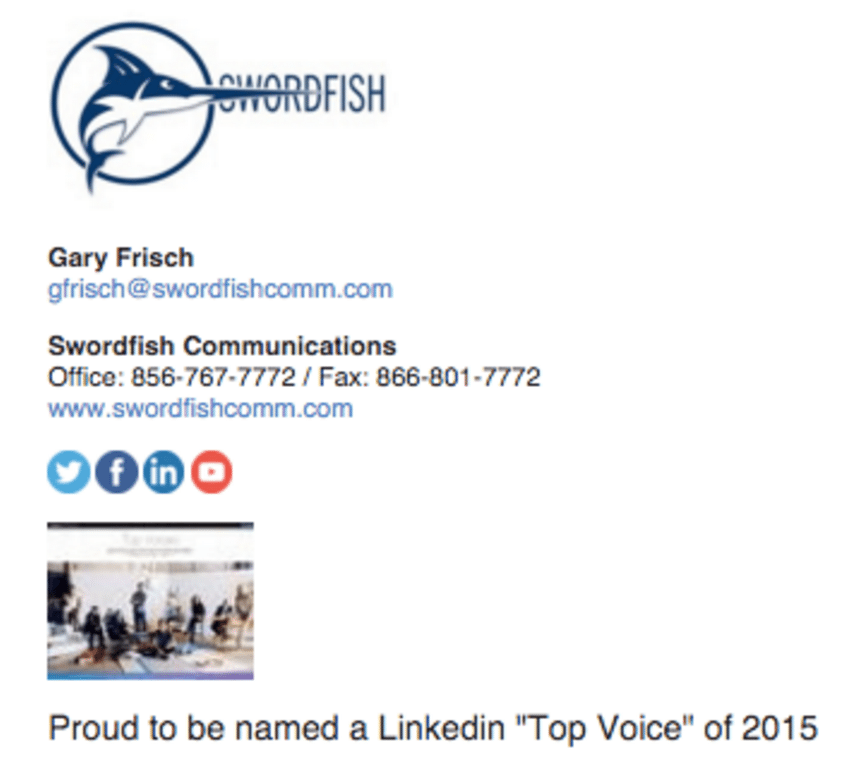 When I was named one of Linkedin's Top Voices of 2015, I updated my signature with an image of the Top Voices homepage and a link to the list, and the phrase "Proud to be named a Linkedin Top Voice of 2015," replacing my tag line. I was quite proud of this honor (there were just 90 of us from the entire LI community), and I think it speaks to my ability to write compelling thought-leadership content for my clients.
---
25. Add an easily digestible blurb about your company to your signature.
Alease Annan, Marketing Associate, Brooklyn Free Speech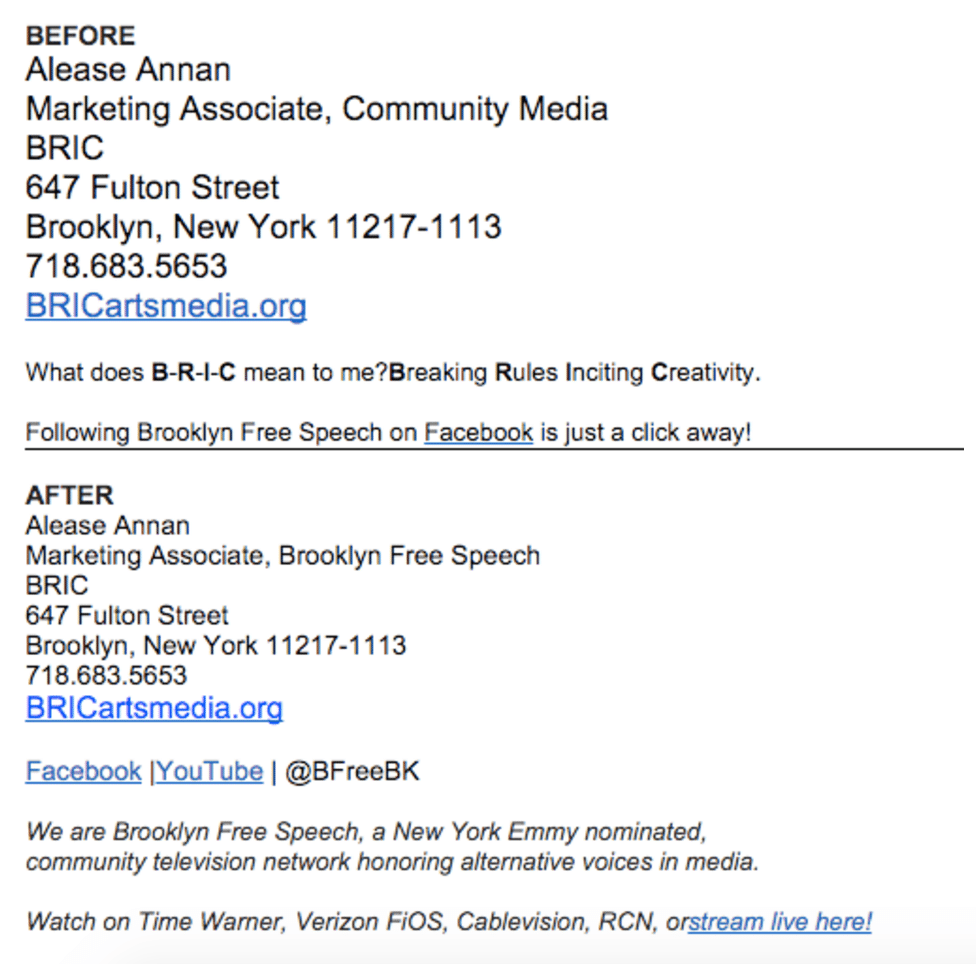 Above is the before and after of my email signature. I changed my last email signature for a few reasons. I wanted to make it clear to folks that we were a television station so I figured a short explainer would help. We changed our Facebook URL and wanted to ensure that people would be able to find us on social media. We were recently nominated for four New York Emmys and wanted to make sure that everyone I emailed knew about it.
---
26. Add a link to your schedule so people can easily make an appointment.
Nicki Morris, President, The Neoteric Group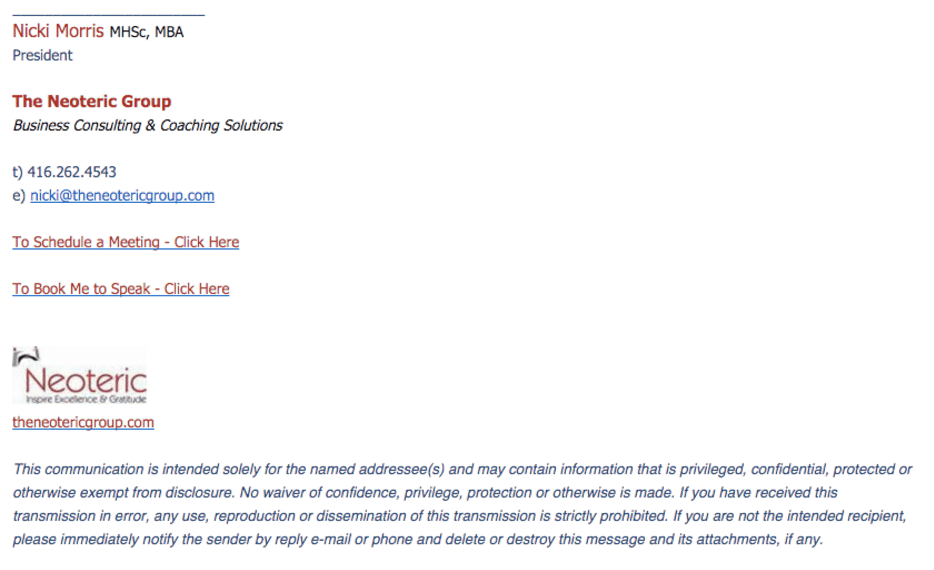 I love my email signature. I recently updated it to include my logo and also a link to my calendar scheduling application so my clients and prospects can access my calendar and schedule time to meet with me. Calendly is a popular calendar scheduling application.
---
27. Keep your contact details on one line for a clean look.
Ellie Shoja, Shoja Entertainment LLC.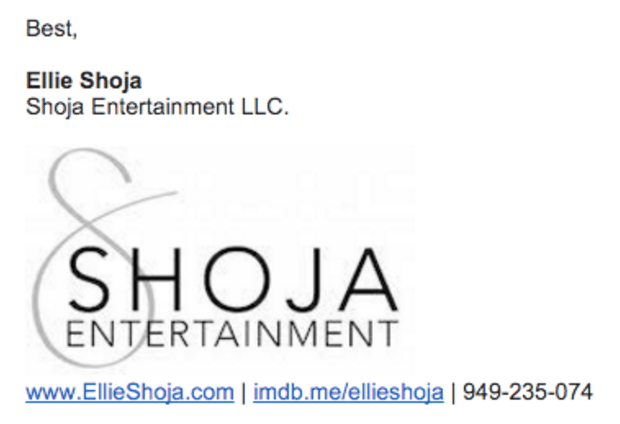 What I like about my signature is its simplicity and professional feel. In my last signature update, I moved my links to one line, and separated them with vertical lines. This small change gives the signature a clean and crisp look, and allows my logo to shine.
---
BONUS: Get a Professional Email Signature from Fiverr
Don't feel like spending the time or lack the skill to create your own email signature? You can find a professional designer on Fiverr who will create an eye-catching, professional HTML email signature for you for as little as $5. Click here to visit Fiverr.
---
Over To You
We'd like to thank everyone who contributed their great email signature samples! We hope that these ideas will help you come up with a creative and effective e-signature that can be beneficial to your business. Match it with a professional email address and watch your customer base grow as it makes your business trust-worthy!