25 Professional Email Signature Examples (& Why They Work)
Professional email signatures can become effective marketing tools that build brand awareness and generate leads and sales when done effectively. A good email signature provides clear information about yourself and your business, includes a call to action, and offers easy ways for prospects to learn about your services. With the help of email signature tools and templates, creating well-designed email signatures is easier (and more affordable) than ever.
Get Gmail's reliable, secure business email with an affordable plan from Google Workspace.

---

Reliable business email
Email, chat, and video calls
Pro plans from $6 a month
Here are more than two dozen eye-catching and engaging professional email signature examples you can use for inspiration:
1. Executive Email Signature
Your professional email signature is usually your first chance of making a good first impression. While there are no official guidelines on what an executive email signature should include, it's essential to keep yours informative and engaging while telling recipients about yourself, your company, and what you do, all in a concise and well-designed way.
The example above uses color to draw the eye and includes a call to action to watch a YouTube video or follow the CEO on Instagram. This makes it easy for someone to learn more about the company, and extending an invitation to connect on social media makes the corporate officer feel friendly and approachable.
A good place to start building a professional, informative, and action-oriented executive email signature is with HubSpot's easy-to-use email signature generator. Choose from any of the templates, add your information, and have a signature ready in just a few minutes.
2. Creative Email Signature
As colorful as many email signature examples may be, it's rare to see one without a classic white background. This email signature by Canva easily stands out by using a colored—but not distracting—background, as well as other design elements that please the eye and leave a positive, playful impression. This type of email signature works best for creatives such as graphic designers, artists, and interior designers.
Create this signature using Canva's White Minimalist Social Media Manager Email Signature template.
3. Animated Logo Email Signature
From a visual branding standpoint, BeaseFox's email signature is a standout. Its bright, animated logo immediately draws attention. Plus, it maintains consistent branding across its text elements by incorporating the same color scheme into its text and social icons, altogether creating a cohesive and eye-catching signature. An animated logo at your email signature instantly brings your business email to life and makes a positive impression.
Create an animated email signature like this for your business using BeaseFox's template on mail-signatures.com.
4. Banner Image Email Signature
Another visually stimulating way to emphasize your branding is by placing a banner at the footer of your professional email signature. Use the banner space to add a simple, on-brand image that tells viewers more about your company. This can also be combined with short, compelling copies or relevant details you want viewers to know, such as your contact information or address.
Create this email signature using Mail Signature's On the Wave signature template, or you can hire a professional graphic designer to design a custom banner for you via Fiverr.
5. Banner Image With CTA Email Signature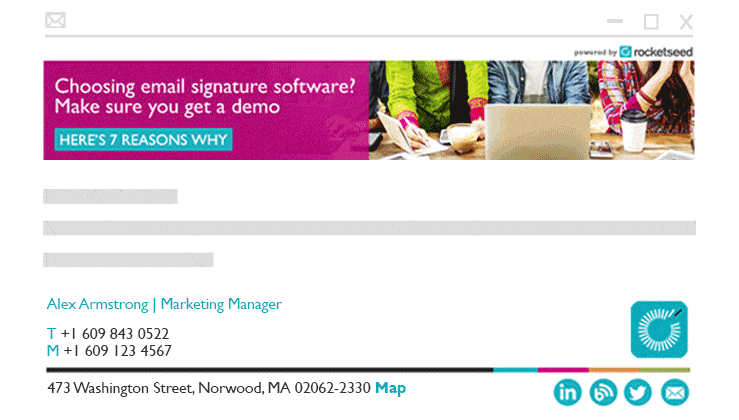 ---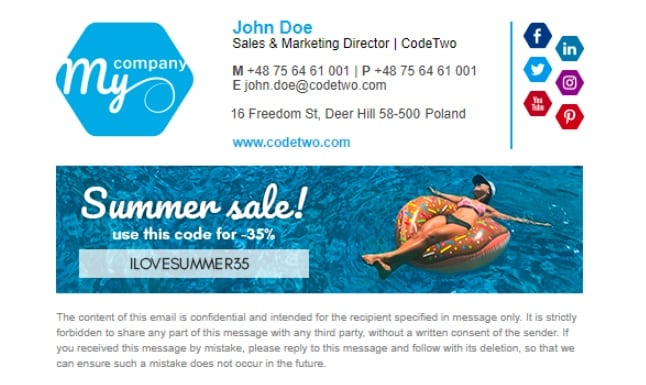 ---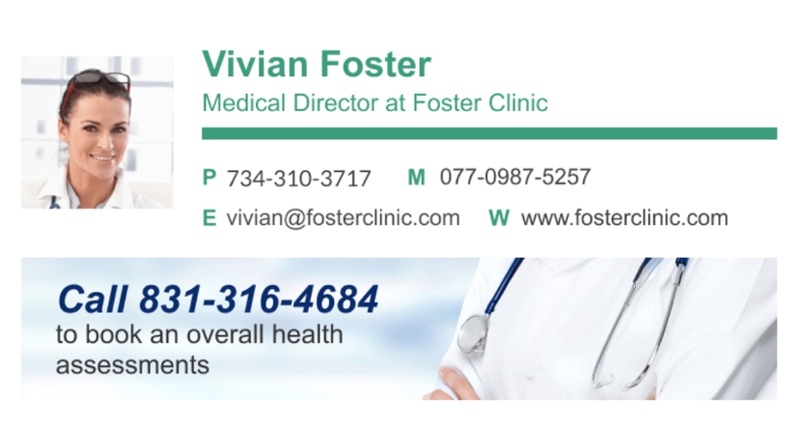 ---
Similar to the previous example, the email signatures above also use banner images. However, what makes this particularly effective is its inclusion of a call to action (CTA) within the banner that invites viewers to take further action before closing your email. These CTAs can vary depending on your brand's main objectives; some of the most common include a discount code CTA, an appointment booking CTA, or a link leading to a blog.
Create a professional email signature with a banner and call to action using Mail Signature's Hexagonal Logo signature template.
6. Email Signature With Helpful Tips
Email signatures with tips are a good choice for those who need to make more personal connections with clients, such as real estate agents or consultants. Adding tips gives viewers valuable content while simultaneously highlighting your expertise. Tips show that you care about providing top-notch service and help you look more approachable to prospective clients.
Whether it's the best tips for real estate buyers or easy ways to a healthy lifestyle, adding them to your email signature is a great way to showcase your credibility. Create this signature using Mail Signature's Stay Healthy signature template.
7. Email Signature With Photo Portfolio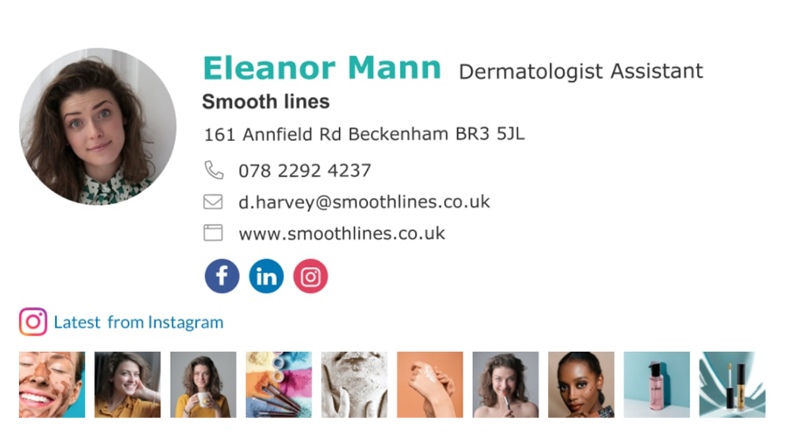 ---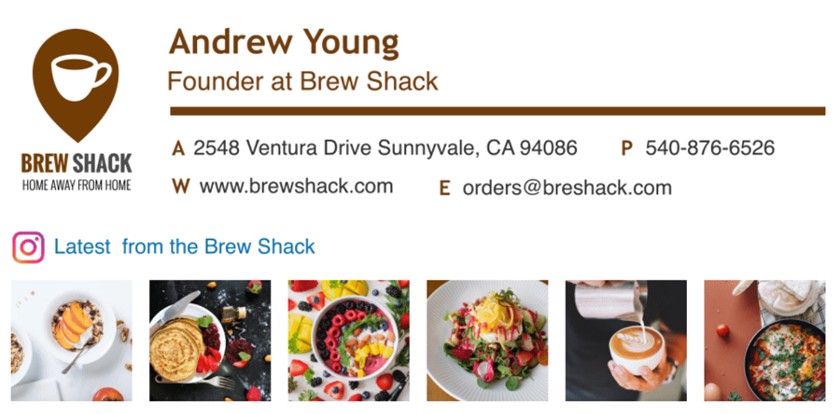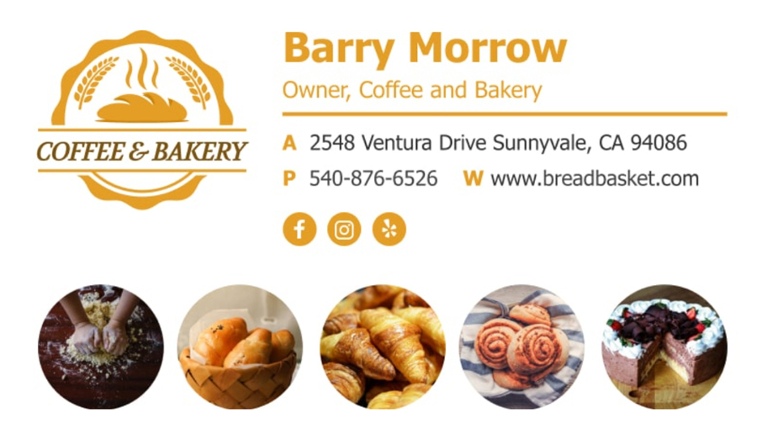 For businesses primarily visual in nature, such as graphic designers, photographers, and interior designers, adding a mini portfolio to your email signature showcases your work to get potential clients interested. Similarly, those in hospitality, travel, and other industries where pictures are worth posting can benefit from email signatures with photo galleries, like these examples from WiseStamp. The portfolio displays work examples to inspire trust in the services you offer, and in return, helps garner more customers and clients.
Create this signature using WiseStamp's Photography signature template.
8. YouTube Video Email Signature
Video has proven to be an effective marketing strategy—therefore, there's no reason it shouldn't have a place in your email signature. Especially for those who thrive on video content, such as performers, music artists, or advertising agencies, embedding a YouTube video in your business email signature acts as a visual element and a CTA that showcases your work. This gives viewers a more well-rounded email signature.
Create this signature using WiseStamp's musician email signature template.
9. Graphic Email Signature
Though monochromatic, this email signature captures the eye with a bold graphic font used for the individual's name along with an equally graphic image, both in black and white. It's a great option for graphic designers, videographers, and similar creatives that want to stand out for artistry with a graphic email signature.
Create this signature using Honeybook's email signature template.
10. Handwritten Email Signature
Having a real, handwritten signature in your email sign-off adds a unique touch that feels more personal and welcoming than a regular typed signature. Handwritten signatures immediately catch the eye and are helpful for professionals who would benefit from a more human feel, such as artisans, florists, bakers, and the like.
Create this signature using WiseStamp's sign off email signature template.

11. Email Signature With Multiple CTAs
Adding multiple calls to action in your email signature is also a good choice, as long as you keep your design simple and streamlined. The example above balances both Instagram and YouTube CTA buttons below all the other information. When incorporating multiple CTAs, keep the rest of your email signature simple and coordinated so your CTA buttons stand out, helping drive more clicks.
Create this signature using WiseStamp's clickable signature template.
12. Email Signature With Associations
Professional email signatures that include associations and other de facto third-party endorsements build authority and credibility. The real estate agent email signature above is an example of how you can feature associations in a clear, eye-catching way. That way, once recipients get the most important information in your signature, capping it off with your business associations helps bolster your credibility.
Create this signature using Rocketseed's email signature template.
13. Email Signature With Awards
Similar to email signatures with associations, another professional email signature design that builds credibility and trust is one that showcases awards or certifications you or your company may have won. Do this by keeping the rest of your details simple and compact, then adding a full-color banner below showcasing your accolades.
Create this signature using Mail Signature's Gold Security Awards template.
14. Email Signature With Disclaimer
For a number of reasons, from confidentiality to contractual obligations, email disclaimers are usually a requirement for several businesses. However, while necessary, they can often be long and distracting when not designed properly. Keep your email disclaimers neat and clear by placing them below a divider line, under your essential information, like in WiseStamp's example above.
Create this signature using WiseStamp's disclaimer email signature template.
15. Email Signature With Quote
Another way to use the space below your email signature is by adding a quote as your footer. Whether inspirational or informational, adding a quote is a fun way to add a touch of personality to the end of your emails—just be sure to keep it polite, professional, and aligned with your brand.
Create this signature using WiseStamp's quotes email signature template.
16. Email Signature With Social Media Icons
In some cases, leading with links to your social profiles is a good strategy. Listing your social icons just below your name and job title is particularly effective for marketers or independent creators like bloggers and musicians, as it shows your willingness to connect. Like in the example above, line up your social icons just beneath your name and position, then follow it up with the rest of your signature.
Create this signature using Mail Signature's Black Friday Signature template.
17. Email Signature With Logo
There's a reason logo-centric designs are a mainstay in signatures for email—they're reliable, professional, and an easy way to promote your brand or company. When creating a logo signature, make sure to keep your branding consistent across your entire signature by using the same color schemes and fonts for your contact details and social icons. Finally, keep your design compact, so your logo stands out.
Create this signature using Mail Signature's Green Energy template, or easily design one from scratch using Canva.
18. Small Business Owner Email Signature
For small business owners, leaving a good impression in your emails is paramount. When creating your email signature, keep it professional, dynamic, informative, and with a compelling call to action—like in the above example by WiseStamp. The signature combines several email signature elements, including a YouTube video, social icons, and a handwritten sign-off, for an overall memorable and unique email signature.
Create this signature using WiseStamp's Owner & Founder email signature template.
19. Simple Email Signature for Finance Professionals
This example of a simple email signature for an accountant is straightforward and professional. The handwritten sign-off ("Kind Regards") combined with a professional headshot leaves a personal impression, helping to build trust with potential clients. For email signatures for accountants and financial professionals, you want to keep your signature professional and easily understandable, almost like a digital business card.
Create this signature using WiseStamp's Accountant email signature template.
20. Actor/Actress Email Signature
For actors and performers, your email signature usually has one main objective: to get more people to notice you and look into your work. Someone clicking a link to your demo reel from an email could make all the difference between whether or not you land an audition. When creating an email signature as an actor or actress, include links to your social profiles, portfolio, YouTube videos, and other performance materials.
Create this signature using WiseStamp's Actor email signature template.
21. Construction Industry Email Signature
Email signatures for builders, contractors, and other construction company employees can stand out by including a professional headshot and an image banner, with all the relevant details in between. It's also good practice to add a clickable CTA within your banner to invite viewers to see more of your work or book an appointment with you, like in the above example, "Let's Meetup."
Create this signature using WiseStamp's Contractor email signature template.
22. Real Estate Industry Email Signature
Showcasing recently sold and listed properties as part of a real estate email signature can create instant engagement, like in WiseStamp's example. Adding your listings makes for a unique visual element and CTA that could potentially turn your recipients into leads.
Create this signature using WiseStamp's realtor signature template.
23. Seasonal Email Signature
One way to make lasting impressions is by customizing your email signatures with each season. This makes them more interesting to recipients and adds an extra dose of festivity to even the most generic email. Seasonal email signatures are also a great place to insert time-limited special offers like special holiday discounts, first-time customer offers, BOGOs, and so on.
Create this signature using Mail Signature's Spring Signature template.
24. Two-column Email Signature
A variation of the banner image email signature, a two-column email signature similarly displays a banner image along with your information, but in a vertical instead of a horizontal way. Use the banner space to add a relevant image about your company or a call to action to drive clicks.
Create this signature using Mail Signature's Black Friday template.
25. Typography Email Signature
For a creative approach, one way to really stand out is with fun and bold typography as the focal point of your email signature, like in the example above by Canva. To balance out your signature, pair your main text with a headshot, use a simple font for the rest of your information, incorporate relevant icons, and keep the rest of your design minimal.
Create this signature using Canva's Brown Minimalist Financial Analyst Email Signature template.
Frequently Asked Questions (FAQs)
What makes a good signature?
Ultimately, what makes a good signature is its ability to promote your brand and business. As the business email examples above show, adding images such as your headshot, an animated logo, or a banner ad is an effective way to create engagement and brand awareness. A compelling call to action, especially when coupled with a special or limited-time offer, can motivate recipients to take the next step in your sales pipeline. This can be anything from booking a demo appointment to signing up for an account.
How do you create a professional email signature?
Anyone can easily design a professional email signature that includes components like your business logo, headshot, clickable links, a CTA, and banner images with the help of email signature generators. Start with a free email signature generator like that provided by HubSpot, then select an email layout template and input your information, then connect your signature to your email. If you still need more help, get step-by-step instructions on how to create a professional signature for your business emails.
What is a good signature for Gmail?
Gmail is the most-used business email app in the U.S. thanks to the popularity of Google Workspace, so it's crucial to create a professional email signature for use in Gmail. A good signature for Gmail includes your logo, contact info, a link to your website, and a call to action (e.g., book an appointment, shop online, or get more information). You can create one in Gmail manually or cut and paste your custom email address signature from an email signature generator into the Signature tools under "Settings."
Bottom Line
These professional email signature examples show how design can help your business reach its goals, whether you want to increase brand awareness, build trust, generate leads, or drive sales. If you need help creating your own email signature that serves your goal and aligns with your brand, you can hire a professional graphic designer for as little as $5 on Fiverr.