A floating holiday is a paid time-off benefit employers can offer to provide flexibility to their staff. It gives employees an option to choose time off for a non-standard holiday—one the company might not otherwise pay for. Floating holidays improve morale by offering flexibility and support diversity by letting employees choose which holidays to spend with their families.
Sample Floating Holiday Policy Template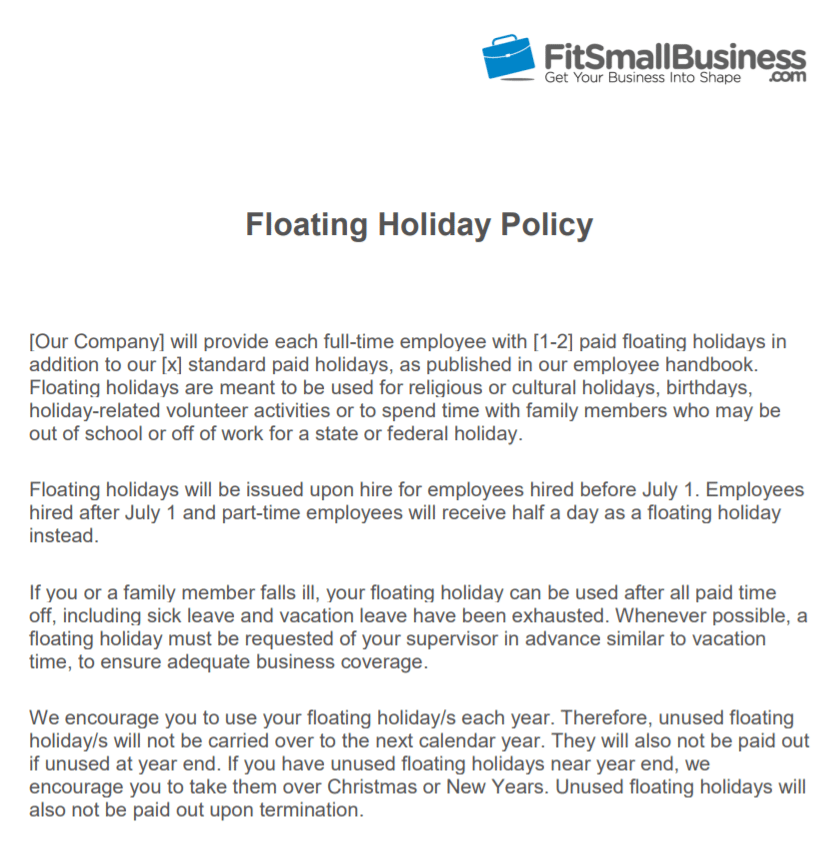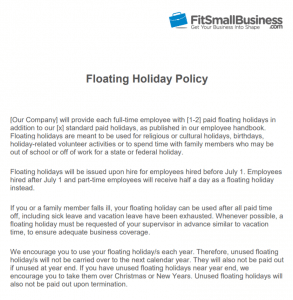 A floating holiday policy communicates the guidelines for requesting and using a floating holiday to your employees. Your policy will be reflective of your company's culture, depending on how many and what types of days you offer. It also represents your company's values by stating why you offer a floating holiday, such as to promote diversity or improve employees' work and life balance.
The floating holiday policy template can be downloaded and customized to your business needs.
Four steps you can use to set up a floating holiday policy for your business are shown below.
Step 1: Evaluate Your Current Holiday & PTO Policies
Look in your employee handbook and review your existing policies for employee sick time, paid time off (PTO), such as vacation or personal time, and paid company holidays. Then, determine how they're being used. Ask yourself some questions to make sure your current policies benefit your employees as intended:
Are your current PTO options providing value to your employees?
Are they enough or would adding more days off help improve employee retention?
Are your employees using PTO for sick leave but not taking vacation? Or vice versa?
Do they often ask for time off for vacation adjacent to an existing holiday, such as an extra day at Thanksgiving or during a holiday weekend?
Do they need family time for religious or cultural events that aren't typically considered paid holidays in the United States?
Do you employ remote staff in other countries that have different holidays than the U.S.?
Would adding a flexible holiday improve employee happiness or loyalty?
Once you've determined that a floating holiday policy would add value to your business, the next step is to consider how much time off you want to offer. Some employers decide to add a floating holiday to their existing paid holiday program or PTO. Others choose to distribute the days among these three programs — holidays, PTO (including sick leave) and floating holidays.
Step 2: Determine How Many Days to Add
Some employers give fewer national holidays and allow employees the flexibility to take their own paid 'holidays' instead. Others allow an employee to use their floating holiday to take days off that are adjacent to an existing holiday, like an extra day after Christmas. On average, most employers offer up to two floating holidays, according to the Society for Human Resource Management (SHRM), as shown in the chart below.
| Paid Time Off | Number of Days on Average |
| --- | --- |
| Paid Holidays | 8-10 days |
| Floating Holidays | 0-2 days |
| Sick and Personal Time Off (PTO) | 5-10 days |
| Vacation Days | 10-25 days (varies based on length of service) |
More than half of employers make these benefits available immediately while other businesses require employees to be on the job for a period of time, such as 30 days, before paid time off begins to accrue. For more on setting up a PTO policy with accruals, read our article on paid time off.
Step 3: Establish Your Guidelines & Rules
Some employers provide very specific guidelines for their floating holiday policy like, "It must be a recognized holiday somewhere." Others treat it like any personal day off, with no requirements other than giving advance notice to a supervisor. There may be some implications for your businesses with each option, which we'll discuss below. In addition, you'll want to determine whether employees can cash out their unused days at the end of the year or not.
Zenefits makes it easy for you to set up and track floating holidays with pre-packaged policies or by creating your own custom time off policy. Click here for a free trial.
3 Options for Setting Up Your Floating Holiday
SHRM reports that 18 percent of businesses let their employees cash out their remaining PTO and vacation time at year's end. That's one of the decisions you'll want to make as you consider these three options — whether to set your floating holiday policy up as PTO, holiday or as its own bank of time off:
Set up your floating holiday like any other PTO day: This is the easiest as it allows you to accrue and track the floating holiday like PTO, subject to the same accruals and paid out similar to PTO in your state and location.
Set up your floating holiday like any other paid holiday: This is another option that prevents you from having to pay out unused days in case of a termination. However, as shown below, it may cause some issues in states with stricter labor laws like California, if you're not specific about time off being taken for "holiday-related days" only.
Set up your floating holiday as its own program: You can track your floating holiday separately from PTO or your existing holiday schedule. It requires a bit more work to track and manage separately but has the benefit of feeling like something "extra" to your staff. Our sample policy takes this approach.
Once you determine exactly what you want your policy to say, add it to your employee handbook, near to or in the existing sections on PTO and holiday pay.
Step 4: Share Your Policy With Your Employees
Sharing your policy with your employees is the easy part as they'll appreciate having the flexibility of a floating holiday. You could send an email, host a meeting or let them know during your annual meeting reviewing the contents of the employee handbook.
We've provided a sample floating holiday policy above that you can modify and add to your employee handbook. You may also want to add information about your floating holiday policy to your job posts and careers page on your company website. A floating holiday is one of many many perks employees like to see offered when they're evaluating companies to work for.
Standard Holidays vs. Floating Holidays
In our article on holiday policies, we identified the six most common employer paid holidays and an additional six that some employers offer. You could choose to limit your employees' use of their floating holiday to those extra six holidays or leave your policy open to allow your employees to choose their own. Schedules permitting, we recommend the later.
Here are the most common paid holidays offered by U.S. businesses:
| 6 Most Common Paid Holidays | 6 Other Holidays to Consider Offering |
| --- | --- |
| New Year's Day | Martin Luther King Jr. Day |
| Memorial Day | Presidents Day |
| Independence Day | Columbus Day |
| Labor Day | Veterans Day |
| Thanksgiving Day | The Friday after Thanksgiving |
| Christmas Day | Christmas Eve |
Larger and best-in-class employers like Google provide 12 or more paid holidays. Government and educational institutions also provide more holidays, including banking and federal holidays. Parents with school-age children may benefit by having a floating holiday or two to ensure they can take time off and still get paid on those school holidays when their children are out of class.
Benefits of a Floating Holiday
The primary benefit of a floating holiday is that it honors your employees' multicultural and religious traditions as well as provides them with flexibility and choice. That's good for your employment brand and your employee retention. Other benefits include:
Happier employees
Better work and life balance for your staff
Employees don't have to choose between their culture and job
Increased employee engagement
A tool to help attract new hires
Allows you to give employees flexibility in their schedule
Most employers publish their official paid holiday schedule so that employees know which holidays are paid and can, therefore, determine what additional one or two holidays they want to take as floating holidays.
Another option is to offer a floating holiday as an incentive program or perk for top performers who achieve their quarterly or annual goals. Because a floating holiday is an optional benefit, there's no reason not to tie it to performance goals. Perhaps only individuals with a three or higher on their performance review are able to earn a floating holiday. Alternatively, perhaps you give them out as a benefit on successful completion of a major project.
When to Offer a Floating Holiday
In general, the fewer rules you have around your floating holiday, the better your employees may feel about it. For example, employees may want to take the day off before Christmas to volunteer to deliver gifts to underprivileged families. Others may want to take off the day before the 4th of July to help prepare for a veteran's ceremony.
In other words, allowing employees to select a holiday (or holiday-related event) of their choosing, supports their engagement with community and family. Perhaps they need to travel out of town and need the Friday off before a weekend family holiday event? When they tell their friends or family, "my boss pays me to take this day off!" your employment brand will benefit.
5 Mistakes to Avoid With a Floating Holiday
States like California make offering a floating holiday a bit of a liability if you don't understand the labor laws that apply. Another mistake could be not explaining the policy or not administering it consistently. Here are some examples of mistakes to avoid:
If you are in California, which may treat a floating holiday as vacation, you may need to pay it out upon termination like PTO: Information can be found here.
Allowing employees to use a floating holiday without advance notice: You may want to be clear that approval is required, or you may find your retail store has no one working on New Year's Eve.
Complicating your accruals: Unless you're using a payroll provider like Gusto that manages time-off requests and leave balances, you may want to simplify how you track floating holidays. Consider granting one or two floating holidays at the start of each year, for example.
Approving requests unfairly: Discrimination risk occurs if you give one person a day off for their religious holiday but deny another because you don't recognize his or her religious beliefs.
Not documenting and adhering to your own policy: If you aren't clear about the rules, courts may interpret the rules in the broadest sense in case of a wrongful termination lawsuit. It's best to document both your policy and any communication or training provided.
We asked The Walker Group, a health and wellness consultancy, for their opinion on floating holidays. While generally supportive saying that "floating holidays are a great way to attract a diverse group of quality employees," they also offered some insights:
A risk to offering a floating holiday is it could potentially lead to disputes amongst employees in regard to pay, number of hours worked or inequity if an employee feels that he or she is being treated unfairly.

My recommendation would be to ensure the company's floating holiday policy is precise, thoroughly explained and transparent to all employees. To decrease discrepancies, it is essential for the guidelines of the policy to apply to everyone equally.

To avoid risks, make certain the organization has an effective method to track each employee's time off as this will reduce disparities internally. Also, it is vital to remain organized while managing the tracking system. Another way to avoid risks is to openly communicate and maintain transparency with employees.

— Santisha Walker, Founder, The Walker Group Health & Wellness
Floating Holiday Q&A
Here are common questions employers may have about offering a floating holiday to their staff:
What's the difference between a floating holiday and a PTO or vacation day?
From the employees' point of view, there's really nothing different between a PTO day or vacation day and a floating holiday. They're all considered a paid day off from work. From the employers' point of view, there may be some risk in using the exact term "floating holiday." Some businesses prefer to use the term "personal holiday" or "floating day off" instead.
Should I pay my employees for a floating holiday if they don't use it during the year?
We recommend setting up your floating holiday as a "use-it-or-lose-it" paid day off to encourage employees to use their time off and reduce your payroll liability. However, use-it-or-lose-it policies may not stand up in California unless you're very specific in your policy language that it's a holiday, tied to a specific calendar date or event, and is not a vacation or PTO day to be used any time for any reason.
Isn't a floating holiday defined as a holiday that changes from year to year and doesn't fall on the same day each year?
That's another definition of a floating holiday, more commonly used outside the U.S. Some examples include Christmas Day and New Year's Day. Those always fall on the same date but not on the same day of the week like Thanksgiving, which is always on a Thursday, or U.S. national holidays that are typically acknowledged on a Monday like Martin Luther King Jr. Day.
What other definitions of a floating holiday are commonly used?
Sometimes, employers allow an employee who has to work on a paid holiday, such as a restaurant server who works on Thanksgiving Day, to take another paid day off instead. In that case, the employer may be said to be giving the employee a "floating holiday." In fact, they're giving the holiday as a paid day off just the same but letting the employee choose what day to take his or her holiday pay since the worker must work on the actual holiday.
Bottom Line
Providing your employees with a floating holiday as a company benefit is just another way to improve your employee retention. Taking a holiday off when they want, allows your staff to spend time with family, friends or celebrate an important cultural tradition. That will likely make them feel valued by you and your business. While it's not much different than an extra day of vacation or PTO, referring to it as a floating holiday, personal holiday or flexible holiday just makes it feel more special.