An employment contract is a written employment agreement documenting the shared rights and responsibilities between your company and a W-2 employee or 1099 contract worker. It's commonly used when bringing in upper-level management, short-term contract employees, or freelancers. You can use our employment contract template to create a document that's legally enforceable.
If you're looking for an easier way to create and update employment contracts, consider using Rocket Lawyer. It has numerous agreements from which you can choose, depending on your hiring circumstances (including Work for Hire Agreement, Employment Agreement, and Consulting Agreement). Just answer a few questions, and Rocket Lawyer will handle the rest. Sign up for a seven-day free trial below.
Disclaimer: Please note that this article is for educational purposes only. Consult with a lawyer before finalizing and using any legal agreement.
Two Free Employment Contract Templates
How Employment Contract Templates Work
An employment contract template works as a fill-in-the-blank document. You add your company name and logo plus the name of the worker along with dates and payment information. The benefit of starting with an employment contract template is that much of the wording is boilerplate. You only need to change details specific to your business and any agreements made with the worker.
Here are two free employment contract templates you can adapt for your own small business:
Employment Contract Template for W-2 Employee
The first employment contract linked below is best used for employees to whom you issue a W-2. You can download it in a document or PDF format, edit, and save it. An employment contract is most appropriate for employees in situations where confidentiality and intellectual property rights need to be spelled out. It's also helpful if you have concerns about the employee or want to document severance details for an executive.
Employment Contract Template for 1099 Contract Workers
The second employment contract template is best used for workers such as freelancers to whom you pay a gross amount without tax deductions and issue a 1099-MISC at year-end instead. It serves mostly to clarify the work expectations and compensation with a non-employee worker. When signed by both parties, it's legally enforceable.
What All Employment Contract Templates Should Include
Beyond describing your company and details of the job that the contract employee is being hired for, the employment contract should also address compensation and employment terms. For example, you'll need to clarify whether the employee will be paid via a W-2 (like a regular employee, where you deduct and pay taxes for them) or via a 1099 (like a freelancer, where they have to pay their own taxes).
In addition, it's helpful to include a clause to ensure confidentiality and clarify how disputes will be resolved. Our templates include multiple recommended and optional sections from which you can choose.
Here are six critical sections to include in employment contracts:
1. Terms of Employment
The terms of employment include information like the employer, the employee, the contract start date, and so forth. Our template provides fill-in-the-blank placeholders with subsections for you to provide these basics. An at-will employment clause should be added to any employment contract so that there is no question as to whether a worker can be terminated. This provides protection to both parties consistent with U.S. labor law.
If you and the contract employee agree in advance to terms like 30 days' notice or severance payments, be sure to include that language in the contract instead. Our template includes standard language you're welcome to modify as part of the employment terms.
2. Employee Responsibilities
Clearly defining job responsibilities in an employment contract sets expectations about an employee's role at your company. This is essential to prevent miscommunication. It's often easiest to attach an existing job description if you have one; if not, summarize the key responsibilities of the position within that section of the template.
In fact, many employment contracts and job descriptions will have a line at the bottom that states "additional duties as assigned" or similar. This leaves you free to adjust the employee's or freelancer's responsibilities later should the need arise. If the job changes significantly, you may need to provide the employee or freelancer with a new contract.
Note: If the employee is a freelancer or a 1099 contractor, you should describe the job requirements in terms of what the contract employee is to do. However, you may not direct how the employee does the job or you will risk violating IRS worker classification laws.
3. Compensation & Benefits
Include the compensation and benefits that the contracted employee will receive and on what schedule. The primary categories are included in the template, but you could add others, like relocation assistance, if you offer it. Other than compensation, these subsections are optional for a 1099 contractor or freelance worker.
Compensation: Include the dollar amount and how often it's to be paid. Example: You will receive $22 an hour paid every other week on Wednesday.
Bonus: Include the dollar or percent to be received and under what conditions. Example: 5% annual bonus paid if OSHA training audit at or above 95%.
Health insurance benefits: List any and all of the benefits you will offer to the employee. Example: "We offer medical, dental, and vision benefits, contributing 50% toward the 'employee-only' premium. See the benefits enrollment form for more detail."
Paid time off: Outline how many days of paid vacation and leave the employee is entitled to take each year. Example: "The employee will receive ten (10) days of paid vacation time and five (5) days of paid sick leave per the employee handbook."
Other benefits: List any other employee benefits that the company offers and that the employee will receive. This is where you might add life insurance or profit-sharing.
Keep in mind that you are not required to withhold taxes on compensation paid to 1099 contractors or freelancers. In addition, their compensation may be based on project deliverables or milestones rather than time worked. Adjust this section as needed to clarify when and how the contractor will be paid.
Breaking down all of the benefit and compensation details for your employees is one thing. Keeping track of them all is a different story. Gusto can help you manage compensation, bonuses, and benefits, including health insurance and paid time off (PTO), for all of your employees and contractors. Try Gusto free for 30 days; you don't need a credit card to sign up.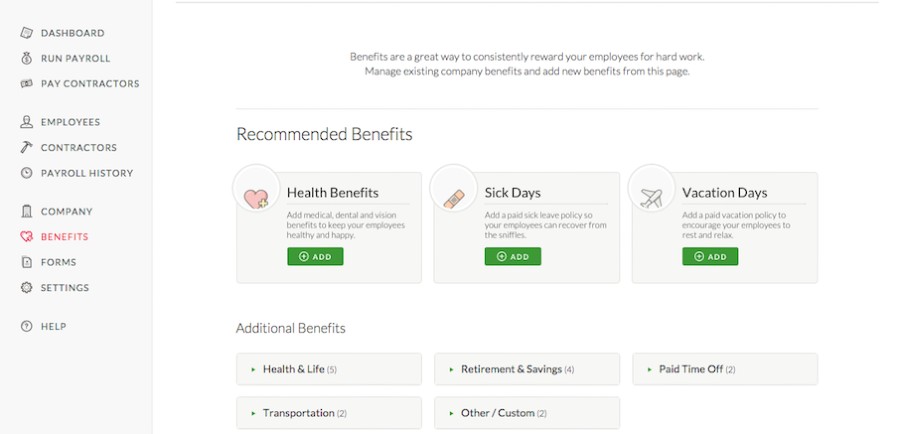 4. Non-disclosure & Non-compete Clauses
To protect confidentiality and your book of business, you can include clauses in your contract similar to the ones provided in our employee agreement templates. Another option is to attach separate documents that cover these two issues.
A non-disclosure agreement (NDA): Also known as a confidentiality agreement, an NDA prevents employees from sharing confidential business information with anyone outside of the business.
A non-compete agreement (NCA): An NCA prevents employees from stealing your business' clients when they end their employment with you, either to work on their own or with another company.
Both are legally binding per most state laws, except California's regulations, where non-compete agreements tend not to hold up. Therefore, if your principal place of business is in California, we recommend that you consult with your attorney and create a more specific non-disclosure agreement and invention patent (IP) clause or contract instead of a non-compete agreement.
For legally sound customizable forms, from NDAs to invention patents, consider signing up with Rocket Lawyer. For a low monthly rate of $39.99, you'll have the advantage of legally vetted, customizable document templates. You can use Rocket Lawyer free for seven days.
5. Dispute Resolution Process
Most work contracts should also include what will happen should litigation arise, such as where legal proceedings will take place and who will pay for the costs. You should also specify which state laws apply to the contract (usually the state where your business is located). Our employment agreement templates provide placeholders for you to document this information.
6. Signatures
Both signatures are required for the employment agreement document to stand up in court—yours and the contract employee's. You should keep a copy of the signed document, as should the contract employee. In fact, it's a best practice to have both parties sign and date the employment contract before work begins to avoid potential issues or misunderstandings.
What Not to Include in an Employment Contract
The following two items—duration of the job and grounds for termination—should not be included in an employment contract as they may undermine your ability to leverage the at-will clause in case you need to let the worker go. Employers in California may find additional requirements due to more restrictive laws that undermine NDAs, and more specifically clarify the difference between employees and contractors.
Duration of the Job
Putting in a timeline or job duration (e.g., we will employ you for at least one year) can minimize the protection you get from at-will employment. Once you put a time frame into a contract, it becomes an "implied contract" under the at-will doctrine. That may result in you being forced to pay the worker for the entire time period listed, even if you fire them prior to the contract's end date.
Grounds for Termination
Putting in reasons that a contract employee can be terminated can also undermine any protection you get from the at-will employment doctrine. If the worker sued for wrongful termination, the court might interpret that the employee can only be terminated for those listed causes or issues. For that reason, some employers request both employees and contract workers to abide by the employee handbook instead of listing specific reasons for termination.
Employment Agreements vs Employment Contracts
You might be wondering if there's any difference between an employment agreement and an employment contract. In everyday speak, the terms are often used interchangeably. From a legal standpoint, however, an employment agreement tends to be verbal or more casual than a contract, and may not be enforceable in all states. For additional clarification, here's what attorney Kimberlee Gee says:
"An agreement is common parlance used to describe any meeting of the minds. A contract is a more formal agreement with specific terms, provisions, and clauses that outline what is expected from both parties as a result of the agreement. What will be binding are the actual terms of the document, no matter what you call it. However, as a legal term, a 'contract' requires 'consideration'—an agreement for the parties to provide something in exchange for something else. If the business wants to be more formal, I recommend they call it a 'contract.'"

– Kimberlee Gee, Esq., Founder & Legal Consultant, Kimberlee Gee Legal
To err on the safe side, we therefore recommend business owners use the term "employment contract" rather than "employment agreement," and consult with an attorney before formalizing any verbal agreement into a written employment contract document.
Businesses That Employment Contracts Are Best For
An employment contract works by documenting the shared rights and responsibilities of you, the employer, and the worker you employ. Typically, there are two kinds: an employment contract for a direct-hire employee, and an employment contract for a worker who freelances as an independent contractor. The contract itself becomes a legal document when signed by both parties.
Consider how different kinds of businesses might use an employment contract:
Businesses Hiring Senior Managers or Executives
Businesses hiring a high-level manager who will be given access to proprietary data need an employment contract to prevent theft of trade secrets or customers (for example, if you're going to hire a marketing VP and you know they could do serious damage if they left on bad terms). The non-compete and non-disclosure sections of your employment agreement may give you legal recourse and potential damages if the executive employee breaches your contract.
Companies Wishing to Retain Highly Valued Project Employees
Businesses needing to complete projects may want a contract for assurance that workers will stick it out. Let's say you're working on a huge IT project and bring tech resources in to help. You'll need advance notice if one of the programmers chooses to quit so that you can replace them and keep the project on track. That's a good time to use an employment contract. In it, you can offer incentives for project completion.
Firms Sourcing Talented Professionals Who Require a Contract
Some employees won't agree to work for you unless you guarantee some specifics in writing. This happens with highly sought-after professionals, like a sales manager, media talent, or a website builder. The contract allows you to document agreed-upon perks that aren't offered in the employee handbook. For example, they may have negotiated an extra week of vacation, a company-provided luxury car, or some amount of severance to be provided if you terminate them.
Startups Partnering With Independent Contractors & Freelancers
Whenever you're working with a person as a freelancer or 1099 contractor, you will want to be crystal-clear about job duties, dates, and deliverables. You need to ensure they don't violate confidentiality or market to your clients once they learn about your business model and trade secrets. A contract won't protect you entirely, but may provide damages if they violate the terms.
When to Use an Employment Contract
In most cases, hiring an employee doesn't require you to write an employment contract. After accepting a verbal or written job offer, most employees show up on the first day for orientation, complete new hire paperwork, sign your company policies or employee handbook, and get to work. The job description and the employee handbook provide most of the initial details a new employee needs to know about their employment with your company.
An employment contract is more likely to be used when hiring contract workers or in high-tech or highly sensitive businesses that want some assurances that their workers will abide by a certain standard of behavior. It goes beyond what's typically in an employee handbook and includes things that protect your business: assurances of confidentiality, a requirement to return company equipment, or penalties for quitting before a project is complete.
Next, let's take a look at where you can find additional employment contract templates:
Employment Contract Template Providers
You can use our two employment contract templates above and customize them to your liking, or contact your local business attorney to see if they have a template you can use. Regardless, be sure to have a licensed attorney review your contact to ensure it will stand up in court based on your state and local labor laws.
Here are great places to look for an employment contract template:
Ask Your Attorney for an Employment Contract Template
Your business lawyer may have a standard employment contract that they'll provide to you as part of your business account. Often, they'll be the ones most knowledgeable about employment law in your location and industry. It's worth asking. However, if their price is too high, there are less costly options below.
Download an Employment Contract From a Legal Website
Legal websites provide standard contract templates and services. Some, like Rocket Lawyer, provide half a dozen versions of employment contracts that you can customize and download for free, or they'll review your employment contract agreements for as low as $59.99 per consultation. Download and customize your document for free with a seven-day trial of Rocket Lawyer.
Membership websites, like the Society for Human Resource Management (SHRM), offer templates to their subscribers. Alternatively, you may also be able to find samples at your local chamber of commerce or other business or industry groups you belong to.
Ask Your HR or Payroll Provider for Sample Agreements
Many HR and payroll providers have downloadable templates and document examples to support their clients. If you're currently working with an HR or payroll provider, you might inquire as to whether they have a downloadable employment contract template you could use.
Gusto is an example of payroll software that sports features like e-signature and document storage as part of their payroll processing. Once you hire a worker, whether a 1099 contractor or W-2 employee, Gusto can process their payroll and store their signed contract documents online. Get your 30-day trial.
What an Employment Contract Costs
You can often download a sample contract and modify it for free. But that may be risky. Alternatively, you might pay a fee of as low as $39.99 per month to download contract templates from a legal website like Rocket Lawyer. In either case, after you customize it for your business, invest in a legal review (to ensure it will stand up in court). And lastly, if you ever have to enforce the contract, it's good to factor those costs in as well.
The costs involved in managing employee contracts are:
Write: $50 to $500 per hour to outsource it; otherwise, the only cost is your time.
Edit: $0 to $39.99 in addition to your time to edit or customize an employment contract template you found or downloaded for your business.
Review: $50 to $500 per hour to have your employment contract reviewed by an attorney.
Enforce: $50 to $500 per hour to enforce your employment contract if it's violated.
The good news is that having a contract often saves you time and money by making the terms of employment clear from the get-go. Even if you don't hire a professional to create your contract, modifying a free or inexpensive template is better than not using a contract at all.
Pros & Cons of Using an Employment Contract
Using an employment contract can go a long way towards eliminating confusion from the start; however, it can also create more work for you and is sometimes costly. To help you consider your options, here are a few pros and cons that you may want to review before you implement an employment contract with your workers:
Pros of Using an Employment Contract
The primary benefit of documenting your employment agreement in a written contract is that it clarifies expectations all around and provides you with an assurance that work will be done as expected. Here are the three primary benefits:
Expectations are clear: It's less likely you'll have issues with the work or the worker.
Legally binding: If signed and dated by both parties, it will likely stand up in court.
Remedy is available: If a breach of contract occurs, you may be able to request damages.
Cons of Using an Employment Contract
On the downside, consider these points:
Could damage employee trust: It may make your employment relationship feel too formal. For entry-level roles, an employee handbook is often enough.
Needs to be maintained: If you don't update it regularly, it may do you no good. Work terms may change from year to year or the contract may have expired.
Costly: Having the contract reviewed and updated on a regular basis costs money.
Might violate the law: If contract terms don't meet legal requirements, the document may be unenforceable, or worse, subject you to a labor law violation.
When to Use an Employment Contract Template Alternative
If an employment contract feels too formal for your small business, or you prefer to reserve written employment agreements for your higher-level and freelance staff, consider common alternatives that may accomplish the same basic objectives.
Alternatives to a formalized employment agreement that may be easier to manage:
Offer Letter & Job Description
An offer letter and a job description are the more common ways that businesses clarify the employment relationship with direct-hire employees. In an offer letter, you specify the hire date, pay rate, and job title and spell out any other pertinent agreed-upon information such as a hiring bonus or extra paid time off. You'll typically include or attach the job description to clarify the job duties and expectations,
Employee Agreement
An employee agreement is a simpler, less formalized document that clearly states what the worker is hired to do and how the employer will compensate them. It can also include attachments such as an NDA, but doesn't need to rise to the level of a contract. It's usually provided in conjunction with a job description.
Employee Handbook
An employee handbook is the most common way to clarify work rules and ensure your employees abide by your expectations. Using the employee handbook in addition to providing an employee with a job description is a lower-cost way to ensure your employees do what's expected. In fact, an employee handbook is the most common document used to clarify the employment relationship and workplace rules for W-2 direct-hire employees.
Performance Management Goals
Having an employee performance review process that clearly states work expectations is a great way to manage your workers without resorting to a formal employment contract for each and every staff member. Employees set goals with their managers and then meet periodically to review those goals. That ensures managers and their team members are on the same page regarding expectations.
Frequently Asked Questions (FAQs) About Employment Contracts
Small business owners may be concerned about getting things right when drafting and implementing an employment contract. We've answered a few of the most common questions below.
Who benefits most from an employment contract—employer or employee?
Both employers and employees can benefit from an employment contract. However, it's in your best interest to write the employment contract in a way that preserves your rights as an employer, such as by specifying the amount of advance notice you need to receive from the worker if they resign (in order for them to be eligible for bonuses or severance).
How can I break my employee contract agreement?
To break a contract, you need to do little more than notify the employer of your planned end date in writing. In most states, the at-will employment doctrine will apply. That means you can leave your employer at any time. However, look at your contract to see what you might lose. For instance, if you leave without providing advance notice, you may lose any promised severance pay, 401(k) match, or bonus payout.
Can an offer letter serve the same purpose as an employment contract?
There are three main differences between a job offer letter, which can be as simple as an email, and an employment contract, which is more formal. They are:
The timing of when you provide the document: An offer letter is the first thing you give to someone you want to hire. You would provide an employment contract only after someone accepts the offer.
The level of detail included within the document: A written job offer includes a start date, pay rate, and work location. An employment contract is much more detailed.
How legally binding the documents are: An offer letter is not a legally binding contract. A correctly drafted and signed employment contract is legally enforceable—similar to a signed NDA or non-compete agreement.
Is a written employment agreement the same as an employment contract?
If it's written and signed by both parties, a court may consider an employment agreement a contract regardless of what you call it. A document that's not signed by both parties is hard to defend in court, as the person who didn't sign it can claim they didn't know about it.
Bottom Line
An employment contract is a useful document to have in the personnel file if you are hiring a manager-level employee or need to confirm terms with a contractor or freelancer. Use our free downloadable templates as a starting point to protect your business and yourself, as well as set clear expectations about the role and compensation of the worker.
If you need help creating an employment contract for your business, consider using a legal partner like Rocket Lawyer. You'll answer a few questions and provide information like the state in which your business operates, so the contract can be personalized for your business. Visit the website and sign up for your free seven-day trial.