FreshBooks and Wave are both good small business accounting software solutions. FreshBooks, which starts at $15/month, is ideal for tracking billable hours, creating customized invoices and automating client payment reminders which is great if for freelancers. Wave accounting, which is free, comes packed with many basic accounting and bookkeeping features and is ideal for sole proprietors.
When to Use FreshBooks

FreshBooks is best for businesses that want to streamline their accounts receivable (A/R) process. With FreshBooks, you can set up recurring billing and accept online customer payments, ideal for businesses with heavy customer billing. In addition, their time tracking tool is one of the best I've seen, making it great for companies that also need to track billable hours. Check them out today and receive a free trial.
When to Use Wave Accounting


Wave is one of the best free accounting software on the market with more than 3 million small businesses using Wave every day to manage their books. Since Wave costs nothing to use, Wave is ideal for businesses that on a tight budget like freelancers or startups. In addition, Wave is a terrific solution if you need to grant third-party access to your books or if you have multiple businesses to manage since it allows for both.
When to Use an Alternative
While both of these options are good, QuickBooks Online is the industry leader and used by the most businesses and bookkeepers. When deciding which accounting software is best for your business, it's important to always consider QuickBooks. While not as customizable as FreshBooks, it offers full cycle A/R at a price starting at $15 per month. Check them out today and receive up to 50% off.
FreshBooks vs. Wave Accounting at a Glance
Pricing

$15 - $50/month

Free

Number of Users Included

One

Unlimited

Number of Customers

5 - 500

Unlimited

Time & Expense Tracking

✔

Automatic Payment Reminders

✔

✔

Recurring Billing

✔

✔

Accept Online Payments

✔

✔

Manage Multiple Businesses With One Account

✔

✔

Certified Advisors

1,700

2,500

Integrations With Other Systems

Payroll

- Gusto

Inventory

- None

Ecommerce

- Shopify, Square Check out the

Apps center

for the complete list

Payroll - Payroll by Wave Inventory - None Ecommerce - None Integrates only with the following 3 apps: Shoeboxed Etsy PayPal

Ease of Use

Easy

Easy

Customer Service

Free phone and live chat support

Email support only

More Information
How We Determined When to Use FreshBooks vs. Wave
Many small businesses consider FreshBooks and Wave because they cost much less than many their competitors while offering many of the same capabilities, if not more. However, typically the person who wants to use Wave is price-conscious and possibly a sole proprietor while businesses that use FreshBooks typically need robust billing capabilities and project time tracking.
To help, we compared FreshBooks and Wave based on the following:
Price
Overall features for the price
Ease of setup and use
Size of advisor network
Integrations with other applications and programs
Number of users
Both FreshBooks and Wave are not able to track the money that you owe to vendor suppliers (accounts payable). However, you can keep track of bills that have been paid. Neither FreshBooks or Wave can produce a statement of cash flows, but you can create both the profit & loss and balance sheet reports in both.
FreshBooks and Wave are even when it comes to the minimum requirements. Hands down, Wave is the better product out of the two because you get several more features at a cost of nothing. However, FreshBooks has a much better project management tool. If most of your revenue is based on billable hours, then it will be worth it to pay for a FreshBooks subscription.
FreshBooks vs. Wave Accounting: Pricing & Features
If we are just looking at price and nothing else, Wave beats FreshBooks hands down since Wave costs nothing and FreshBooks starts at $15 per month. However, we feel that the custom, professional invoices that you can create in FreshBooks coupled with the powerful time tracking feature are worth paying a few bucks.
Wave Pricing & Features
Unlike FreshBooks, Wave has one pricing plan — free. When you sign up for your Wave account, you don't have to provide your credit card information or wonder how much your bill is going to increase if you decide to create a new company or add another user.
If you do begin to hire employees or want to give customers the ability to pay online, you can add-on services like Wave Payroll or Wave Payments. Both of these services will require you to pay a fee. We think you will be pleasantly surprised to learn all of the features that come with an accounting software that costs you nothing. Below is a brief explanation of just some of the features included in Wave.
Unlimited Number of Users
Wave allows you to invite an unlimited number of users to view and/or edit your data. By contrast, FreshBooks not only limits the number of users but you also have to pay for additional users beyond what is included in your plan.
Unlimited Customers
Similar to users, Wave allows you to set up an unlimited number of customers. This is in contrast to FreshBooks where you are limited to a maximum of five customers (Lite Plan), 50 customers (Plus Plan) or 500 customers (Premium Plan).
Manage Multiple Businesses With One Account
This is one of the features that FreshBooks and Wave have in common. If you've got more than one business, both FreshBooks and Wave allow you to manage multiple businesses under the same account. This means that you just have to sign into your FreshBooks or Wave account once and then toggle between businesses as you need to.
The downside to setting up multiple businesses in FreshBooks is that you will have to pay for each business that you set up. As you may have guessed, Wave isn't going to charge you a penny for additional businesses.
Integrations With Other Systems
When it comes to integrating with other apps, Wave is extremely limited in this area when compared to FreshBooks. Wave integrates with only three apps — Shoeboxed, Etsy and PayPal — whereas FreshBooks integrates with hundreds of apps.
Unlike Wave, which has just one pricing plan (free), FreshBooks has three pricing plans between $15 and $50 per month. When you sign up for FreshBooks, you can use the product for free for the first 30 days with no credit card required. After the trial period is up, you must choose a paid plan to continue to use the software.
FreshBooks Tiered Pricing & Features
| | | | | |
| --- | --- | --- | --- | --- |
| Number of Users Included | 1 | 1 | 1 | 1 |
| Maximum Customers | 5 | 50 | 500 | 500+ |
| Time & Expense Tracking | ✔ | ✔ | ✔ | ✔ |
| Accept Online Payments | ✔ | ✔ | ✔ | ✔ |
| Automatic Payment Reminders | | ✔ | ✔ | ✔ |
| Charge Late Fees for Overdue Invoices | | ✔ | ✔ | ✔ |
| Recurring Invoices | | ✔ | ✔ | ✔ |
FreshBooks Lite
FreshBooks Lite is the most budget-friendly plan at $15 per month. This plan comes with one user and a maximum of five customers that you can create invoices for. It does include my favorite feature in FreshBooks, which is the time and expense tracking feature, and you can also accept online payments from customers.
FreshBooks Lite is ideal for a start-up business that doesn't need to keep track of sales by customer or has fewer than five clients for which it needs to send invoices.
FreshBooks Plus
FreshBooks Plus is the mid-tier plan that runs $25 per month. This is $10 per month more than the FreshBooks Lite plan and will cost you a total of $300 per year (compared to $180 for the Lite Plan). For this additional dough, you can track 10 times more customers than the Lite plan offers, which translated to a whopping 50 customers.
In addition, you can set up automatic late charge fees easily on overdue invoices and recurring invoices for those customers who regularly pay you a set amount at different intervals, such as weekly, monthly or quarterly.
FreshBooks Plus is ideal for businesses that do a lot of invoicing and need a way to automate the accounts receivable process. Unlike FreshBooks Lite, you can set up automatic payment reminders to customers and have the system automatically apply late fees to overdue customer invoices.
FreshBooks Premium
FreshBooks Premium is the top-tier plan, which means it is the priciest. It costs $50 per month which comes to a total of $600 per year. That's double the cost of the Plus plan and more than triple the cost of the Lite plan.
Believe it or not, there is only one feature that is included in this plan that differs from the Plus plan. FreshBooks Premium comes with 10 times the number of customers that are included in the Plus plan. However, 500 is the maximum number of customer that you can track using this plan. If you are nowhere near reaching 500 customers, I would go with the Plus plan and upgrade when you get to that 51st customer.
Similar to the Plus plan, the Premium plan is ideal if you have more than 50 customers and need to automate your accounts receivable process so that you can automatically send payment reminders, apply late fees to overdue invoices and send recurring invoices out.
FreshBooks Select
FreshBooks Select has customized pricing and is ideal for users who have more than 500 clients or bill over $150,000/year. This plan is not different than the others from a feature perspective – the benefit of it is lower payment processing fees (making it better for high volume clients) and white glove customer support.
FreshBooks vs. Wave Accounting: Ease of Use
We took both of these products for a test drive and found that they are very easy to use. Each offers product has a menu bar as well as icons that you can click on to easily navigate the program. The dashboard in both FreshBooks and Wave provides a wealth of information at a glance. Let's take a look at each dashboard in detail.
Wave Ease of Use
Below is a snapshot of the dashboard in Wave along with a brief description of the info you will find here.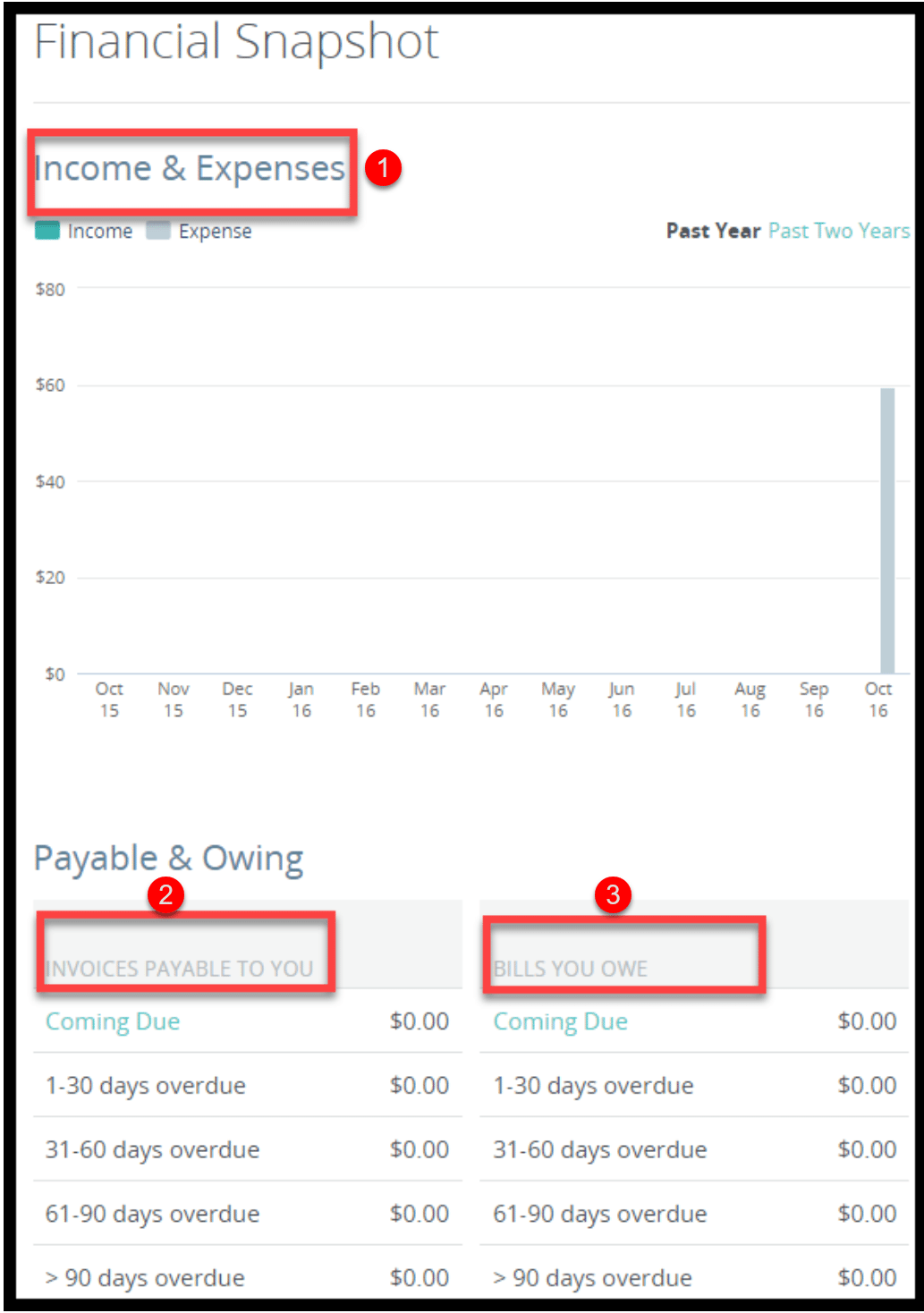 Income and expenses – An at a glance look at income and expenses by month or for the year.
Invoices payable to you – Groups outstanding amounts owed to you by customers (known as accounts receivable) based on current (coming due) or overdue one to 30 days, 31 to 60 days, 61 to 90 days and more than 90 days past due.
Bills you owe -Groups outstanding bills that you owe to vendor suppliers (known as accounts payable) based on current (coming due) or overdue one to 30 days, 31 to 60 days, 61 to 90 days and more than 90 days.
Below is a snapshot of the dashboard in FreshBooks along with a brief description of the info you will find here.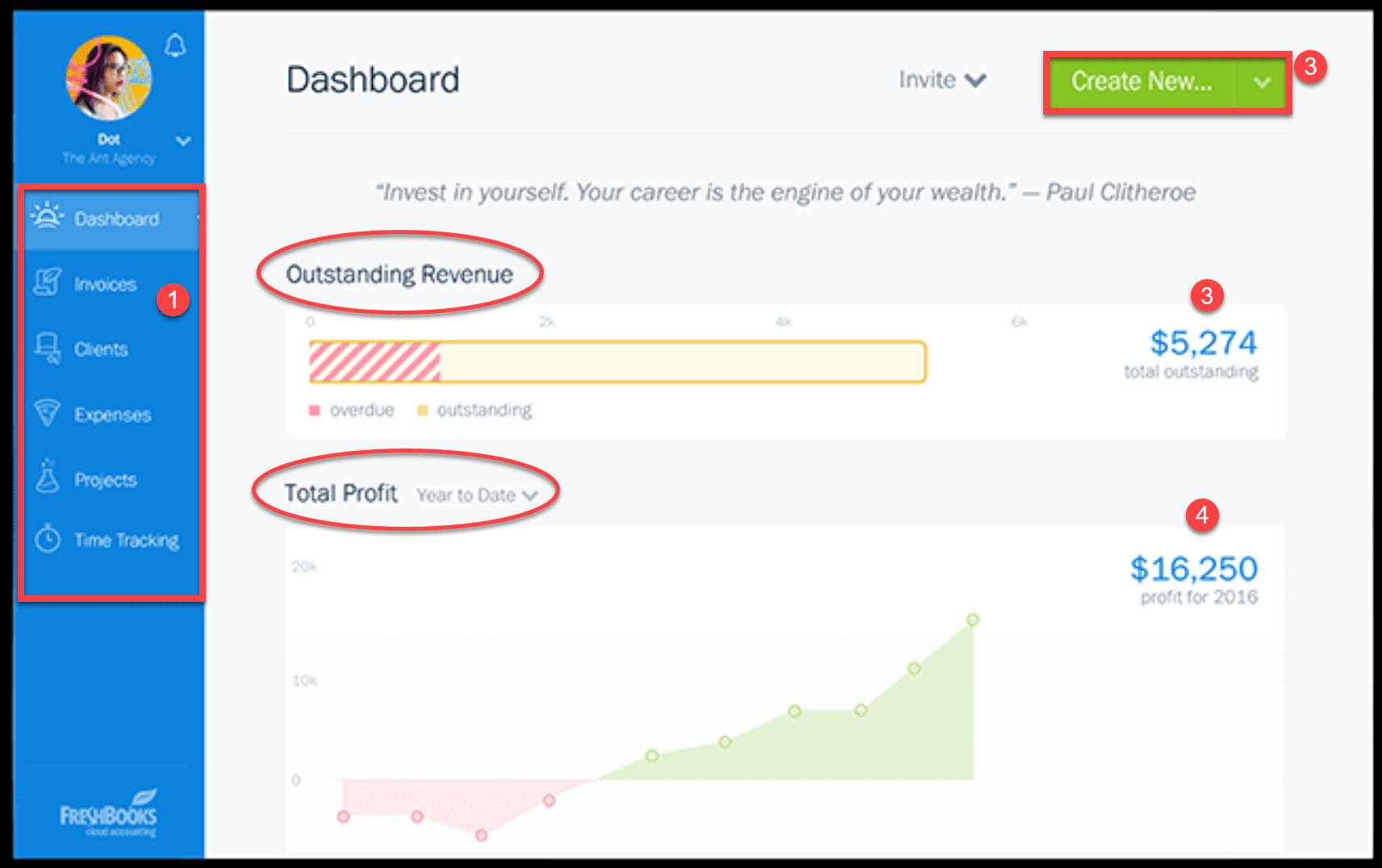 Left menu bar – You can perform most tasks from the left menu bar, such as create invoices, enter expenses and create new projects.
Create new – Click the drop-down button and you can create new invoices, expenses or enter time spent on a project easily.
Outstanding revenue – Stay on top of customer invoices that have not been paid. The color-coded bar indicates overdue invoices (in red) compared to invoices that have not come due (in yellow).
Total profit – Keep tabs on your bottom line without having to run a report. You can change the time frame to see your profit on a monthly, quarterly or annual basis.
FreshBooks vs. Wave Accounting: Customer Service
When it comes to customer service and support options, FreshBooks is the clear winner. FreshBooks provides a variety of ways to get help when you need it whereas Wave only offers one option: email support.
Wave Customer Service
As discussed, there is no comparison between Wave and FreshBooks when it comes to customer service options. While Wave does not offer any kind of live telephone or chat support like FreshBooks does, it does have a couple of options:
Submit a support ticket – To submit a support ticket, log into your Wave account and click on the "Help" link. Support tickets will generally be answered within one business day.
Wave Help Center – Similar to the QuickBooks Learn & Support page, you will find several help guides, video tutorials and answers to frequently asked questions (FAQ) about the basics of using Wave.
FreshBooks allows you to talk to a customer service rep, email them, or you can access their extensive FAQ Section with detailed instructions on how to do almost anything in FreshBooks. Feel free to contact a FreshBooks customer service representative at (866) 303-6061. They are available Monday to Friday, 8 a.m.- 8 p.m. Eastern time. You can also send an email to help@freshbooks.com.
FreshBooks vs. Wave Accounting: Customer Reviews
Both FreshBooks and Wave have things that their customers like about them and a few things that they don't. For FreshBooks, customers wish that it had more accounting functionality. With Wave, the consensus is their customer support could use an overhaul.
Wave Customer Reviews
Customers love the fact that they can use an accounting software free of charge. While it's hard to complain about something that you're not paying for, customers are not happy with the poor customer service they receive. As of last year, Wave does not offer telephone or chat support. Unfortunately, email support is the only support available and can take days to receive a response. Check out our Wave review page for more information.
Customers who use FreshBooks think it's great for sending a large number of invoices that can automatically be sent to customers. In addition, they like the fact that you can also set up automatic payment reminders to customers either before or after an invoice is due.
On the negative side, customers say that FreshBooks is missing some of the features you would expect to have in an accounting software. This includes things like managing accounts payable and reconciling bank and credit card accounts. Check out our FreshBooks review page for more information.
Still Have Questions?
Have a question about choosing the right accounting software for your business? Our analysts are standing by to answer!
Bottom Line
Now that you have the lowdown on FreshBooks vs. Wave, it's time to take the next step and pick one. If you want to get paid faster, FreshBooks is the way to go. Put your customer billing on autopilot by sending automatic invoices and using the automatic reminder tools that are included with FreshBooks.